Austin Lloyd Review: I love the way subscription boxes take the thinking out of shopping, and I love the surprise element even more. But what I love the most, is that rare moment when I get a box that is so spot on, I could have filled it myself.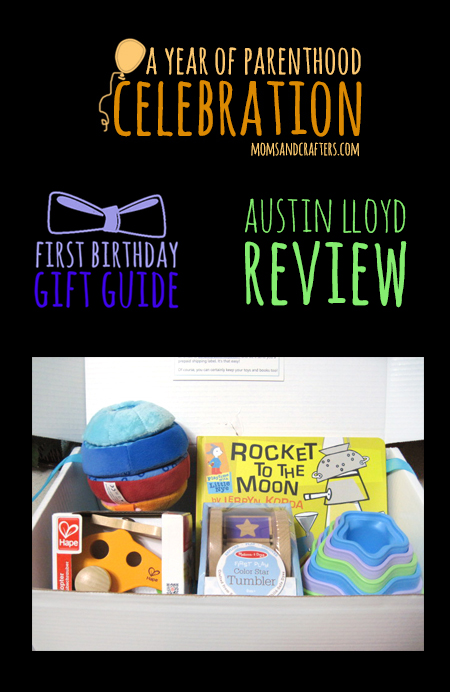 Austin Lloyd is a monthly subscription box service for toys geared toward ages 0-3 years. I loved everything about the box they sent me for review. The presentation was beautiful and very giftable. The products inside were spot on for us, and were from brands we love.
First Impressions:
Every box fits with a theme and the theme for this month was air and space. You can choose from various play levels. We chose 13-18 months for our one year old, as we always want to think toward the future. Inside the box were the following items:
Hape Little Copter (RV $10.99)
Haba Stacking Ball Allegro (RV $13.99)
Melissa & Doug Star Tumbler (RV$12.99)
Green Toys Stacking Cups (RV $10.99)
Rocket to the Moon by Lerryn Korda (RV $8.99)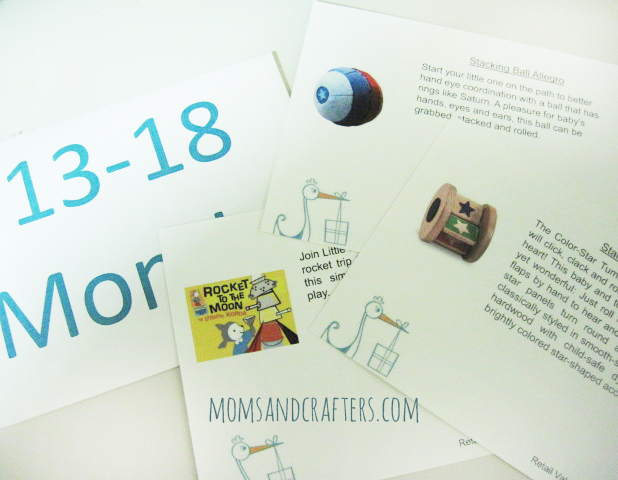 Total value is $57.95 with subscriptions starting at $44.99 a month.
Features:
Receive a monthly box of 4-5 toys geared toward your child's play level.
All toys are BPA and phthalate free
No battery operated toys – these are "real" toys that stimulate imagination and encourage motor development
Value is greater than cost of subscription
Toys are from high end brands and are better than those typically sold in mass merchandise stores
You can optionally send back your gently used toys when you're done with them to be donated to various organizations.
Choose from various play levels that accurately target physical and cognitive development and appropriate milestones.
What I Liked: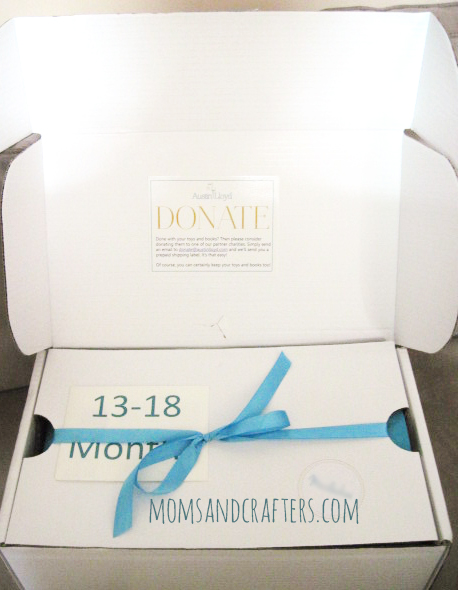 When I first opened the box, I was delighted with the variety of toys. We have a nice selection of toys and yet none of these were doubles. They were from some of our favorite brands. The book is always appreciated as we are working on having a nice library for the baby.
Do you ever feel like the age markings on toys are discouraging? So many toys we have say they are for six or nine months or older, but my baby is just learning to play with them at one year! I've spoken to other parents as well, who have told me that their children don't manage to play with these until 13-15 months. My Austin Lloyd box was nothing like that. These toys were accurately targeted toward the right age, and were clearly very carefully selected.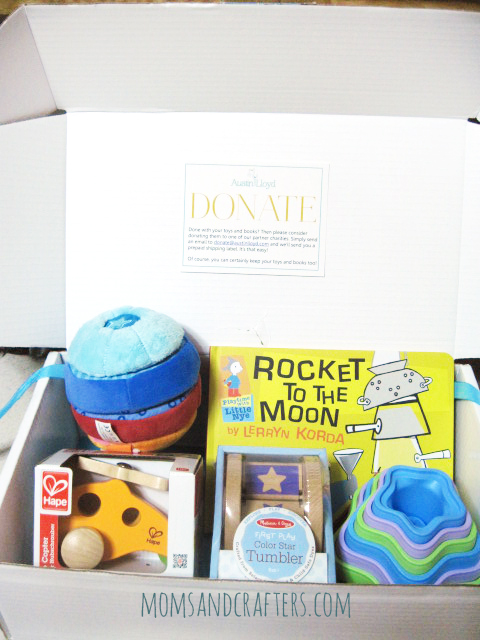 I love the wood helicopter from Hape. We have a wood truck from them, and another of their wood toys, and my baby loves them. This joined the collection, and now he plays with them for longer. He loves the wheels, and the Copter is even more fun! I love wood toys in general, as they are durable and high quality.
My baby has a set of stacking rings, but he has not managed to figure them out. The Stacking Ball Allegro was much more up his alley – with the addition of the sensory play the fabric gives, and the crinkly rings. He managed to learn it much faster, and it engages him more. Plus it's a ball – and he loves throwing and rolling balls!
He plays the least with the star tumbler (although, to be honest, that was my initial favorite toy) but he loves that as well. It makes a fun clacking sound that's so entertaining for him!
We had a cheap set of stacking cups as well, that I had split in half. I put a few in the bath, and left the other half among his regular toys. With this second set, which, again, was easier for him to master than the set we had, I was able to reserve a complete set for the tub.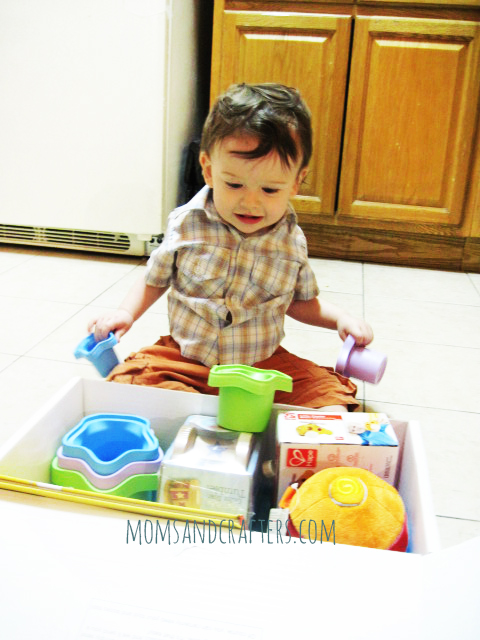 Besides for the careful, accurate selection, I also appreciate that they are quality toys, free of harsh chemicals. This is especially important at a stage when babies mouth everything, especially their toys. I like to know that I am doing my best to provide my treasure with the safest play environment possible!
What I Didn't Like:
With subscription boxes, I like to know that if one item wasn't liked, the value was still covered. In this box, the value was only a few dollars more than the highest subscription cost.
I do expect though, that other than gift giving, people would subscribe for longer. With gift giving, I don't feel it's as necessary. In addition, this box did a great job of distributing the cost evenly among the items inside, as opposed to what I've seen many times with subscriptions, where a single item held most of the value. Therefore, I will not remove a star from my final score, and I highly recommend this box.
Who It's Great For:
Parents who want to ensure their child has developmentally accurate toys at every stage, without having to do the research
Parents who are looking to provide fresh, new play for their child monthly, while saving a little on the costs
Anyone who loves green, BPA free play
As a gift for any child within the age ranges provided for (newborn-three years)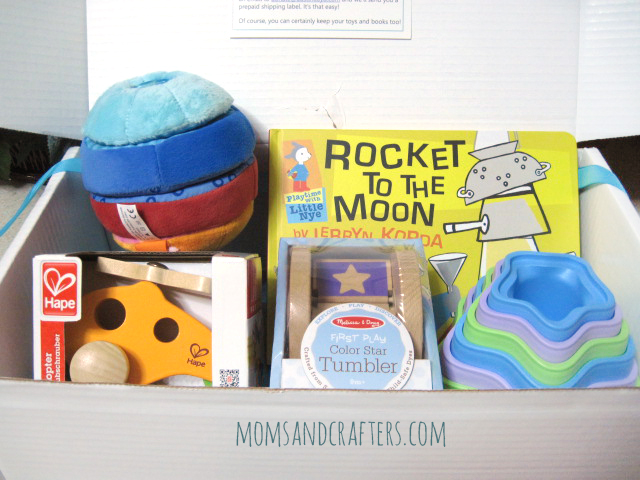 Final Score *****
I don't think I've ever loved a subscription box more. I can't take off a star for the box value as mentioned above, because I simply loved all the items. Even if there had been a double, I love it enough to gift it. I highly recommend this subscription box!
Disclaimer: I received a September box for play level 13-18 months to facilitate this honest review. All opinions are completely my own and I was not paid to endorse the product. I have in the past rejected review opportunities for products I did not believe in, and I am very selective with which products I review on my blog.