We're kind of Disney fanatics at my house and one of our favorite family traditions is our themed dinner & a movie nights. These Belle-inspired cupcakes were the perfect addition to our recent Beauty & the Beast movie night and would be perfect for a Beauty & the Beast birthday party!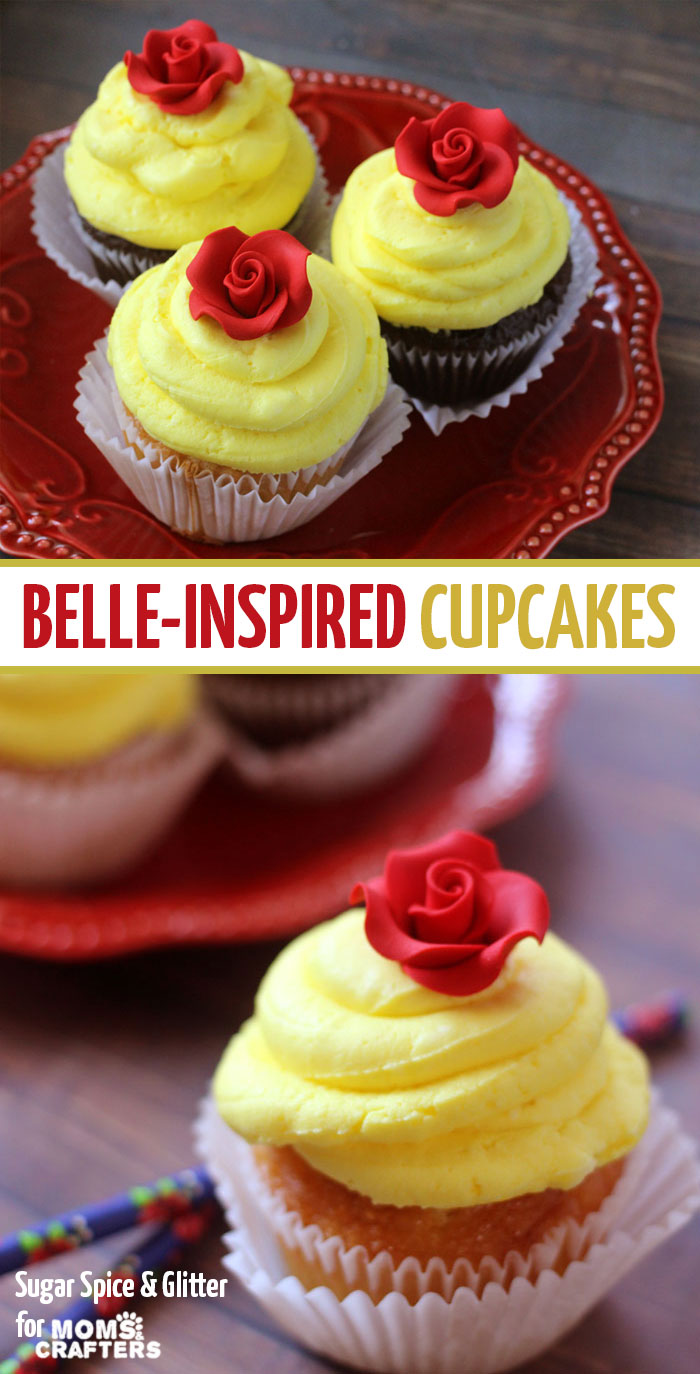 Disclosure: this post contains affiliate links.
I'm a big fan of keeping things simple while making a statement. These Belle-inspired cupcakes are super easy to make yet completely steal the show! They are simple chocolate cupcakes with a vanilla buttercream, transformed with the addition of a few drops of yellow food coloring and the addition of some red roses. These roses are pretty easy to make with this cake tool (here's a cheaper set you can try) and some fondant.
The frosting technique here is really simple once you try it a couple times. The important thing is to keep your hands moving confidently and apply constant pressure to the piping bag. Awesome frosting jobs are not for the timid!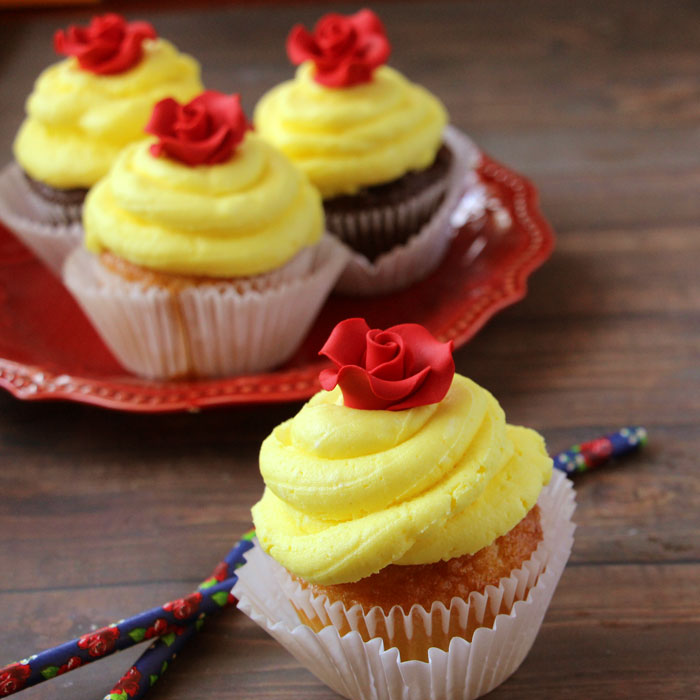 How to Make Beauty & the Beast Belle Cupcakes
You can use a boxed chocolate cake mix for this recipe, but I'll share my from-scratch chocolate cupcake recipe just in case. However, a from-scratch frosting is non-negotiable!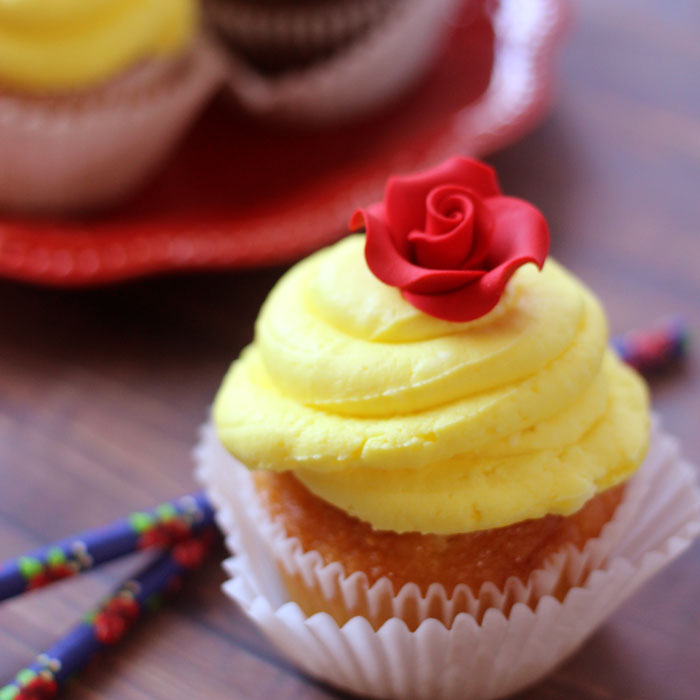 First, assemble your cupcake ingredients:
Preheat oven to 375F and line a muffin tray with 12 cupcake liners. I usually like using silicone muffin liners, but I would go with an elegant princess-inspired liner for these cupcakes.
In a large bowl, beat the oil and sugar together until light and fluffy, then add in the egg, buttermilk, and vanilla. Set aside.
In a separate bowl, mix the remaining dry ingredients together and then incorporate into the wet batter, working out any lumps but being careful not to over mix.
Portion out the batter into the lined muffin tin, filling each liner about 3/4 full. This (along with the higher heat) will give you those dramatic domed cupcakes like they have in bakeries, instead of flat, boring cupcakes.
Bake 18-22 minutes until an inserted toothpick comes out clean and the tops of the cupcakes spring back when tapped lightly.
Cool the cupcakes on a cooling rack as you prepare the frosting.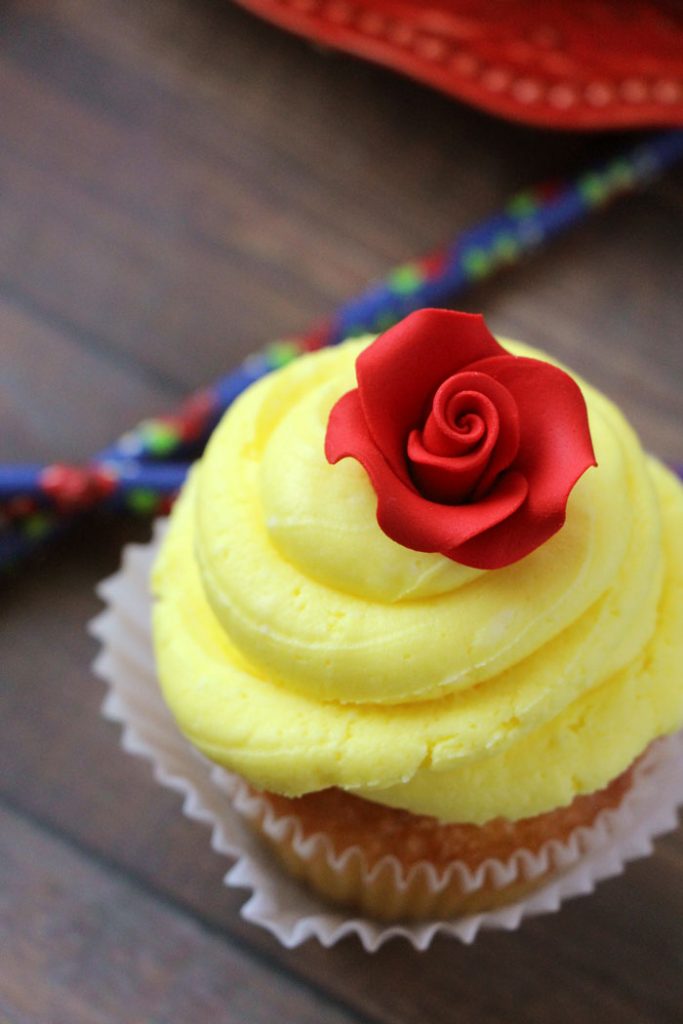 While the cupcakes are baking, assemble your frosting ingredients:
1/2 lb butter (2 sticks), room temperature
3-4 cups icing sugar
2 teaspoons vanilla extract
1-3 Tablespoons milk or cream
In a medium-sized bowl, beat the butter and 3 cups of icing sugar. Add the vanilla and 1 tablespoon of the cream. Taste and adjust with more cream or icing sugar to achieve the desired taste and consistency.
Once you have the ideal frosting, add a few drops of yellow dye and mix in. Adjust until you have a bright yellow reminiscent of Belle's dress. I like to add a couple drops at a time until I hit the perfect amount so that we don't over do it.
Add the frosting to a piping bag – I like to invert my piping bag in a glass for easy filling.
Once the cupcakes are cool, snip the end off of your piping bag and start swirling on the frosting! Start in the middle of the cupcake and work your way out. Swirl back in and out, making ridges on the outer layer to echo Belle's swoop-y dress. If you're very confident, you can even give the outer layer a bit of a wave.
Top each cupcake with a sugar rose and serve!
Here's your free printable Belle cupcake recipe:
[yumprint-recipe id='8′]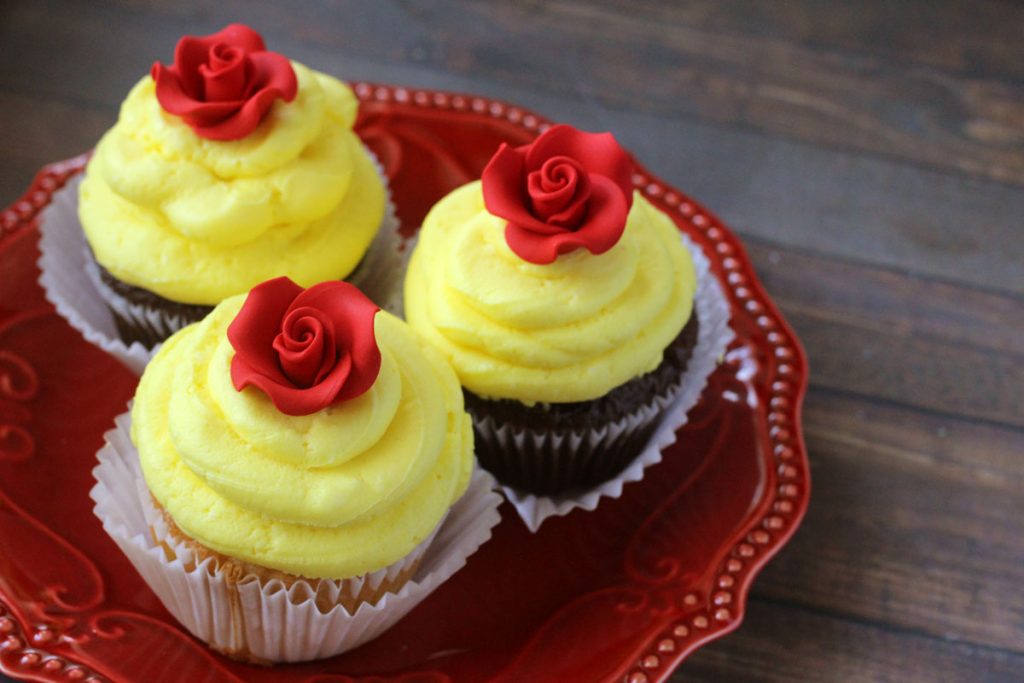 Do you have any special family traditions like our family movie nights?
Be sure to check out these other delicious cupcake recipes:
Kid-made Princess Swirl Cupcake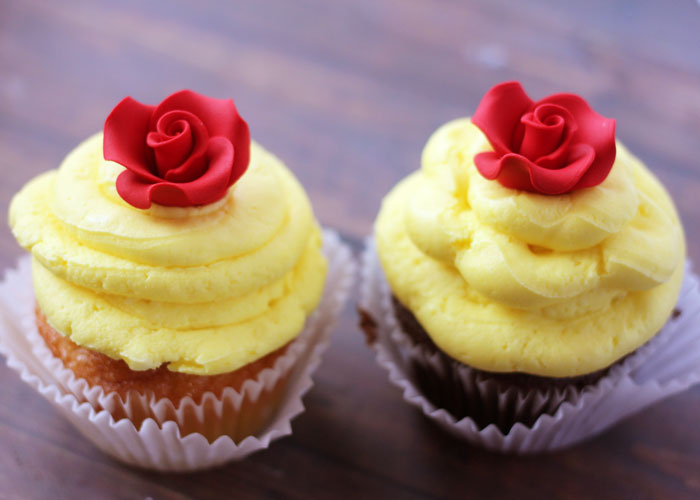 About the author: Jennifer Tammy is a trained psychologist and single mom who runs a Montessori preschool out of her home in order to stay home full-time with her daughter, Miss G. Every day, she shares easy recipes, parenting inspiration, and hands-on learning ideas on her blog, Sugar Spice & Glitter.