If you're looking for the best place to buy fabrics online, you're in the right spot! Here you'll find a few top spots for different fabric purchasing needs. You can check out my best sewing machine reviews for every purpose if you're on the market for that as well. Disclosure: this post contains affiliate links.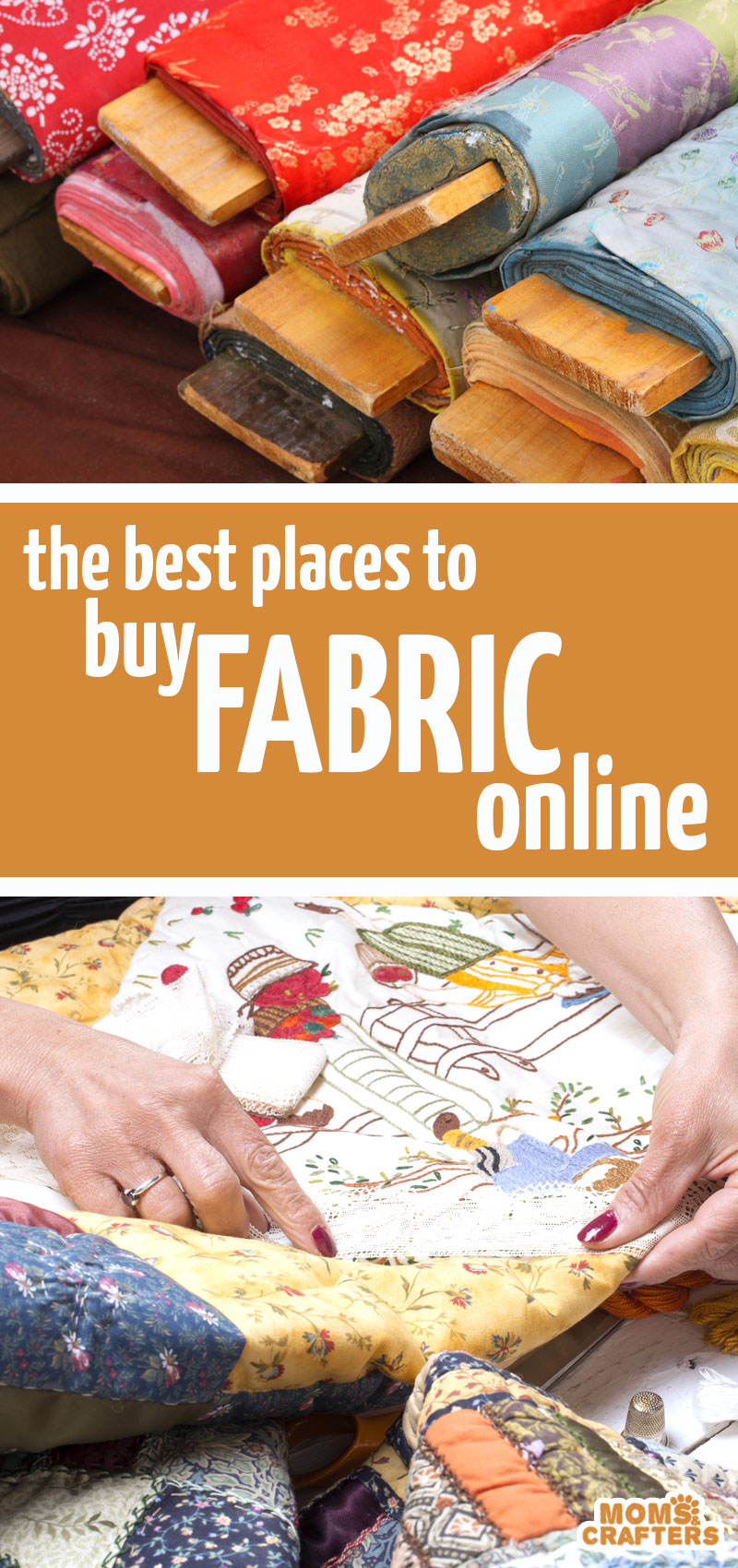 When it comes to purchasing craft supplies online, especially when you're focused on a specific craft, finding your ideal supplier can take time. With the right resources provided for you, you'll not only save time and money, but you'll also have the perfect fabric for each project you use.
I created this list with the mindset that the best place to buy fabrics online varies from person to person. I organized this list based on different needs.
I hope that my research and experimentation is helpful to you and saves you plenty of time!
The best place to buy fabrics online- jump to section:
Click on the link to find the best place to buy fabrics online for your specific needs. This will jump you to that section of the post. Or just scroll through to read the post in order, as well as some tips before you shop.
---
---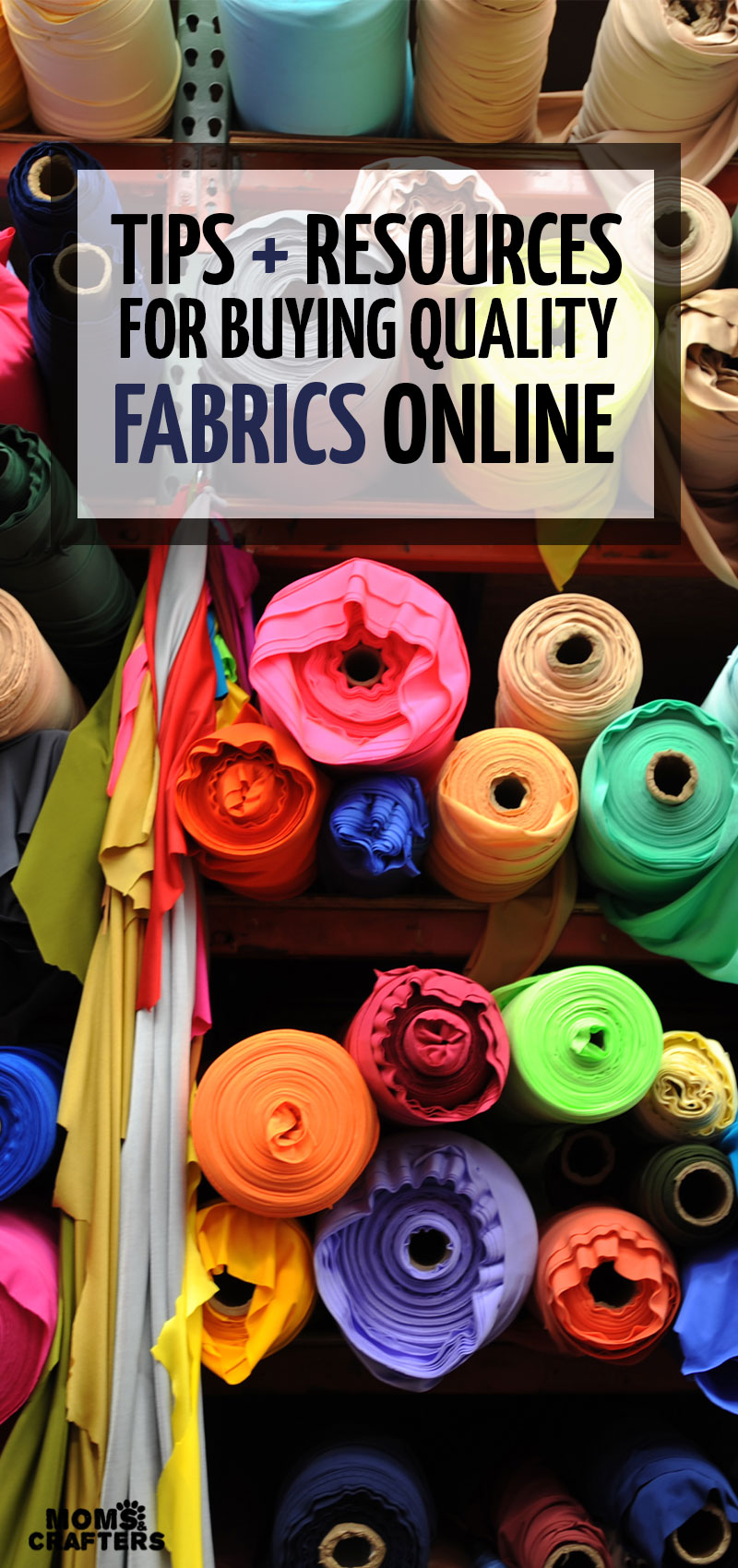 A few tips for buying fabrics online:
If you're ordering for a larger scale project, first order swatches when available. You'll be happy you spent the few extra bucks to see it in person before investing bigger bucks on larger quantities.
If the exact color shade is crucial, calibrate your monitor before you start shopping. At the very least clean it.
Make sure you aware of the types of fabric – while colors and prints are easy to see on the monitor, texture, stretch, and other consistency issues are harder to capture. Pay close attention to fabric type as you purchase.
Have your measurements handy and know exactly how much you need! Err on the side of caution – if you start a project and need more, but can't find the same material, you will not be happy.
I've included any coupon codes I have for the websites, and will update when I get new ones!
The top 3 picks for the best place to buy fabrics online:
For whatever you need, these websites are overall amazing resources, and the first ones that I personally check out when I'm looking to buy fabric online.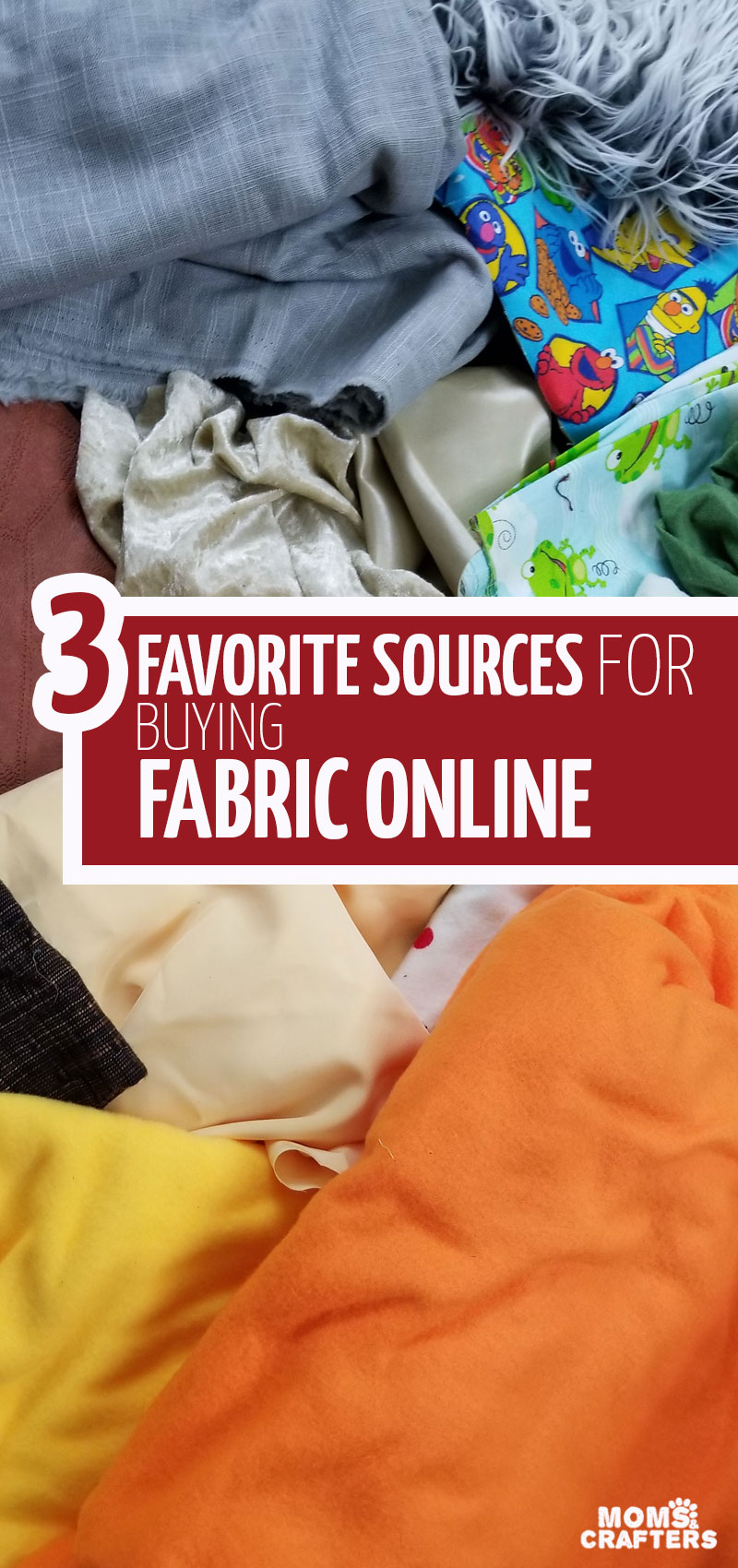 1. Fabric.com:
Fabric.com has an enormous assortment of virtually every different type of fabric out there – home decor, apparel, quilting, and more. I've purchased fabrics from them for a diverse assortment of projects – my laptop sleeve, my furry stools, my leatherette tablecloth.
They have an easy-to-navigate website, as well as really cool fabric comparison tools to figure out which fabric is best for your specific project.
You have more luxurious and designer fabrics alongside budget-friendly ones, quantity discounts, and more!
---
While you may be familiar with Etsy as a source for buying/selling handmade goods, it's also an amazing source for very specific crafts supplies. If you're looking for something that you can't find elsewhere, want discounted remnants, or want to purchase on a more individual basis, Etsy is the best place to buy fabrics online.
You'll find treasures like hand-dyed fabrics, authentic ethnic yardage, and quirky, unique prints.
You'll also be supporting small businesses by purchasing from individual Etsy sellers – and who more than artisans appreciates the value of that?!
Many sellers sell in smaller sizes than full yards, (but not necessarily fat quarters) and I've seen some amazing pricing there.
---
Another all-in-one resource for buying fabric online, Online Fabric Store has a large assortment in every price range, and multiple ways to shop (by color, by project type, etc).
You'll find licensed fabrics, utility fabrics, and more, as well as the supplies you need for rest of your sewing projects: pillow forms, upholstery foam, and more.
---
---
The best place to buy fabrics online for more specific needs:
1. Commercial quantities:
If you're looking for larger quantities to sustain a handmade business, I'd recommend taking advantage of various websites' bulk-purchase discounts. Please note: this is not the same as buying bulk from the manufacturer. I honestly don't have the resources to help you with that, and it's typically beyond the scope of most crafters (even those who make a business out of crafting.
My favorite resource for typical bulk-order needs? Fabric.com – because they have a few different business friendly options that save you $$ on larger orders, without the need to reach out to and research dozens of wholesalers:
Business program – get percent discounts, tax exemptions (if applicable) free returns, and more.
Buy by the bolt – discounts on full bolts of fabric
Buy more save more quantity discounts on individual yardage – check out each listing to see the discounts.
Their huge variety means they likely have what you're looking for, making theme a one-stop best place to buy fabrics online.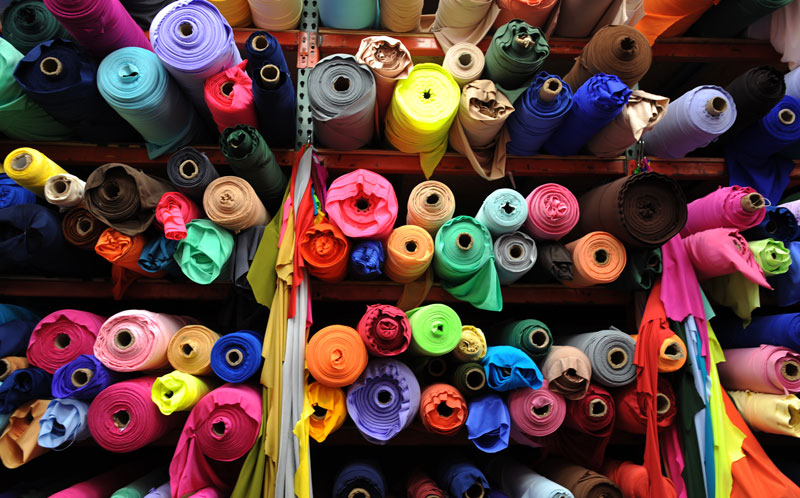 ---
2. High End Fashion Fabrics:
NY Fashion Center Fabrics – For fashion-focused and unique, high quality fabrics, NY Fashion Center is a go-to. You'll find high end leathers (real and faux), lace, jacquard, as well as fashionable prints.
NY Designer Fabrics – This is another great resource for fashion fabrics, with many different types of silks, satins, taffetas, and more, in fashion-forward colors, textures, and prints.
---
3. Quilting Fabrics:
Looking for fat quarters and other crafting and quilting fabrics? Try these online resources:
Annie's – Annie's has a beautiful (although slightly limited) assortment of themed fat quarters, quirky precut yardage in adorable prints, and fun kids' themed panels. Sign up for a free 30 day trial to Annie's Creative Studio courses and patterns here!
Bluprint (formerly Craftsy) – Bluprint is not only an amazing resource for learning new skills, they have a wonderful selection of fabrics! While also a great sewing fabric resource (as well as other craft supplies), they specifically have an amazing assortment of quilting fabrics and pre-cut bundles. Craftsy also carries beautiful quilt kits, as well as all-in-one kits for beginners, and many other project kits. Craftsy no longer sells fabric, unfortunately.

Check out my breakdown of the best sewing machine for quilting for every need!
---
4. Home Decor Fabrics:
Famcor – dedicated exclusively to upholstery fabrics, this resource is perfect for interior designers looking to buy upholstery fabric online.
Decorator's Best – This resource for decorating features beautiful discounted fabric and wallpaper, totally focused on home decor needs. The price range is huge – from budget to designer.
---
5. Specialty, outdoor fabrics:
features rugged outdoor fabrics with waterproof and weatherproof options. You'll find cool print-on-demand options, patterns, kits, hardware, and more for outdoor projects such as hammocks, shelters, backpacks, and more.
---
6. Custom fabrics or hard-to-find prints:
Did you know that you can get fabric from print-on-demand superstore Zazzle?! How cool is that?!
If you're a designer and want to create your own fabrics, or if you're just looking for something more artsy and unique, Zazzle is the perfect place to go. You can get monogrammed fabrics, hand-designed prints, or even photo fabrics!
Make sure to use a proper seamless pattern if you're designing your own, and double check that the fabric you're purchasing is professionally designed by looking at the farther away/scaled down view of the fabric as well.
You don't have a huge choice of textures and materials, however this is a great resource for fabrics that are more print-focused.
---
---
That's all for now! If you have a website that you'd like to recommend as the best place to buy fabrics online, just drop it in the comments below!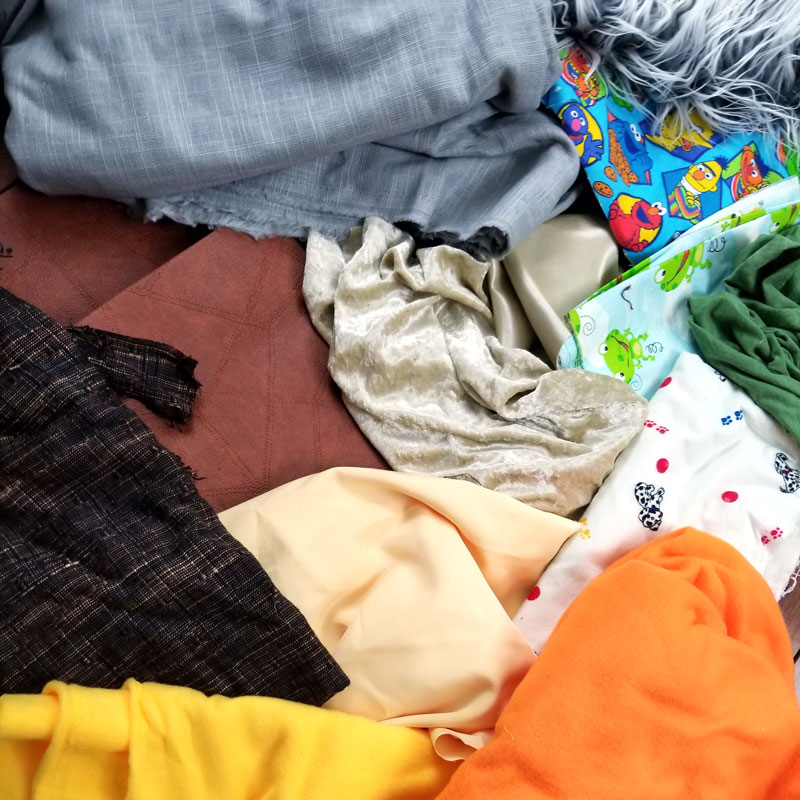 Do you buy your fabrics in-store or online? What do you think is the best place to buy fabrics online?