If you're looking for the best sewing machine for your specific needs, many reviews might be hard to navigate. Each person has a different purpose for wanting a sewing machine – so which one is right for YOUR needs?
For that reason, I spent many many days putting together sewing machine guides in various different categories for various needs. This post contains affiliate links.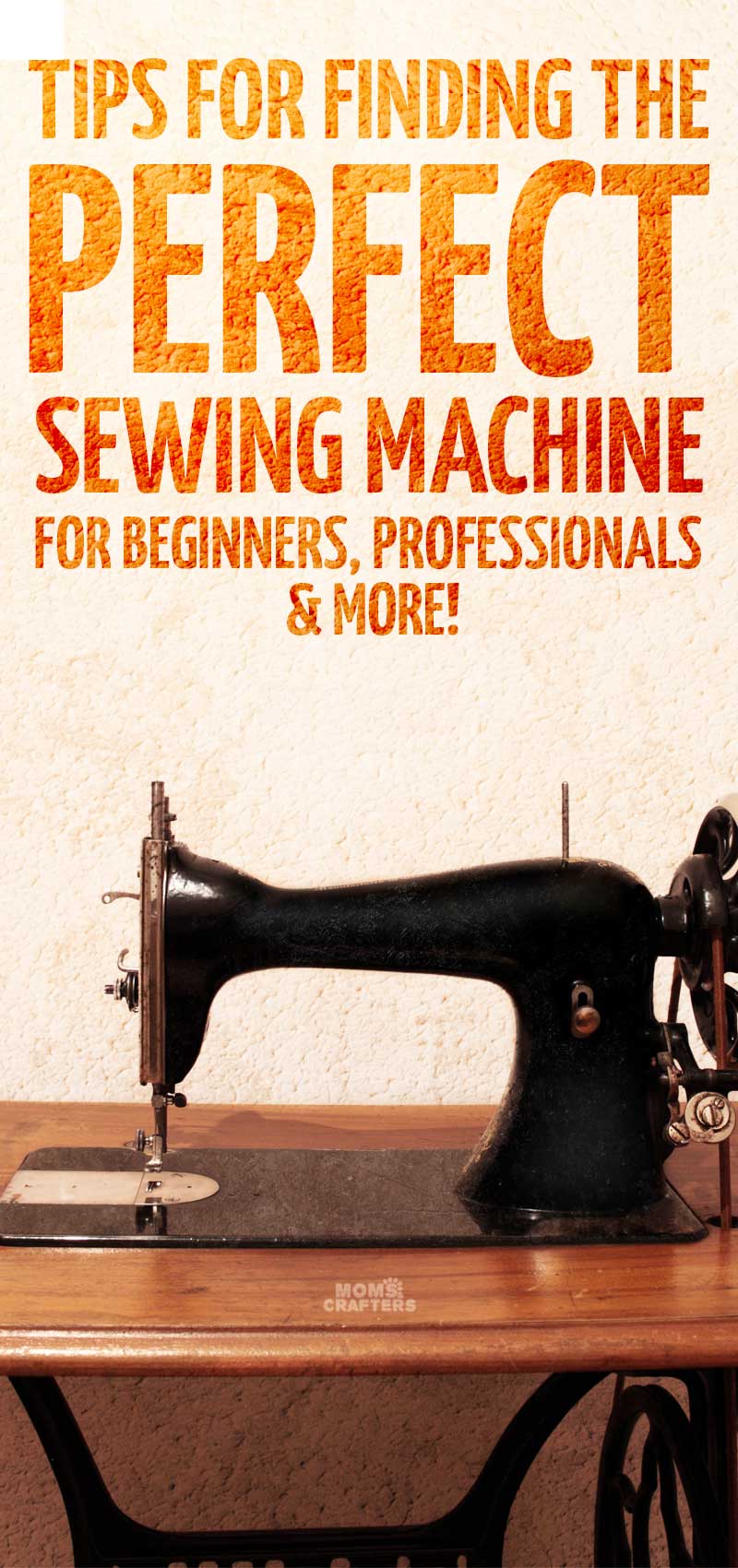 There is definitely overlap, however, you'll find that it's easiest when you don't have to worry about which search terms to plug in to find the right one for you, so just click on the link below that best describes your needs and get to shopping!
I've also included the top recommendation from each category in case you're just in the skimming phase and don't want to dig deeper. First, I am going to share with you my favorite resources for purchasing sewing machines online.
Click here to skip right to the section with the best sewing machine reviews.
---
The best places to buy sewing machines online:
There are many few perks to buying a sewing machine online, but in a nutshell: you can compare prices, don't need to leave the house, and can get some great deals, as well as some tax free (at the time this post is written). Here are some of my favorite spots:
Sewing Machines Plus: Because of a limited physical presence, most states (besides California) can get tax-free machines. They have an enormous variety – the biggest I've seen anywhere, including many assembled machines with tables, and most machines ship free.
They offer financing plans, will actually help you out, and offer a 60 day money back guarantee.They even price match!
This is the closest personalized experience you'll get to shopping in-store, and their variety is incredible. They have expert sewing consultants who offer lifetime support for your investment. I highly recommend getting any higher end or more specialized machines at Sewing Machines Plus. They can be a bit bare-bones in the basic machines department, so if you're getting a lower end machine, you might not find what you need here.
Shop Sewing Machines Plus here!
Walmart: I'm a big fan of Walmart.com for things like this. They have a great selection of basic machines, free shipping from $35 and 2 day shipping on many items.
Generally speaking, they have good customer service. So while you won't be getting "expert service" if there is a problem with your order, you'll get prompt help.
Shop Sewing Machines at Walmart here!
JOANN: A popular source for anything sewing and craft tech, it's a great spot for sewing machines too!
I recommend JOANN especially for those who like to do combined in-store and online shopping, since you'll find great options on display in many stores. They have a robust variety from many brands. They are my top pick for buying sewing machines online from big crafting chains.
Shop JOANN Sewing Machines here!
Amazon: If you're an Amazon shopper, you can definitely shop for sewing machines there!
The biggest perk is on-site reviews, however you'll want to dig deeply into them, and not just rely on a star rating. Dig into why people do or don't like the machine, and how that applies to your needs.
Of course you also have prime benefits, as well as famous Amazon customer service. The biggest downside is that their shopping interface and sorting isn't designed for your sewing machine shopping needs.
Shop sewing machines on Amazon!
---
The Best Sewing Machine for Each Purpose:
What is the Best Sewing Machine for Beginner Sewers? There are many options, but even that will depend on your purpose in looking for that machine. Are you looking for someone who is just learning to sew? Are you looking for a beginner sewer who hopes to expand it to a business? Read this guide for my top recommendations for each category.
Top Pick from that guide: Brother SM1400 or similar
If you're looking for the best sewing machine for kids you can choose between an actual kid-safe machine, or a beginner sewing machine. I recommend a kid-safe machine for kids who aren't ready for the responsibility, but a "real" machine as soon as they are, because you simply don't get the full quality. Read my guide on the best sewing machine for kids. You can also check out 3 Easy Machine Sewing Projects for Kids to Learn How to Sew.
Top Pick from that guide: Janome Arctic Crystal Easy-to-Use Sewing Machine
If your main sewing is quilting you'll probably want to look specifically at those features. My guide with ideas for the best sewing machine for quilting is one of the most varied – because quilters require a unique set of features, and come in every skill level.
With that here are my top picks for quilting –

Read the the guide to explore more options from each category!
Sewing leather is its own game which requires very different needs. If you're a hobby crafter sewing leather occasionally, you can swap out your accessories. If your main craft is leather, you'll want a machine that specifically handles leather well. Check out my guide on the best sewing machine for leather – that also includes tips for sewing leather with any machine.
Top pick from that guide: Reliable 4000SW
Heavy duty sewing – sewing heavy fabrics like denim and upholstery – is not always the same as professional. The way I created this guide was based on a machine's capacity to handle heavy duty materials. Someone who professionally sews a delicate material like silk does not need this. Someone who sews clothing or home decor as a hobby OR professionally will want to read this guide to help you find the best heavy duty sewing machine.
Top pick from this guide: Janome HD3000
Finally, if sewing is your full time job you'll want a machine that doesn't just get the job done well. You'll want maximum efficiency, flawless stitching, perfect accuracy, time-saving settings, consistency settings, and more. While anyone might appreciate these features, they do sometimes cost. But if you're in this business to win it, the sewing machine you choose is important. I put together two guides for this – one with the best semi professional sewing machine options, and one focused on finding the best sewing machine for professionals.
Top picks from these lists: Juki DDL-9000C Series or Juki DNU-1541-7
What do you think is the best sewing machine? Do you own any from my lists and want to add your feedback? Comment below!