These fun braided friendship bracelets are so simple to make, but so pretty and fun to wear! Make one, or make a few to stack.

My favorite jewelry making crafts are those that are crafty and use classic craft supplies, but also include basic jewelry making skills. Since my heart friendship bracelets were enjoyed by many, I decided once again to have a little fun with braided friendship bracelets, using something other than the typical embroidery floss. I picked up some baker's twine in the dollar section at Target and decided that would look really cool as a braided friendship bracelet.
Since it already has a twisted pattern on it, it's important to keep the design simple. A thick braid is so chic, and the baker's twine gives it a "homely" feel. I finished it off with proper clasps, so that it can be worn again, and again, and enjoyed like a piece that can be bought in an accessory store.
On one of the bracelets I had a little extra fun, and added in a big knot in the middle. The other I simply braided.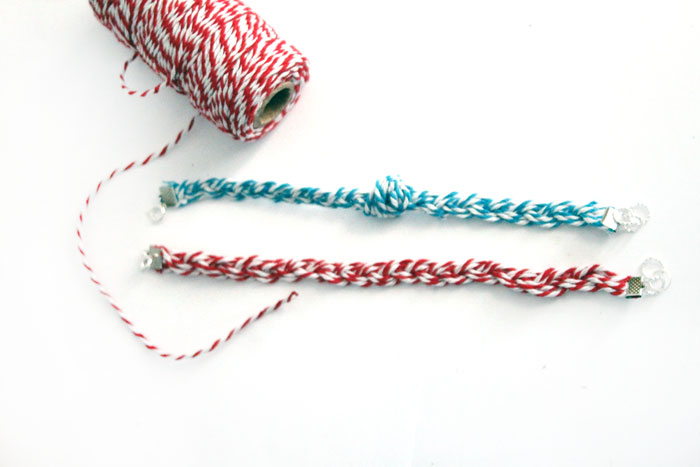 I realized after I made these that I should have bought the baker's twine in more colors – so that I can make a rainbow of braided friendship bracelets! I linked below to a fun pack you can try out to have more fun with this than I did (which is saying a lot. I really did have fun making these…)
What you need to make braided friendship bracelets:
(Disclaimer: Amazon affiliate links are included for your convenience.)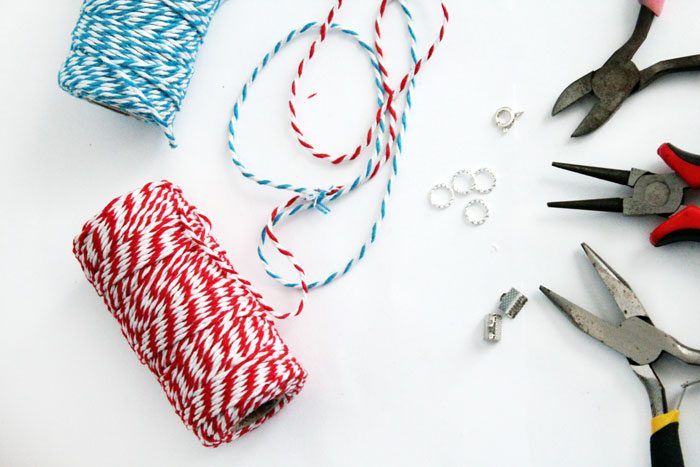 Most of these supplies are basics that you should have in your jewelry making stash. If not, they are worth having around as they will come in handy for many projects!
How to make braided friendship bracelets:
1. Cut six pieces of twine, about a foot in length.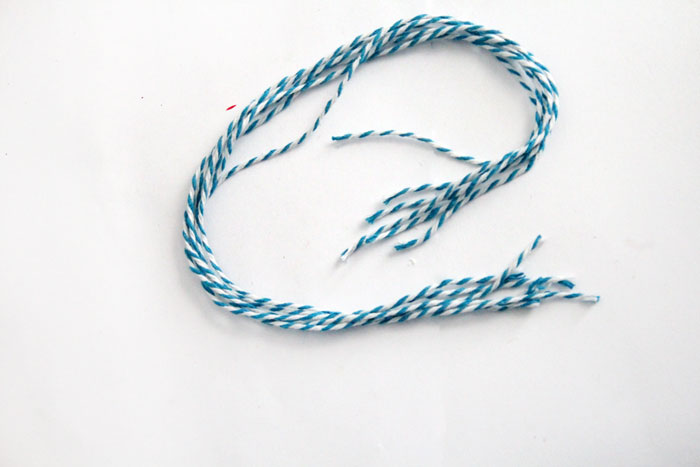 2. Use a ribbon crimp end to attach your threads. Mae sure that they are all lined up neatly in the crimp end. You may want to use one slightly wider than your twines – it will be easier. Crimp it in place using chain nose pliers.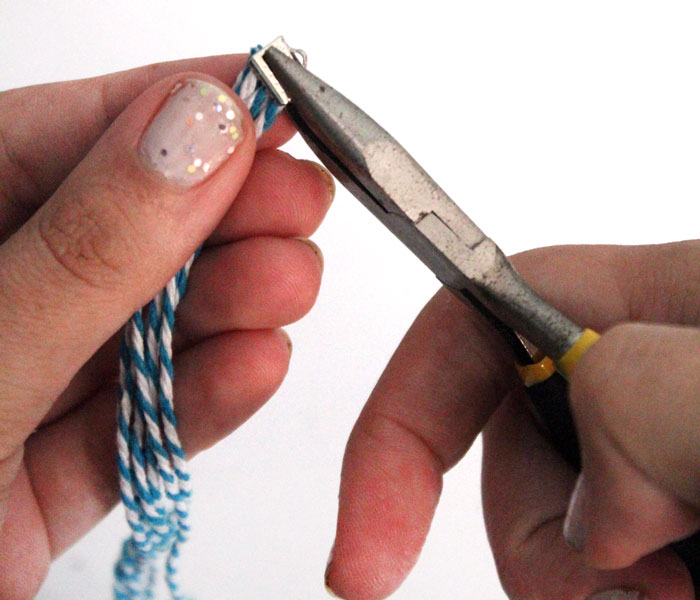 3. Split your strings into three sets of two.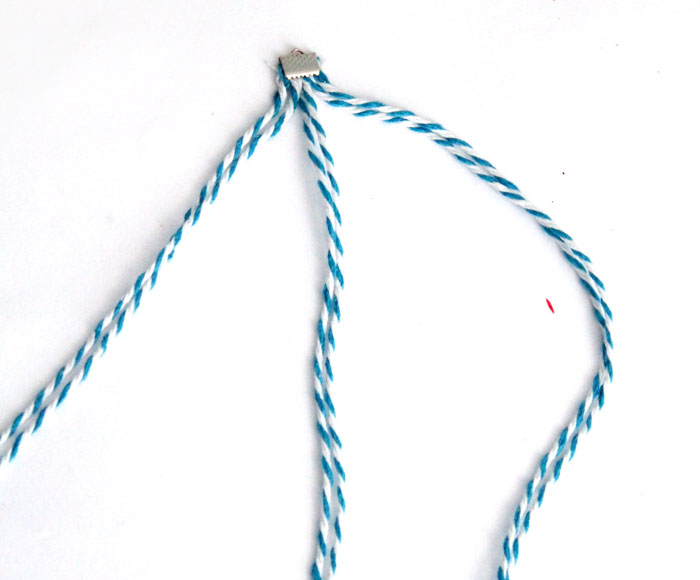 4. And start braiding.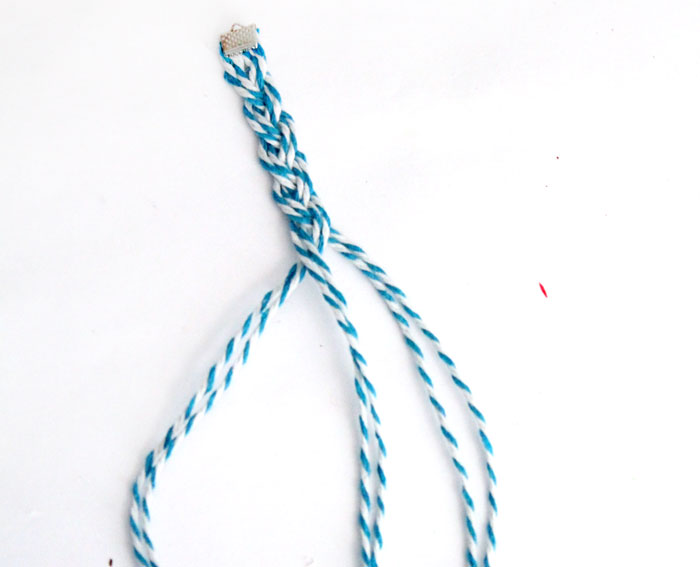 5. When you're halfway through, if you want, you can make a double knot, just for fun.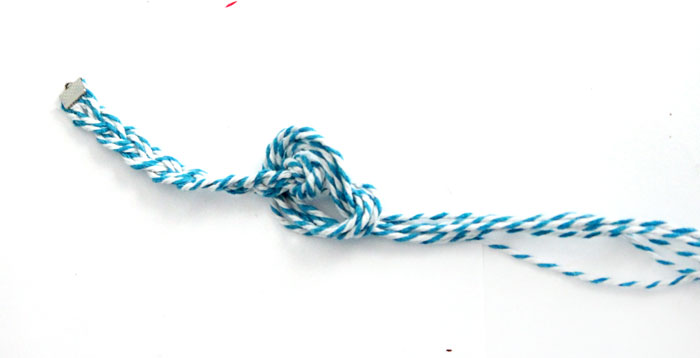 6. Continue braiding until the bracelet is long enough to fit your wrist.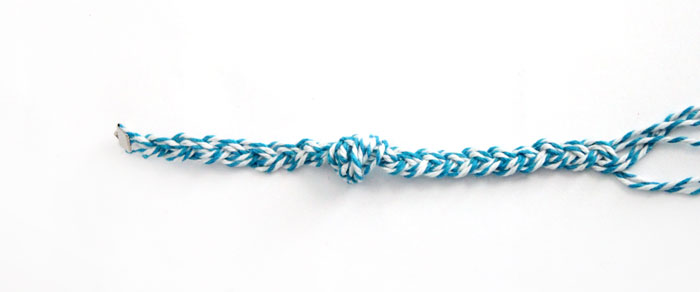 7. Trim the strings, but be careful that your braid doesn't come apart!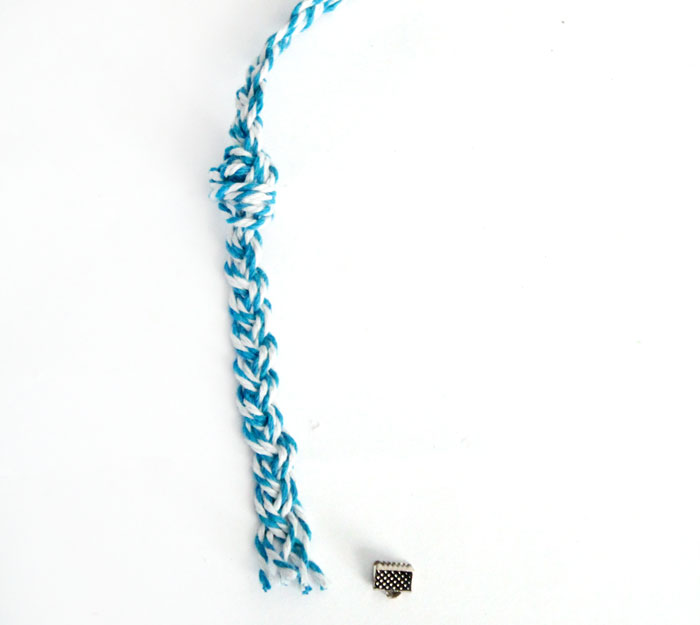 8. Crimp your second half the same way you did the first. You can see that I struggled to keep my string inside the ribbon crimps, though it did work out in the end. That's because I used ones that are too narrow. I highly recommend using a wider one, especially if this is your first time using these.

9. Attach a spring ring or lobster claw clasp to one end.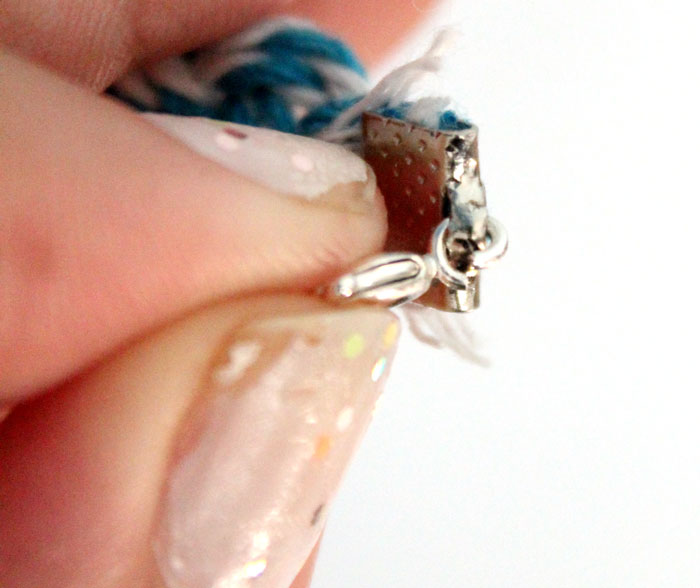 10. On the other end, you can attach a piece of cable chain, or a few pretty jump rings to make an adjustable closure. When you open jump rings, make sure to open them in a forward-backward motion, not side-to-side, so that you don't weaken it.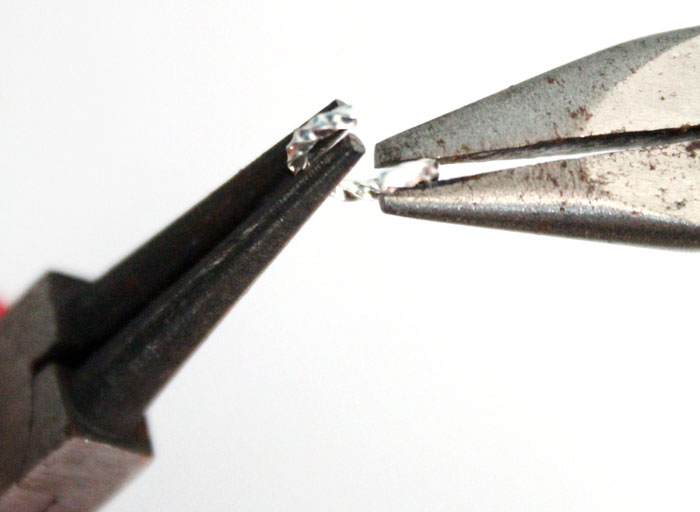 Attach the first jump ring to the hole on the crimp.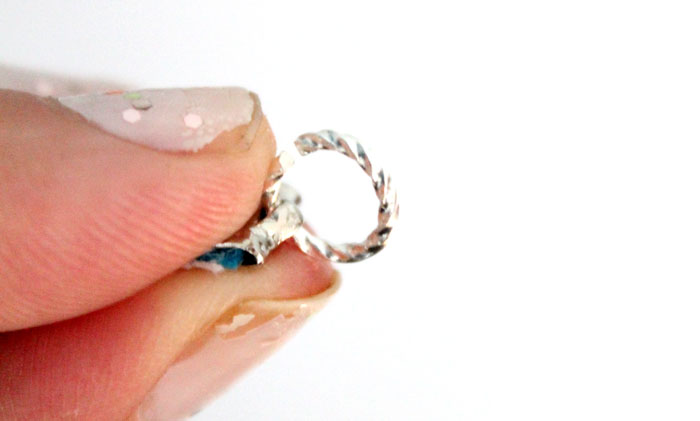 Attach another one to that, and then a third one at the end, to make a three-loop "chain".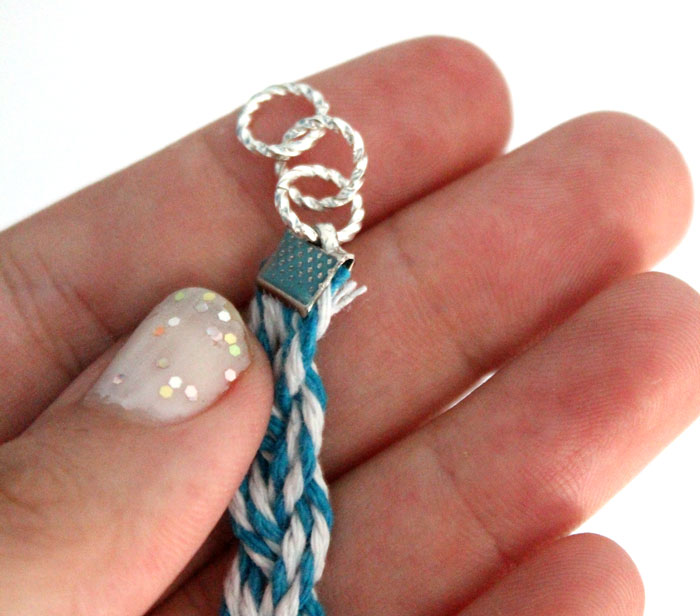 Your bracelets are ready to wear!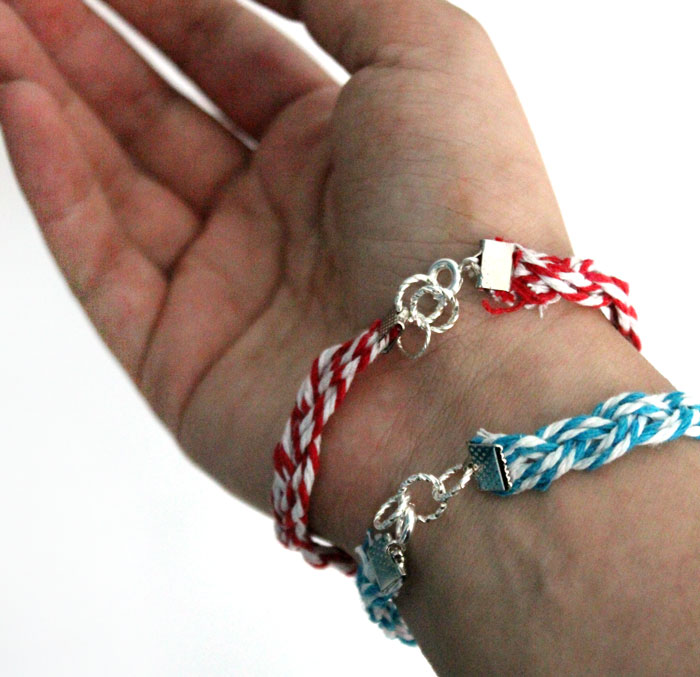 I hope you enjoy these! They're perfect to wear and to share, so make a bunch! They also make a great party craft for teens, as the supplies are easy to find and inexpensive.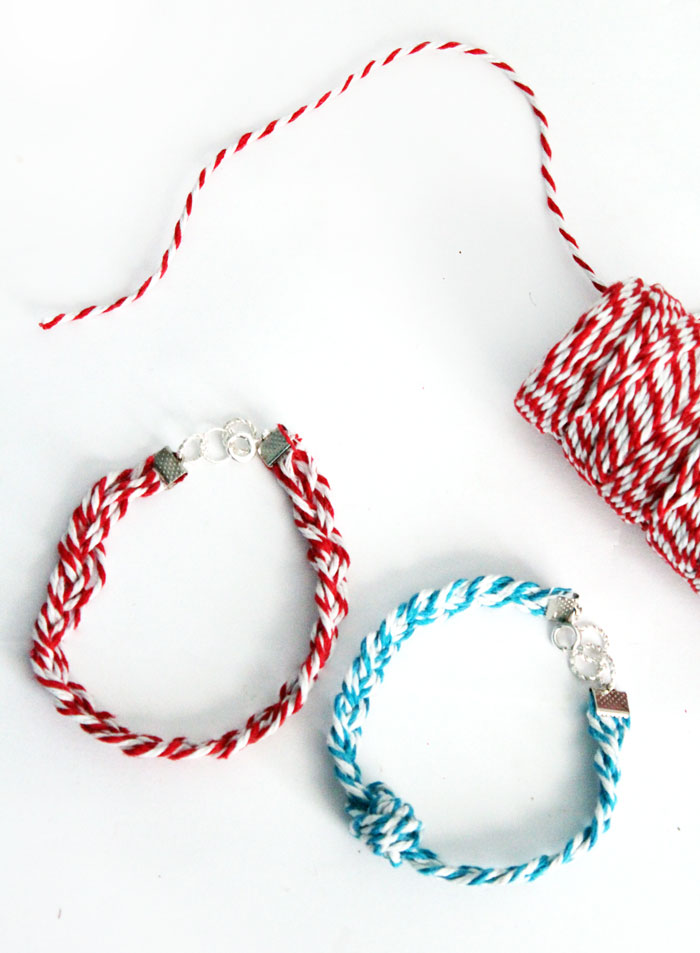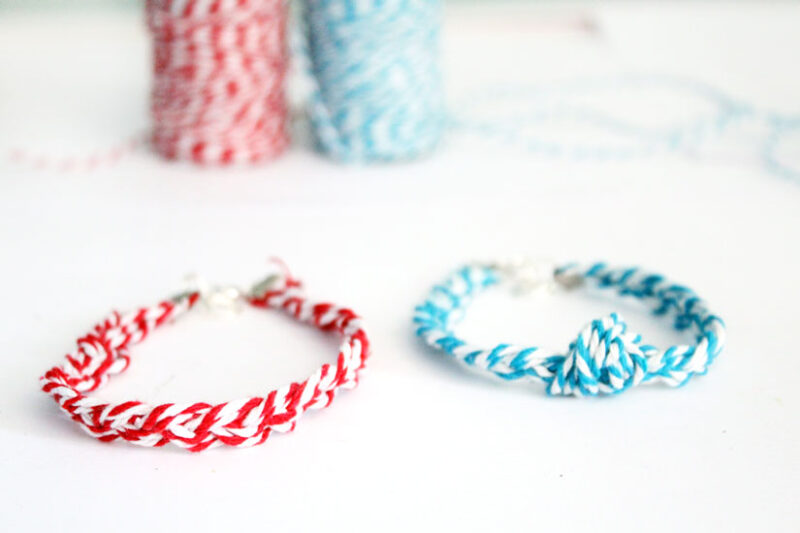 If you loved it, I have plenty more party craft for teens that are quirky and fun! Check out these cool party craft for teens too – I know you'll love them!