With baby's first birthday right here, it's important for me to have the perfect toys for his developmental milestones. The little man is a huge fan of music, and balls, and so a toy that incorporates both together with an educational angle is a definite winner! That's why I was thrilled when Bright Starts sent me the Hide n Spin Monkey from their Having a Ball! collection.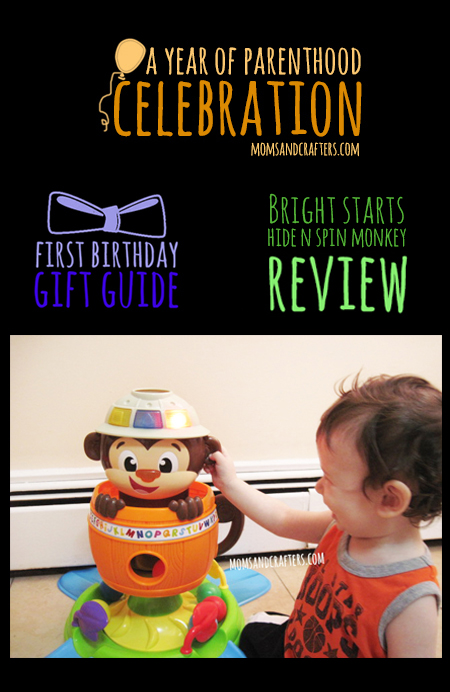 First Impressions:
This toy is adorable! I had such an easy time putting it together. From the two toys Bright Starts sent me (look out for a review of the second coming next week) my baby right away chose this one. It makes such fun music, my baby can't stop dancing to it! He's not completely ready to play with all of the features, but he loves playing with the balls, and pushing the buttons.
When I encourage him, he can put the balls in. He peeks afterward to see where it went… It is definitely a challenge for him, which, in my opinion is a good thing. The toy has been engaging him for longer than almost any other toy so far.
Features:
Place balls in the monkey's hat to hear it count and play music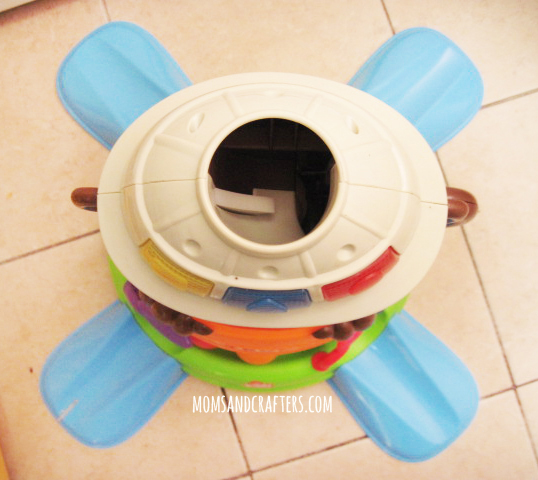 Once you've put in a few balls, the monkey will "spit" them out of the barrel
Open the leaves on the bottom to let the balls roll down the chute. Let your crawler chase them around!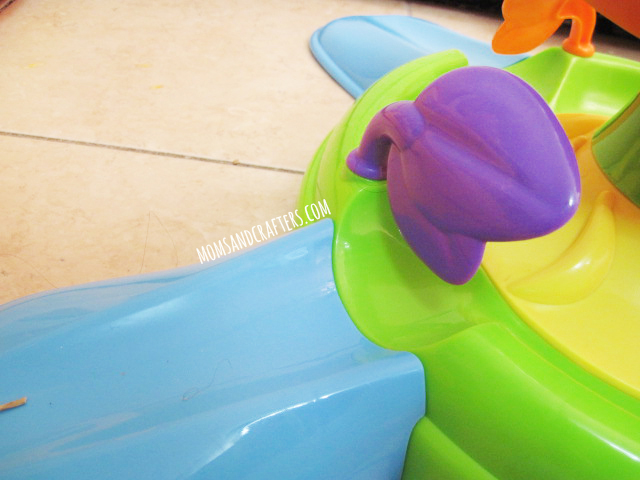 Buttons on the monkey's hat teach all about shapes and colors.
Push the monkey's nose to make the monkey hide in the barrel (and release the balls)

Choose from two volume levels, or turn the sound off for quite play.
What I liked:

When testing a toy, the main thing for me is how my baby likes it. He is obsessed with this toy. It's a great play level for him It presents a challenge, as he's just figuring out how to put the balls into the hat.
I love that it teaches through music and lights – two things that babies and toddlers love most. It encourages them to interact, teaching about cause and effect. It also incorporates shapes, counting, and colors – small things little ones can learn as they begin to verbalize.
It's great for a range of ages, with the multi-functionality and the various play options. It's also an excellent toy for play dates. We invited over a neighbor to join in the fun and they were able to play together. They never play together! They usually fight…
I have a tiny space, and so I appreciate that the chutes are easy to remove and stash, allowing the toy to take up a much smaller area.
The toys are interchangeable with the other Having a Ball toys which adds to the convenience. They can also be replaced on their own. So far, though we haven't lost any.
What I didn't like:
I love, love, love it. The only thing I might change is possibly to add a compartment somewhere to store the balls. I do store them in my over the door shoe rack in the baby's room, where I keep the parts to his other toys.
Who it's best for:
Anyone with children in their age ranges. I tested it with an almost one year old, and a 15 month old, so that's the best recommendation I can give!
Those who like to teach through play
Crawlers and babies who stand holding on.
Babies that love music and lights!
Final Score *****
Final score is 5/5 stars. This score is awarded by Shmunchkin… There is nothing I would change with this. He loves playing with it, and it successfully engages him which is a real biggie for me – it's no easy task! There are so many play options!
Connect with Bright Starts:
You can also find out your baby's B.L.I. (baby laugh index) and enter their contest here. Plus, stay tuned for a chance to win on this blog as well!
Disclaimer: I received the above product free of charge in order to facilitate the review. As you can see, all opinions are my own and remain unbiased. This post contains affiliate links.