Welcome to my Graco Pack n Play Jetsetter review! I absolutely love this playard! I'm thrilled to be able to tell you why I love it, what my favorite features are, and what I didn't love as much, so that you can make an informed decision.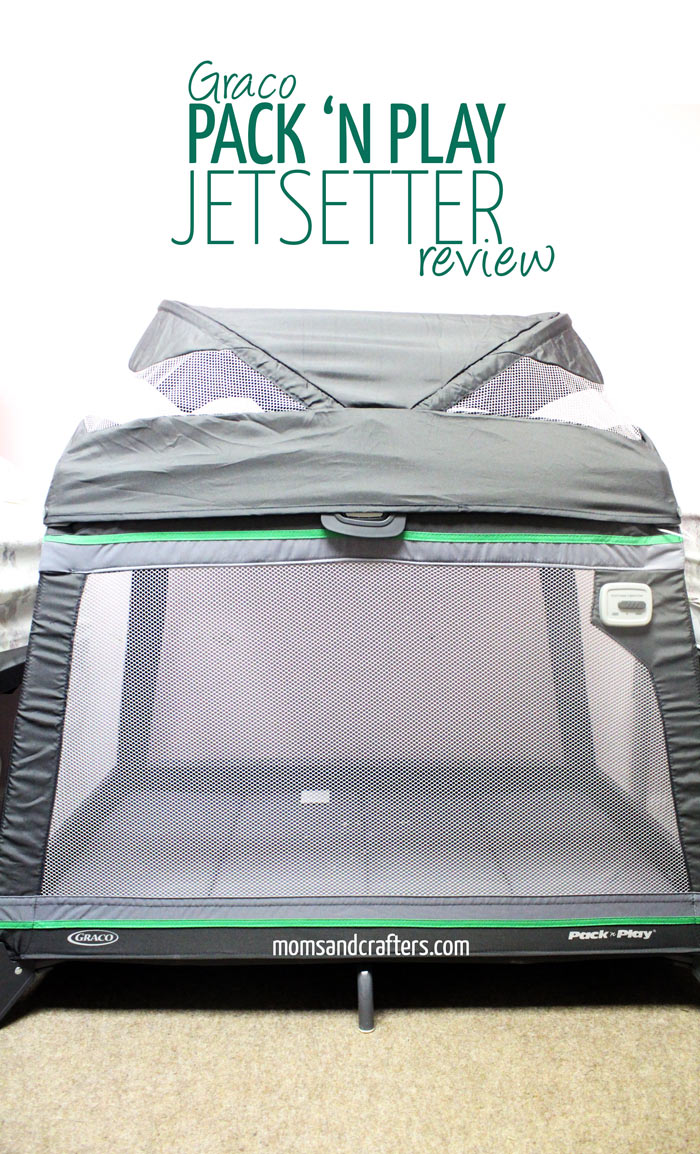 Graco Pack n Play Jetsetter reviewis unique in comparison to the rest of the Pack 'n Play line from Graco. The look is streamlined, and so are the features. Instead of packing in every feature possible, it includes just a few key conveniences. The result is a much easier option for on the go, but a great solution for at home too.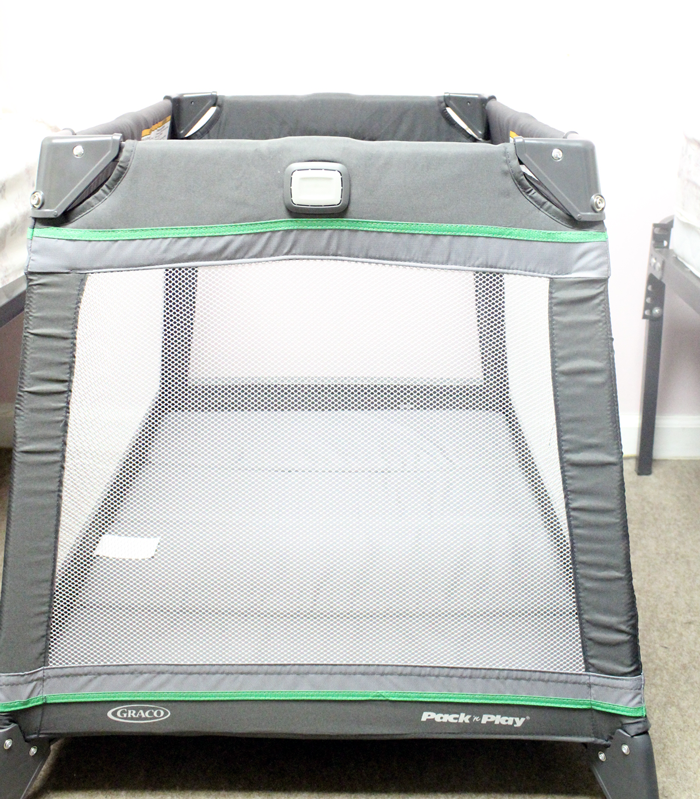 Weight: 17.5 lb
Colors: Fern (pictured) and Sunshine
For children less than 35 inches tall
Bassinet for babies up to 15 lbs
Dimensions: 26.9 x 10.5 x 10.4 inches
Folds easily, even with the bassinet attached. Legs fold inward too.
Features a removable domed canopy that snaps on
Features a cozy removable bassinet
Features a diaper changing pad that can clip on, and has multiple storage pockets.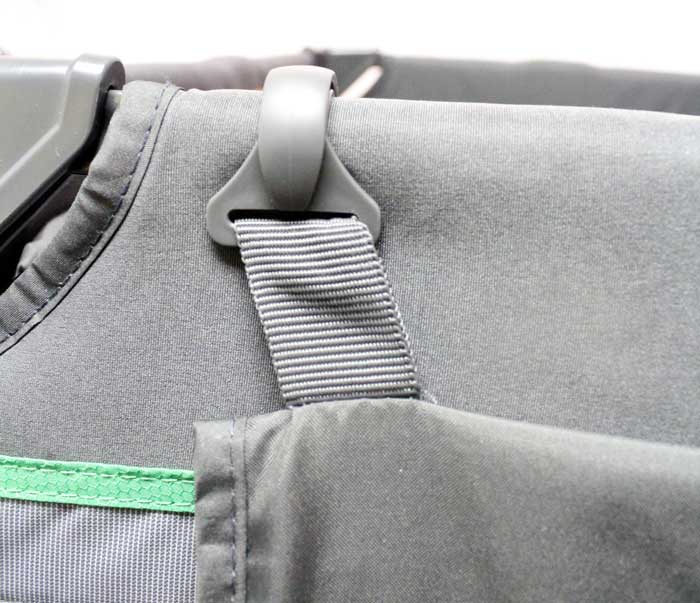 Storage bag with pockets, and backpack straps
Two levels of vibration (removable) on the bassinet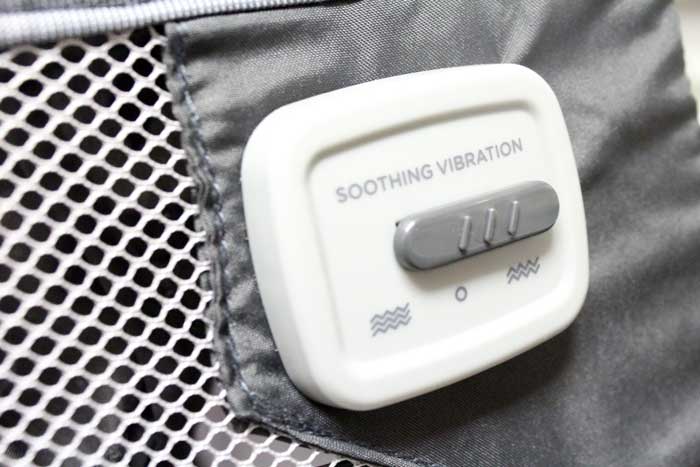 This playard is much more compact and portable than most. The unique shape allows it to fit in between a much smaller space between beds at my parents' house. It also folds smaller.
The shape also makes it harder for my toddler to climb out.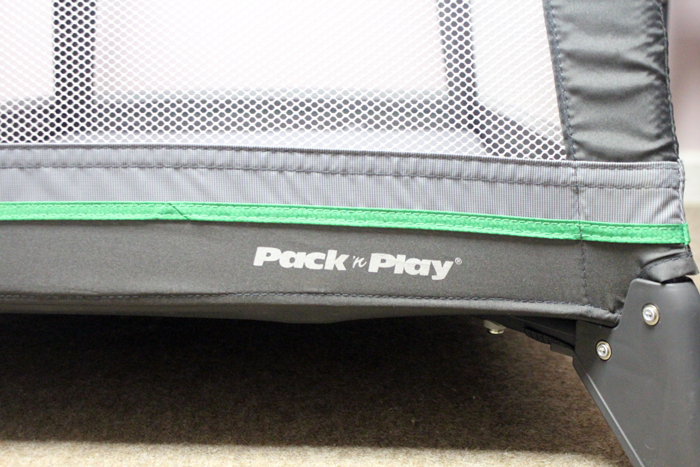 The large, visible buttons make it easy to fold, without help.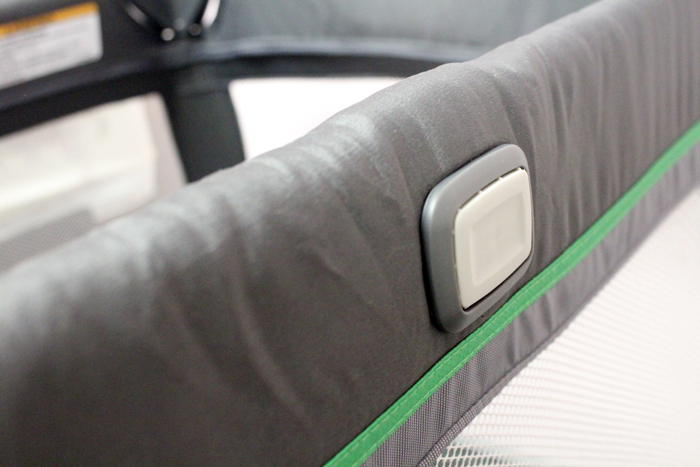 The padded mattress is very comfortable. This makes more than usable for extended visits. We used it for over a week, and my fussy toddler slept very well.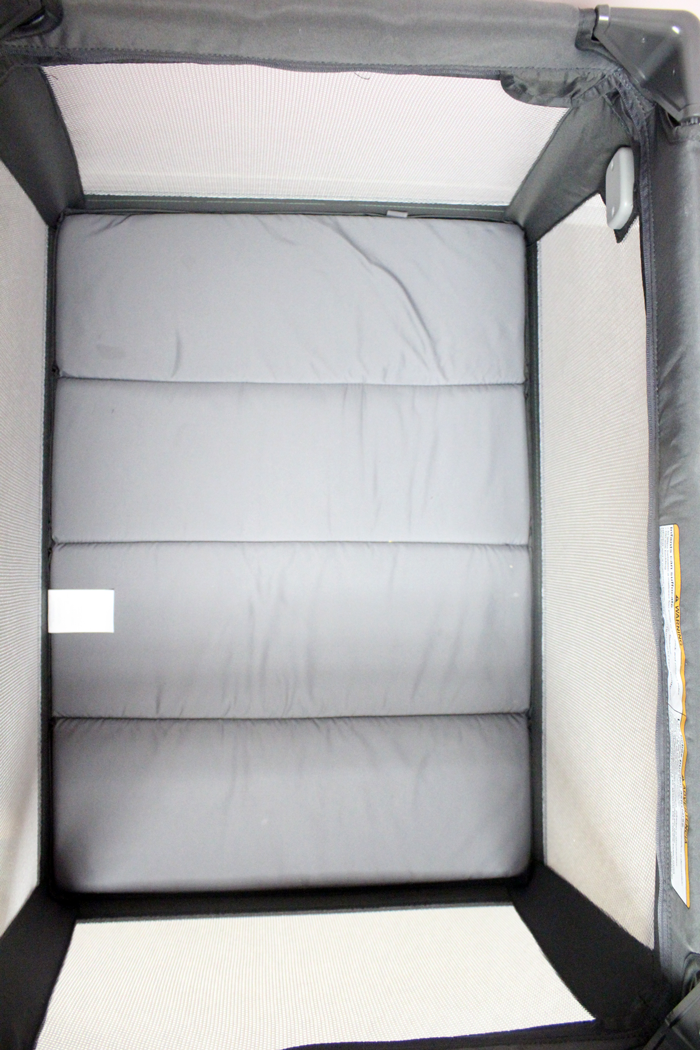 The backpack-style straps on the carrying case is my husband's favorite feature! When he loads up the car for our visits, the hands-free carry saves him a trip.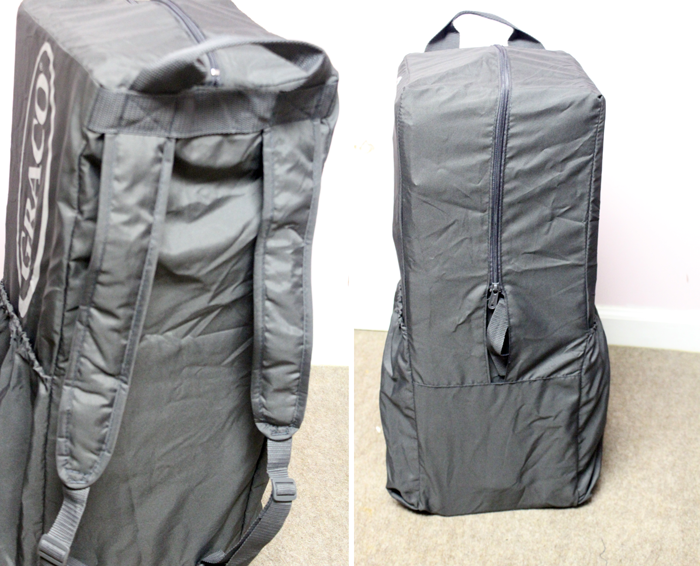 The diaper changing pad is a feature that I do NOT have use for now. However, this adds a lot of functionality for use of this at home with an infant. We used a playard for M until he was about five or six months old. Having the options of a built-in changing pad, with storage for nearby supplies, both at home and while on the go, makes things so much easier.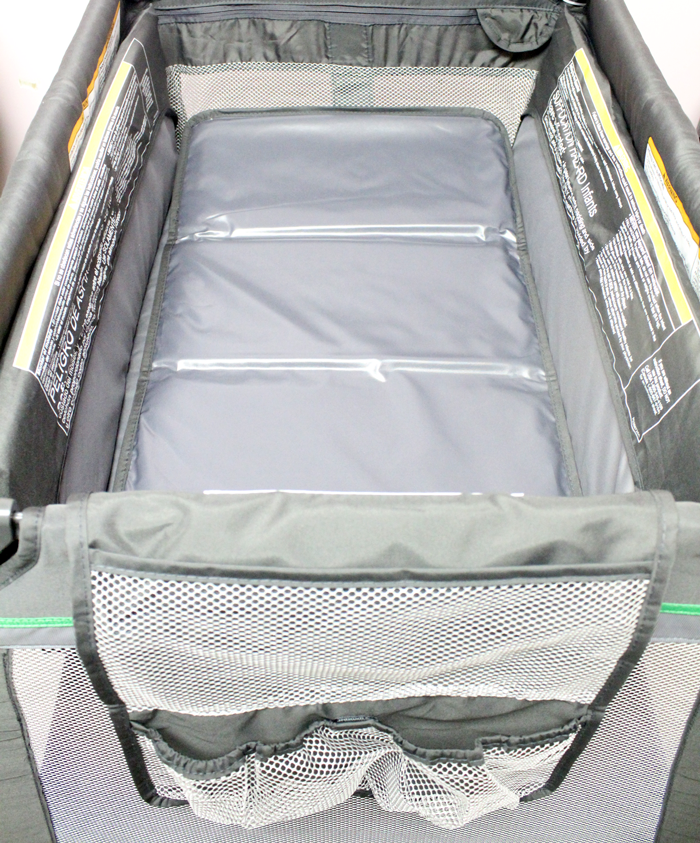 This brings me to the bassinet… I love what the tapered sides do for the bassinet. It makes it much smaller, and more infant-sized. The mattress is tucked into the sides so that it's firmer in place. The playard folds with the bassinet intact.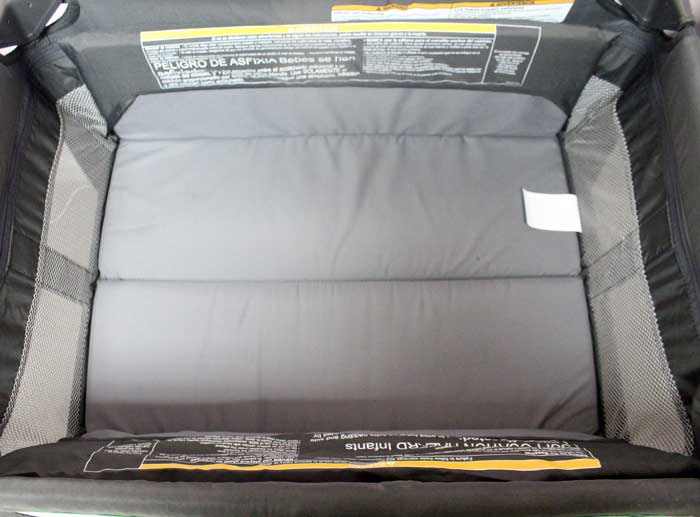 The bassinet attaches with an easy-to-use zipper. The zipper is covered with a velcro closure, making it more secure, and hiding it from curious eyes.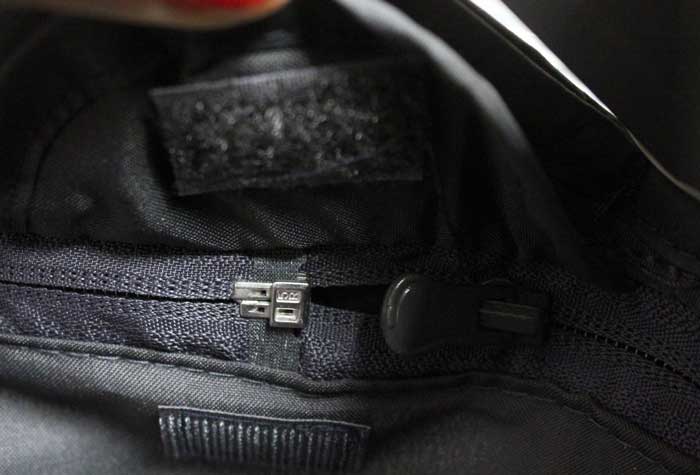 If I were to choose one "unnecessary splurge" on a playard, it would be vibrations. M loved them when he was little (he had them only on his bouncer) and it's a great way to soothe an infant! The Jetsetter has two levels of vibration for the bassinet.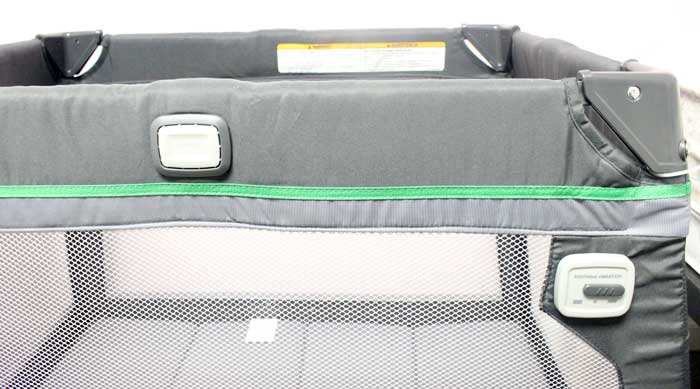 Finally, my favorite feature of all time is the canopy. It is easy to install and remove. While it's not the best option for toddlers (M didn't let me close it and then took it right off), it's perfect for infants.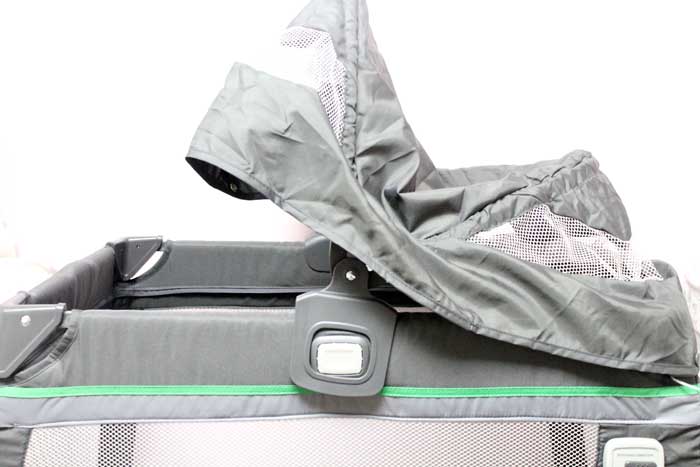 The darkening shade allows infants to relax better. It has large, open mesh areas so that you don't need to worry in the least about airflow.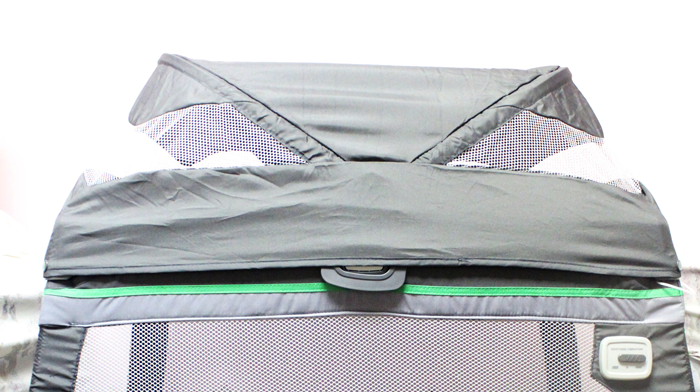 One Drawback:
The one drawback of the Graco Pack n Play Jetsetter is the fact that you can't fit all the accessories in with it. The bassinet folds in with the playard, however the canopy and the diaper changer were stowed in the outside pockets, making it a bit bulky. That being said, I normally wouldn't bring all the accessories along. I just wanted to photograph it in use at my parents' house 🙂
In conclusion:
If you're looking for a sturdy and beautiful playard, the Jetsetter should be an obvious choice. It has just the features you need to make it great both for on-the-go and for an alternative to a cradle or bassinet for an infant. I love how Graco streamlined it without stripping it of the handy "extra" features that make me a huge fan of the brand.
Get it on Amazon | Like Graco on Facebook
Disclaimer: This post contains affiliate links. Moms & Crafters received a sample product free of charge to facilitate this review. All thoughts and opinions are my own.