Looking for the best craft gifts for kids, and toys that inspire creativity and artistic skills? These tried and tested gift ideas for kids ages toddler through teen are educational and inspirational! This post contains affiliate links and compensated products.
---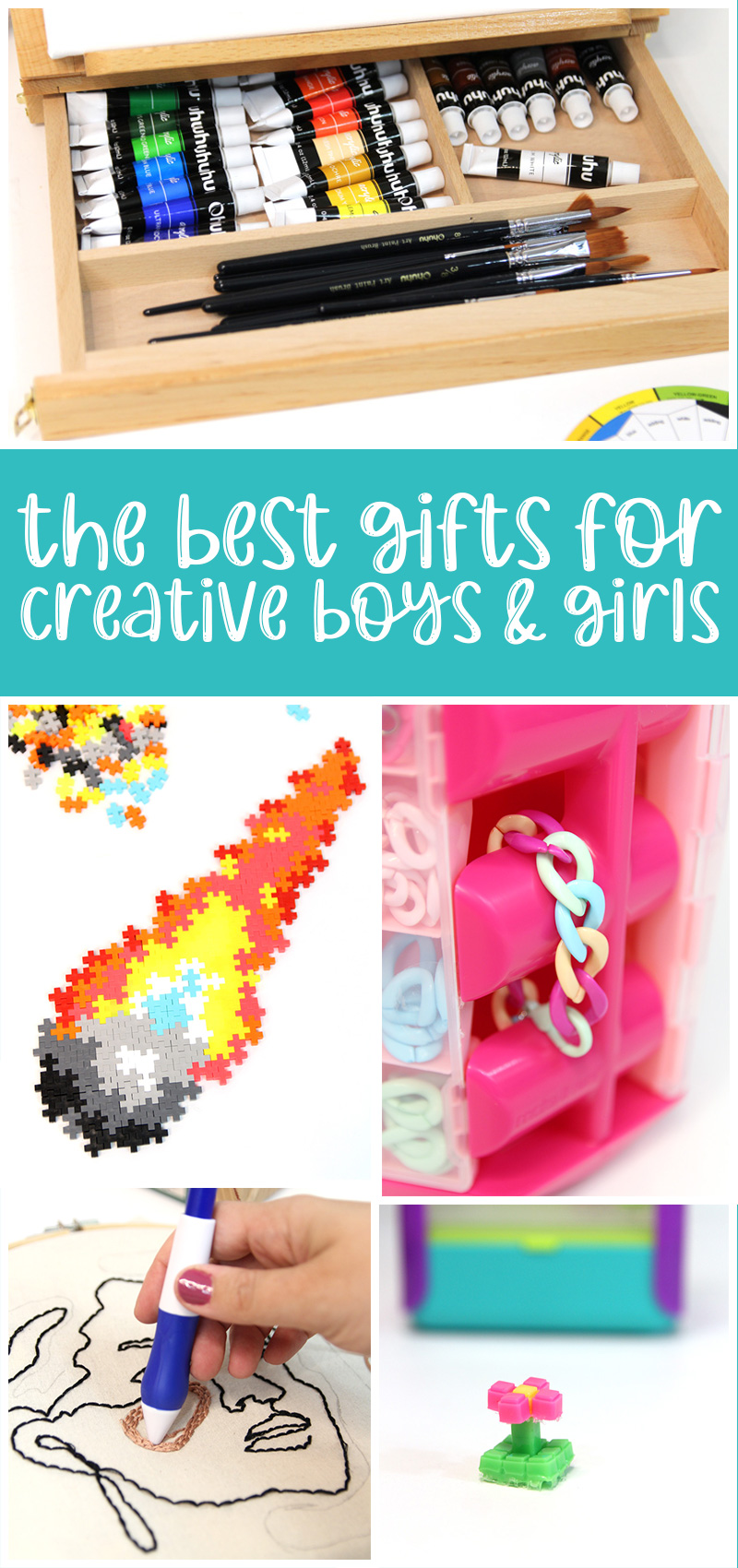 One of my absolute favorite categories of gifting is finding the best craft gifts for kids. However, during the holiday season, I like to take it a step further, and mix your classic craft supplies with toys, gadgets, and more gift ideas that inspire creative play in kids – even if they don't produce a permanent "project".
To me, the best craft gifts for kids feature skill-building opportunities.
That can be anything from working that pincer grasp and fine motor play to actually learning a new art or craft skill!
To help you find the best craft gifts for kids, as well as fun creative tools and toys, I organized this list by age. I recommend browsing through the category you're looking for and all the ones below it. I put things in the minimum age bracket that they're good for, but you'll find items in the toddler category that are fabulous for seven-year-olds, for example. And those make the best craft gifts for kids, because they'll grow with your child!
I'm going to start by saying: every year that I assemble a creative gift guide I am floored by the selection that is out there, a far cry from the things I grew up with. It's simply incredible.
The one thing that I find is still missing in the crafting world is creative tools that are designed for kids – but not necessarily girls! Y is very artsy, and has friends who are like this too. I did my best to include some craft gifts that'll appeal to both boys and girls.
And now without further ado: the best craft and creative gifts for kids!
Creative Gifts for Toddlers & Preschoolers
Kids are almost never too young to create, and once your child turns two, you'll want to offer them those opportunities! The truth is, at this age, you need to keep things ultra simple. Leave it open-ended, and allow them to explore different media.
When choosing craft gifts for toddlers, be aware that many of them might be choking hazards. Make sure they are appropriate for your kid's age, and don't give choking hazards to toddlers who mouth things. Always supervise your toddler's play closely.
Kasel Kraft Dough Sensory Kits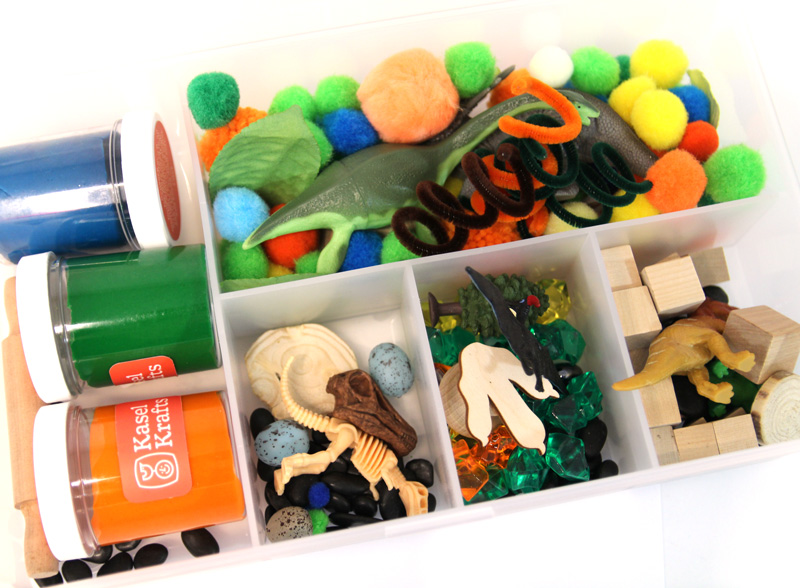 There's nothing like play dough to inspire those first creative moments – and nothing like Kasel Krafts' fun sensory exploration kits!
Their soft sensory clay is the perfect starter clay for little kids. Back when M was a toddler, I discovered that the best way for young kids to start with play dough is simply by sticking things in. Kasel Krafts sensory kits include loads of mix-ins on a specific theme in a sectional tray.
The Dinosaur one has everything from footprint stamps to eggs, wood blocks, gems, pebbles, plants, skeletons and toy dinos, and so much more. It comes with three colors of soft, incredible clay.
Kasel Krafts Sensory Dough Play Jars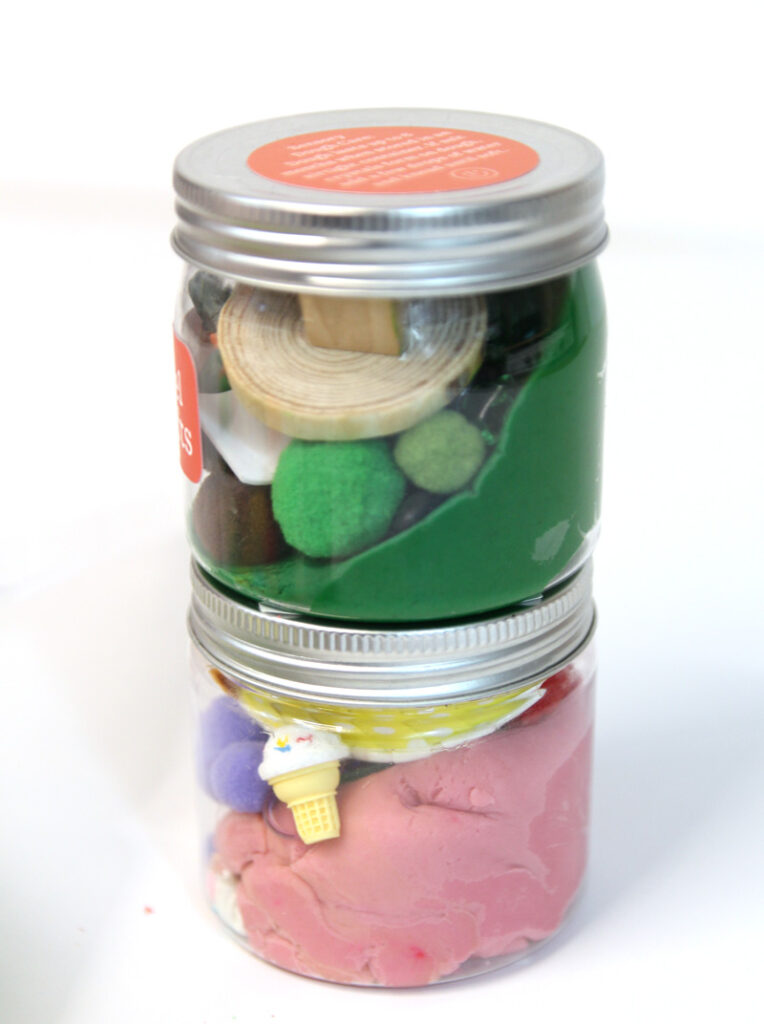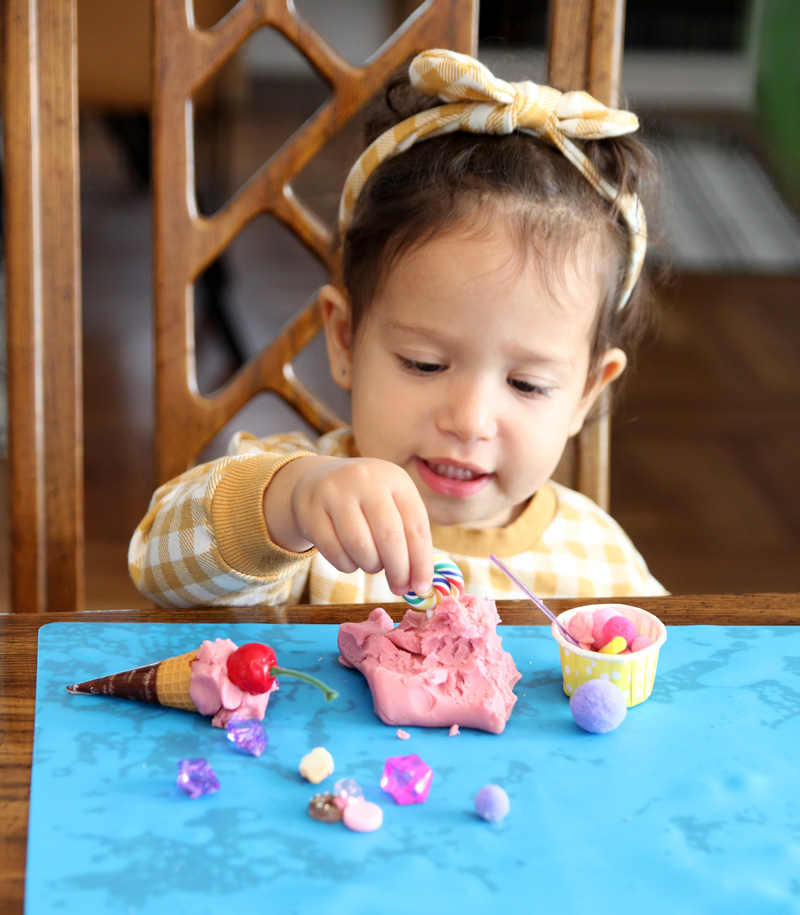 Kasel Kraft jars are the perfect size for on the go. They come with fewer accessories – but still totally enough for an engaging, creative, playful experience.
They're fabulous for when you want a smaller gift, or something to toss in your purse for SOS moments.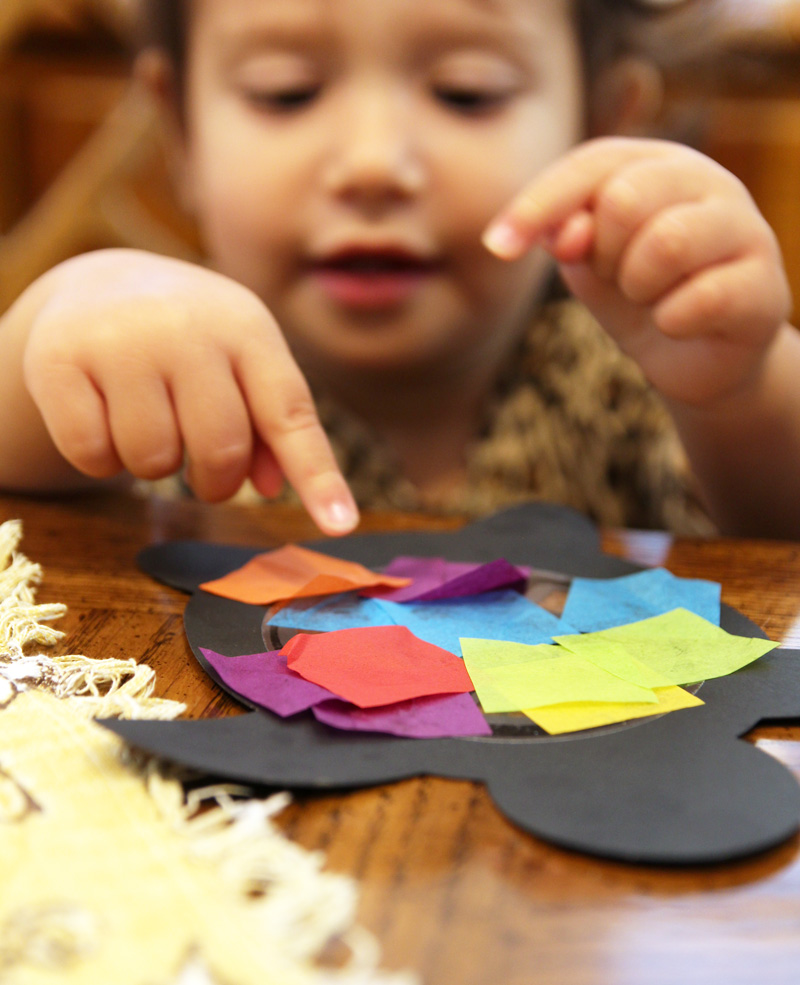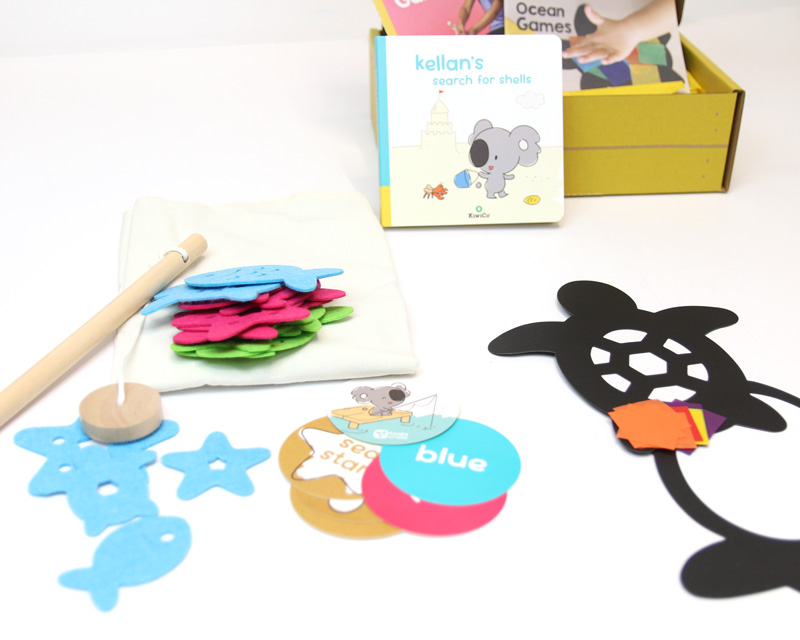 As we shared in our list of favorite second birthday gift ideas, we love Koala Crate and found their crafts to be so doable for the target age range, as challenging as it is.
A really enjoyed crafting the suncatchers in the kit.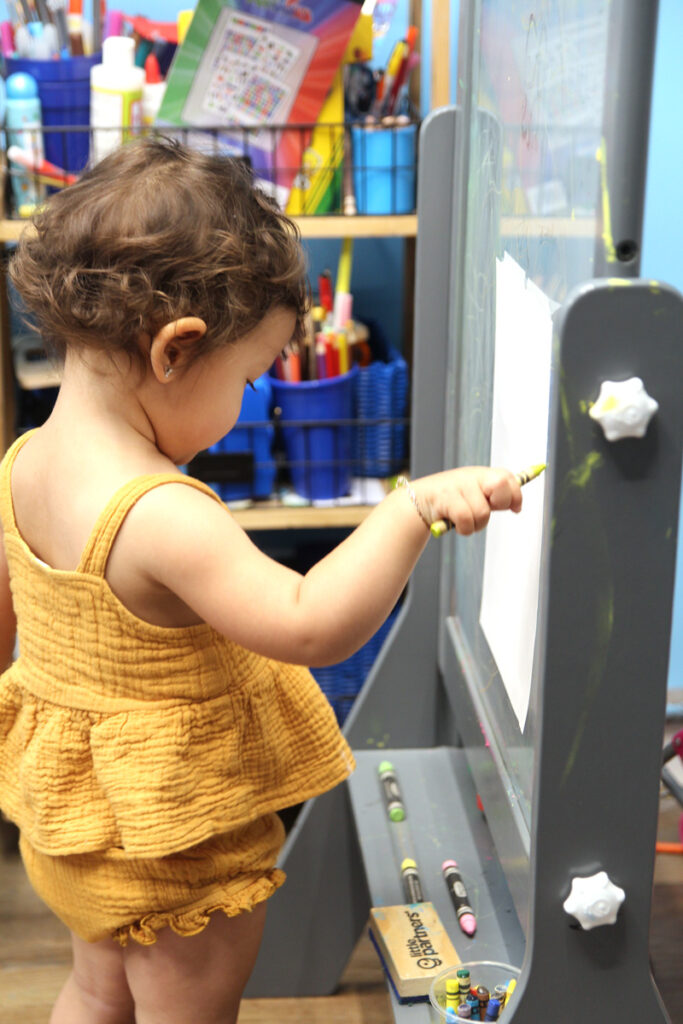 Kids build core strength through creating art on a vertical surface – and they love doing it too! That's why a good quality easel is one of the best craft gifts for kids – it encourages them to get creative while gaining some important skills.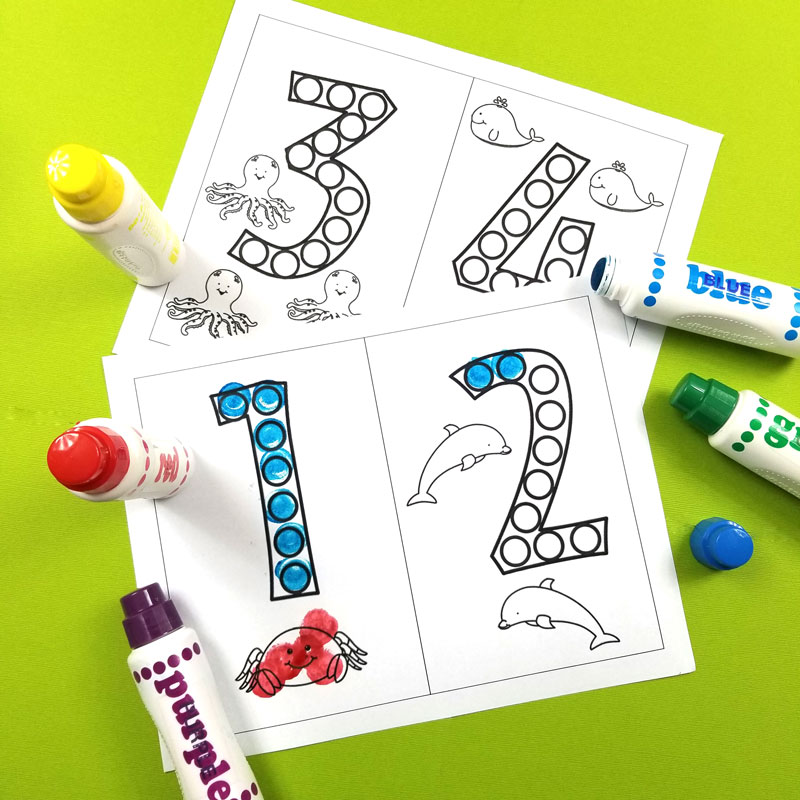 I don't know why but kids just adore using Do a Dot markers in their art! At the toddler stage you may want to strip them down (skin is washable) and do it in a well-protected environment, but still, it's a fabulous crafty gift idea for the younger kids!
Best Craft Gifts for Kids
The best crafts gifts for kids – grade school age, that is – and tweens, were split into proper craft kits and creative play gifts. I did this because there are so many options, and I figure everyone is looking for something different!
The craft gifts featured here are more "consumable". That is, they are craft kits or supplies that use up. I recommend gifting these to kids who already have a huge craft stash. When it comes to younger kids, you don't want to frustrate them. Look for open-ended ideas that are a little bit different – and so fun! Keep things safely within their skill range.
Make it Real 5-in-1 Activity Tower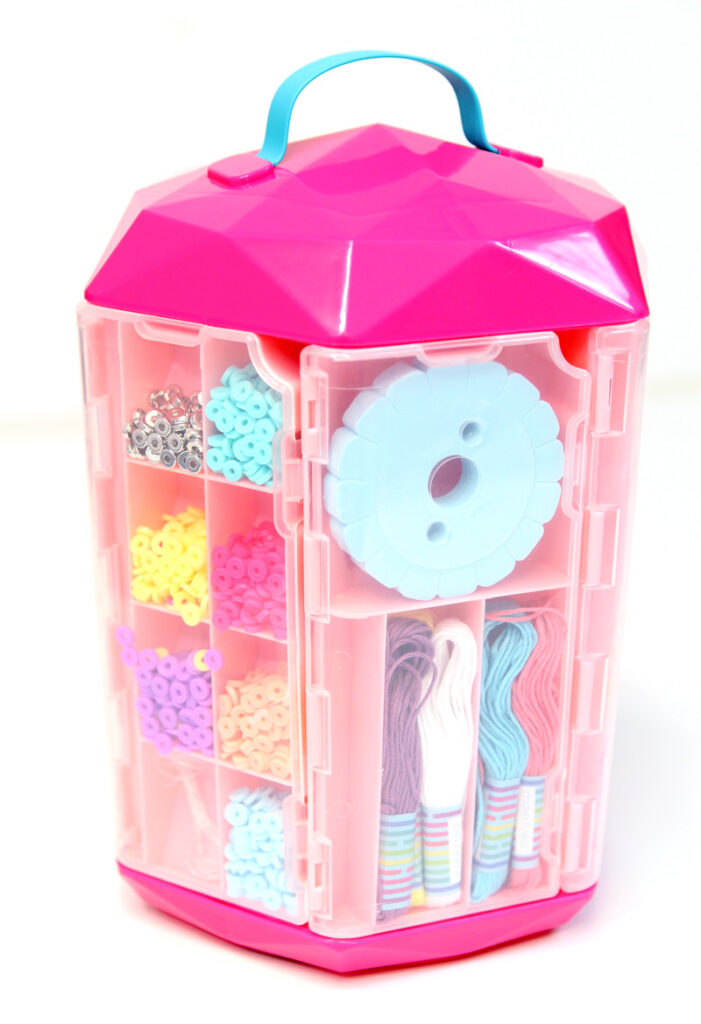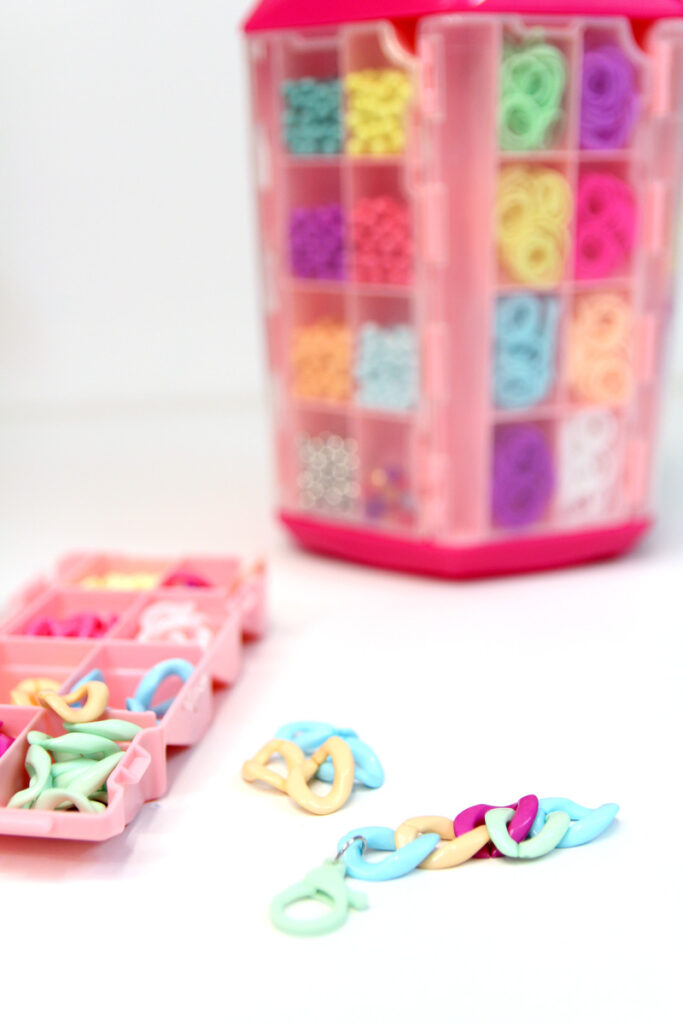 I'm a huge fan of craft kits – and self-storing, compact ones are always a win! The new Make it Real 5-in-1 Activity Tower features five types of bracelet making supplies in one fun kit. It even has a section to display bracelets!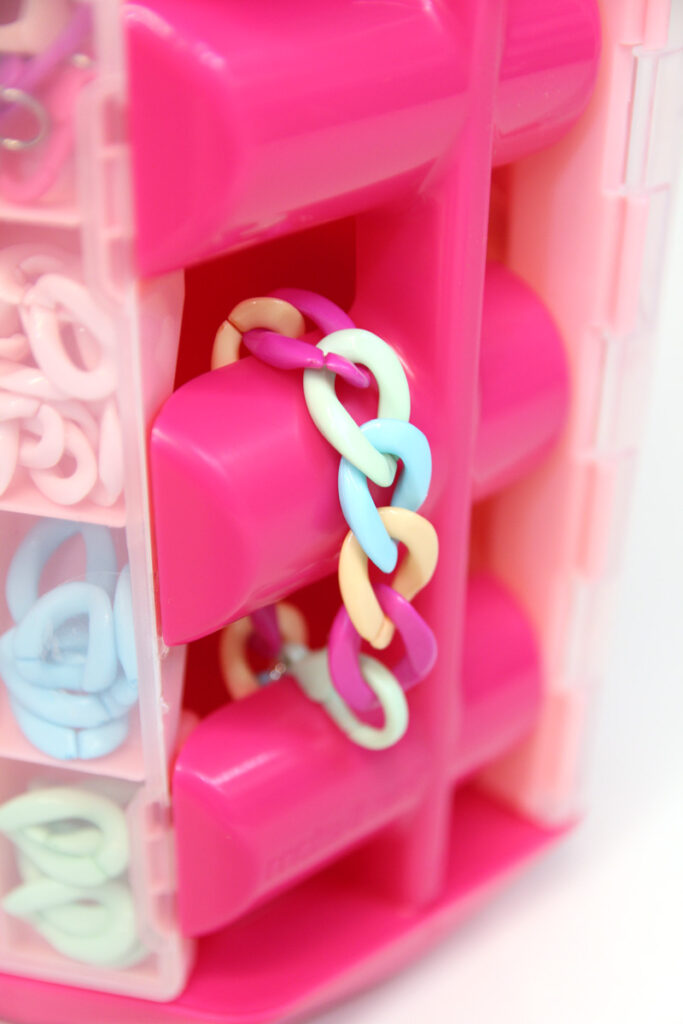 Each section comes off the main "rack" to be used individually. The kit includes:
Links – my favorite. You can even do these on the go.
Heishi beads – those are the flat disc-shaped ones.
Round beads
Embroidery floss/friendship bracelets
Elastic bands to make loom bracelets
The kit comes with enough supplies to make 40 pieces of jewelry.
Original Stationery Soft Clay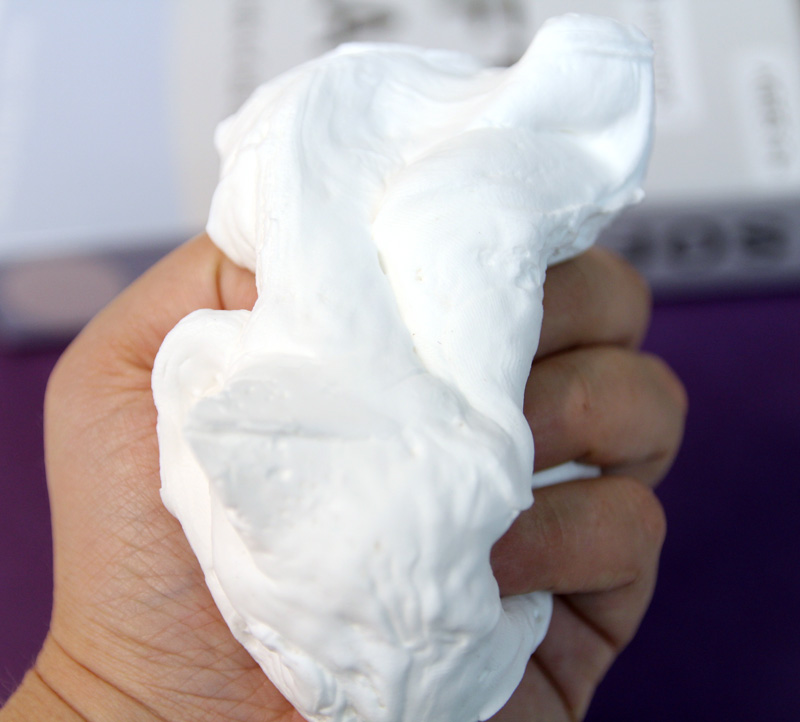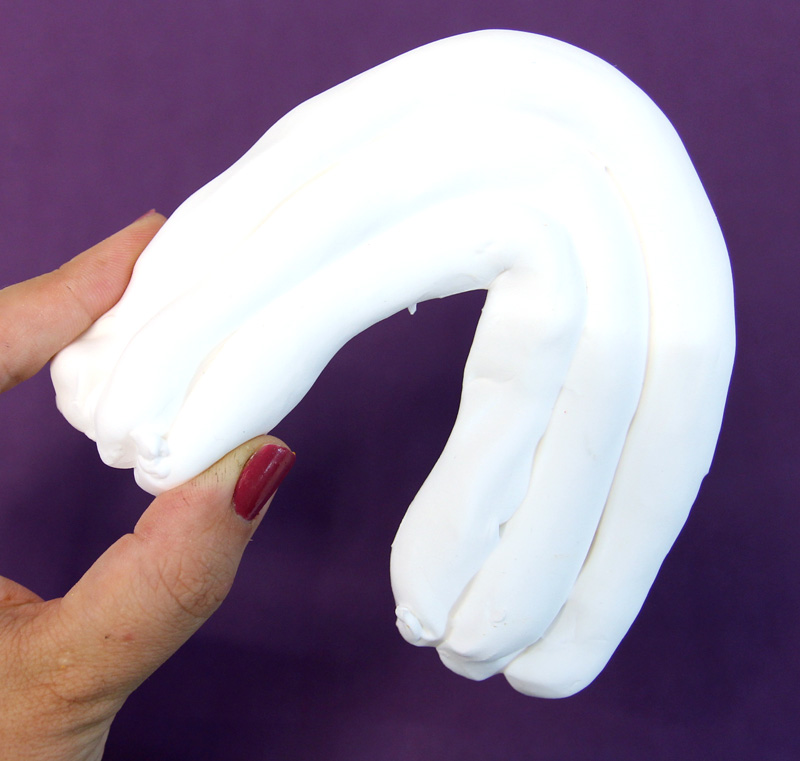 Original Stationery's soft clay is a fun ingredient in may sensory and slime-making concoctions… but that's not why we love it. It's incredibly heavenly soft and fun to work with.
And when it dries, it's got a fabulous spongy texture.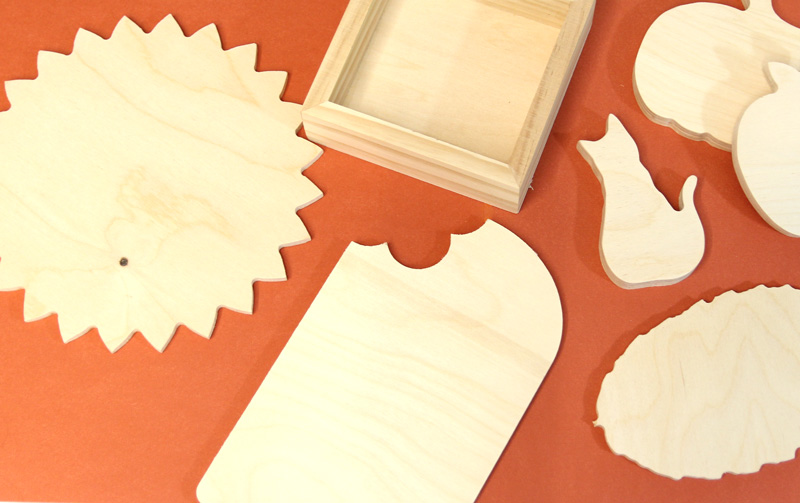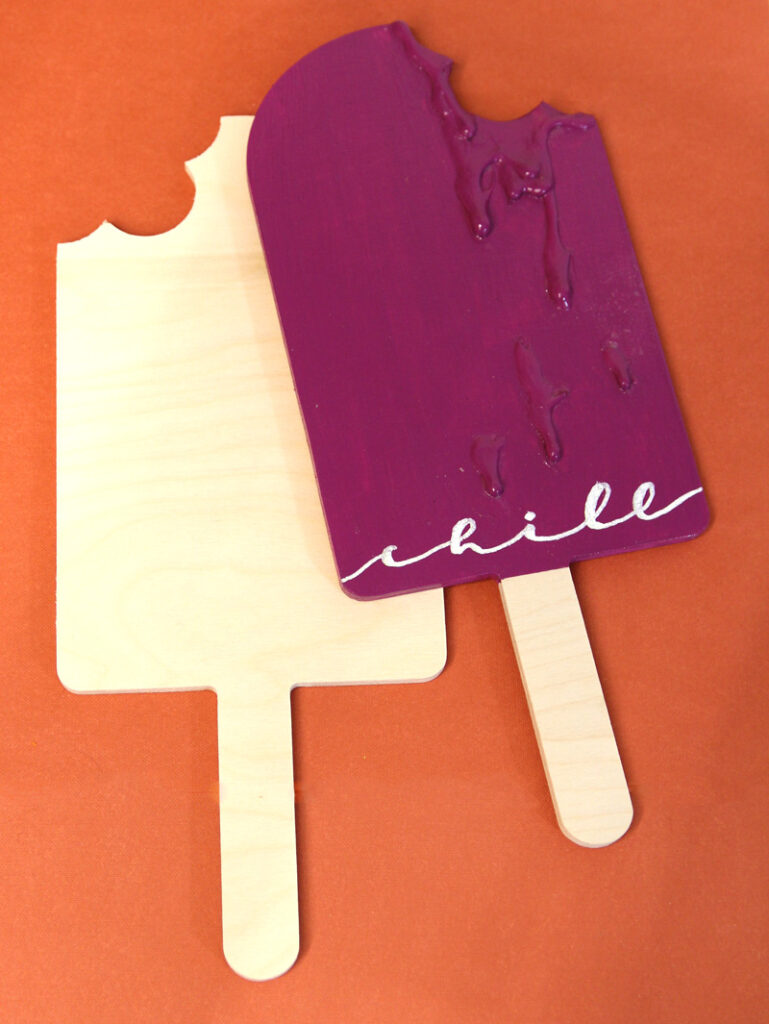 If your kid loves doing their own thing, instead of getting a kit, why not get a blank slate? Make it more exciting by getting wooden shapes and cutouts in fun themes so that they can decorate their own bedrooms.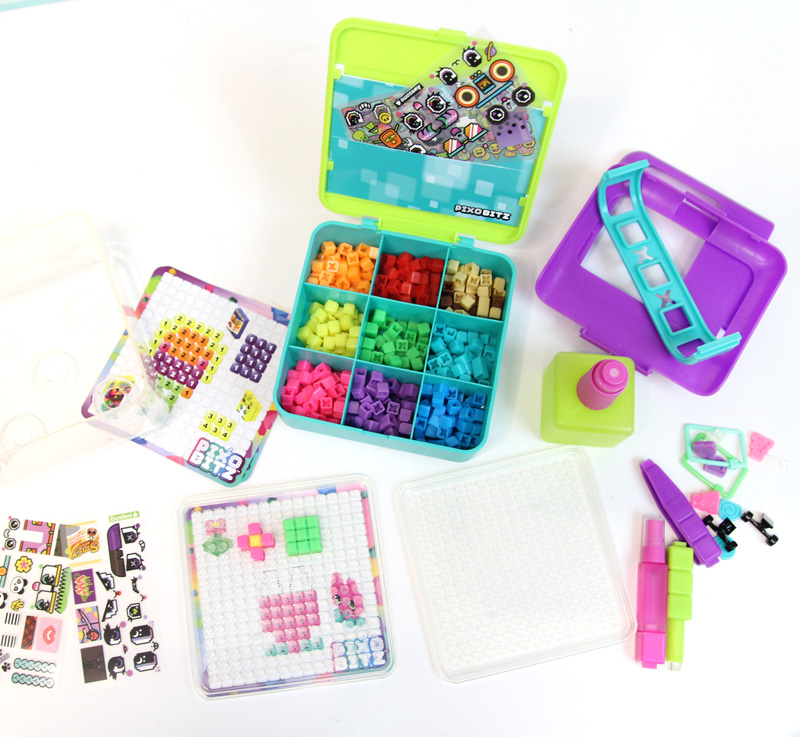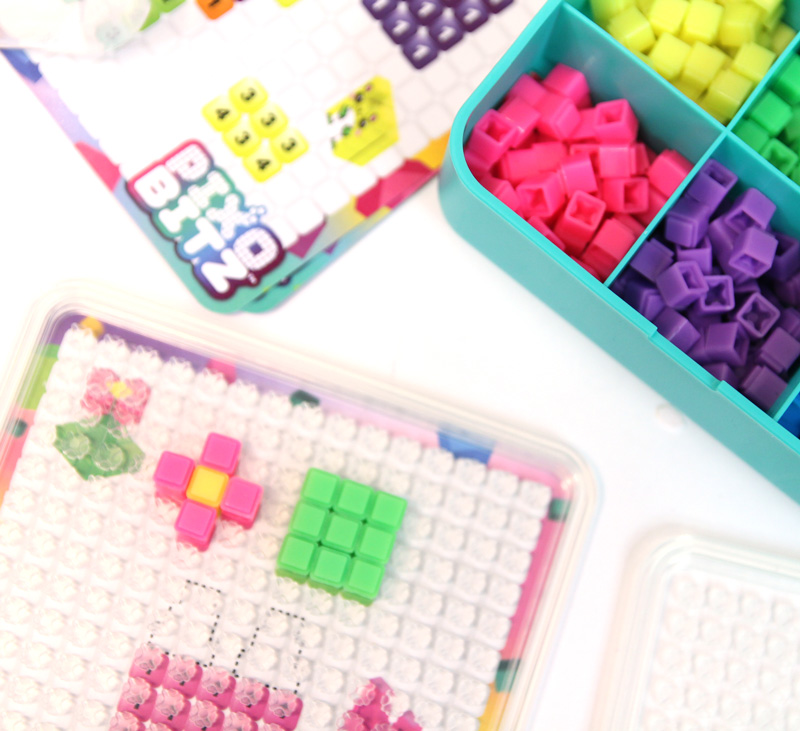 Pixobitz are a new concept in water fused beads – only they're not really beads! They're more like pegs! That makes it much easier to create stacked/3D creations. They also took it a step further with water slide embelliments.
The Pixobitz Studio is a full kit in a compact size. It includes an enclosed spray cover and a spray bottle that fits right in – so your kids don't spray all over the place when crafting.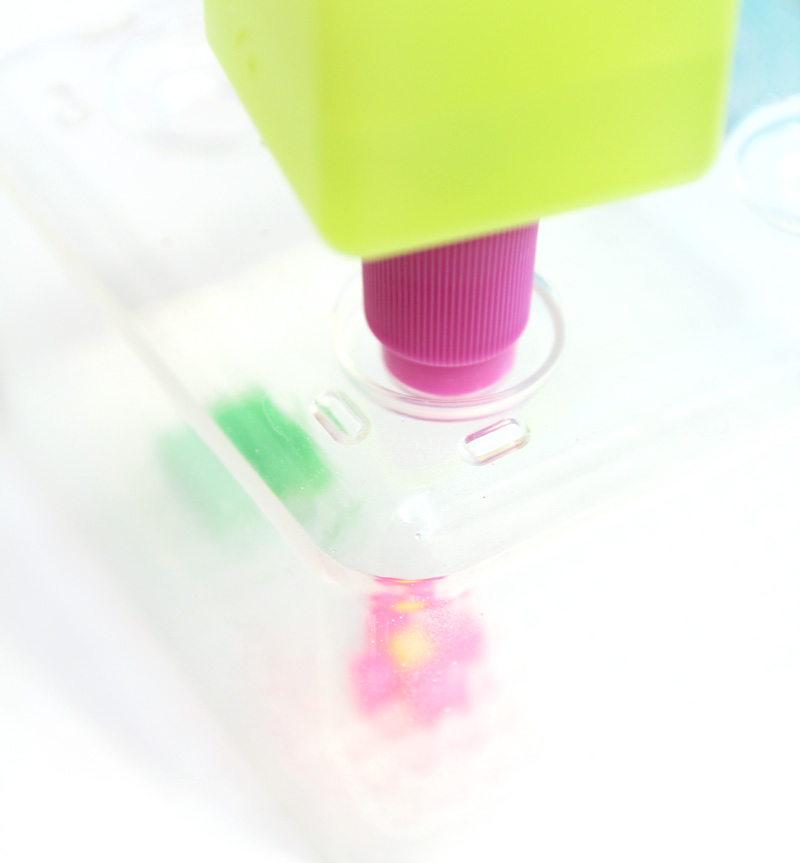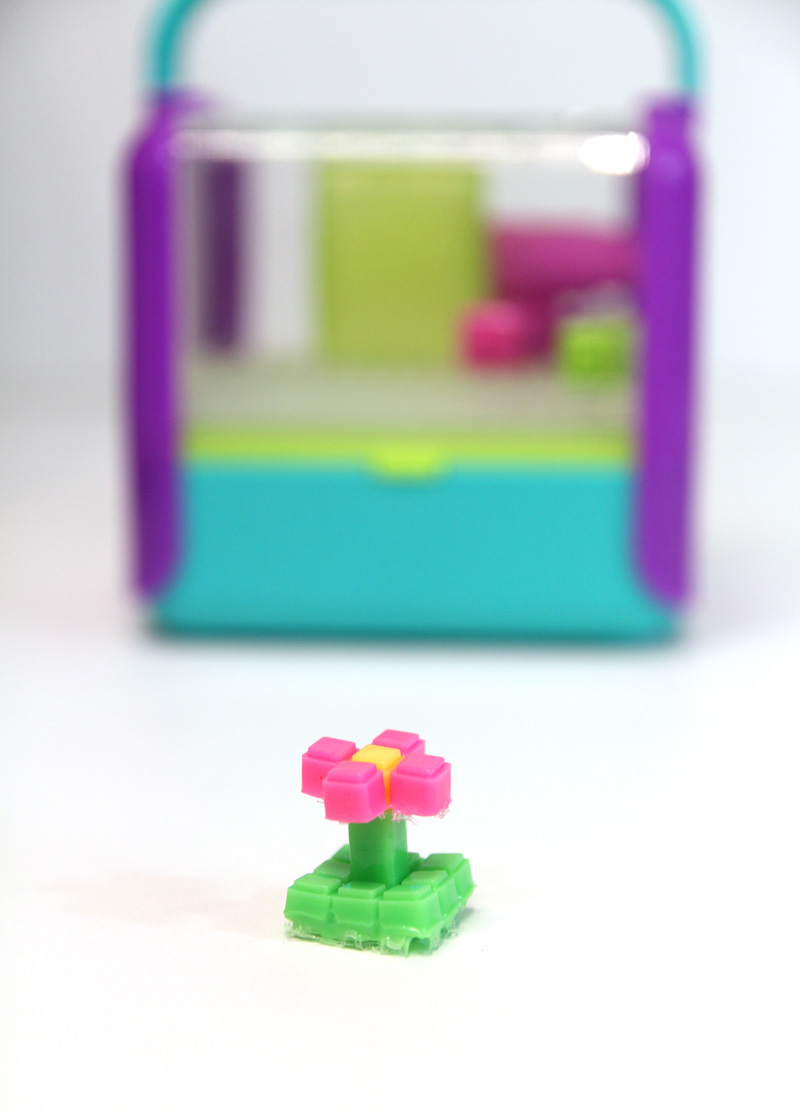 You can even make playable figures with Pixobitz Studio. And when you're done playing, all the functional parts fit together into a compact self-storing package.
Best Craft Gifts for Tweens
A tweenager is someone who is not quite a teen, but may already be starting to act like one. Think: ages 8-12. This is a fabulous age for starting to gain some actual skills. You can challenge kids a little at this age, whether it's by teaching them a new skill, turning them into craftpreneurs, or allowing them to design their projects a little bit more.
When choosing the best craft gifts for kids in this age group, I played it a bit less safe. Again, a challenge can go a long way with tweens! They'll appreciate that you "respect" their age and didn't get something baby-ish.
This list is also split into consumable arts and crafts and creative toy gifts.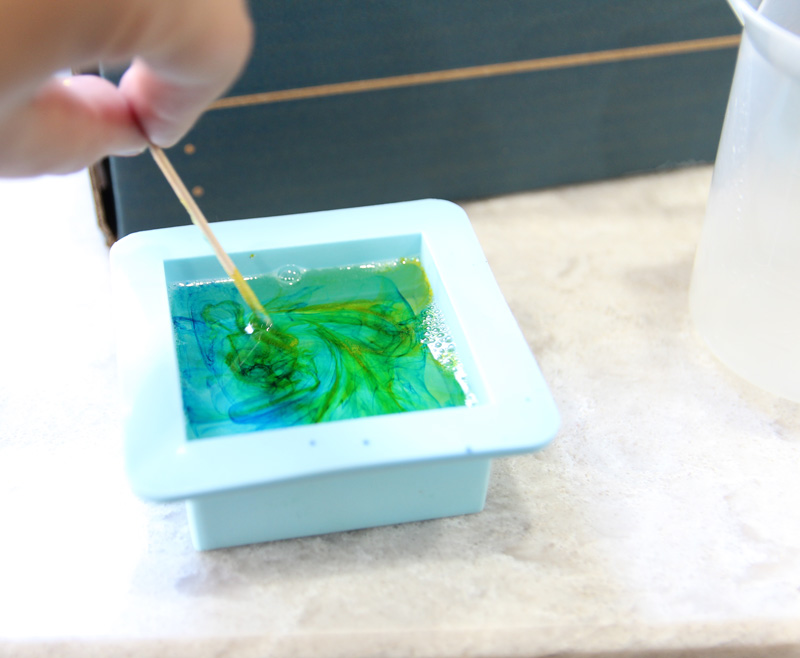 Doodle Crate is KiwiCo's crafty offering for ages 9-16+. You can get it as a subscription or as single kits. I've always been a big fan, because I find that they strike a fabulous balance between doable and cool. The boxes that I've tried share a real life crafting skill, but whittle it down to a level that's doable even for nine year olds.
They also tend to think of the small things, those little details that take it to then next level.
For this guide, we tried out the soap making crate.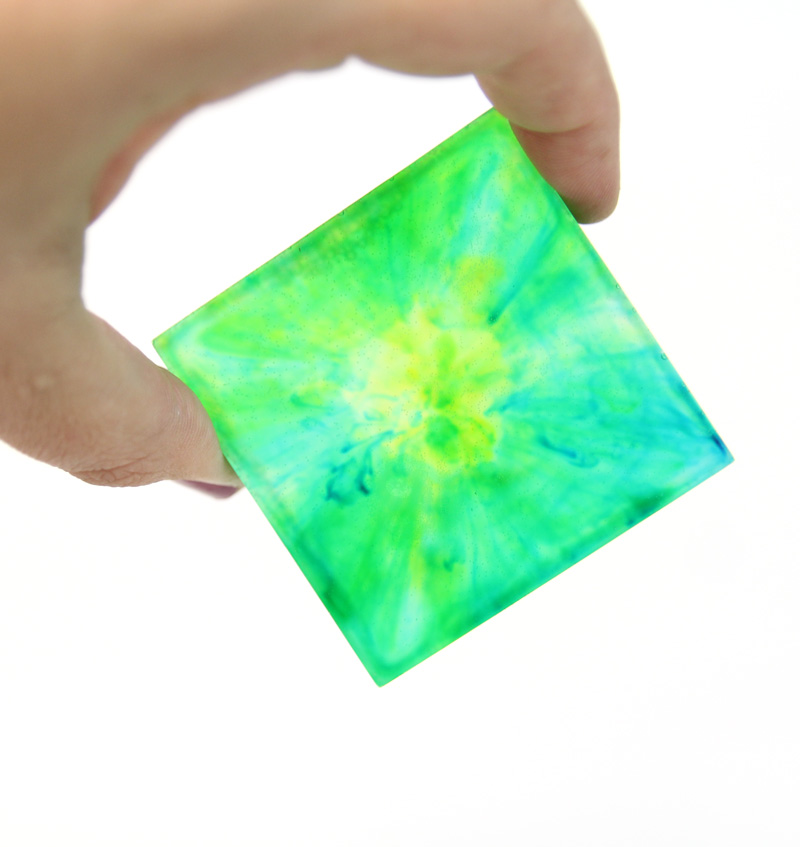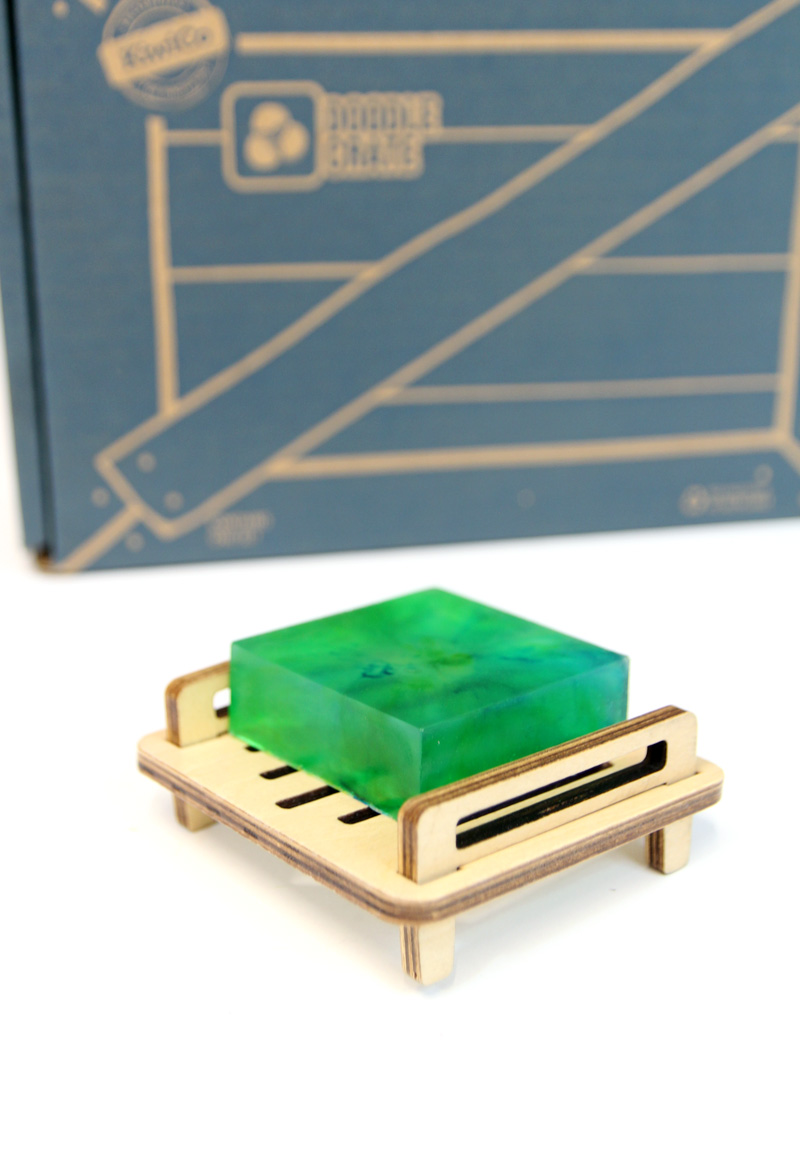 It was very simple to create – no prior experience needed – and we didn't need additional supplies from home either. We tried the first project: a marbled transparent soap. It came out lovely! They also teach how to embed a shape into the soap, layer, and more tips and variations.
And you also put together a simple soap tray too!
Through 12/31: Get 50% off your first month with code KIWIPARTNER
Make And Sell Poppin' Paper Clips Craft Kit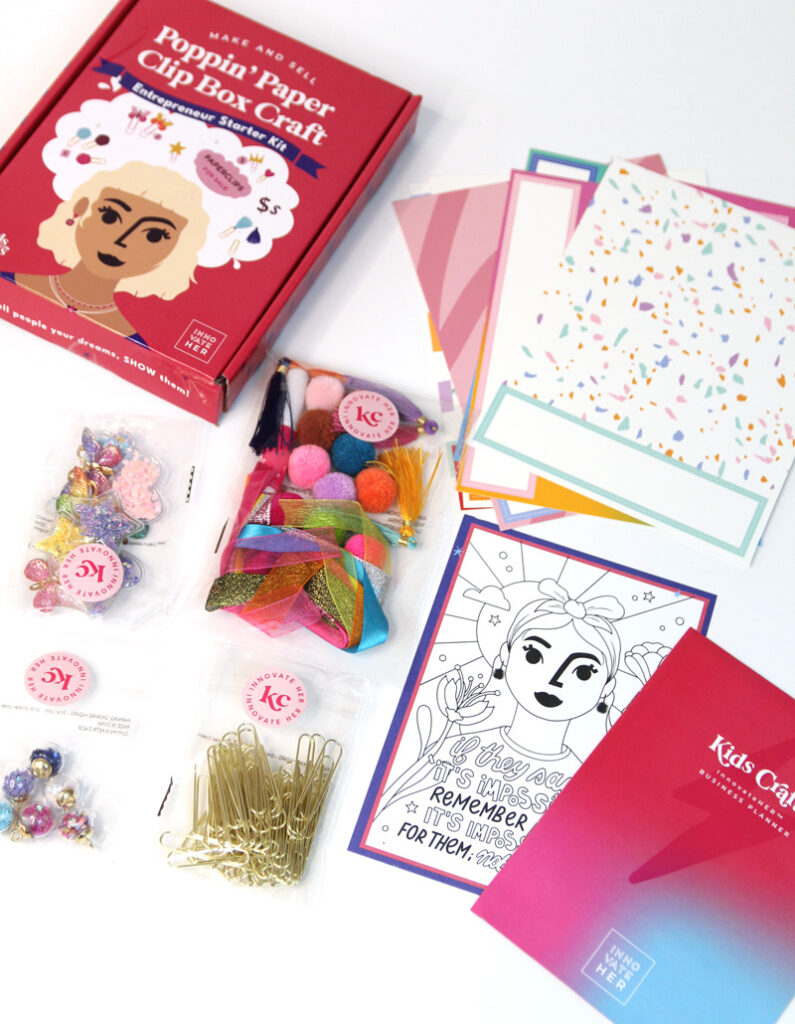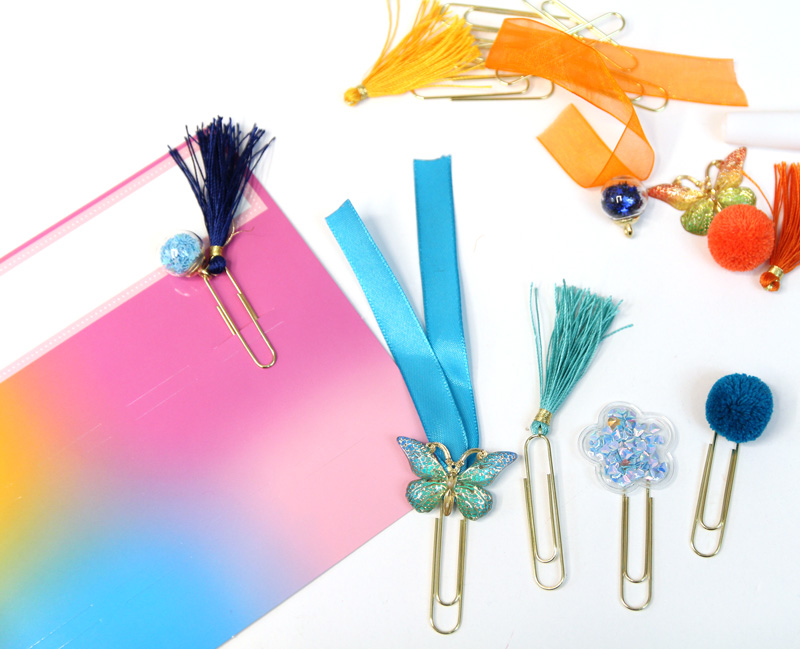 Kids Crafts is a company that creates craft kits designed to empower tween girls. My favorite line of theirs is the InnovateHER line that encourages entrepreneurship through crafting. I used to sell my craft creations when I was a tween, and was totally shooting in the dark! I love the idea of a kit designed to teach kids the art of selling their craft.
The Make and Sell kits feature everything your tween needs to start her own craft business! The Poppin' Paper Clips craft kit focuses on fun embellished paper clips.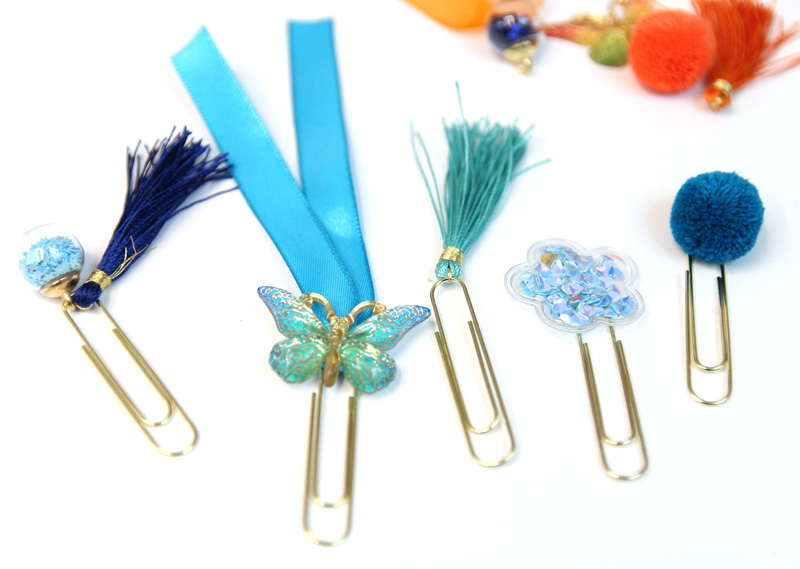 You get loads of fun, high quality and totally not the typical embellishments for sturdy brass paper clips. Put them together and be creative. Your kids can learn about choosing quality materials for their product, and making it unique. The kit comes with cards to package it on, giving them a lesson in packaging. And it even comes with a little business planner to map out a strategy!
The kit creates six sets of paper clips – for a total of 45.
Ohuhu Acrylic Painting Starter Set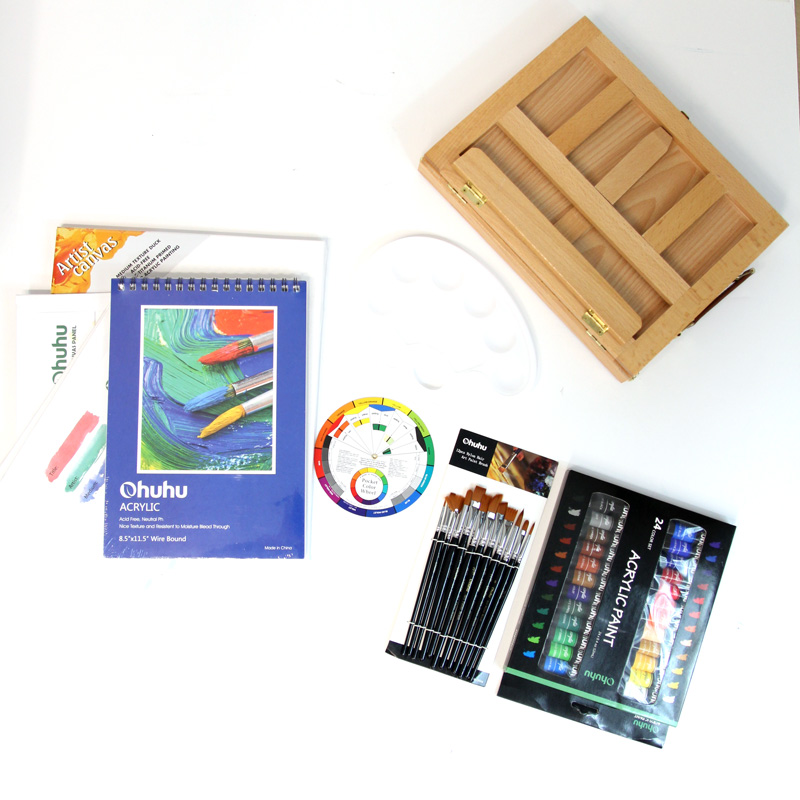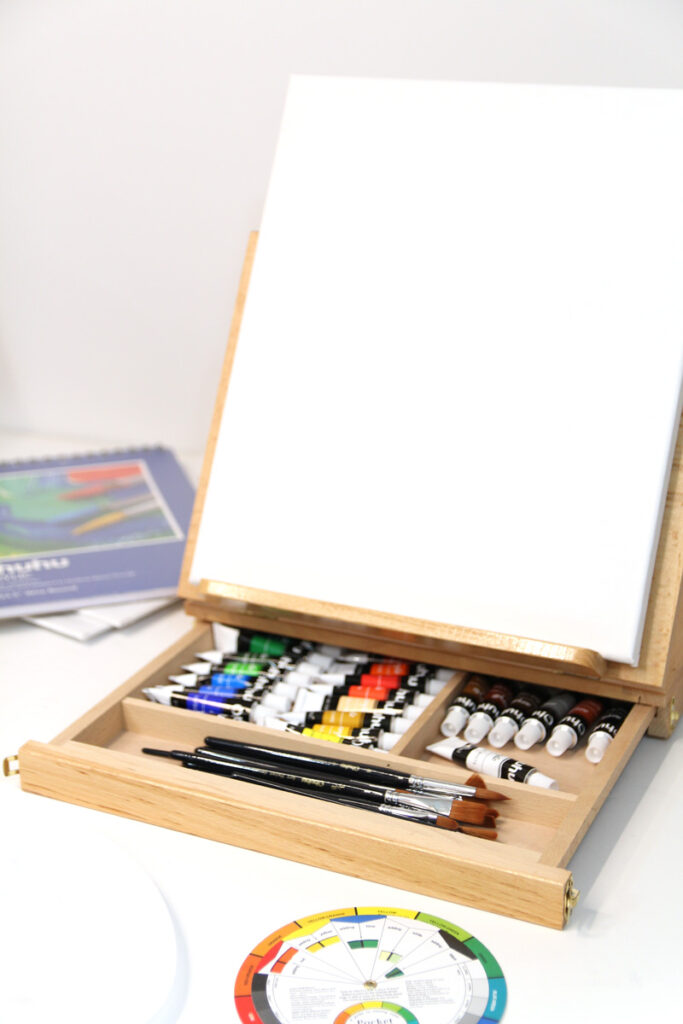 Of all the gifts my grandma bought me as a kid there's one that I still have: the quality art supplies.
Ohuhu is a company that makes fabulous, affordable mid-range art supplies. That makes them the perfect choice for kids who want to take things to the next level.
The acrylic painting kit is perfect for that tween who loves paint night and wants to upgrade it.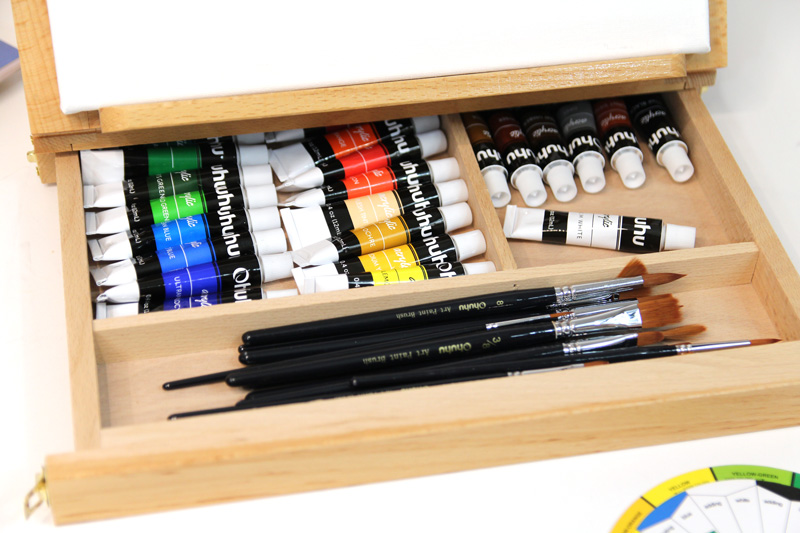 It comes with a full spectrum of colors so that your child can focus on making art – since color mixing is its own science. It comes with brushes, canvases, an acrylic sketch book, a color wheel, a plastic palette, and a wooden desktop easel.
The easel has a drawer to store paints in, and it all folds up nice and small, so that your kid can work in their bedroom, and not need a dedicated studio.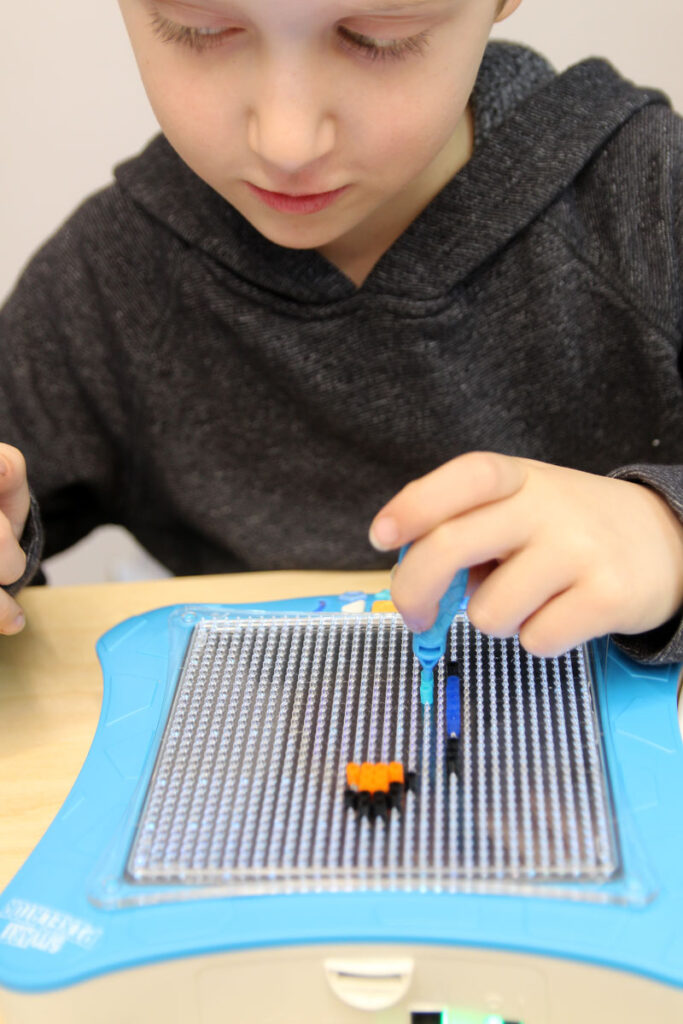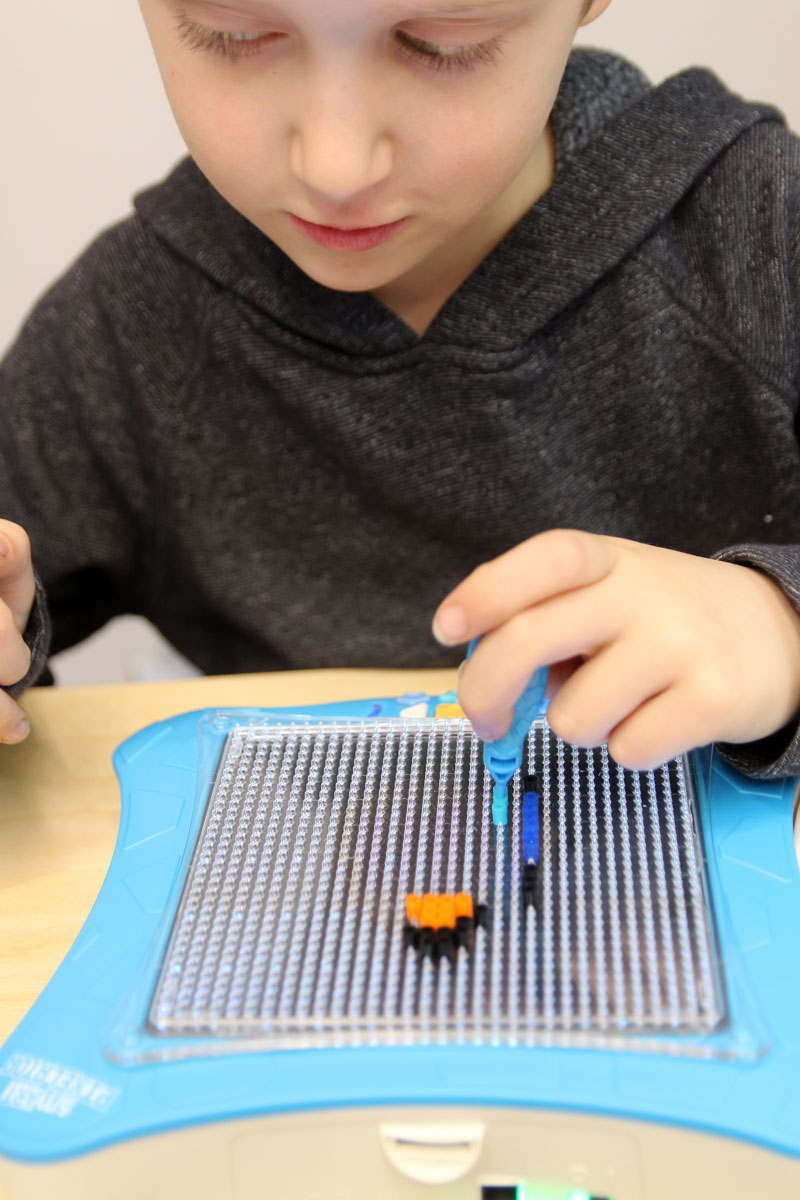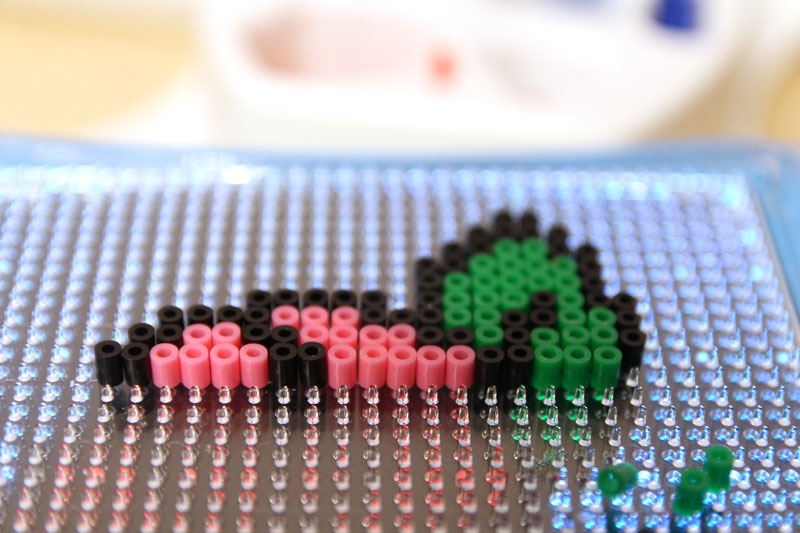 We partnered with Flycatcher earlier this year to share about the smART Pixelator, and I really wanted to reshare it here! We made these fun fuse bead keychains and spent a long time crafting with it!
The smART Pixelator turns images into pixels by peg so that you can turn any image into a fuse bead creation. You can either use their pre-loaded SD cards that include both flat and 3D creations. Or, use their app to pixelate any image.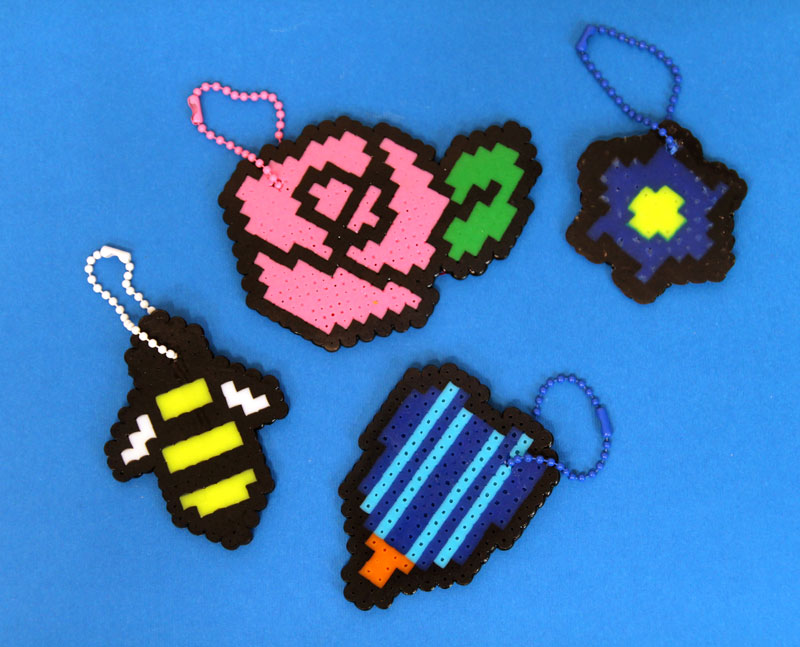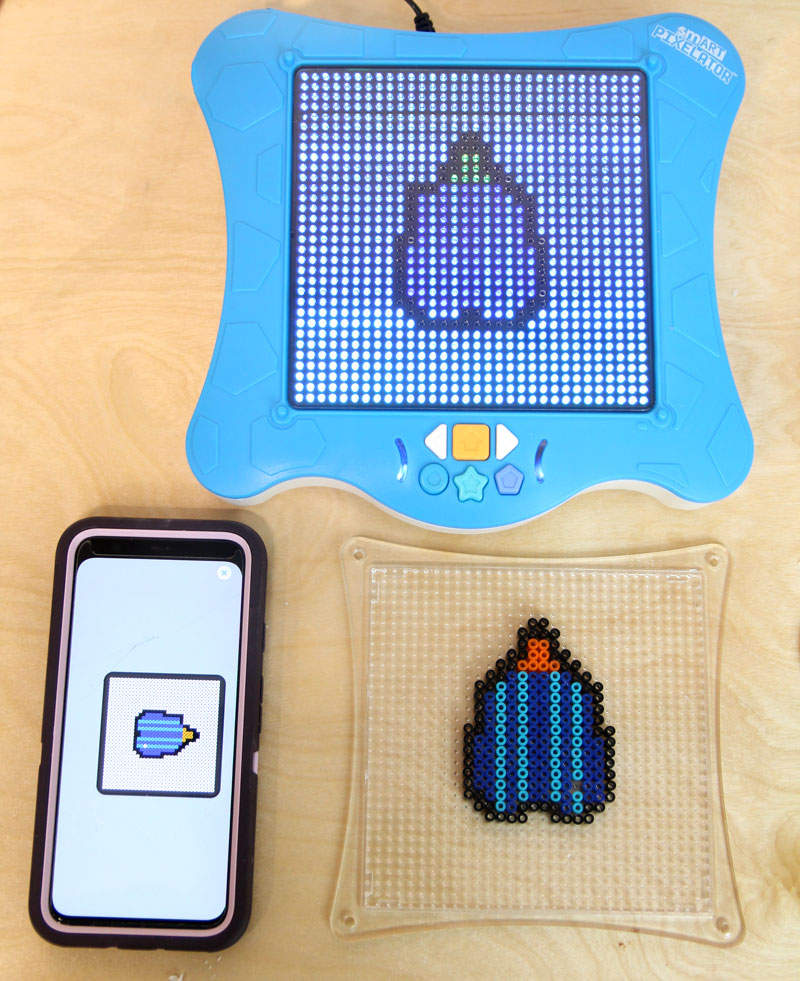 We love using it with fuse beads. Their fuse beads are a smaller size, so you do need to get theirs. I actually find that it makes it easier to get more detail as the pixels are smaller.
You can also use it with pegs and sequins to make more cool creations!
Cool Maker Stitch N Style Fashion Studio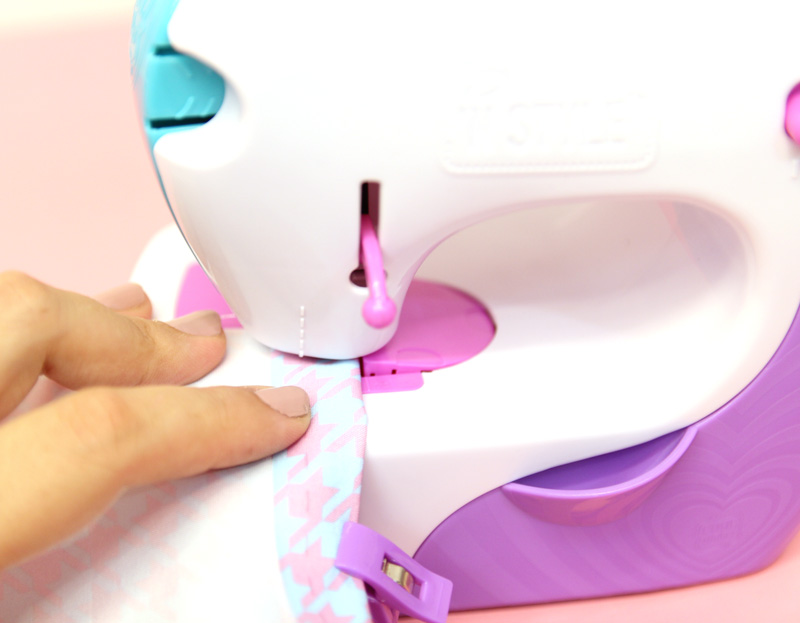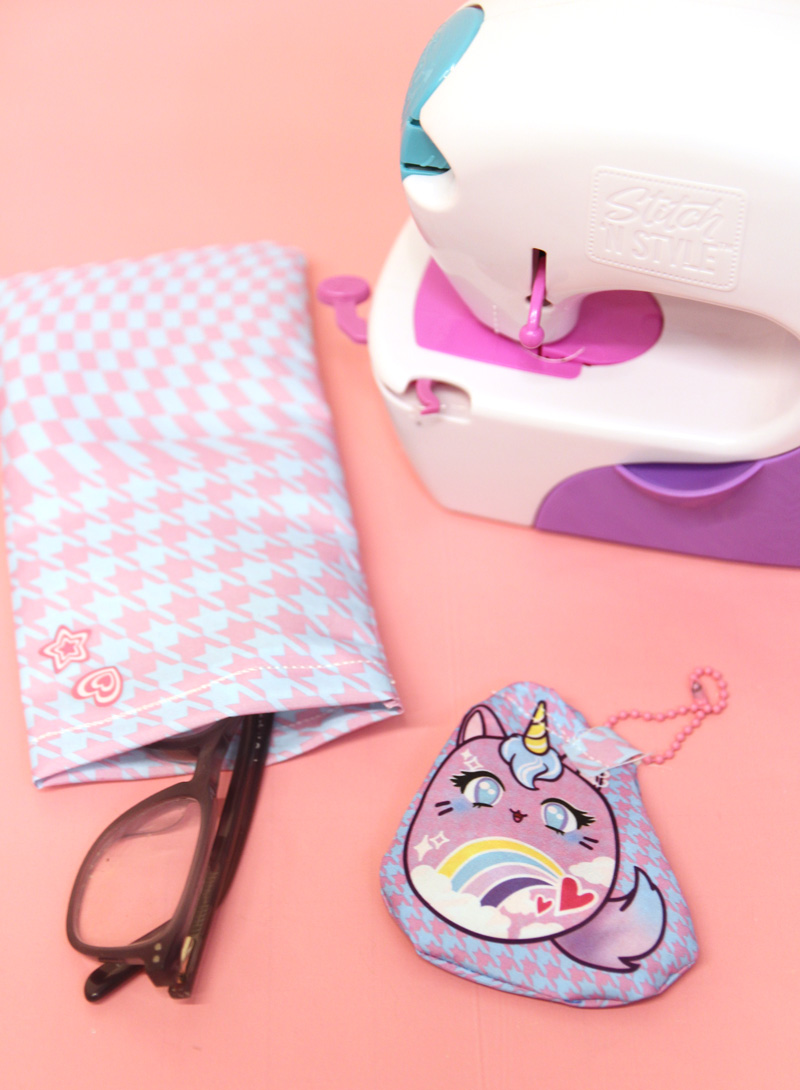 Another partnership that I decided to include here, the Stitch N Style Fashion Studio is the perfect first sewing machine for tweens. It auto-senses the fabric and sews accordingly. The kit comes with a few starter projects and is a great "learn to sew" kit – especially for the low price point (it's priced like a toy/craft kit rather than a sewing machine)!
It's safe for kids to use as the needle is not exposed, and it comes with a self-threading cartridge.
Creative (non-craft) Gifts for Kids & Tweens
Craft gifts for kids feature very specific end creations. However, there are many toys and kits that don't necessarily create a permanent end product, but they do get kids creating. These gifts are fabulous for the kid who has all the craft supplies they need, and maybe need something a little upgraded, a little less consumable, or just something different for a change.
Maybe craft supplies and kits are less exciting to them at this stage, and they need something that feels more like an exciting new toy.
But all of these will appeal to their creative side.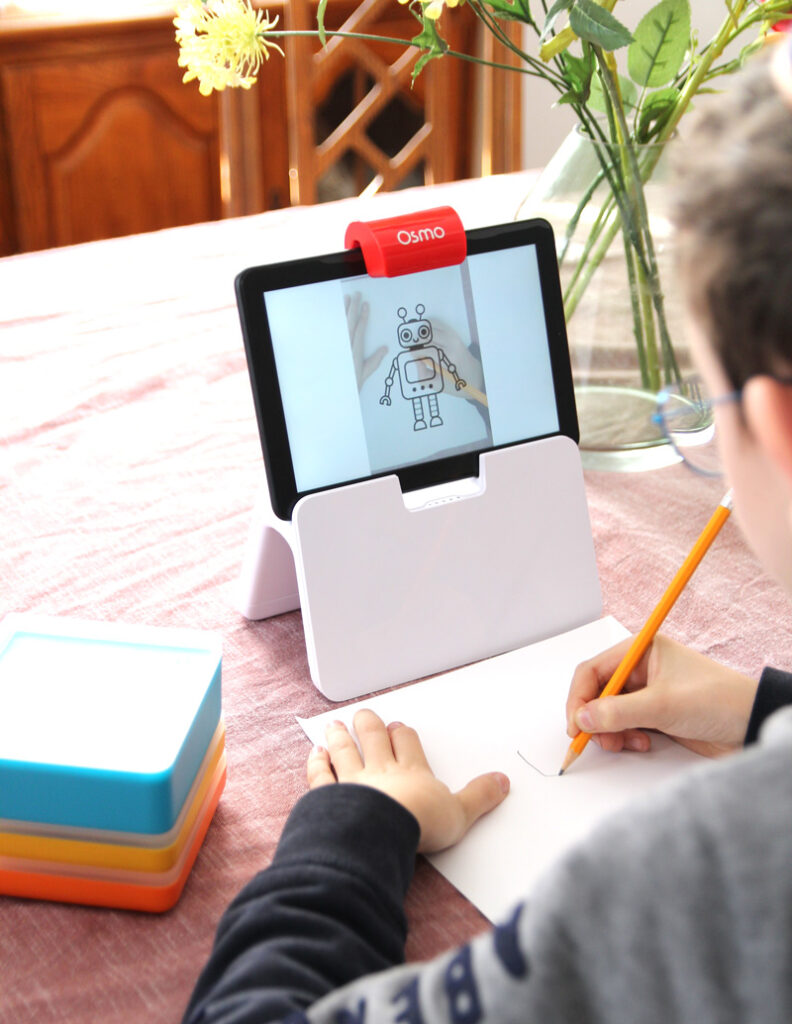 Osmo is a system for iPad and Kindle Fire that allows kids to interact in real life with their devices. It takes screen time and pulls kids' noses out of their screens to engage tangibly in the real world. The Starter kits come with the Osmo base to support and position the tablet in the right direction, as well the reflector that enables the camera to "see" what's on the table in front of it. My kids are hooked!
One of the apps that can be downloaded with the Osmo Genius Starter Kit is the Masterpiece app. This allows your artistic child to trace different images and learn to draw. It comes with images to start, but it can also turn a photo of an object into a simple outline. It's fabulous for the child who is always asking you to draw things for them or how to draw them!
Your child can even watch a time lapse of their drawing when they're done!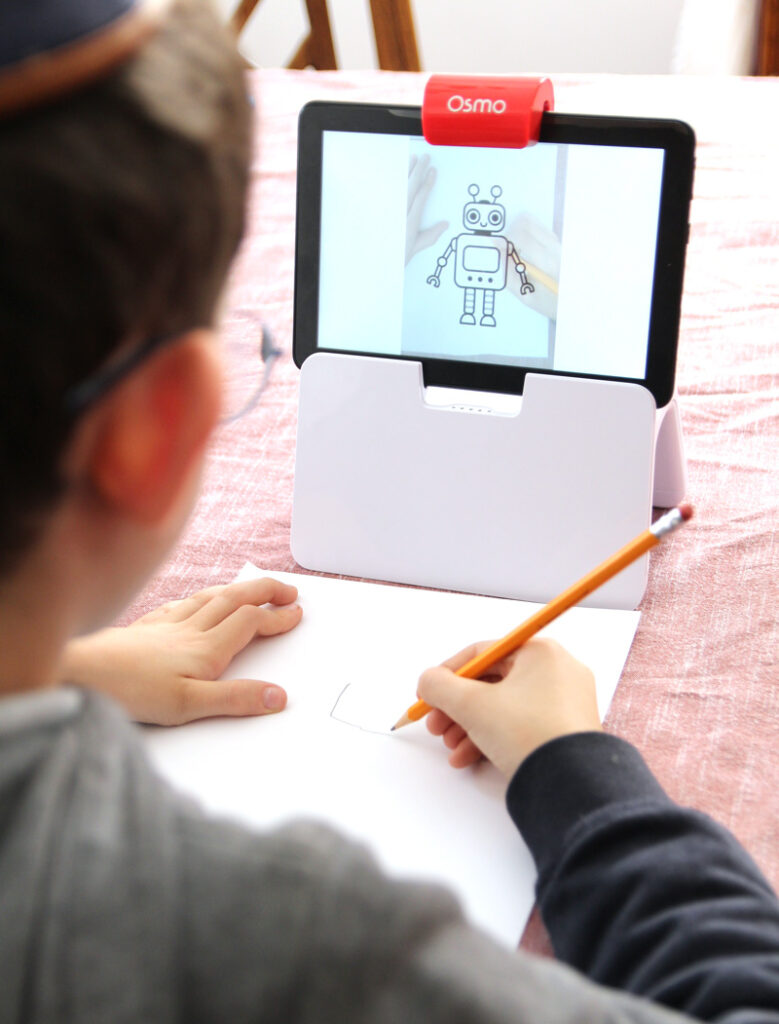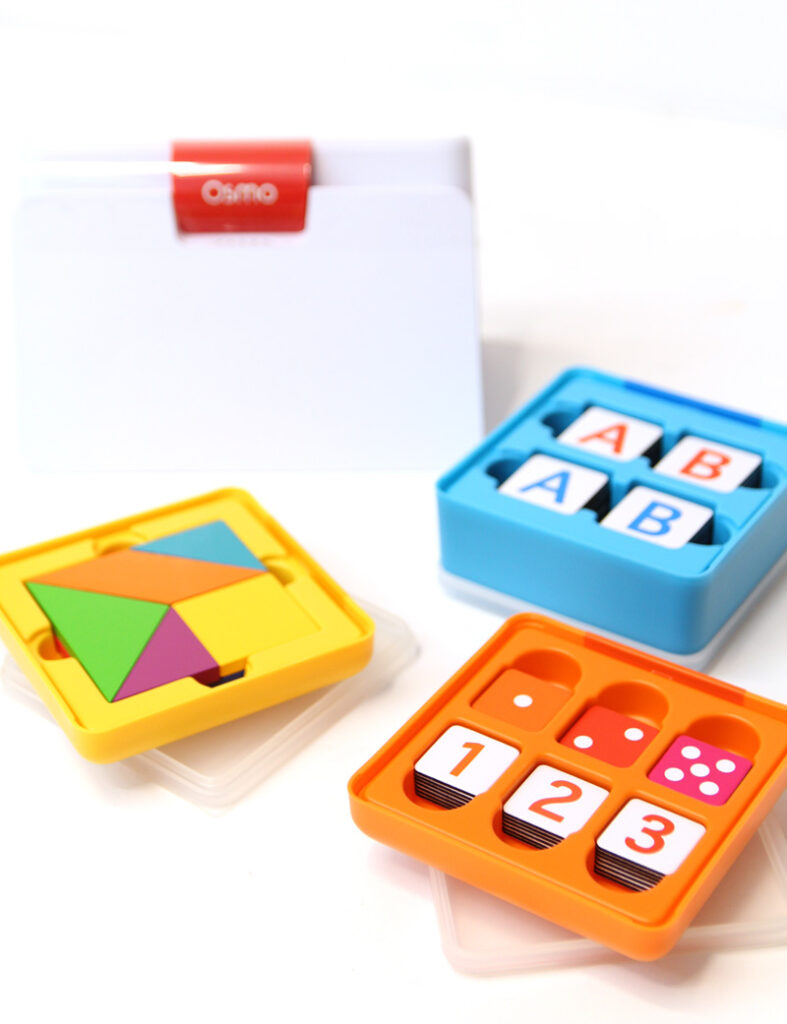 Not only do you get this artistic element with the Osmo Genius Starter Kit, but you also get a few additional games, some of which encourage creative thinking as well.
Tangrams is played off AND on-screen with physical tangram tiles. It comes with letter tiles to play Words and build spelling and pronunciation skills. Newton is a fabulously creative game that teaches creative problem solving in a Physics theme. And Numbers uses the number tiles to teach kids the different ways a problem can be solved, while making it fun.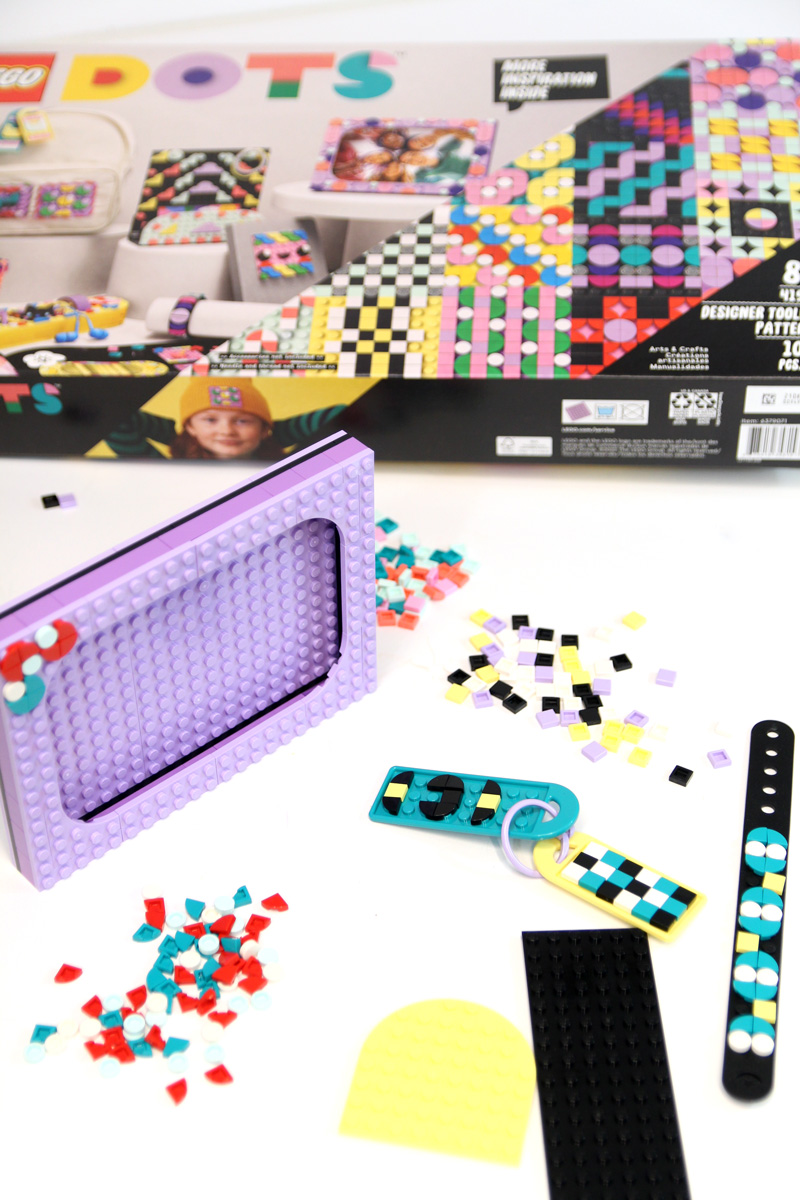 We all know LEGO… but have you heard of LEGO DOTS? This newer line from LEGO is designed for the creative! The idea is: you have a flat surface ready to decorate! Dots are single peg smooth-topped LEGO pieces that join together to create different patterns and shapes. And yes, the instruction booklet DOES come with ideas for patterns to start!
It's the ultimate beginner graphic design experience!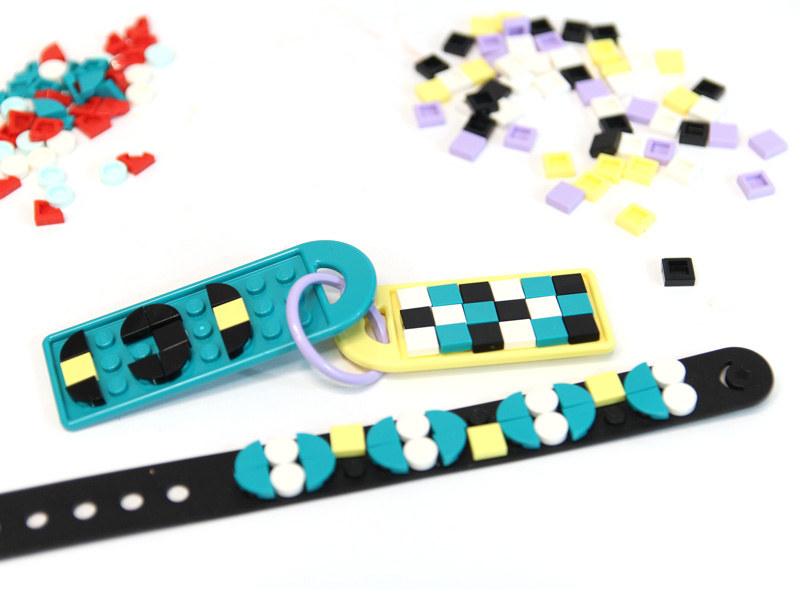 The Designer Toolkit is full of functional creations your kid can build and then add pattern too. A photo frame, pen cup, key tags, a silicone bracelet, adhesive patches and more fun accessories can be created using the 1096 included pieces. And they can be redecorated again and again… for a new design every day!
This one kit has in it many many hours of entertainment and creativity!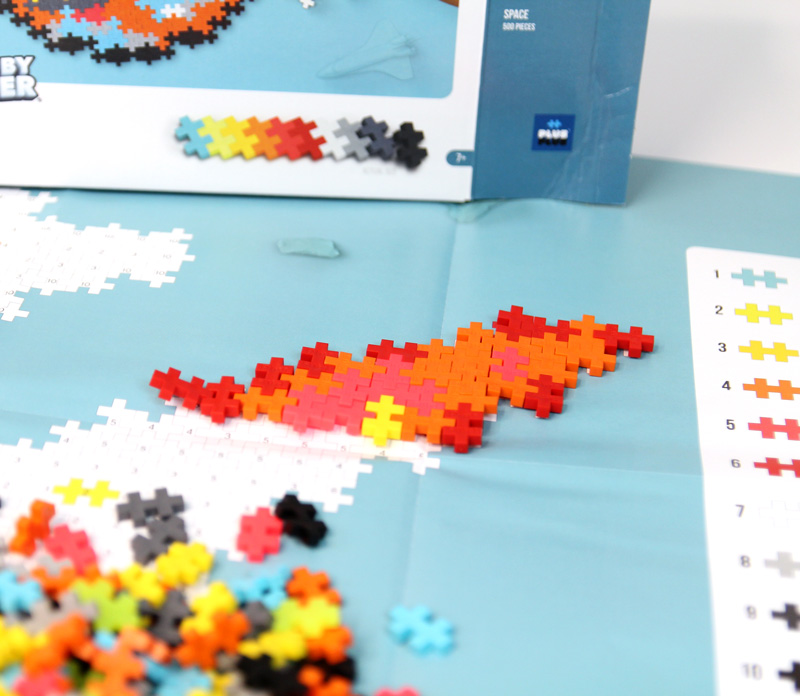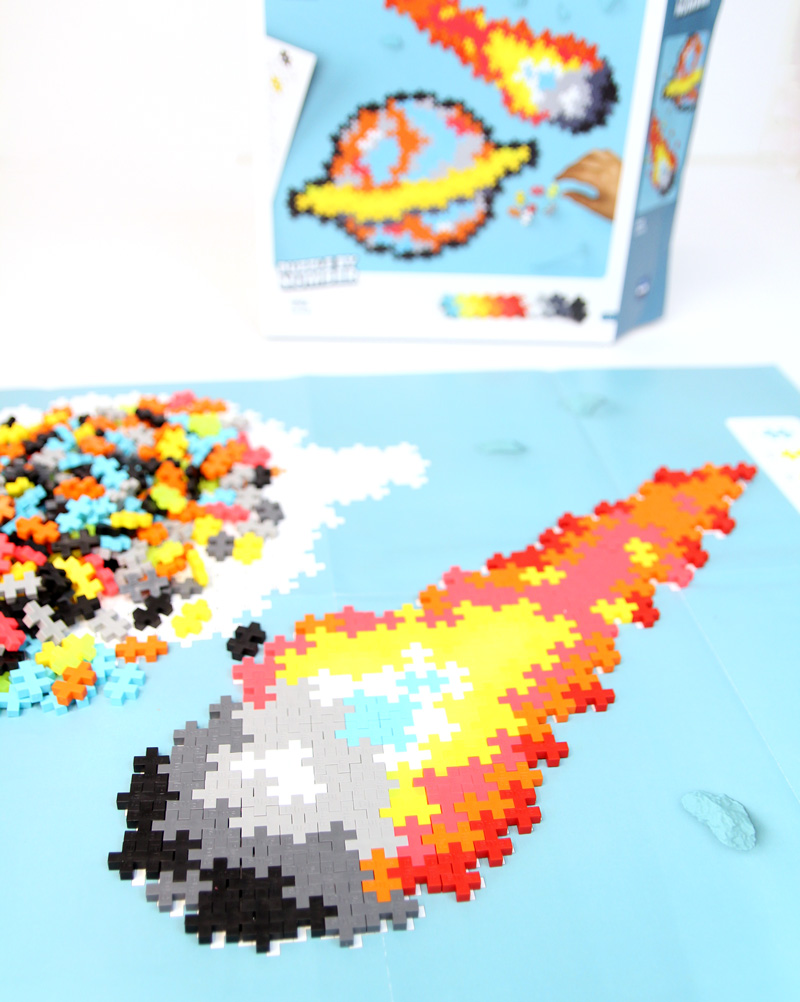 I've shared many toys in this space from Plus Plus and it's definitely one of the more popular ones that readers have enjoyed! So I'm so happy to share with you their latest: puzzle by number!
Instead of 3D creations, this kit uses the Color by Number concept to create flat images. They can be displayed when you're done, or take them apart and make something new!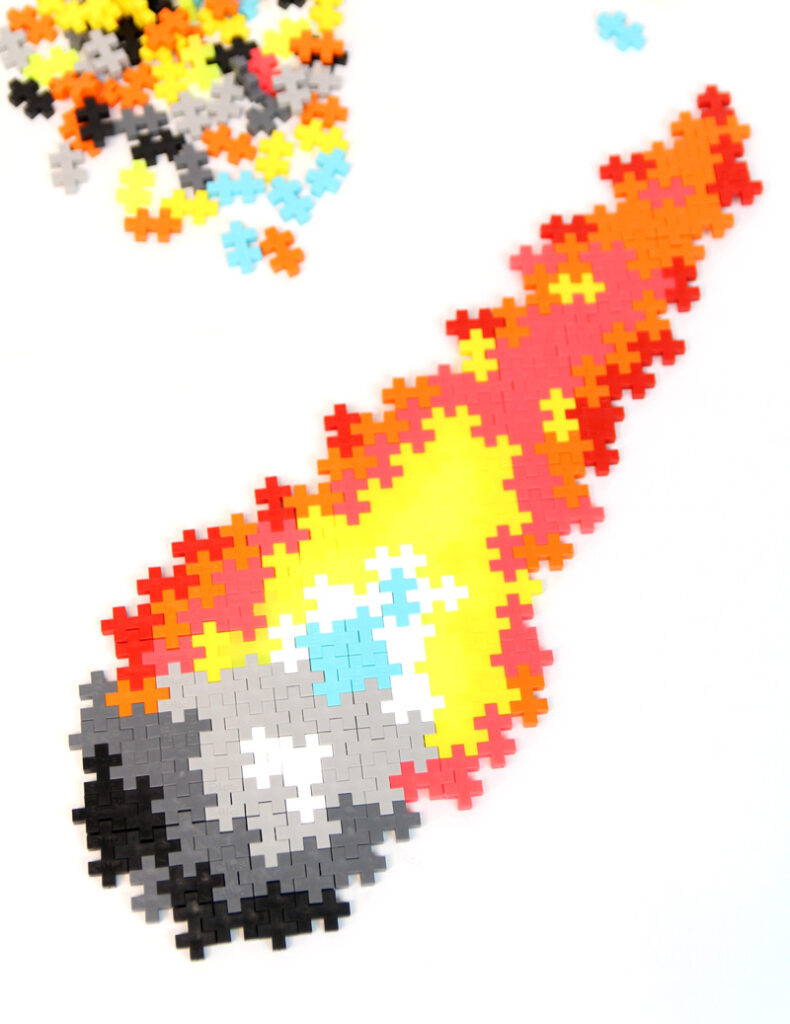 This is a fabulous alternative to puzzles and color by number. I find that we do these things just once, and then move on, never really keeping or displaying our creation. With Plus Plus Puzzle by Number,when you're done with it, you can add it to your existing Plus Plus stash for free play, create your own pixel art with the pieces, or even use it to freeform 3D creations!
And it's so satisfying to fit those little pluses into the correct space and watch the image form.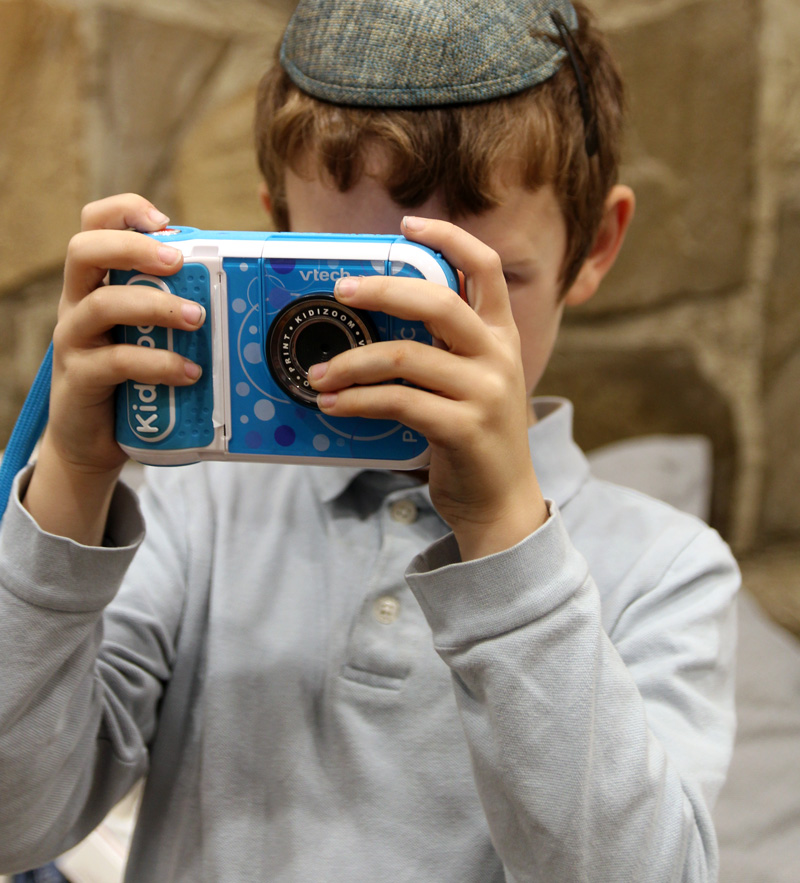 Every kid loves a good gadget – and a camera is the perfect gadget for your creative kid! The VTech KidiZoom PrintCam takes the creativity a step further – because it prints the photos!
And here's the clincher: it uses thermal printing, making it cost pennies per print. So when your creative kid prints dozens of photos of his nose (true story) it won't cost a fortune. They ARE black and white, however this does add an artistic element and is the reason it doesn't cost a lot to print each photo, like you have with other instant print cameras.
Y had fun photographing me taking the photograph above and then printing it out.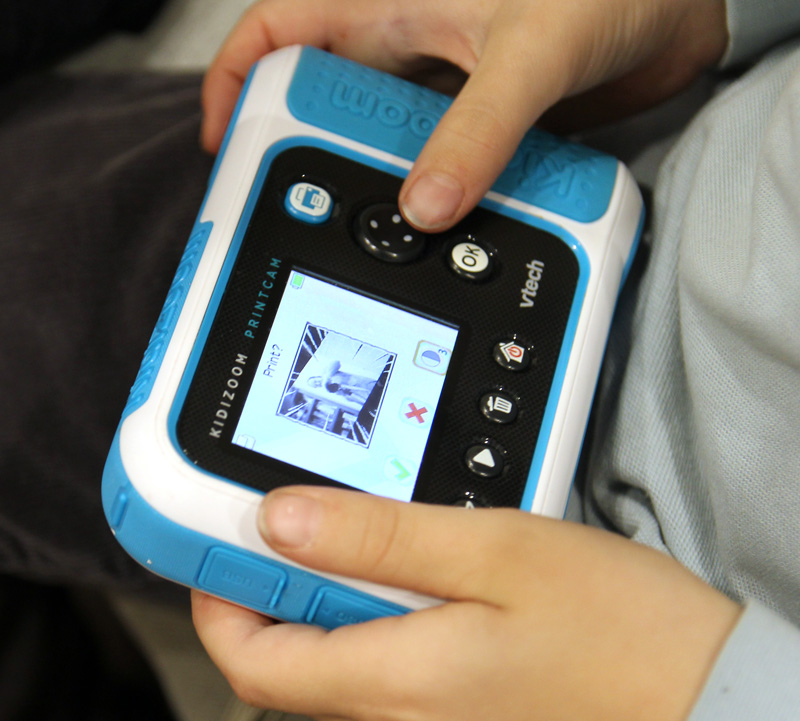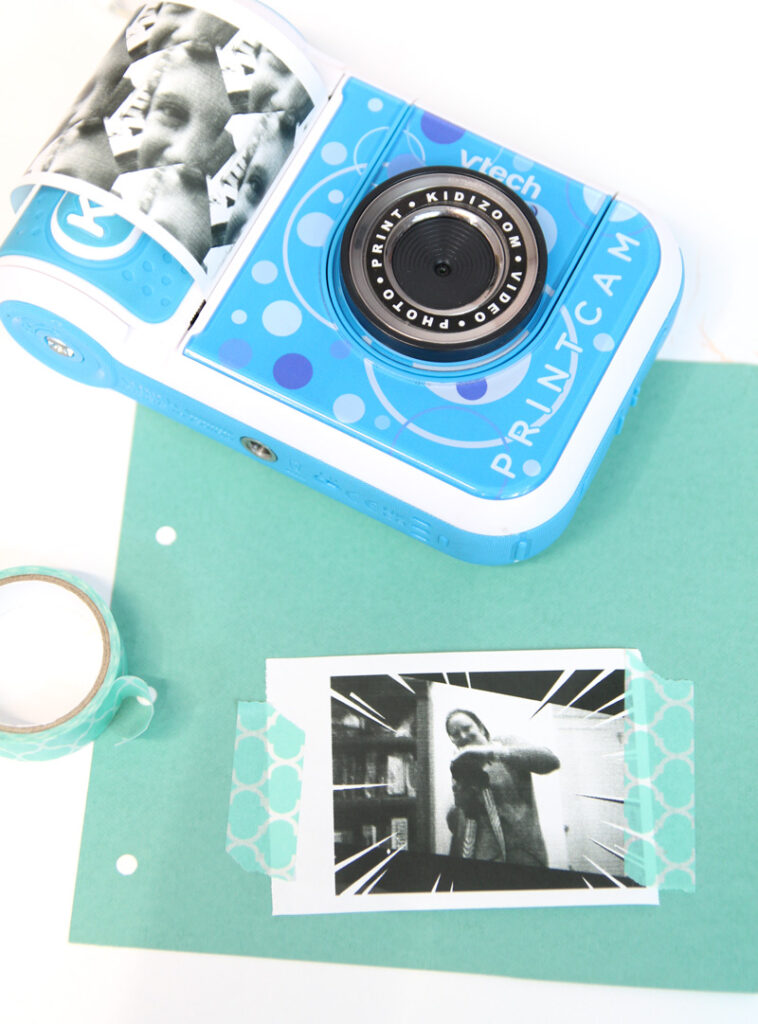 A large print button makes it super intuitive, and it costs in the $10 range (as currently priced – subject to change) to get five refill rolls, including two sticker paper rolls.
Creative kids can then use it to create memory or scrapbook pages. They can add effects on-screen too. And of course, it even has games your kids can play when they're not feeling creative.
Kinetic Sand Swirl 'n Surprise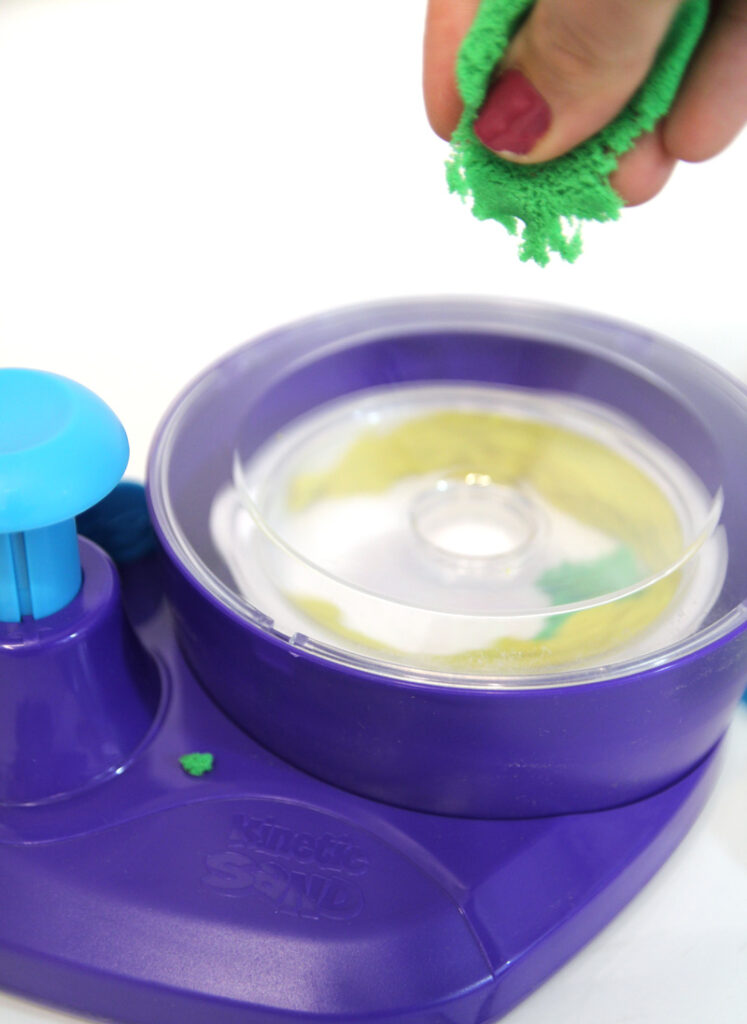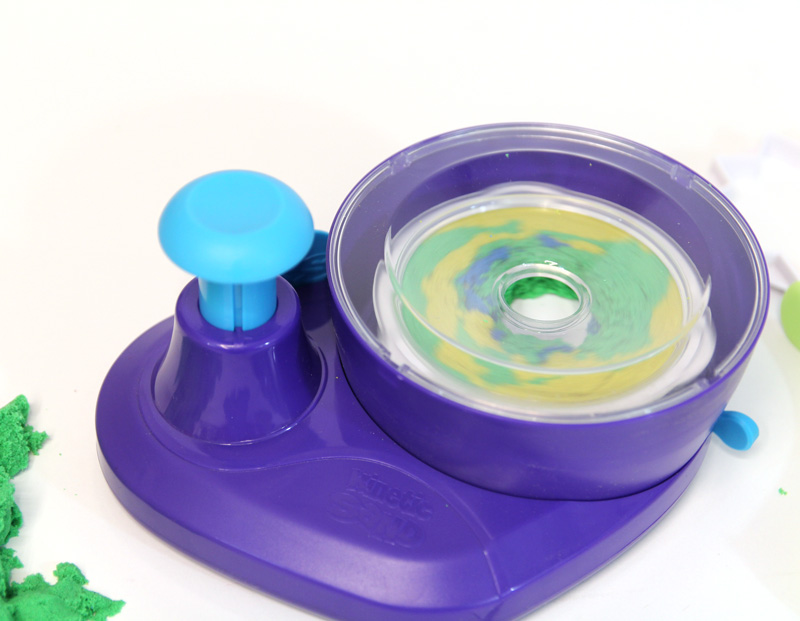 Kinetic Sand is one of those toys that has a huge age range of appeal, and they are committed to offering so many creative opportunities for kids who want to do a little more with it. While my toddler is perfectly content to just sit and mush it around, my older kids want more tools to create.
The Swirl 'n Surprise kit is basically a spinning wheel to make spin art "cakes" using Kinetic Sand. Pump the wheel to spin it while you mix and swirl your colors.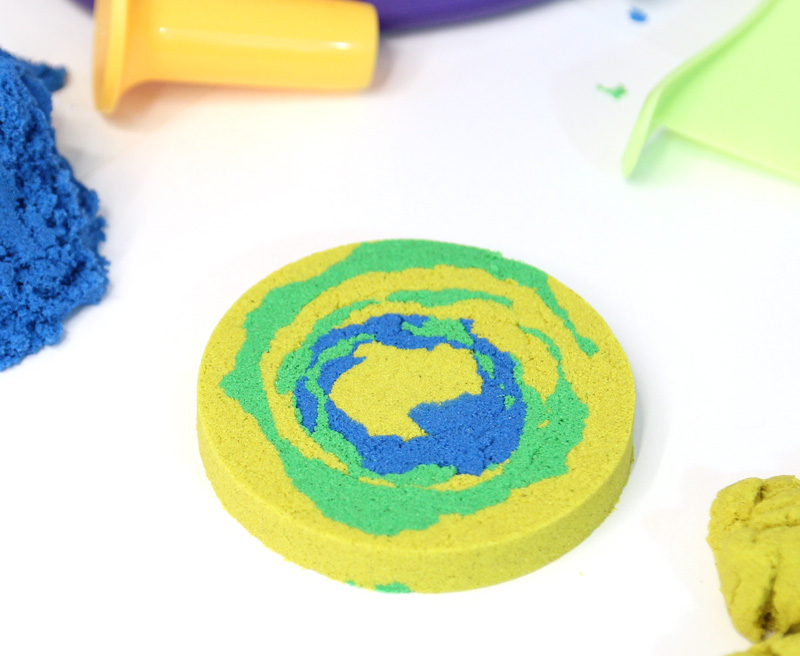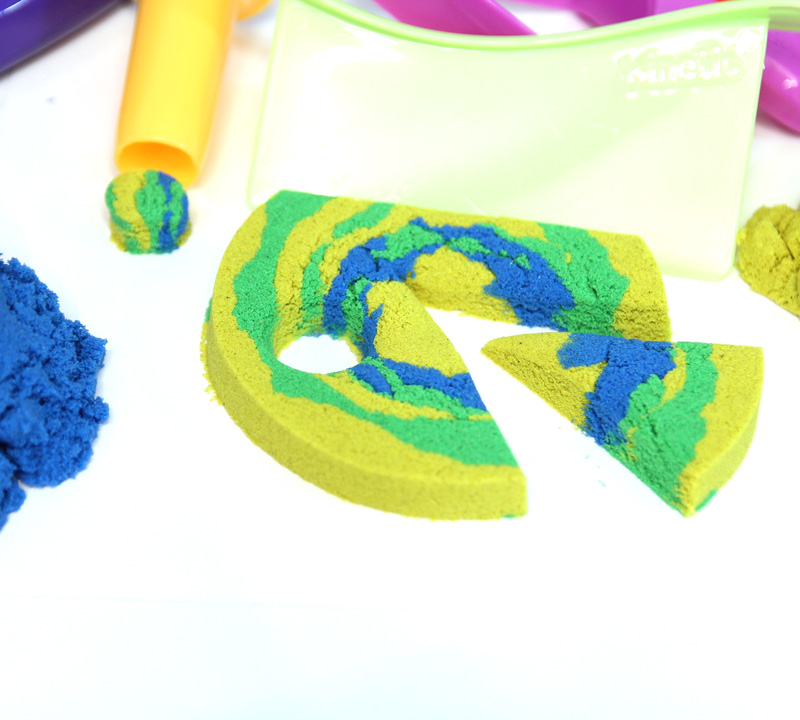 You can do so much more with it as you practice. Layer and "hide" colors, cut it open, and reveal the gorgeous results.
It's a sensory, creative experience!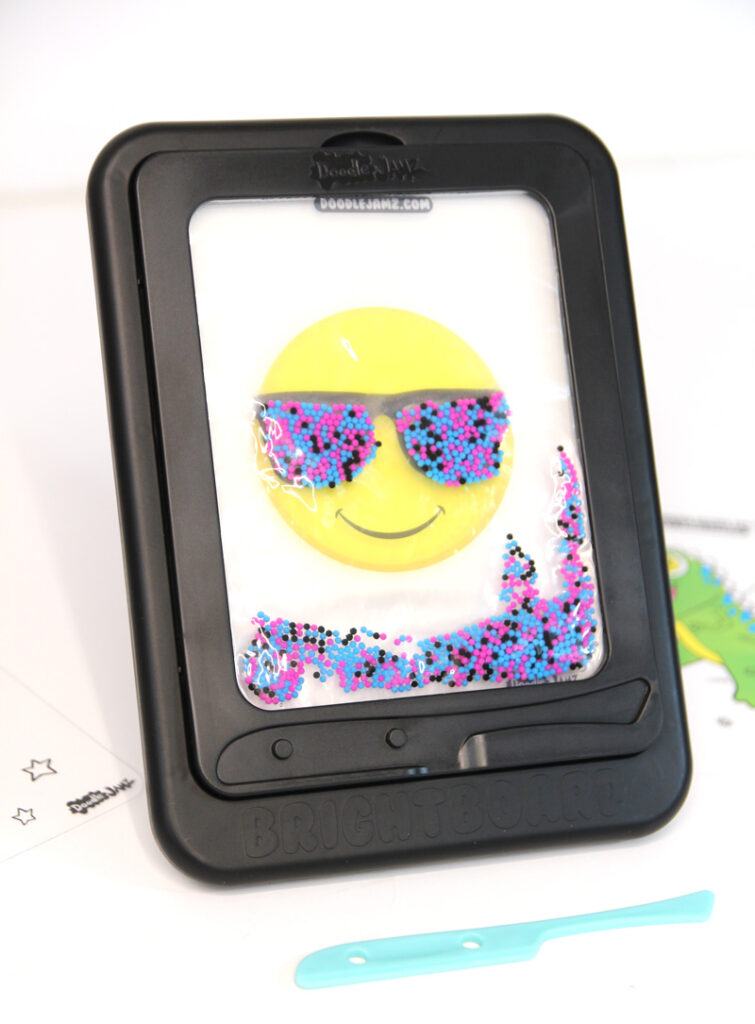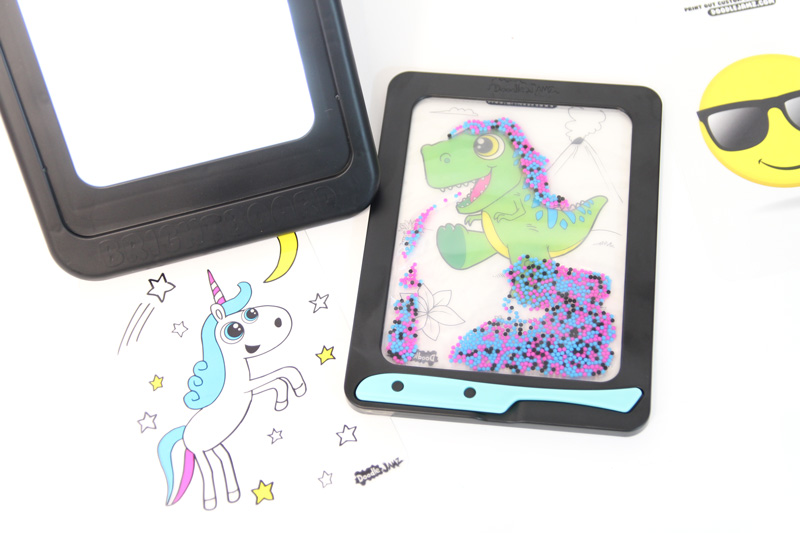 I first learned about DoodleJamz at a toy showcase, and thought the sensory take on "Hairy Harry" was really cool. Small beads are secured in a gel, enclosed in a totally vacuum sealed insert so that you can squish and move them around – with your finger or the included tool.
But my favorite part: you can customize the background! The kit itself comes with three to start but you can find many more to print on their website. Their library is incredible. It includes holiday themes, educational, photo scenes, activities, mazes, and so much more. You can even make your own custom backer card using a photo! Sorry, Dad, but you're about to get a pink and blue 'stache!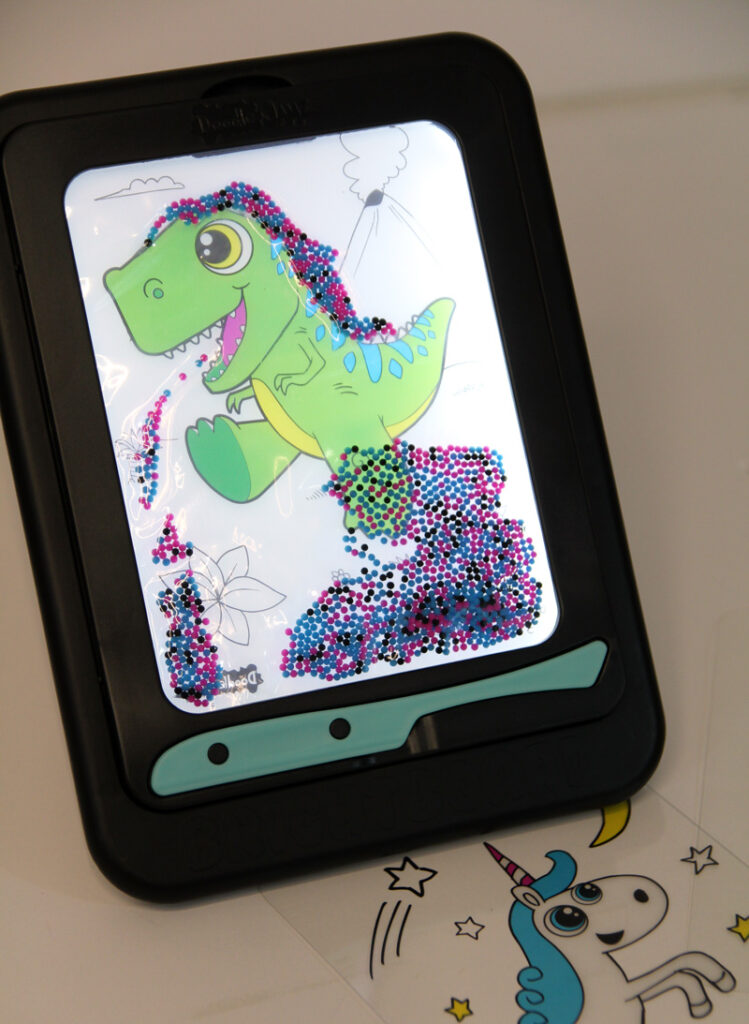 The DoodleJamz BrightBoard includes a backlit display for your creations. This just levels it up a notch for your child. It has a display stand too, so that tehy can showcase their creations until they're ready to give the next one a go. The creative piece can be removed and used independently, and taken on the go.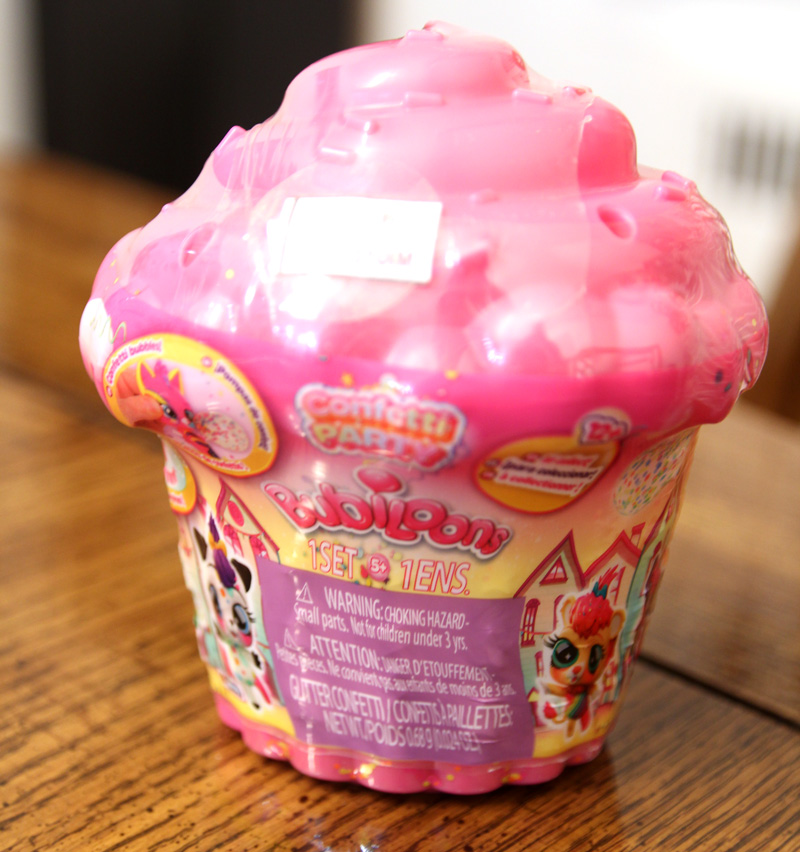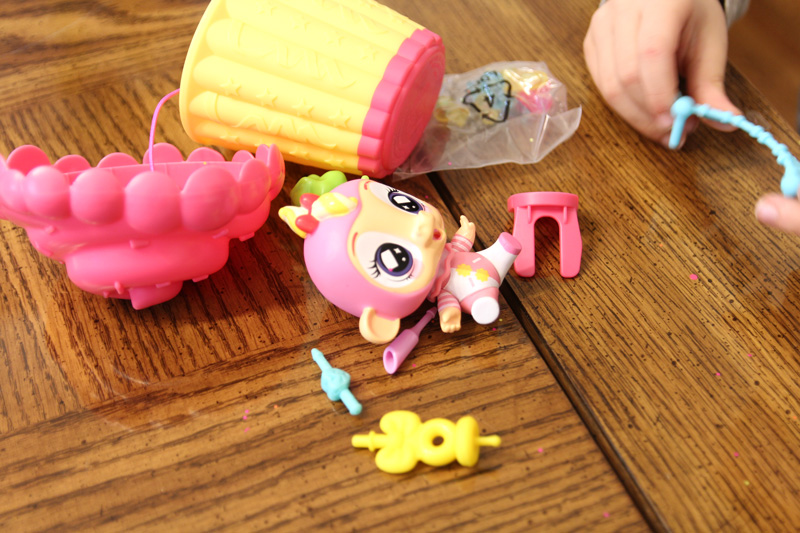 As a family that doesn't usually get too deeply into collectible and blind packages, this toy has me sold. I always like to see a creative or developmental benefit beyond just collecting. Bubiloons did it: they turned a collectible surprise toy into a creative play experience – with an incredible fine motor element.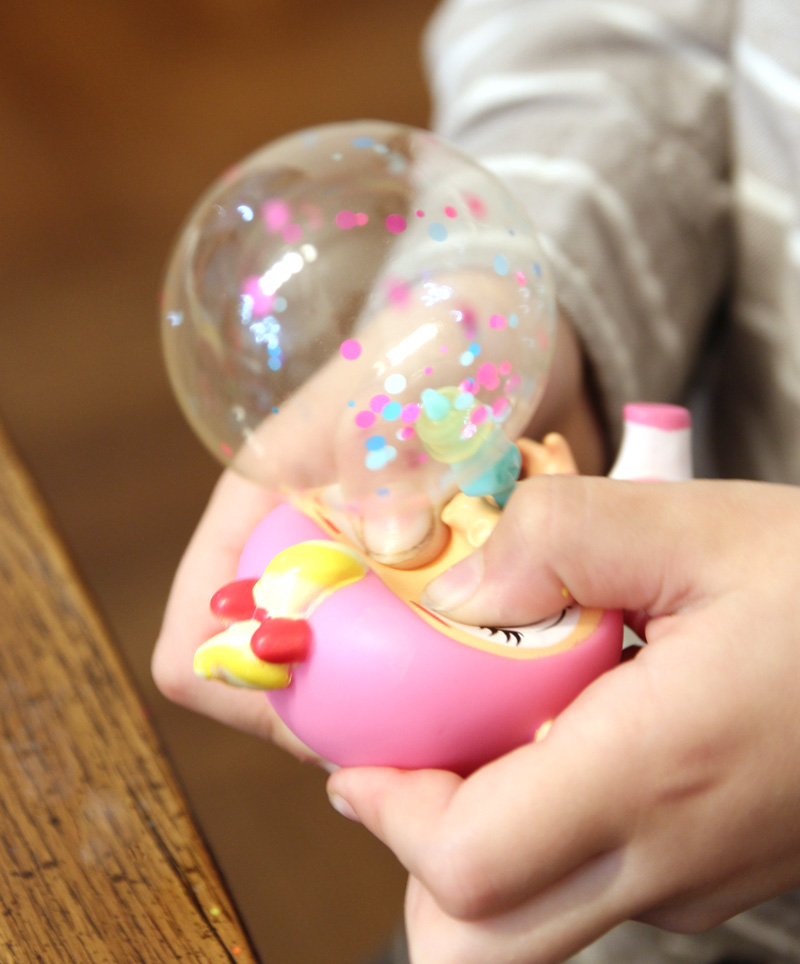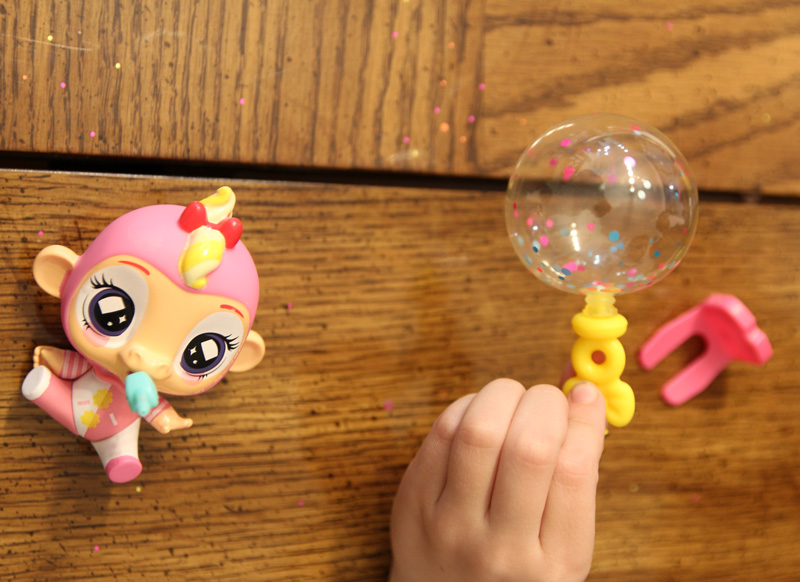 A little figure blows up these little slimy balloons (not ACTUAL slime – I'm not a fan of that. Think sticky hand material). There are different shapes and attachments, eight balloons in your kit and loads of little accessories to mix and match. While not exactly crafty it's definitely a creative experience in that they feel like they're making something. It's also a FABULOUS fine motor skill builder – squeezing the doll to blow up the balloon really works those fingers.
Best Craft Gifts for Teens (13+)
Teens are almost adults. That is to say, they probably have close to the dexterity and physical ability (if not the rationalizing skills) that adults have. But they likely don't have the experience.
For this stage, I'm a huge fan of gifting real art and craft supplies and tools, but keeping it "beginner level". I share some ideas that'll grow with your child below.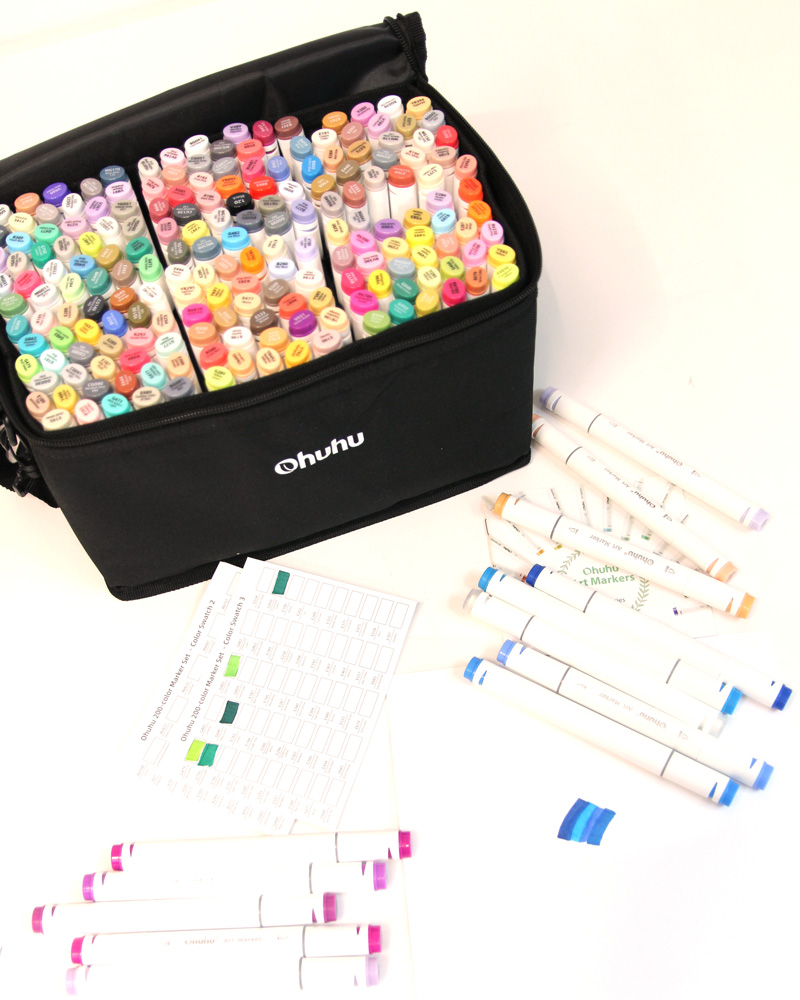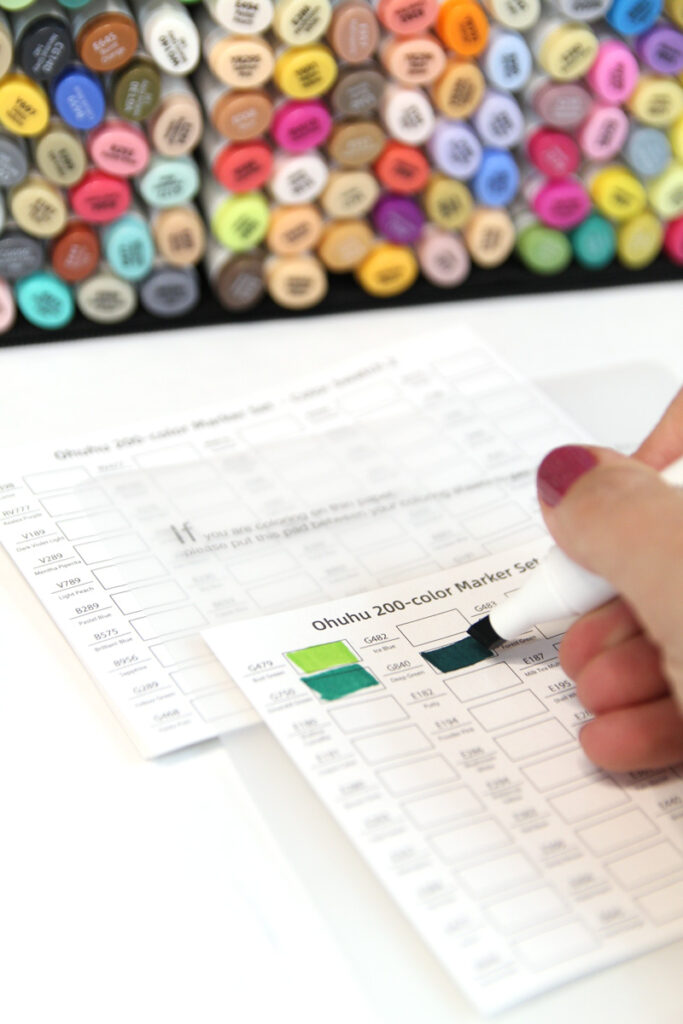 When we were looking for a nice gift to buy a very artistic almost-teen we know, we picked up a pack of Ohuhu art markers. These alcohol markers should only be given to a teen who is responsible enough to use them correctly. However, when you do, it is one of my favorite "next level" art supplies.
Alcohol markers are professional illustration markers, designed for blending and creating dynamic illustrations, with depth and detail. In contrast to classic kids' markers, you can layer them without soaking and crumbling the paper. They're fabulous for kids who love to draw fashion illustrations, comics, and manga.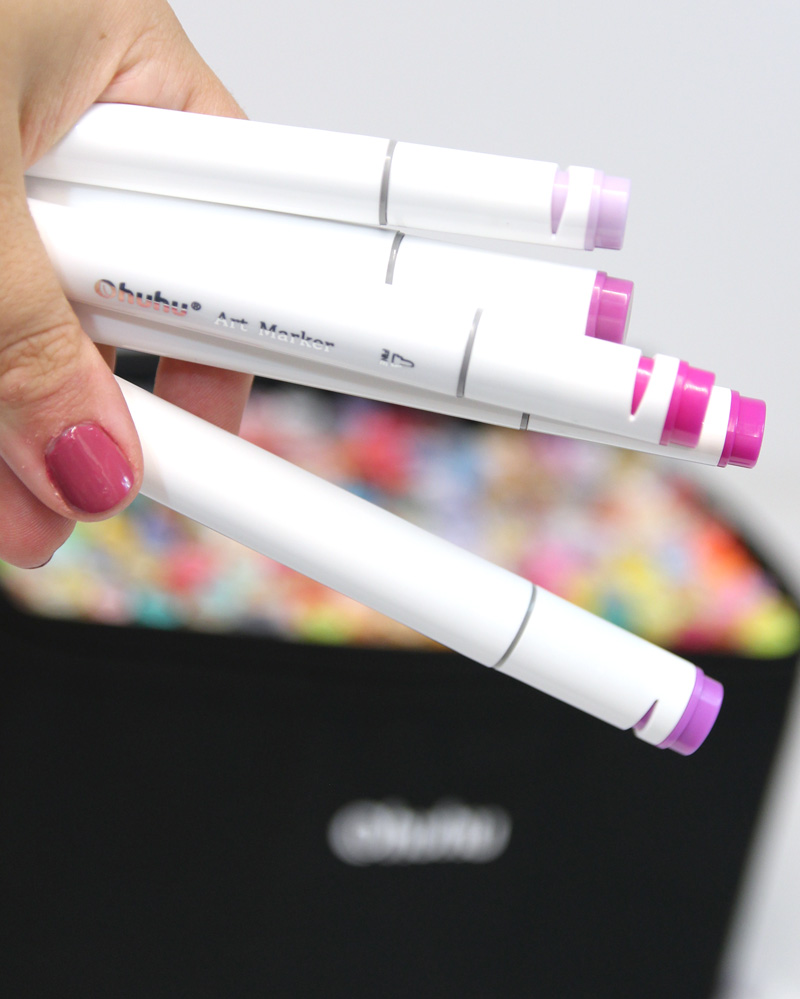 The markers are dual tipped, with a fine tip on one side and your choice of brush or chisel on the other. While the 200 color chisel and fine tip set pictured is a fabulous all-encompassing set – and a larger color range helps attain a smoother blend- , you can choose a set size to fit your budget.
The 200 color set includes a carry case and swatch cards, so that you can find the color you need easily. It comes with skin tones and a colorless blender too. As a reference to the kind of depth that can be achieved with them, the puppets below were colored using alcohol markers.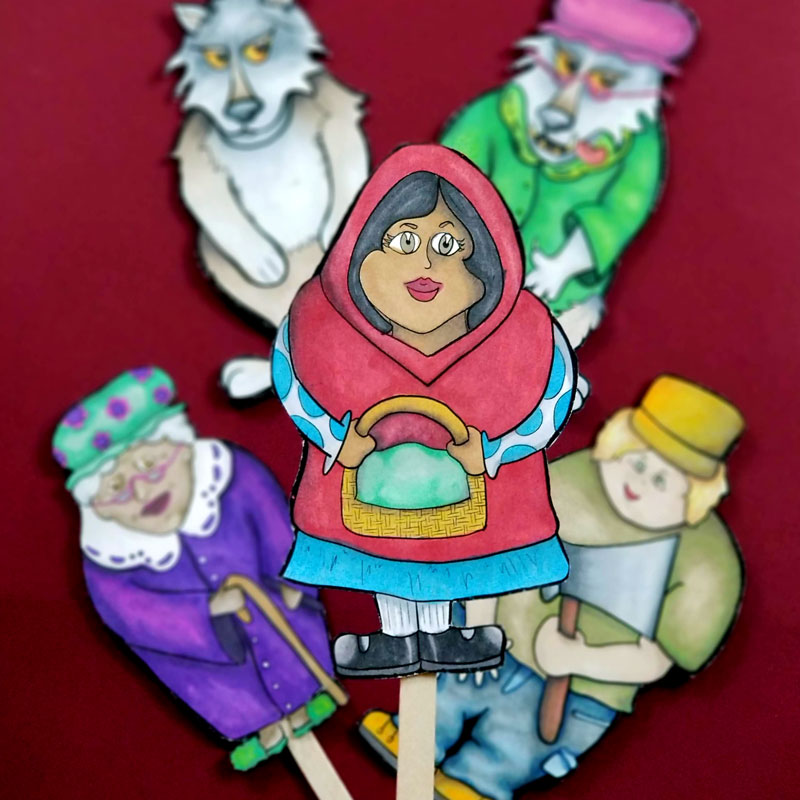 DMC Gift of Stitch Punch Needle Set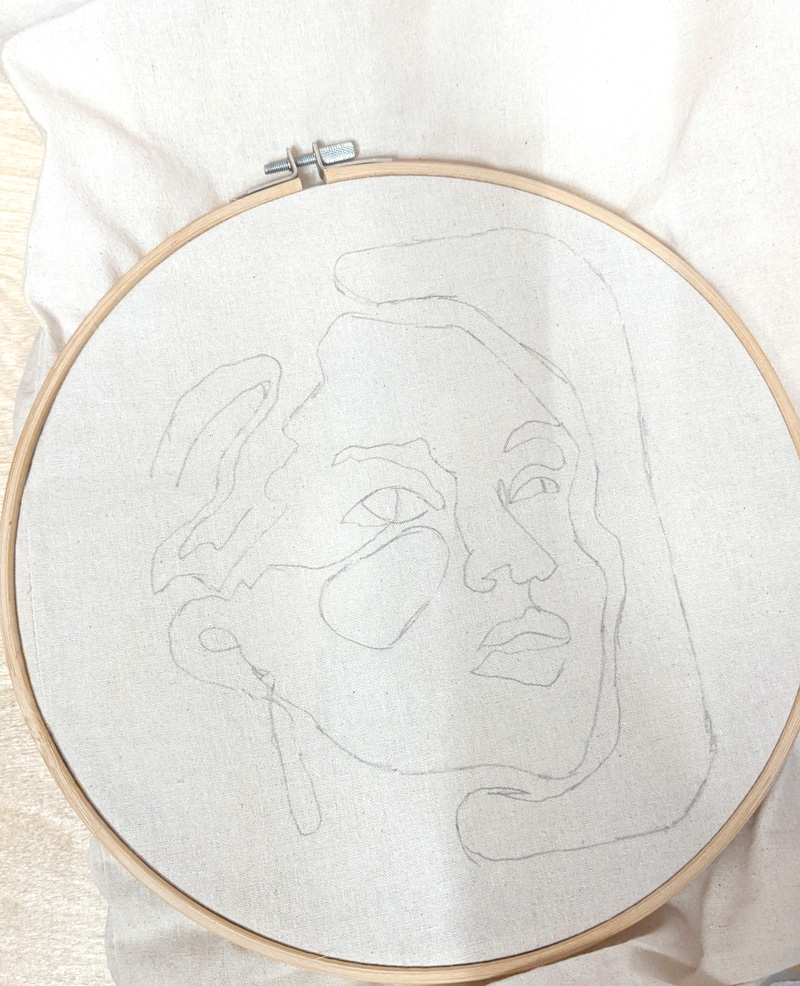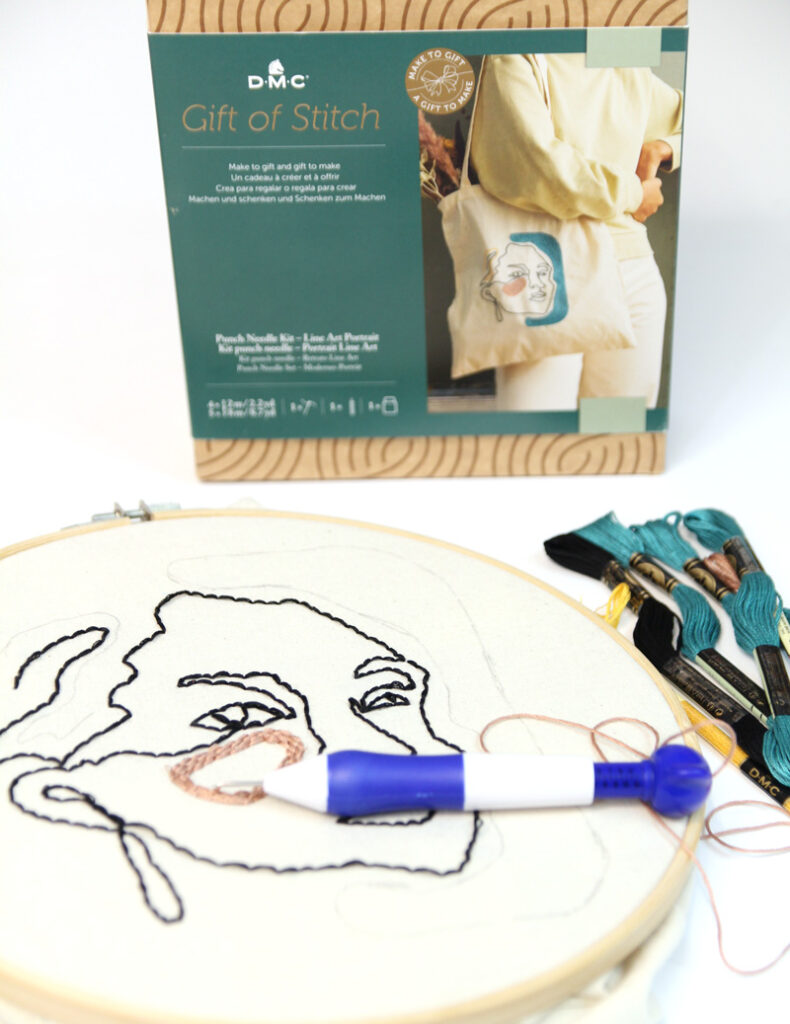 There's nothing like a take-along, do-on-the-couch new hobby for teens and punch needle is a fabulous on-trend craft! DMC has always been the brand of choice for me for embroidery floss, and their new Gift of Stitch kits are spot on! Each one contains everything you need to create a fiber art gift, and then gift it – including a tag to stitch. The box is reused as a gift box.
But it's also an amazing way for your teen to learn a new skill. You can encourage them to keep the first one for themselves, to take the pressure off. And if it does come out fabulous, they can choose if they'd still like to keep it, or gift it to a friend.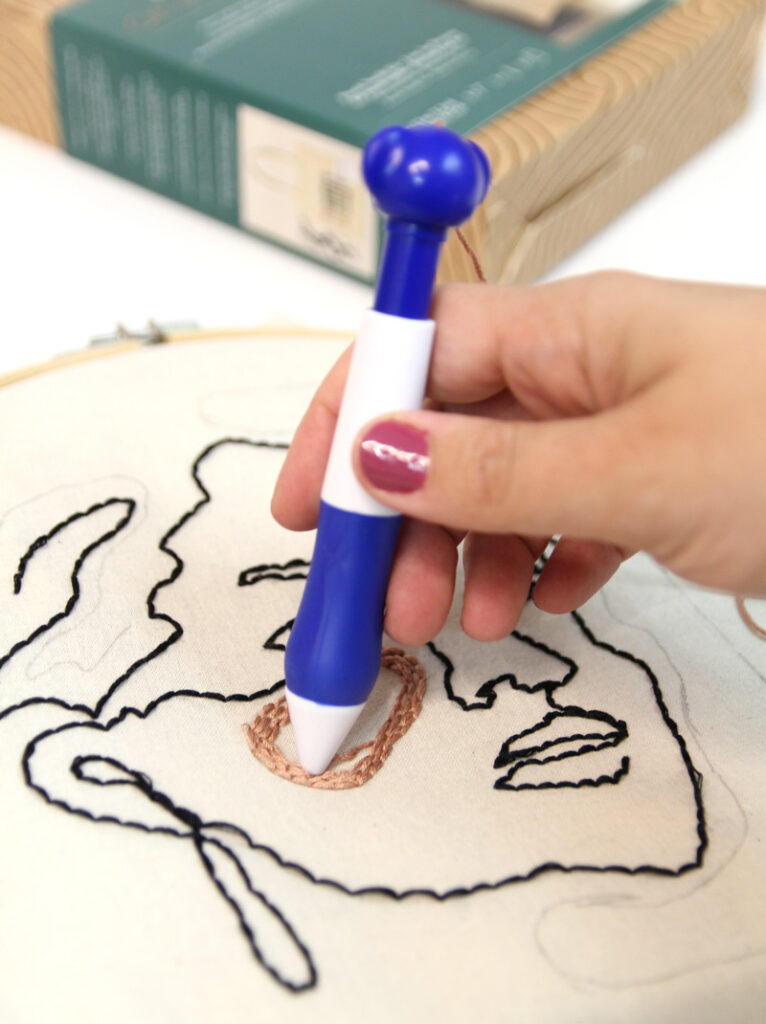 The punch needle line art portrait tote features a high quality cotton tote, a template to trace, generous embroidery floss to make your project, and a punch needle.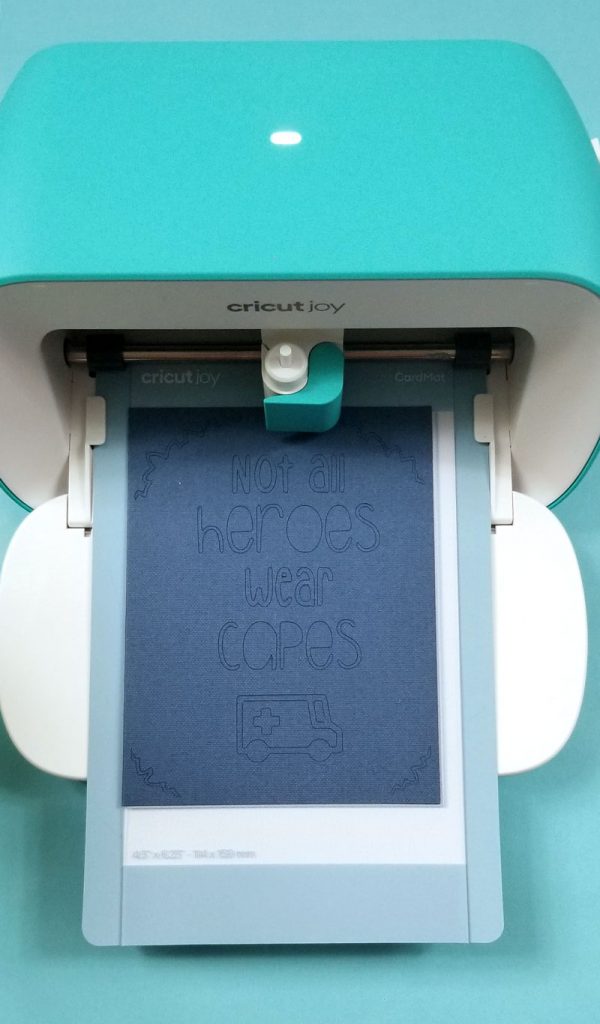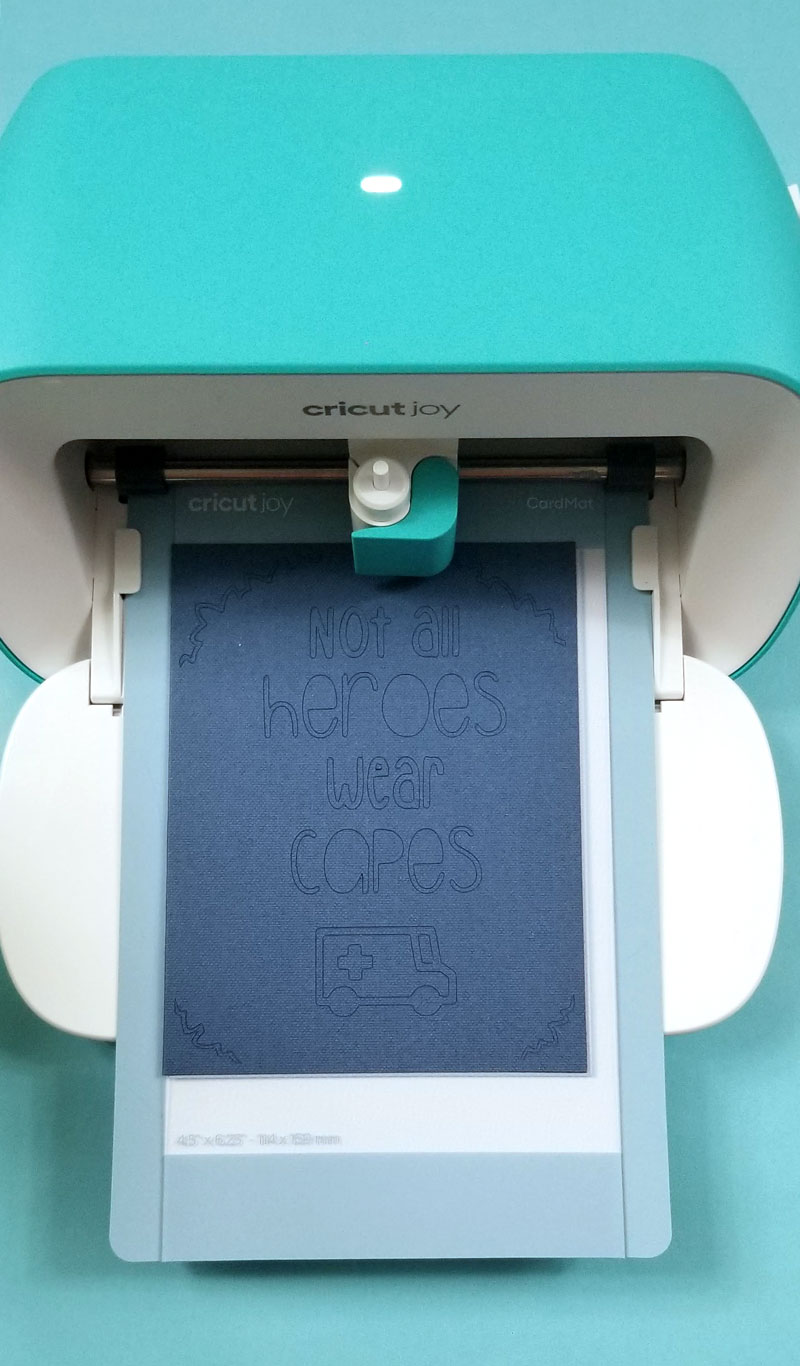 Cricut's full-sized machines are always a big hit, but I especially love the Joy for gifting to teens! It's the perfect size for personalizing things like school supplies and fashion, and your teen can even make things like t-shirts by splitting their cut into smaller sizes.
Unlike the full-sized machines, the Joy doesn't need much space to work with and is fabulous for teens to use in their own bedrooms and on their desks or dressers.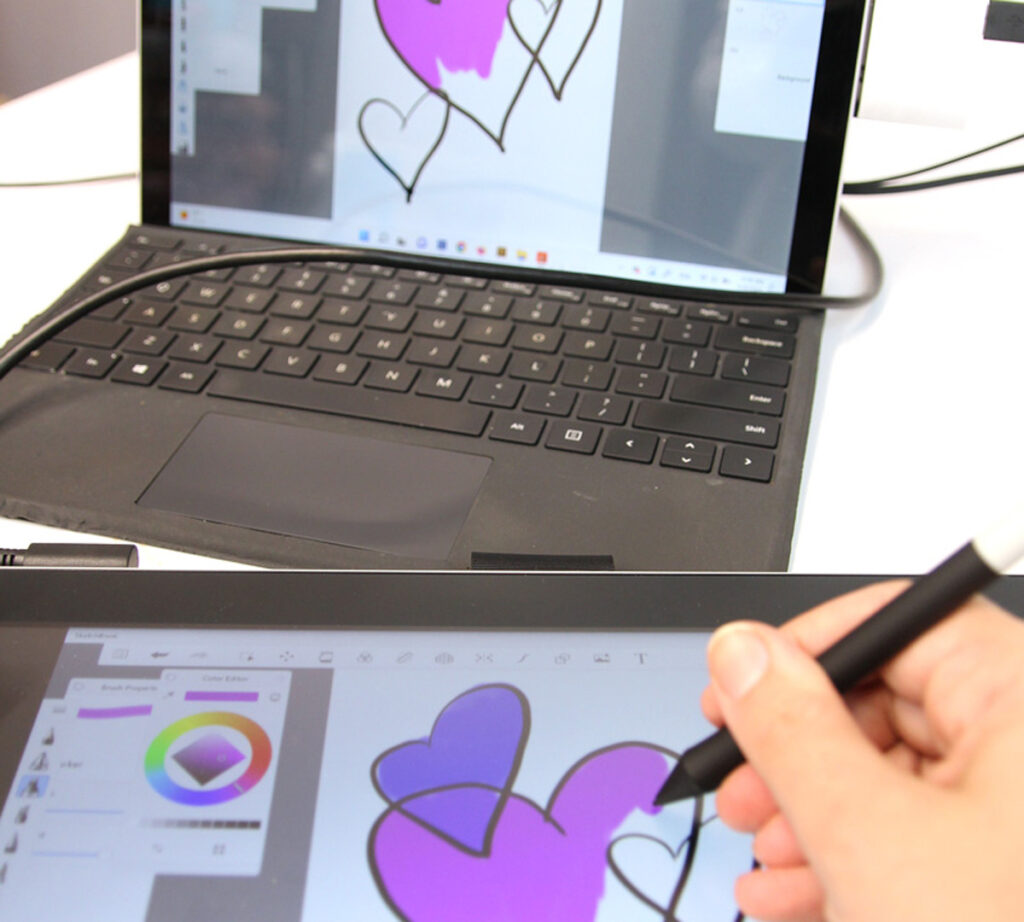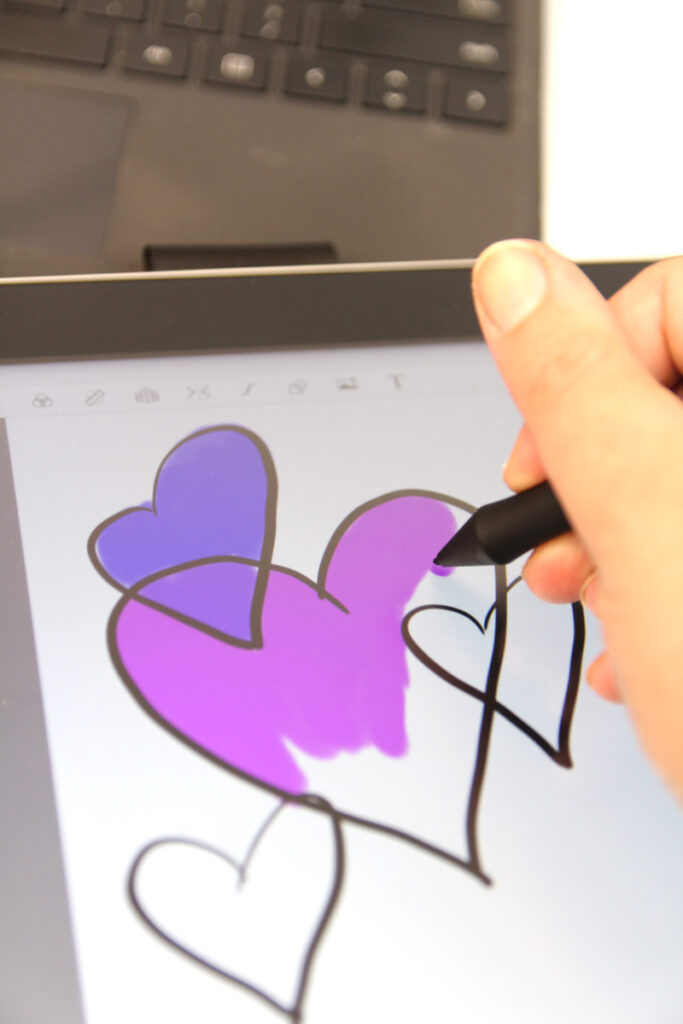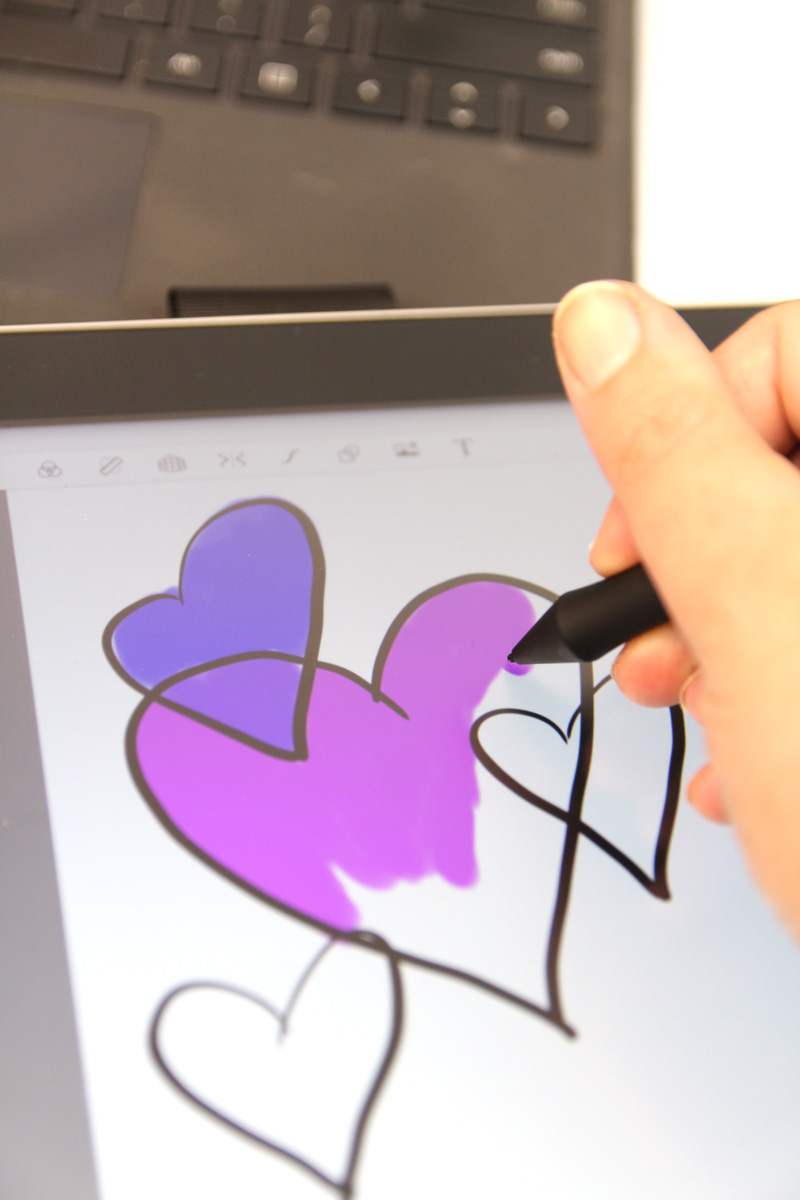 Got a teen who wants to up their illustration game? The Wacom One Creative Pen Display is a drawing tablet that connects to a computer and allows your child to draw with a real-life feel.
You can read more details about it, including an in-depth review in my comparison of the Wacom One vs. Intuos Pro tablets. However, the Wacom One is definitely the drawing tablet of choice for a teen to to start with digital illustration.
Craft Books for Kids
There's nothing quite like a craft book to teach your kid those new skills – or to serve as the craft itself! Here are some fabulous ideas.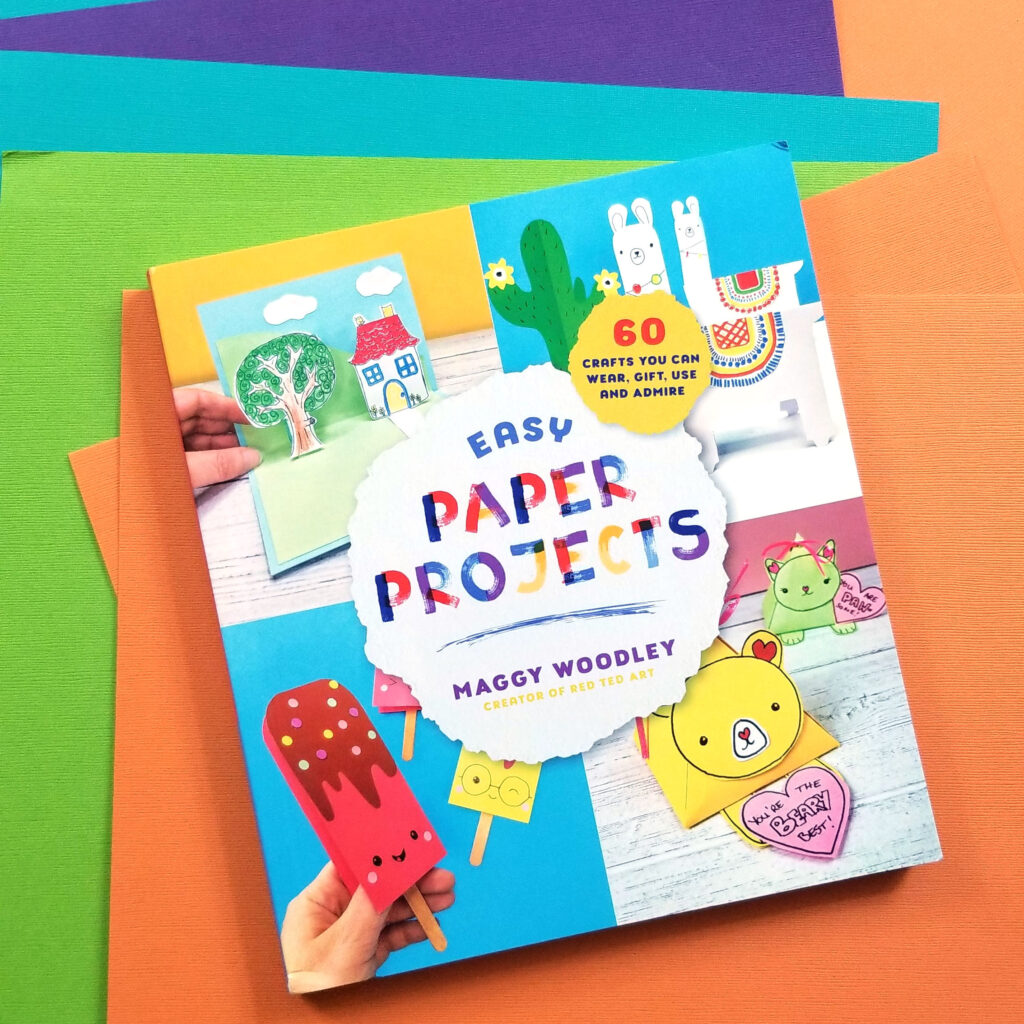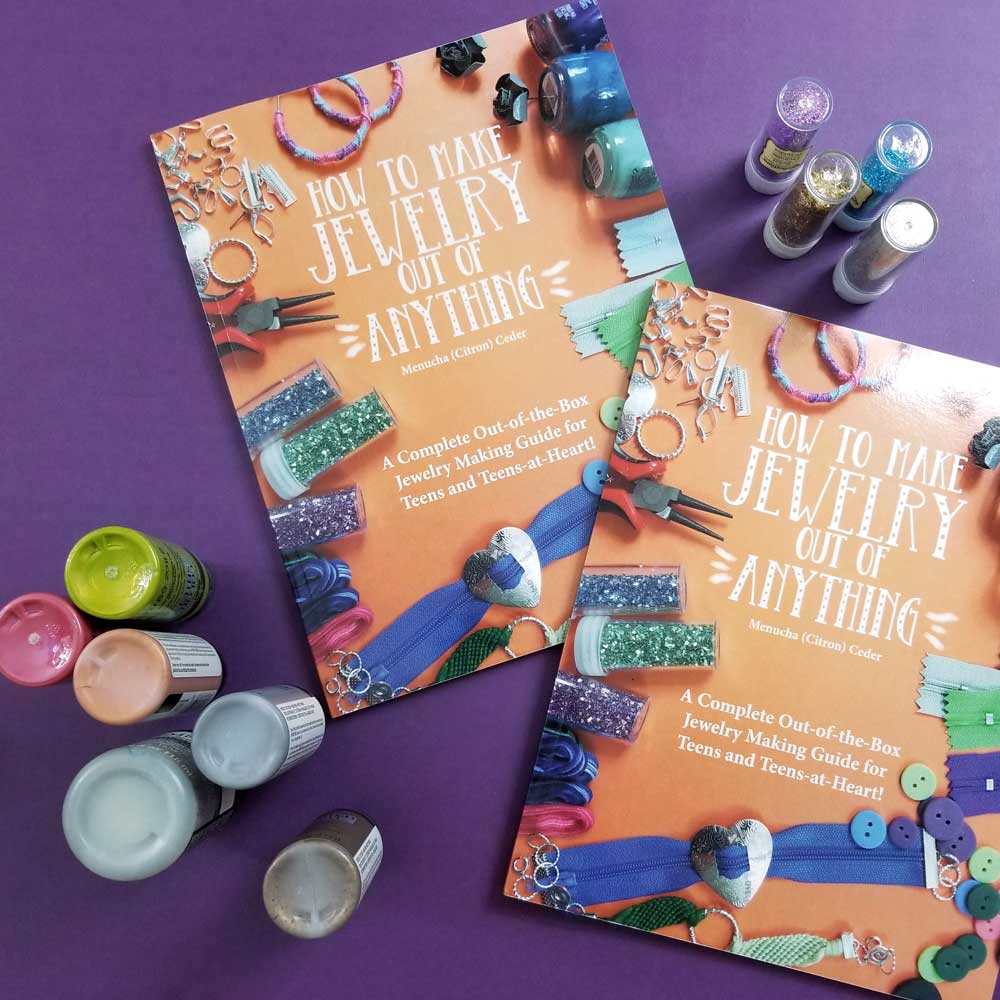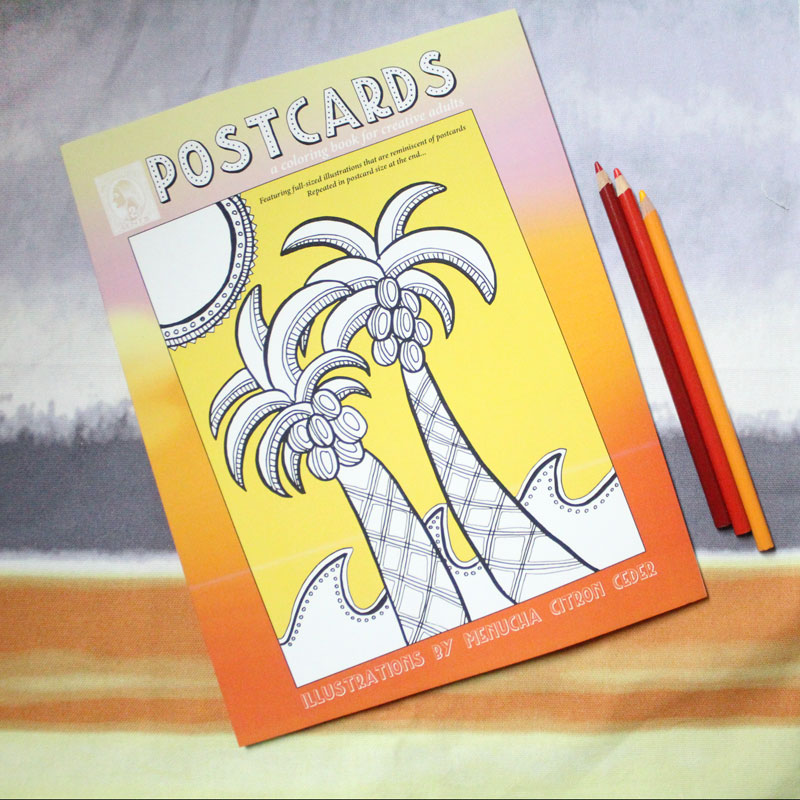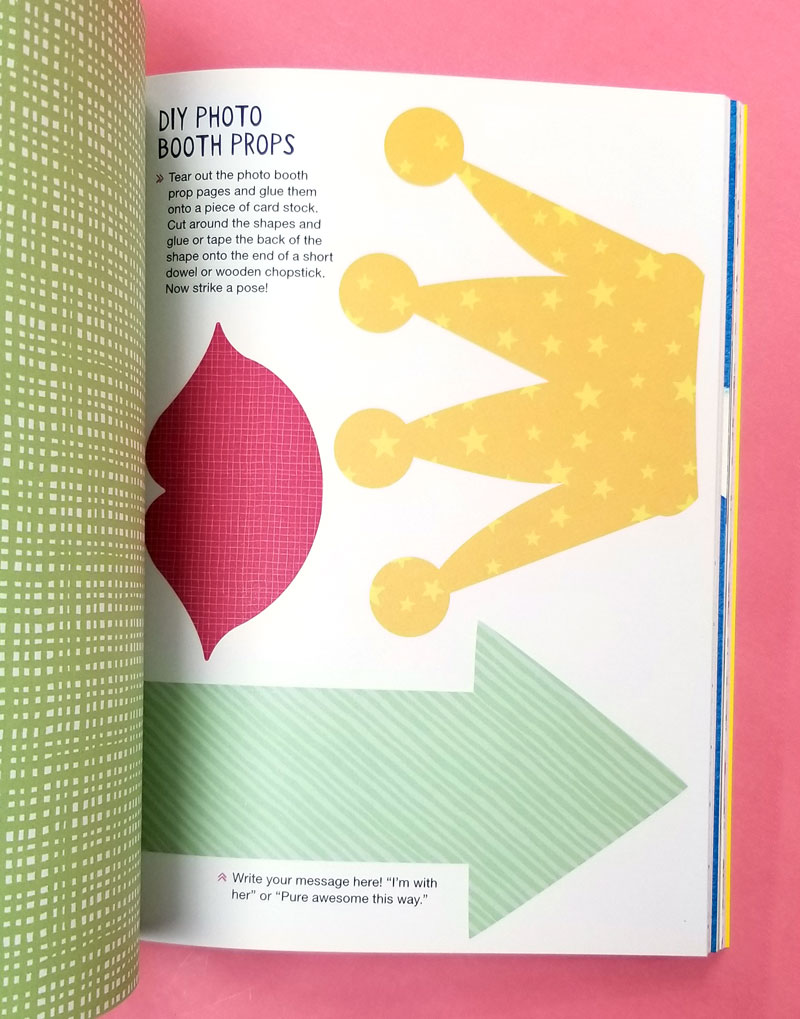 What are your best craft gifts for kids? Got any creative gift ideas to add to this list? Comment below!
Loved these? You'll want to check out gifts for the crafter who has everything too!