Download these free printable "CELEBRATE" watercolor art prints, for whichever occasion you are celebrating! It comes in three colors and styles so that you can choose the one you like best, or group them together.

Life is full of celebrations. Whether you're celebrating everyday moments, or a yearly event such as a birthday or holiday, a little bit of watercolor art will spice up your home.
While I did make these with the New Year in mind, I wanted to offer something that can last all year long. And we can always find a reason to celebrate. So, why not start right now?
Print one of these beautiful home signs, or print them all. Frame them, or pin them onto your memo board as a reminder. They look great on a gallery wall, or in a mantle, surrounded by matching accessories.
How to print the free printable CELEBRATE Watercolor Art:
(Disclaimer: this post contains affiliate links.)
[convertkit form=5124972]
Download the file above. Read the instructions for unzipping the file.
Choose which one you would like to print, and open the PDF. The file is for 8.5 x 11 Letter size paper.
For 8×10: Insert 8×10 inch photo paper into your printer, and set your printer to the correct paper size. Don't the "scale to fit" option when you print. Look at the preview to make sure it crops nicely, and adjust accordingly. Frame using an 8 x 10 inch photo frame.
For 8.5 x 11: If you'd like to print on regular copy paper (which is what I do), you can – just frame it in adocument frame. For that, you don't want to "scale to fit" either.
For A4: follow the instructions for 8 x 10.
For any other sizes: Anything larger than 8.5 x 11 inches will not look sharp when printed. You can print smaller – however, you should probably click "scale to fit" there. If the proportions are a little off, there will be a little white along that edge (which you can trim and matte if you'd like).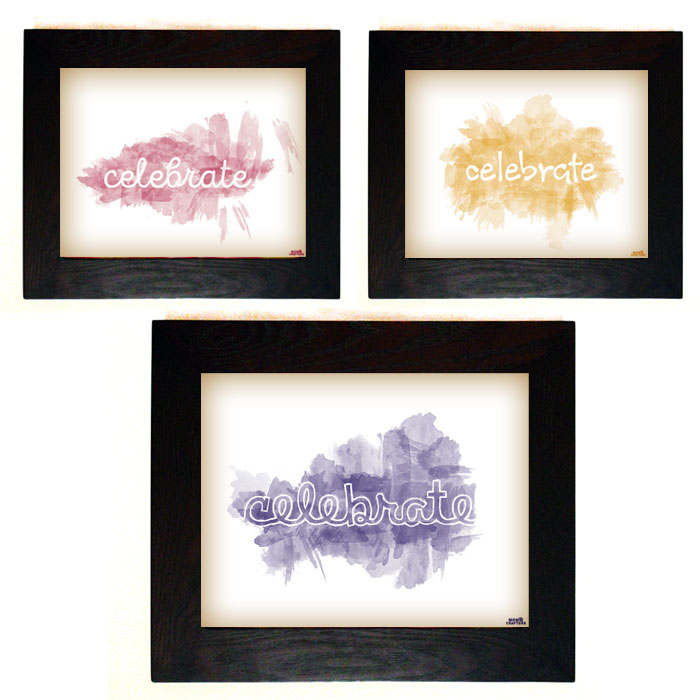 What occasion are you celebrating with this free printable watercolor art? Comment below!