This super simple paper Easter egg craft is so simple and addictive! You won't want to stop at one! This post contains affiliate links.
---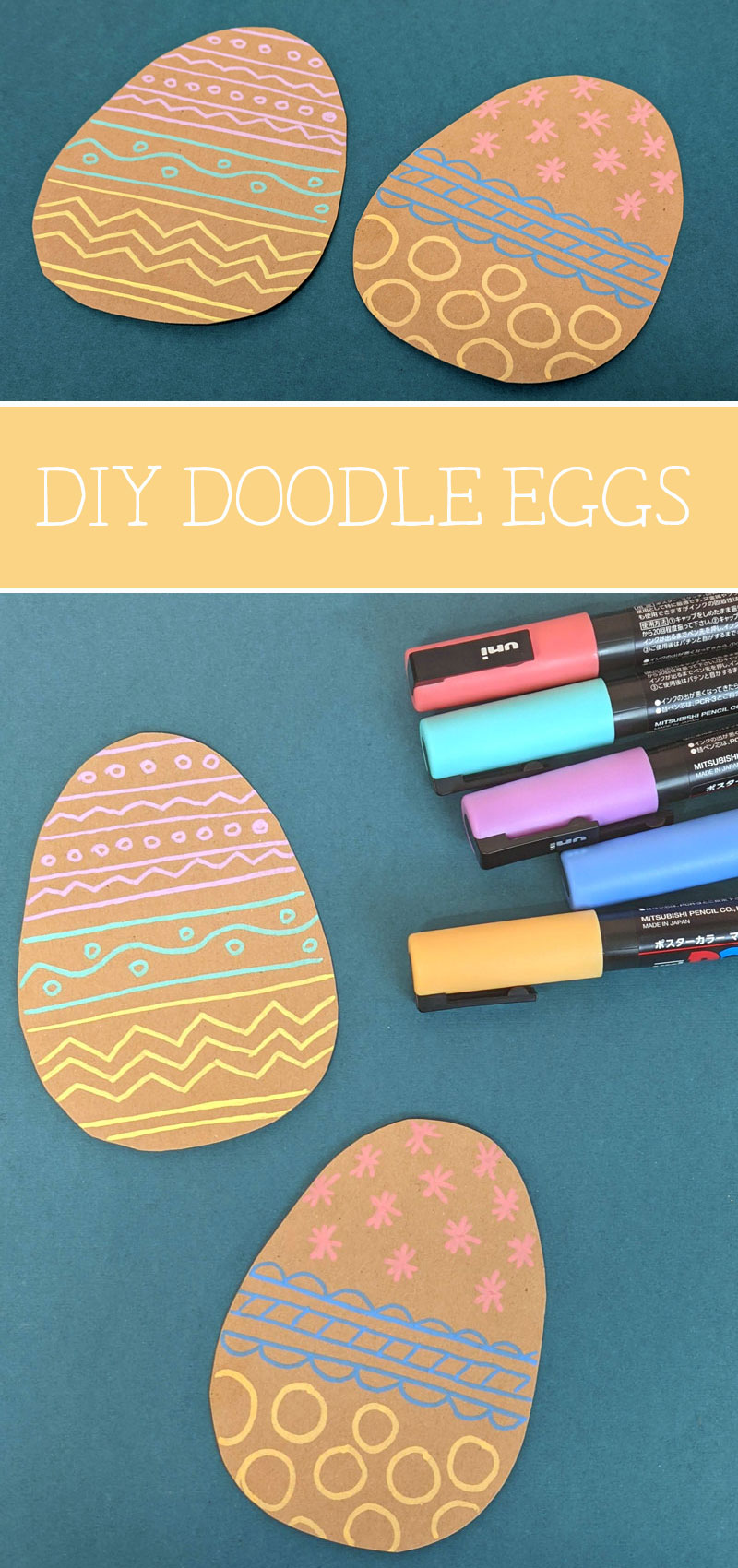 I recently picked up a pack of Uni Posca paint pens for another craft I have in the works and had to test them out. I started doodling, and boy is it addictive!
I cut a paper Easter egg from Kraft board and the pastel colors of the Posca markers stood out beautifully. I decided to share this with you as a totally unplanned craft on a whim.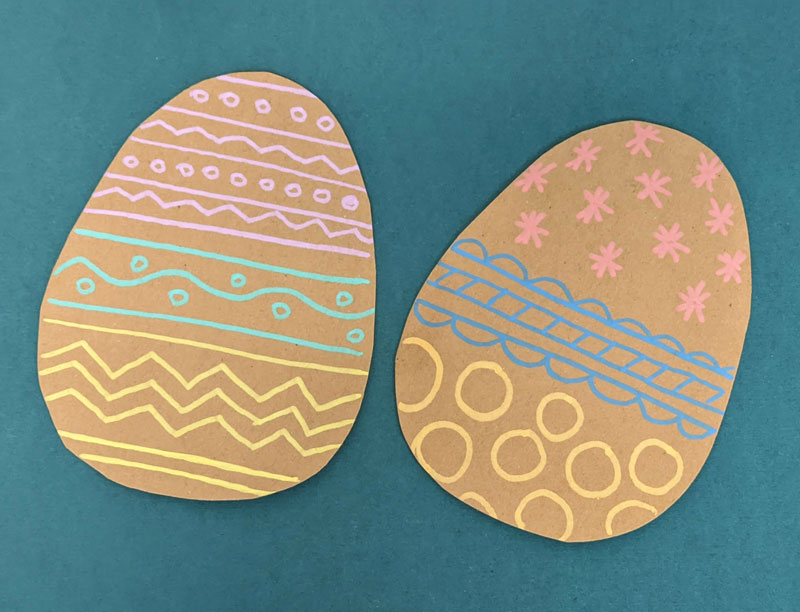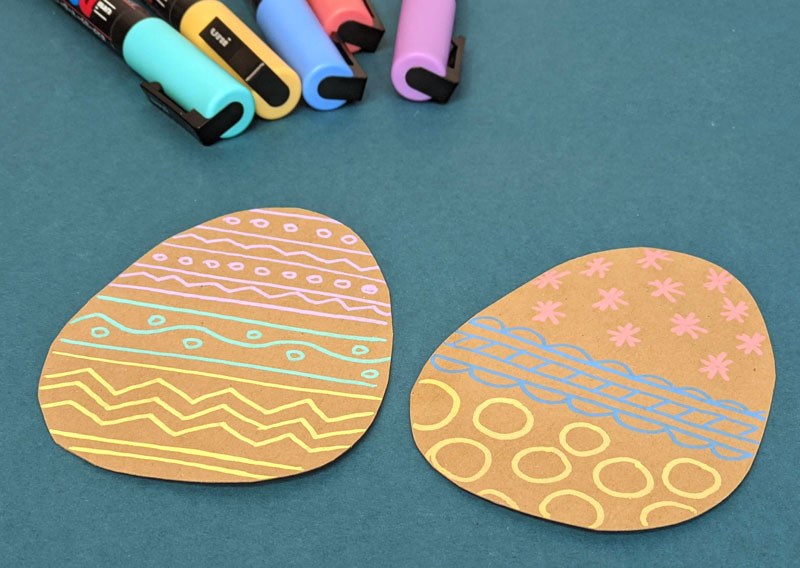 The truth is, it became a bit addictive! The flow of the marker on the darker paper and the contrast of dull Kraft with bright pastels is oddly satisfying to watch materialize on the paper, making this a really relaxing craft for any age group. Your teens, though, will especially love this on-trend craft. It's the kind of project that is meditative as it requires almost no concentration and allows you to really think.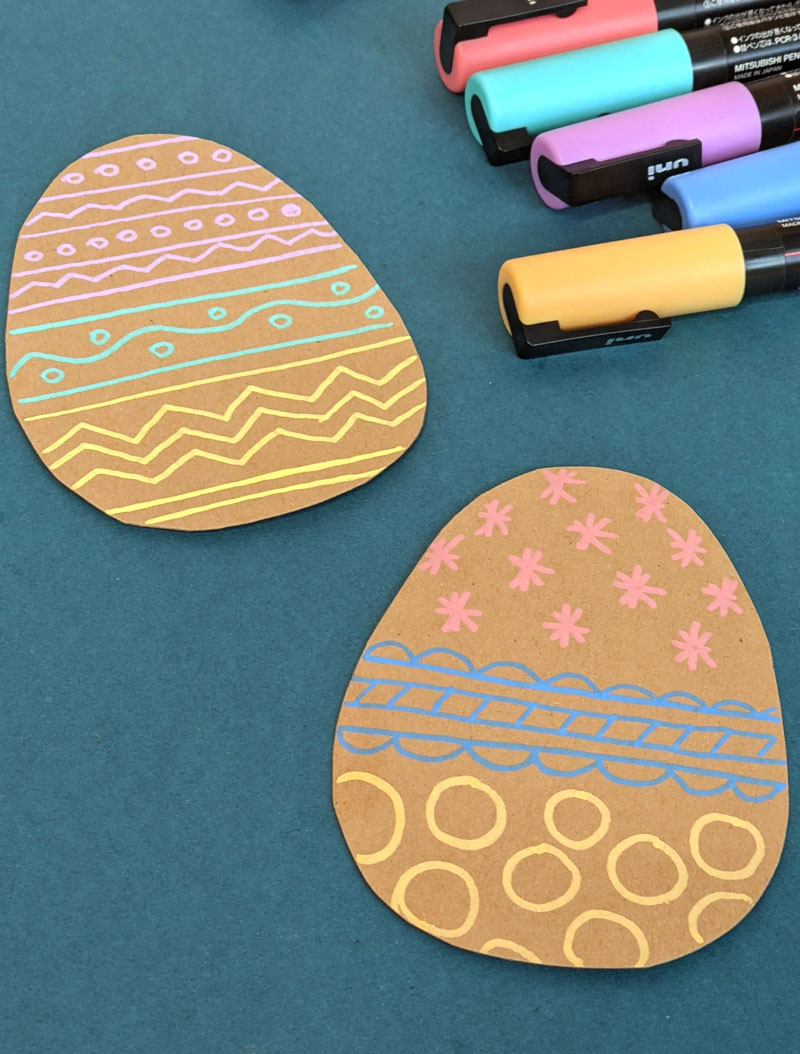 I also doodled a little card that says "Hop Hop Hop" in three lettering styles. I don't have a tutorial for that but you can check out the video embedded in this post – I showcase it at the end.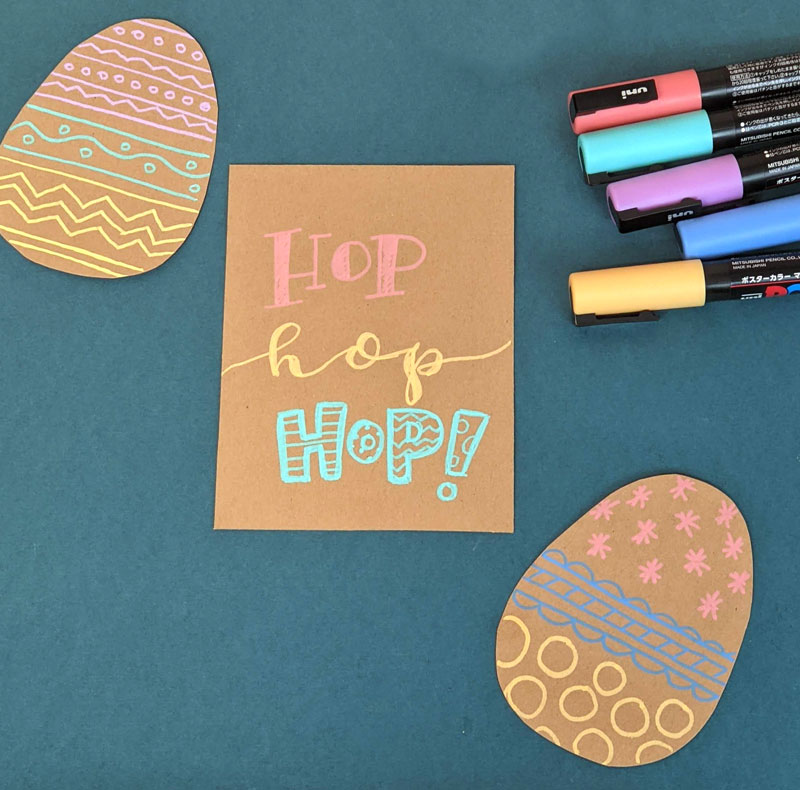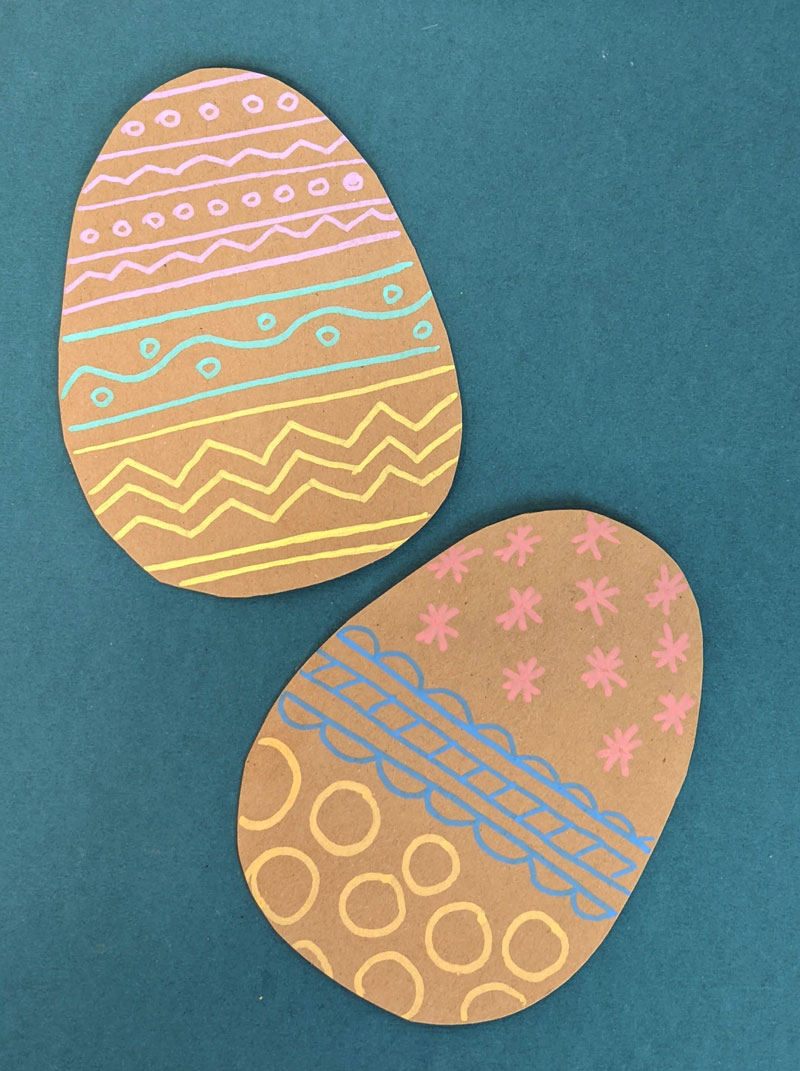 To make doodling easier, you can divide it into three and fill with stripes and patterns. Or, just have fun! Try all sorts of paisley and floral doodles, give dots and stripes a go, or experiment with textile-inspired patterns like plaid and argyle. The choice is yours!
What to make with your paper Easter egg once you've doodled it
So big deal, you doodled a paper Easter egg. What now? Here are a few ideas for what you can craft with it after you've doodled:
Turn into garland – Combine the family or class's eggs and punch two holes at the top. String a thread through and enjoy some beautiful Easter decor.
Placecards – You either letter a name in the center portion instead of filling it with pattern (learn how to do that here). Or, print out names and cut a square to paste on the center.
Greeting cards –
Egg hunt – If you're trying to avoid plastic over consumption, use these instead of plastic eggs for your egg hunt. You can attach treats to them – or not.
And if you have any ideas to add to the list, comment below!
What you need to doodle a paper Easter egg
How to doodle paper Easter eggs
While this is really an "anything goes" type of craft, you can whittle down the doodling process and provide direction for those who prefer it.
1. Cut out an egg shape. If you're making this for a crowd, I recommend using your Cricut if you have one. If you're just making a few you may prefer to do it by hand. I winged it and just improvised a shape as I went along.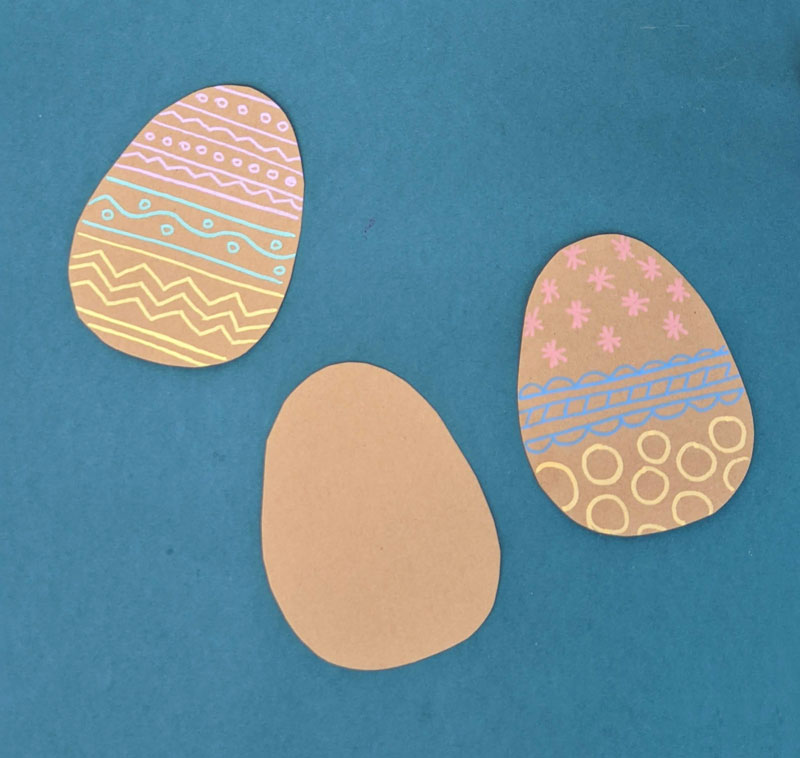 2. Create horizontal lines to section off the middle. You can double the lines or not. Using your first color, doodle something in the middle.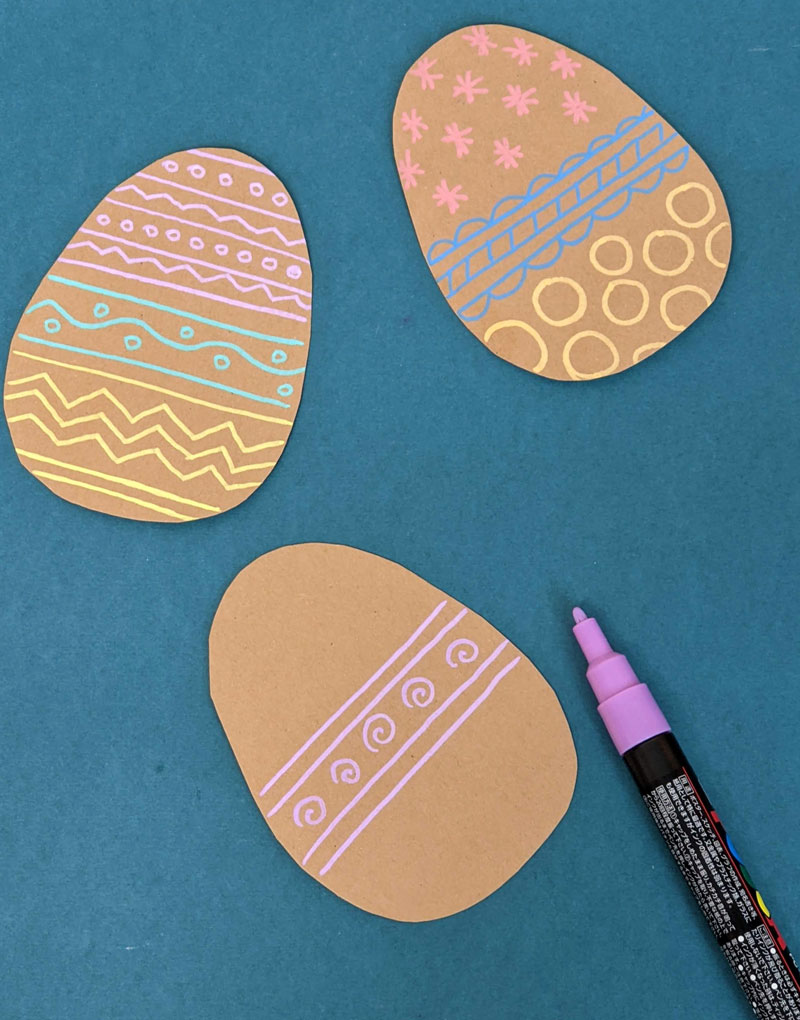 3. Next doodle a pattern fill for the top. You can work within the parameters of horizontal lines for that too – or not!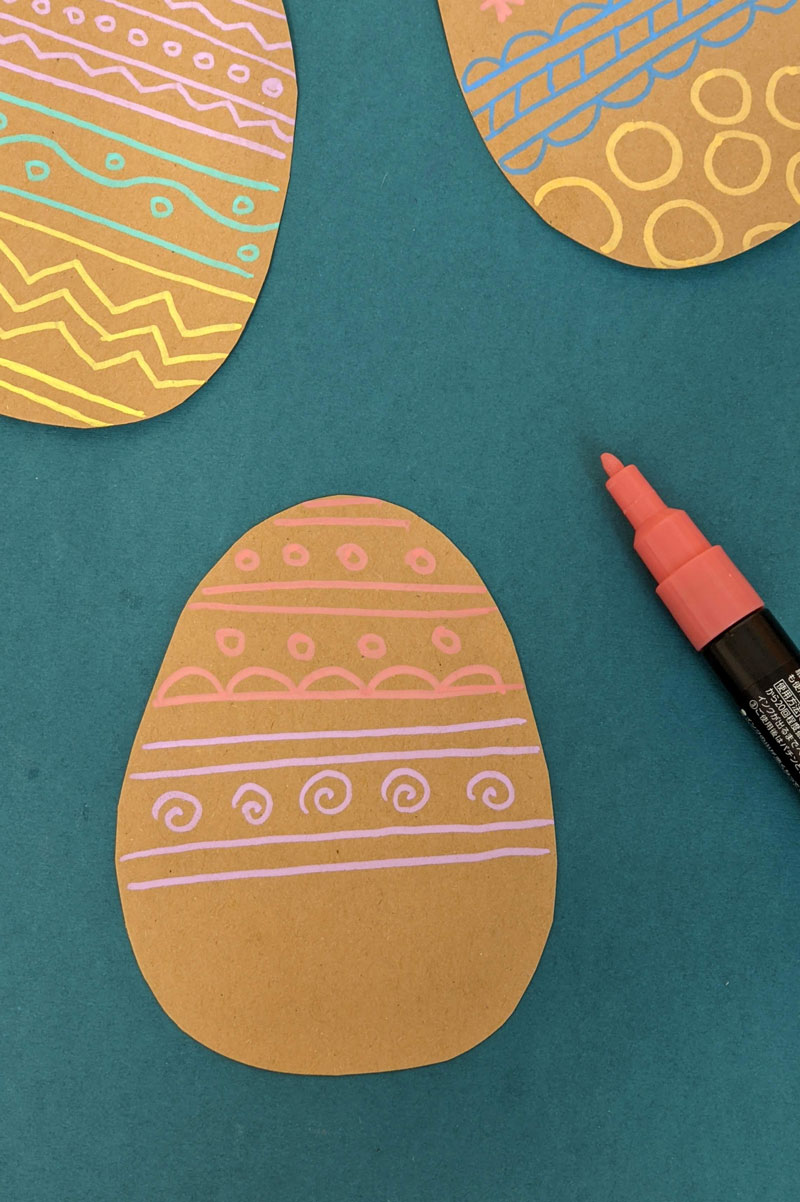 4. And finally fill in the bottom! Your paper Easter egg is complete!
Have you ever tried crafting Easter eggs from paper? How did you make yours beautiful? Comment below!