My son is the kind of toddler that doesn't like getting his hands dirty. I didn't even know those kinds of toddlers exist! This toddler painting activity is perfect for tots who don't like to get messy.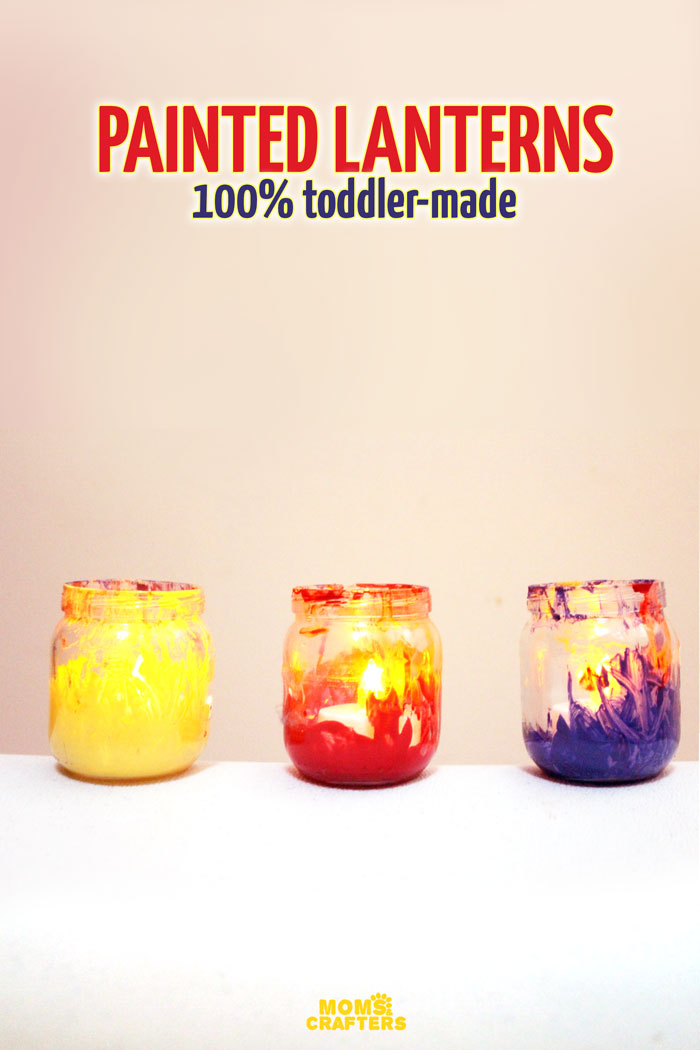 A while ago, when I was making this pretty snowy skyline winter lantern, M decided to help me, by "mixing" the decoupage inside the jar.
I decided to try and offer him an activity based on that, but geared more toward him.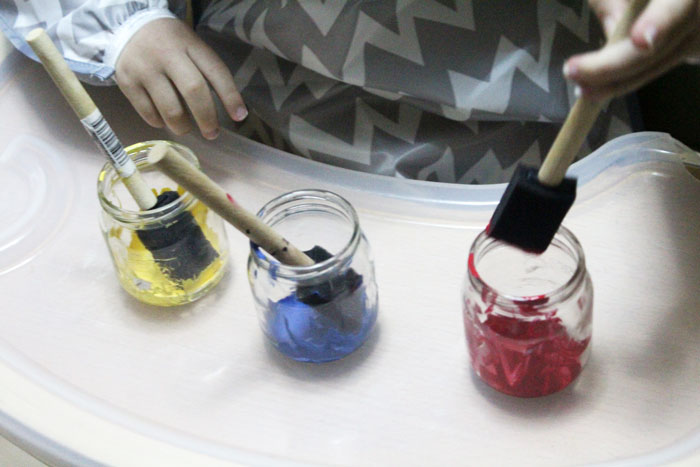 Disclaimer: this post contains affiliate links.
Honestly, I find it very challenging to find things that he'll agree to do. But, since he's home with me all day, and doesn't do well JUST playing all day, I do need a few minutes of structure here and there. Most activities don't last for more than one session, but this one he's done (and loved) a few times!
This toddler painting activity is simple – just place a little bit of acrylic paint on the bottom of the jars.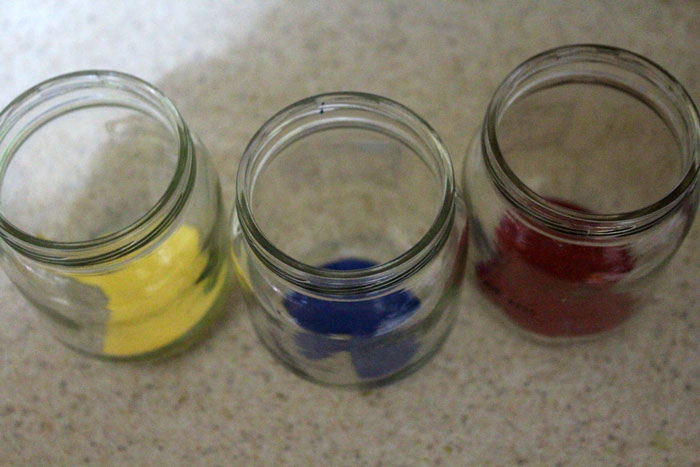 Put a paint brush inside, and allow your toddler to mix!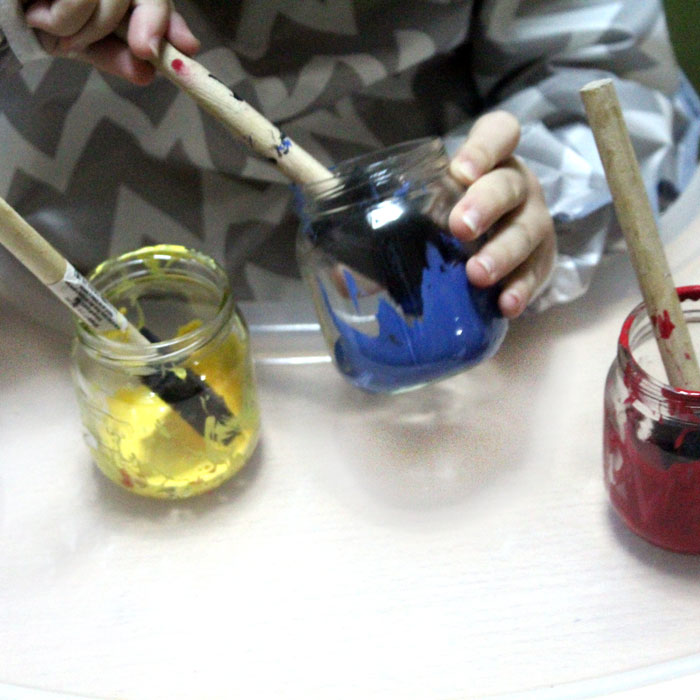 It provided much more satisfaction than just the glue, because of the color involved. He then "helped" switch on the flameless tea lights, and place them inside the jars. He was extremely proud.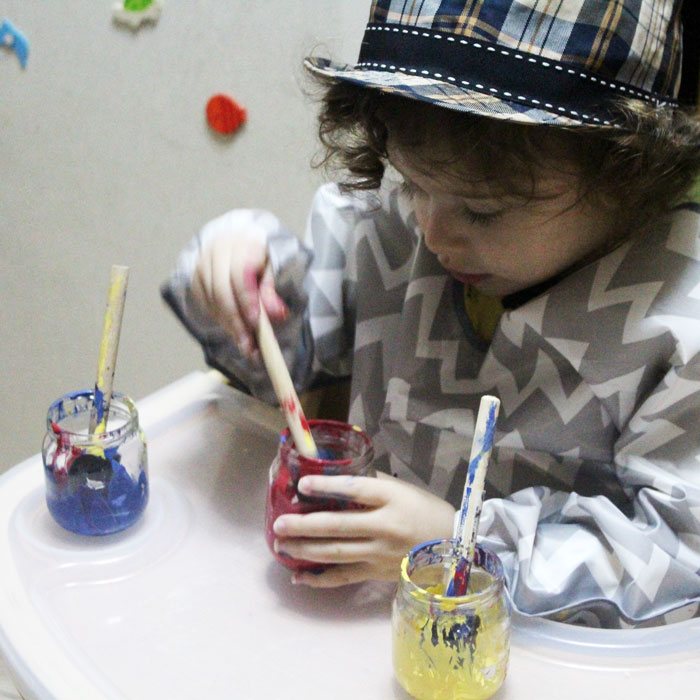 He really had fun with it, and asked me a few times if he can do "lights" again.
I really like how it came out too. It has a toddler-exclusive look that I could never duplicate intentionally. I think it makes a perfect playroom decoration too, and may just upcycle it in the future for corralling crayons and such.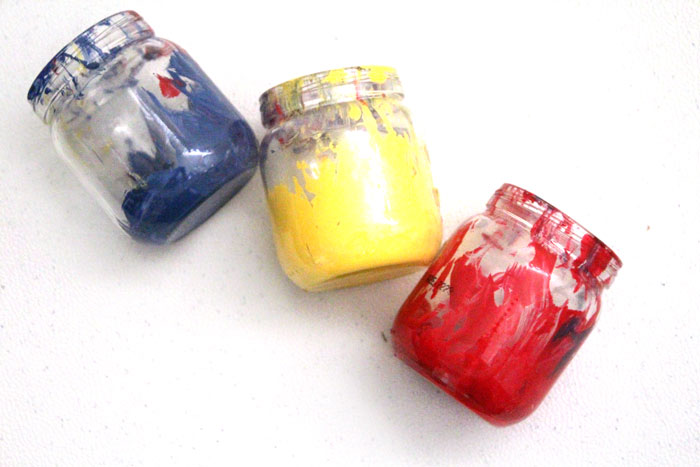 A few tips for this toddler painting activity:
I stuck with primary colors for this, as he's a toddler, and doesn't really know much.
I also used it as a chance to "teach" a little about colors, by naming them a few times during the activities.
I gave him all three at once and he just mixed it a little bit. It may have been neater had I given him one color at once, but I like the idea of offering a little more choice.
You can duplicate the activity for teaching colors, and make a new jar every time a new color is learned. Once the child has mastered all the colors, you can offer a variety of small colored objects (papers, beads, small toys) to sort into the jars. Just beware of choking hazards if your child is still mouthing small objects.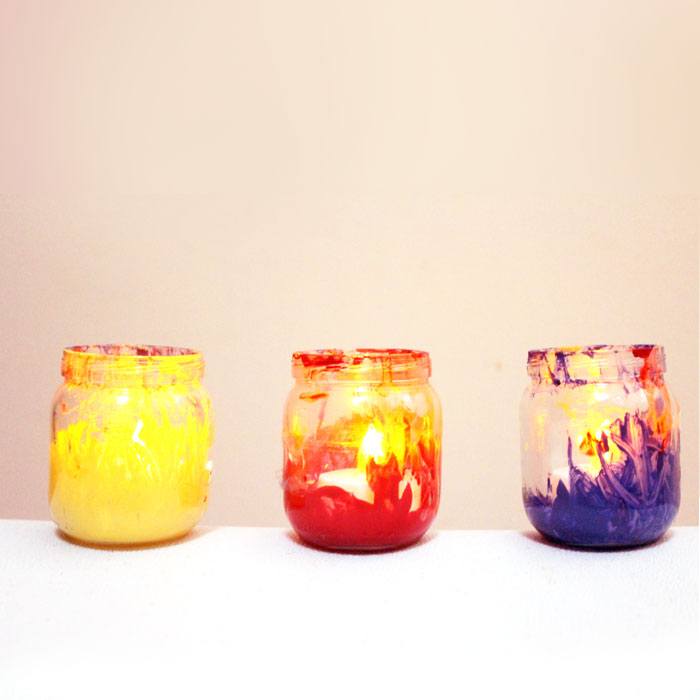 I did use glass baby food jars, knowing my child well, and that he will not throw it.
If your child likes to throw anything and everything, you can opt for plastic jars of the same size for this toddler painting activity.
Here is another great toddler activity you might like from Arts & Crackers (for messy toddlers only), and here is another neat-ish one from me.
I hope you enjoyed this toddler painting activity! What ideas do you have for keeping a tot busy? Comment below!