Craft a super fun clothespin butterfly with kids! When you're done, check out more clothespin crafts you can try today.
---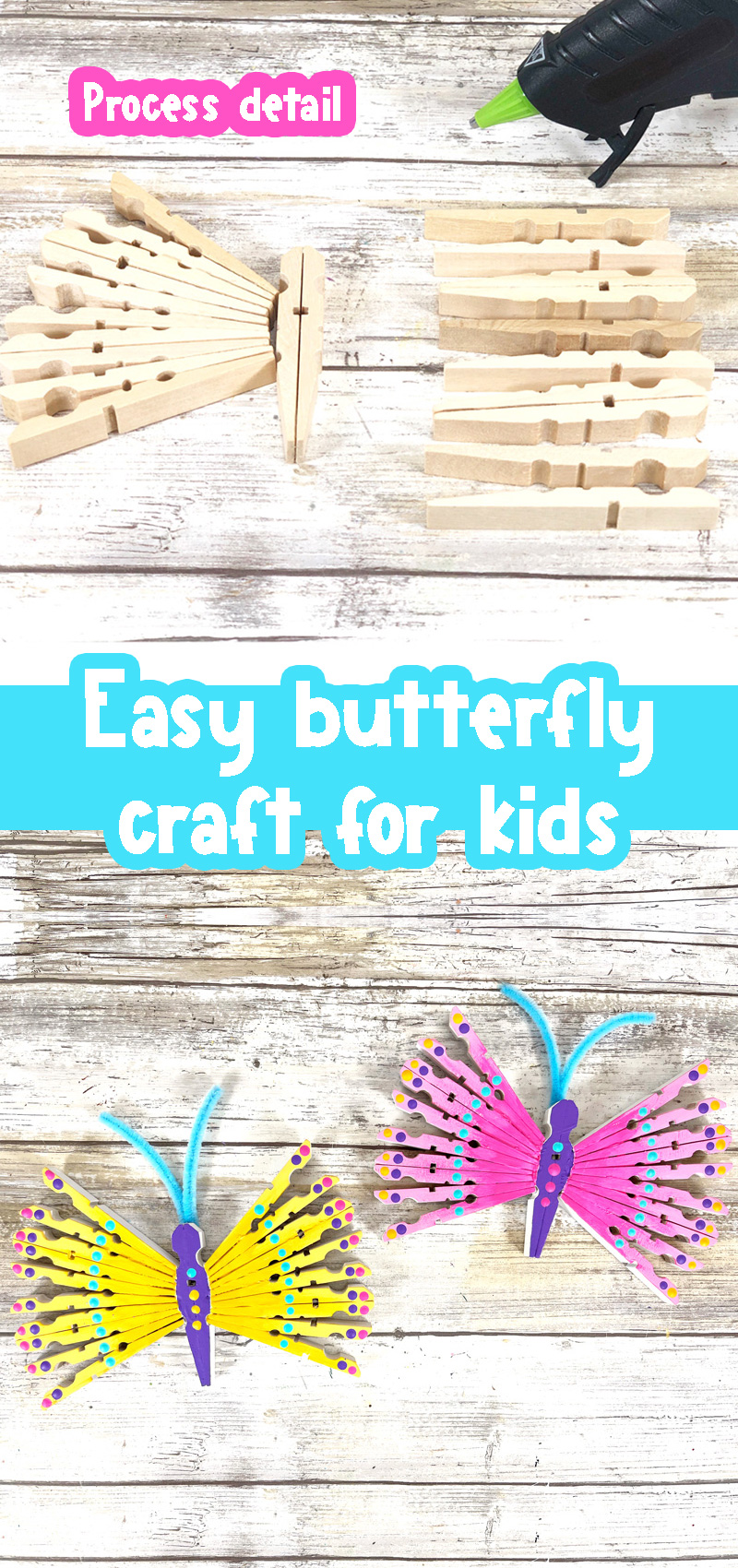 One of the happiest things about the warmer weather is the sun shining on cheerful butterflies bouncing up and down. That makes this butterfly craft a really fun way to welcome Spring and summer!
They are made from dismantled clothespin – an easy and affordable material for any wooden craft!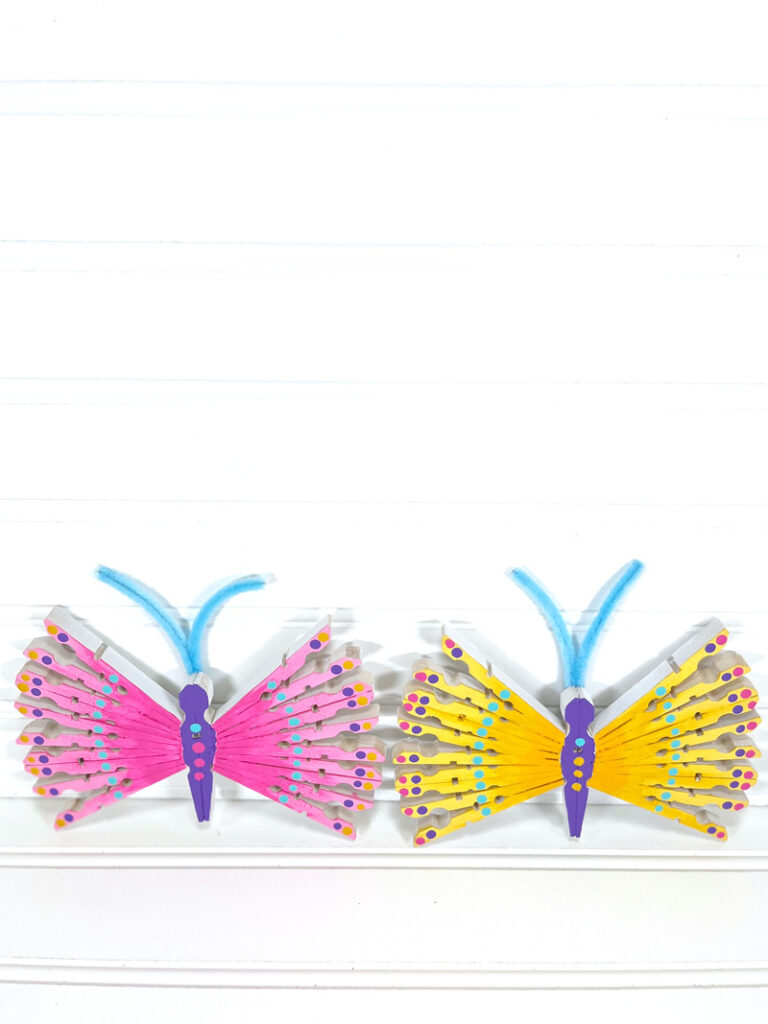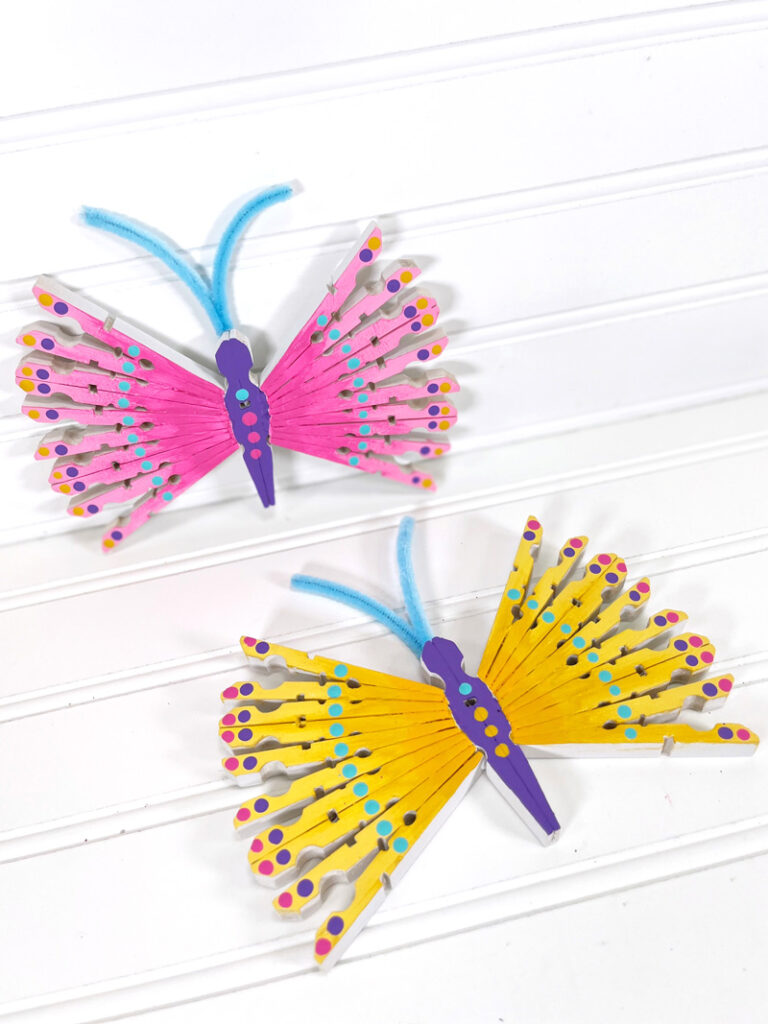 When making clothespin butterflies, you can play around with your paint colors and different embellishments. Glue on some rhinestones to add some more texture. Punch paper and make your spots with those.
Create a rainbow of clothespin butterflies and use them as place cards, gift tags, or even a fun Spring garland! You can write across the center, on the body, or glue on a white slip of paper.
Clothespin butterflies are also the perfect size for tiered trays.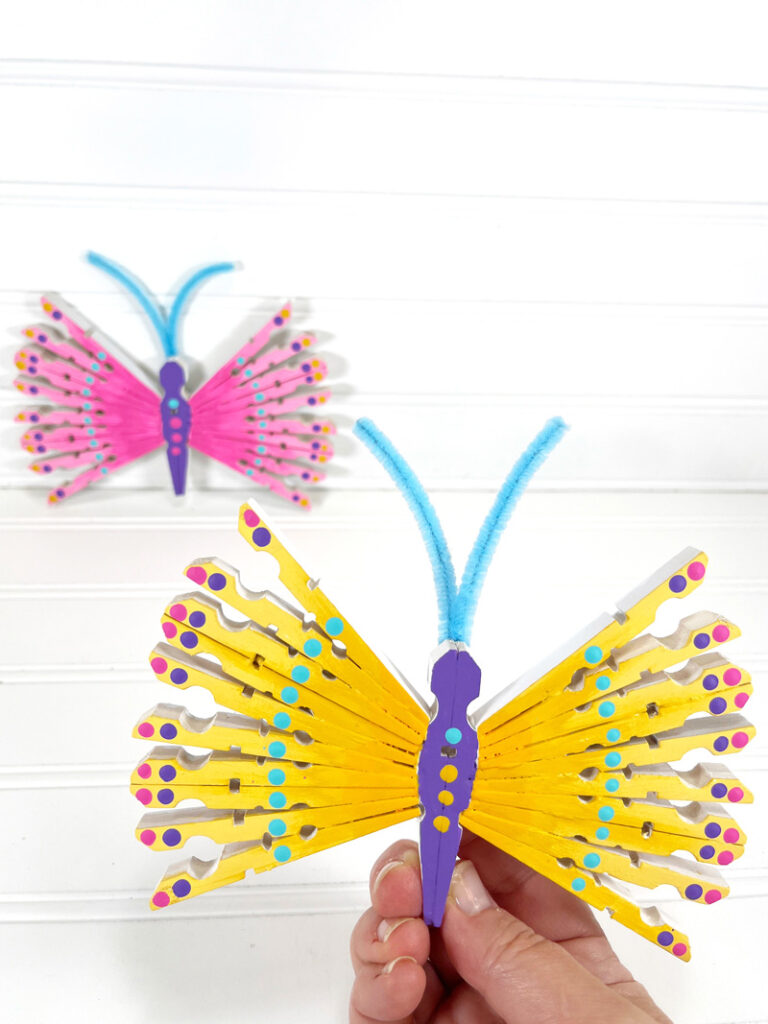 Clothespin Butterflies as a Craft for Kids
The sample project was made using some non-kid-friendly materials: a hot glue gun, craft acrylics, etc.
However, it is in reality a very kid-friendly craft. I like to use a hot glue gun when demonstrating crafts like this just because there's no real dry time.
You can definitely can use any white glue with small elements unfinished wood, such as dismantled clothespins.
I'd recommend using either tacky glue or wood glue for older kids who can handle these but not necessarily a glue gun.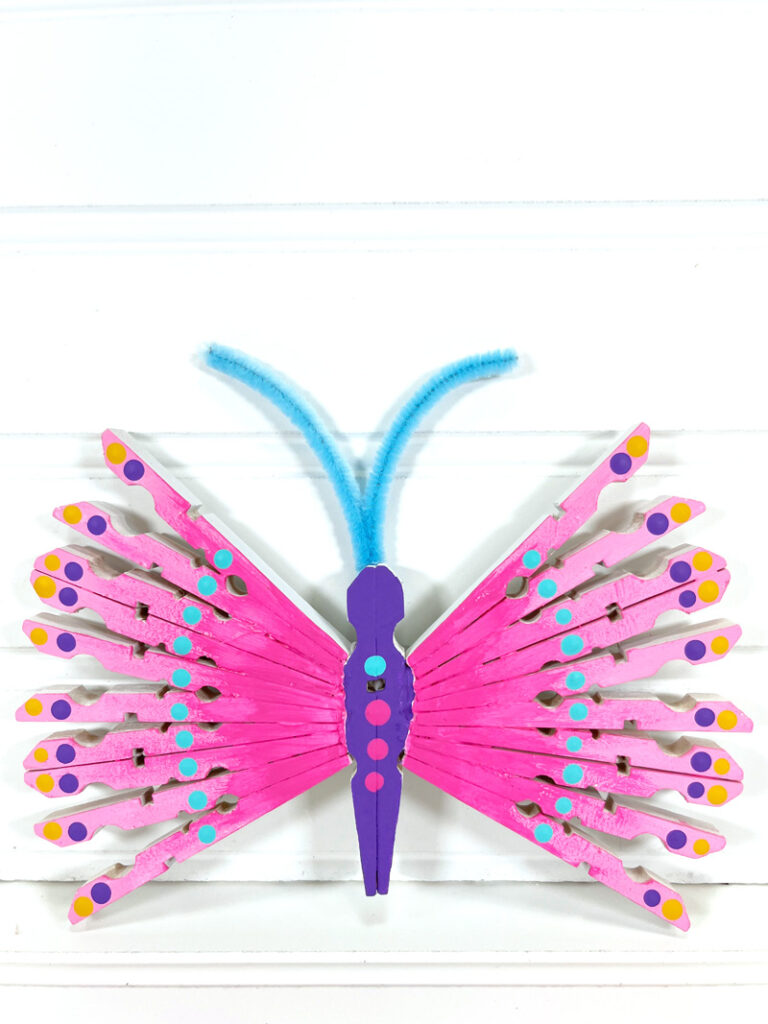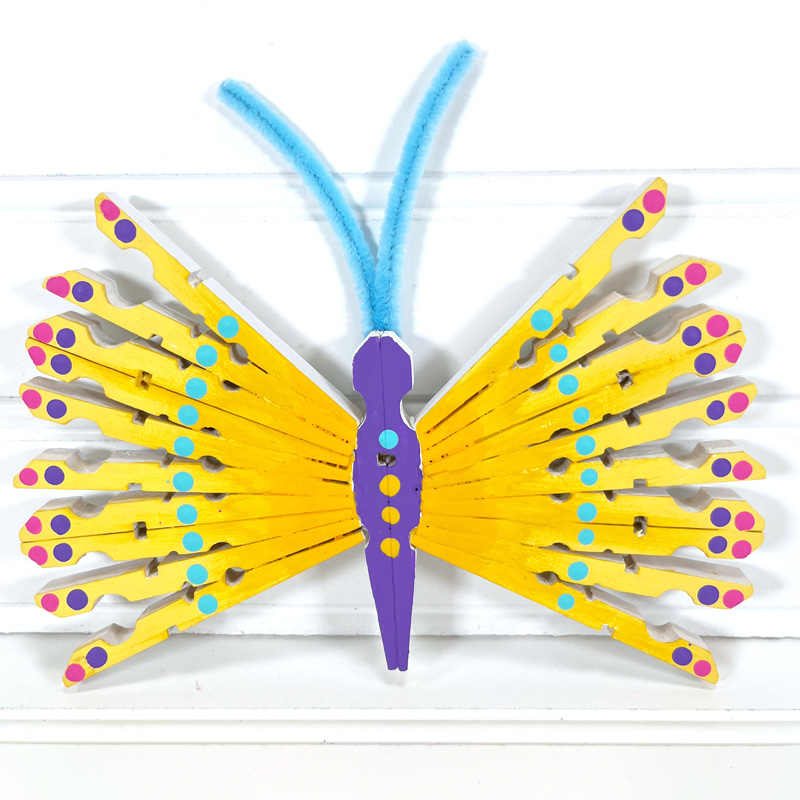 And because you're painting a simple, uncomplicated porous surface, you can again use any paint you want. Craft acrylics will lend you the most intense color, with a huge color range so that you can create the ombre effects pictured here. Paint sticks are a fabulous 3+ option that dry quickly. Washable kids' paints are slightly less rich in color but are good for basically any age as well. And finally, you can even use watercolors to sort of "dye" the wood!
What you need
How to Make a Clothespin Butterfly
1. Gather all supplies. Full size wooden clothespins can be found in the laundry section of the dollar store or on Amazon. Remove the metal spring from 11 full size wooden clothespins for each of your clothespin butterflies.
For each Butterfly, glue together the flat sides of five full clothespins (10 halves). Leave the other six clothespins (12 halves) as separate pieces.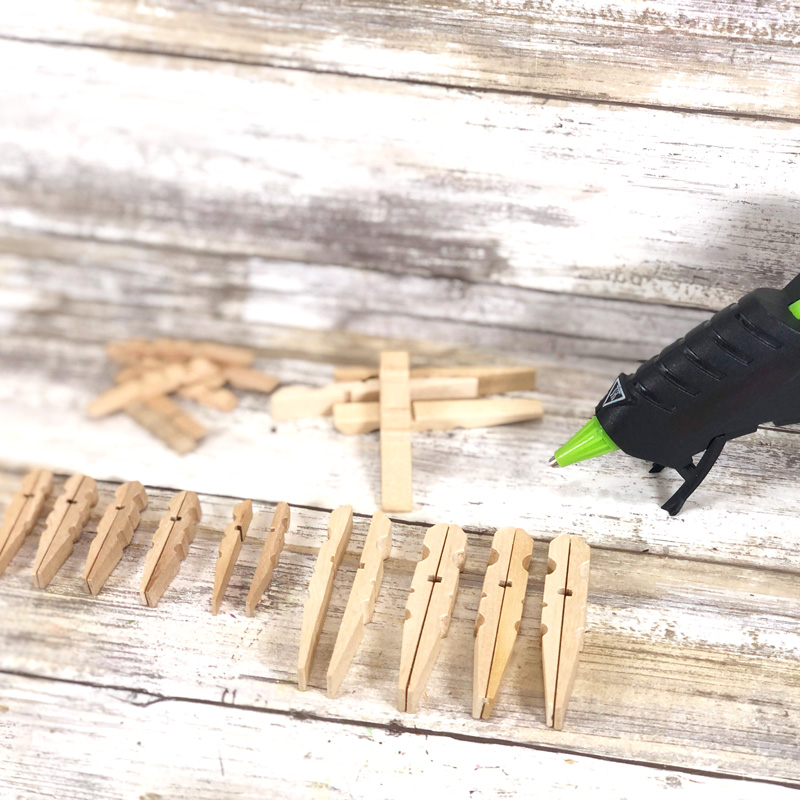 2. Use one of the glued-together clothespin sets for the body. Line up each wing in the following order on your work surface: half, half (angled sides facing), full, half, half (angled sides facing), full, half, half (angled sides facing). Glue the wings together evenly at the base. You're creating a mirror image of the first side for the left.
You'll see that you can glue the pointed angled portion of the clothespin (which will face the butterfly body) flat against each other. Allow it to fully set before attempting to move a wing.
Glue the wings to the right and left side of the clothespin butterfly body. You'll want to hold the first wing in place until the glue completely sets, and only then glue on the second wing. For the first, you can move the body towards the wing to glue it in place before your first wing has really set (as long as the body has.)
The wings look fabulous glued between the two notches where the spring of the clothespin used to fit. It should more or less fit there, so that he wider top of the clothespin looks almost like a head.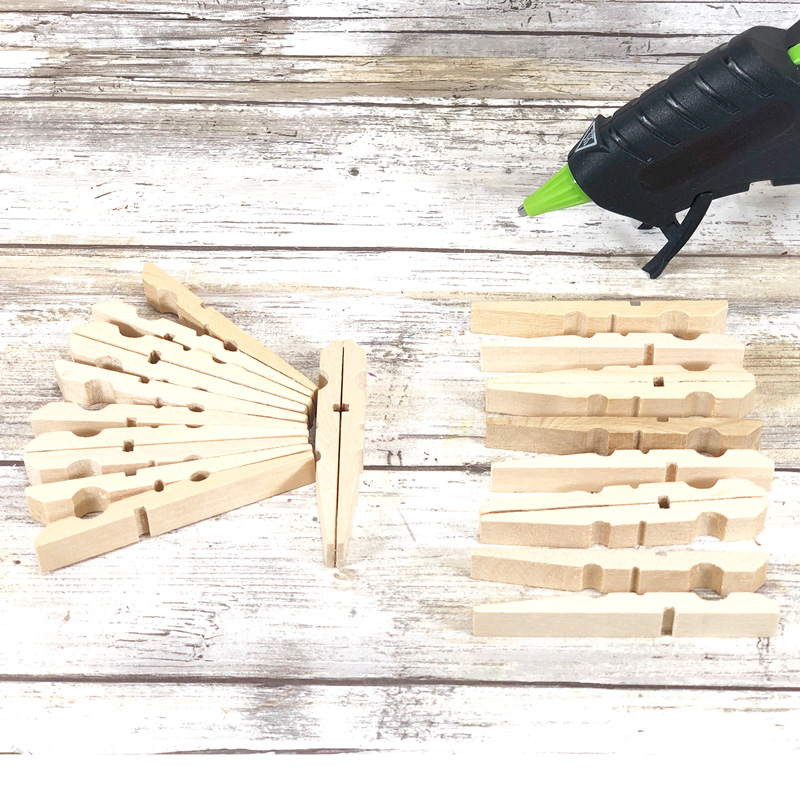 3. Paint your butterfly – and have fun, get creative with it! You can do it however you'd like, but I'll share the specific process created here.
Paint the front and all sides of your clothespin butterfly with white paint to "prime" it.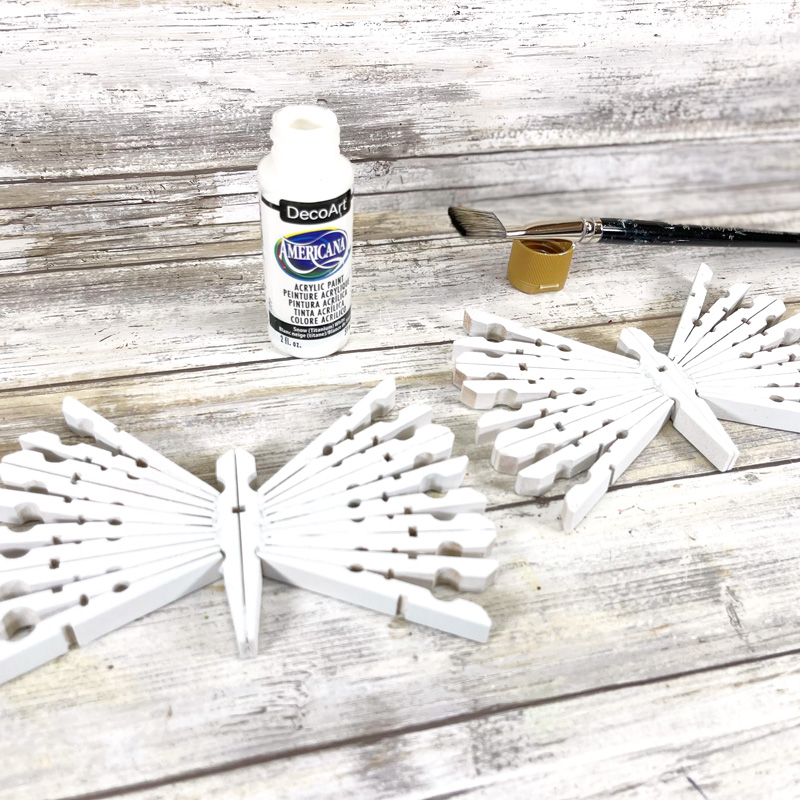 4. When your base layer is dry, paint the body purple.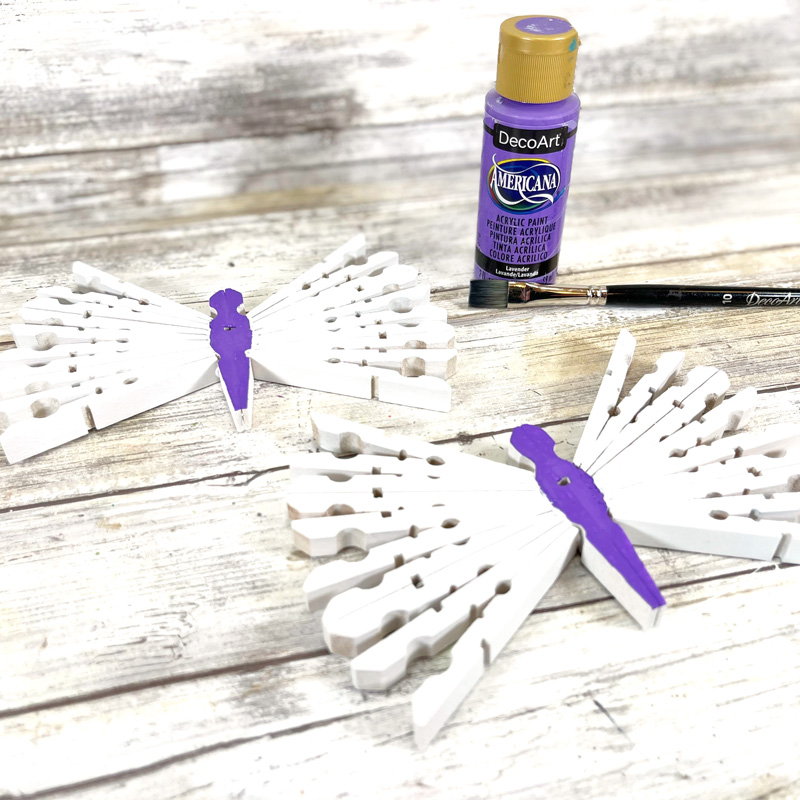 To create some shading: Apply the lightest shade of pink or yellow acrylic craft paint to the Butterfly wings with a paintbrush. Allow it to dry.
Paint the inner wing, close to where it meets the body, with the darker shades of pink and yellow acrylic craft paint, feathering the edges in to blend the colors. You can also do this while the light color is still wet if you have patience to blend a little more.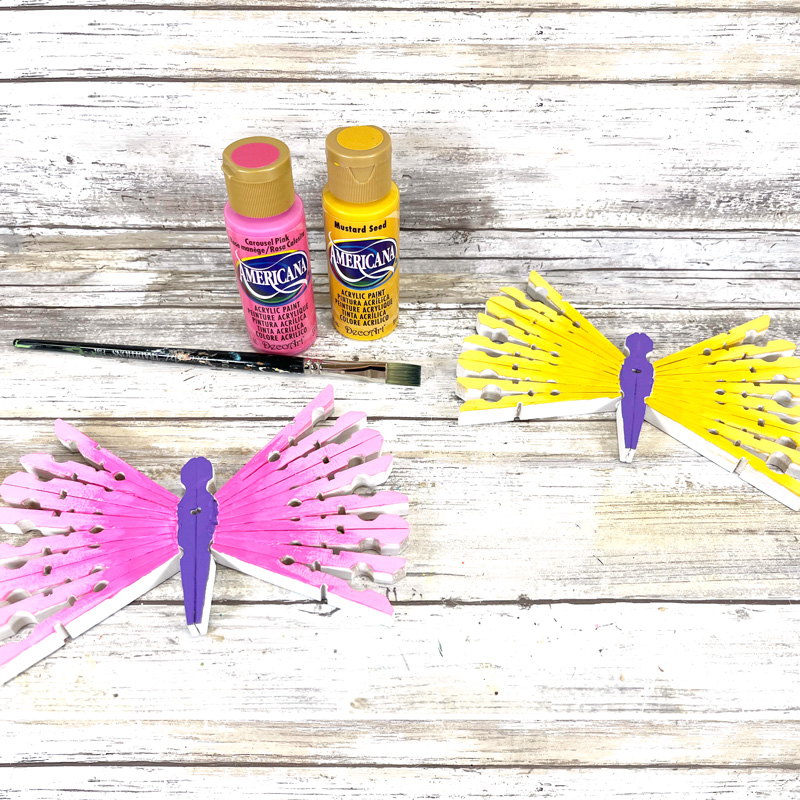 5. Decorate your clothespin butterflies! To add polka dots using paint, take the paints in in blue, and the darker shade of pink and yellow acrylic craft paint. Dip the end of a paint brush in paint and dot the surface.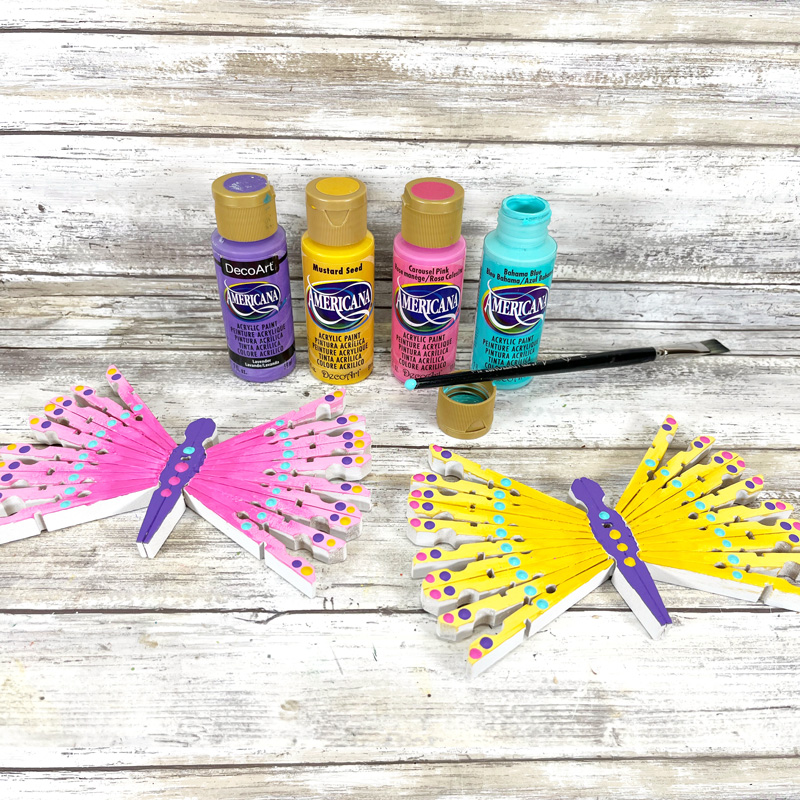 6. Cut a 12" (standard) chenille craft stem in half using scissors, and then bend it in half. Glue it to the top back of your butterfly as antennae. A hot glue gun will really come in handy here.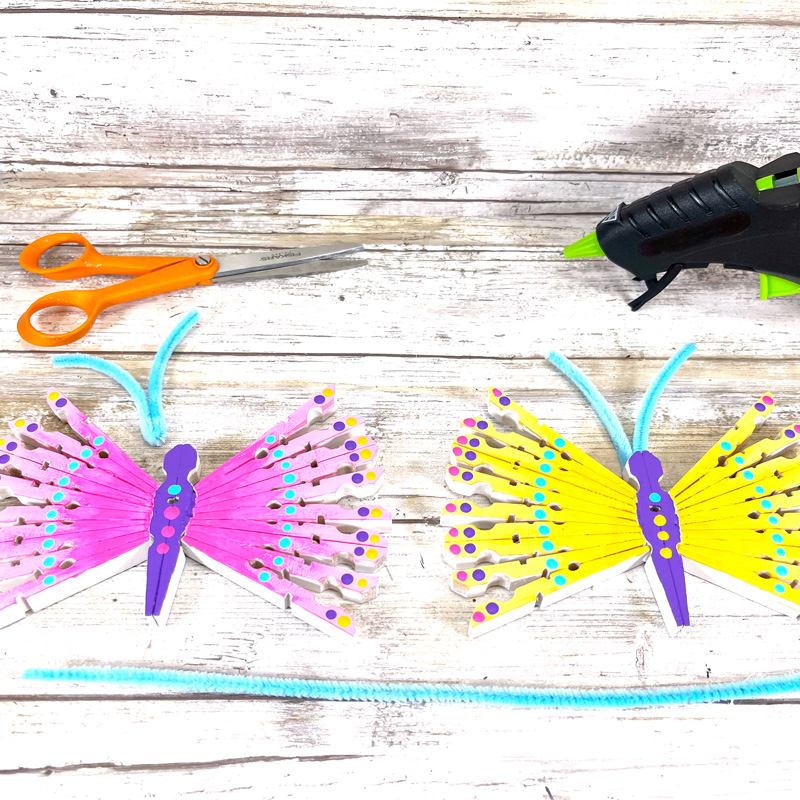 Your clothespin butterflies are complete!