I'm excited to share with you this DIY small entry table hack that my husband and I built a couple of years ago – that's so easy, even us total beginners could do it! Find my list of simple DIY home projects here. This post contains affiliate links.
---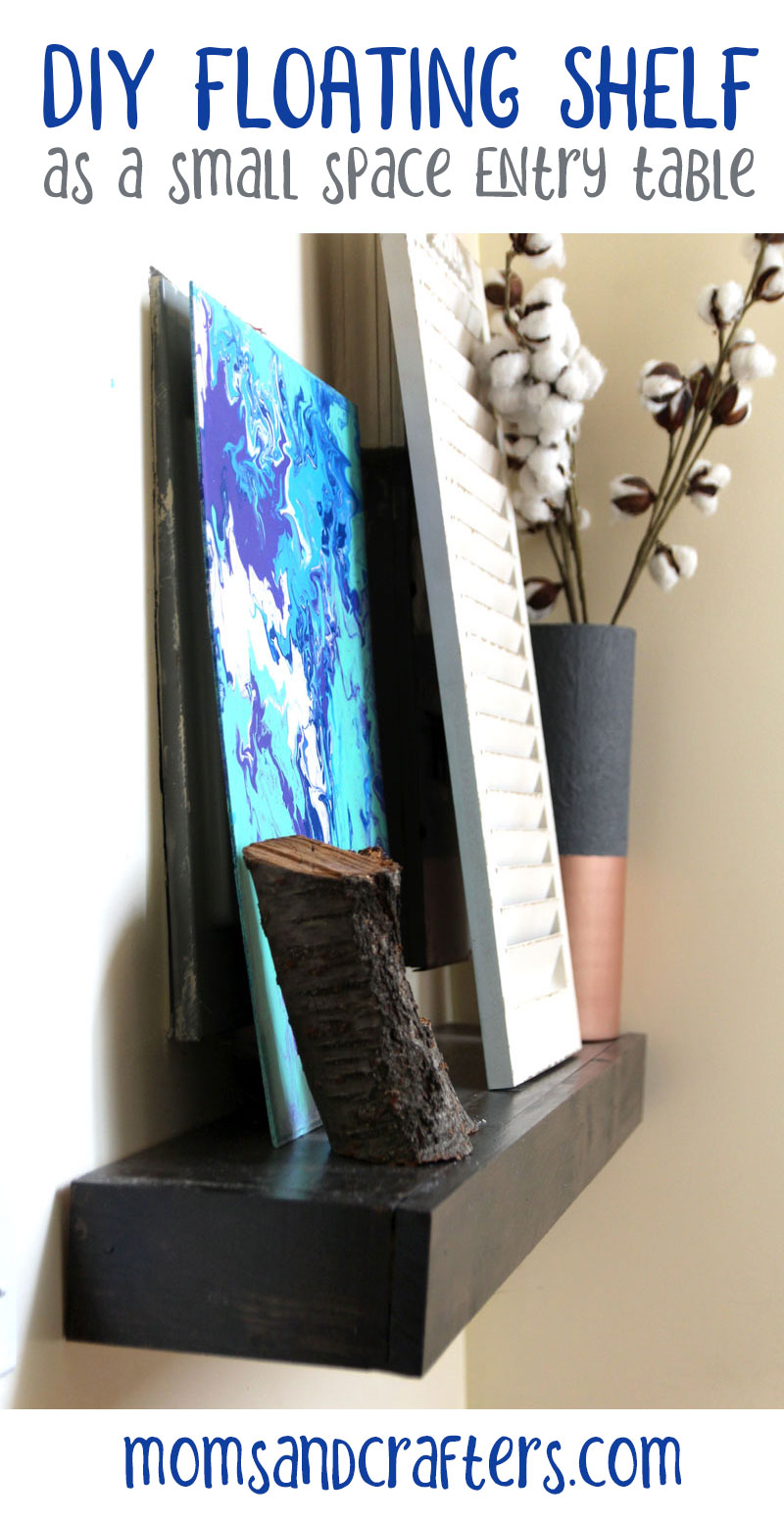 With a tight entryway, basically no coat closet, and very ugly electric panels right when you enter, I needed something to camouflage the mess.
To make matters worse, previous residents had a big hook board thingy hanging below the panels, which left ugly screw marks.
We needed an easy, budget-friendly solution.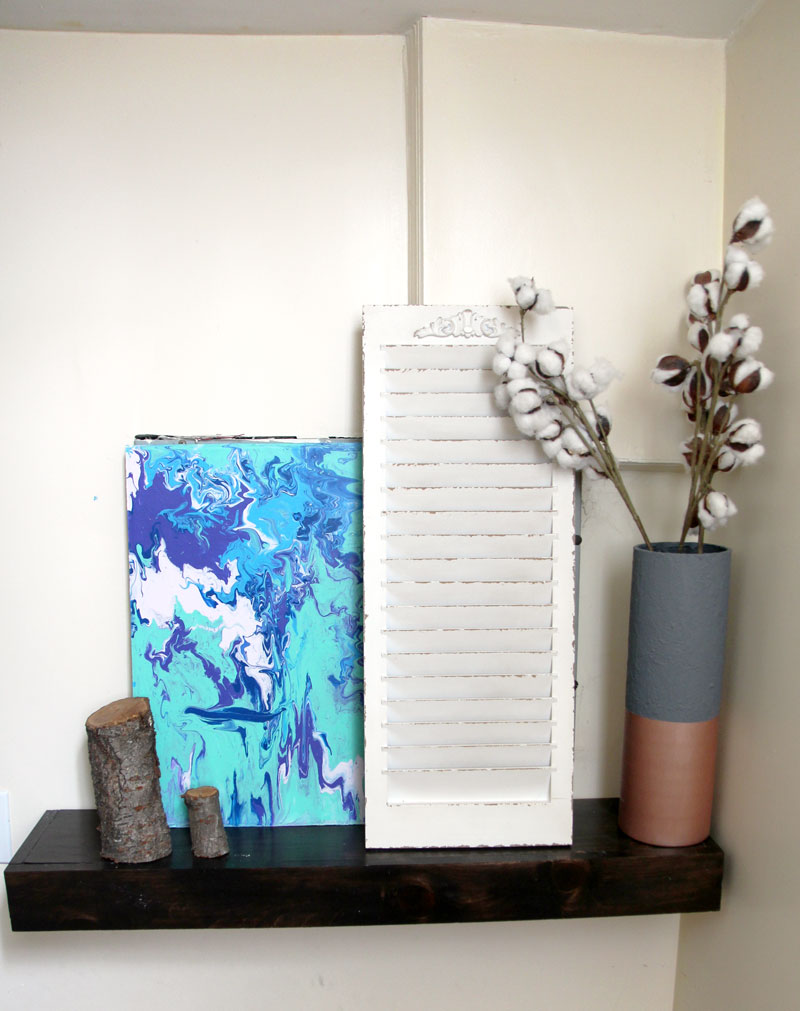 That's when I thought of a simple hack: build a floating shelf to serve as an entry table!
A cleverly-placed floating shelf makes the perfect DIY small entry table because of its functionality despite its small footprint.
A regular entry table usually doesn't naturally stay flush against the wall. It can really get in the way, and needs to be fixed in place anyway. Using a floating shelf minimizes the front footprint of the shelf. Making it yourself allows you to make the most of the space you have.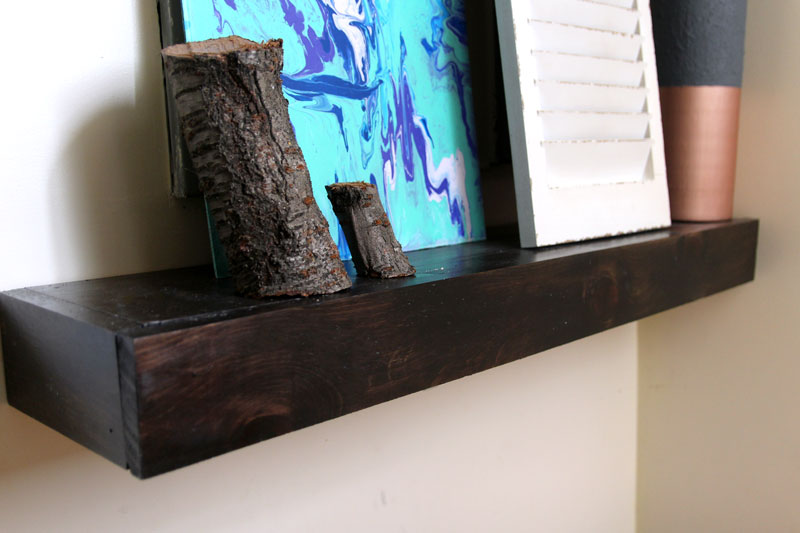 How I modified a simple floating shelf plan to make a DIY small entry table
Get the original floating shelf plans from Shanty 2 Chic here!
The plan I used can be left open on bottom. Normally, when you're hanging floating shelves above eye level, you'll want to finish the bottom so that it doesn't look really, really ugly. However, since this was mounted at about counter height, no one sees the bottom, besides for the occasional toddler (who frankly doesn't care).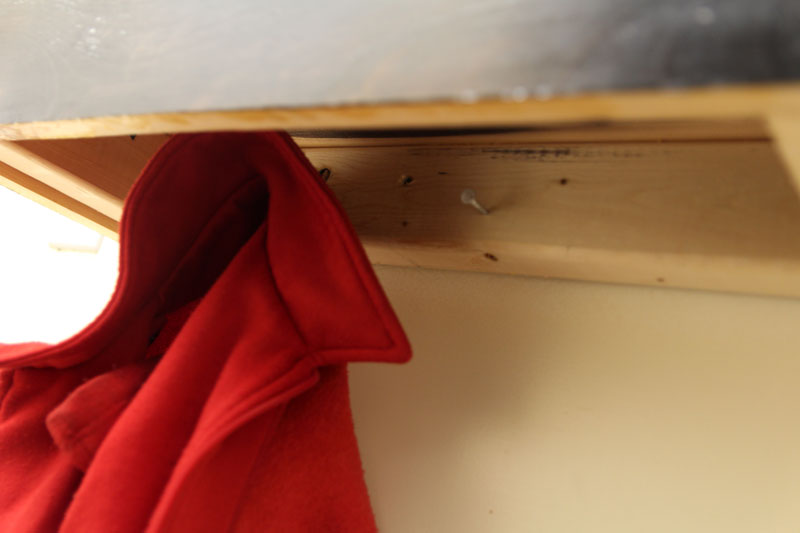 Leaving it open on bottom allowed me to add hooks to the back 2×3 support (okay, I used nails because they don't show, but you can also use pretty hooks because you'll know!) This gives us a bonus drop zone for the most used coats and backpacks. I placed two on each side for each boy.
We also added an extra bracket on the center support beam – just because we could.
This DIY small entry table has been such a perfect solution for the past couple of years, that I plan to make one in our new house too! I am considering taking it with us when we go, but the truth is, it's something that's best customized to a specific spot.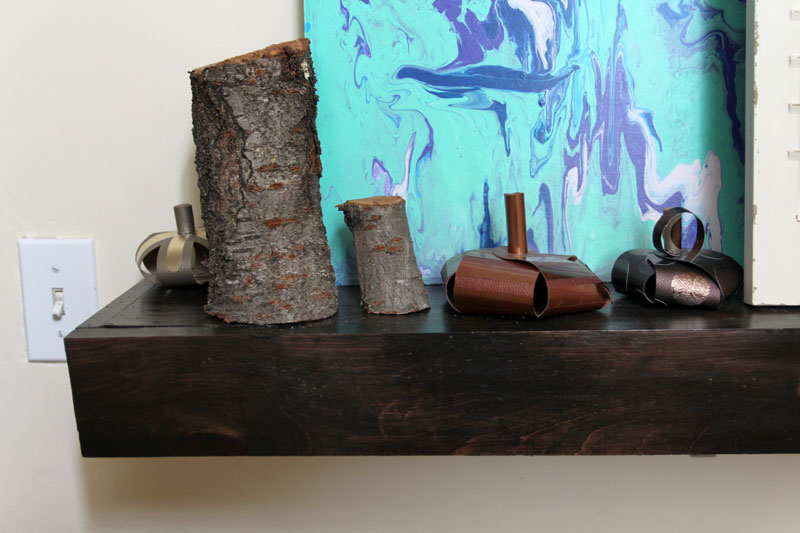 And finally, while it's fun to DIY, if you can find a pre-made floating shelf that fits your space perfectly, since it's not an expensive item, it might be worthwhile to just go with that!
We really didn't quite need a "floating" shelf as there's a lot you can hide. We did love the idea of the framed out sides and front, rather than a thin shelf, so that you don't need big, visible brackets. It also looks much more substantial and cool.
Some photos of our small entry table hack
While I generally keep the same decor pieces on our entry table, I do sometimes add seasonal elements. It's a perfect place for adding seasonal decor such as pumpkins made from this pumpkin craft template.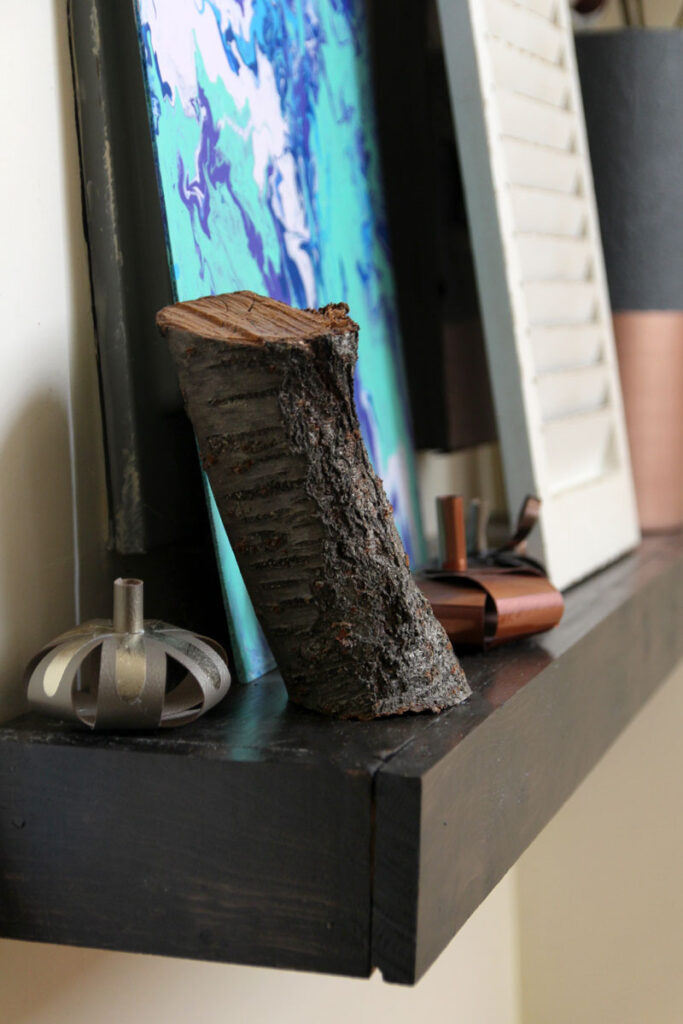 Additionally, while I generally keep a large paint pour art there, it's over-cluttered for the sake of hiding the ugly panels. The pour paint also doesn't quite match the decor style but it's a good distraction from the panels – and an unexpected twist. I do also have this painted vase there with some cotton branches, and sometimes blue peonies as well.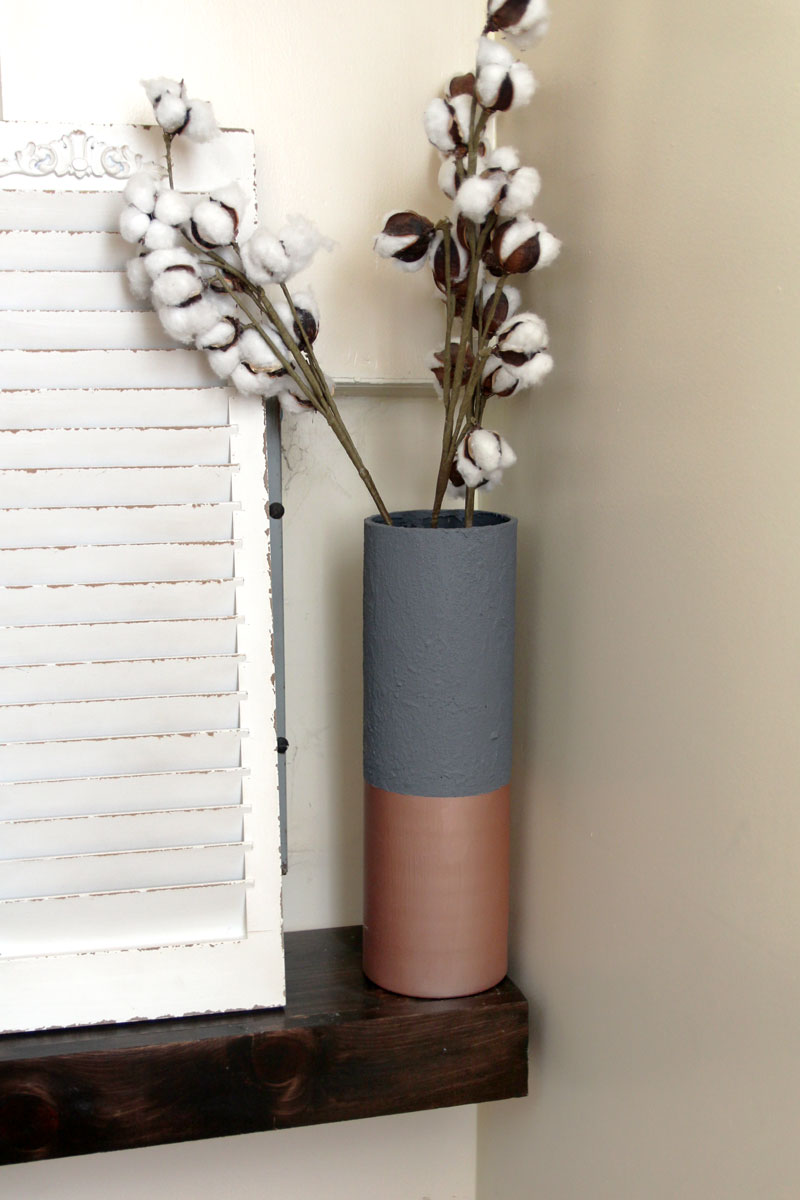 In case you missed it, here are the plans we used a la Shanty 2 Chic!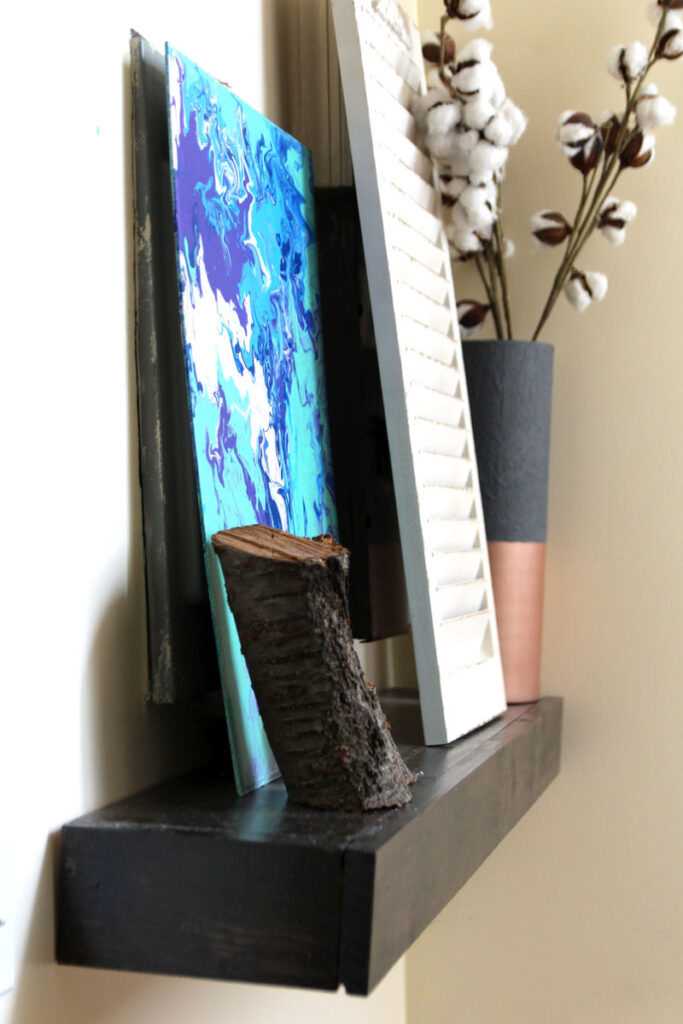 Do you have a small entry? Have you ever tried making a DIY small entry table? What's your favorite entryway drop zone solution? Comment below!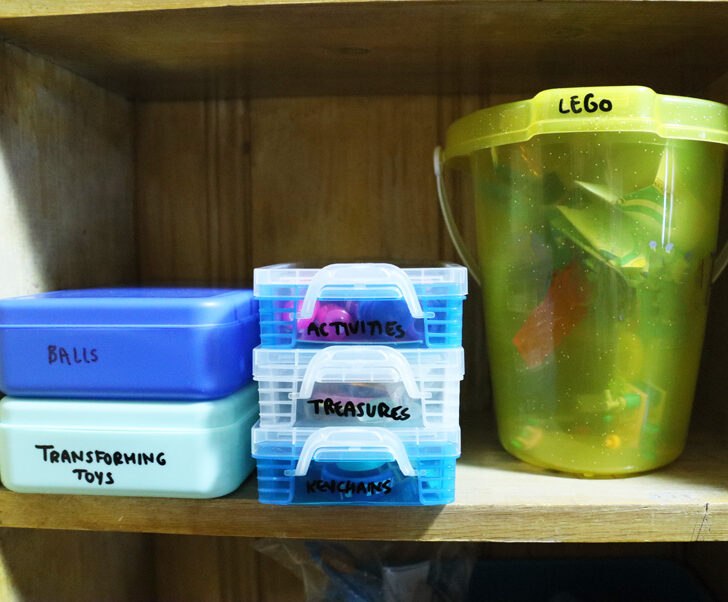 When it comes to organizing kids stuff, the biggest challenge can be getting kids to discard what they love most. In this post I'll be …