Learn how to make a bottle cap necklace that looks like a druzy stone! This easy upcycle is one of my favorite bottle cap crafts of all time. This post contains affiliate links.
---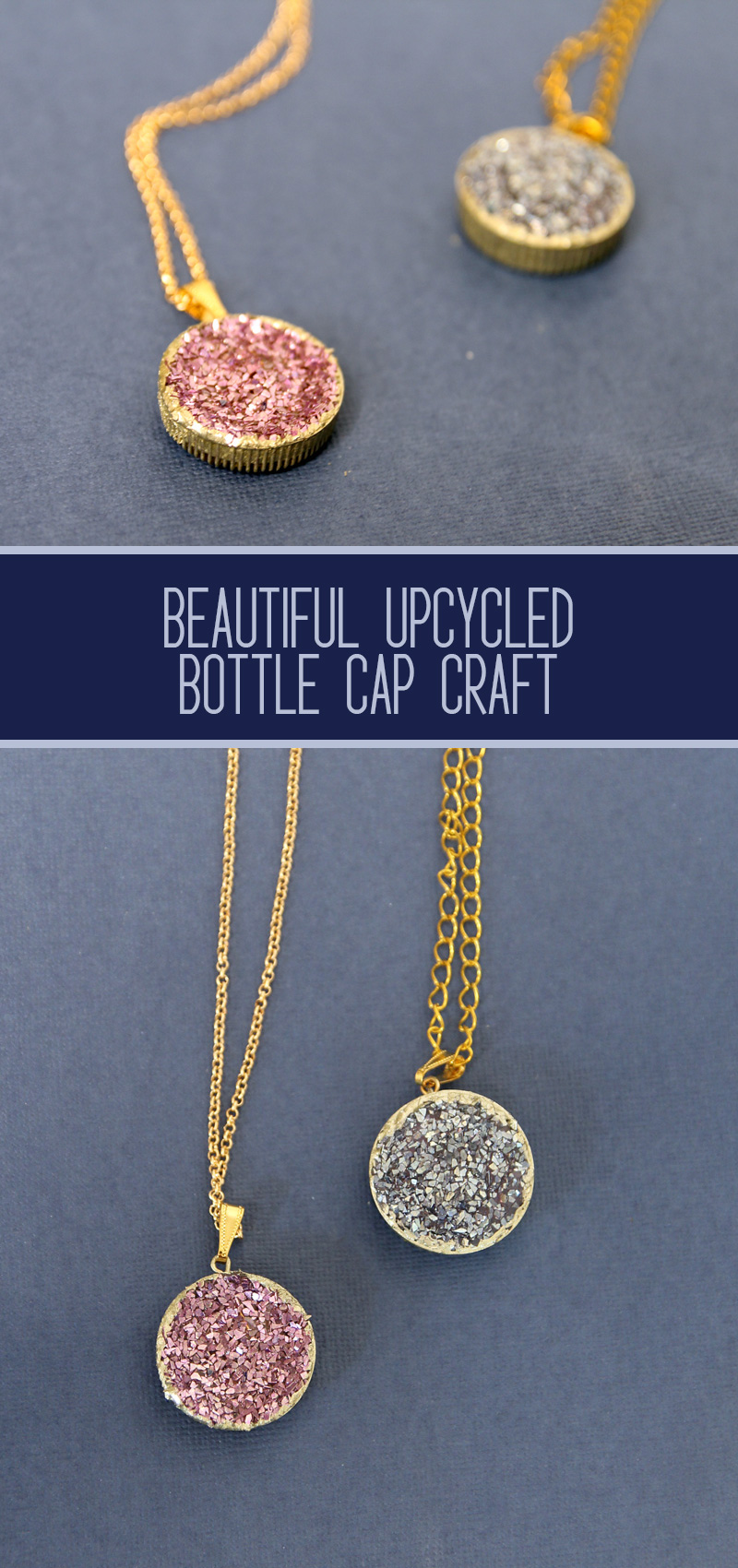 Grab the bottle caps from your water bottles and make something gorgeous out of them.
The druzy is the crystal portion of a geode, and a little crushed glass glitter in a bottle cap gets you that look on a dime! This is one of my favorite out-of-the-box jewelry crafts. It takes something that's the garbagiest of garbage and turns it into a subtly million dollar look.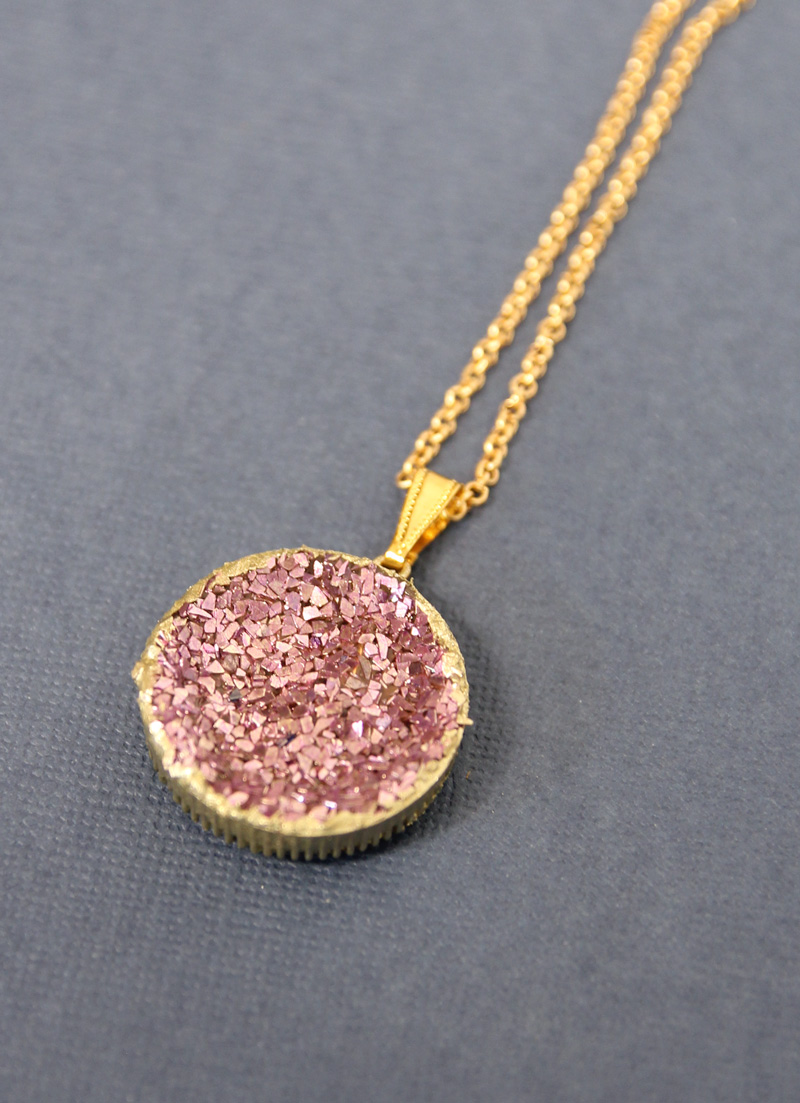 There are definitely ways to make this look even more convincing which I'll share below!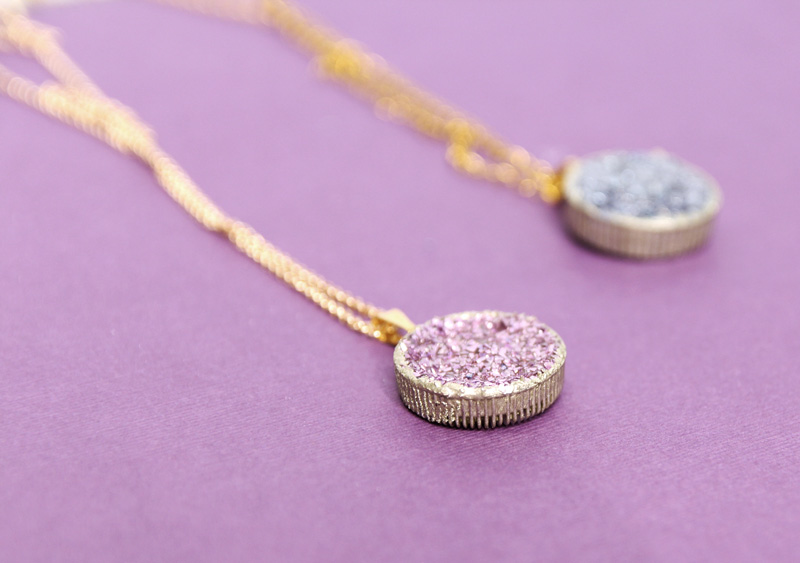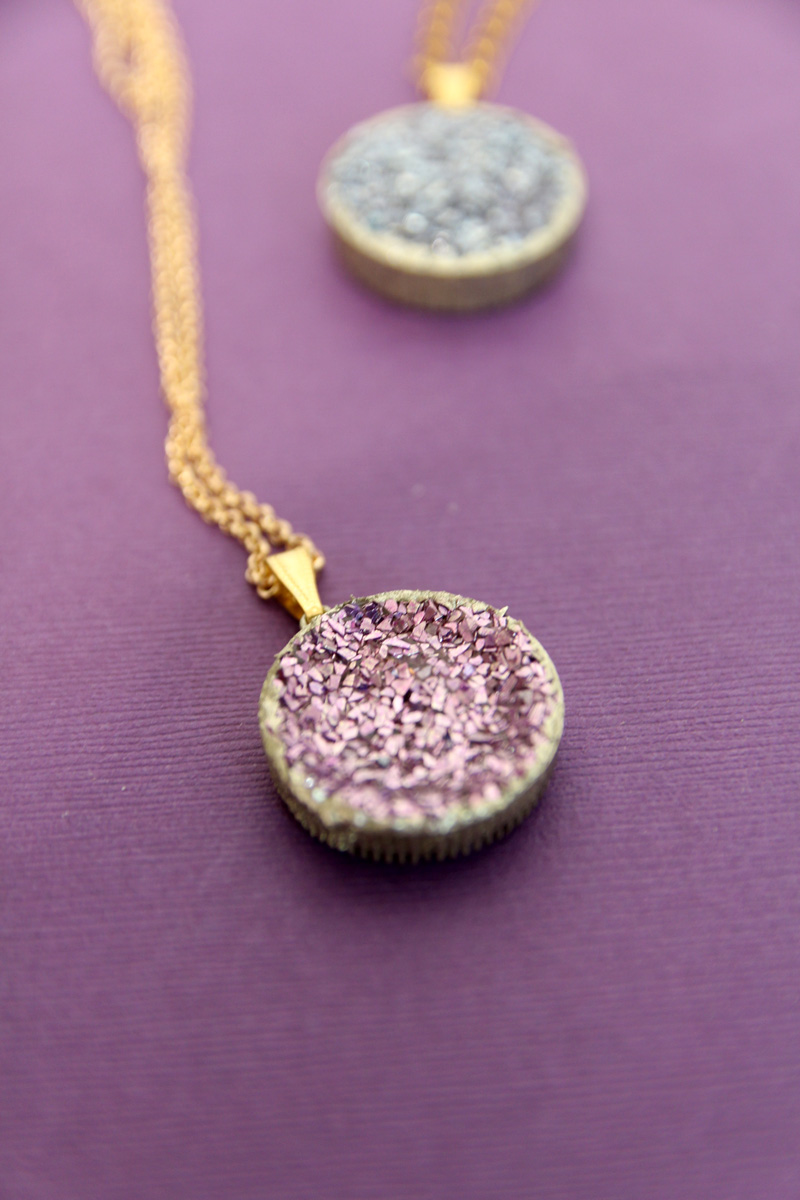 A while ago, I experimented with making faux druzy using glass glitter to make DIY druzy earring studs. The truth is, you can buy faux druzy for quite cheap, however the glass glitter has gorgeous depth and sparkle, and it's secure in place. It doesn't shed.
At first, I wanted to make these out of beer bottle caps, but I couldn't figure out the logistics of drilling a hole. I realized it's easier to make a hole in plastic.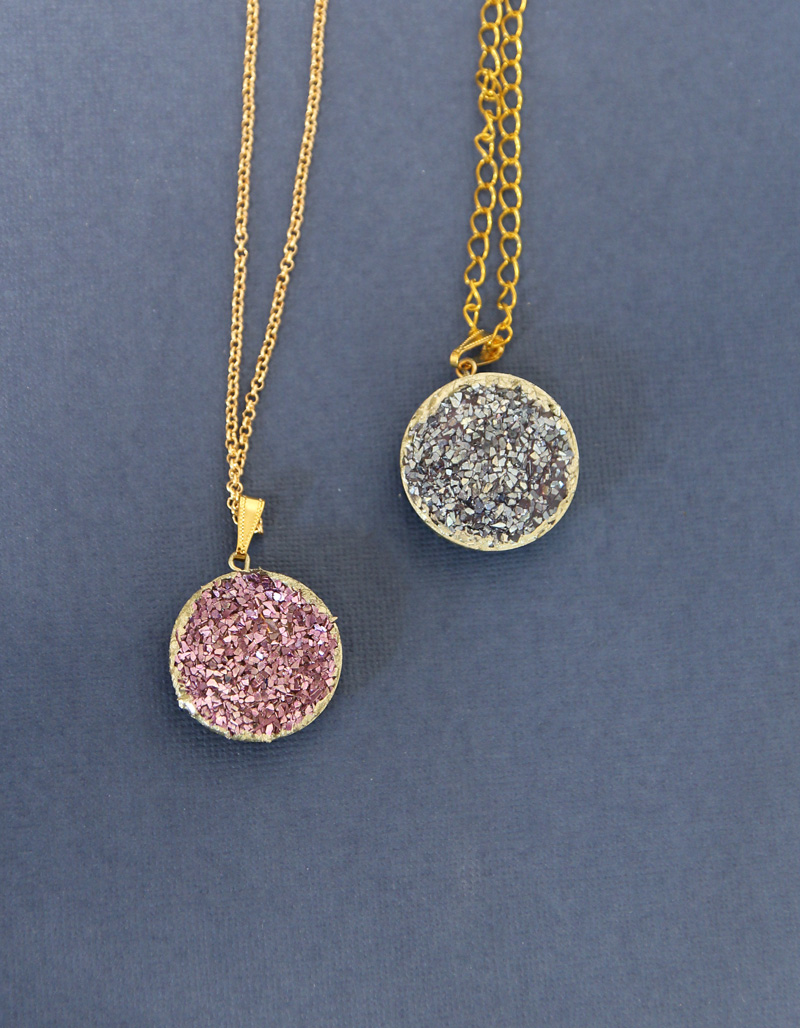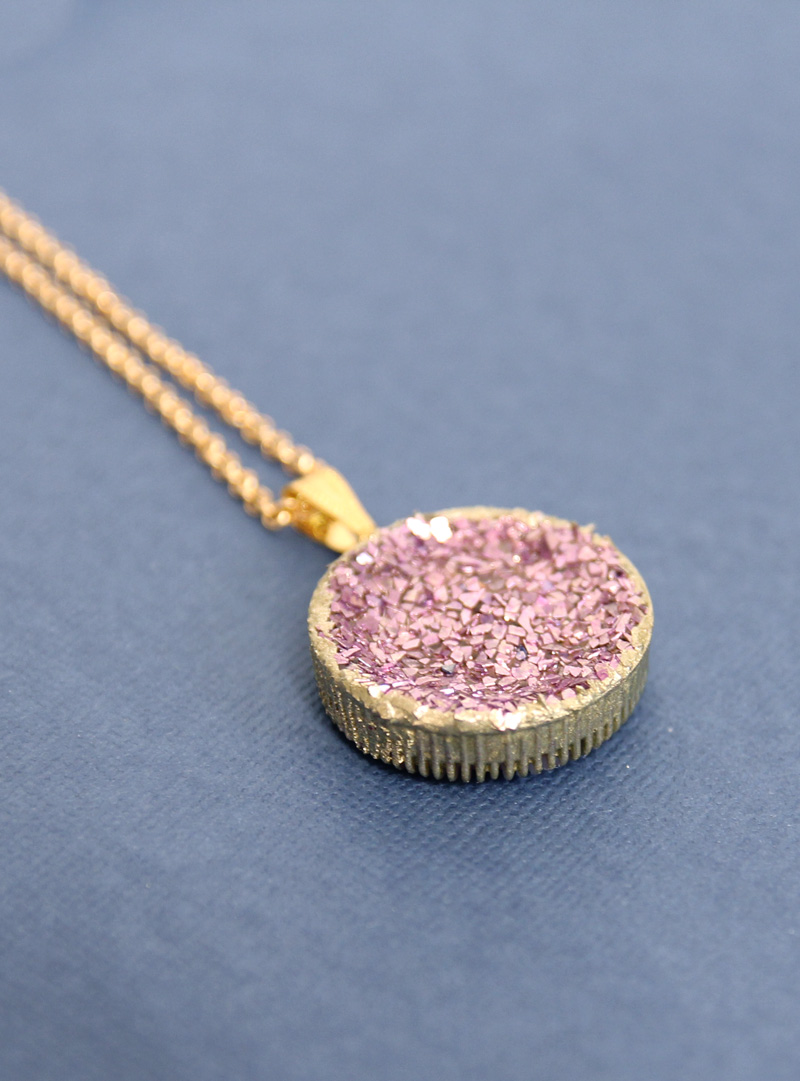 To get the beautiful shine on the border, I used a soft metallic nail polish that had thickened too much to use on nails. I love making nail polish crafts, as I rarely need a second coat to get rich, glossy, high quality color. You can, however, use an acrylic paint to achieve this effect. My best suggestion would be FolkArt's Treasure Gold paint.
I also didn't allow it to pool in the ridges. If you'd like to conceal the bottle cap better from the sides you can do that.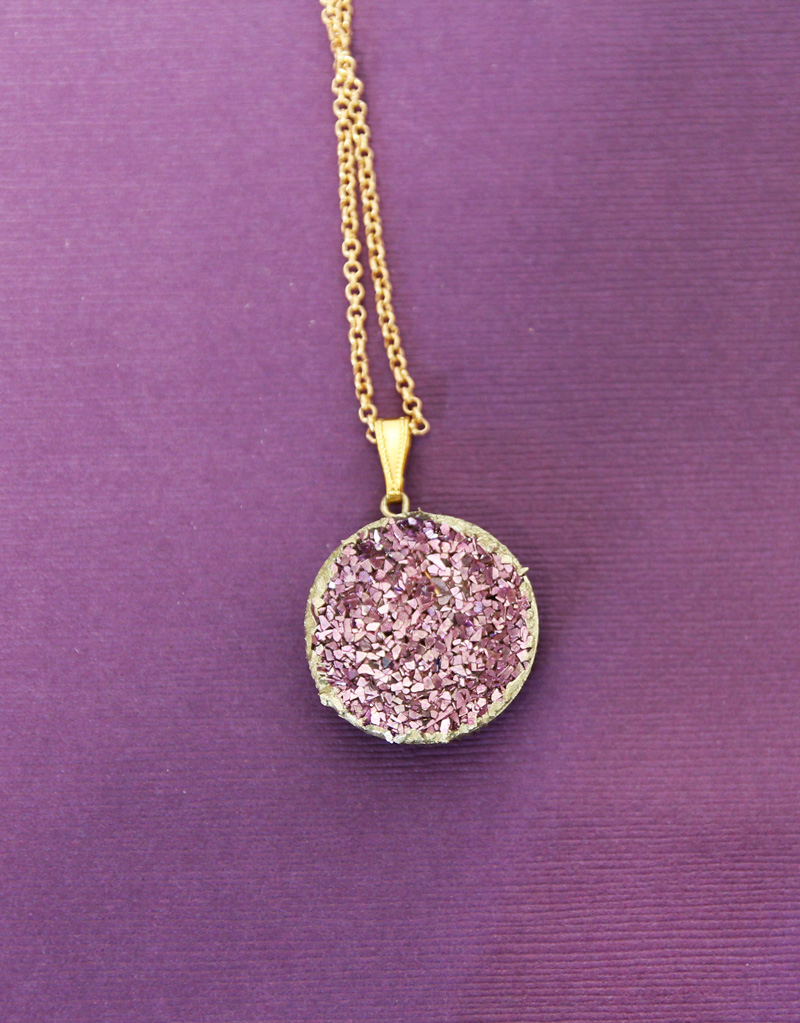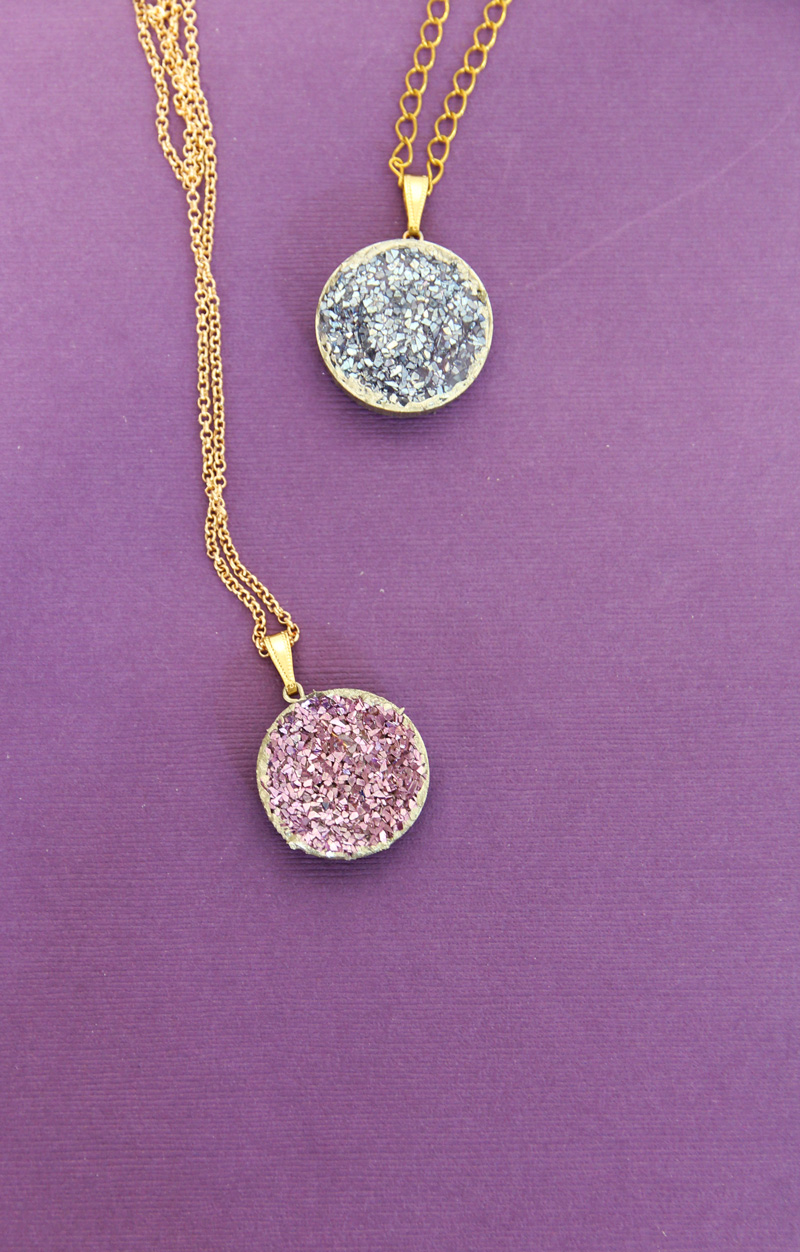 You can also make this fun bottle cap pendant more intricate. I like to keep crafts doable rather than aspirational, but if you want to get fancy, get fancy!
You can make a whole geode effect by leaving some area blank in the middle, painting it, coat the outside of the bottle cap in clay and paint that gold, you get my drift. In this simple version, you have more of a fun gimmick you can wear or gift to a friend rather than a polished object. But again, all you need to do is conceal the bottle cap better to get it to that stage.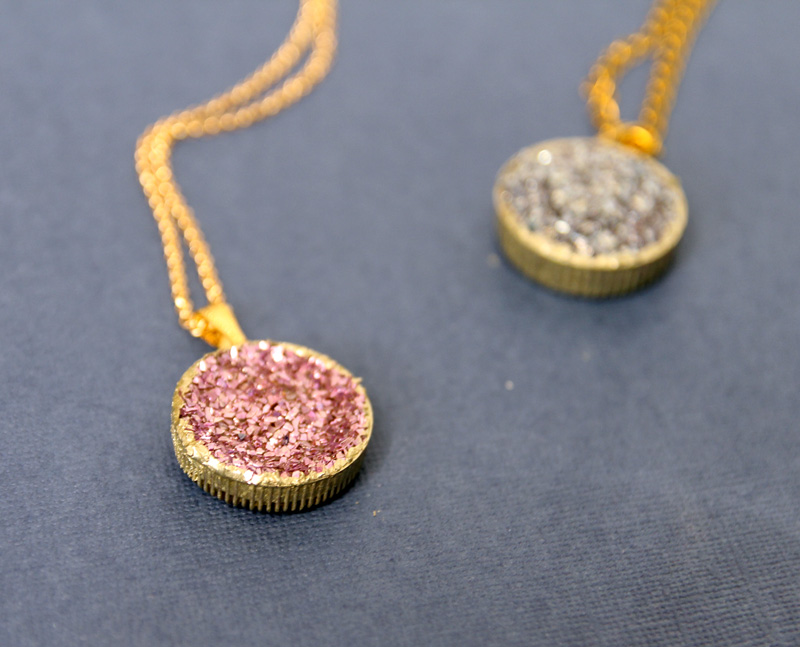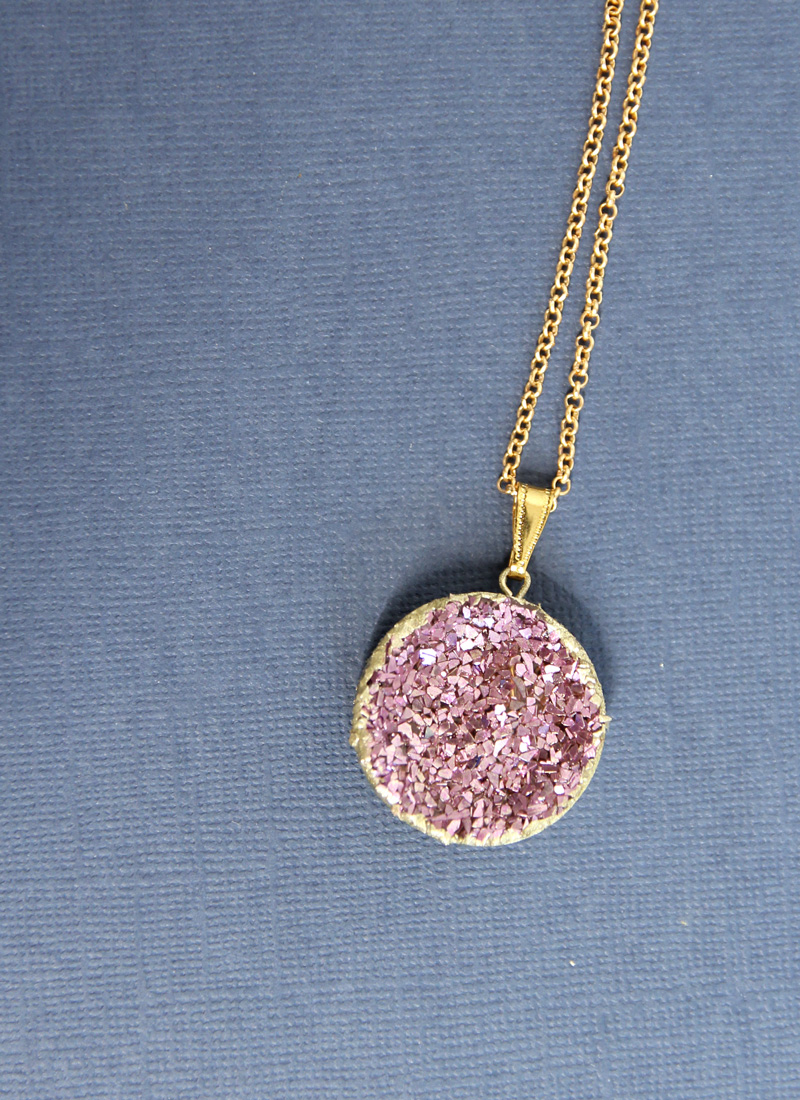 What you need to make a bottle cap necklace
How to make a Faux Druzy Bottle Cap Necklace
1. Make a hole in your bottle cap using an awl or woodburning/soldering tool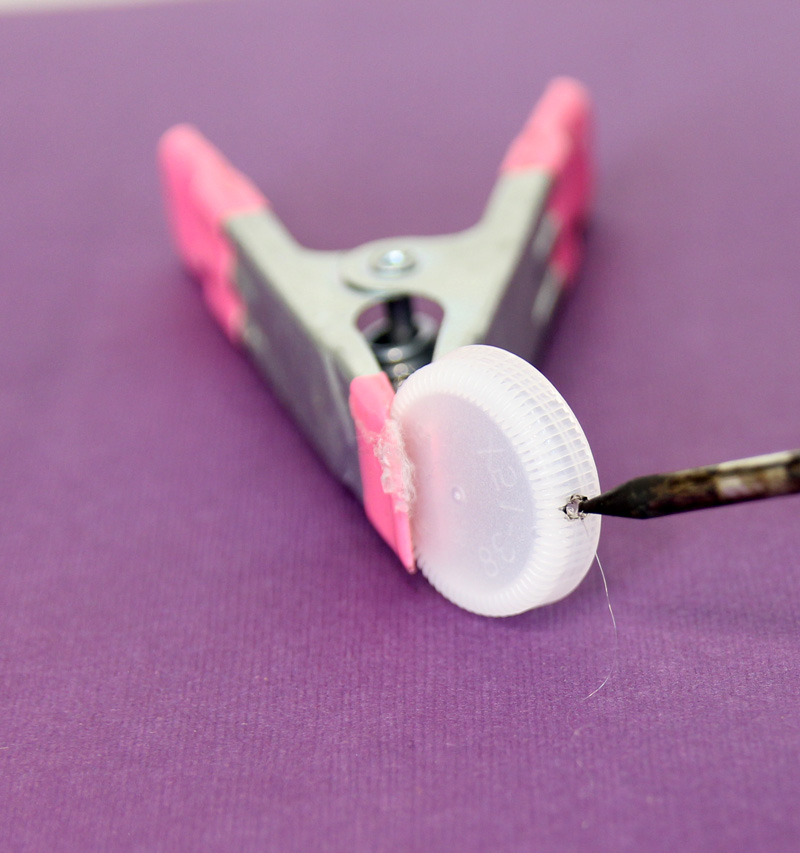 2. Trim an eyepin to fit well within the bottle cap and slide it through the top to the inside. Alternatively, use a headpin. Make sure the head doesn't slide through the hole. If it does, add a small bead (the smallest you can get away with). Trim it to a 10mm tail, slide it from the inside to the outside and make a simple loop.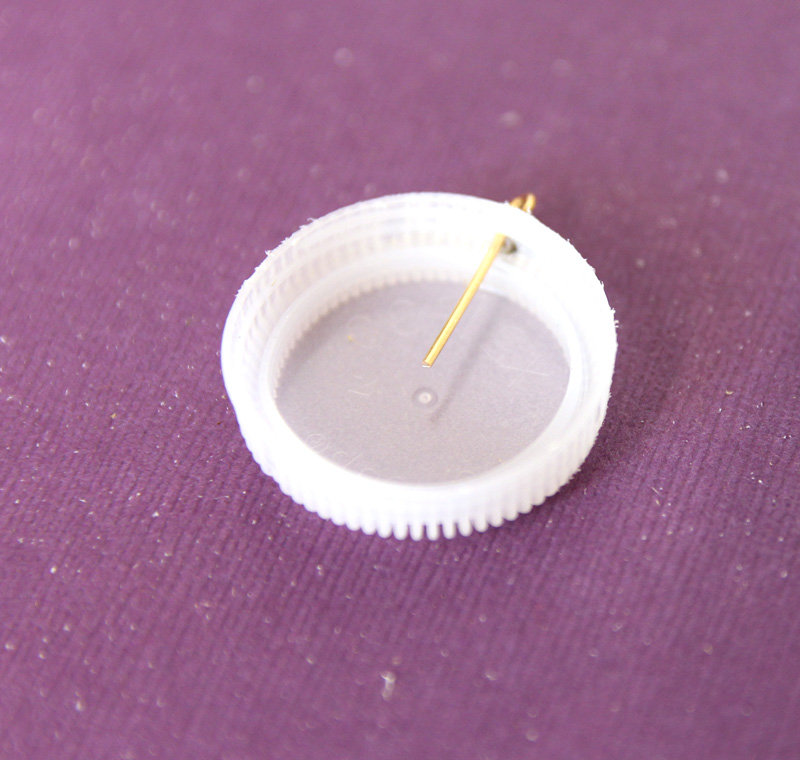 3. With the bottle cap face open-side-up, pour some Mod Podge Dimensional Magic to just barely coat the bottom.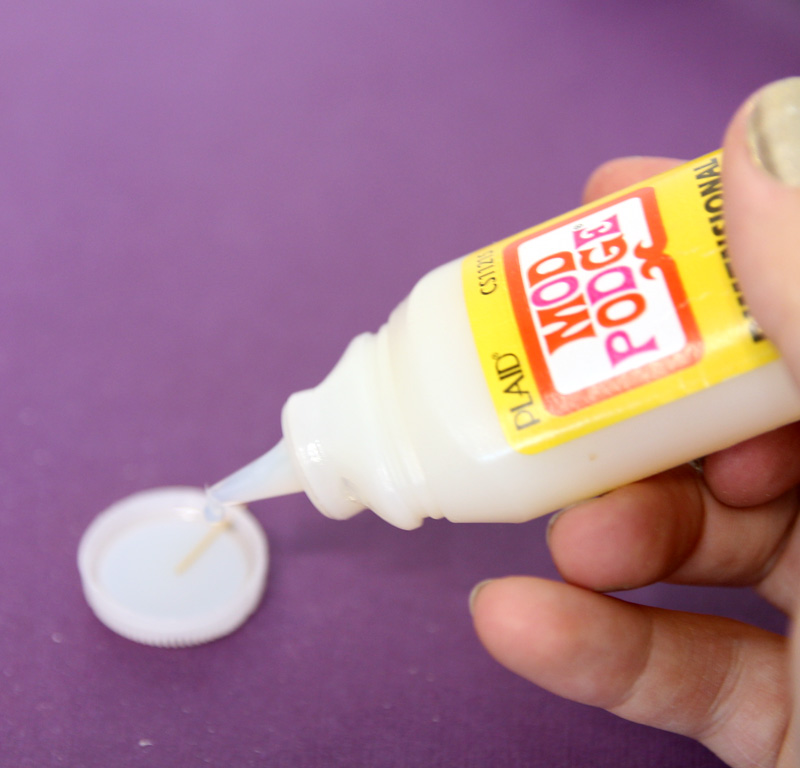 Make sure that your eyepin sits straight, as you'd like it to in the Dimensional Magic.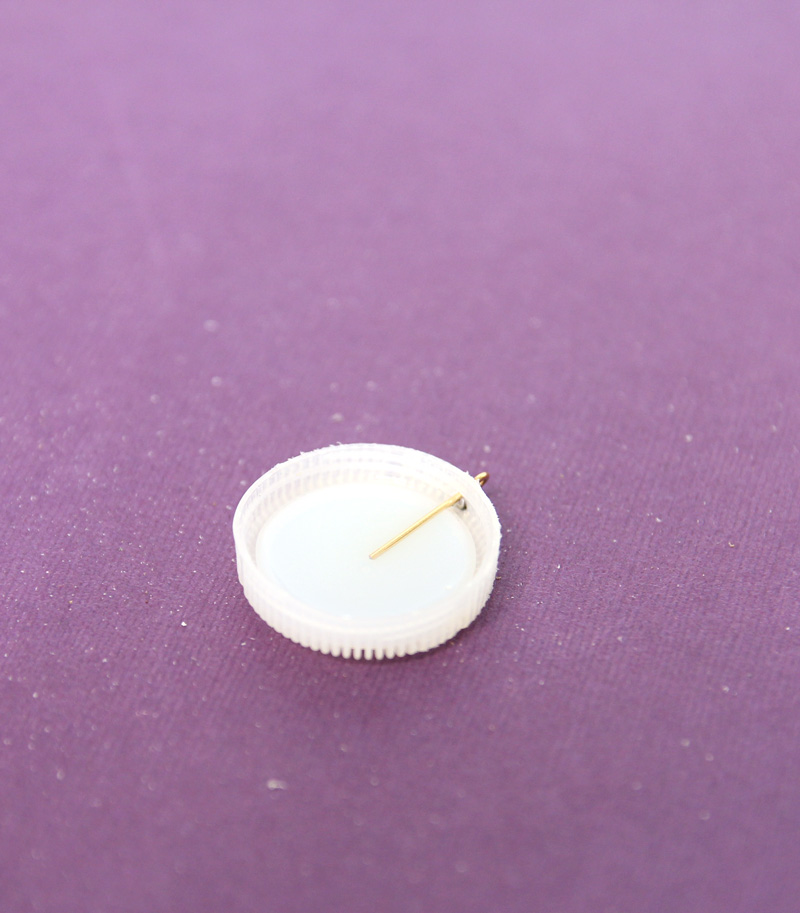 4. Pour a layer of glass glitter.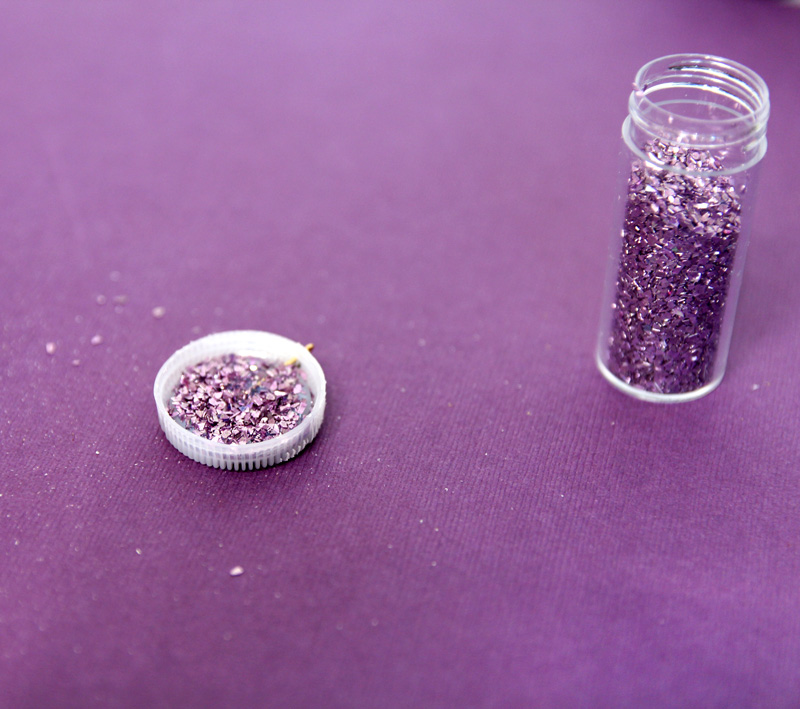 5. Add another layer of Dimensional Magic and then glass glitter. Keep in mind that it'll settle a little as it dries.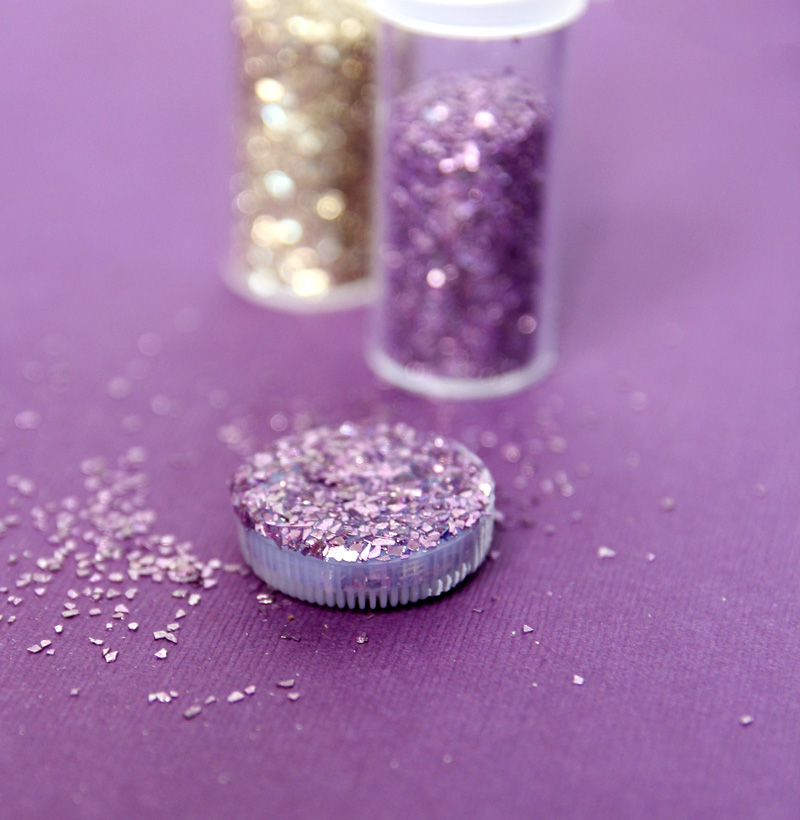 6. Before setting it to dry, make sure that the eyepin is faced so that the opening is facing the direction you'll want for threading your chain. So if you're adding a pendant bail (recommended), make the opening face forward/back. Coat the sides and a bit of the front with gold nail polish or paint. Adding a bit to the front edge gives it a much more realistic, convincing look.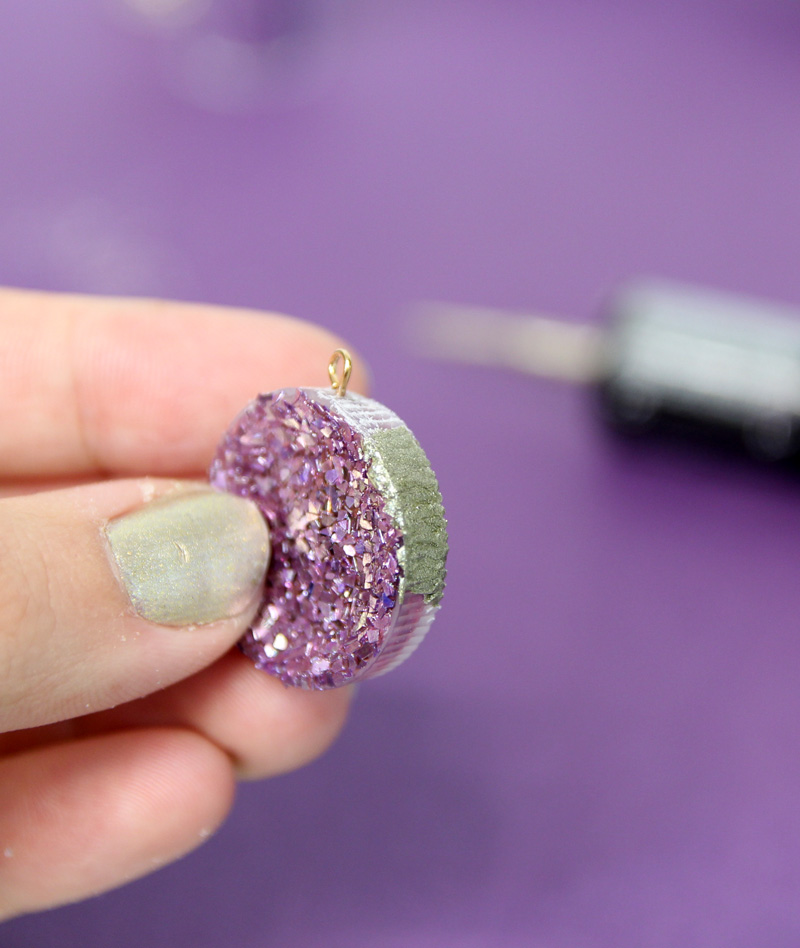 7. When your nail polish is dry, snap on a pendant bail and thread your chain. And now wear it with your favorite evening dress!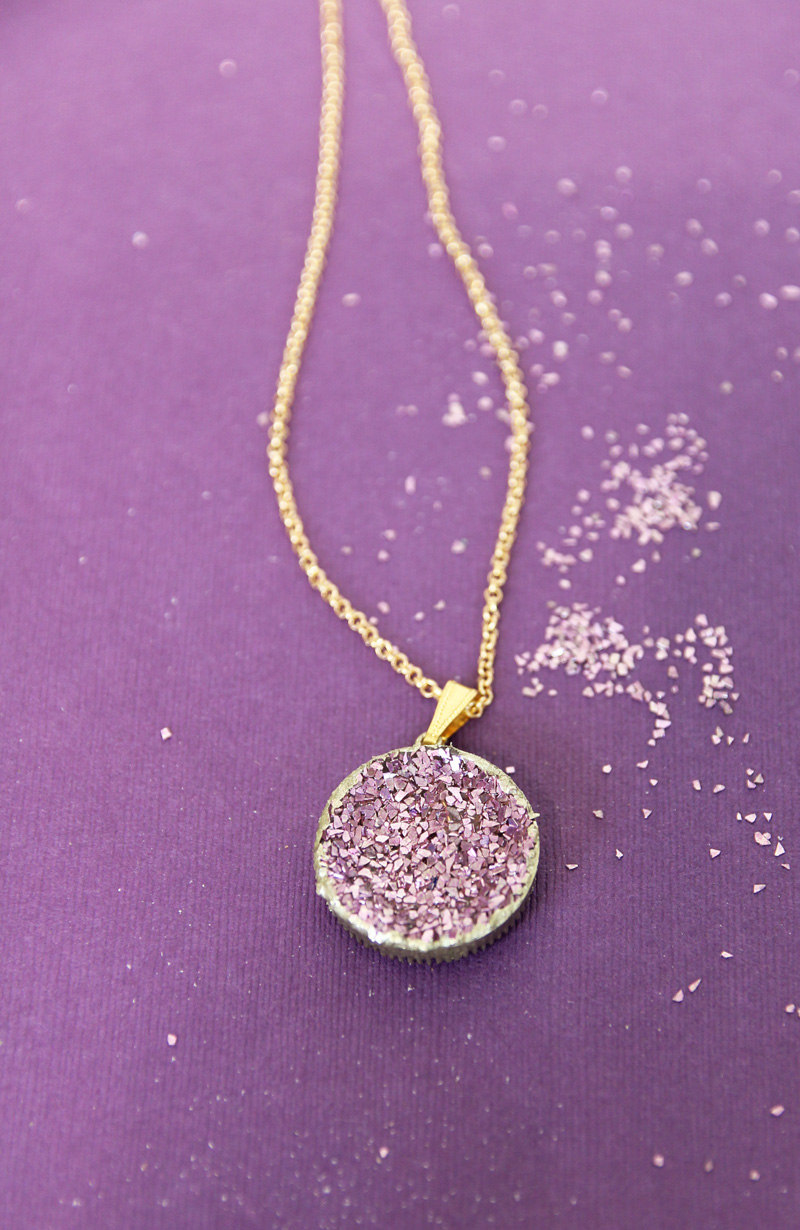 Your faux druzy bottle cap necklace is complete. Would you believe you almost threw that out?! What's your favorite unbelievable jewelry upcycle? Comment below!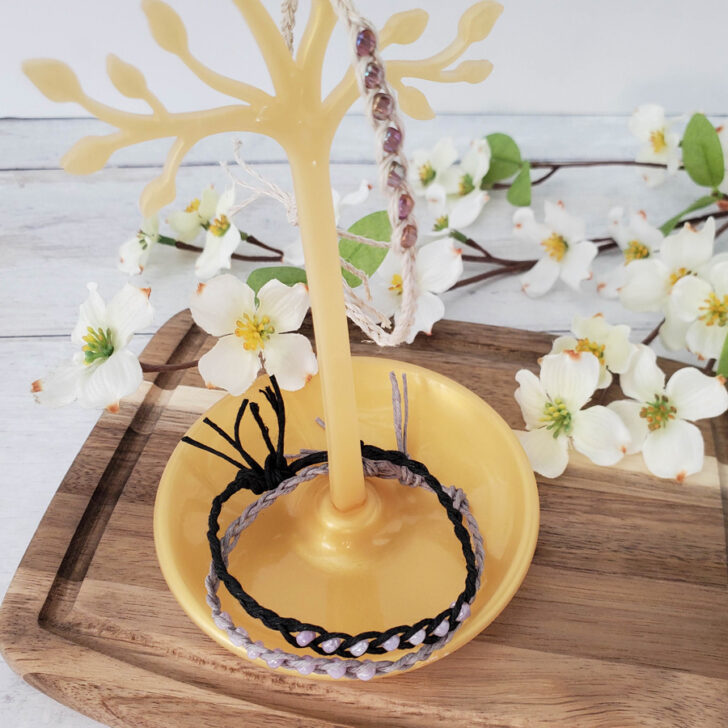 Create this quick and easy wish bracelet with endless design possibilities! When you're done, check out everything you need to know to make your own …