A few months ago, I got together with a couple of friends to make poured paint art for my friend's living room. It was so much fun, that I decided to share it with you here! This post contains affiliate links. Product was received free of charge from Plaid to stock my craft room in case I'll share with you.
---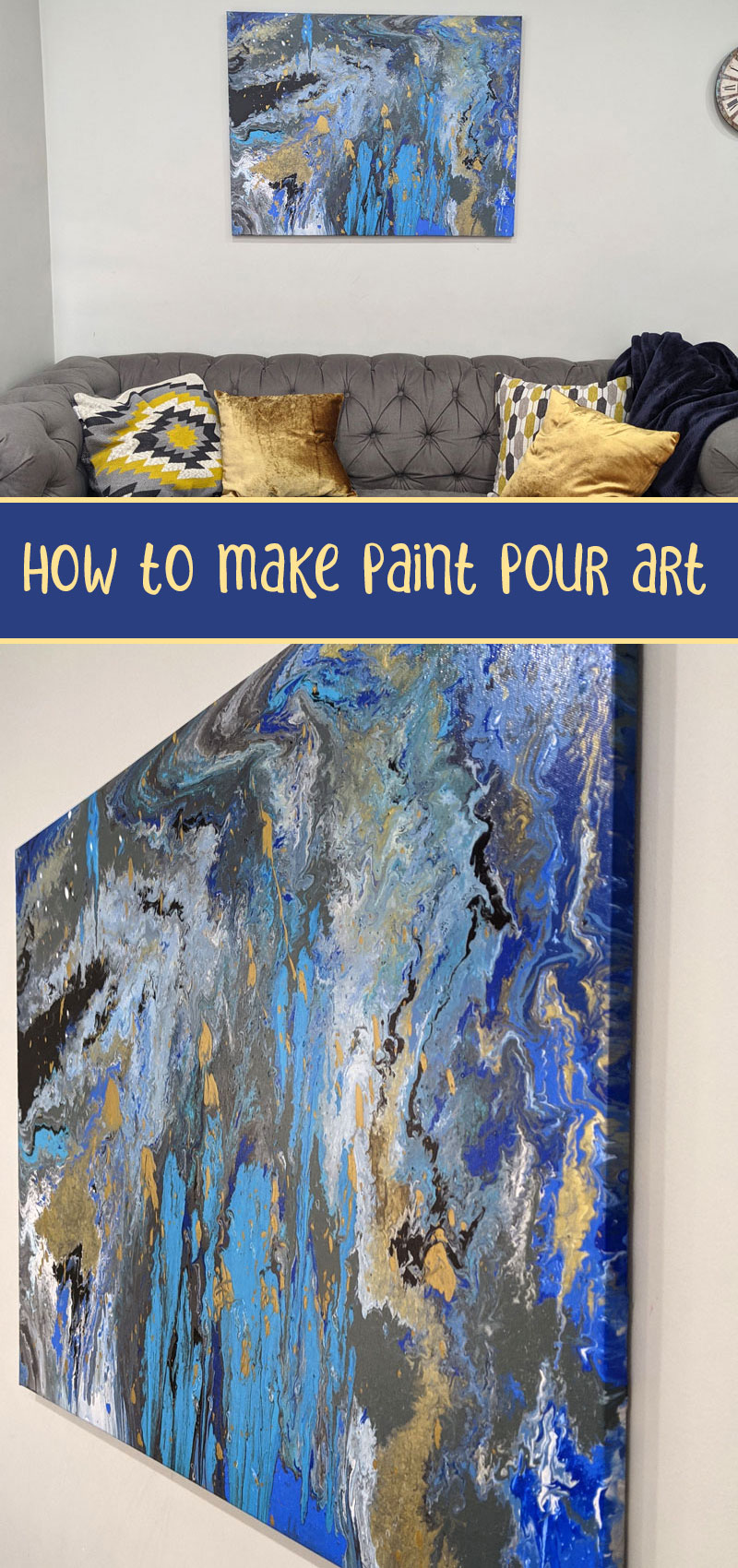 Pour painting is such a popular technique now, but frankly it's NOT my favorite for one reason: I like to control outcomes. It comes with my OCD and because therapy for OCD is exposure, letting go while making poured paint art was such a great experience.
It all started when my friend needed a big piece of art for her living room. She mentioned that she wants to try a marbleized paint pour to match and add a little color to her decor.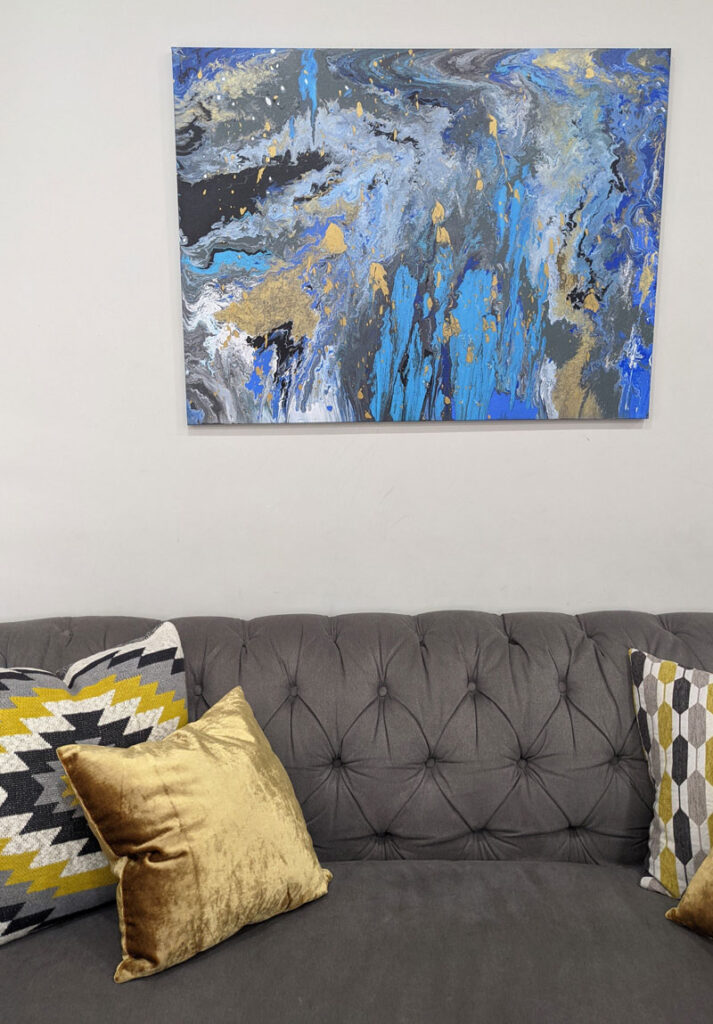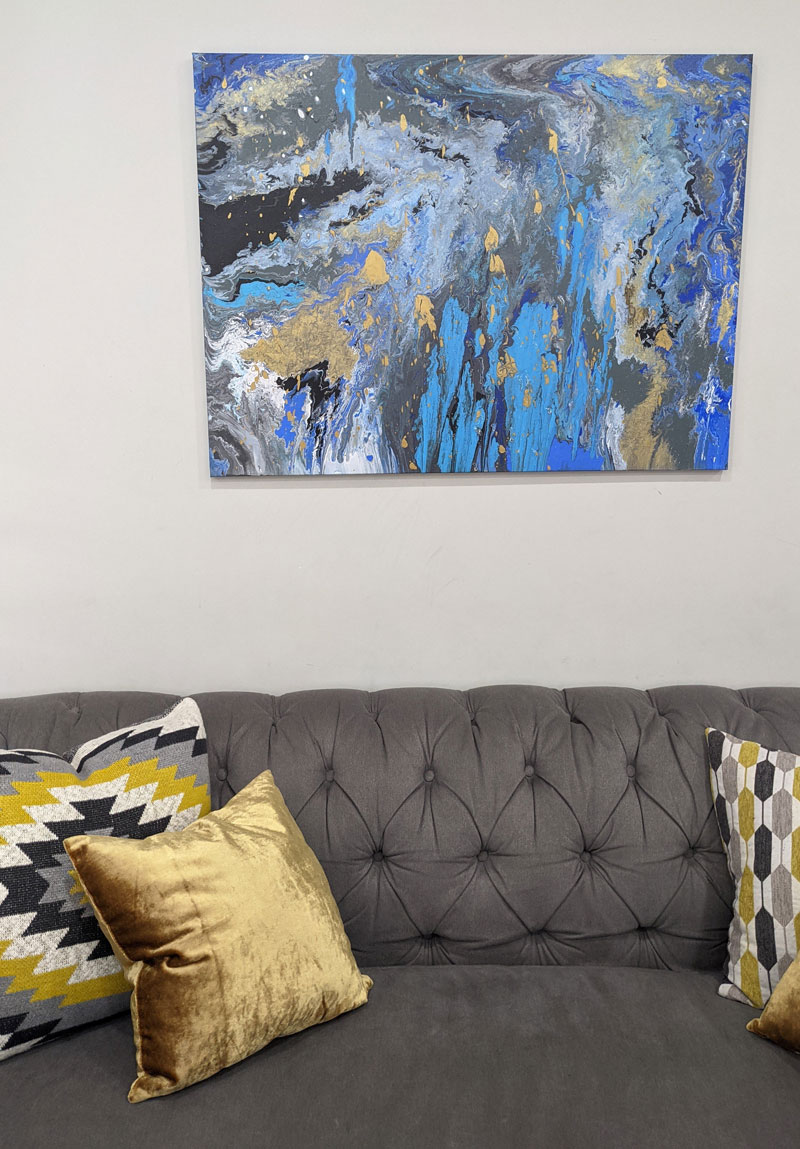 In this post, I'll mostly share tips for choosing colors, as color theory is important when making poured paint art.
Plaid Crafts (makers of the wonderful Mod Podge and FolkArt paints) tend to stock my craft room and send me samples when they have new products. So I had loads and loads of different paint pour supplies stocked up that we were able to try – so I can also share which were my favorites!
As you can see from the title of this post, a huge part of our experience was the play date angle. Since this was something that really pulled me way out of my comfort zone (exposure therapy is actually extremely difficult to experience) it really helped that I was having fun with friends.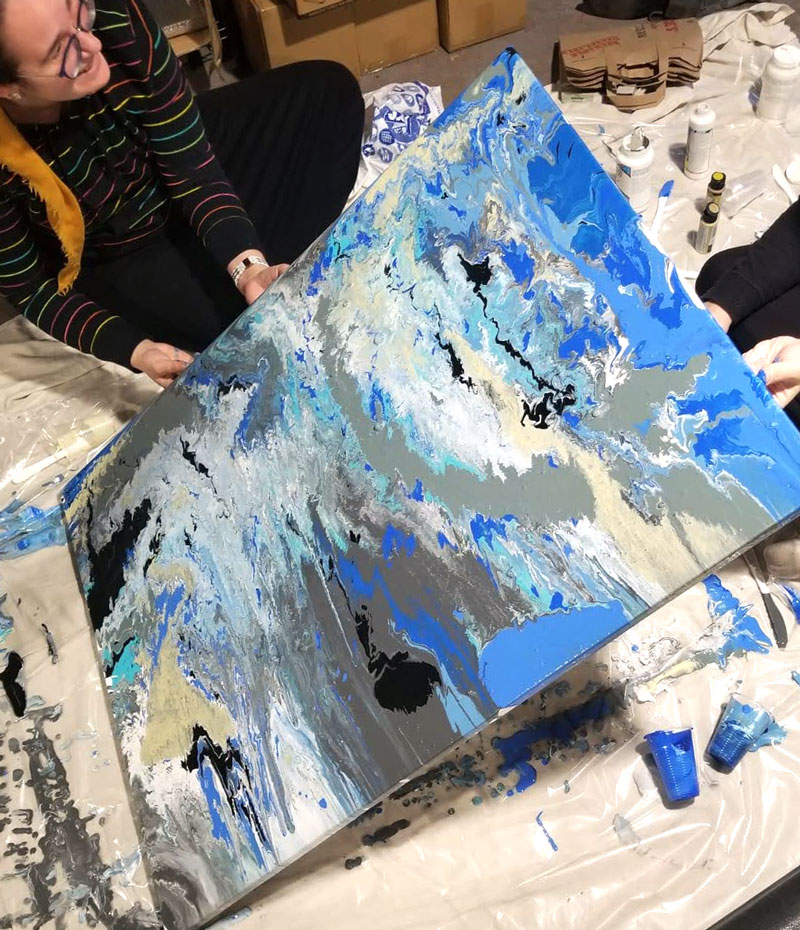 Paint pouring a huge canvas with friends is really fun. We really let loose. And no, it didn't come out perfect, but my friend loves it, her living room looks gorgeous, and she's gotten loads of compliments on it!
So get pouring, let go of perfection, and have loads of fun with the process.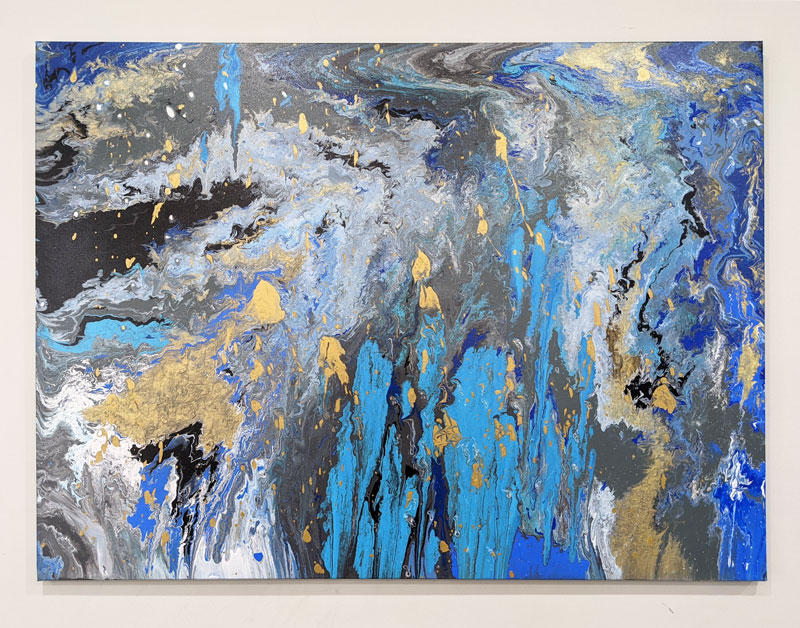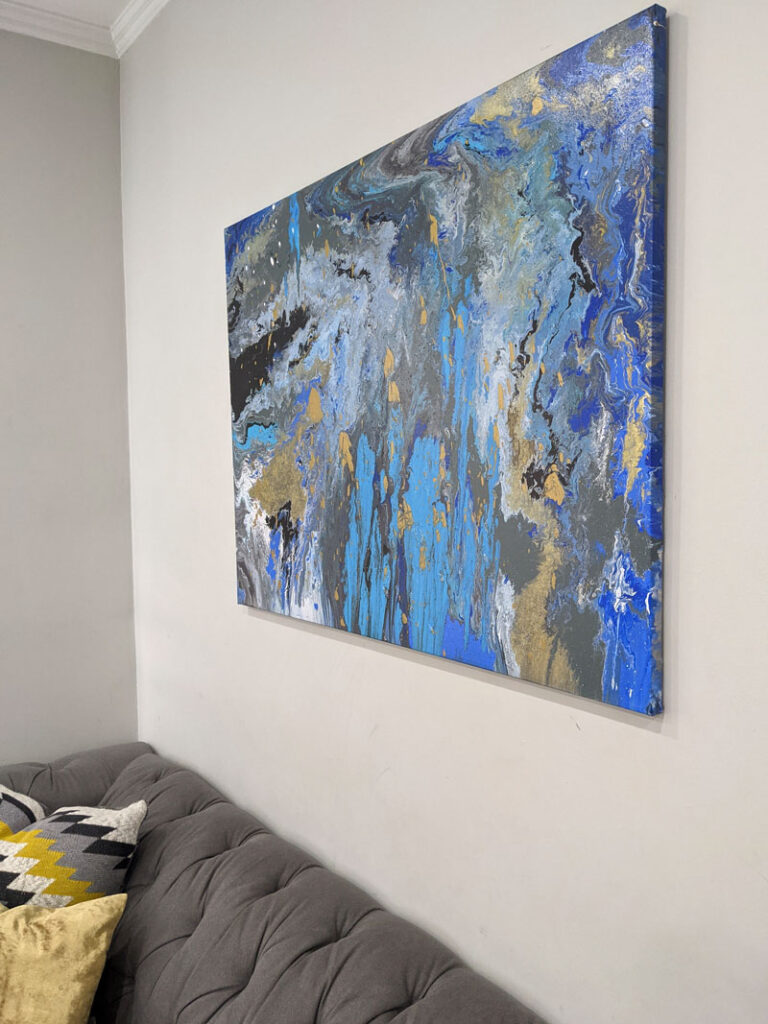 A few notes: many people use silicone oil to create cells in their pour painting. This is definitely a cool effect and really exposes the layers underneath.
You don't have to use it, and we didn't for this painting. Here's one I did a different time with silicone oil to create cells: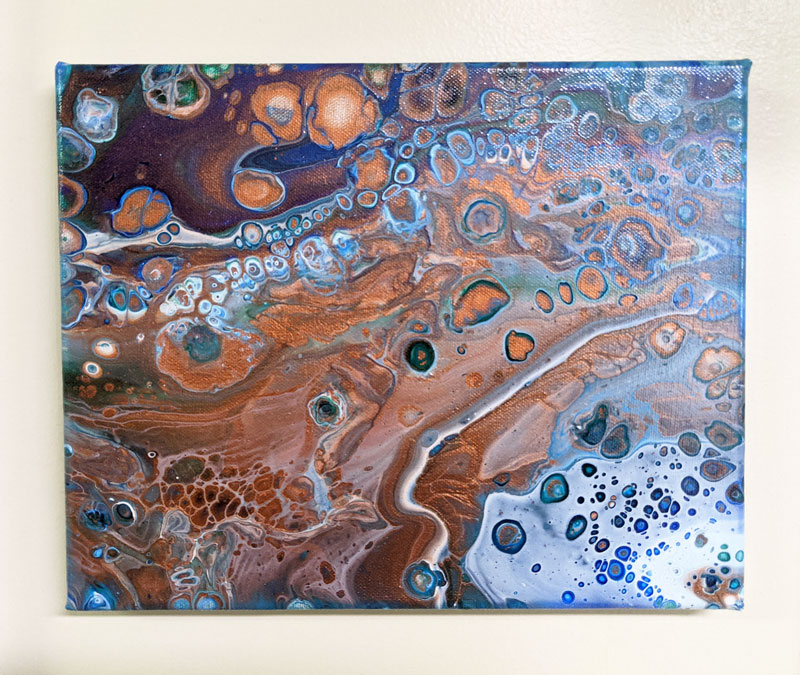 If you are very concerned about the effect, you may prefer to go with a 3-part split canvas and use the same colors. It'll coordinate but you'll automatically have some variety and a balanced, clean look.
Poured paint art is a messy process! We worked on a dropcloth with a plastic disposable tablecloth over it, in an unfinished basement. We wore junk clothes. And we had the time of our lives making a mess…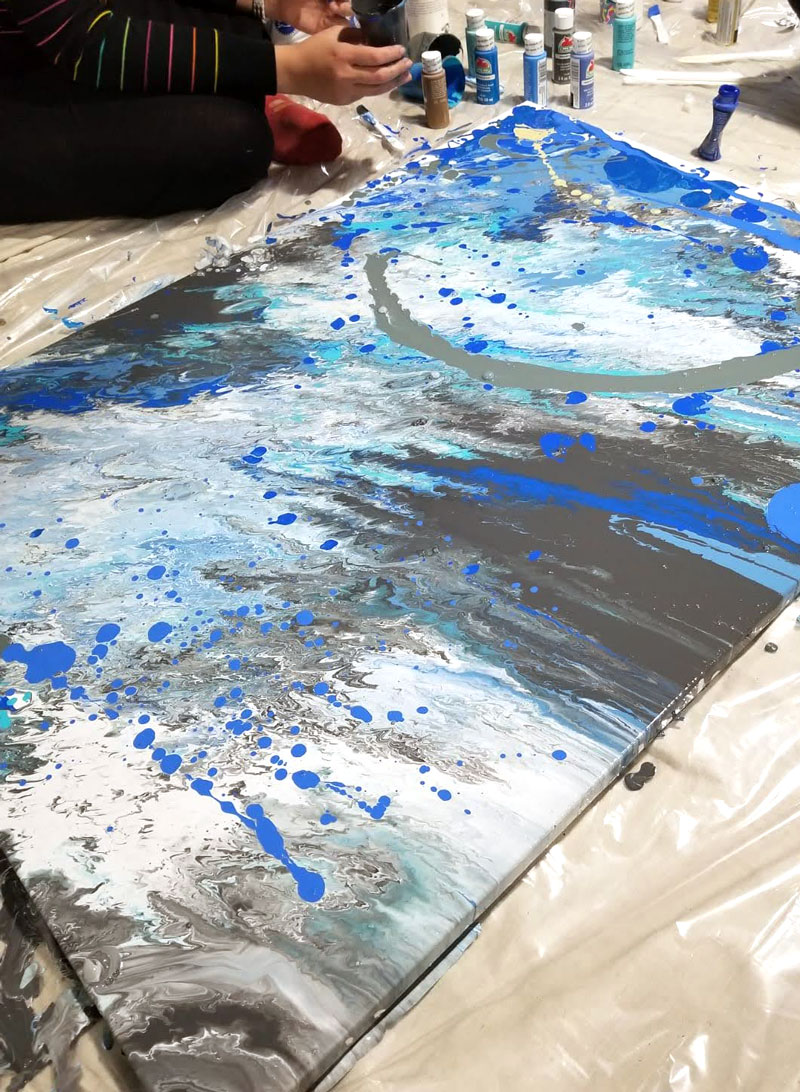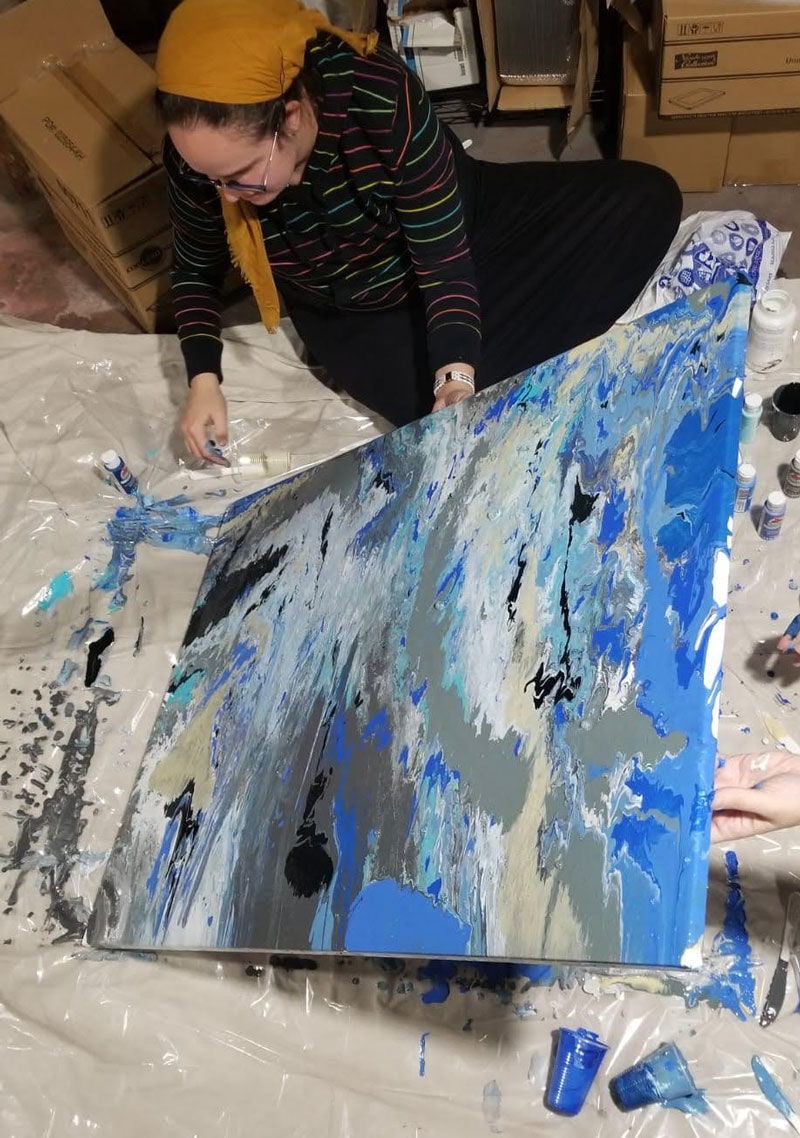 While there are many more specific techniques, we chose to simply pour the thinned paints where we wanted to, and marbleize it by turning the canvas in different directions.
Since this was a collaborative project, each person took a side and tilted the canvas the other way, directing each other based on the side we could see.
We worked with a mixture of pre-mixed paints and paint that we mixed on our own (regular craft acrylics mixed with a paint pouring medium.) The pre-mixed paints were so convenient, and if you're puchasing special for your project I'd totally recommend to go that route! You can also save the leftovers from your project for another, which is harder to do when you mix your own.
But if you like to keep a paint stash handy, already have paints, like to have more versatility, or to use any leftovers for another type of project, you might be better off mixing your own using craft acrylics.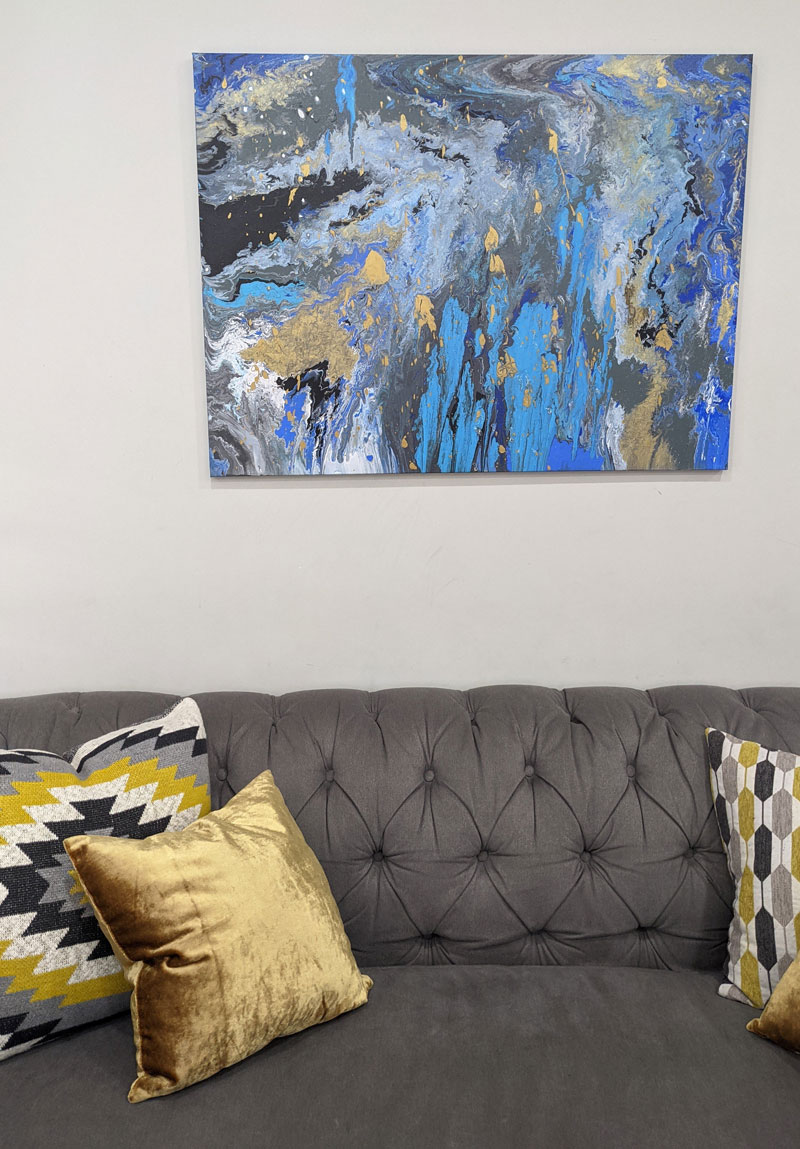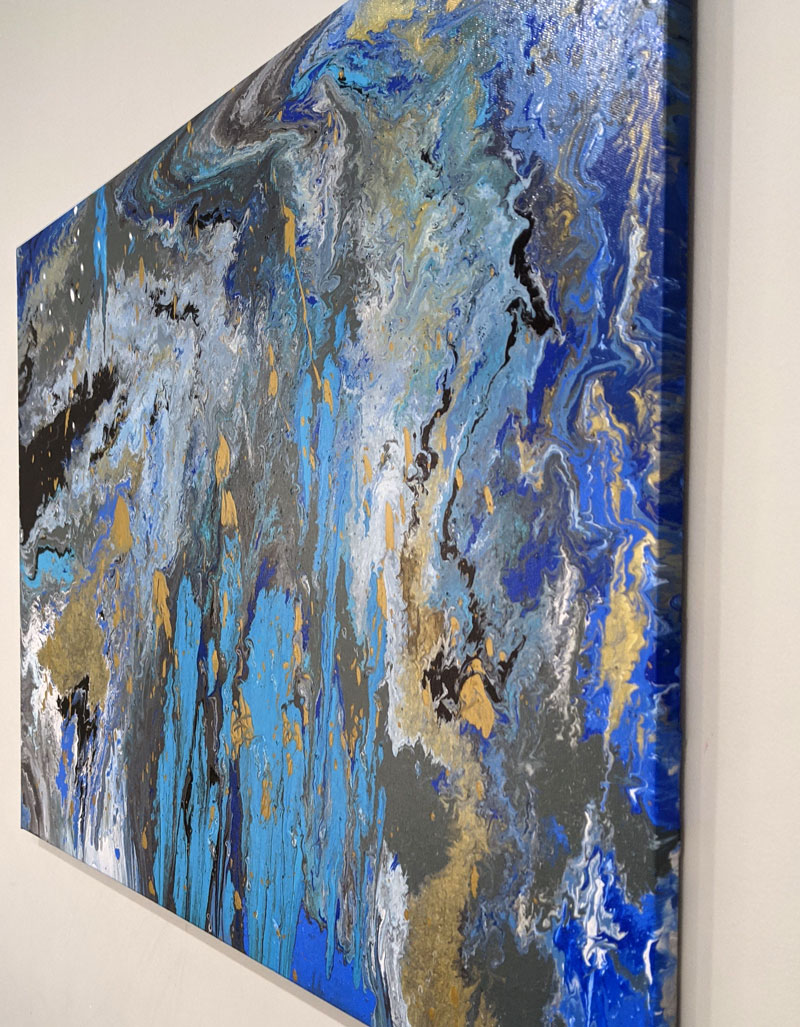 You CAN seal it if you want – we didn't seal the one for my friend's living room, but you can see that this one was sealed: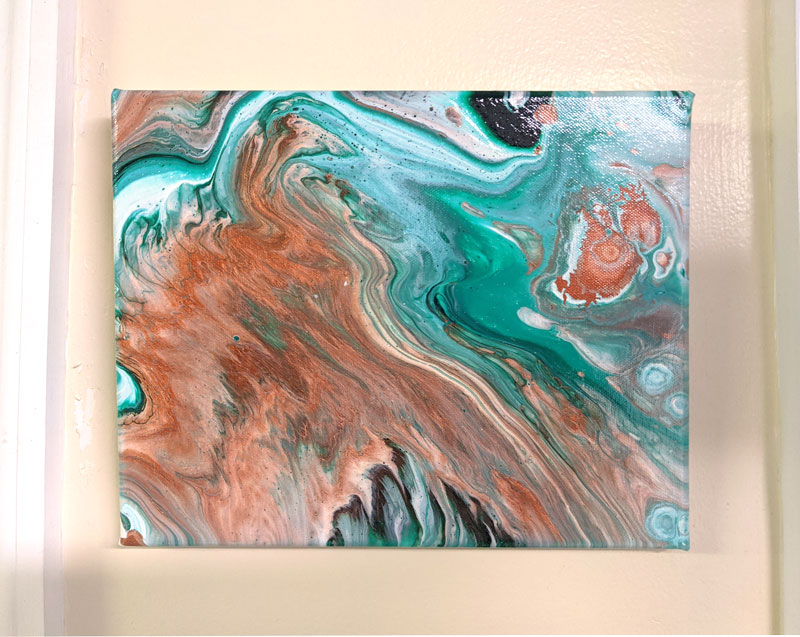 And finally, this uses a LOT of paint. Keep extra handy. It'll definitely use up a few bottles of acrylic, and a couple of big paint pouring medium bottles. You don't want to run out in middle – I'd err on the side of having extra supplies.
How much you need will obviously depend on your canvas size too, so I can't even give you a final amount – just an estimate. We used 1.5 bottles of pouring medium, and a few acrylic paints, plus a few ounces of pre-mixed paints.
Paint Pouring Supplies
Choosing colors for making poured paint art
When you're pour painting, the colors mix to some degree and interact with each other.
So when choosing your colors make sure that you want the colors they form when present mixing as well!
Use very dark colors like black minimally if you're new to this.
Keep a few neutrals handy.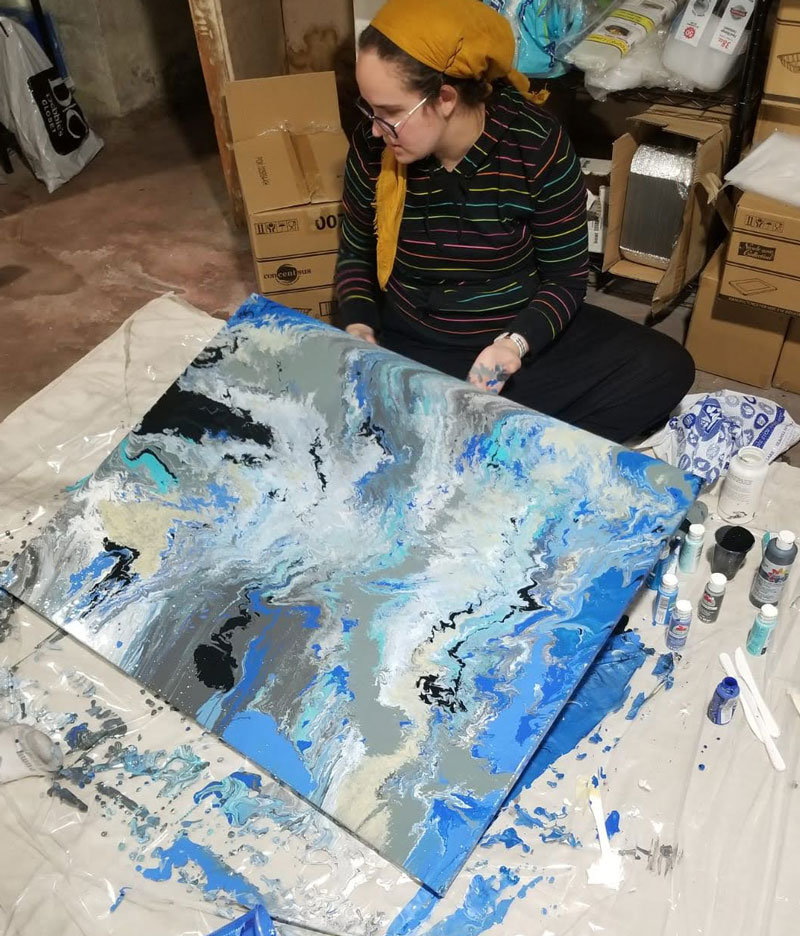 Work with analogous colors (next to each other on the color wheel) if you want to play it safe. You can also stick to a single color family, like we did – keeping it blue but with some neutrals like gold, white, and gray. We also used black in moderation.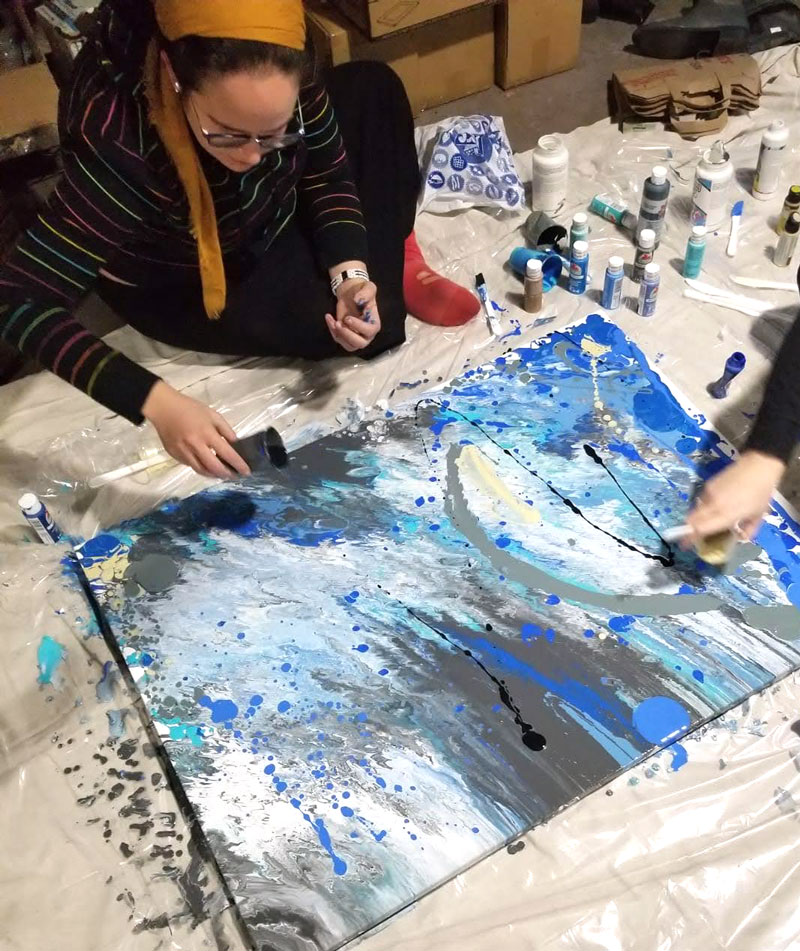 You can use gold or other metallics in your pour if you want many areas to have a larger metallic sheen. You can drizzle it on after for a stronger metallic look with a touch of glam.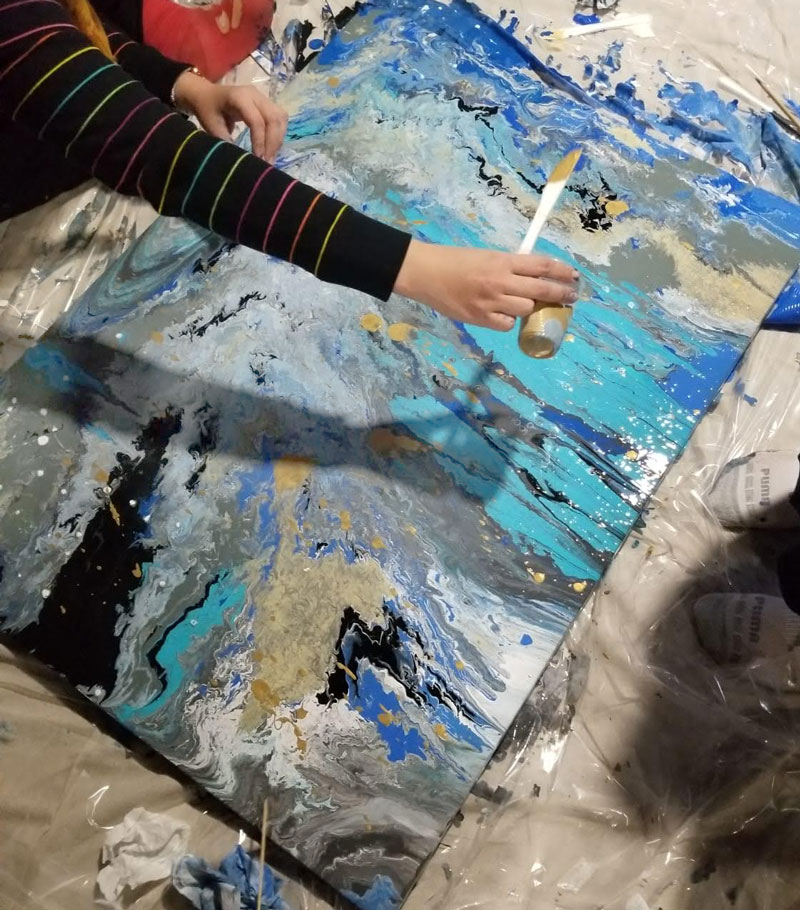 How to make poured paint art
If using regular acrylics and mixing your own, follow package directions to mix your paints in cups.
Prep your canvas by pushing push pins into the four corners in the back where it's stretched on the wood frame. This allows you to place it flat a little off your surface so that excess paint can drip off without pooling on the edges of the canvas and drying that way.
Start pouring! Make sure to work around the edges so that you cover the sides too.
As you pour, tilt your canvas to spread it. Pour more paint in the areas you want. Keep tilting until you have no white spots.
Optional: you can drizzle or drip on an accent color. We did this with the brushed gold paint. I love how it looks, my friend whose living room it's in would have preferred it without 😉
Optional: when it's dry, you can seal it with an acrylic sealer. We didn't seal this one.
Allow it to dry completely before hanging.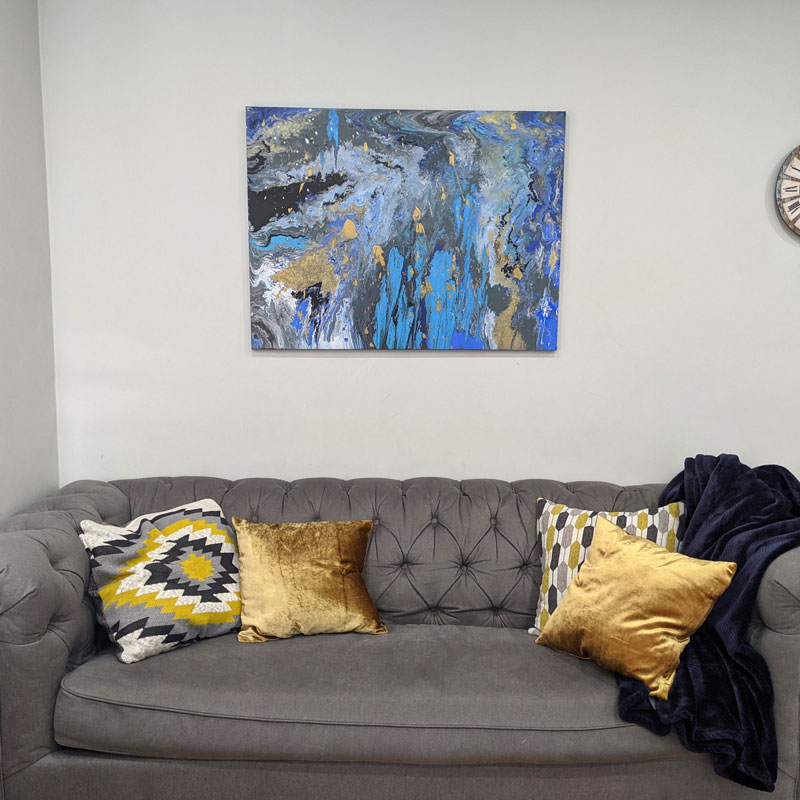 We did this poured paint art without really recording the process, however, one friend snapped photos as we went along, so that you can see how our artwork developed from the images included in this post. I hope they were helpful!
I hope you enjoyed learning how to make poured paint art! What tips do you have to share? Which color schemes, paint types, methods do you prefer? Comment below!
If you loved making paint pouring art, you might love these ideas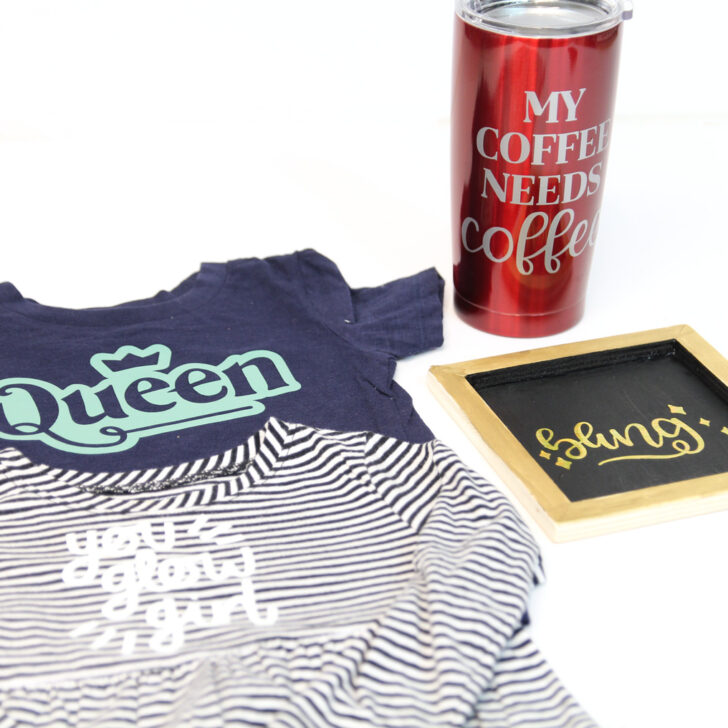 This guide to Cricut materials for beginners is designed to teach you everything you need to know about which materials to use with your Cricut. …