Inside : 18 Cool friendship bracelet patterns for beginners! These bracelets include micro macrame knotted friendship bracelets, some made from unique materials, and bracelets with beads added. This post contains affiliate links.
---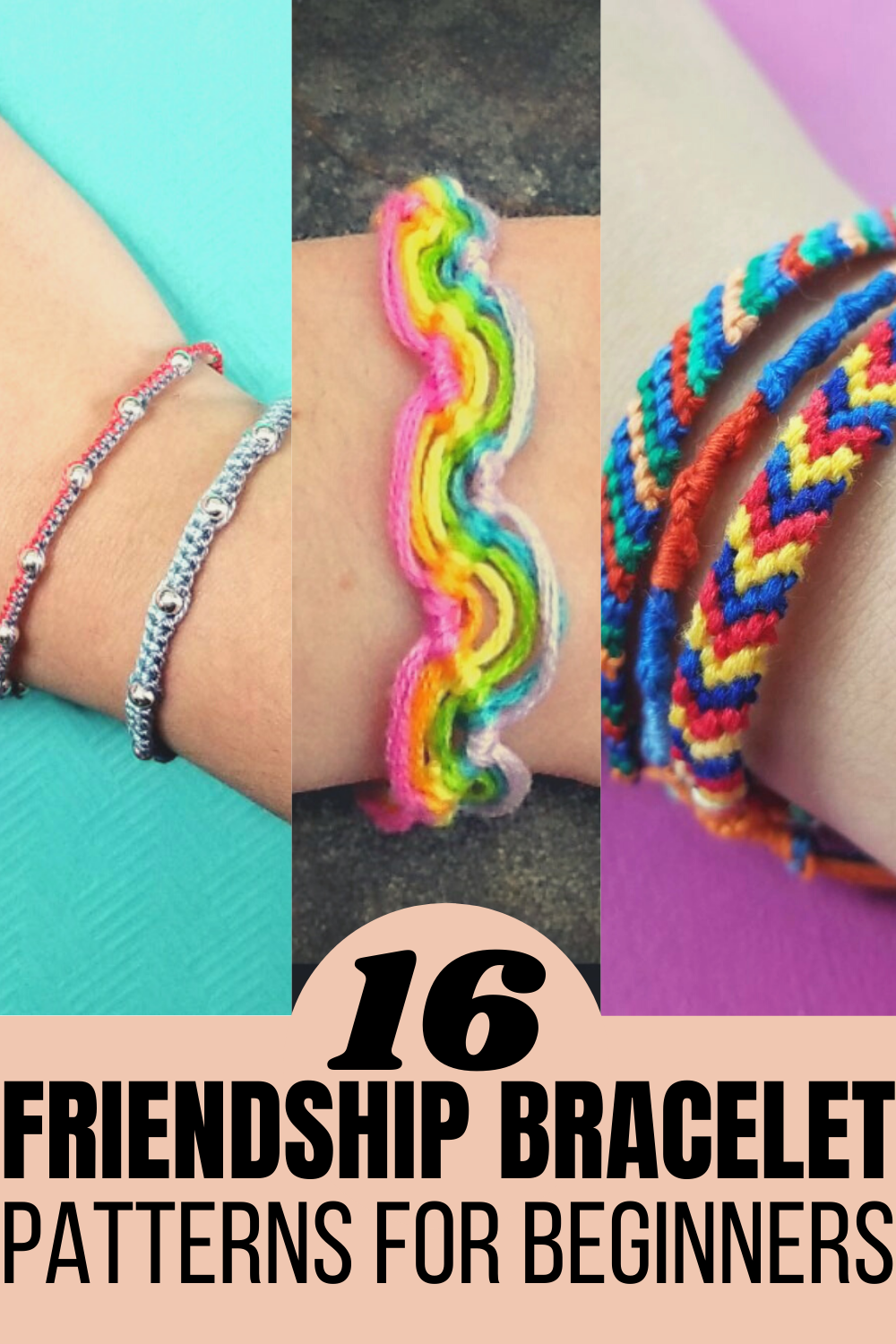 As a tween, a family I babysat for had the super cool Klutz friendship bracelet book. That was my first step towards making my own friendship bracelets.
After that, I got so obsessed, I'd spend hours in craft stores picking out the perfect shades of embroidery floss. Only the best would do (I've since recovered from this mindset). I became the queen of bracelets among my family and friends. I'd sell them to neighborhood kids for 50 cents. That was my first experience with majorly underselling myself at an hourly rate of 25 cents… not accounting for materials costs. There were many more instances of undercharging for my craft to come.
Today, friendship bracelets remain a popular craft. Friendship bracelets for beginners can mean lots of things. For many (me included) it means basic knotted bracelets. I'm talking about the ones that you learn the craft on.
For others, anything that can be shared among friends is what you're after.
And finally, while embroidery floss might be the go-to, there are other materials you can use.
Scroll through for some brilliant ideas from me and my fellow bloggers.
Which string should you get for making friendship bracelet patterns for beginners?
You may have noticed that I linked to two types of embroidery floss. There's the individual skeins of DMC (which you can also buy in multi-packs) and then there's the bulk rainbow packs you can get on Amazon.
I'm going to be straightforward.
Quality matters. But not everything you make has to be the best.
The silky texture of better floss makes for a beautiful bracelet. For the delicate, elegant, grown-up bracelets where you're adding metal beads, these will have an impact. There's also nothing quite like picking the perfect shade…
However, for your average tween or kid craft, definitely go for the cheap stuff. It's more of a yarn type of texture rather than a thread texture (if that makes sense) and not as elegant but still cool and fun. It's also not as accurate with colors. But it's not a weaker option that breaks faster.
Knotted Friendship Bracelet Patterns
These are the basics that I learned back in the day, or that I figured out later on. There's also some ideas I've never tried but that are really quite standard. If you make each of the friendship bracelet patterns for beginners in this section of the post, you'll gain a good understanding of how friendship bracelets work, and how the patterns form.
In this post, I share the three basic friendship bracelet patterns for beginners that every crafter should know. I also share some basic tips to get you started.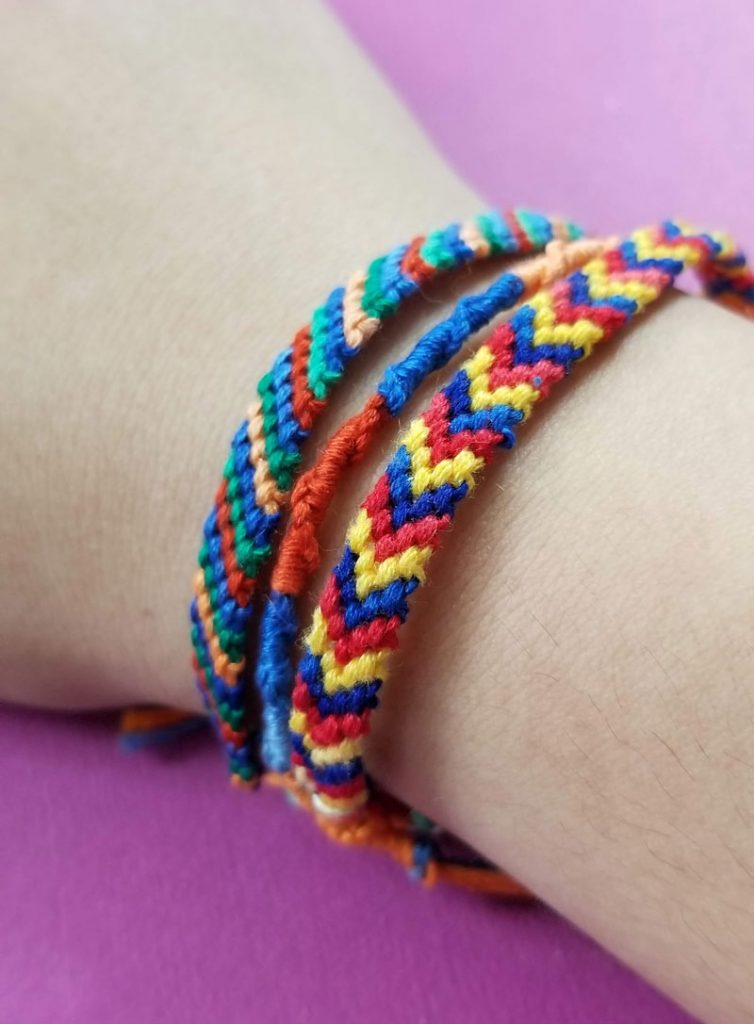 This is a slightly different take, something I wouldn't have even thought of making as a tween! It looks a bit complex but it's so easy and a great introduction to making this type of bracelets.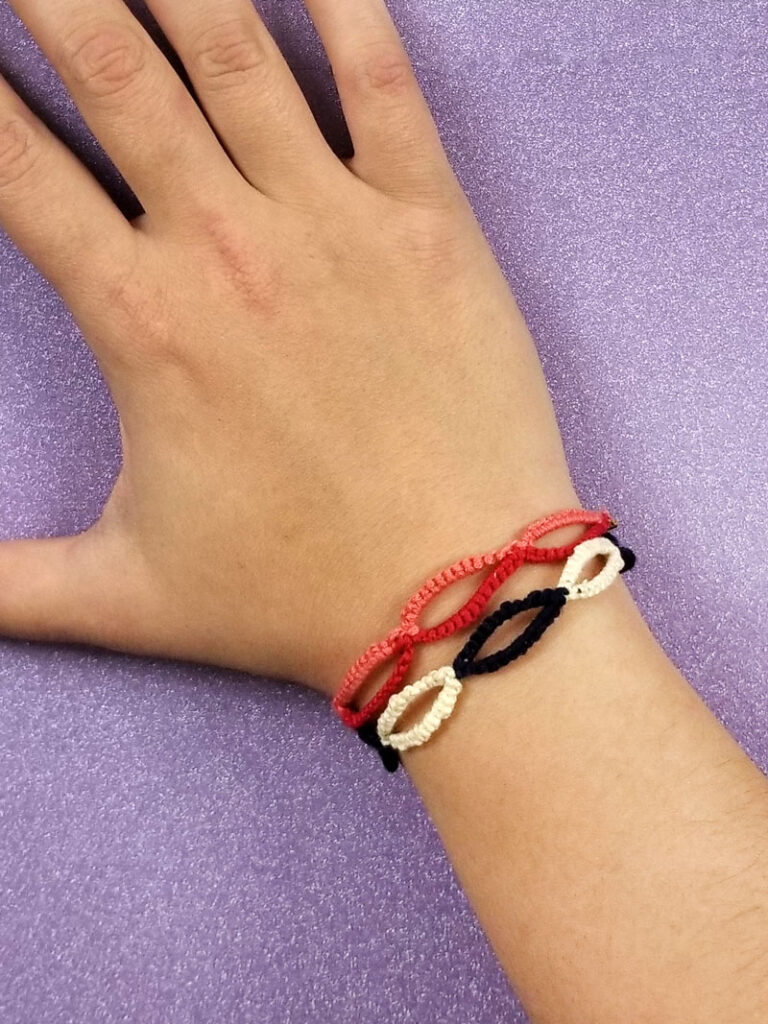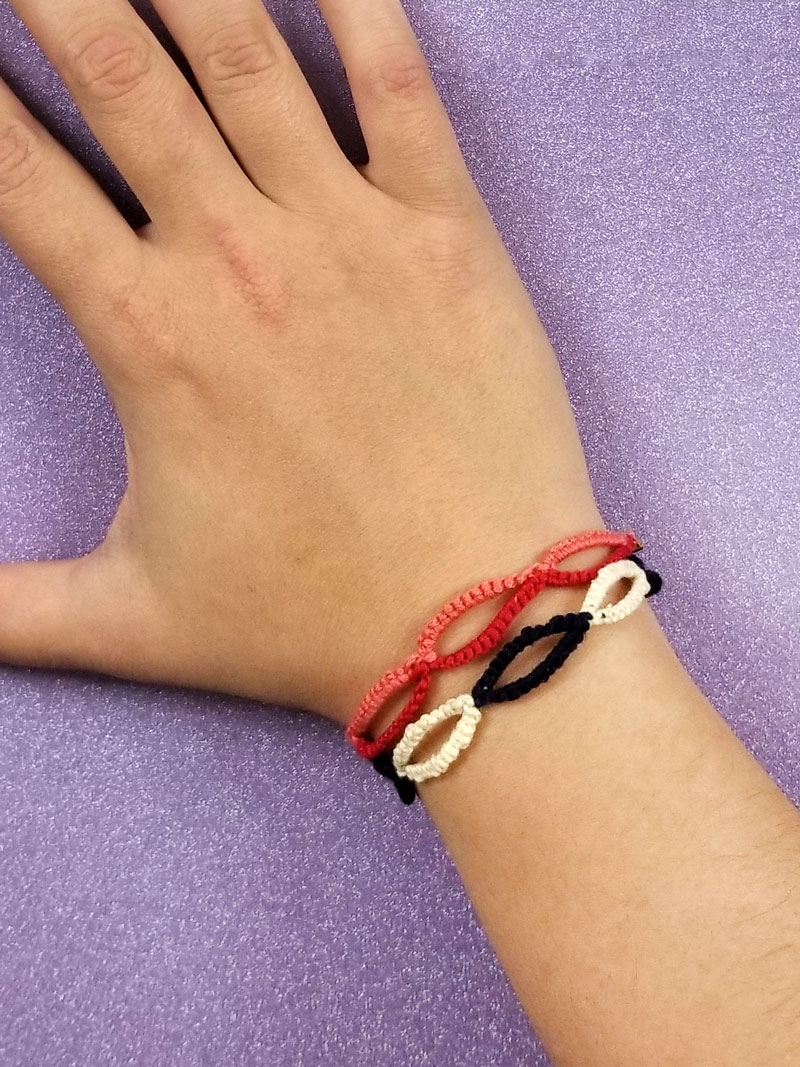 For me, the criteria for a good bracelet for beginners is something that you can remember without following the instructions each time. I'm a causal crafter and I'd rather knot by rote than keep track of where I am on a pattern. This bracelet is so cool because there's a basic logic, so once you make a couple of rounds you'll be able to continue it on your own.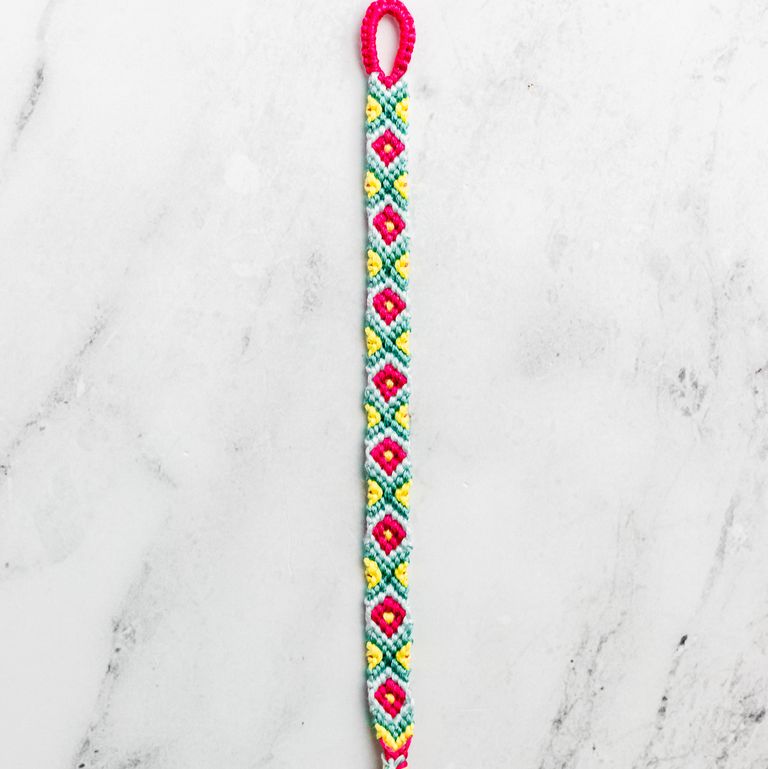 This is so simple and cool! When learning to complete friendship bracelet patterns for beginners, you'll find two elements to how patterns and textures form (besides for the colors you're knotting). There's the knot itself that forms a sort of "stitch". And then there's the thread running through the knot. This pattern showcases the thread running through.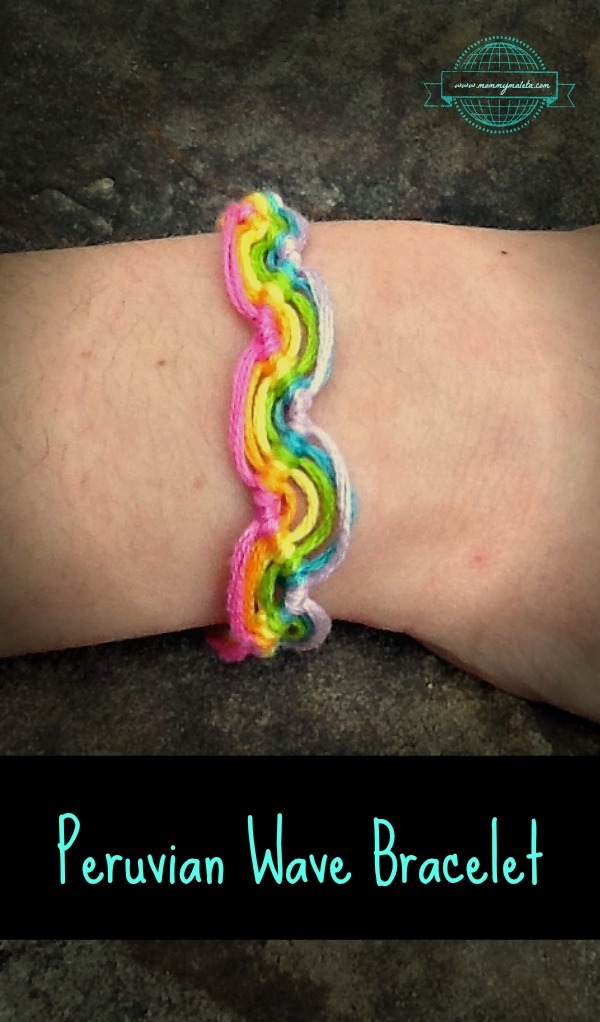 Beaded Friendship Bracelet Patterns
Adding some beads to your bracelets seriously ups their game! This section includes two types of beaded bracelet. You have the basic friendship bracelets with beads added to make for gorgeous, grown-up arm candy. My favorite bead for this is a simple 3-4mm round spacer (look for the kinds without seams). You also have more kid-friendly bracelets – some knotted and some not – that feature beads and are great for stacking, handing out to friends, and summer camp crafts.
Adding small round spacer beads to the spiral staircase/ Chinese Ladder style bracelet turns it into gorgeous jewelry. And it's one of the easiest bracelets to make!!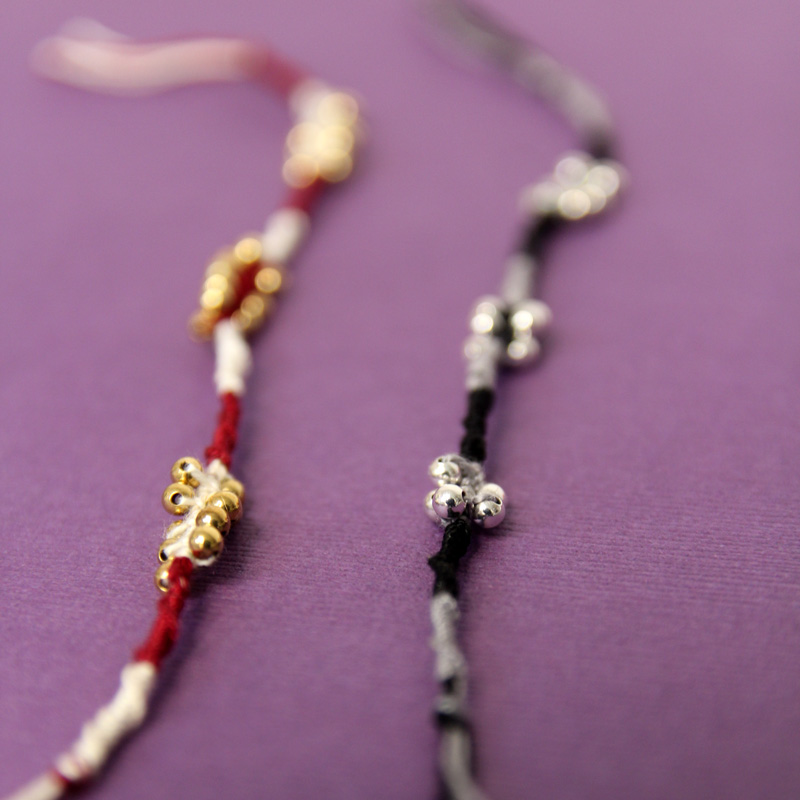 Another insanely easy style, this one can be made with or without beads added. For younger kids, pony beads on cheap embroidery floss make a fun, tween-y vibe. For grown-ups, I used good quality DMC threads with metal spacers for another gorgeous bracelet that even I like to wear!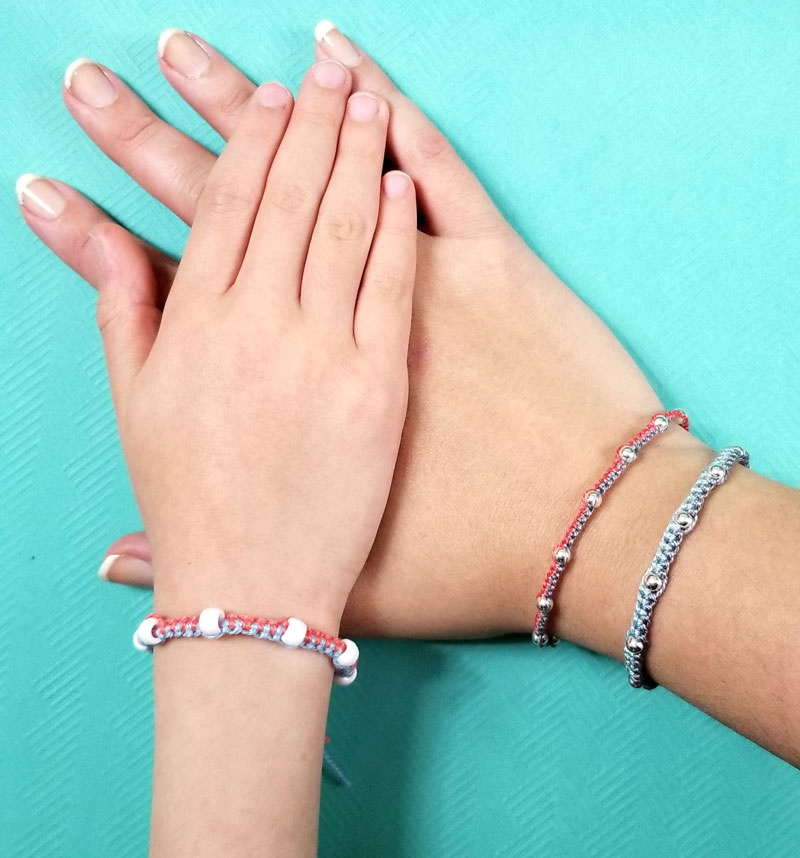 This might not be a friendship bracelet in the macrame sense of the word, but there's nothing like hearts for friends! And since you are DIYing the beads too, you can even personalize them with any theme, including names. It's really fun for when you need quicker group crafts.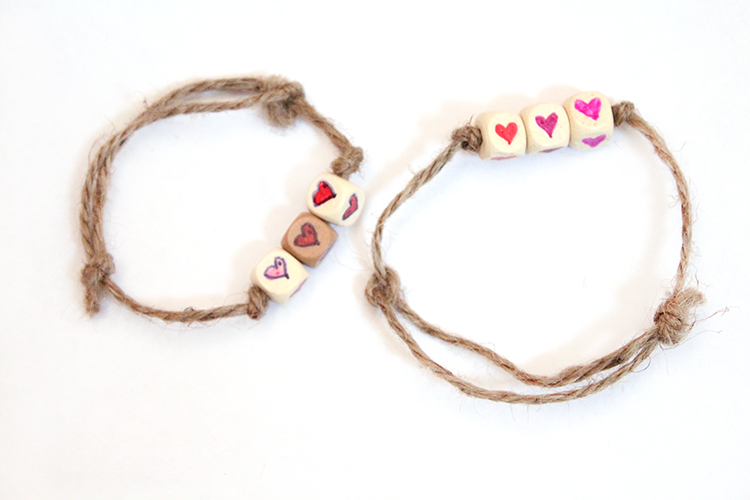 Another fantastic idea for group settings where you want it to be cool, these letter bead bracelets have adorable button closures too!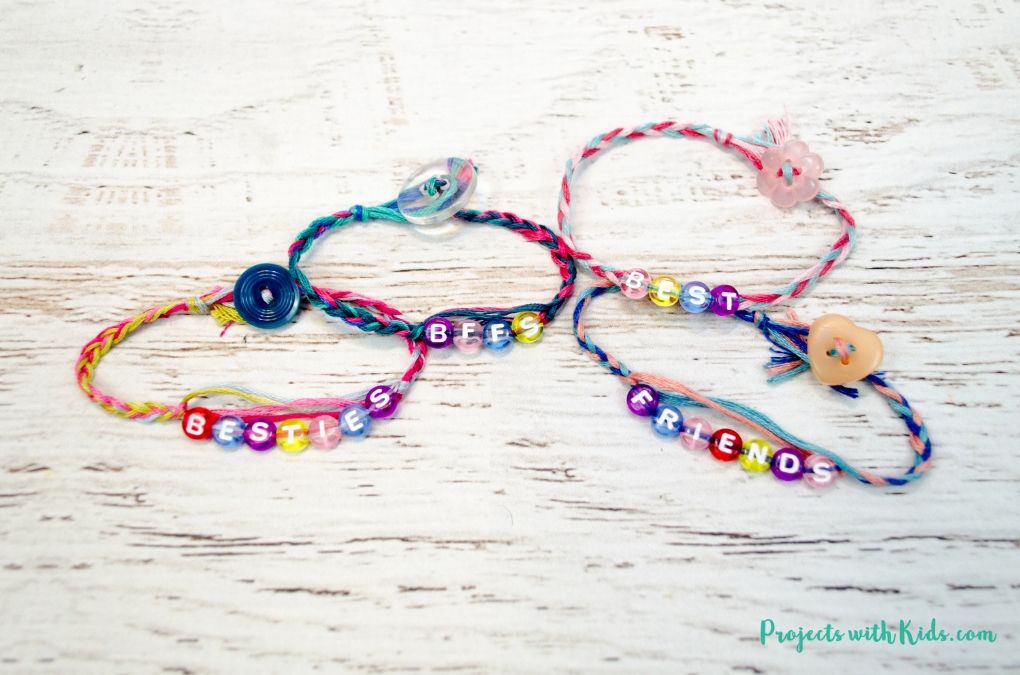 These are technically knotted soo…. Using a thicker cord allows you to fix beads in place. Use this tutorial to make all kinds of bead/knot combinations – as long as you have a central string for the beads, you can make different knots and vary your beads. It's also a great resource for learning how to make a sliding knot.
This isn't strictly a beaded bracelet, but if you like to relax with your bracelet-making, and not worry about beads, but like that touch of metallic that seriously upgrades it, this is for you. This tutorial teaches you how to add little touches to your bracelets AFTER you make them.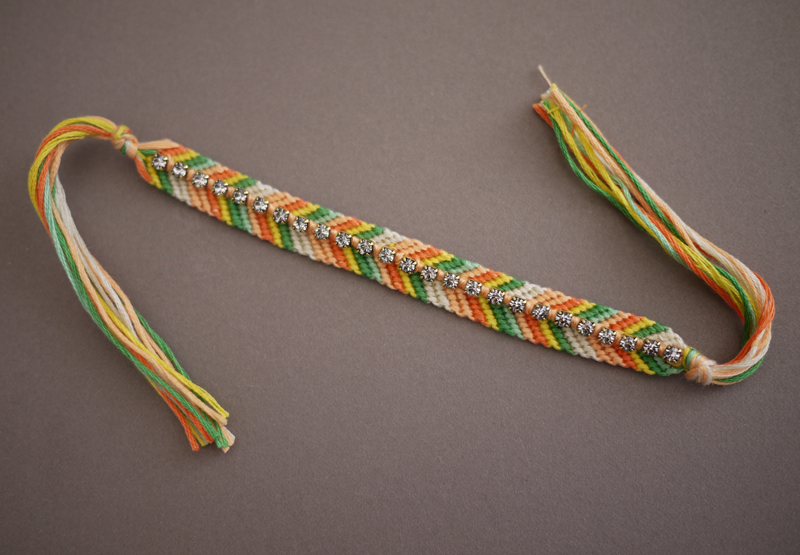 Unique Beginner Friendship Bracelet Patterns from Different Materials
If you love making bracelets but are tired of always working with floss, this one is for you! Technically, you can make any of these with embroidery floss too (you might need to bulk some of them up by doubling it) but these ideas were created specifically for the materials used, so enjoy!
Gimp Bracelets
Gimp, lanyard, boondoggle, or plastic lacing – whatever you call it, it's a much easier material for little hands to handle, but also doesn't hold the individual knots as firmly as you make it (once you're done, they're all good.) It's bright, colorful, and great for the younger set, especially when gimp is an on-trend craft.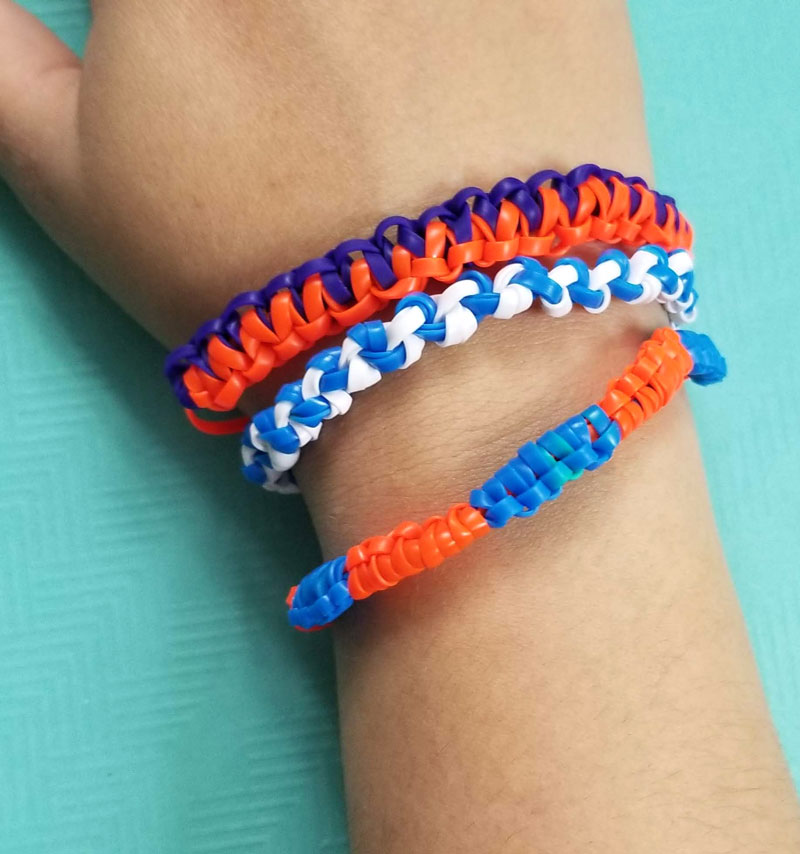 A simple braid does the trick and can be made from anything! Here, I used baker's twine when that was the range. Try leather lacing, rope, or anything really.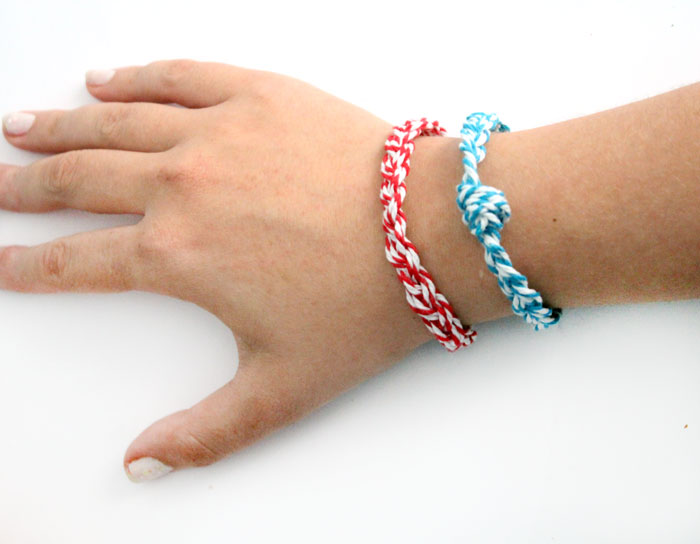 This one made form fabric scraps is a winner! You can do it with super wide scraps too. And you'll learn how to finish the bracelets off professionally.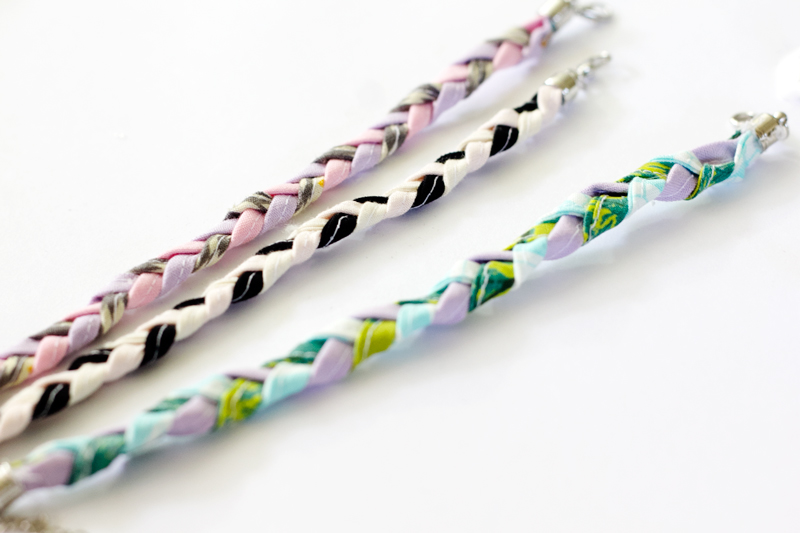 Here is a cool example made from leather cord! Did you know you can get it in pretty much any color?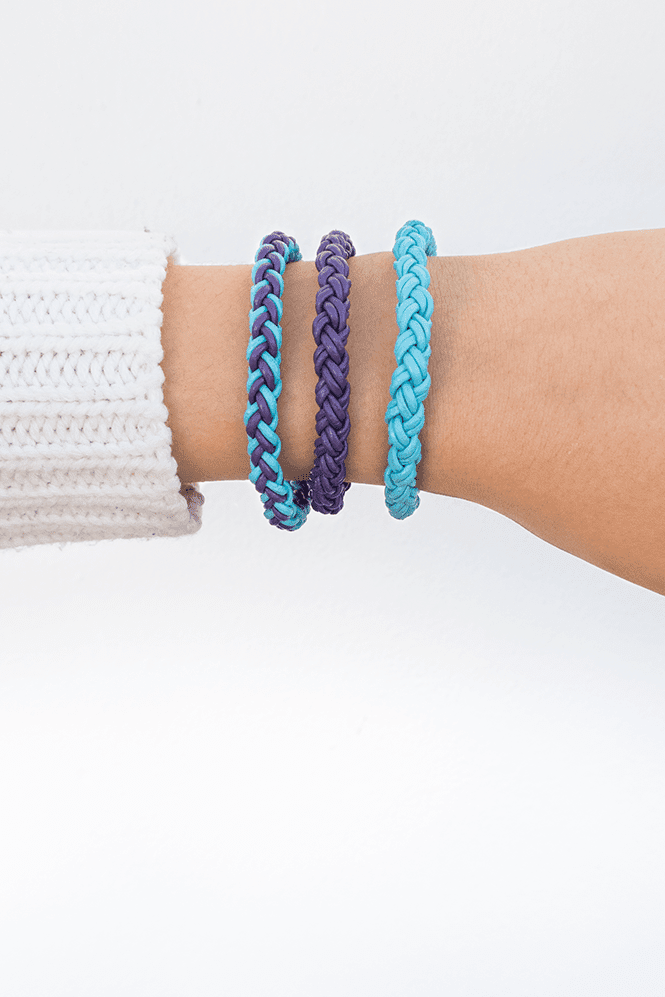 Paracord is a fantastic material for crafting (you can often get it in the Dollar tree!) Here, a basic stitch was used for a hybrid friendship bracelet/paracord effect. I can see this making a cool watch band!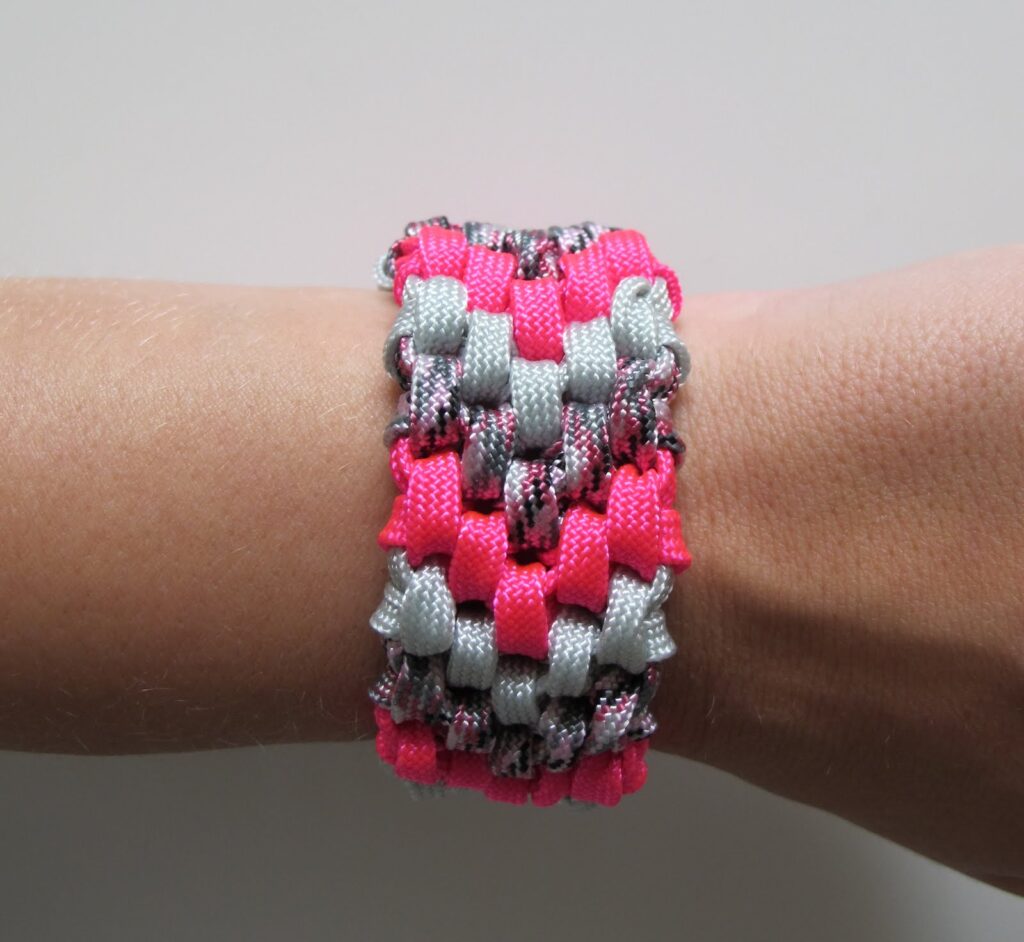 Bonus: Kumihimo Bracelets
These gorgeous braided bracelets look like ropes, only you can choose the color scheme and pattern! Isn't it just stunning?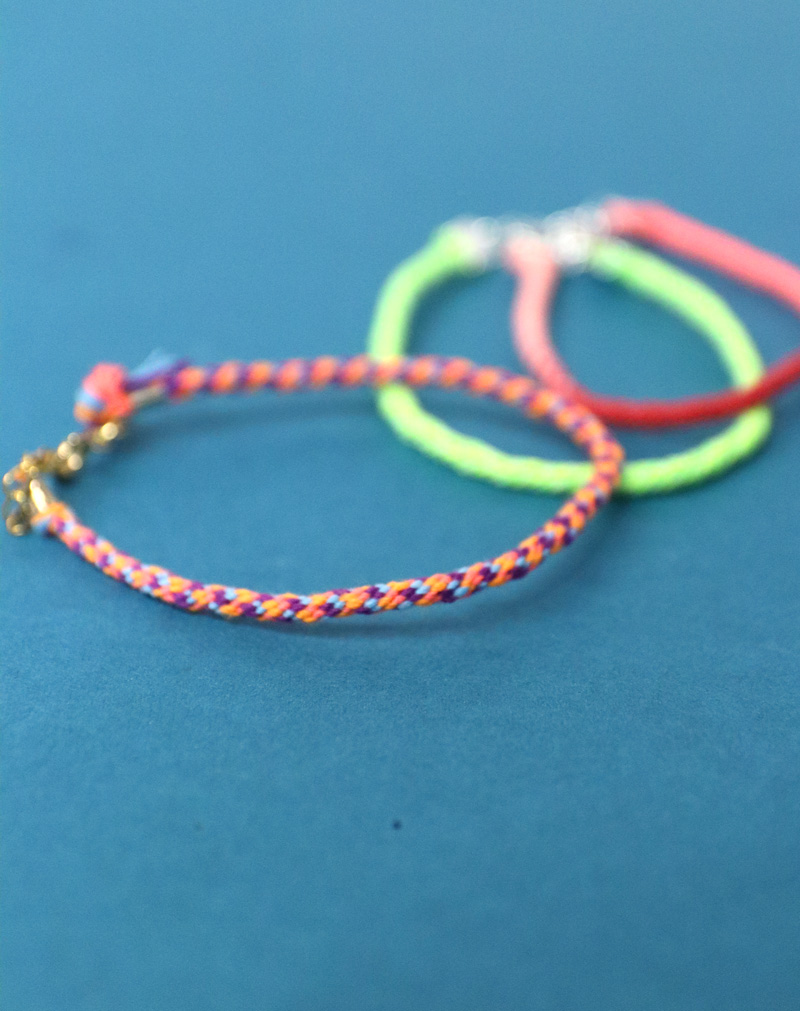 What are your favorite friendship bracelet patterns for beginners? Comment below!