These DIY water bottle hang tags craft has been compensated by Collective Bias, Inc. and its advertiser. All opinions are mine alone. #HydrationToGo #CollectiveBias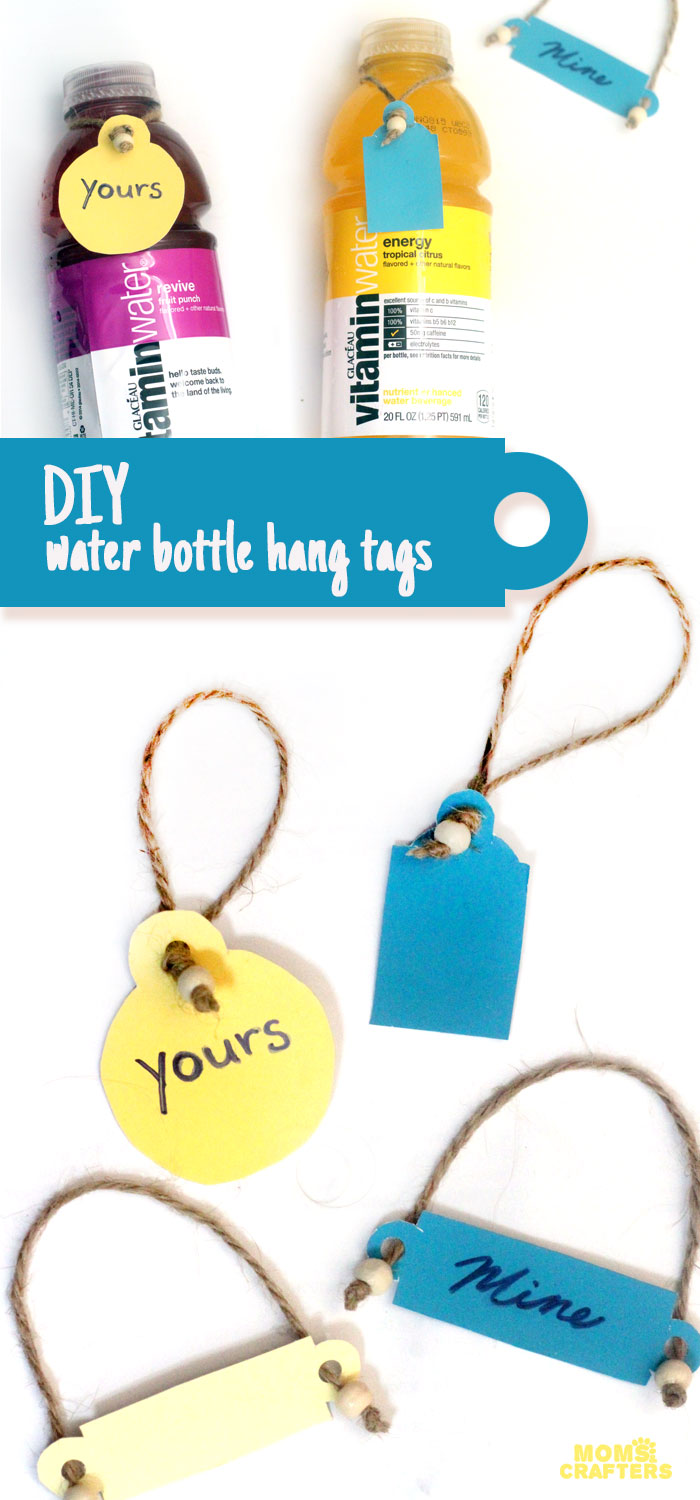 Ever go to a barbecue, or any summer party, and find yourself forgetting to drink? There could be a cooler stocked with delicious bottle drinks, but the moment it leaves the cooler, you forget which is yours?
It's happened to me many times. The summer is full of outdoor family events, and usually there are enough water bottles to go around. But the party ends in a huge jumble of scattered water bottles, with no one knowing whose is whose. And therefore, we find ourselves not drinking enough.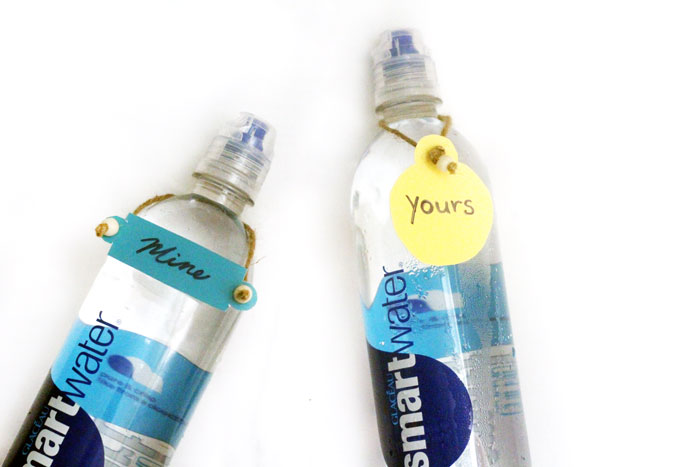 Proper hydration is the key to a healthy summer. CVS Pharmacy is my perfect stop for hydrating on the go this summer, since there are branches wherever I might be passing by. Plus, they have a great deal going on now! You need a CVS ExtraCare card, but if you don't have one yet, it's FREE and definitely worth having! I use mine all the time. Once you signed up for an ExtraCare card, you can head over to your local CVS Pharmacy. They have smartwater, vitaminwater, Gold Peak and Honest Tea on sale for 4 for $5. You'll also get $2 off your next purchase, making it come to $3 for four! Plus, you'll have enough hydration to go around!
Them you can create these easy-to-make water bottle hang tags help you label water bottles, so that everyone drinks up properly. They're also a fun and inexpensive craft to make at the start of a party. You can add a fun message, such as "drink up!" to it too to remind everyone to stay hydrated.
They hang from the neck of your smartwater or vitaminwater bottles, allowing everyone to remember whose is whose. And when you finish one bottle, you can transfer it right to the next one you open! Plus, it's a fun, little souvenir to take home.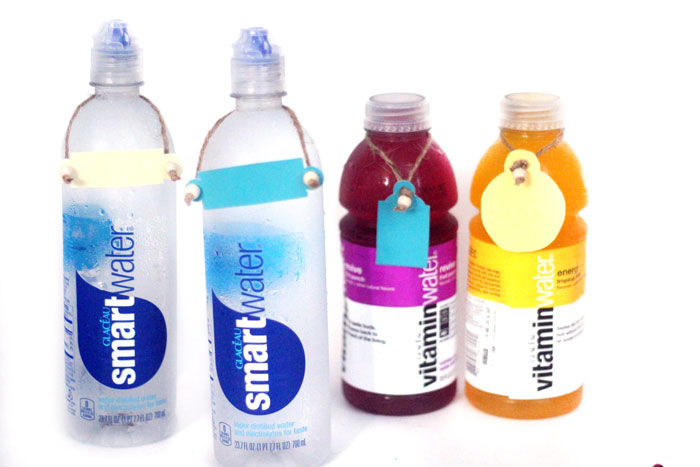 Psst! It works in families too! If you're driving to the beach, or just hanging around indoors and outdoors, and the kids would NEVER drink from their sibling's bottles, use these water bottle hang tags to mark everyone's territory!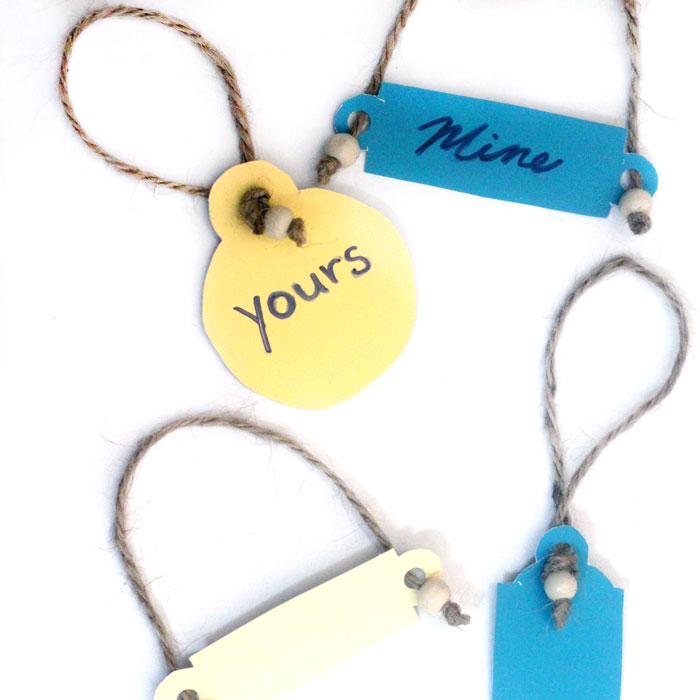 What you need to make water bottle hang tags: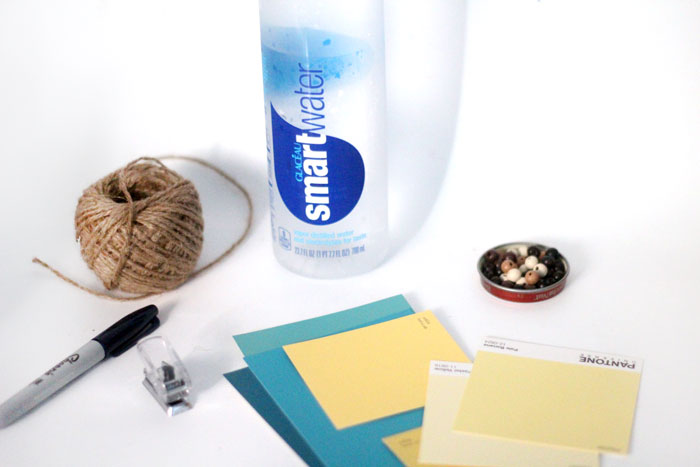 Bottled drinks for a crowd. From 6/28-7/25 you can purchase any combination of four smartwater, vitaminwater, Gold Peak and Honest Tea at CVS Pharmacy for $5 AND you'll get $2 off your next visit (using your free CVS ExtraCare card). Get enough for the whole family, or for the whole party!
Paint chips
Twine
Wood or other beads with large holes
Permanent marker
Scissors
How to make water bottle hang tags:
1. Go to CVS Pharmacy and cash in on their great deal on smartwater, vitaminwater, Gold Peak and Honest Tea (see supplies list above for more details!)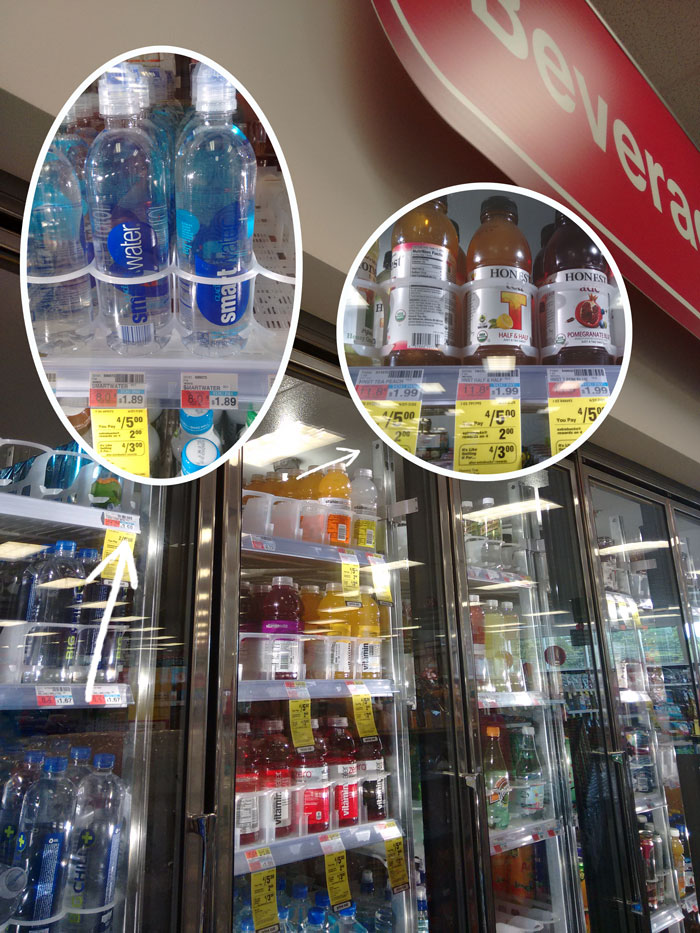 2. Draw the tag shapes on the back of the paint chip. The three shapes I used are made of very simple shapes combined – even little children can mimic them. Here they are:
3. Cut out your shapes.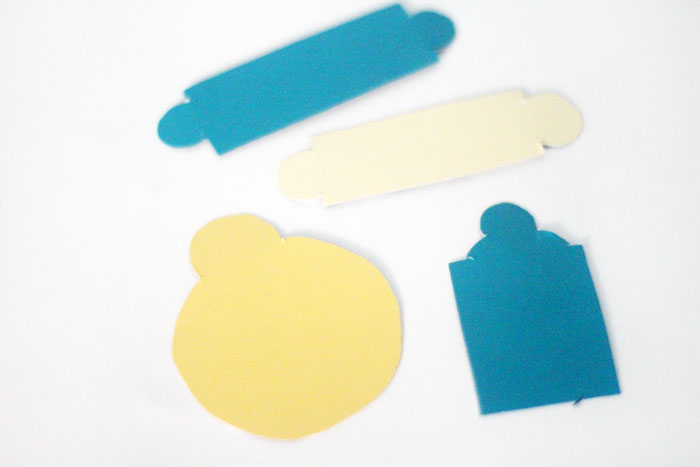 4. Punch holes in the round areas of the tags: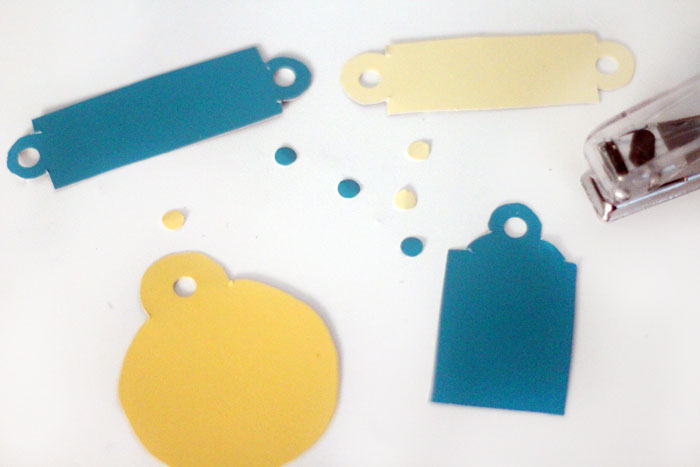 5. Measure how long you'll want your twine to be. Leave an extra few inches for knots and trimming.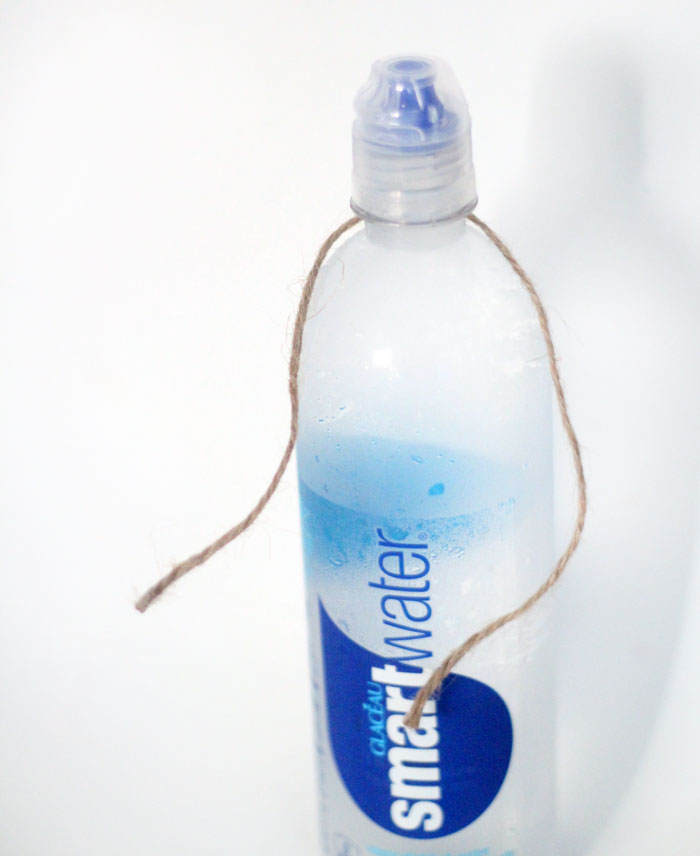 6. Tie a tight knot at the end of your twine and trim it close. Because twine is so rough, the knot should keep.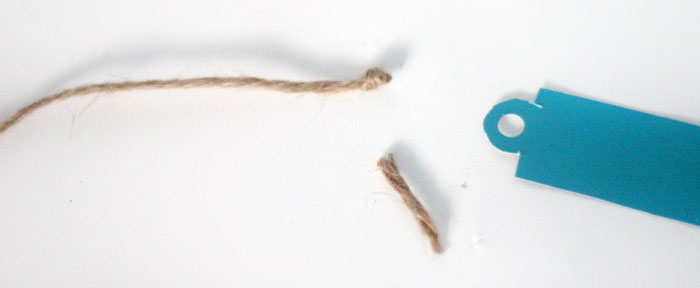 7. For the two-hole tags: Thread on a wood bead, and then one side of your tag. Tip: if you have trouble threading the beads, wrap a small piece of tape around the edge of your twine.

8. Double check where to finish off your twine, by measuring again against the water bottle. bring your twine through the other hole from back to front, add your bead, and knot close. Make your knot super tight, and trim the extra.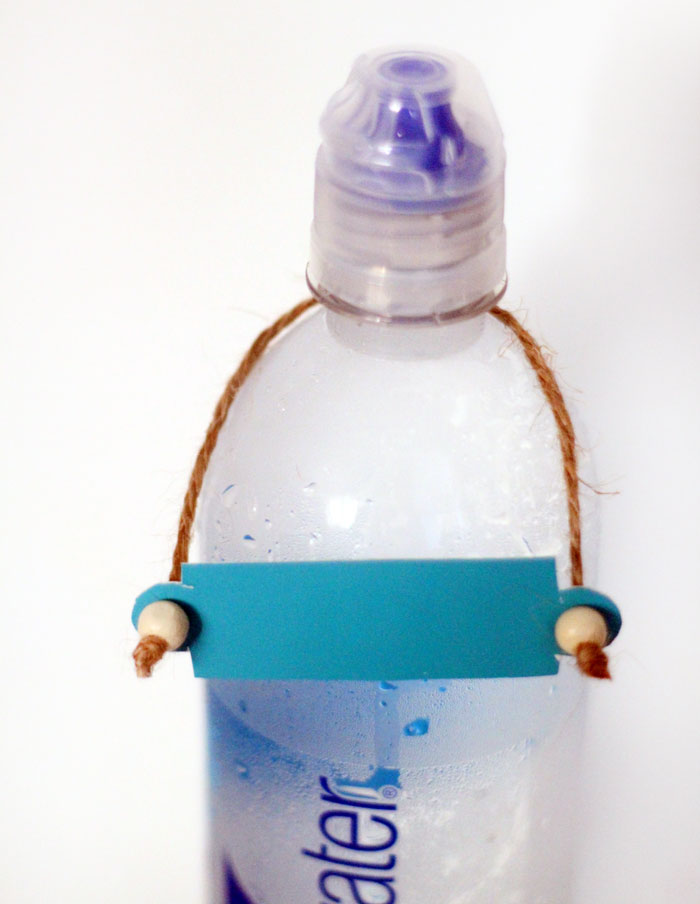 9. Isn't it adorable?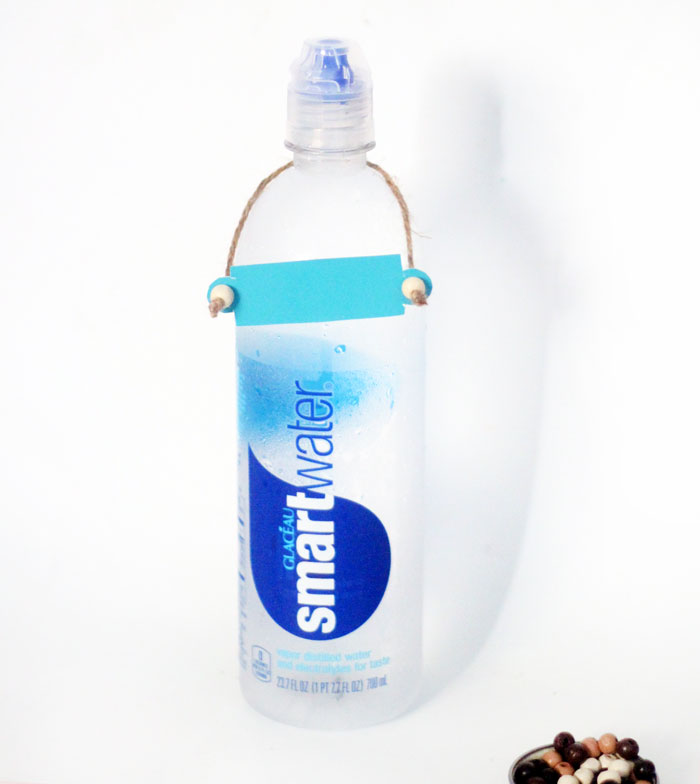 7. For the single-hole tags, thread on your bead and slide on the tag.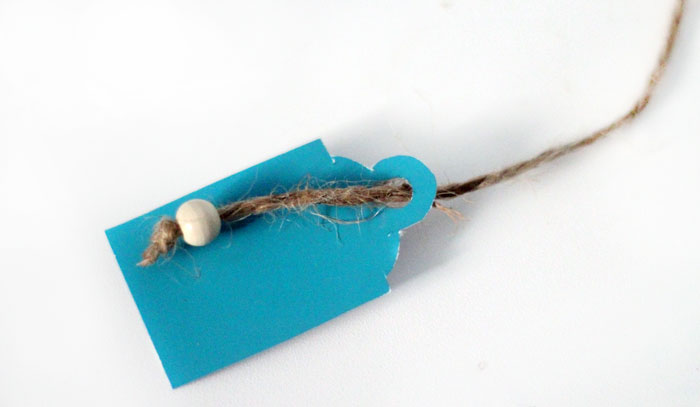 8. Measure where you want it to be.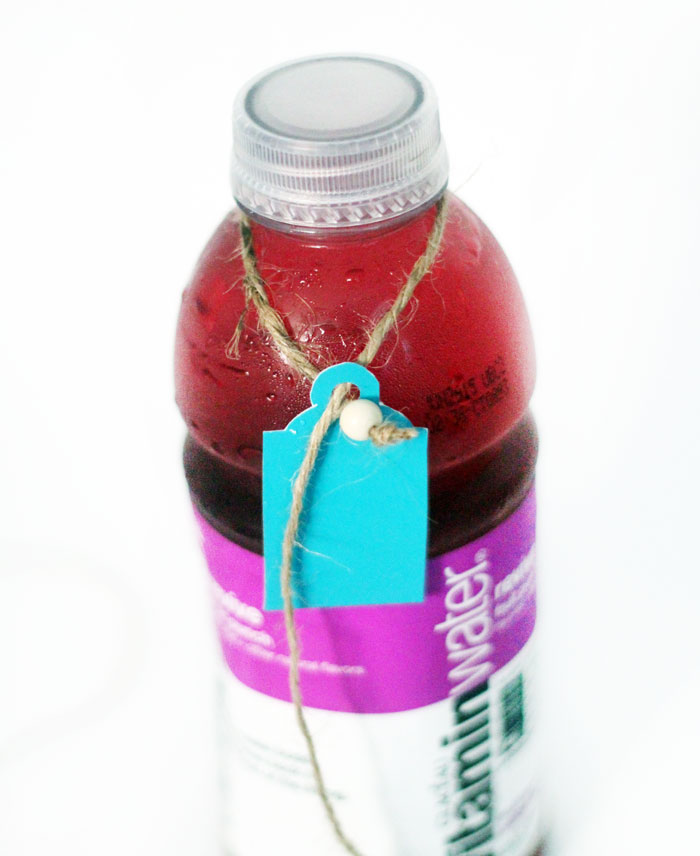 9. Give yourself lots of extra space. Take your ta off, and tie an overhand knot with the loop. Make it tight and trim the tail.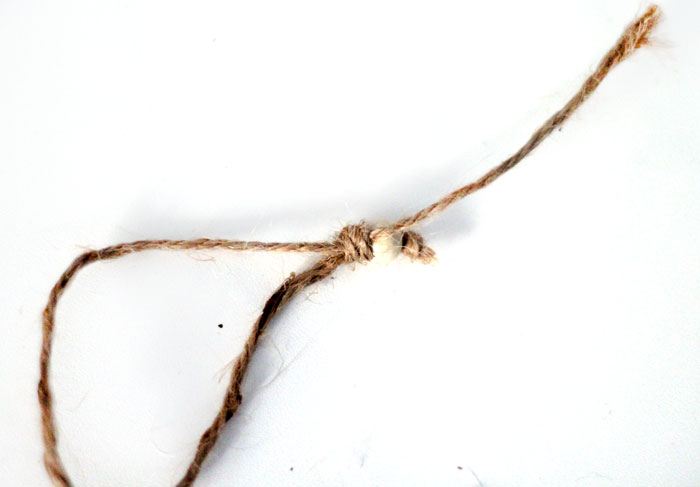 10. Slide your tag back on via the end of the loop.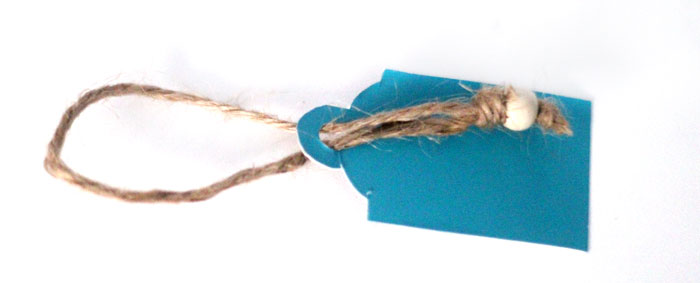 11. Even cuter, no?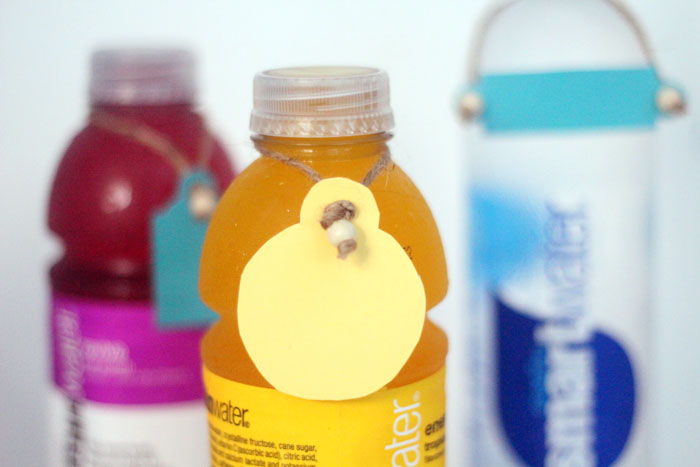 Label your tags using a permanent marker. Do it BEFORE putting it on the bottle as the condensation from the cold will stop the marker from working properly.
As a bonus, you can dress your drinks in these water bottle hang tags, and then use them as place markers for an outdoor party! Clever, isn't it?