Make this easy friendship bracelet that's one of the very first that I learned when starting to make friendship bracelets for beginners. Want another one that's just a touch more sophisticated? Try the (still easy) 3D zig zag friendship bracelet!
---
When you first learn how to make an easy friendship bracelet, you often learn a sequence of patterns.
You can learn to make your own friendship bracelets from the ground up before starting this one, but there's also no reason not to start with this easy friendship bracelet!
Table of Contents: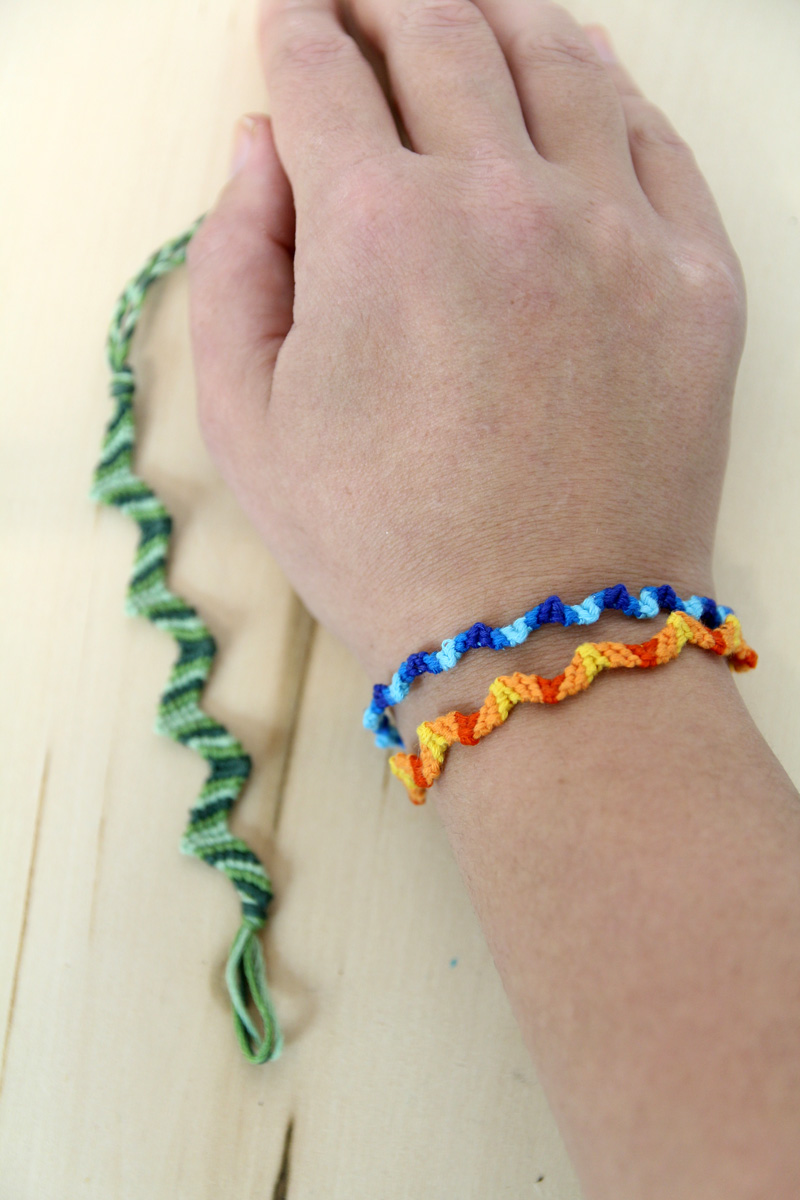 My typical order for learning goes as follows:
Spiral staircase – this can be done with as few as three strands – more on that later!
Candy stripe – this teaches the basic premise of how the knots form the patterns.
Chevron – this shows you how knotting in different directions take on different shapes and dimensions.
For me, the next step was a classic zigzag. This is as opposed to the 3D Zig Zag, which is a slightly more advanced concept in a still easy bracelet. That one has almost flat edges. The Classic ZigZag is sort of a take on the Chevron. However the entire bracelet takes on the triangular shapes and angles.
One simple concept to know when making an easy friendship bracelet as a beginner: as you knot down a row of strings, they tend to tilt downward. This is why the Chevron forms as you knot from opposite directions toward the center.
This is also how the zig zag forms. After you complete one round of rows and you run through your colors, you start knotting from the opposite direction. You keep changing directions after one round of strings is completed.
Because you change directions, it bends into triangular shape.
The biggest issue you'll face with this easy friendship bracelet is curling. It drove me crazy as a knot-addicted tween. I loved those bracelets, and made them twenty colors wide. However they kept folding up.
The easiest way to avoid that happening: use fewer colors!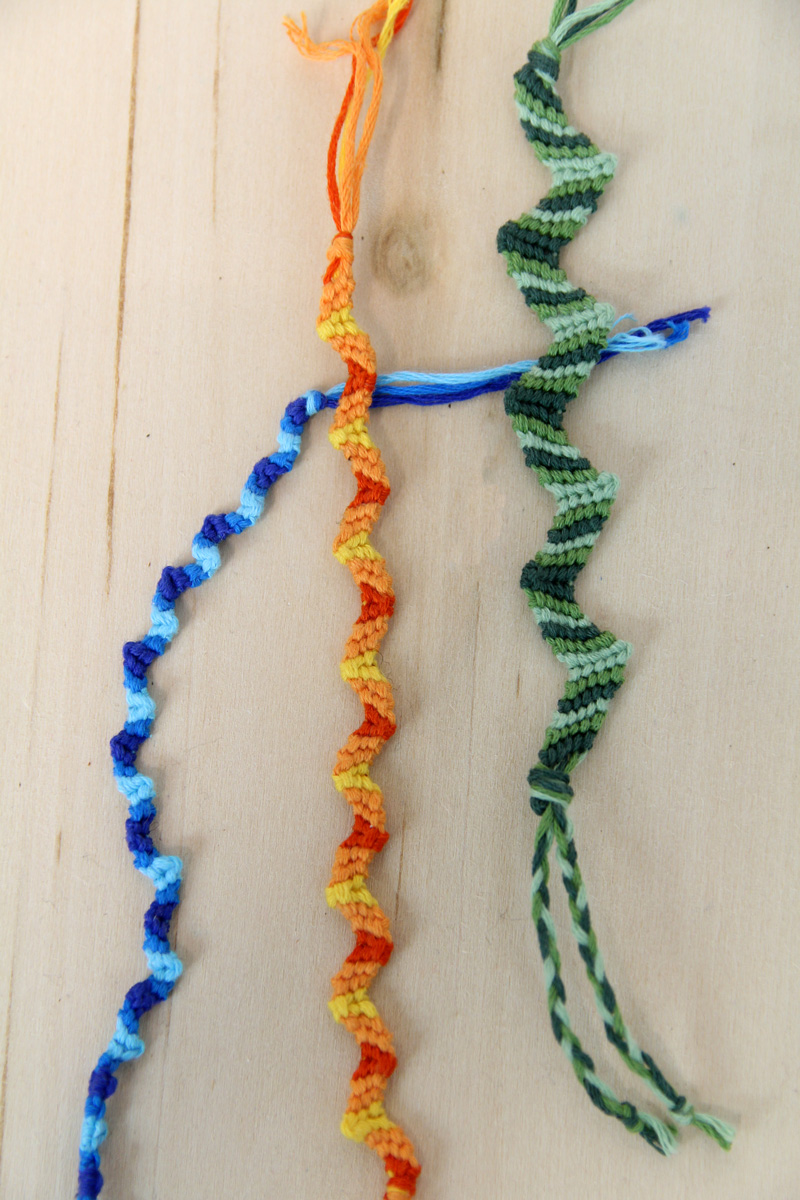 Below, I created a few variations of this easy friendship bracelet, which I'll show you.
Even when I share a classic bracelet, I always try to play a little first to see what the best way to do it might be. So here is my experimentation.
I also wanted to mention that one of my goals in teaching classic friendship bracelet patterns is to encourage you to give more thought to the colors you use! Different colors and shades have different effects, give off certain vibes. You can get really cool effects just through your process of choosing color.
Another important factor of becoming a pro bracelet maker is really understanding the patterns the knots form and not just blindly following patterns.
Six String Easy Friendship Bracelet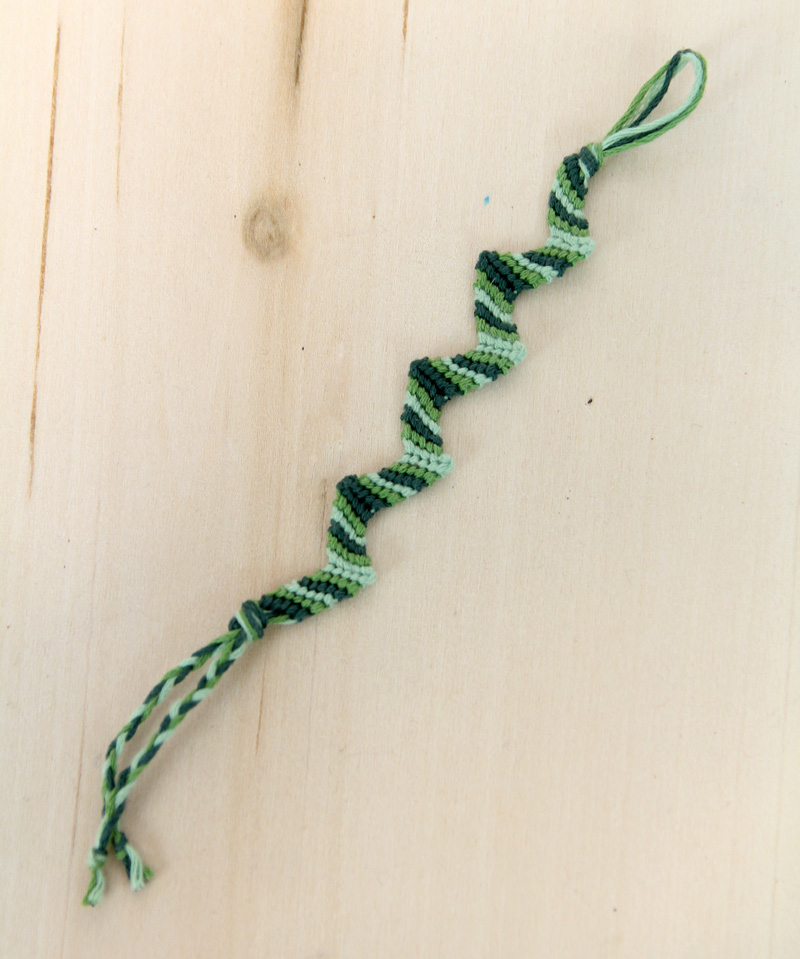 First, I defaulted to my typical crafting patterns, chose an ombre (I love ombres!!) and went with that.
I double knotted each string (the colors are doubled) around each one, and then reversed directions – knotting the last string four times in a row since I changed directions on that one.
Sounds confusing – it'll become clear in the step by step tutorial below. But in a nutshell: this process creates a very sharp V triangle end. I don't love that, but that's the classic way I made it, and this is how my experimentation started.
I also should have just used a six color ombre for a more dramatic effect. While this one does look great, it's lacking that drama that you'll see below.
How to make a 3 string friendship bracelet in a zigzag
There's no denying that the fewer colors you have in your bracelet, the easier it is. However, when making classic striped and patterned designs, you usually want more.
But the surprising thing for me, as I was playing around, was to find that the classic triangle zigzag friendship bracelet takes on a really cool form when made with only three strands!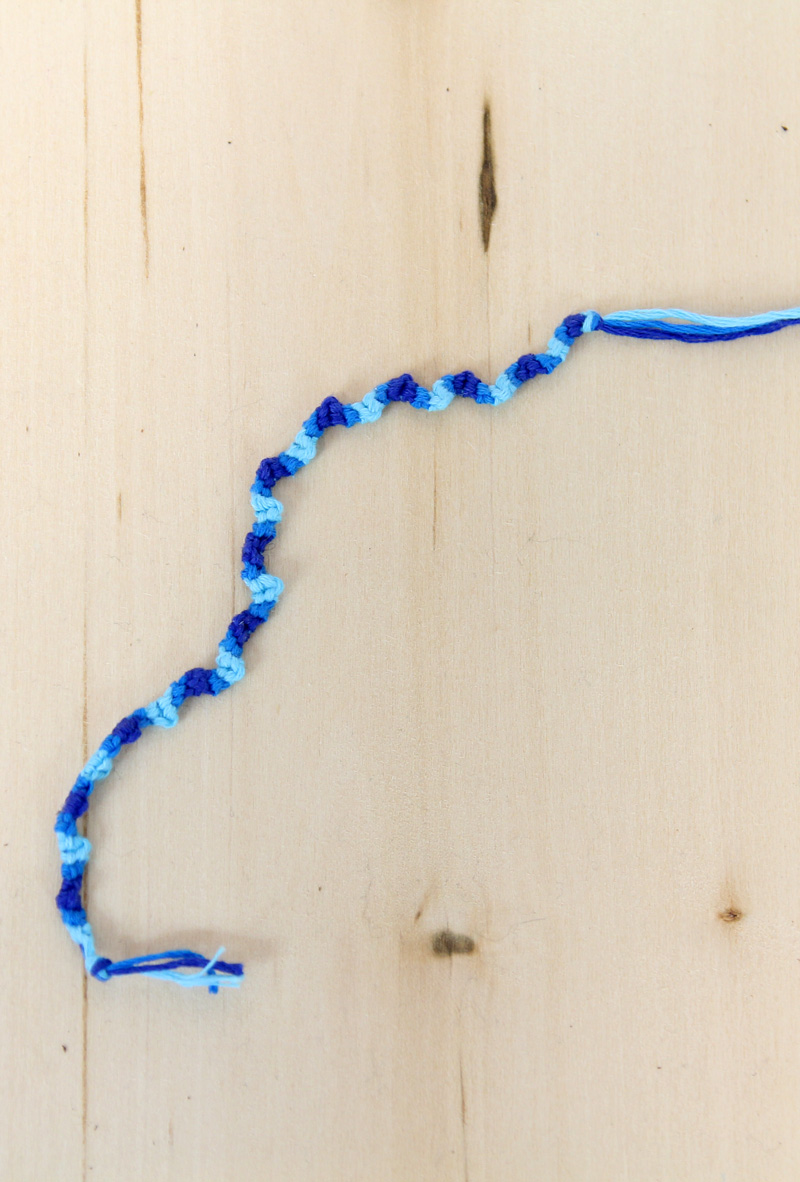 It forms a subtle texture, has that ricrac shape, but doesn't get frayed and curled around the edges. So cool! And really beautiful for stacking.
And not only that, but here, where I worked with an ombre of strings, it also got that 3D effect! Is that awesome? I love working with ombres when making friendship bracelets!
Give an easy friendship bracelet a go with four strings – and a variation
The third and final style that I experimented with doubled the string of the "middle" color that never gets doubled over. It does have the strongest presence in your bracelet as it's used in between each of the other colors.
Here's where I switched things up. Instead of making complete rows and then switching the same string from backward knots to forward, my last knot of the batch was a forward/backward knot, and then I completed the backward row, continuing as I normally would.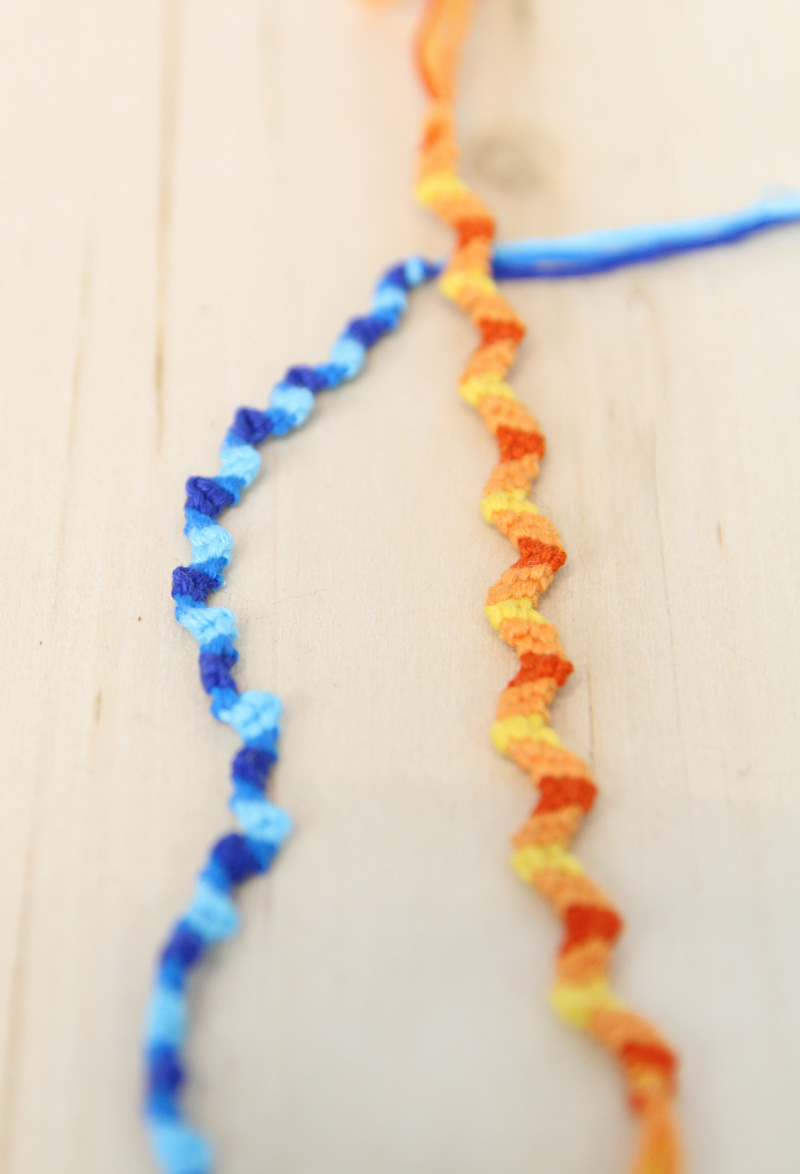 This combines two knots that would otherwise be there into one, and has the simple effect of softening the sharp curve. This lessens curling. It also makes the whole design more wholesome (for lack of a better word). It just flows better.
I'd try this method on the six strand, but ouch, my fingers.
And I did actually try it on the 3-strand but that one was just too subtle to begin with and does better with the original method.
Now, on to the tutorial!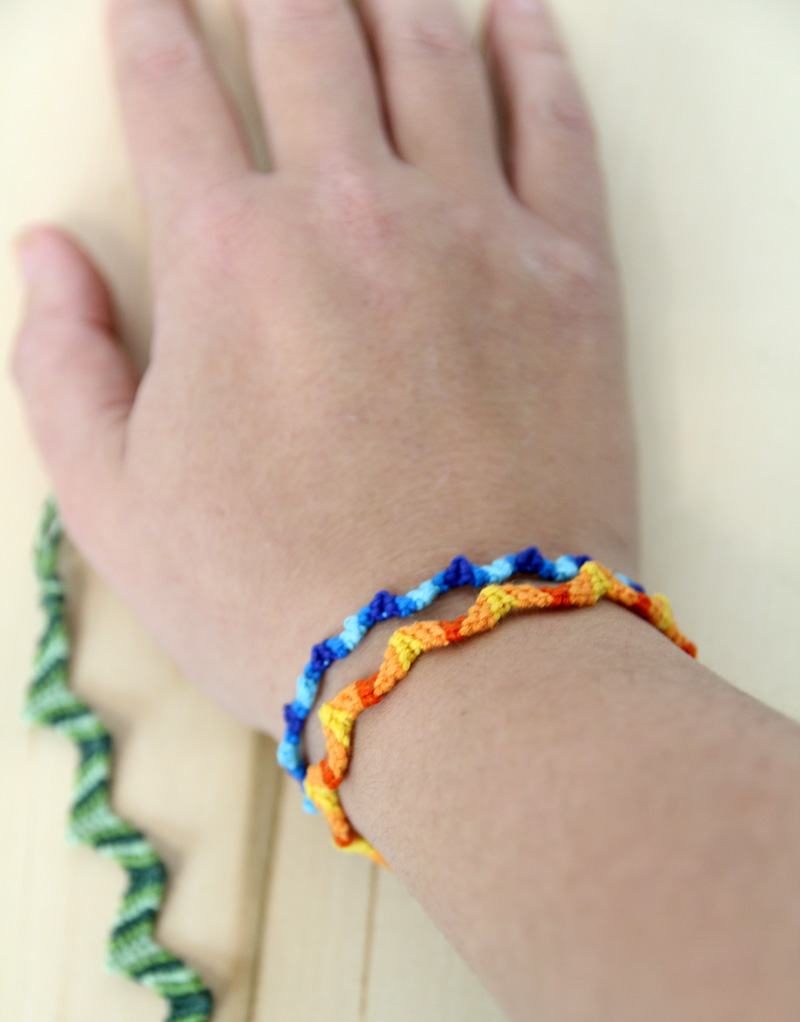 What you need for this bracelet
Embroidery floss – I like to have large rainbow packs of floss handy, with plenty of shades of each color, so that I can pick an ombre that fits my mood.
Scissors
That's it!
How to make this friendship bracelet – step by step
1. Cut your strings to size. I usually hold the string in one hand, spread my arms wide apart as if I'm about to give my five year old a huge hug, and spread the string from fingertip to fingertip. This is a long size to work with but usually leaves me with plenty of string. You don't need to double your stings over unless you're using each color more than once.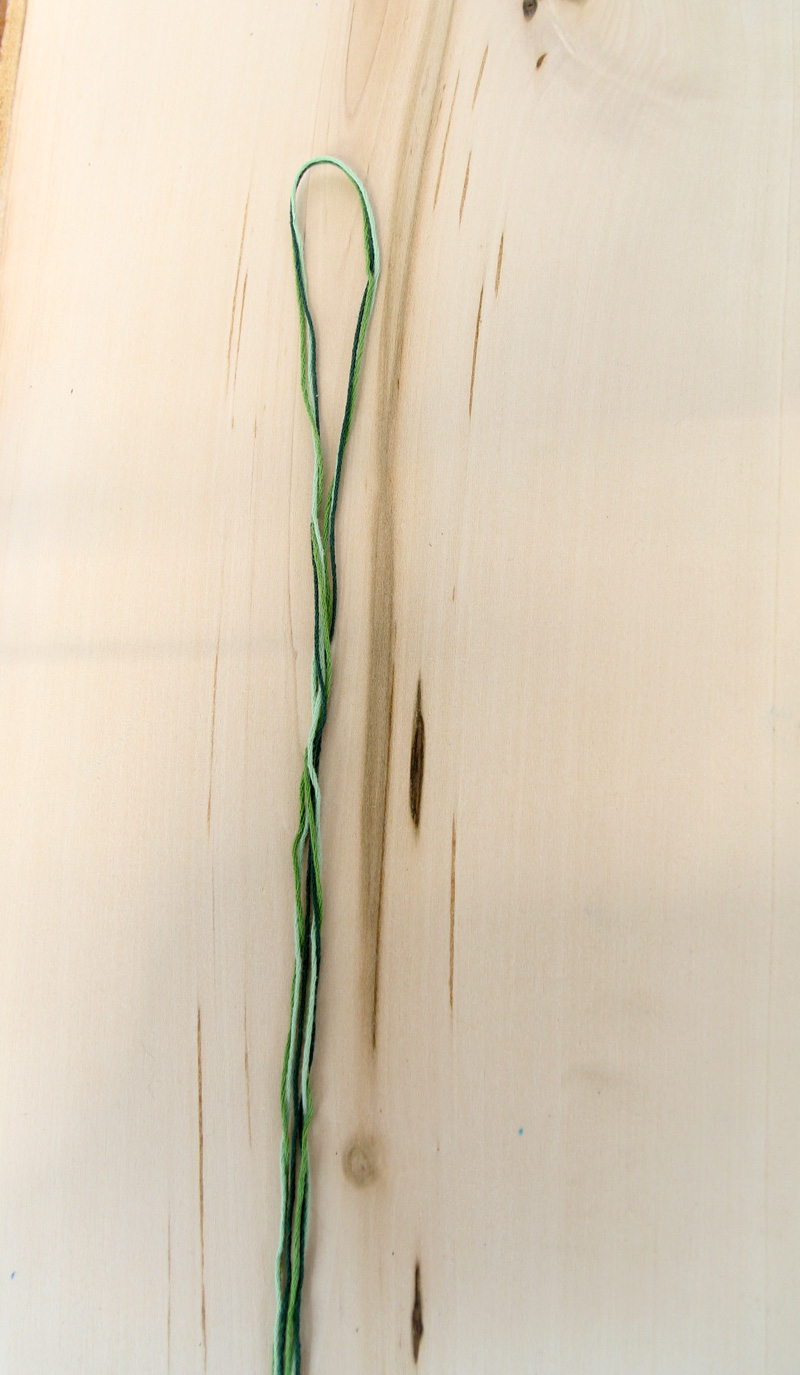 2. Knot your strings together.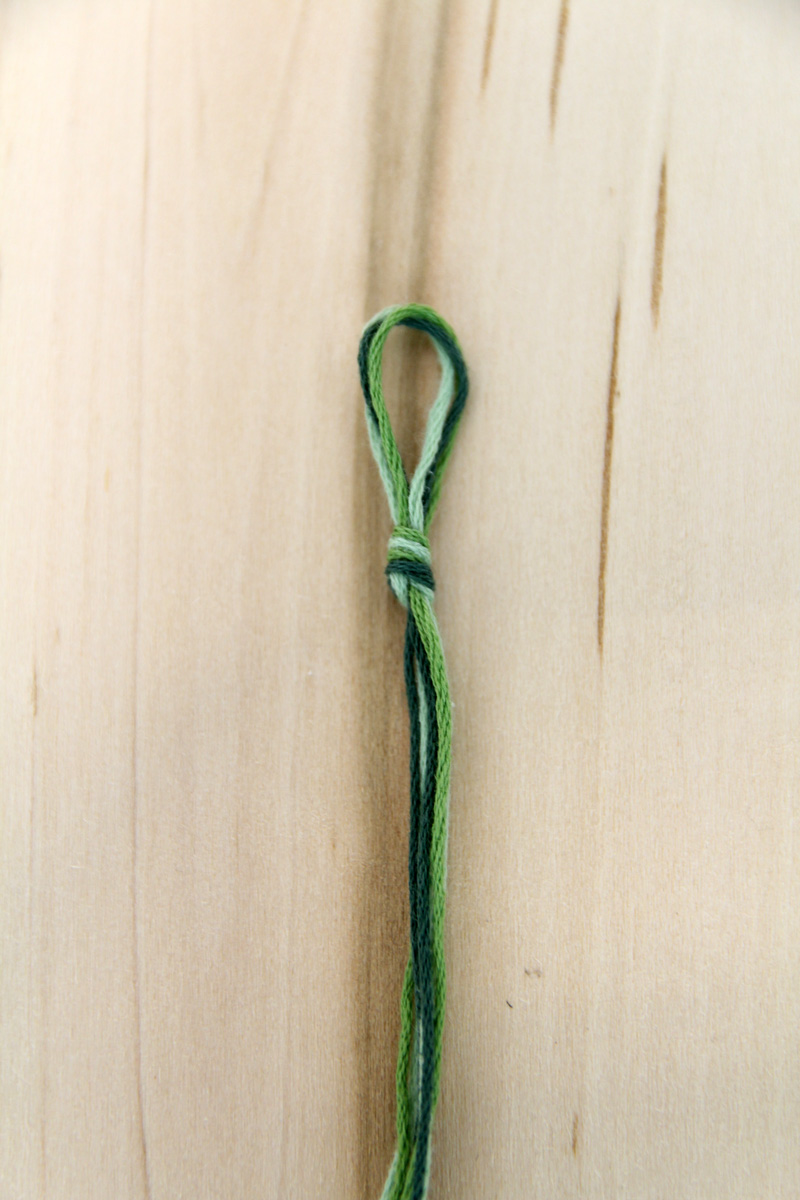 3. Place your strings roughly in order. Your first row of knots is what will really determine the order of your strings. Take your left most string. Make a double forward knot around the next.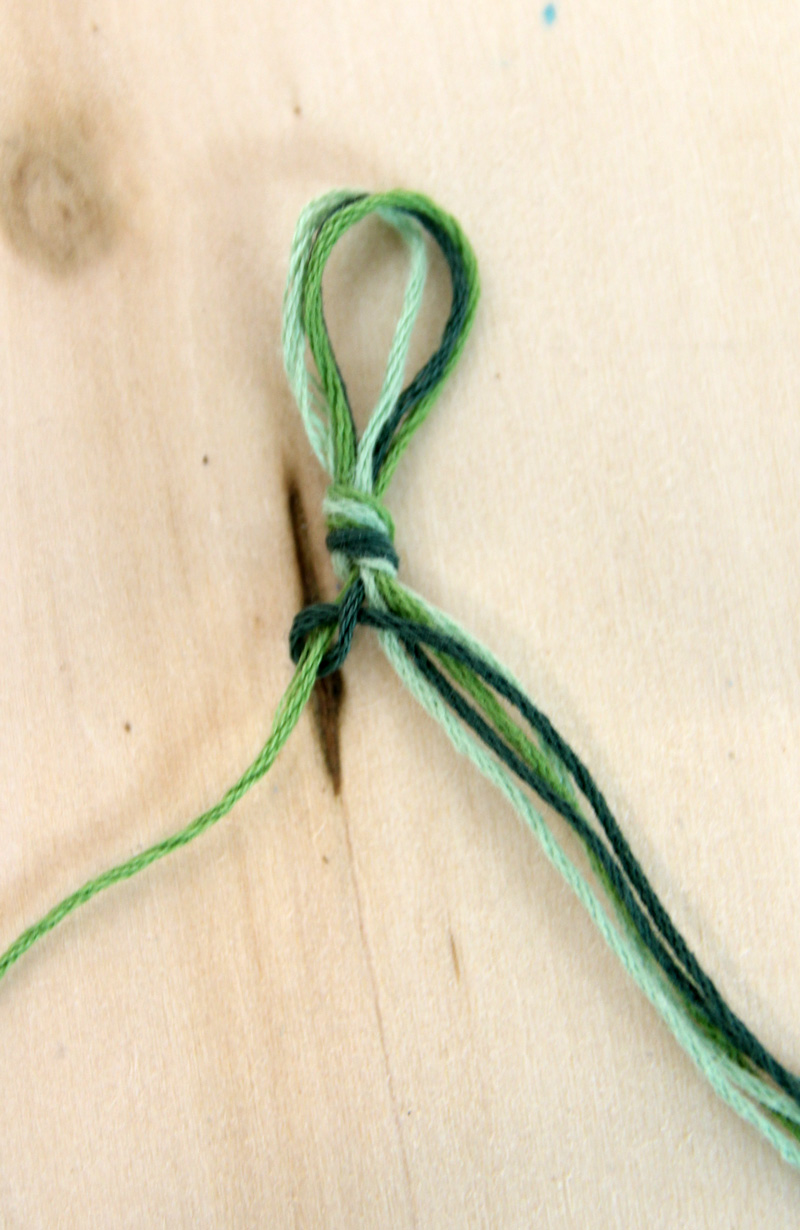 Pull it tight to form your first complete knot.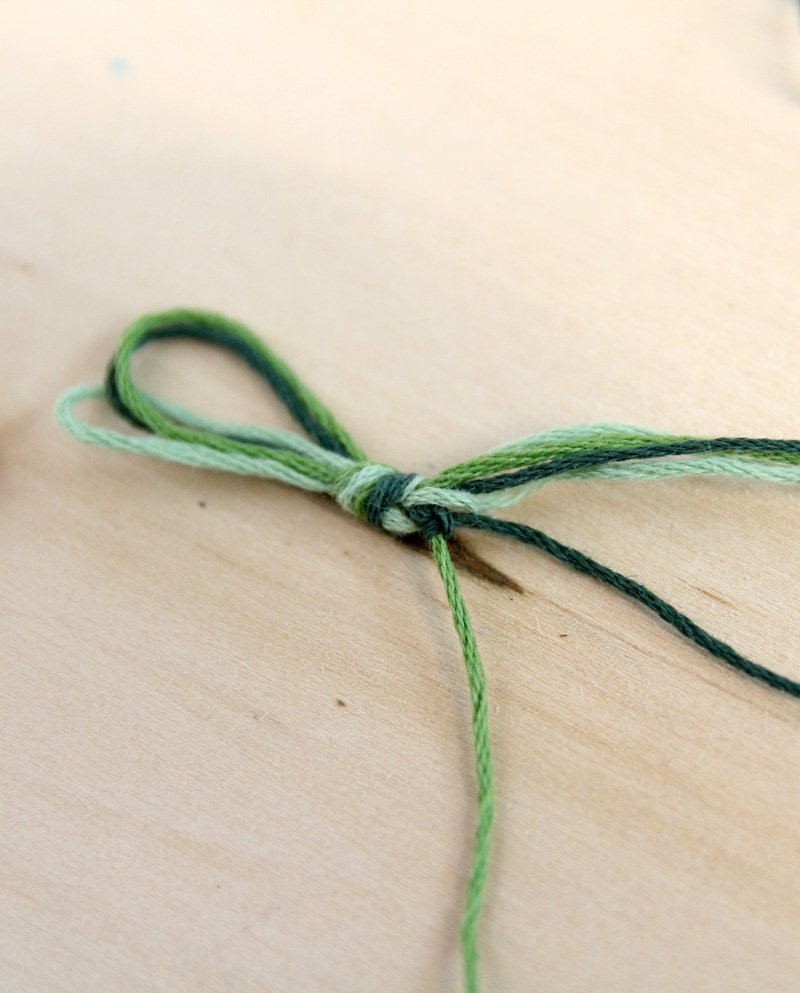 4. With the same string, continue and make a double forward knot around each of your other strings, in the correct order that you'd like the colors to be. When you're done, you've completed your first row!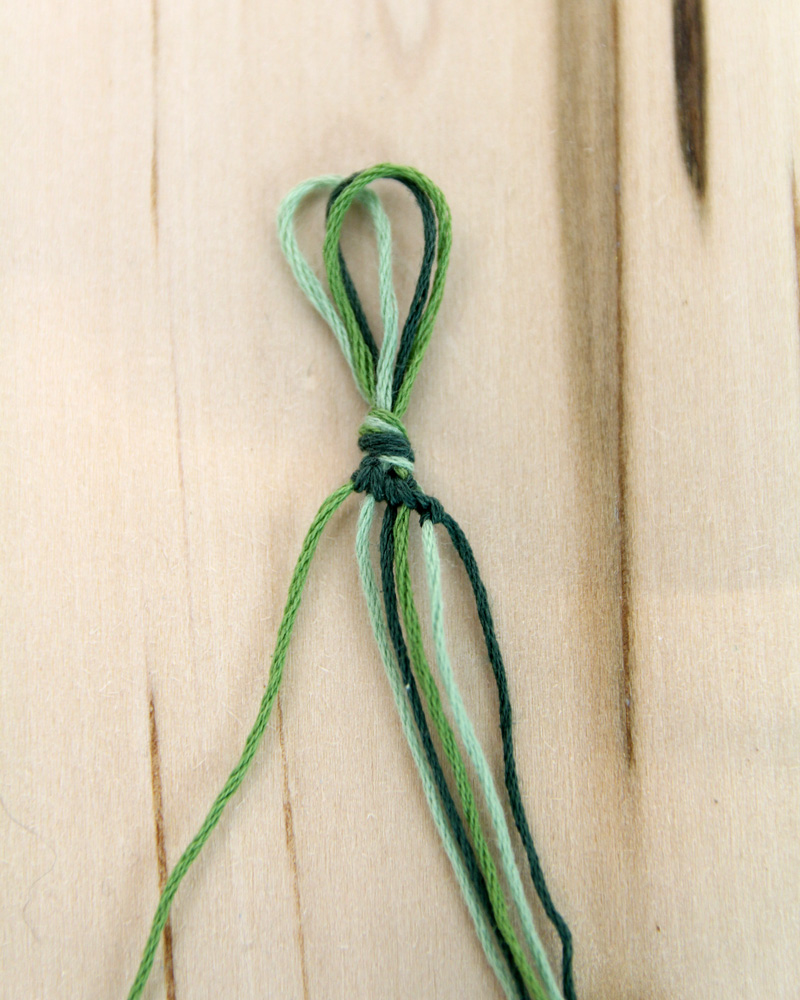 5. Take your next leftmost string and double forward knot around ever string in the row. Continue until you've completed all your strings. Since I doubled my colors in this pattern, it means I did each color twice but each string once.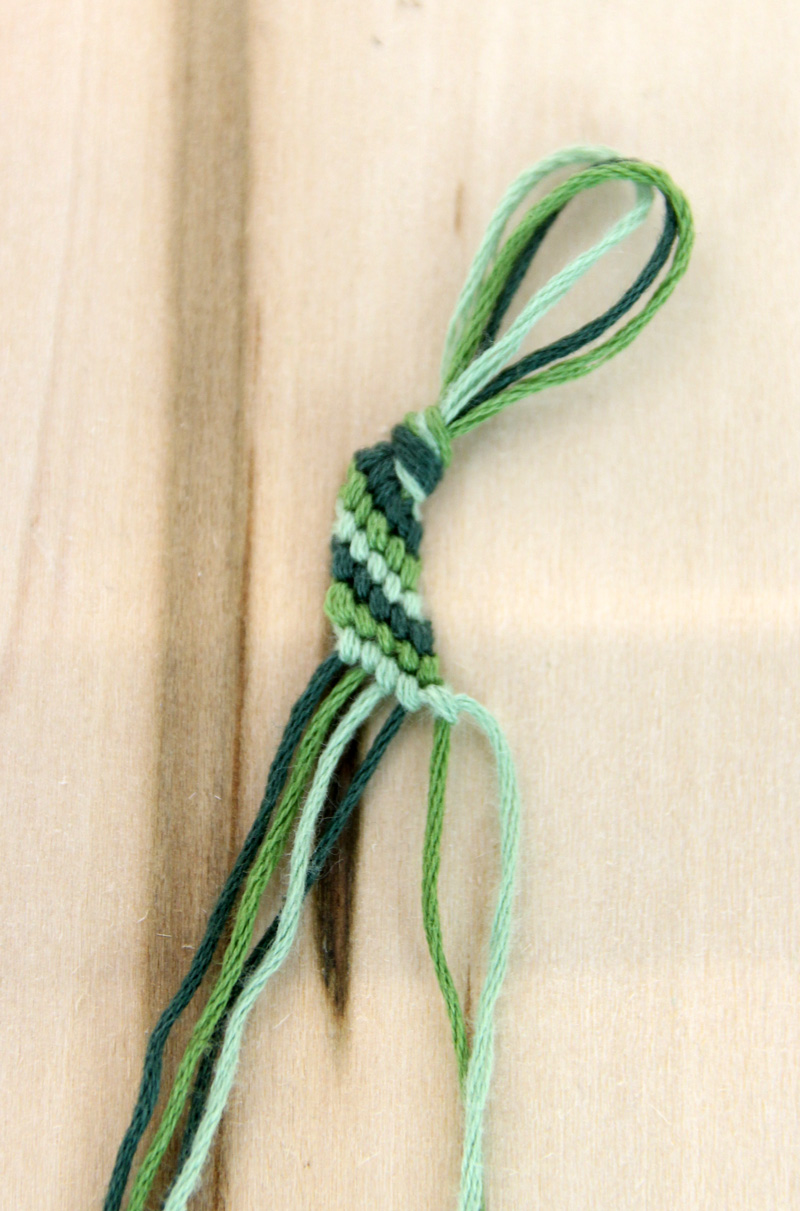 6. Now you're going to reverse course. Take your RIGHT string – the last color you knotted and make a double backward knot around the one to the left.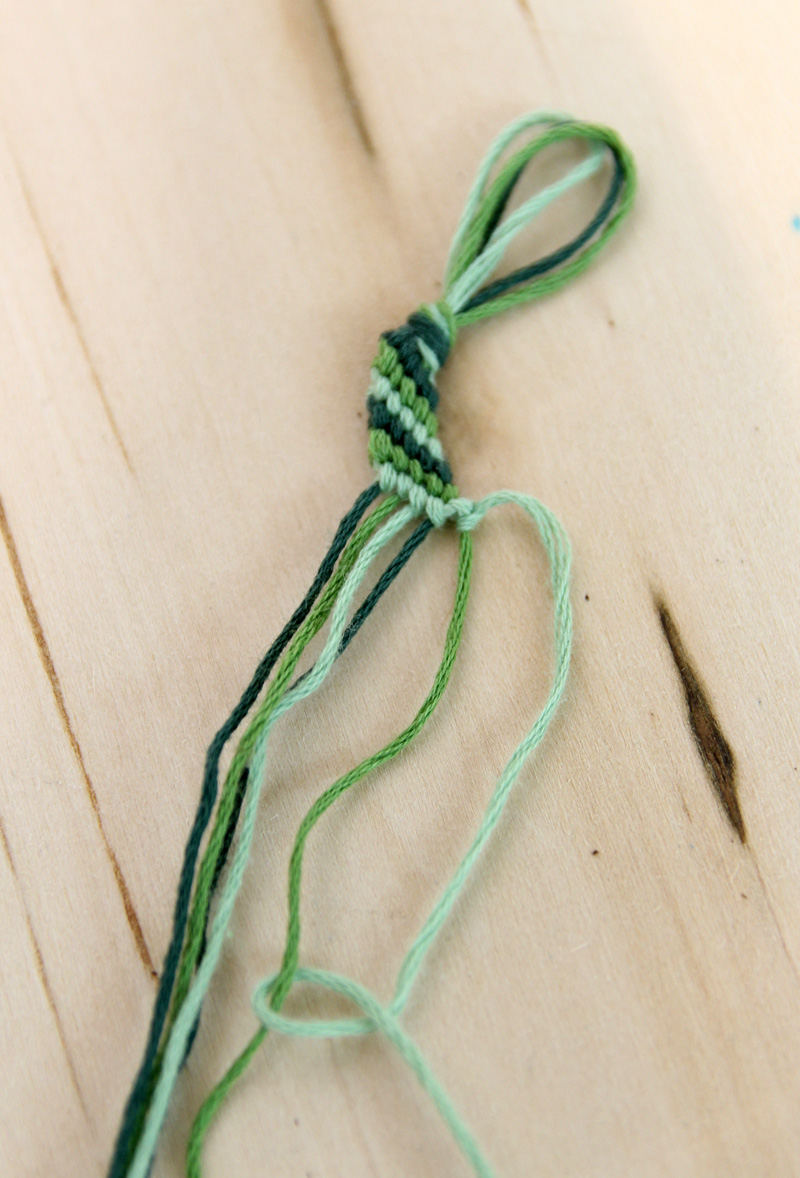 7. Keep making backward knots around each string, in order from right to left.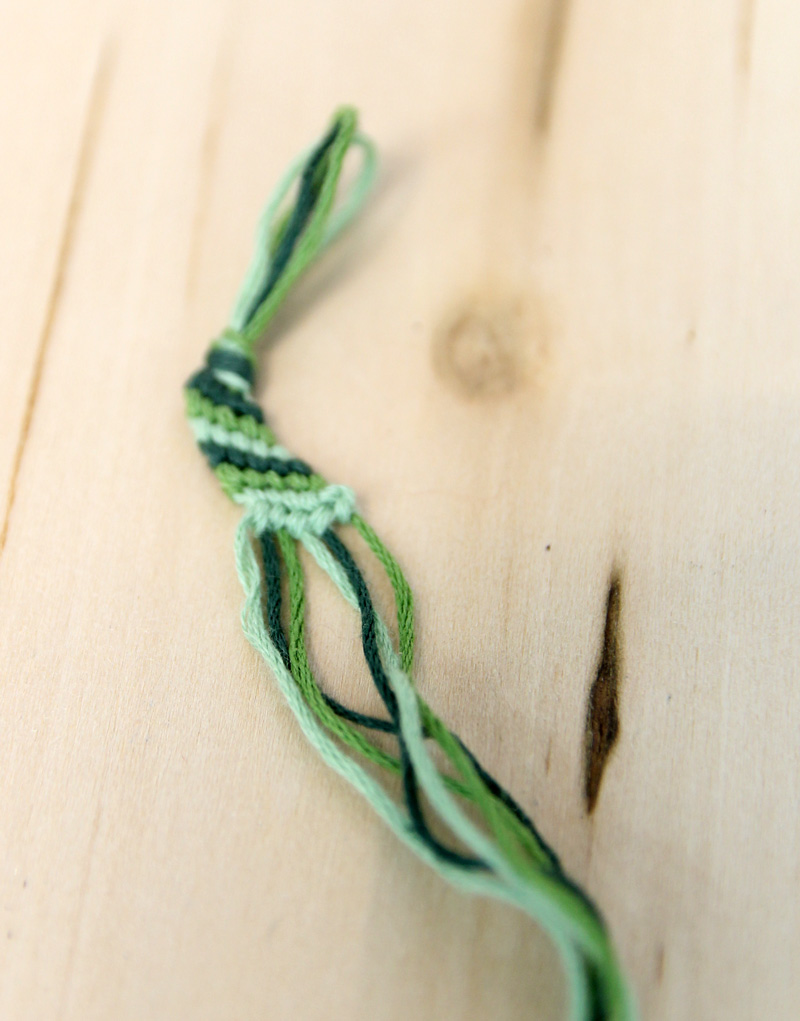 8. Take your next color on the right, backward knot a row. Keep going until once again you've completed all your strings. Then you'll take your leftmost string and start all over…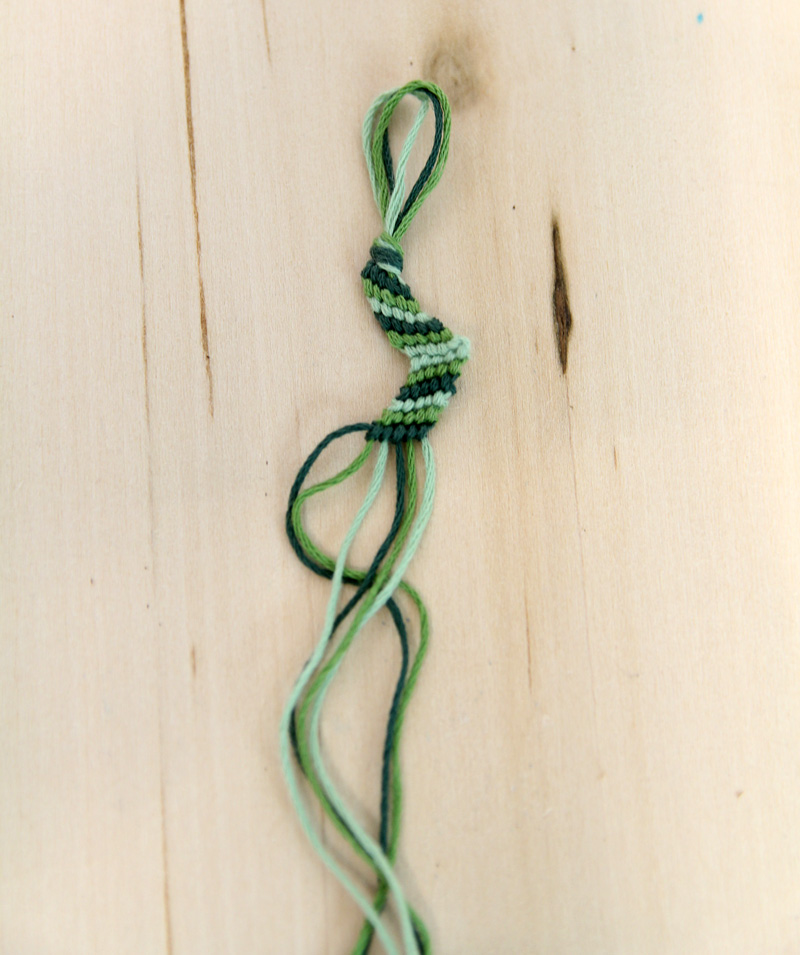 How to make your angles less sharp so they don't curl as much
1. Start off knotting each of your strings with forward knots from left to right until you get to the last string. For the last string, when you get to the end knot of the row, you'll be making a foward backward knot. First, knot once forward around the next string.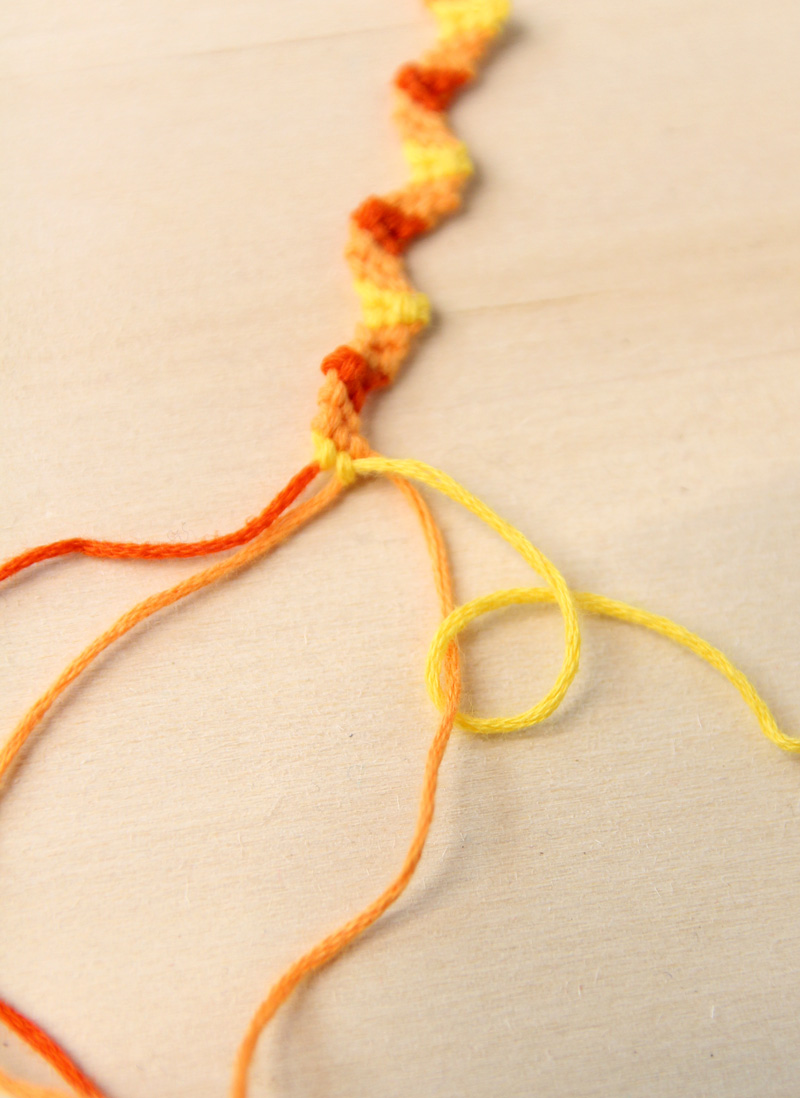 2. Then with the same string, knot backward around the same string.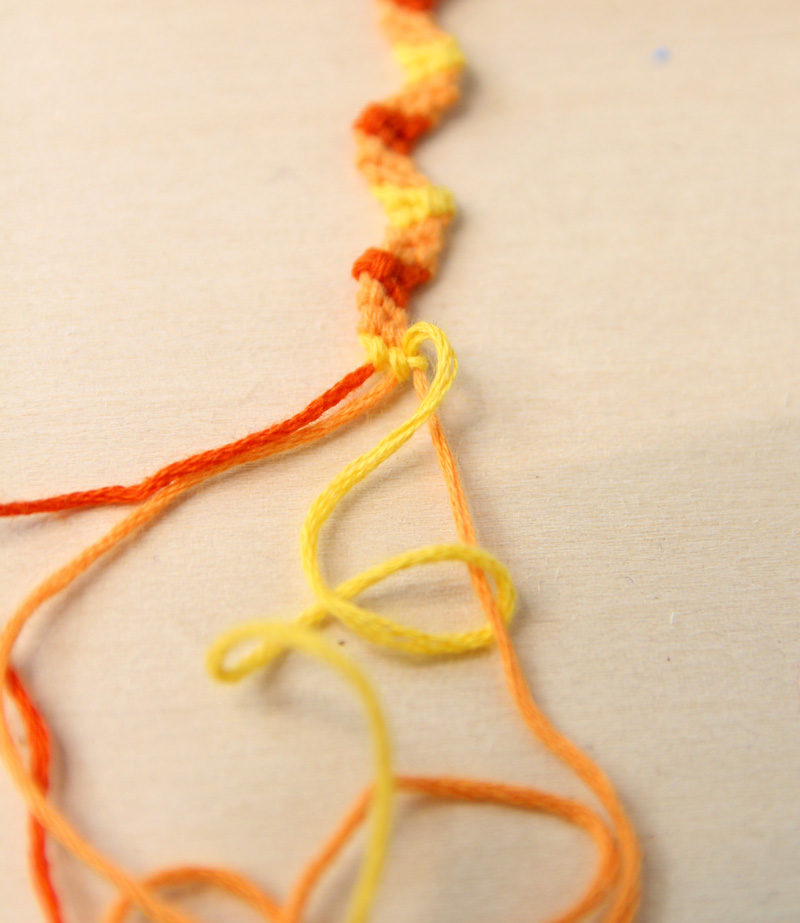 When you pull it tight, it forms the same "stitch" that a complete knot forms, only now your string is in the same position it was in before the knot.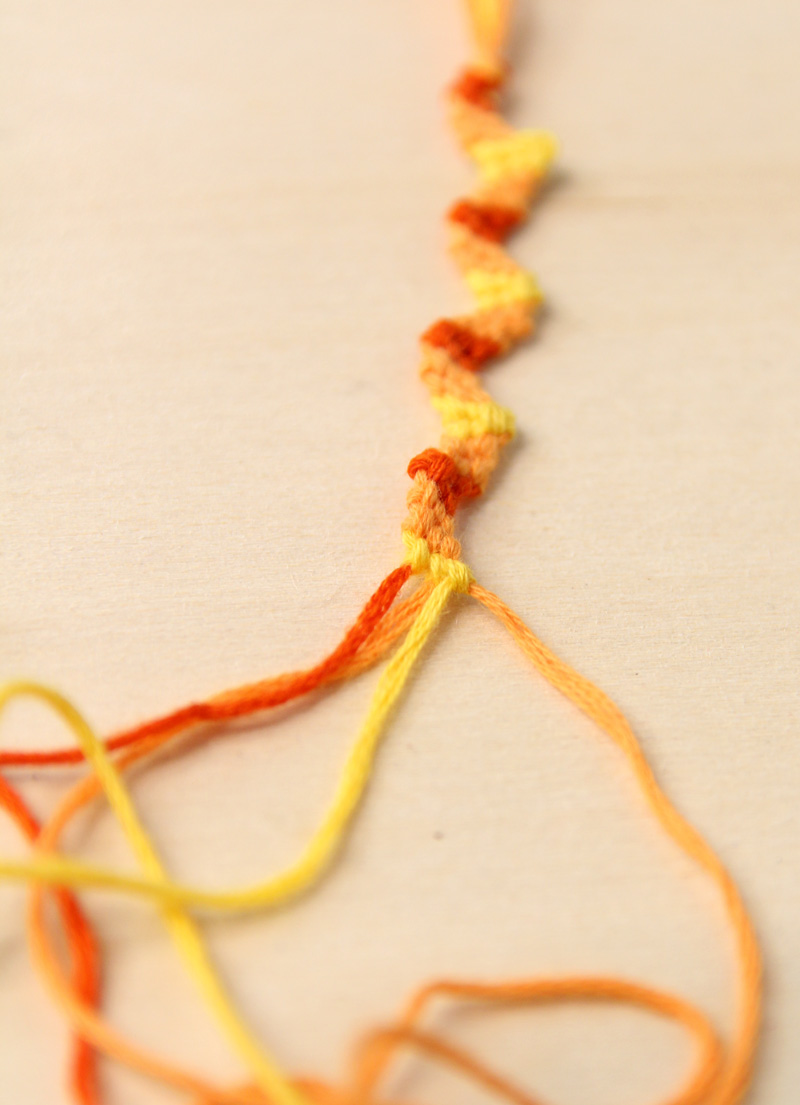 2. And you can continue knotting backward knots on strings to the left, as you changed directions.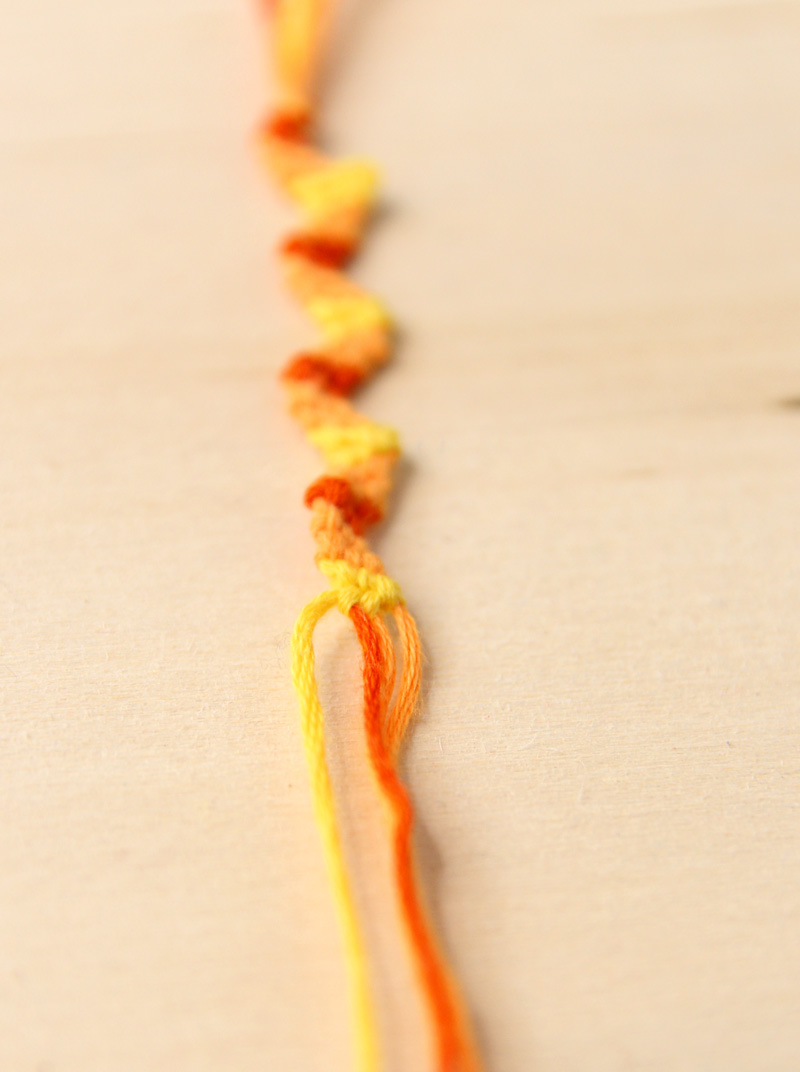 3. Continue knotting your threads from right to left in backward knots until you reach the last one of the last row, and once again, knot a backward/forward knot to change directions.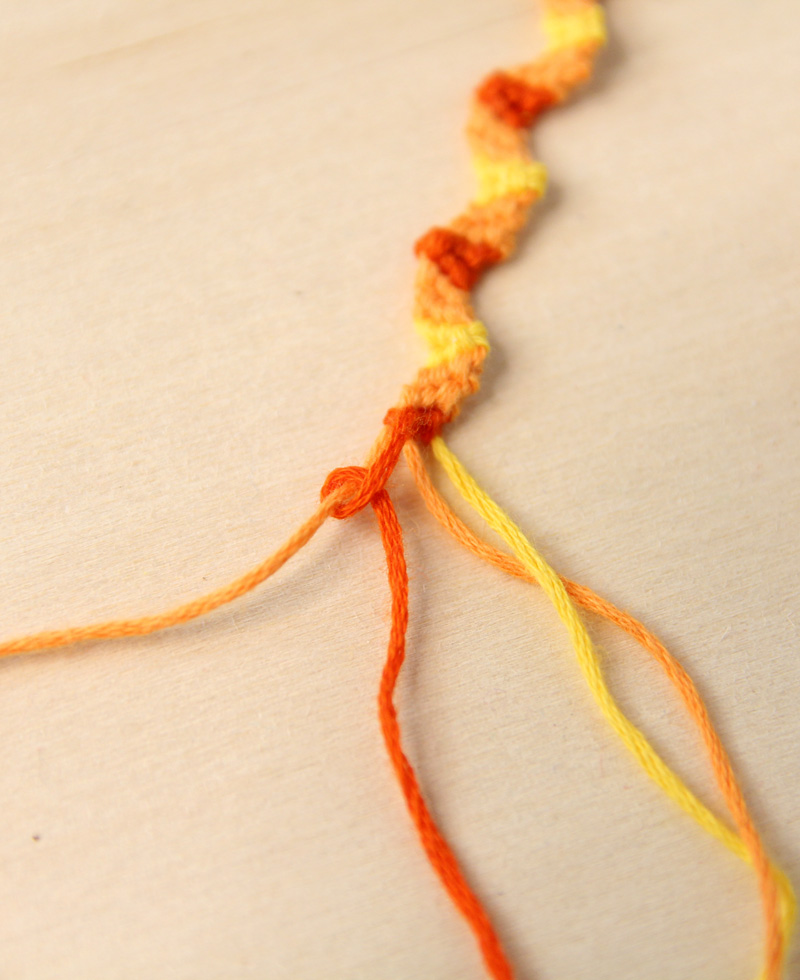 You've completed this easy friendship bracelet in a zig zag shape! What's your favorite friendship bracelet pattern for beginners? Comment below!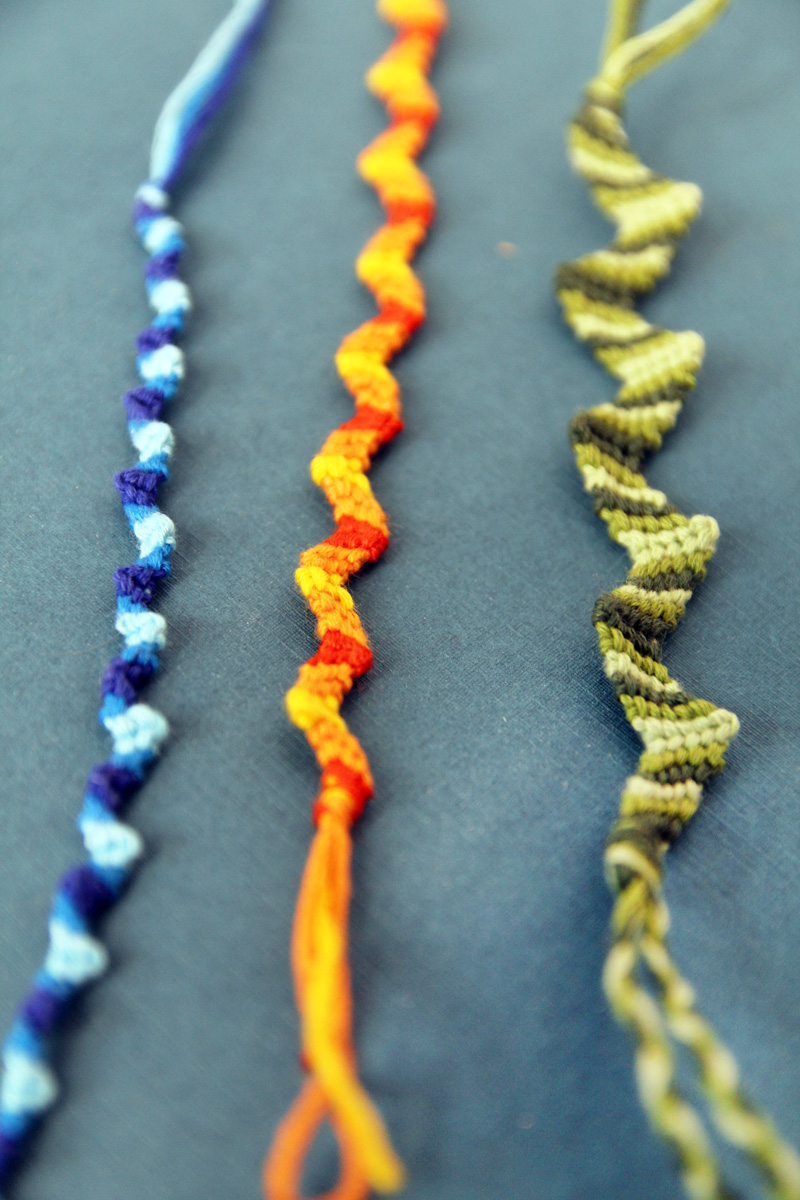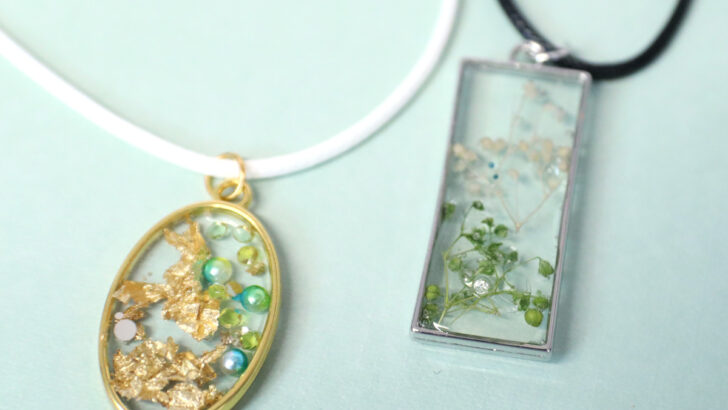 Learn how to make a resin pendant with flowers inside – or other fun embellishments! When you're done, learn how to make resin earrings too. …