When my clothespin paper puppets went viral on Facebook and Pinterest, I was pleasantly surprised. But what really amazed me was all the amazing ideas people had to do with them – one of which inspired this "Feed the Monster" fine motor game, using a monster version of free printable clothespin puppets.
Disclosure: This post contains affiliate links.

In this post you'll find a fun new printable version of the original clothespin puppets, and a unique new way to play with it. The fine motor activity is perfect for both sets, not just the new one, and is a game with no age limit.
First of all, I need to start by giving credit where credit is due. My friend Tove of Mama in the Now suggested that I make a "Hungry Hippos" inspired game to play with these.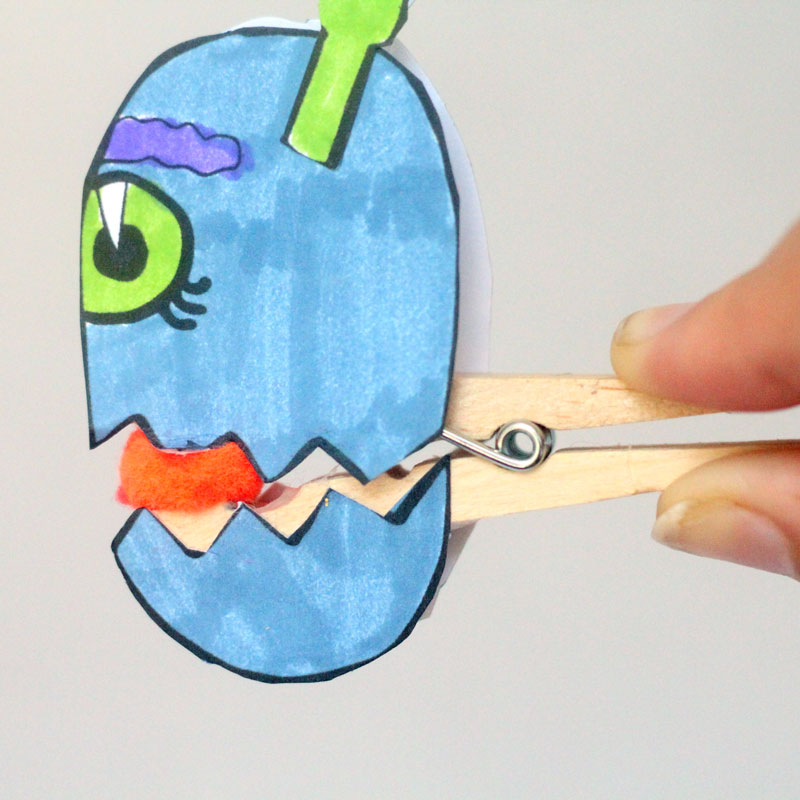 Obviously, you can still use these as regular puppets – those have so many play benefits too, if just creating them isn't enough for you…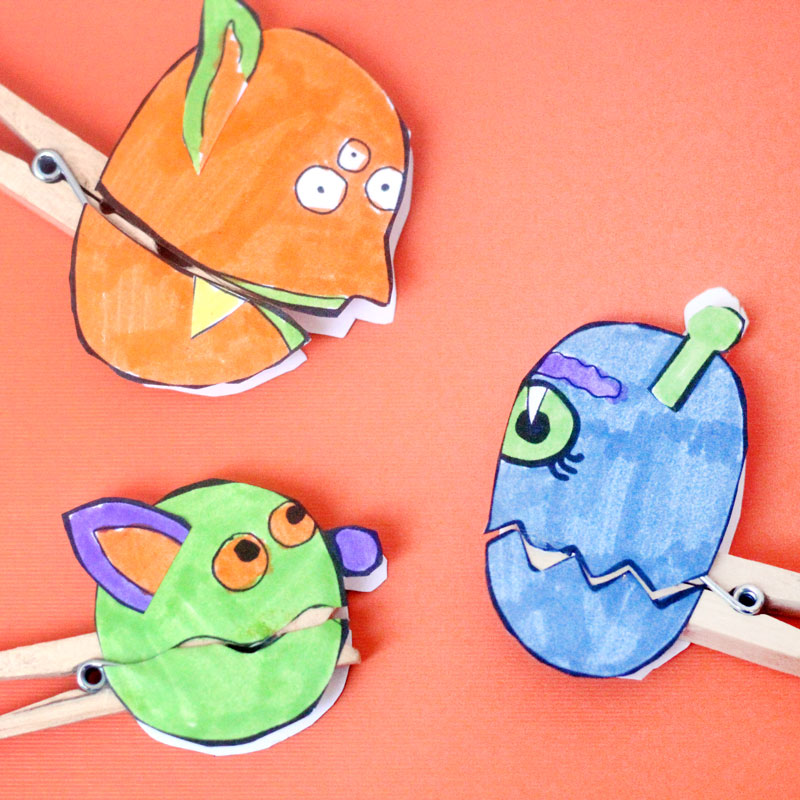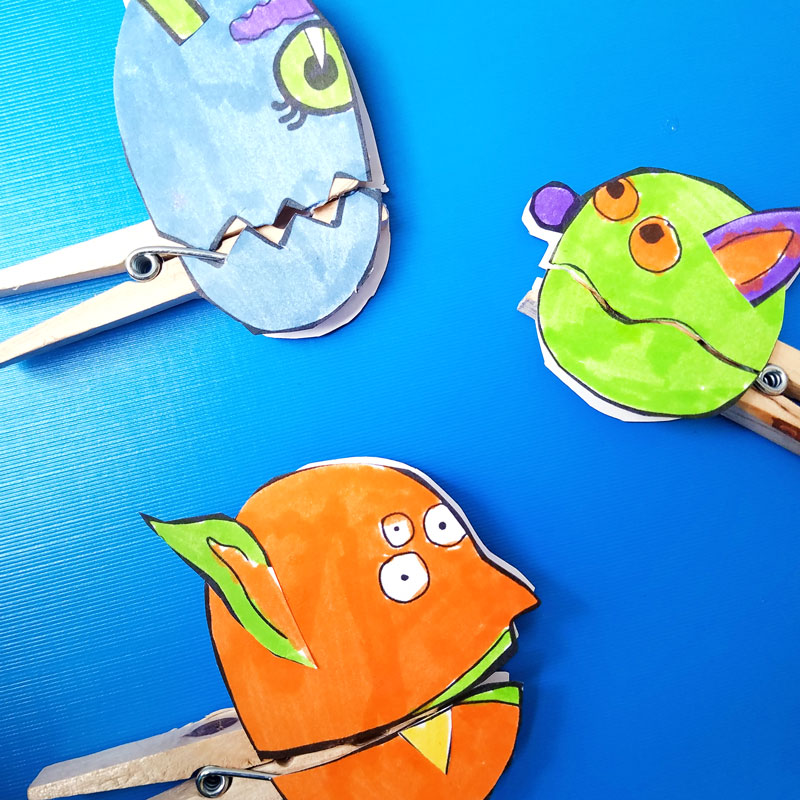 How to play the Feed The Monster game:
The brilliance of it is not just the fine motor practice and pincer grasp angle of it, but the fact that you can alter the rules for any age group. Here are some "game play level" guidelines:
Level 1:
For very young kids, simply have them transfer pom poms from one dish to another using the monsters. I allowed M to spill out a dish of pom poms and "clean them up".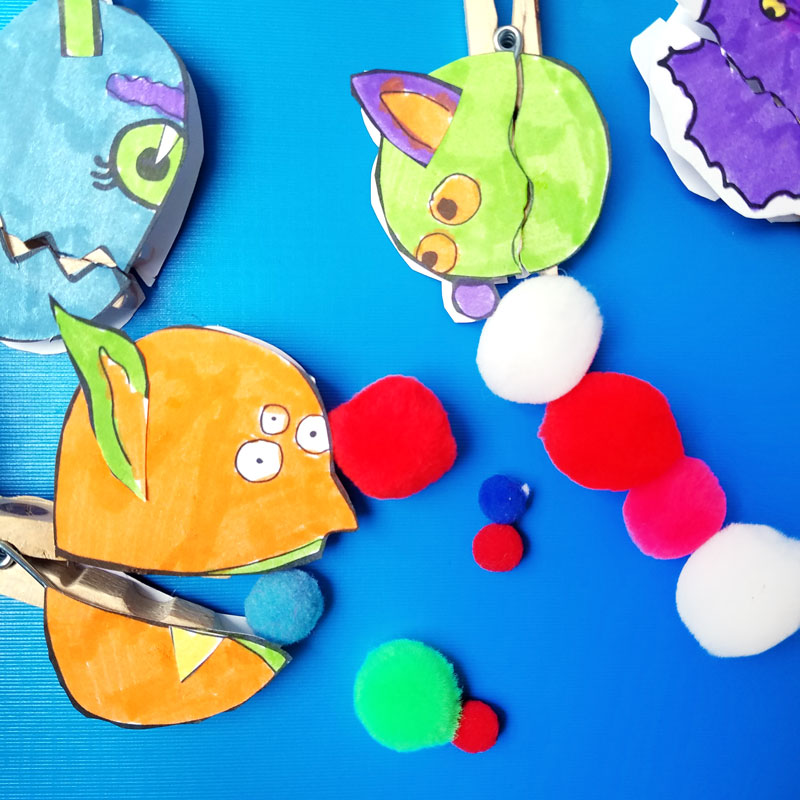 Level 2:
Up the challenge a bit by adding a "competition" aspect. It doesn't need to mean a competition between kids if you don't like that. You can simply set a timer, and have your child see if she can beat her own records.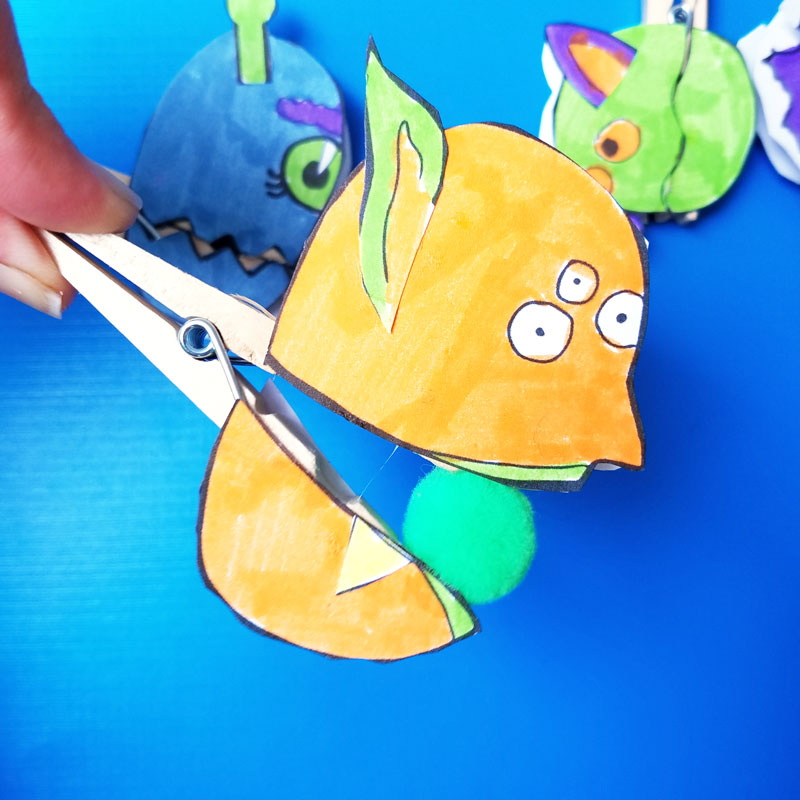 Level 3:
Bring in the peers! Turn this into a classic board game where every player has a monster, and they all need to go at those pom poms. You can even have a scoring system – the larger the pompom, the more points you get. See who has the most points at the end.And of course, it's not enough to just grab the pompom, the kids need to also successfully deposit them into a dish of sorts.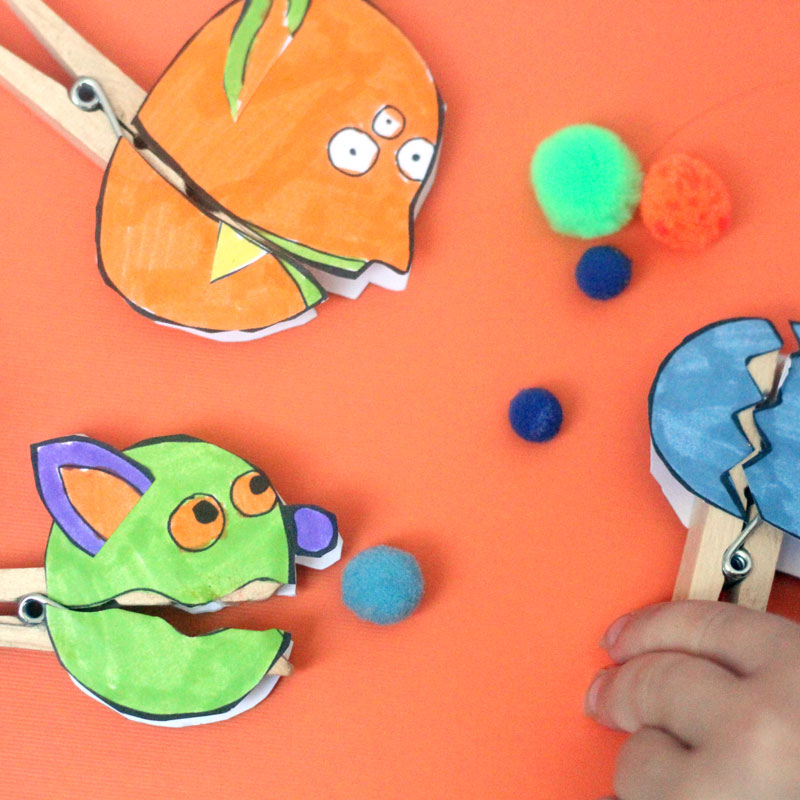 Looking for another fun monster activity for a monster theme? Check out this fun process art activity for preschoolers!
What you need to make monster clothespin puppets (and to play the game, of course)
The template, printed on card stock. Download it below. Check your inbox (and spam folder) for your private download link. Note: it expires in 48 hours, so download it right away even if you plan to make it later.
How to Assemble your Monster Clothespin Puppets:
Watch it in action in the video below, or scroll down for the step-by-step photos:
1. Color your puppets. Choose your favorite "add-ons" – teeth, horns, ears, etc. and color those to coordinate.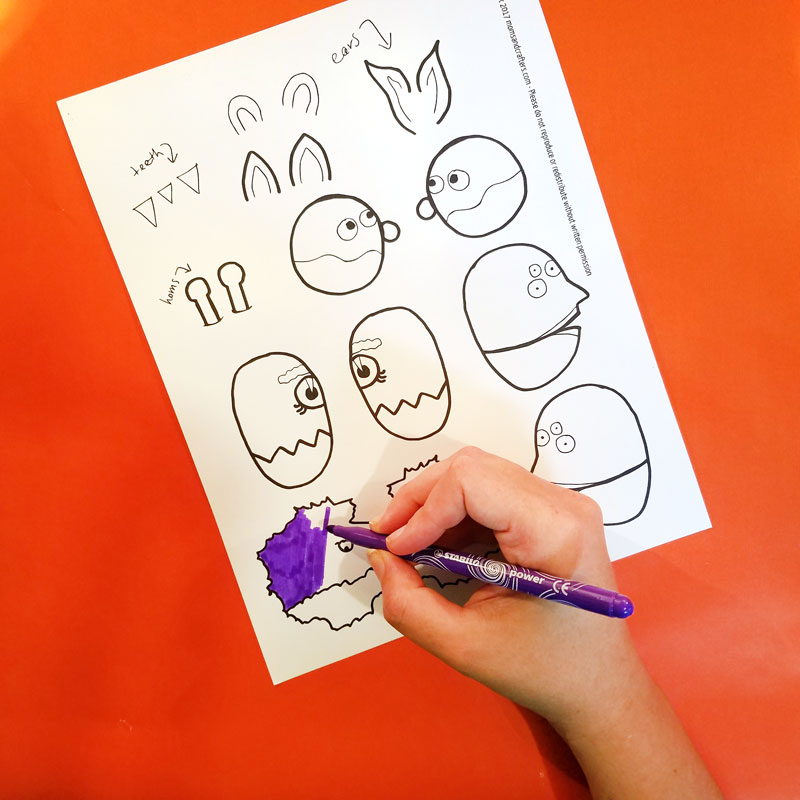 2. Cut them out. On the "furry" monster, younger kids can just cut around the general edge. People who like to get more exact with their crafts can go around the whole complicated edge.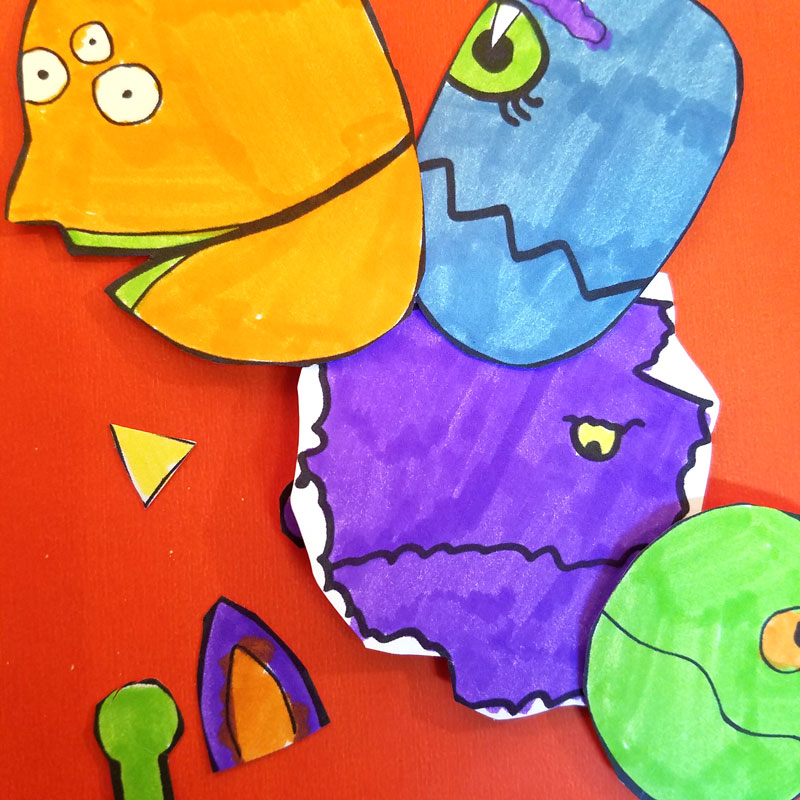 3. Cut the puppet in half on the line! Here you do want to get every detail.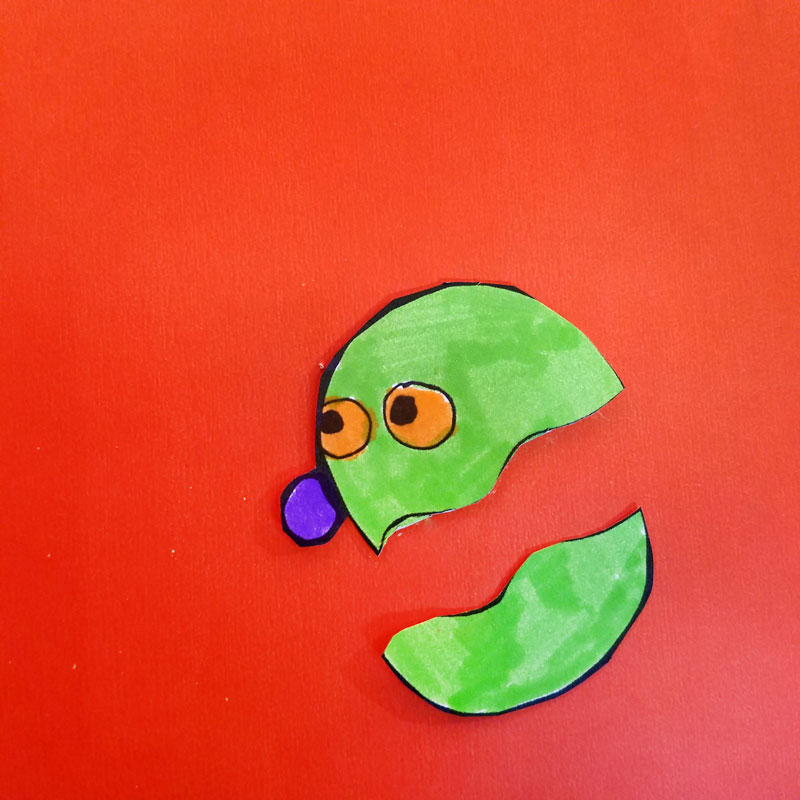 4. First assemble your "extras" – glue on teeth, horns, and ears.
5. Then, glue the top half of the puppet to the top half of the clothespin, and repeat with the bottom. Make sure the teeth/jagged edges line up nicely for best results… If you want you can make these back to back (I provided the mirror image in the template). This will make it easier to pick up pom poms – but harder to let them go, as they get caught between the layers.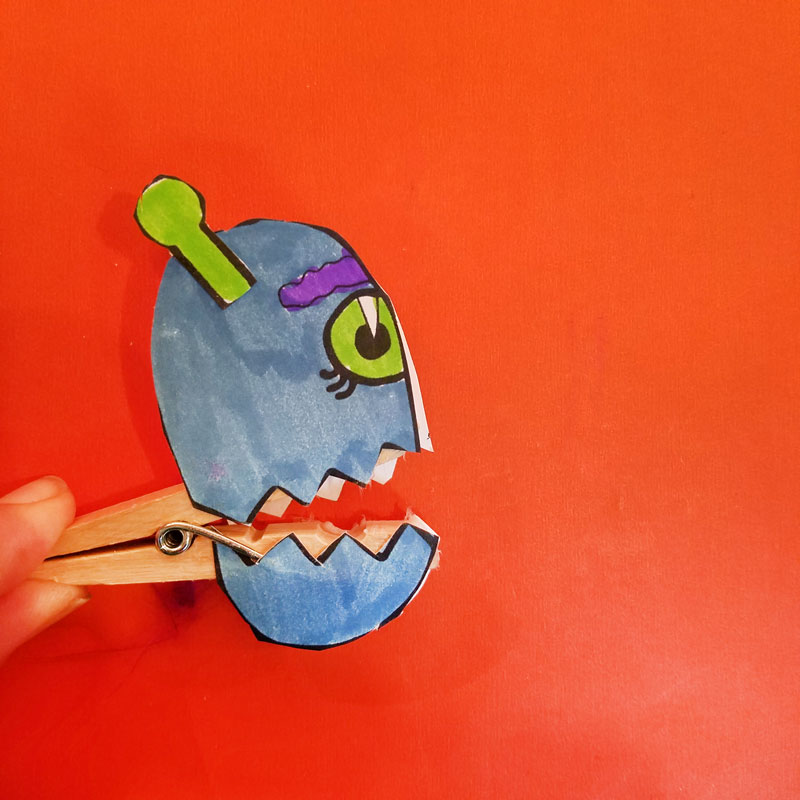 6. Let them dry completely before attempting to play.
Once these monster clothespin puppets are dry, they are ready for playing the fine motor game! Spill the pom poms out and start grabbing your stash – feed those hungry monsters!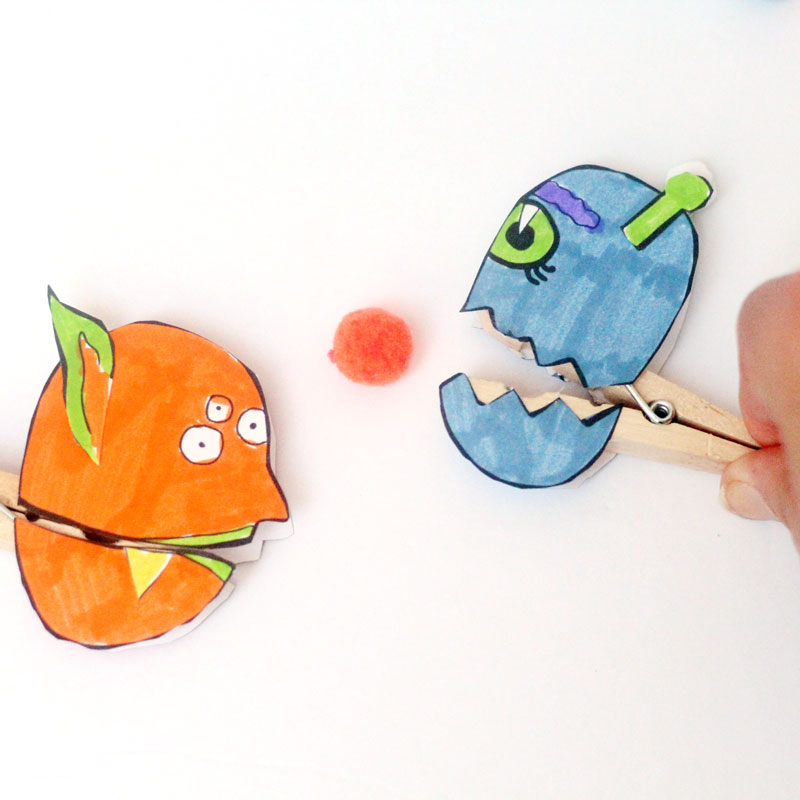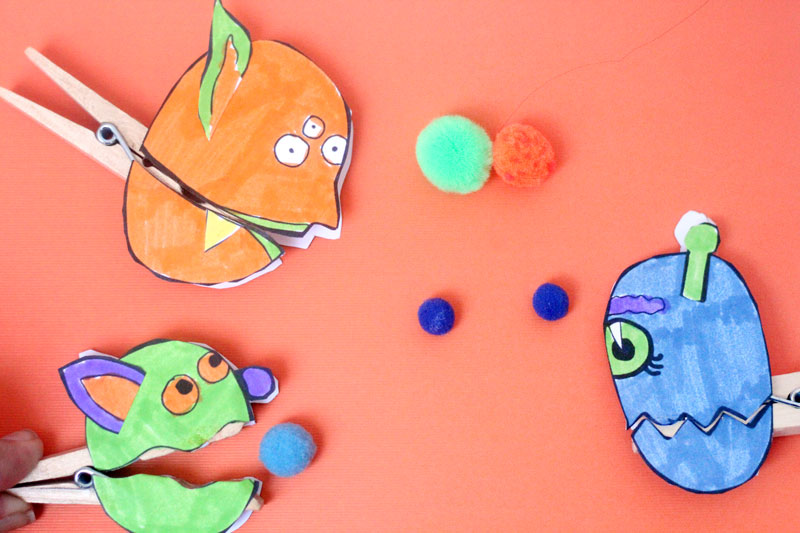 What is your favorite part of this fine motor activity? Will you be creating the monster clothespin puppets for pretend play or to use in this game? Comment below!
Just a reminder, if you're still looking for the template, you can download it below: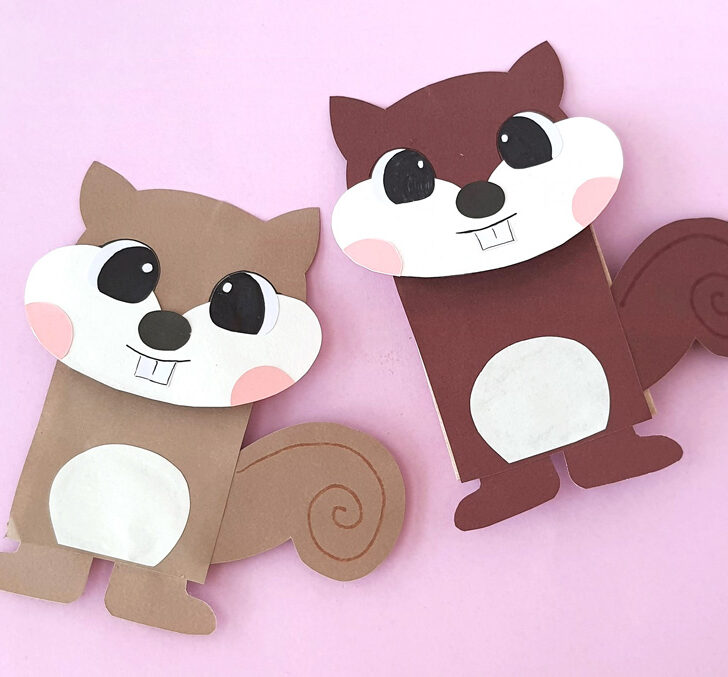 Create these adorable Chipmunk Puppets for some imaginary play this fall! When you're done, add to your animal puppet collection with this Paper Bag Bunny …