Soon after we bought our current home, my husband and I converted this weird tiny room/walk-in closet into a craft room for me, but we still had one serious issue to resolve, that makes all the difference between a craft room in a closet that works and one that doesn't. Disclosure: Thank you Jasco for sponsoring this post and solving my biggest craft room problem!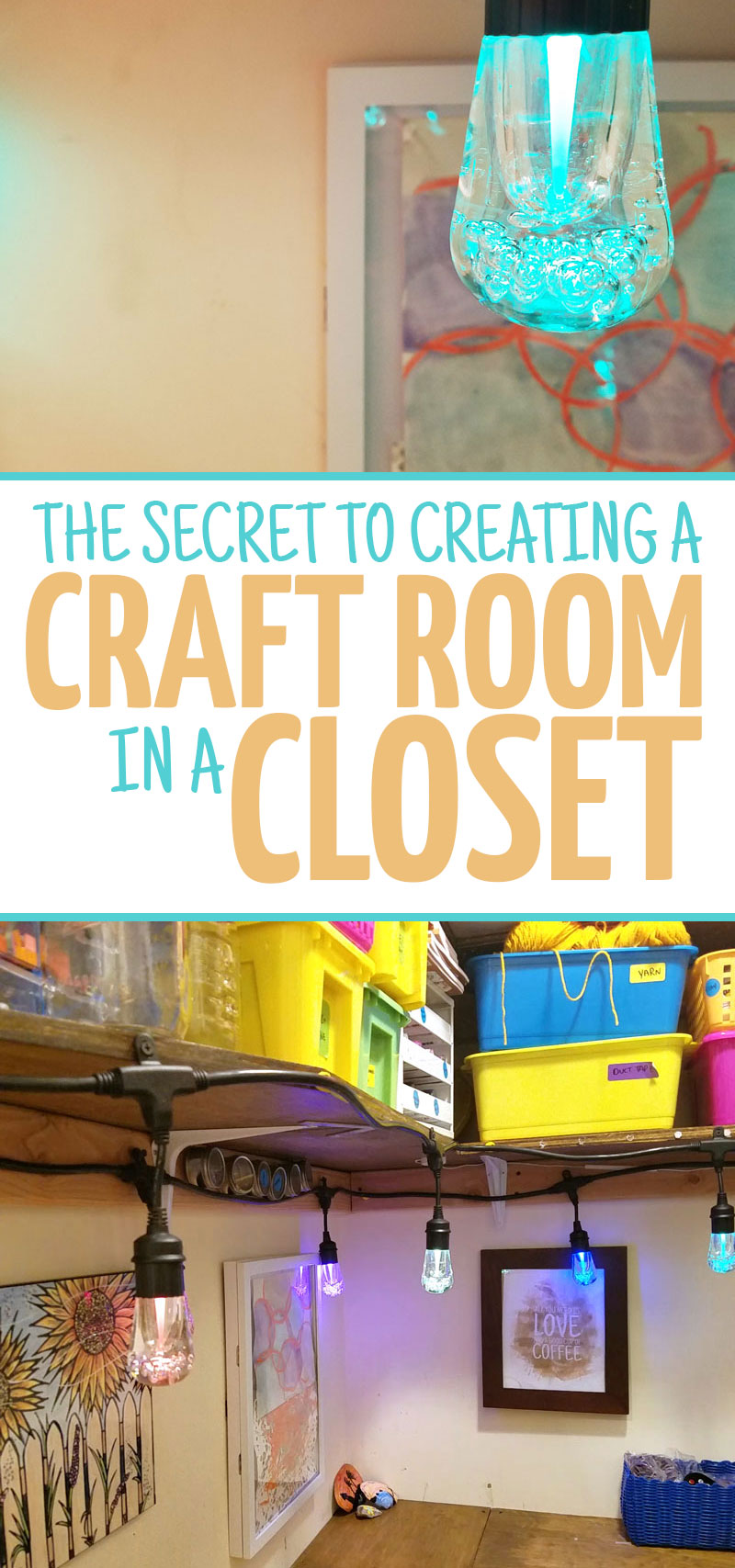 When I teamed up with Jasco to promote their Enbrighten Seasons Color Changing Café Lights, I realized that this was the PERFECT solution for my craft room lighting issue.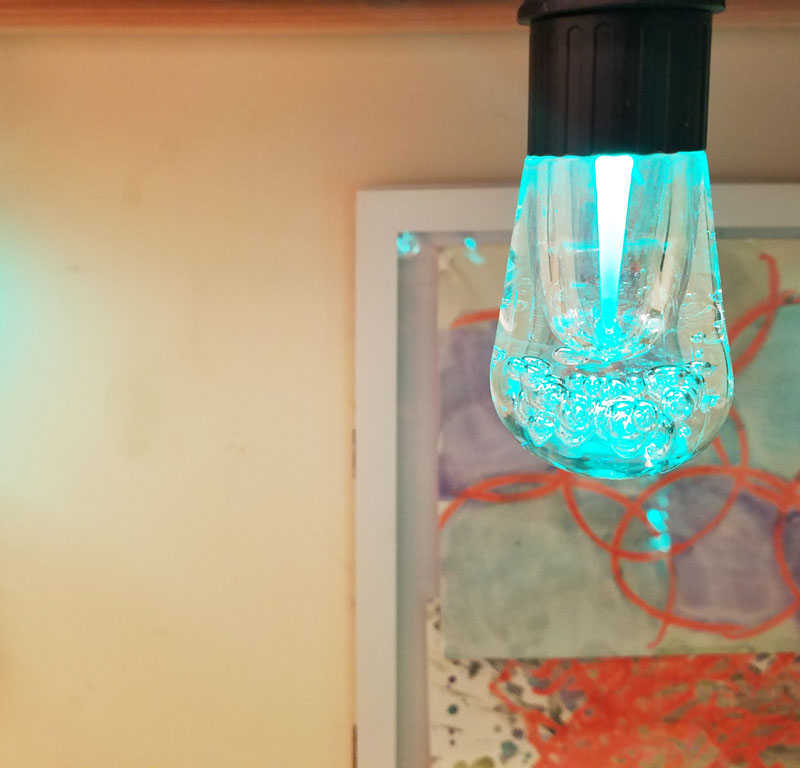 For our main lighting, we used a typical room light. But it wasn't cutting it. I was considering desk lamps to supplement, but I have such limited space that I couldn't spare that – between my sewing machine and clamp tripod…
When you turn a small dark space (literally a CLOSET) into a creative space it can be:
Dull and uninspiring
DARK! Since I blog my crafts, I need decent lighting.
Claustrophobic
Using Enbrighten Seasons Color Changing Café Lights solved these problem in a few ways.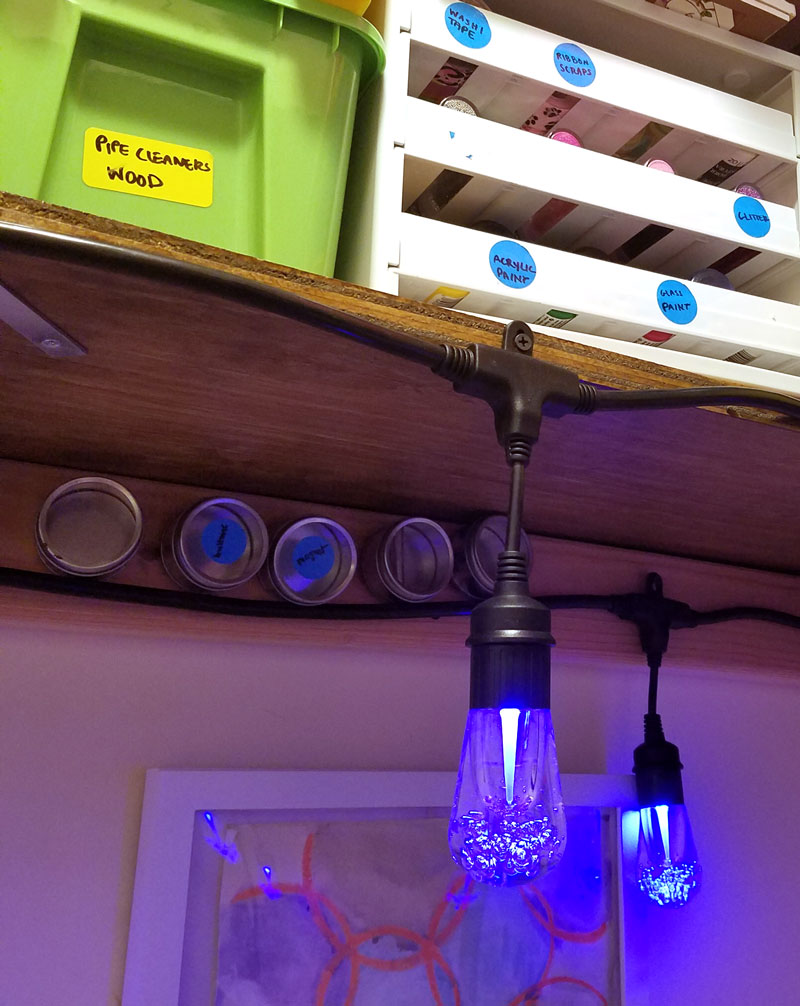 How I solved my lighting issues in my craft room in a closet:
Okay, so it seems pretty obvious how mood lighting can really brighten the space. I love how the colors on Jasco's Enbrighten Color Changing Lights totally alter the mood but they're still really subtle and sophisticated – not tacky in the least.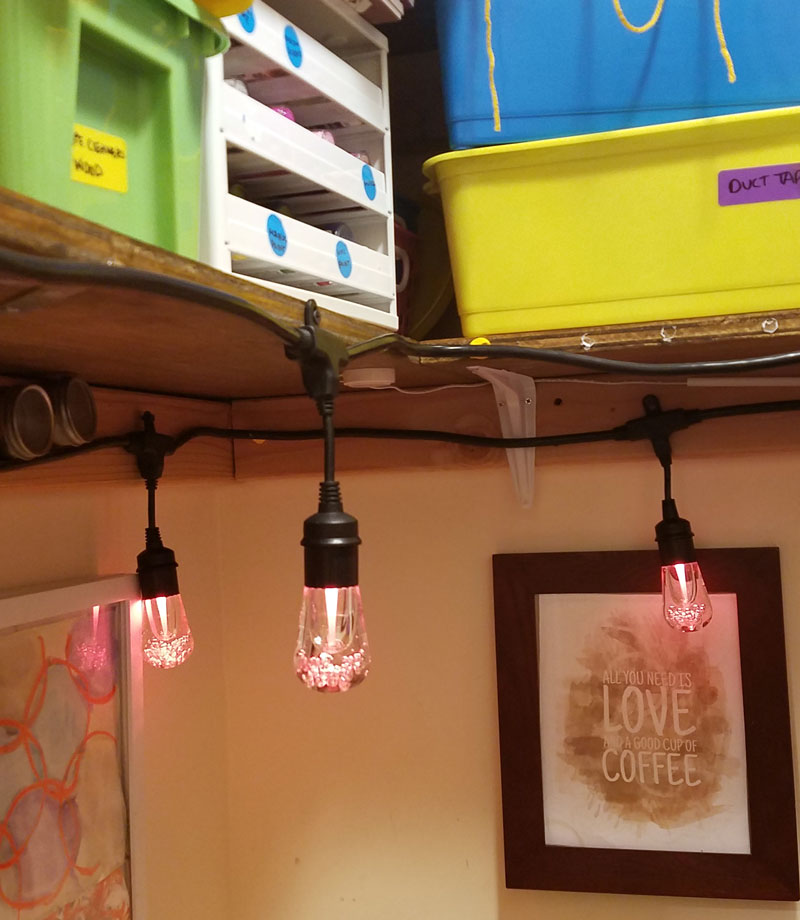 The lights also played on the slightly industrial feel I had going on – rough around the edges – and made it more intentional.
They are dimmable and allow you to change one light at a time or two colors at the same time.
But the biggest problem they solved by far:
They allowed me to fix the color balance to a more natural tone.
Typically, I like to photograph my crafts using natural light. But I was struggling with very yellow in-process photos on the crafts that I created in my glorious craft room in a closet.
Playing around a little with the Enbrighten Seasons Color Changing Café Lights resolved that. I found the perfect tone (in my case it was a light blue/aqua color) to make my photos less yellow. You can see the photo below with the lights on, vs. the inset with the lights off (these photos are unedited):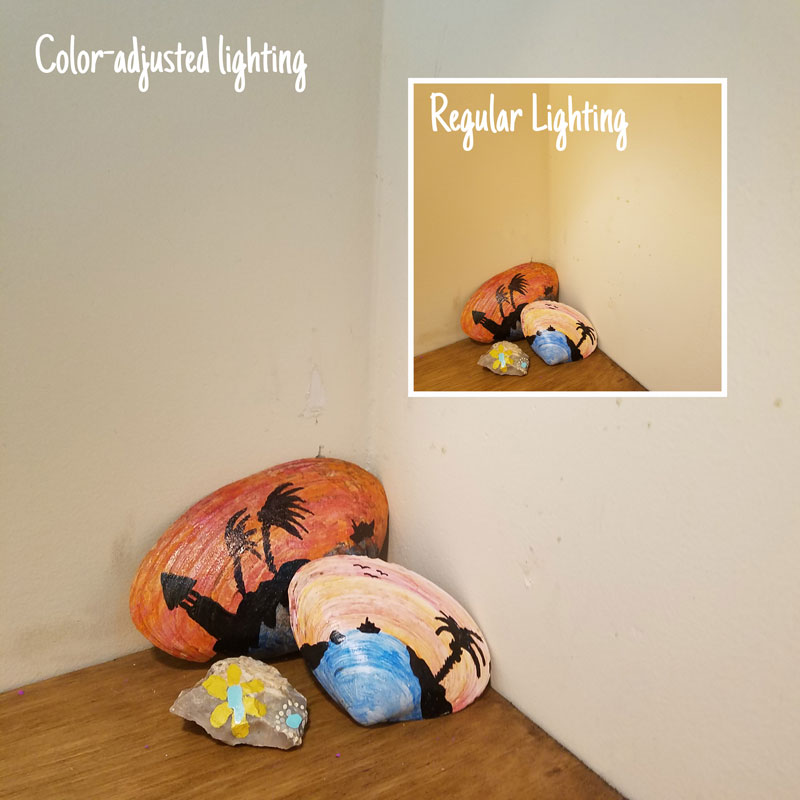 When I don't need the color-balance adjustment, I just turn on whatever I'm in the mood of. I'm a HUGE believer in color psychology (that's like the aromatherapy of designers…) and I use these lights to my advantage.
When I want to feel creative, I switch it to any of the 3 shades of purple.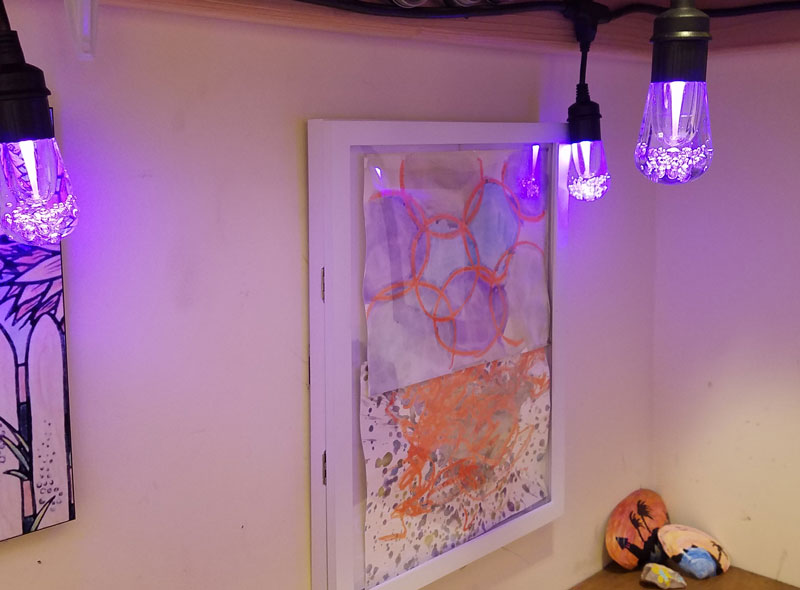 When I'm showing on my craft room I turn 'em all on.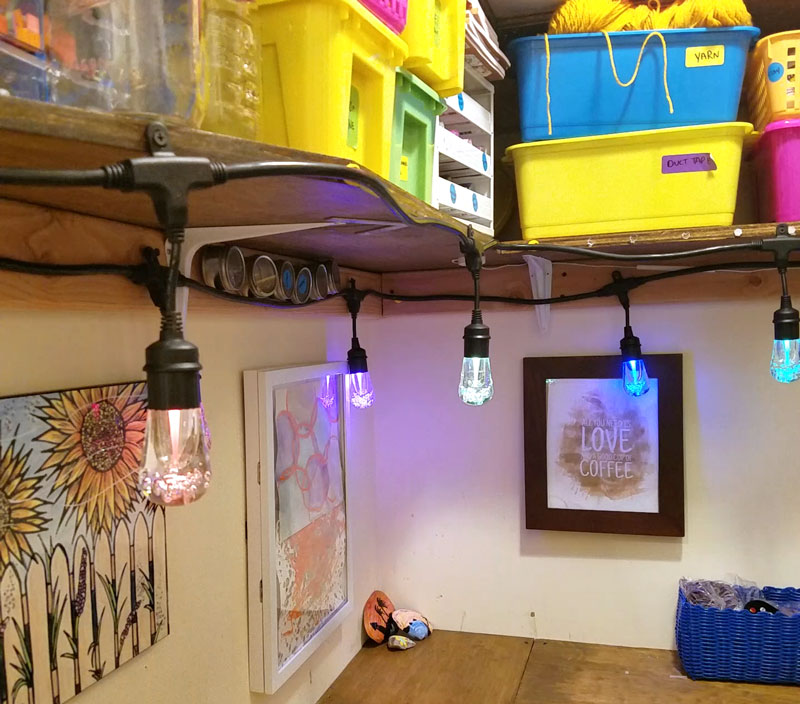 When I need to relax, I go for blue.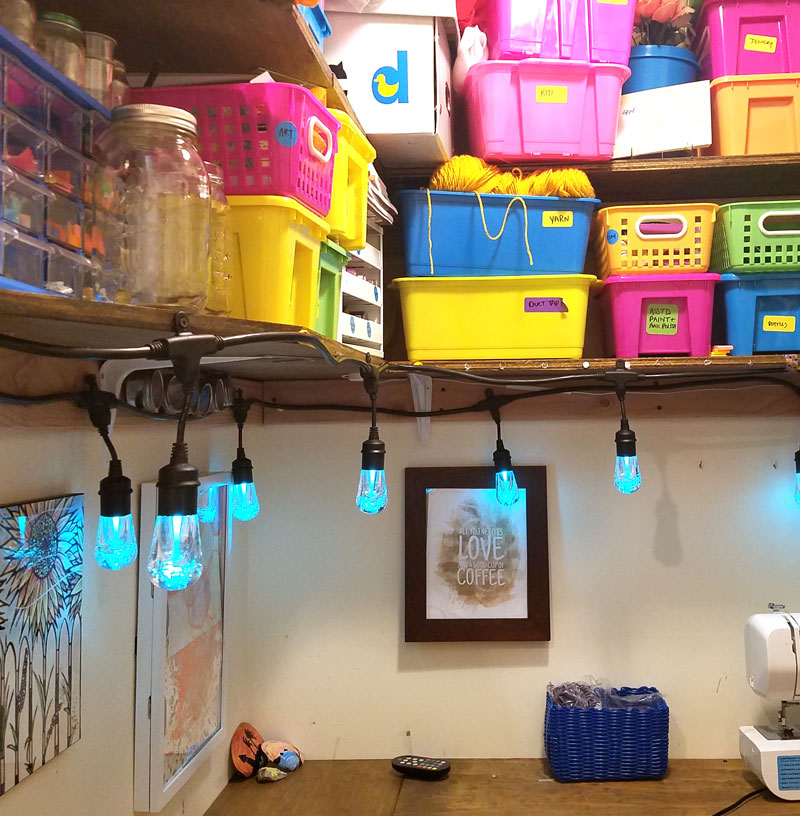 When I'm TOO relaxed and want to energize, I go for oranges, reds, and yellows. Notice how well it shows off the artwork I have hanging…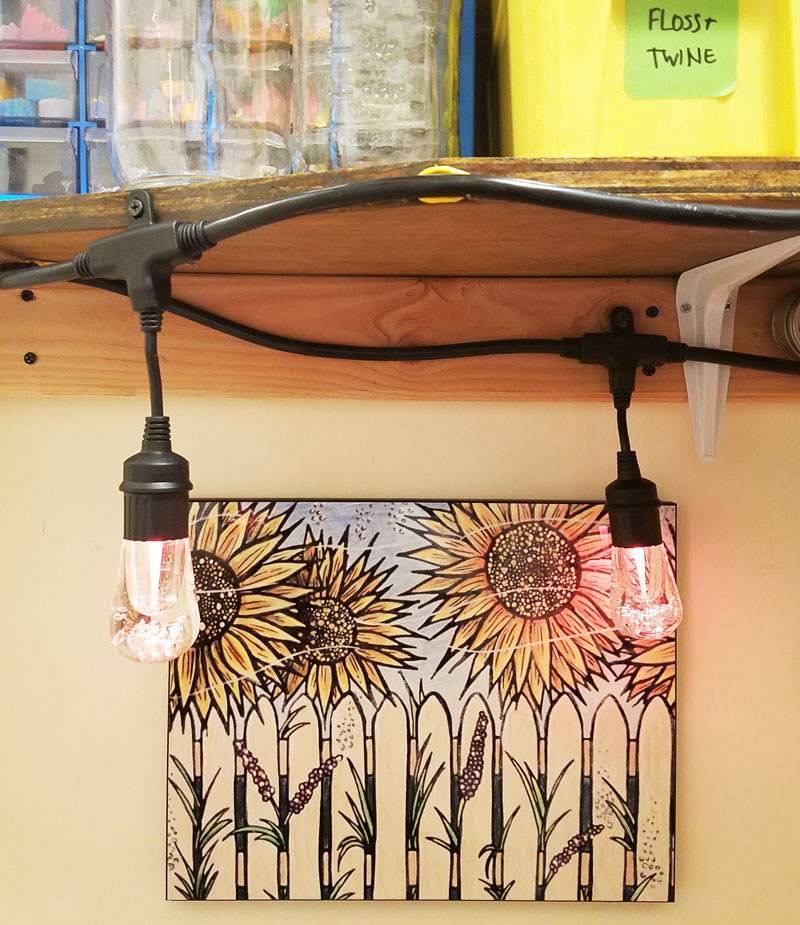 And when I just want to brighten up the work space a bit I turn on white.
How to install Jasco's Enbrighten Color Changing Lights in your craft room in a closet:
Figure out your placement and make sure you get the correct size lights. I decided to go twice around my shelving.
Hold the lights against a solid fixture (I used the beams that were supporting the shelves, as well as the shelves themselves). Screw it in place.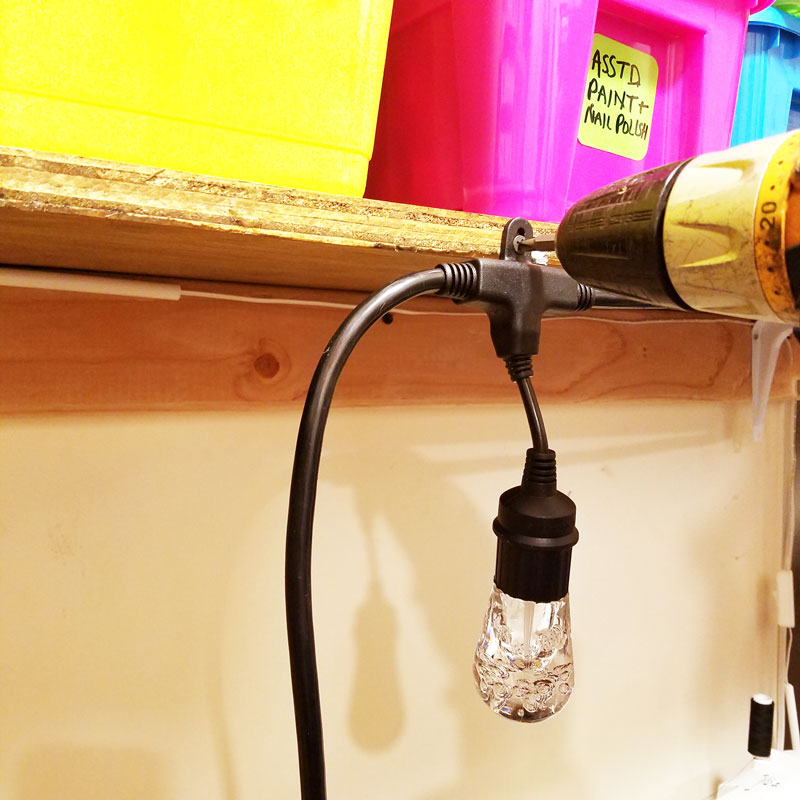 If you're turning corners like I did, you'll want something to hold it in place. For me, this rubber putty was the perfect fix. Tape it using painter's tape until the rubber sets.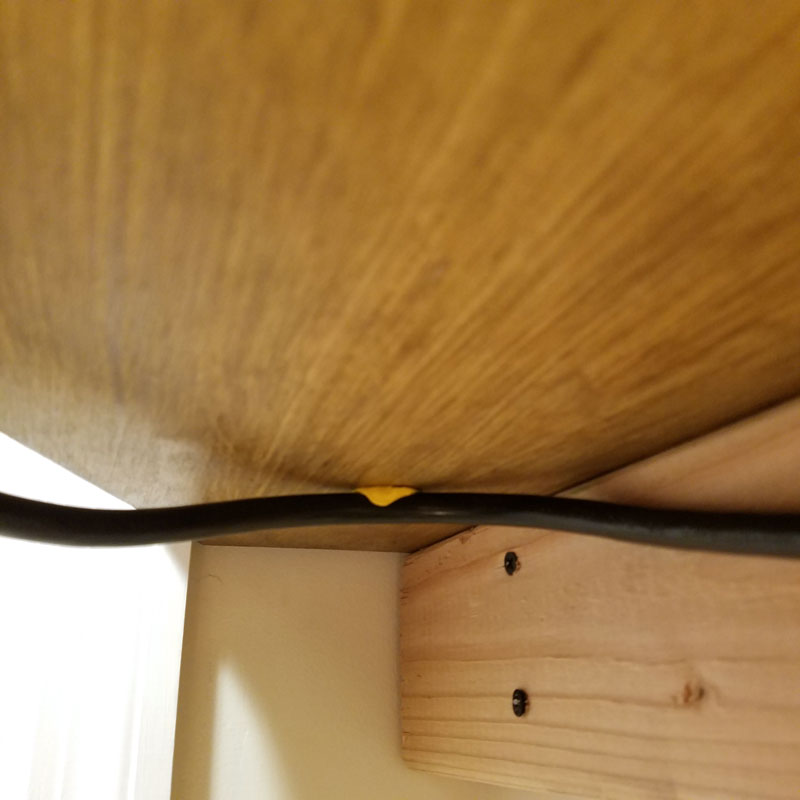 Use the remote to set your color scheme, mode, and turn-off time!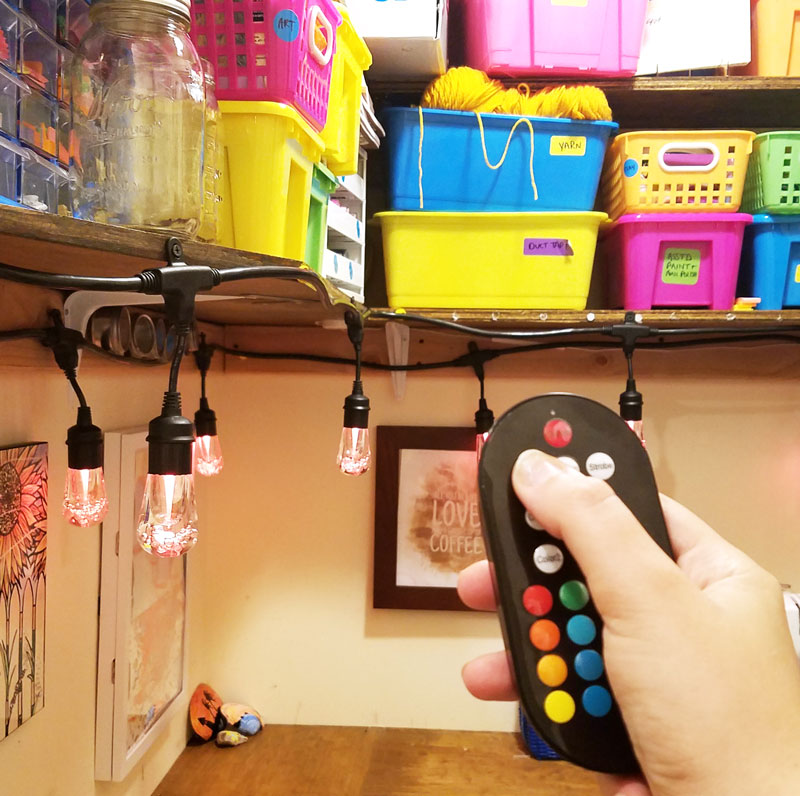 Have you created a craft room in a closet? What do you feel was the best way to make it work? Comment below! Find more beautiful home ideas on the DIY Spaces pinboard.