Since you all seem to love coloring as much as I do (and always have…) I decided to create a new batch of free printable complex coloring pages for adults, this time with a flower theme. But fear not, I have made it unique as my coffee coloring pages, and that much more fun to color! Disclosure: this post contains affiliate links.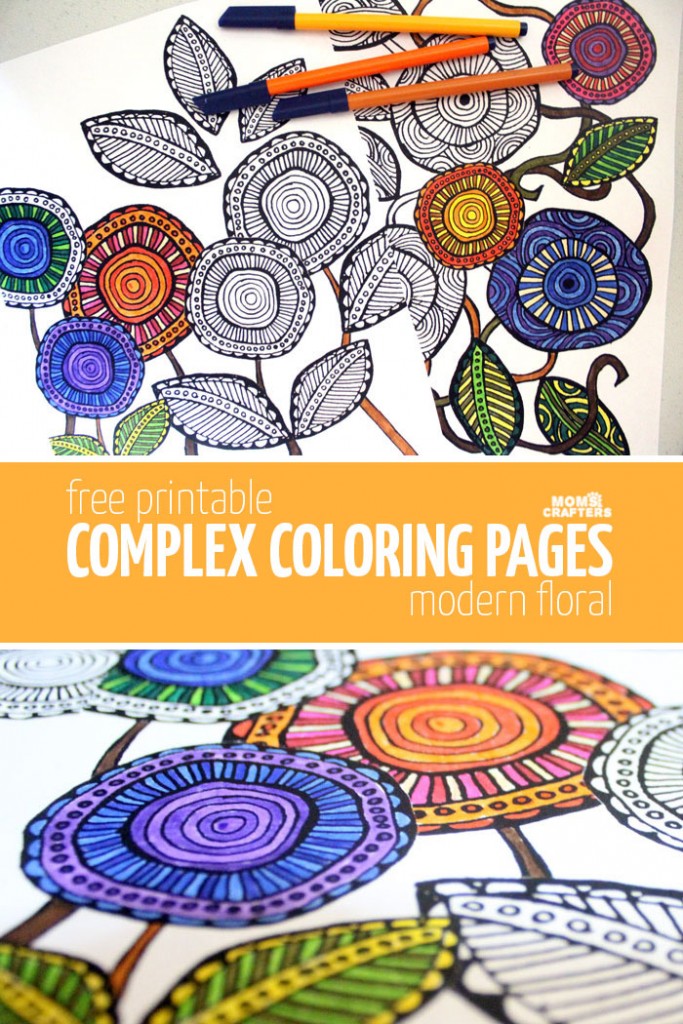 When I made my last batch, I was a complete novice. But I received so much feedback from readers and subscribers that I decided to give it another go!
I am a big proponent of doing things by hand (um, have you met my blog?!) so once again, I started with some doodles. But this time I decided to make it more complex (as some of you requested) by doing a mix of digital and by hand. So here ya go, and once again, all feedback on these free printable complex coloring pages (positive AND critical) is welcome and taken in stride, absorbed, and implemented.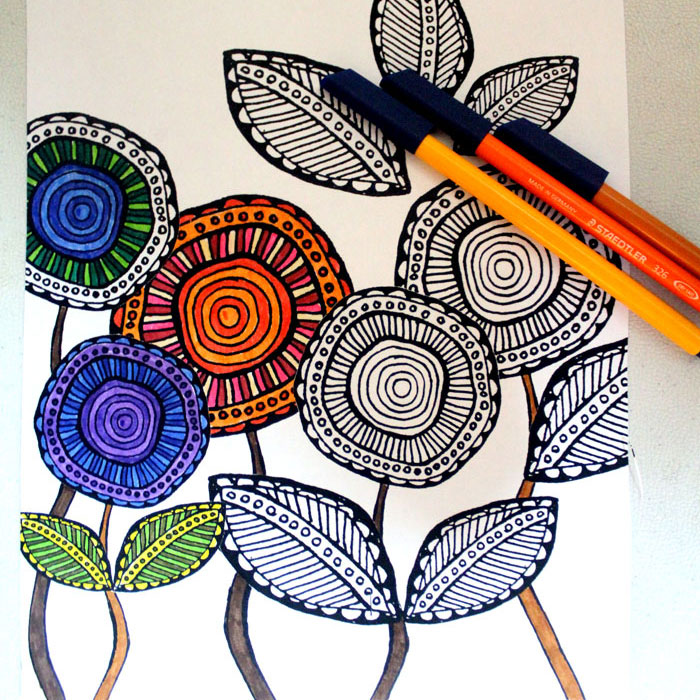 Just like last time, it's not perfect (because it was drawn by hand) and I'm still working on how to polish these up. My hand is still not as steady as it used to be (wink, wink) but I truly enjoyed creating this – about as much as I enjoy coloring it!
These pages are a sampling from my new coloring book for grown-ups "Postcards". You can get the print version on Amazon, or the digital version below.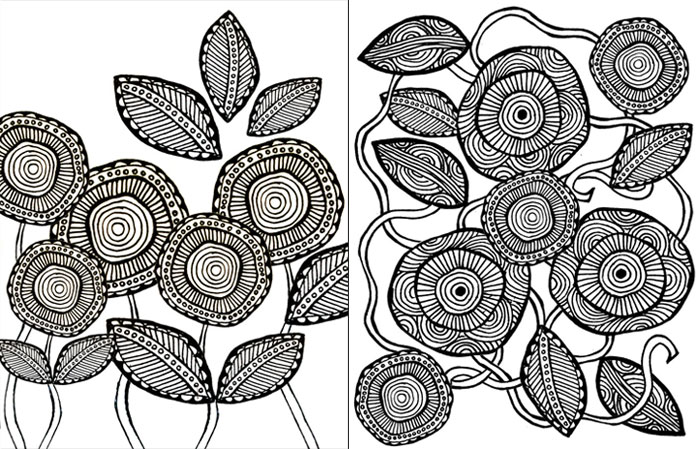 Free Printable Complex Coloring Pages for Adults:
For this page, I used my Staedtler markers except that I couldn't find half the pack, so I was somewhat limited. Still, I made the best of it (I think.)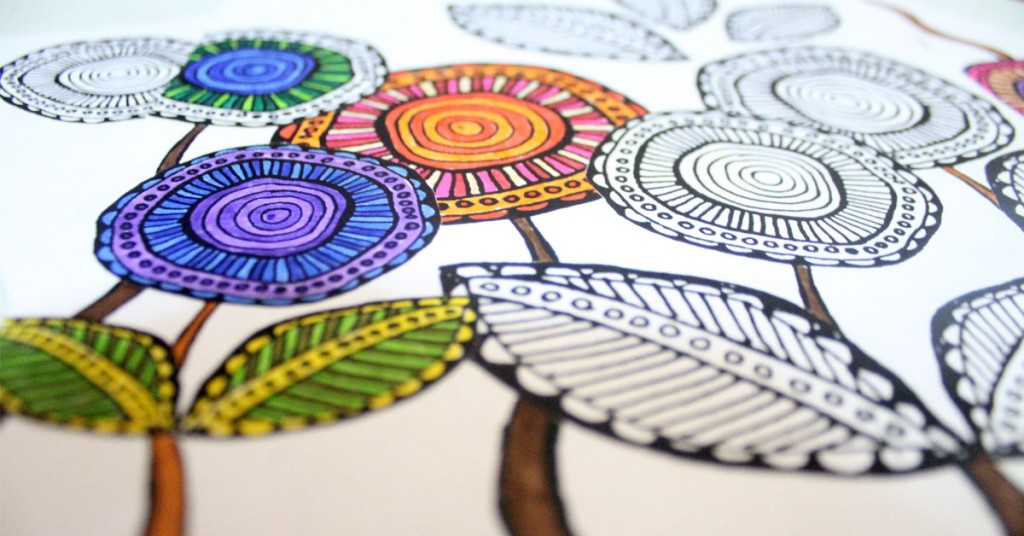 I also really enjoy using Prismacolor colored pencils for these, though I was lazy to sharpen them this time. I use fine point Sharpies for a bolder color. Or, use ultra fine Sharpies for more accuracy, and more detailed work. Generally speaking, this is the gear I have handy when I color these pages, though the pencils are definitely the most versatile (you can go light, do shading, or give it a bold color by filling it out strongly, since they're soft pencils.)
Update: read my full guide for which coloring supplies to use when here!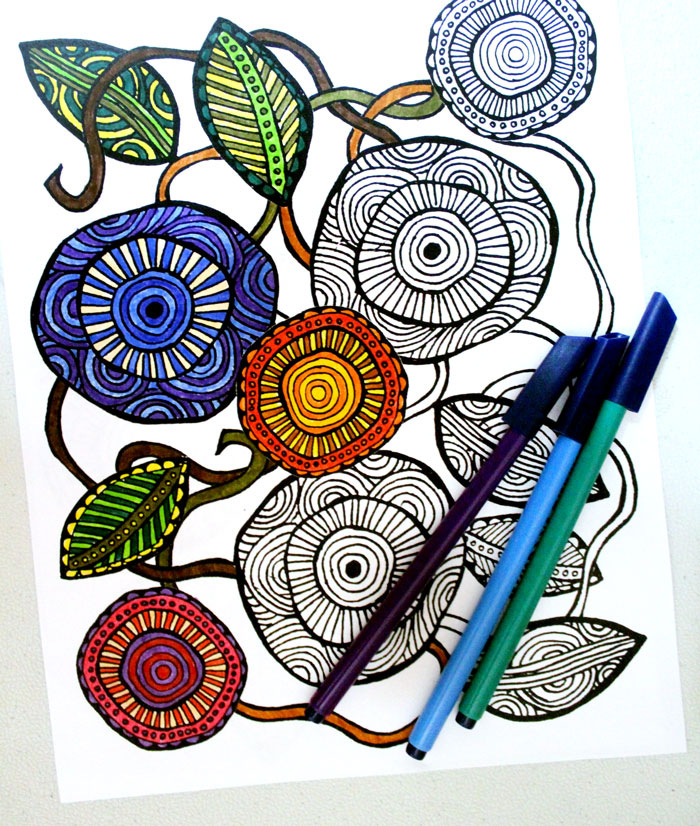 Once again, I found these to be doable, as opposed to some of the overly complex ones I saw. I did aim for less white space on one of them, as some of you requested, but still kept it simple, as many of you mentioned that you appreciated. I really and truly hope that you all enjoy!

How do you like these free printable complex coloring pages? Do you have any feedback, critiques, or suggestions? Comment below!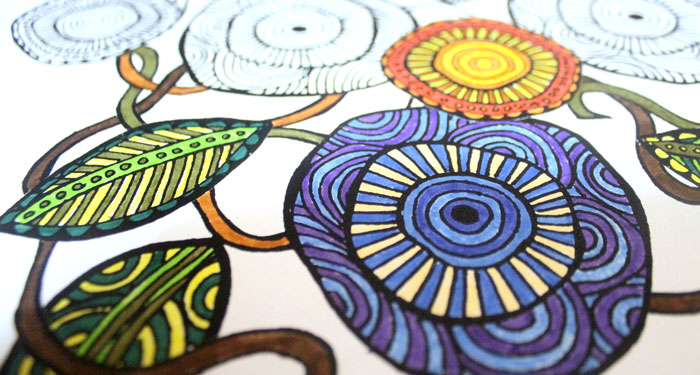 Get the book! By purchasing Moms & Crafters publications, you are supporting my blog and enabling me to keep on providing you with free printables like this one. Coloring for Coffee Lovers is my most popular coloring book, but you can find all of my printed and digital coloring books here.