Gorgeous leather napkin rings are so easy to DIY and require minimal tools and skill. If you loved this, you'll love my tutorial for DIY leather bookmarks too!
---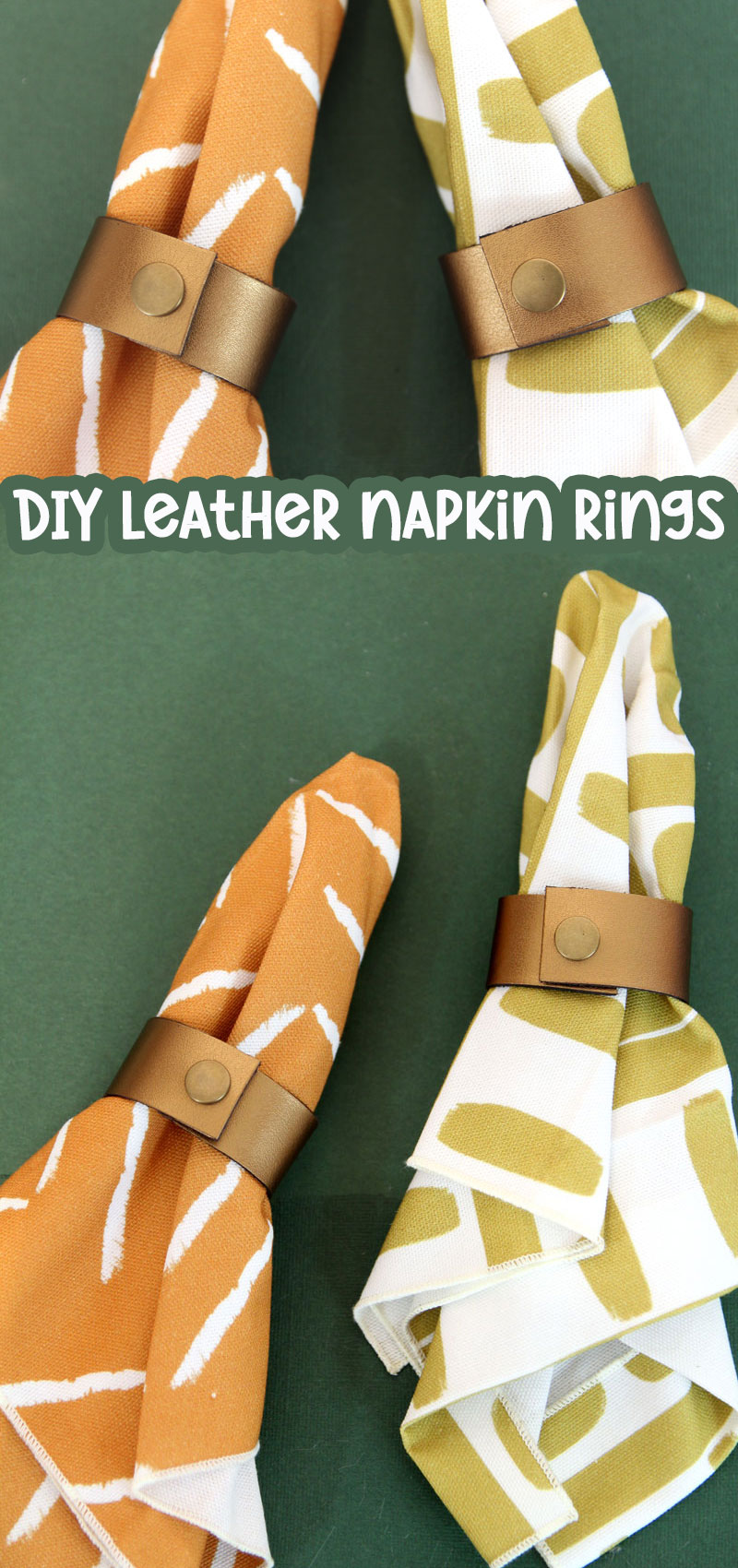 When I was headed to my sister for an extended weekend/holiday, I realized I'd love to give her a nice gift a few hours before we needed to leave – when I still had to finish packing. I had something for the kids and helped with food prep, but wanted something for her.
I decided to pull out some faux leather and make napkin rings! They make fabulous napkin rings that don't take longer than half an hour to pull together and can be made in batches!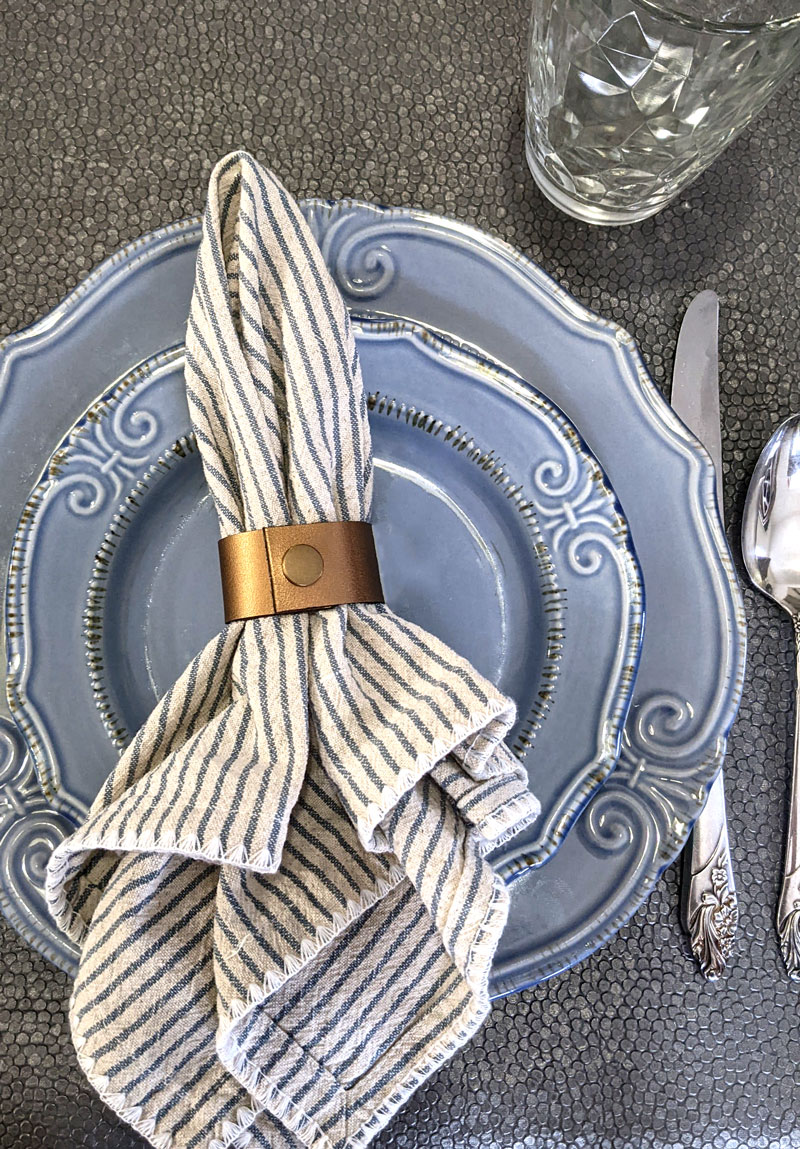 These leather napkin rings can be made with faux leather or genuine. They can be made in rustic shades with textured leather and dark snaps. You can glam them up by using pink metallic leather and gold snaps.
If you'd like, you can round the edge around the snap that shows. That'll take a bit of extra time but gives it a bit more style. I did that on my sister's but skipped it on mine as the leather on mine was too thick.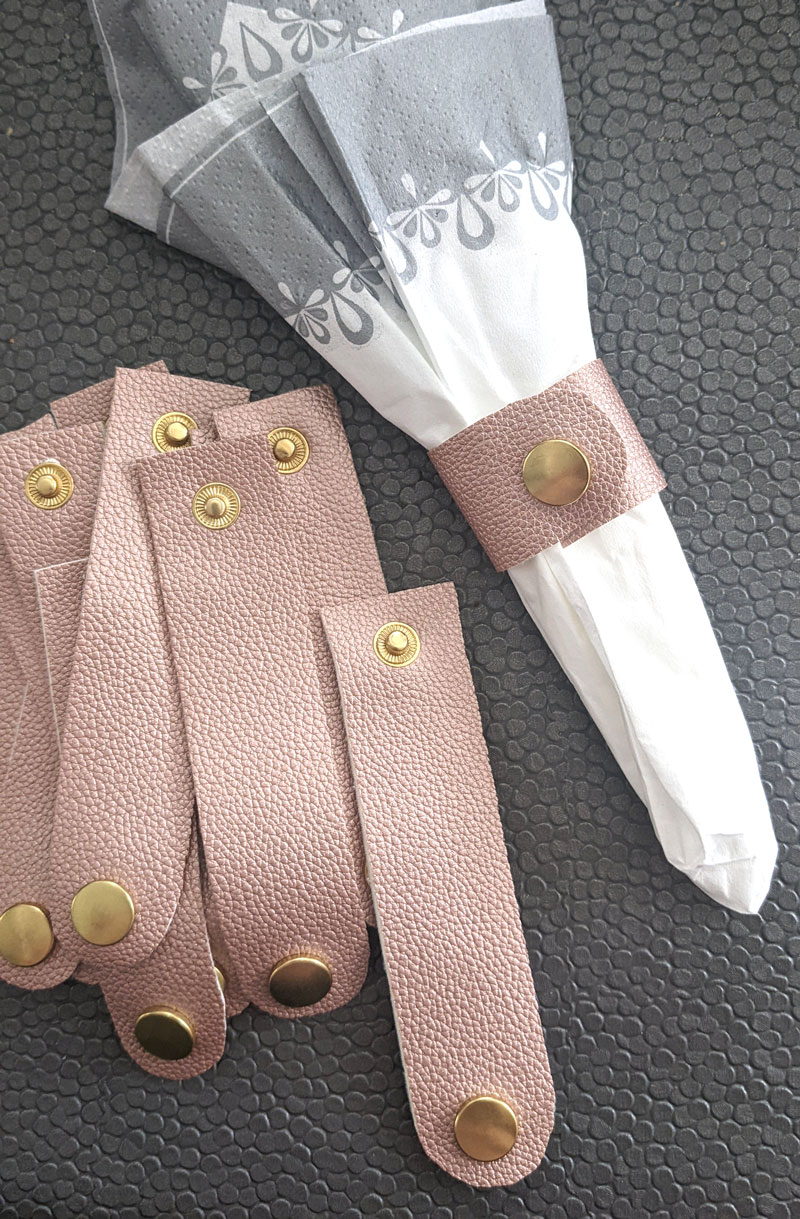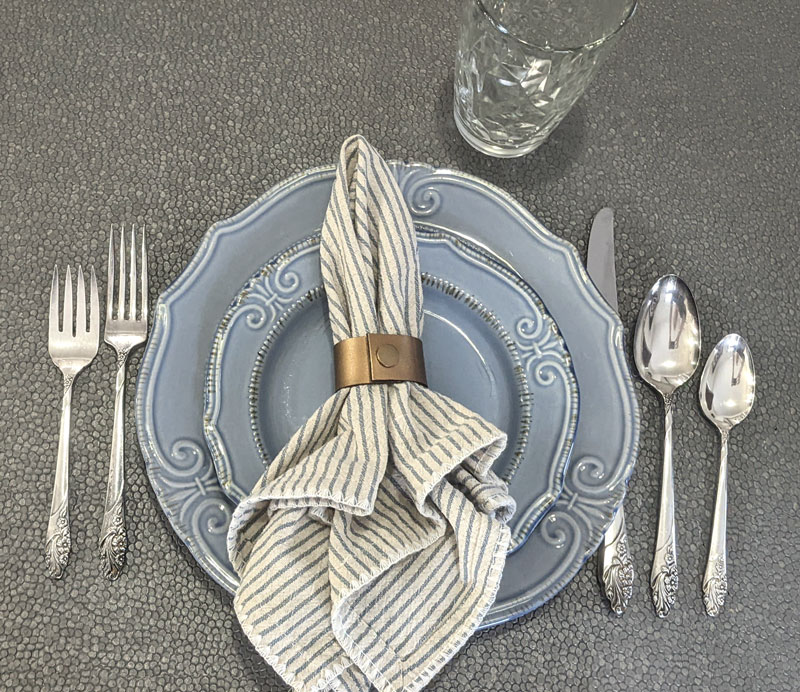 My absolute favorite thing about these leather napkin rings? They store flat!
They legit take up almost no space! I could have used brad fasteners or something along those lines… but I chose snaps because you can open and close them and store them very efficiently between uses.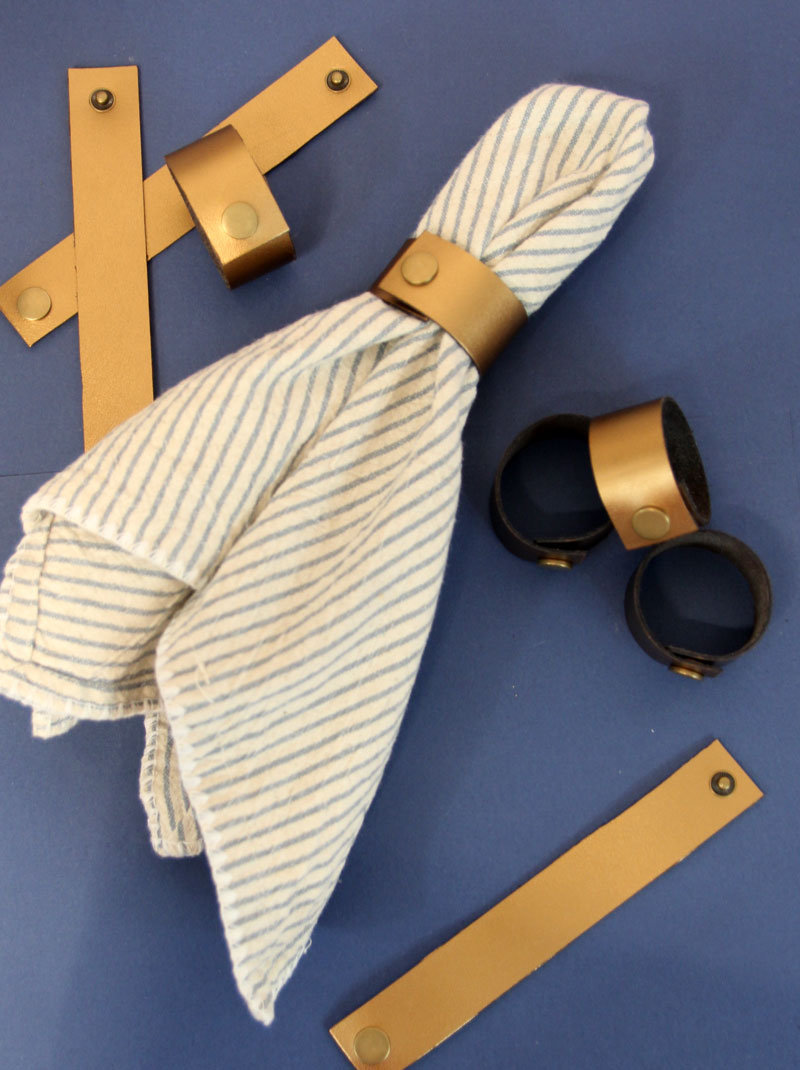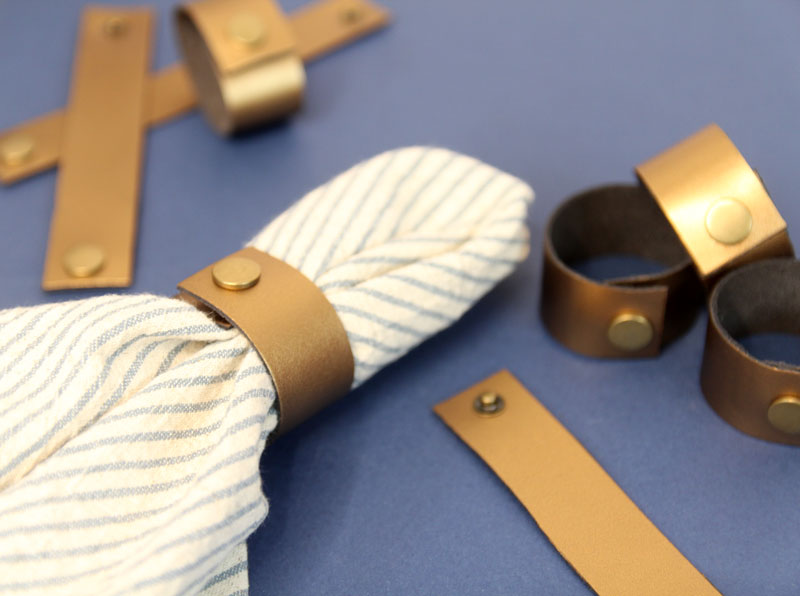 I made my sister's set using 4 inch leather strips for paper (or very fine) napkins.
For mine, I used 6 inches for thick cloth napkins.
When you're done, you may want to make a set for every occasion! I made my first as service for eight and now I'm thinking I need service for twelve in a different color…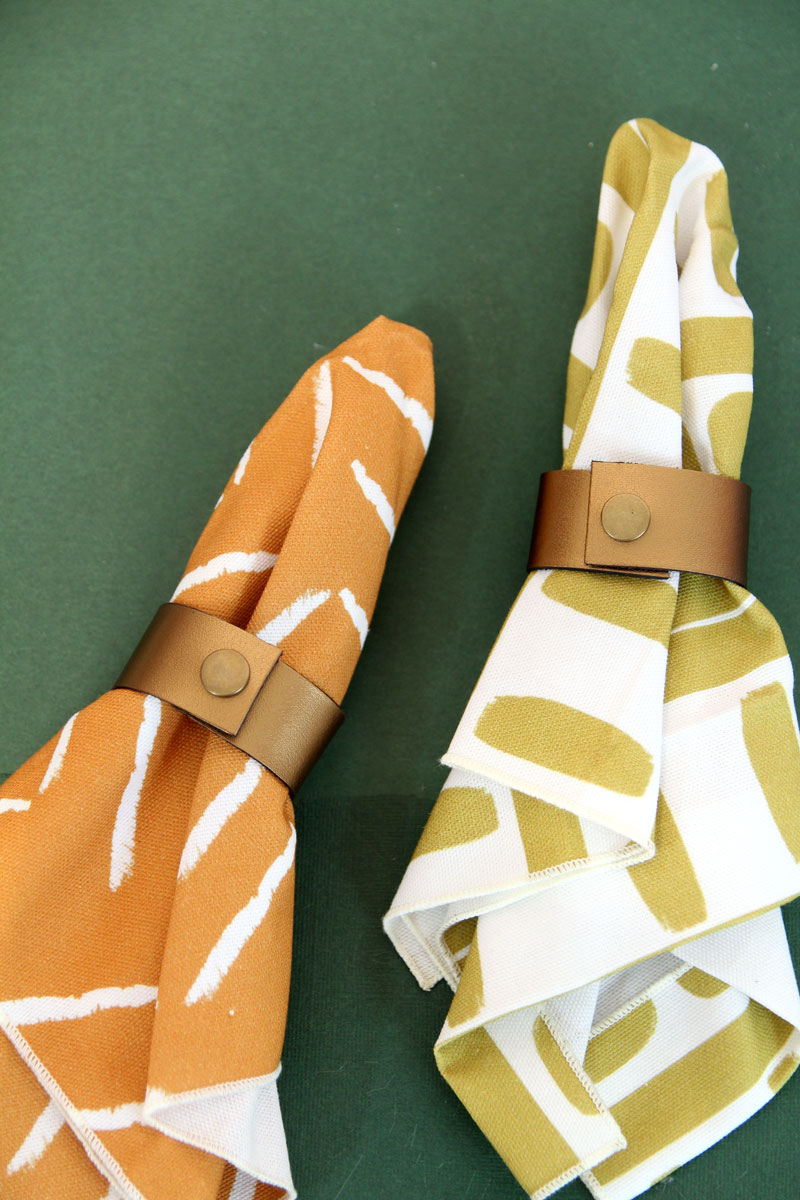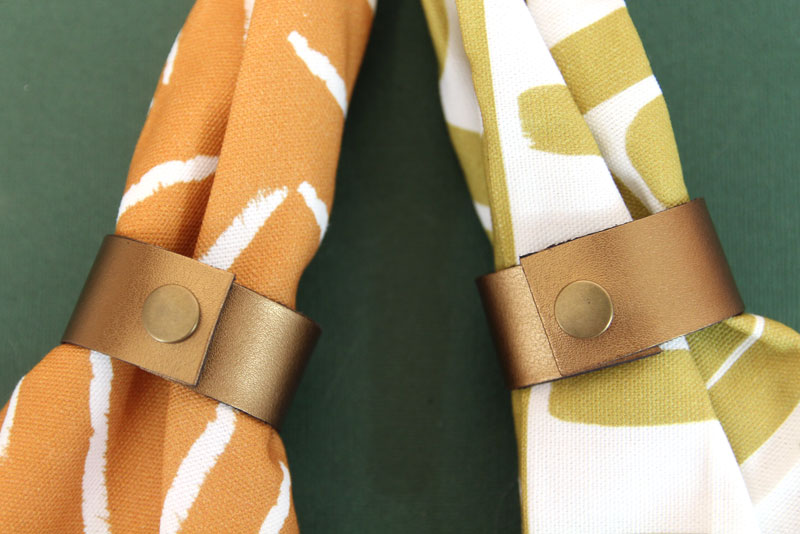 What you need to make these
Leather of faux leather sheets (1×6 inches for each ring)
Self-healing mat
Ruler
Craft knife or other leather cutting tool
Leather hole punch
Leather snaps
Leather snap setting kit
Hammer
How to make leather napkin rings
1. Cut a strip of leather 1 inch thick by six inches long.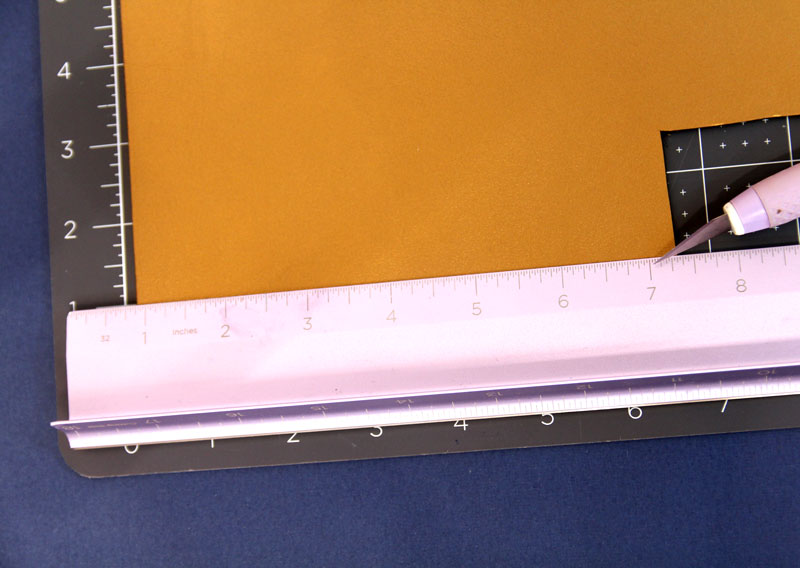 2. Punch a hole roughly 3/4-1 cm from the edge of your strip, centered.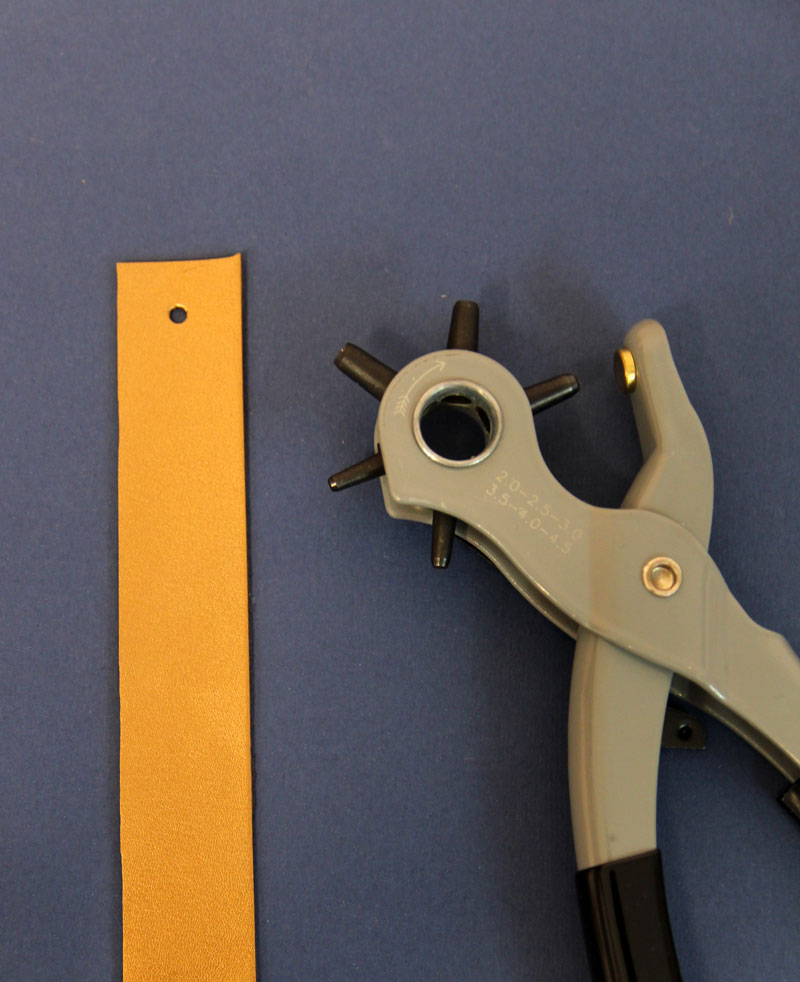 3. Roll your strip into a ring to measure placement of the second hole. It should be the same distance from the other end, also centered. (Measuring it allows for a bit of room for error in placing the center.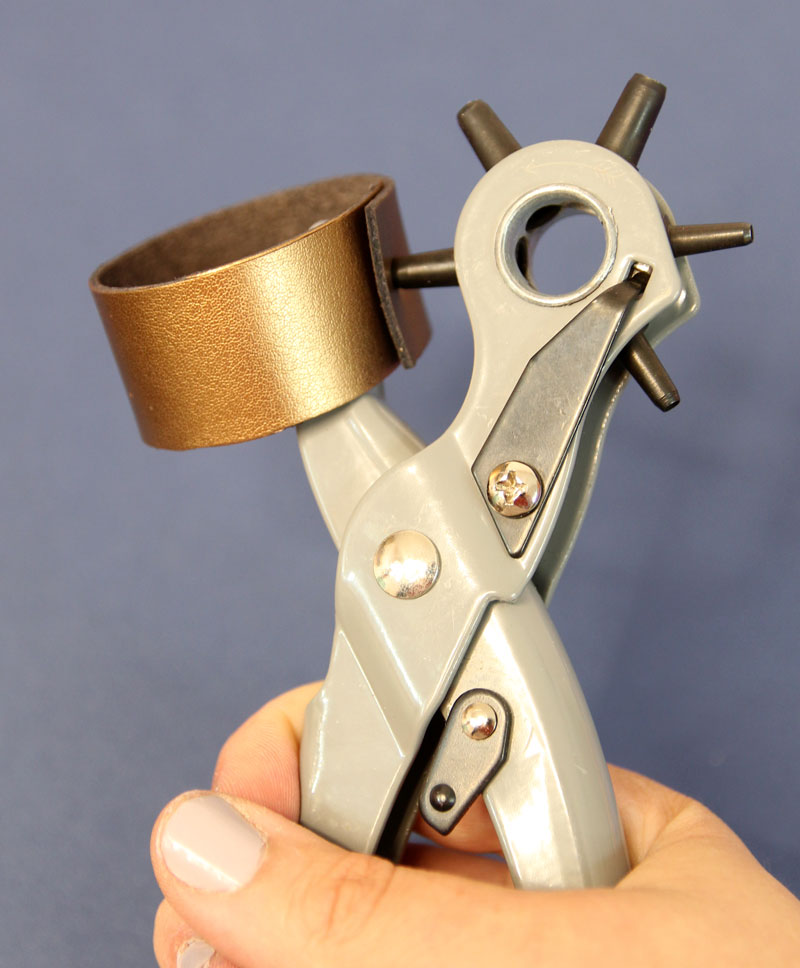 If you'd like, at this point, you can round off the edge of your napkin ring that'll have the pretty snap.
4. Set the female side of your snap. Take the portion with the smooth or decorative outer "button" and the side that the other side goes into. Place the pretty part on the front of your leather as that's what will show.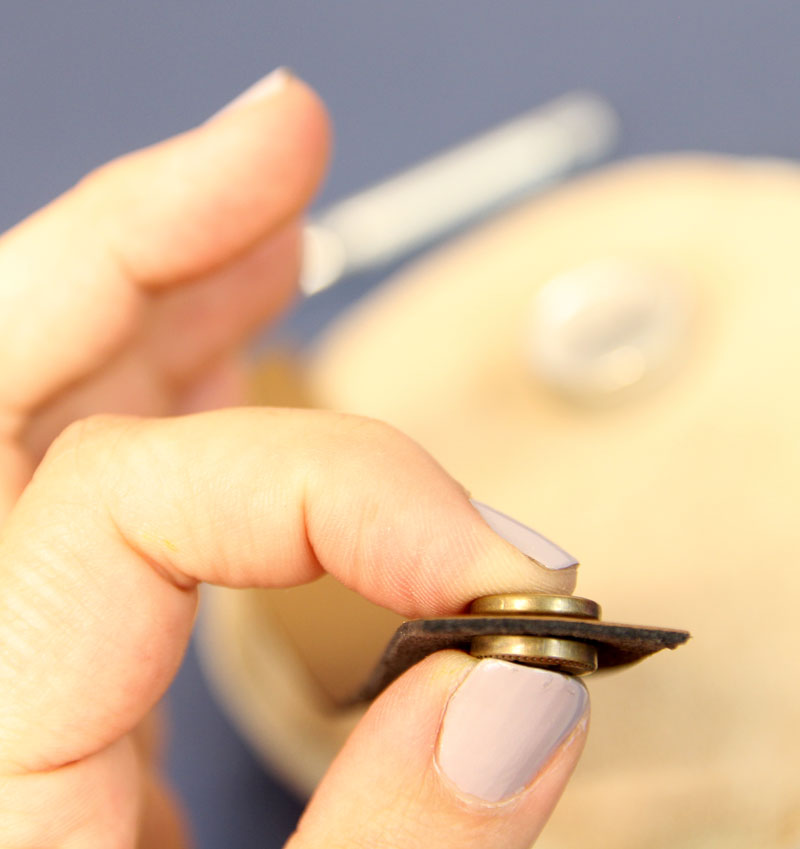 Set your snap. Place the strip of leather on the base so that the flat top of the snap (the pretty part) is face down. Place the tool that fits in the center of that snap in the center, hold straight, and hammer down in quick, firm motions until it feels secure.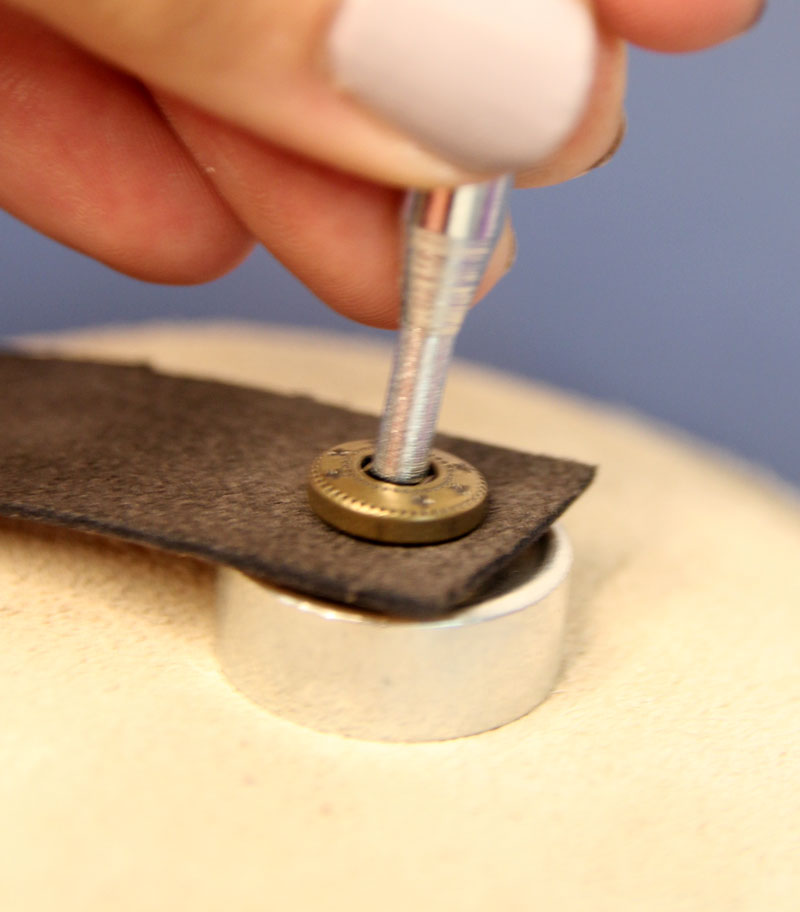 5. Now set the male side.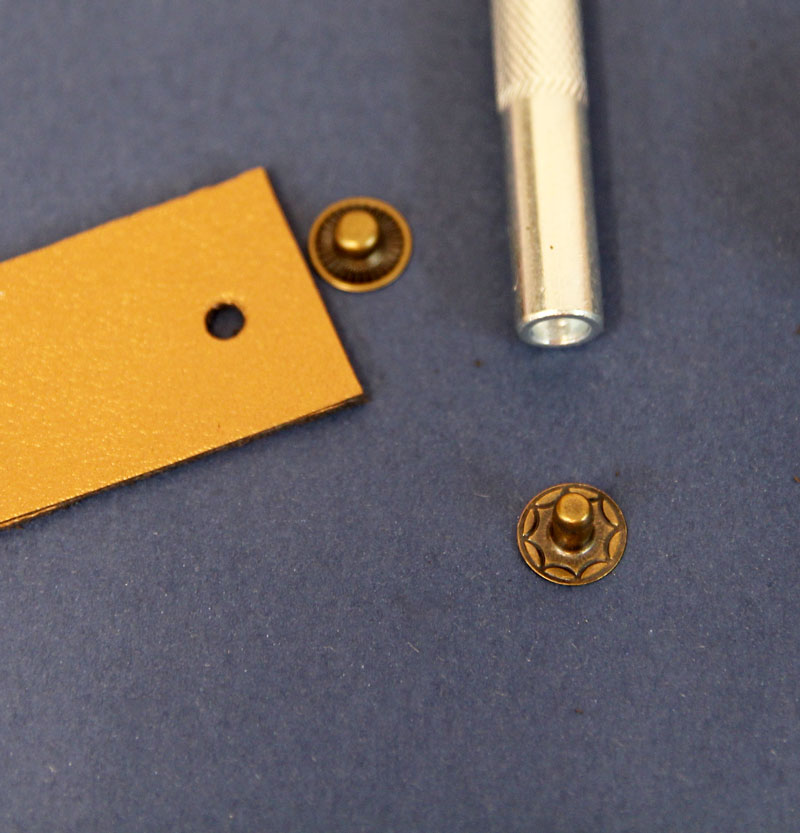 The functional part – the one that goes into the other side – needs to be on the pretty side of the leather. Thread the back through the hole and place that on top.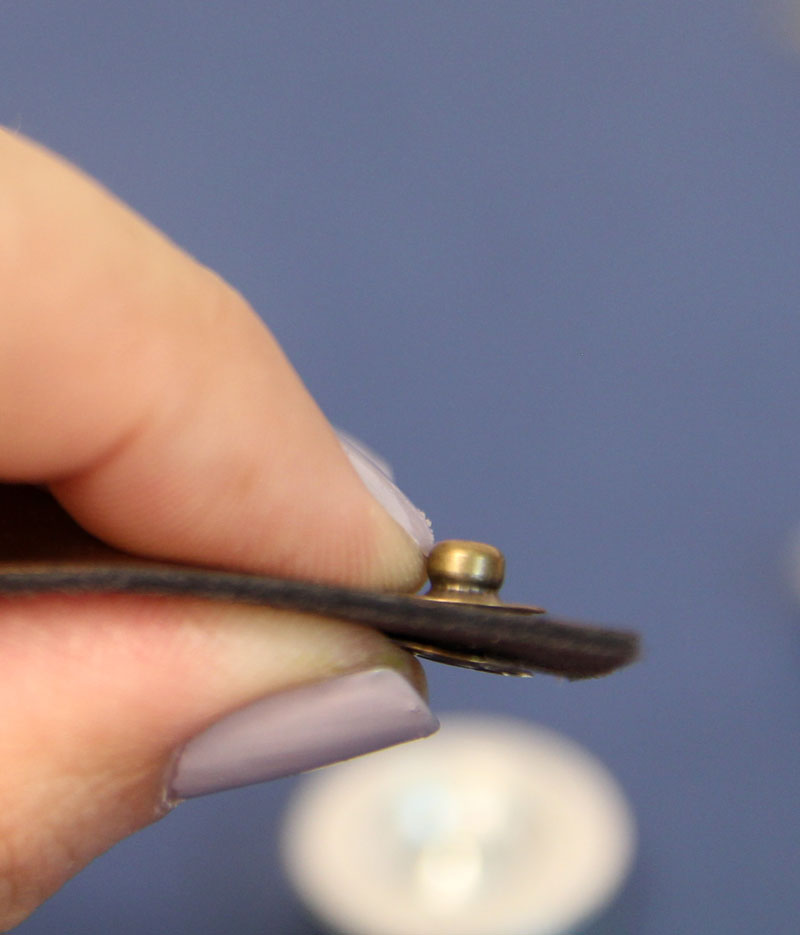 Place it on the circular base. Take the tool that has a little indentation that can fit around the part of your snap that sticks out. Place it on top and once again, hammer in quick, firm motions until secure.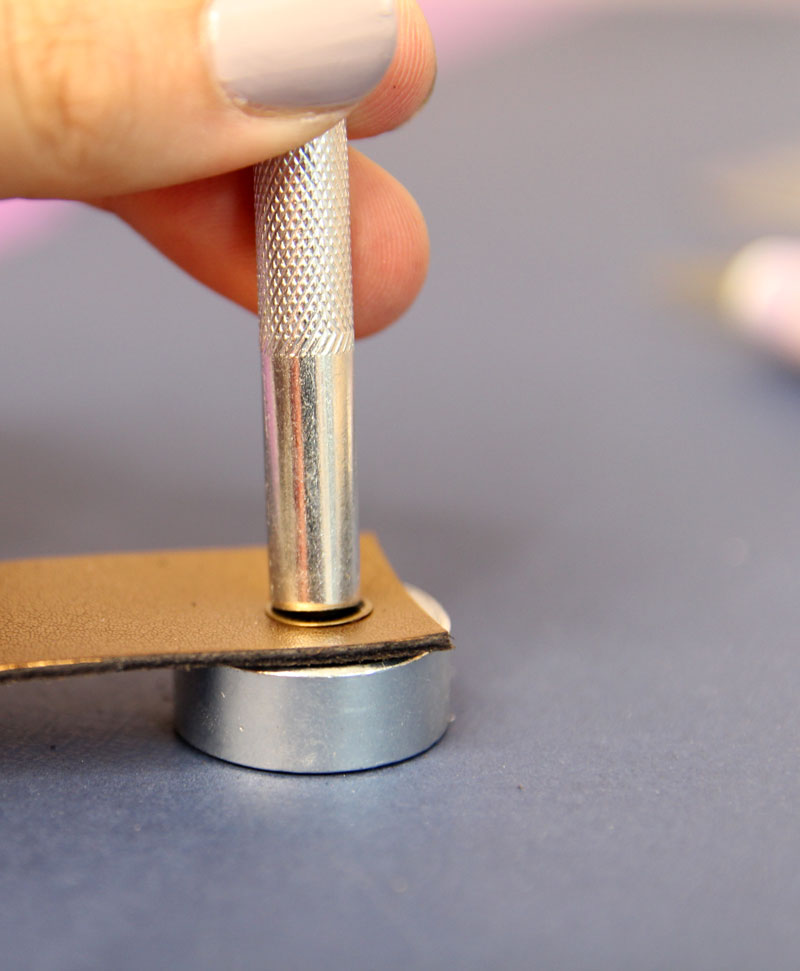 Test your leather napkin ring for strength and fix your snap if needed. You're all done and ready to set a beautiful table!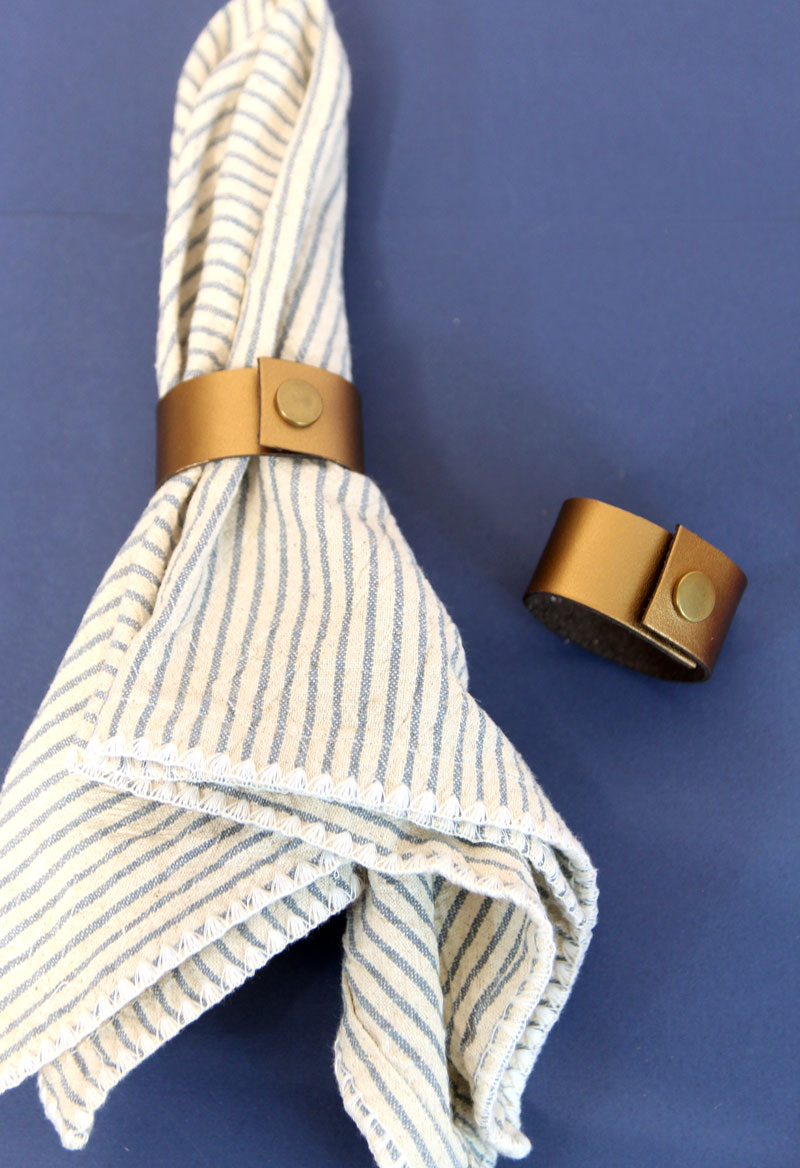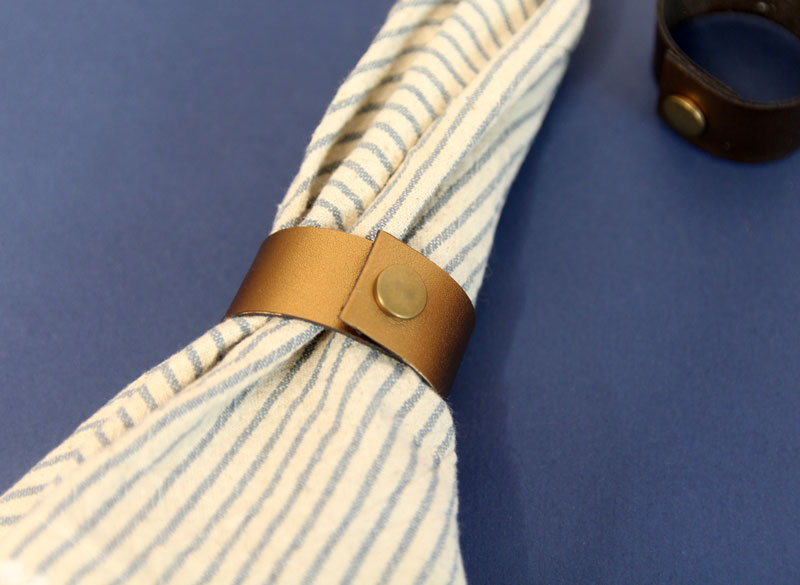 A few months ago I shared with you some DIY leather bookmarks in which I told you about a pilot program I'm participating in. I'm so thrilled to be one of Google's paid early testers for their Thank with Google pilot program. This is an experimental feature that allows you to purchase a virtual sticker and directly show your appreciation for the ideas you love on my website. As a loyal supporter, this is an easy way to engage and give feedback on the ideas you love.
There are a variety of stickers to select from, ranging from free and up, and every time you send a paid sticker, you can add a personal message. I love receiving your personal messages – it shows me who that human at the other end is that is reading my post. For me, these virtual stickers also translate into direct revenue to support the work that goes into the crafts that you are enjoying on my blog.
You can find the Thank with Google feature in multiple places on my site, including my sidebar, and the beginning and end of every blog post. If you try it out, let me know what you think! Thanks as always for your support.