Okay, it's not really a mosaic… it's much easier! Make this heart magnet craft have a mosaic look – down to the sheen – by using (you guessed it) nail polish to paint it! You're finally starting to get to know me. Of COURSE I used nail polish!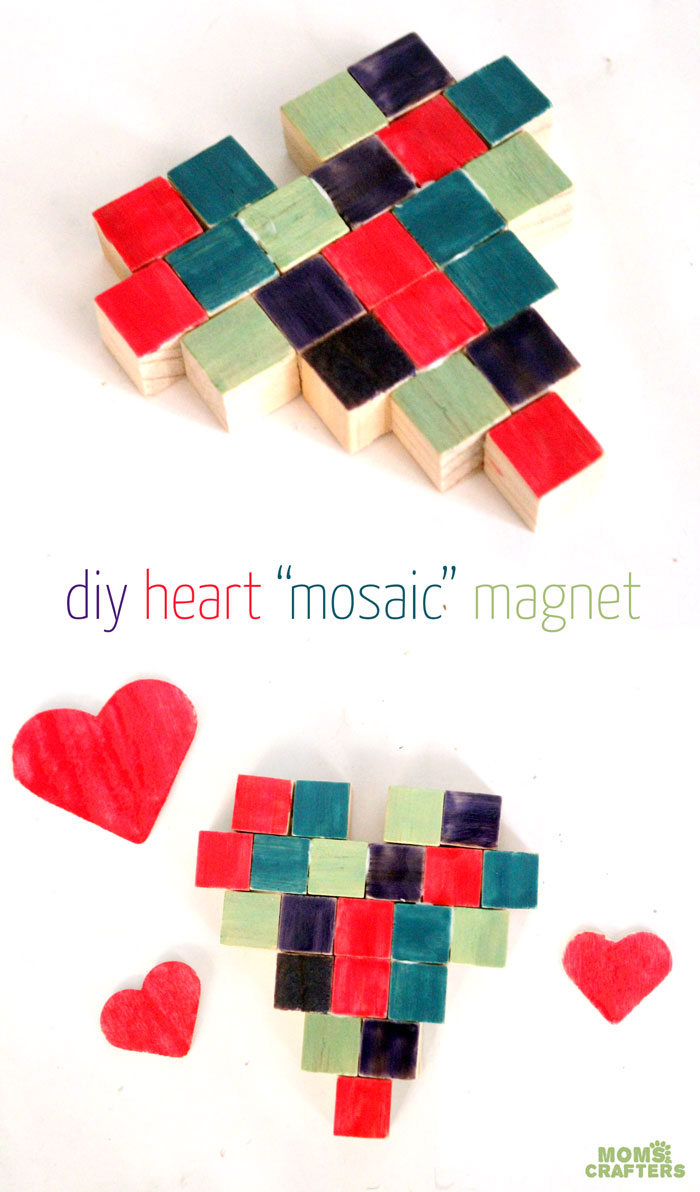 Disclosure: this post contains affiliate links.
This mosaic heart magnet craft is super easy and inexpensive to make, and the result is impressive!
It can take you across a broad spectrum of age groups, although for younger children you may want to use acrylic paints instead of the nail polish that I used. You can add a gloss finish afterward to get a sheen but you don't need to. The fun, pixelated mosaic look will still be there.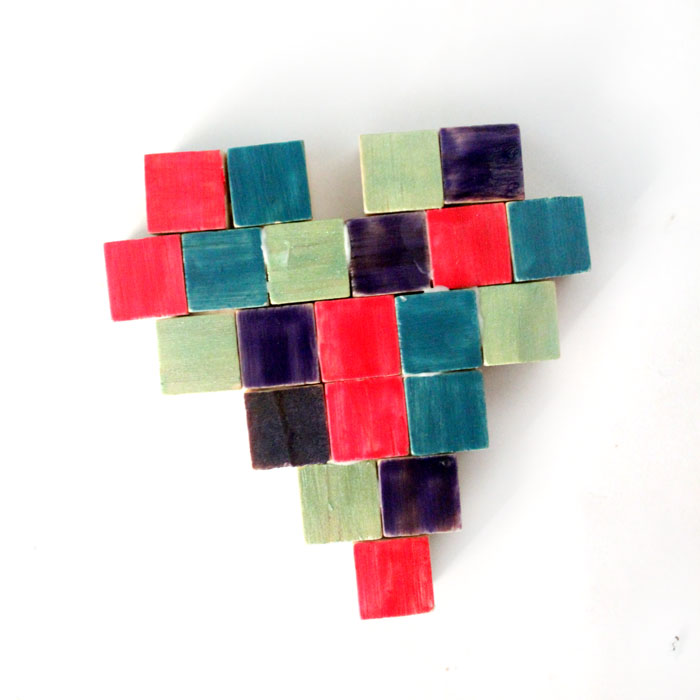 I used tacky glue on this one, and it did a great job adhering as the surface is porous and the blocks are lightweight. Tacky glue simply makes it more kid-friendly, though wood glue or E6000 would be more secure.
I also used larger ceramic magnets instead of smaller and stronger neodymium magnets to keep it kid-safe, but you can swap it out if you want (for adults only).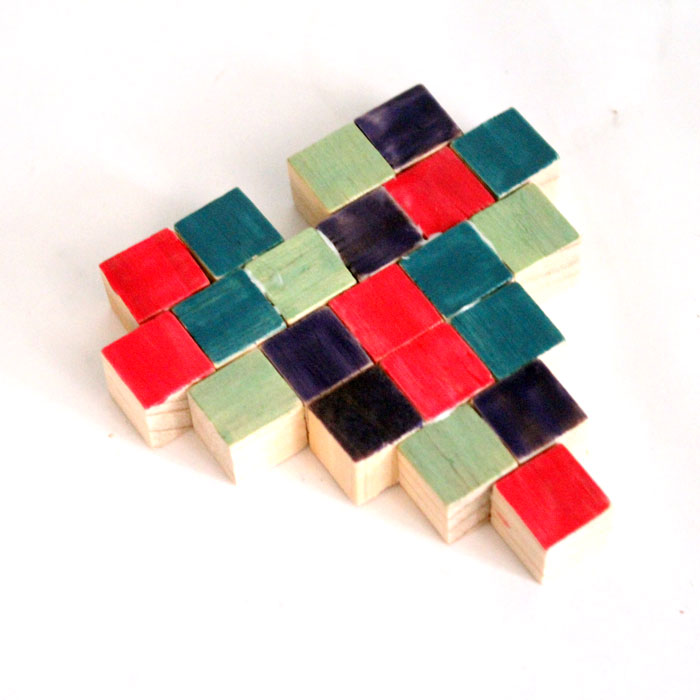 This mosaic heart magnet craft is extremely versatile to adapt to different purposes (I may even try another version here on the blog – toddler permitting!) If you make it with larger blocks, it will be more freestanding (it already is somewhat) and you can simply display it. You can use flat wooden squares and make a card with it (hang in there – I really want to try that!)
This heart magnet craft is a perfect valentine's day craft for kids, teens, and adults. My goal here at Moms & Crafters is to bring you fail-proof ideas that anyone can make, and this one definitely fits the bill!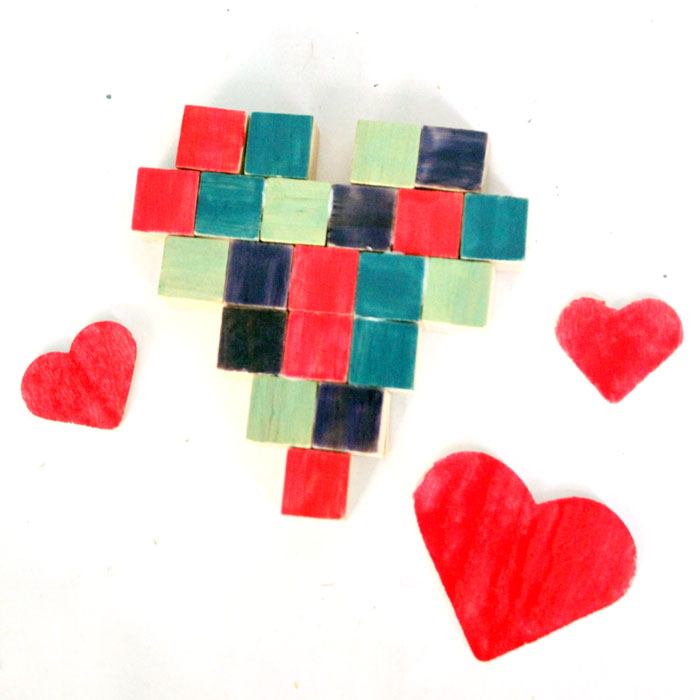 What you need to make this mosaic heart magnet craft:
How to make a mosaic heart magnet craft:
1. Figure out your cube arrangement. I did the below setup – top row: 5 and then remove the center cube, row 2: six, row 3: five, row 4: three, row 5: two, row 6: one – to fit into a "6×6" setup, with an even twenty cubes.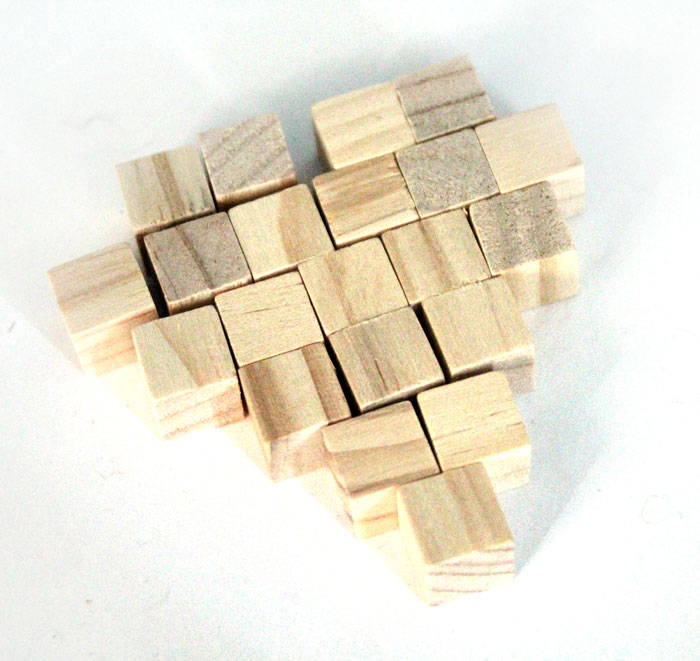 2. Paint your cubes on one side with nail polish. The best part of this is that it dries in minutes! You can start with a few, or plan your colors in advance.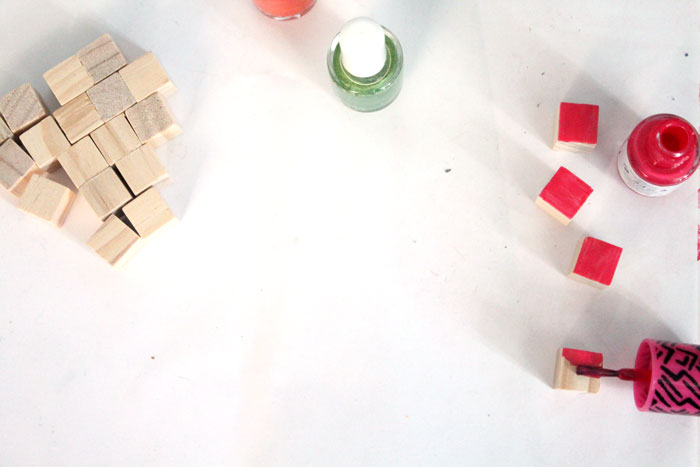 Paint a few in each color, until you have 'em all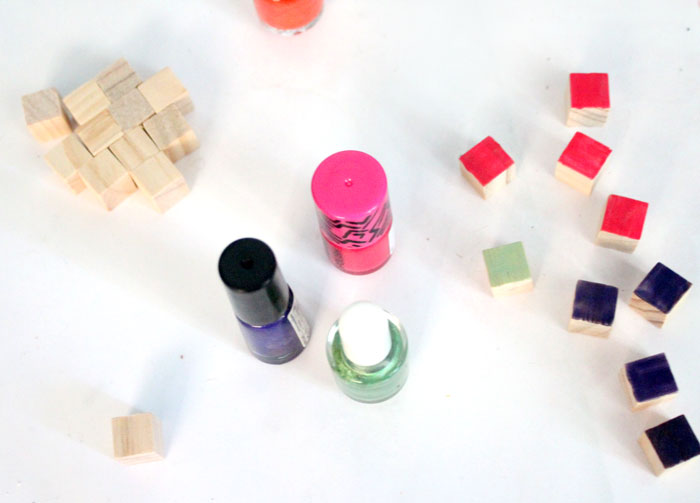 Let them dry and start planning your arrangement!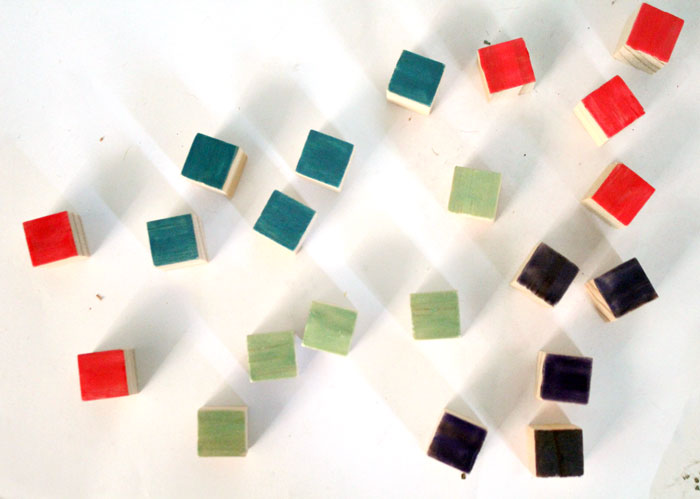 3. Lay out your "tiles"/ cubes how you'd like them to be.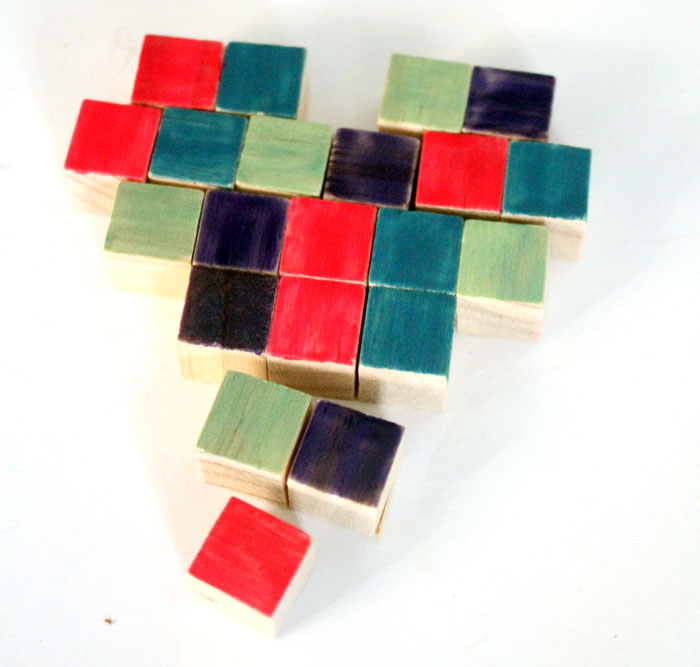 4. Glue together one row at a time and allow it to dry.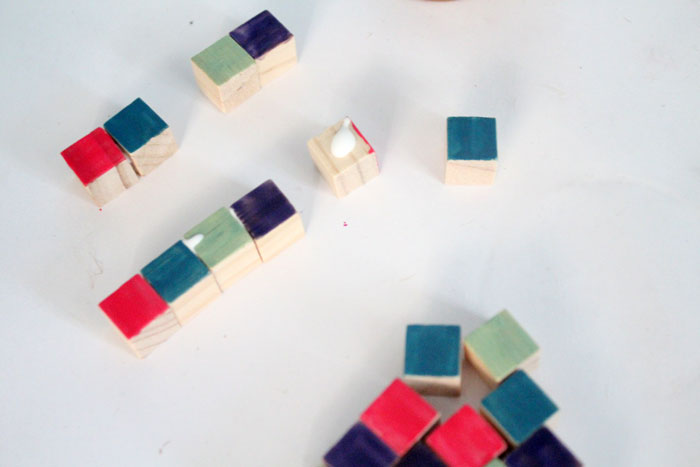 5. Once the rows are dry (they don't need to be completely dry – just enough so that they don't shift is good) glue them to each other in order.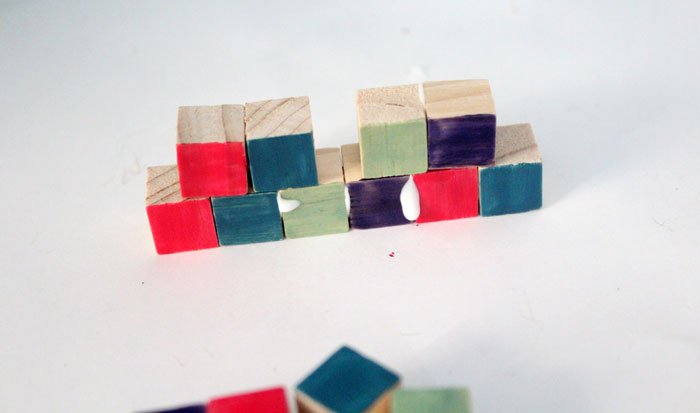 It helps to start with the long row and glue the two top parts on. Then, flip it on its head, and glue on the shorter rows in descending order It will stand nicely while you work.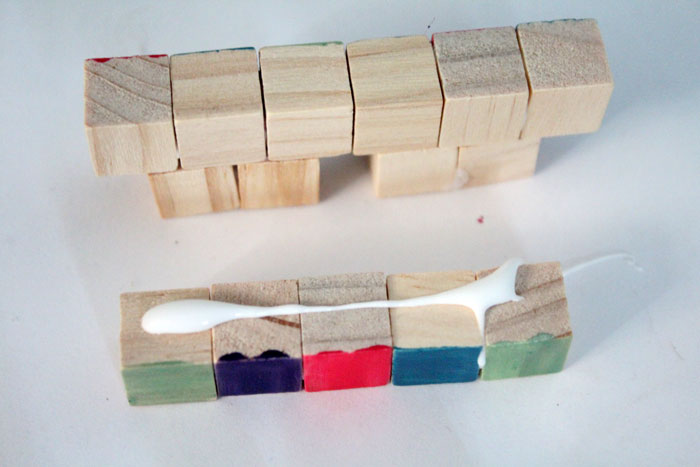 6. When your glue is dry enough that it doesn't shift you can glue 2-3 magnets on the back.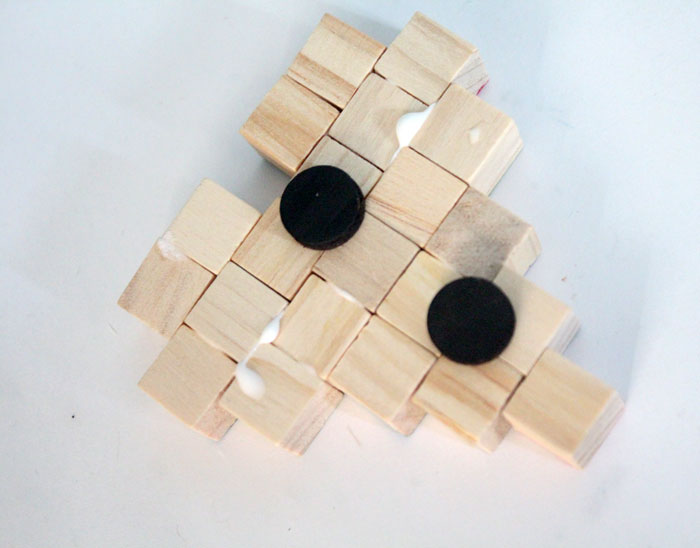 Once it's dry, your heart magnet craft is ready to gift or to display!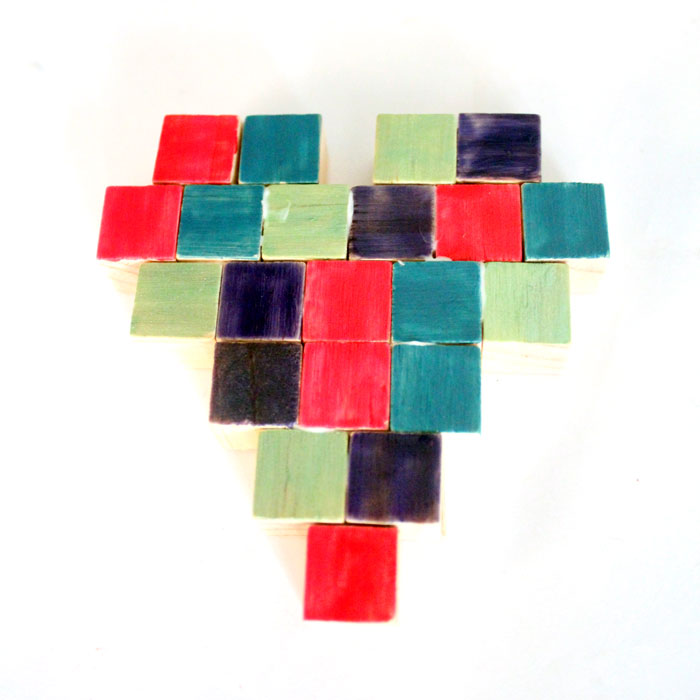 Like many of these crafts, the gloomy winter photos simply don't do it justice. You need to see it to really notice how the nail polish seems to create a layer above the cubes with a beautiful, glossy, glasslike finish – almost like a "real" mosaic!
I hope you enjoyed this easy mosaic heart magnet craft! It's perfect for Valentine's Day or any time of year to show someone you love them.