Freshly Picked moccasins were created by a mom to meet the needs of moms. They are made under the strictest quality standards, using soft and supple leather. They are durable and created with the goal of providing easy to use and practical footwear for infants and toddlers. You all I am a handmade junkie – I appreciate the quality and effort that each piece contains. I also love baby shoes – my baby has had shoes since the day he was born! I am SO excited to be able to bring this to you as part of my First Birthday Gift Guide.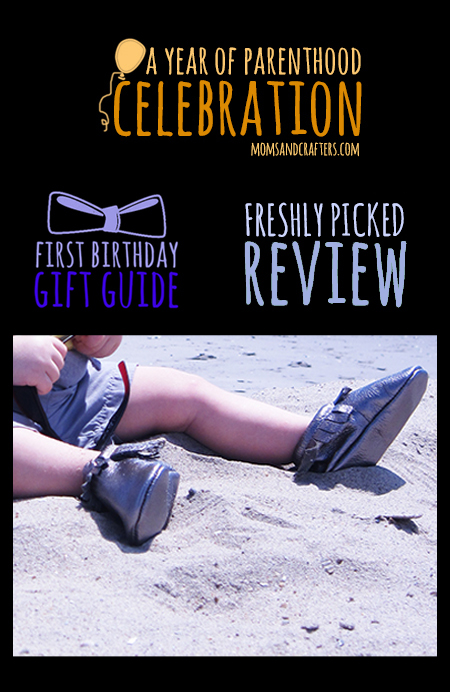 First Impressions:
The "steel" color that I requested is a classy gunmetal shade – one of my favorites! I was surprised at how soft the leather feels. I had no problem using the size charts provided to order the correct size. I actually went ahead and ordered one size up and he can wear them just fine. My baby has huge feet, but he did not look awkward in them at all, as I had feared when I first saw how big they are. As a matter of fact, he looked adorable! We went to the beach that Sunday, and couldn't resist taking loads and loads of photos. I had trouble choosing a few to share in this review – this is the best that I can do!
I love this timeless, classic design and it was immediately clear to me why Freshly Picked moccasins are king!
Features:
Each moccasin is hand made with love
Made of durable leather
Elastic at the opening so it's easy to take on and off
Available in children sizes 1-10 for infants and toddlers
Made in the USA
Available in a HUGE variety of colors and patterns
Designed to stay on baby's feet
What I liked:
The design did not look clumsy on Shmunchkin's huge feet. He was able to wear them comfortably. They did not inhibit his mobility in the least, which is crucial at this developmental stage.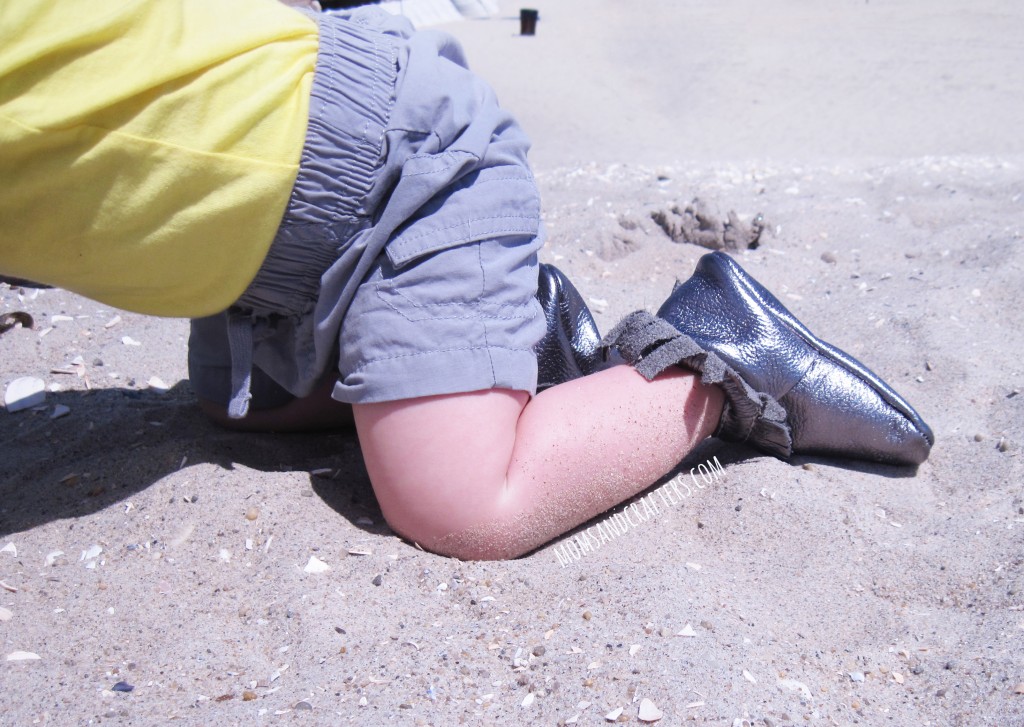 Did I mention how adorable they look? Even he loves them – he has rediscovered his feet! And we've gotten loads of compliments… Even though he keeps playing with them, he can't take them off. They have stayed on throughout an entire hour of free play which is nothing short of a miracle… You can also see from our beach photo shoot above that we weren't exactly sitting still some of the time, and they still stayed on.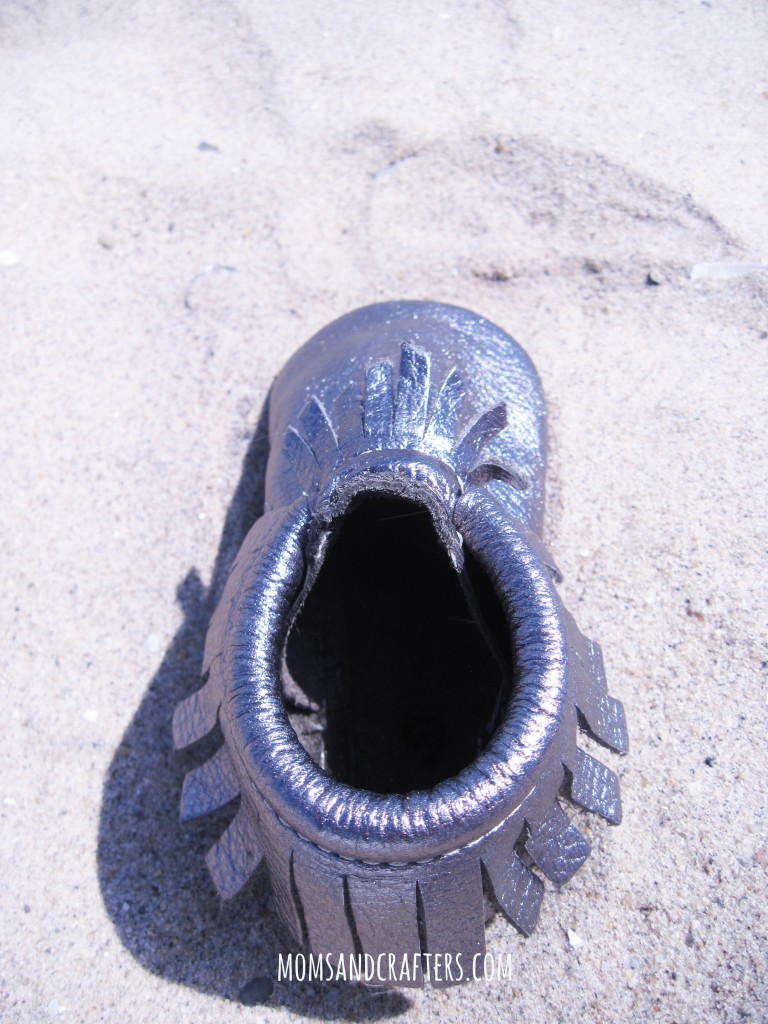 With winter coming, I want Shmunchkin to have more than socks to keep him warm, and at this age shoes are tricky. Babies need to have a good feel of the floor to be able to learn to walk properly. These moccasins seem to do the trick – he was able to stand and take those few steps holding on just the same as without them. I also like that it's real leather and therefore breathable – since we are still wearing them in the summer as well!
The stitching is careful and secure. The shoe seems to be very durable. The leather handled his dragging while crawling very well.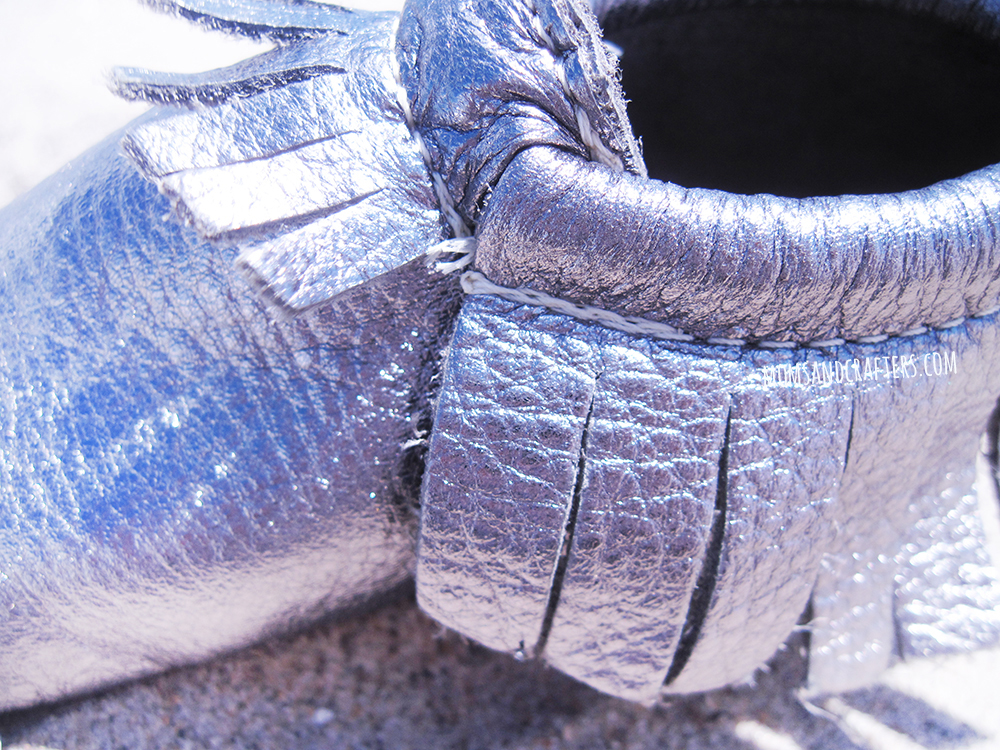 We were able to put them on already even though they're a little big. I love that they have a long wear time, so you get more wear time for your money.
What I Didn't Like:
I did find that it was not as easy to put on as promised. This could be because he curled up his toes when I put them on. I do assume that this does contribute to the fact that it does not come off.
Who It's Best For:
Early walkers who need shoes for protection, but need to feel the ground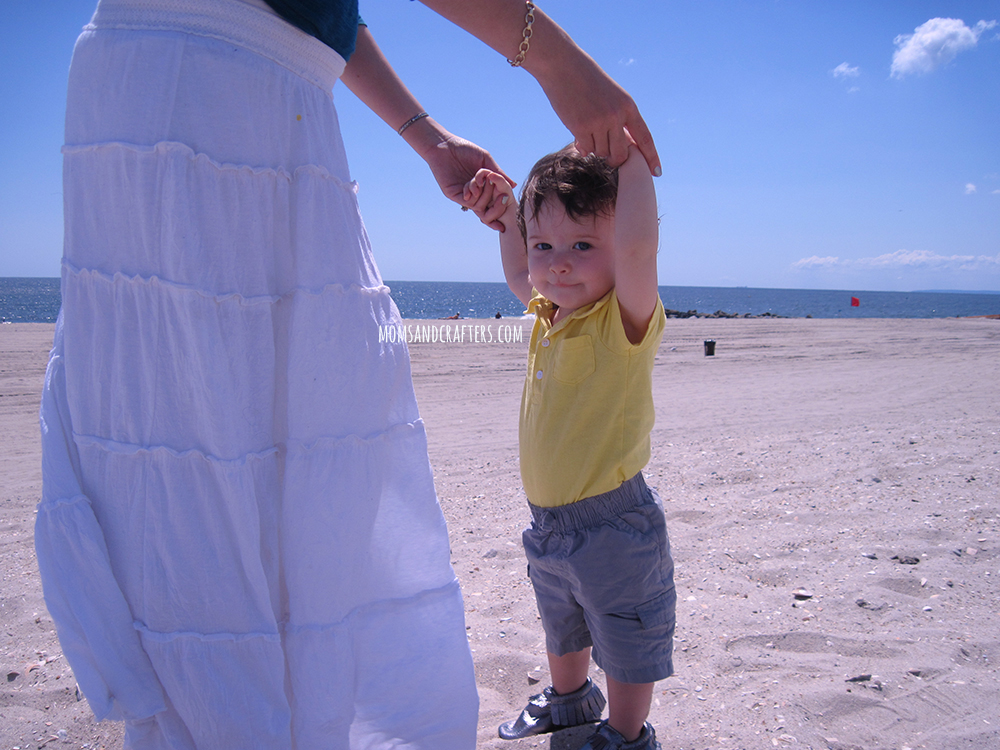 Stylish moms who want their children to be best dressed
Special events or just for fun! (we hope to wear this at Shmunchkin's aunt's wedding!)
Moms who want an extra layer of warm for baby's feet in the winter
Final Score *****
Final score is 5/5 stars. I just love these – the price might be high at $60 but the quality is clearly superior. These are comfortable for baby and definitely fill a need.
Connect with Freshly Picked
Disclaimer: I received the above product free of charge for review purposes. As you can see, all opinions are my own and remain unbiased.