Inside: old house DIY ideas to make it feel prettier. If you love this, check my poured paint art tutorial. This post contains affiliate links.
---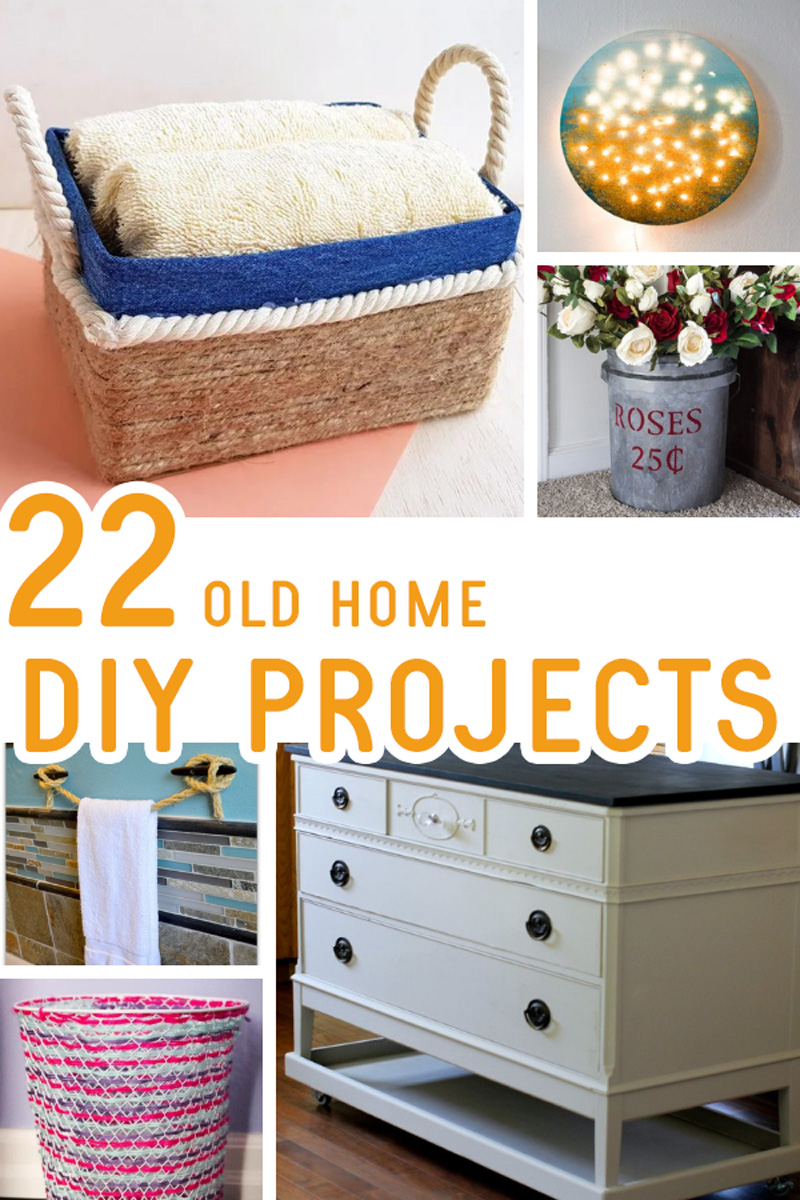 If you live in an older house, then you may be finding yourself always looking for ways to upgrade or make it better. We recently purchased an adorable 1930's cape, and while we fixed some parts, some were left to DIY. Since we were short on budget and wanted to keep the integrity of the home intact, we needed to resort to quick DIY projects.
If you live in an old home, you know exactly what I'm talking about. A little old house DIY can go a long way. As a person living in an older home myself, I understand the struggle of funky spaces, weird colors, and odd nooks. There is always a DIY or a renovation in progress, but a simple home decor DIY can really make a huge difference for your space! In our previous home, our small space entry table made a huge difference, but these ideas are great for your old home regardless of size.
I have found that upcycling household items can give them new life and help you update your older home. These are all ideas you can do yourself and they're so easy to do!
Cheap and Easy Old House DIYs and Upgrades
DIY Decor & Accents for your Old Home
1. DIY Chalkboard Signs – There's nothing like this to add a little old school flair to your home – especially if you can find chalkboards at the flea market! Just pull out that Cricut for some permanent signs. Or use stencil film and chalk for a more authentic (but no-skill-required) look.
2. DIY Flower Market Bucket – I love how this adds color to an old space, without looking garish! Change the display seasonally if you'd like.
3. DIY Galvanized Wall Bucket – A brilliant and cheap way to fill those walls – especially if your home came with way to many "pre-installed hooks".
4. DIY Spray Painted Glass Bottles – The trick is to keep the colors muted and toned down so that it looks real. Paint a bunch in different shapes and sizes and assemble them together for a cohesive gathered look.
5. How to Make Your Own DIY Canvas Light Home Decor – Old homes can be dark, so adding a little light is a winner.
6. Embroidery Hoop Wreath – Add a little year-round vintage to your decor with this cheap indoor/outdoor old house DIY project.
7. DIY Wooden Clipboard Frame – Create a changing display for your favorite photos by making a few of these. Bonus points if you print them to look as hold as your home is. You can even put a vintage photo of your home in this!
8. Stain Your Own DIY Wood Flower Box Home Decor – Staining your own wooden accents means you can make sure it works with your space – whether you're matching, or going with a more eclectic look.
9. Cactus Cricut Terrarium – Small home accents like this one lend itself more to the collected look above. You can use tinted glass (or tint it yourself) if you're aiming for old house DIY that'll fit into the era of your home.
10. Easy DIY Brick Faux Wall Installation – Fake an old Brooklyn loft look with a faux brick wall installation. Elements like black pipe can really add to that vibe.
11. DIY Gallery Wall – This was created with pops of color for a newer home, but if you're going for the old look, simply paint them with distressed metallic, white, or anything cohesive like that! The collected look of the frames and the overexposed black and white photos make it old… but new. You can once again include photos other than your family – old photos of the neighborhood, home, maps from the period that the house was built.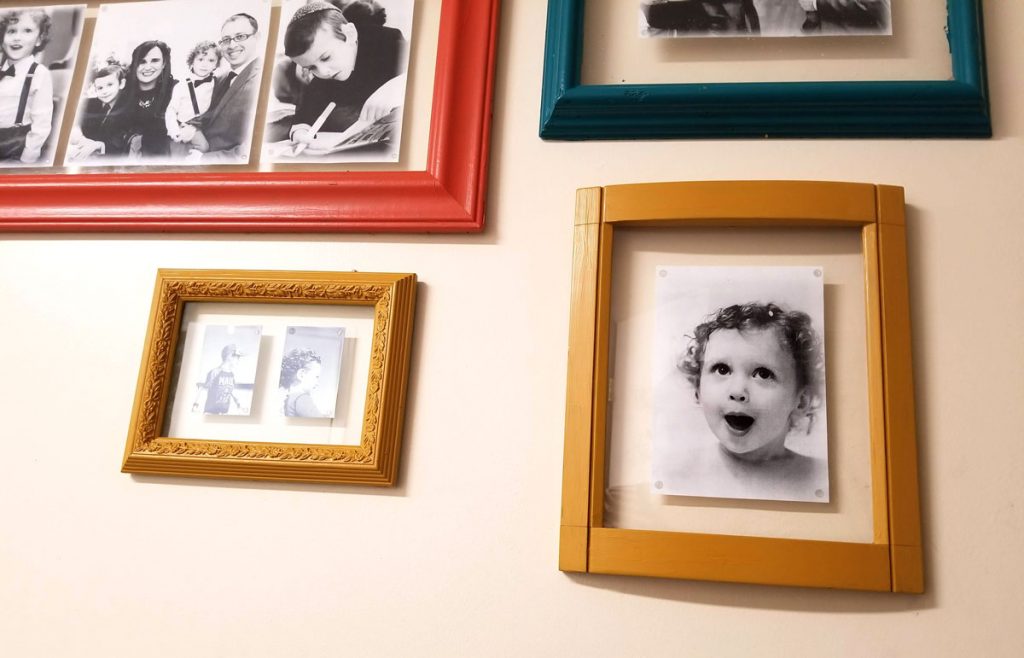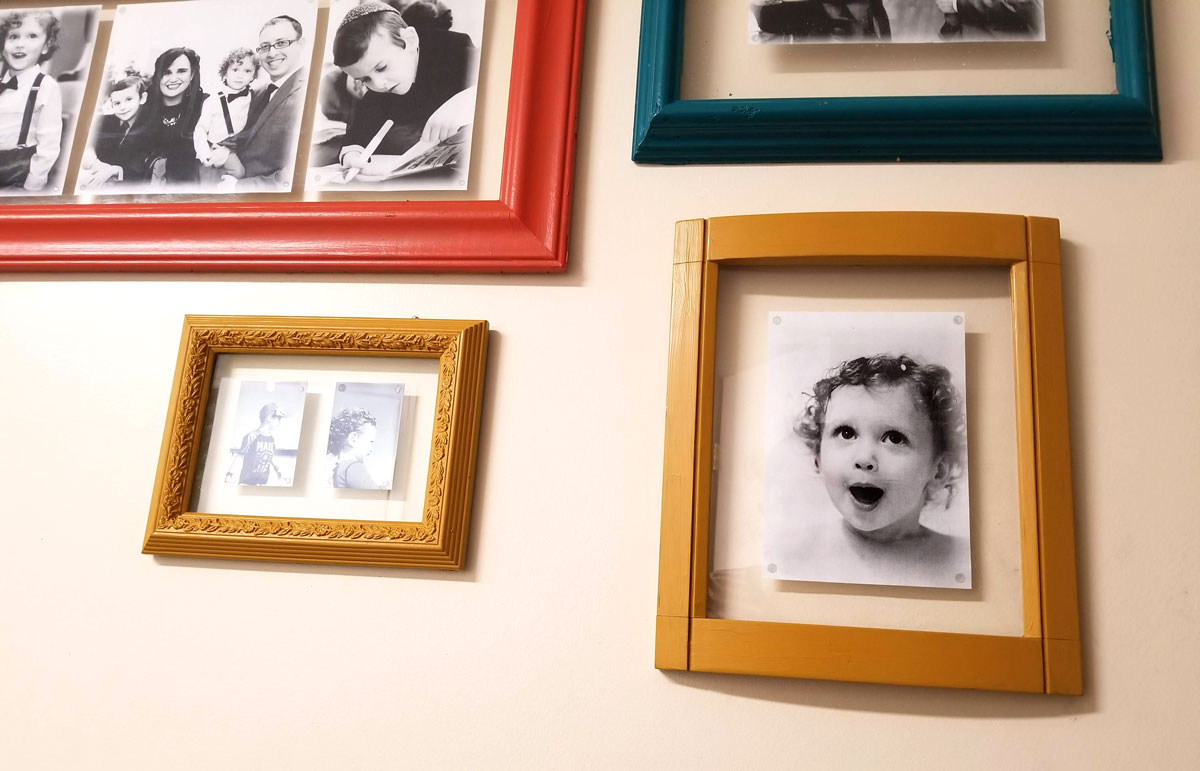 DIY Organizers & Practical stuff
12. DIY Nautical Towel Holder – Um, this is brilliant! Ditch the pink and green plastic towel holders and install this.
12. Embroidered Trash Can – try this with a more organic material like bakers twine, sisal twine, or rope for a home office. The colorful yarn is great for a kids' room or craft room.
13. How To Replace Kitchen Cabinet Hardware – Swapping the hardware is one of the easiest, quickest ways to seriously up your kitchen quality. And it's a fix you're not stuck with! You can get hardware for quite cheap on Amazon, as we did for our kitchen.
14. Clipboard Photo Display – there's nothing like a few photos to turn an old house into a new home! This is perfect for a family room or kitchen.
15. DIY Storage Bin from a Cardboard Box – this is the old house DIY that'll have you loving cardboard boxes almost as much as your toddler!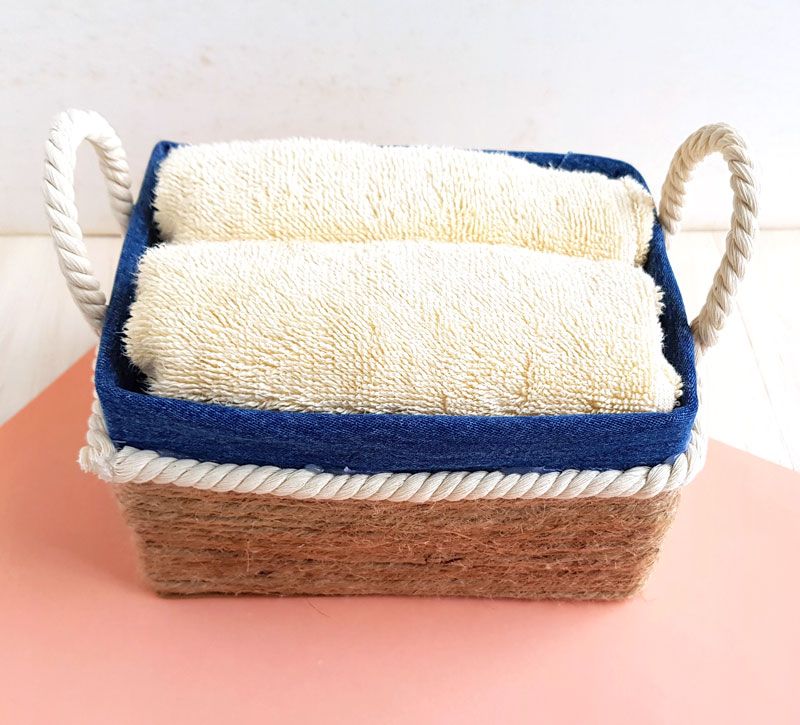 16. Modern Rustic Burlap Table Cloth – Pull double duty: accessorize AND protect your table with this rustic touch.
17. DIY Copper Toilet Paper Holder – Nothing like some DIY that will keep that TP where you need it – but won't look lame.
Old House DIY Furniture
18. Farmhouse Bedside Table – a little touching up on an old piece turns it into the cool kind of old (just like your house…)
19. Dresser To Kitchen Island – Old dressers can be big and bulky, which is something you DON'T want in a dresser… but you do want in an island! This clever upcycle will really make your old house DIY endeavors feel natural.
20. Entry shelf – Depending on the era, many older homes don't come with grand entryways. If yours is compact like ours, you'll love this idea for creating a modern family drop zone in an old house.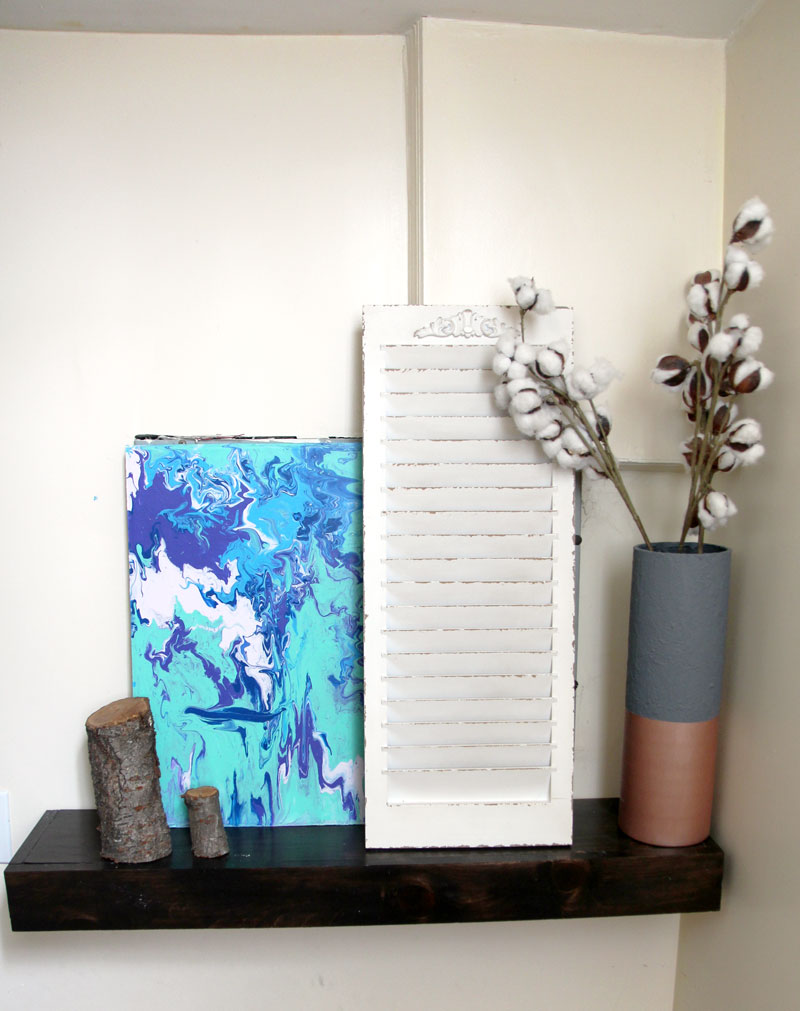 21. Color accent nightstand – while the Rast nightstand is no longer available, you can do this to add some charm to any old nightstand that has a simple shape: paint it neutral while adding a distressed color accent to the edges! We still use these years later.
22. Fur stool makeover – The trick isn't to avoid making things look new. The trick is to make it look like it was old and you made it new – just like your home. Up the ante while retaining some original charm with all the sass that faux fur gives you.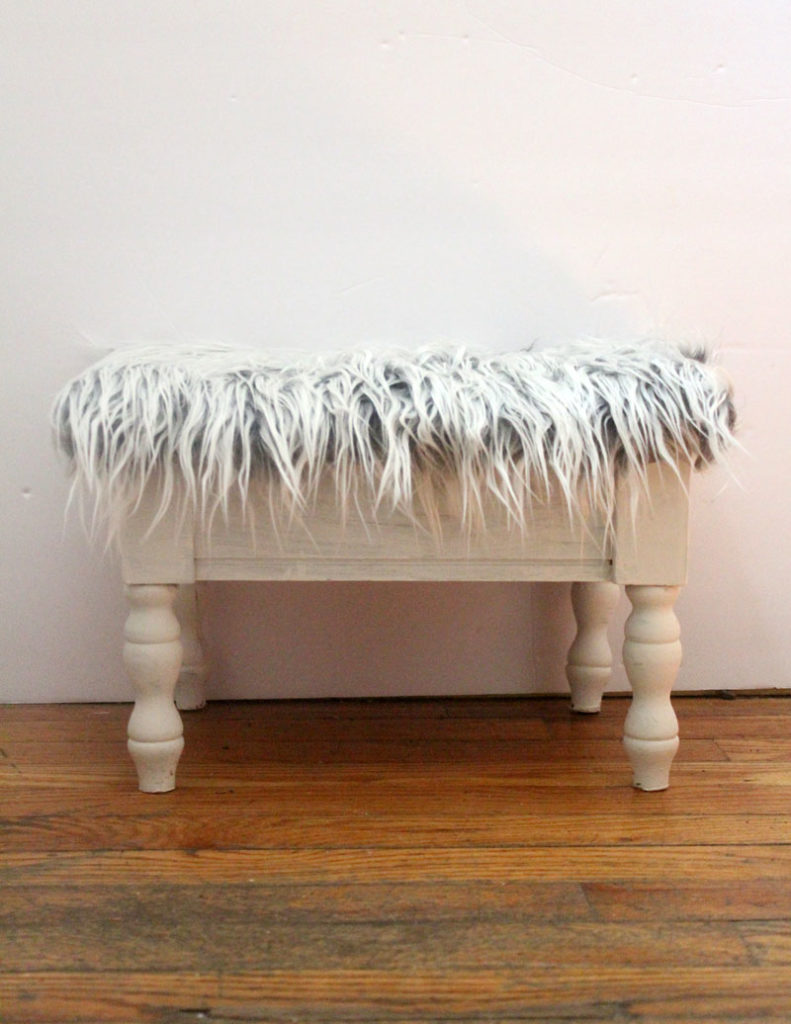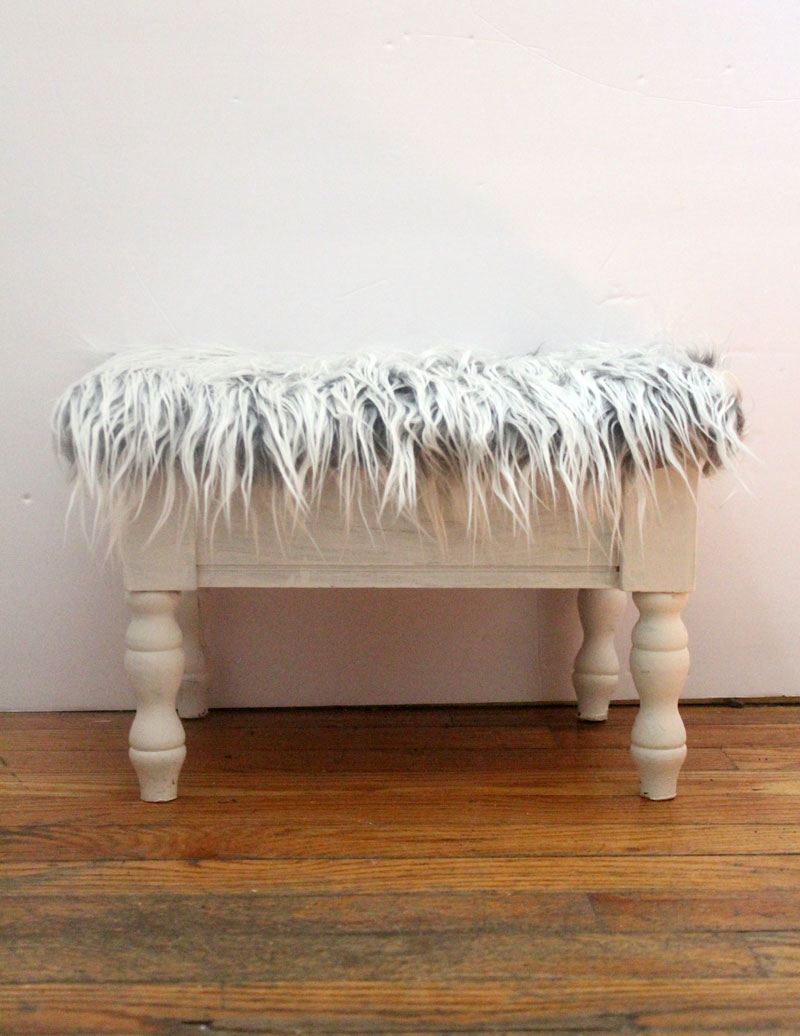 What are your favorite old house DIY ideas? Comment below!