I've shared my top gifts for crafters in the past but what about gifts for the crafter who has everything? Here are my top picks – from consumables, to cool crafting gadgets, to some sweet merch, there IS something you can still get that crafter in your life! This post contains commissioned links. Some of the products featured in this post were provided free of charge for gift guide consideration.
---
I'm known to my peers as "the crafter who has everything". Do you know someone like that too?
To create this list, I tested and reviewed products, I looked at my own wishlist, and I interviewed my blog readers. That means that:
Any specific gifts for the crafter who has everything in this list has actually been tried and tested by a crafter who has everything.
This list was created by a crafter who has everything!
In this post, you'll find gifts for the crafter who has everything in every price range. You have books and materials that cost less, and gadgets that cost more (but many are still under $100!)
You'll also find non-crafty gifts that appeal to a crafter's craftiness – perfect for someone you don't know well, and don't really know what they have.
Coolest Gadget Gifts for the Crafter who has Everything:
Even a crafter with a well-stocked craft room will love a new gadget! Find out what your crafter already has and either get something fresh or upgrade their current gear.
1. Cricut Machine:
This famous cutting machine so expands what the average person can make, the possibilities are endless. From jewelry making to sewing, paper crafting and personalizing, the Cricut is a fantastic machine for every craft room.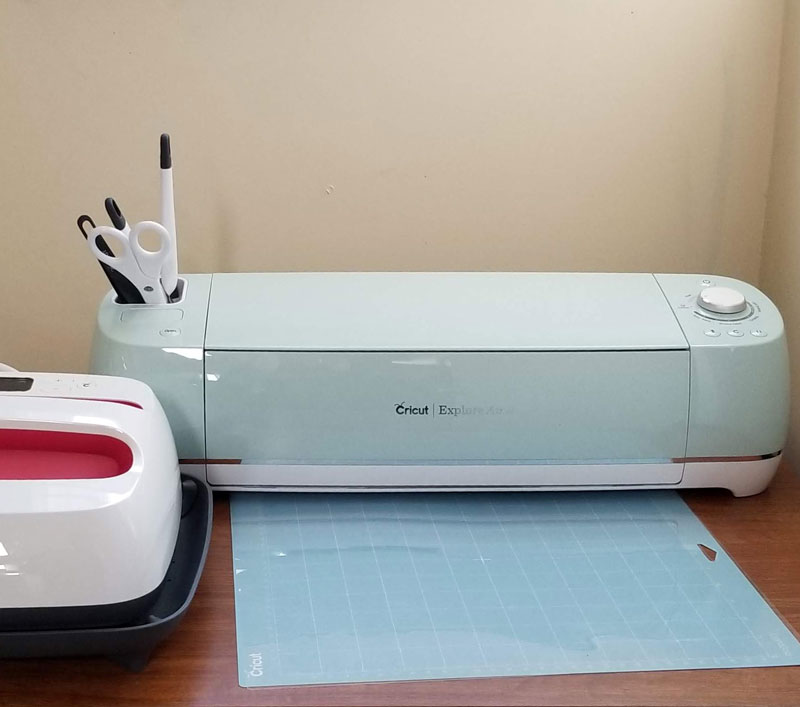 So which machine should you get? You can read my in-depth Cricut machine comparison if you prefer.
The Explore Air 2 can cut loads of materials . For paper crafters and people who like to personalize mugs and shirts it's fantastic. It's a fantastic starter machine, and most crafters won't need anything beyond it.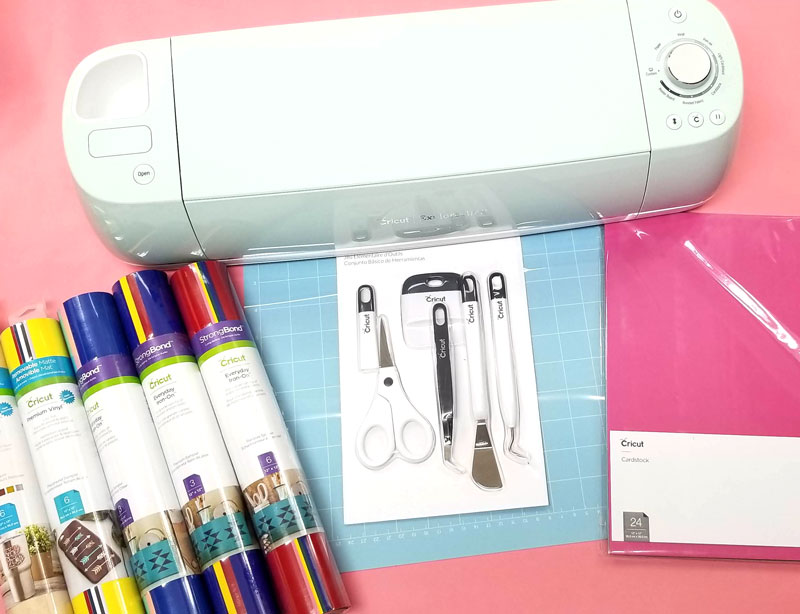 The Maker is the top of the line so if it's in your budget definitely get that. It's also the right machine for sewers, as it can be used with a rotary blade for fabric. It can also cut thicker materials so it's good for jewelry artists and wood crafters. It makes a great upgrade for someone who already has the Explore Air 2.
Get Cricut on Amazon | Cricut.com | Walmart.com
The 3Doodler has been at the top of my personal wish list for a while! Use a few types of plastic to draw in 3D. It's like a 3D printer, but without the need for designing digitally in 3D first, and it takes up so little space!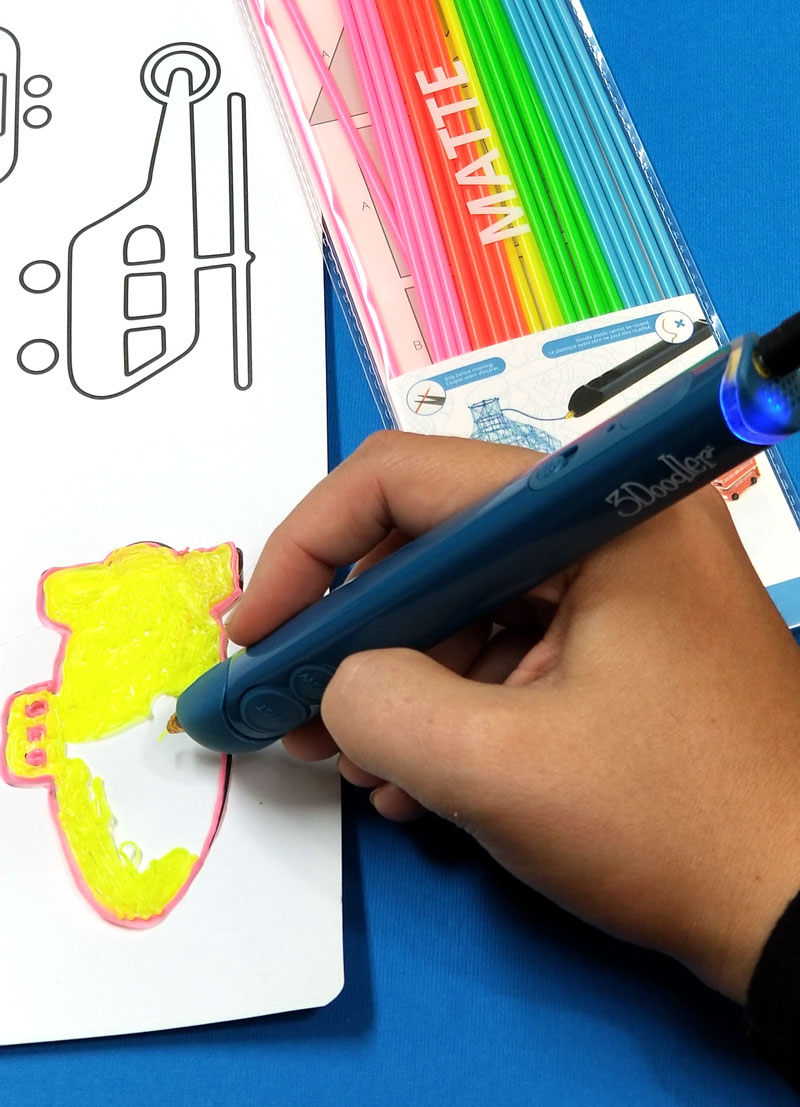 Load plastic filaments and use the 3Doodler to melt it while drawing shapes. Jewelry artists can create unique pieces. Anyone can use it to make 2D or 3D crafts from plastic.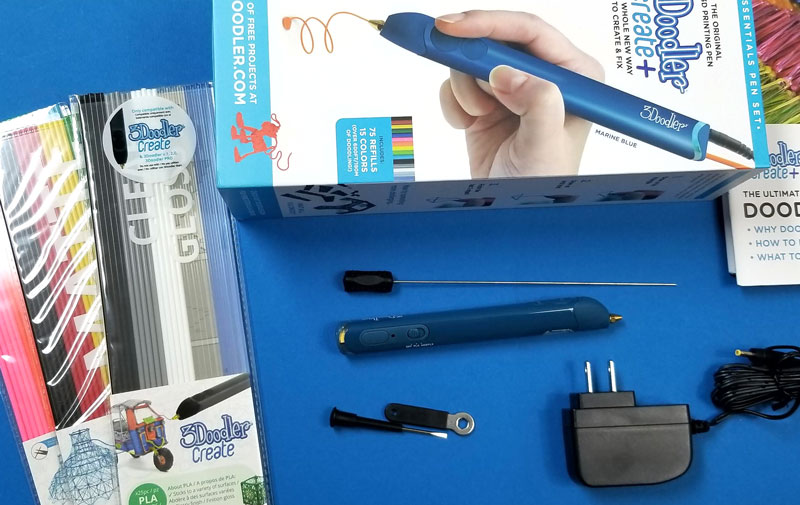 Try making phone cases, magnets, sculptures, replicas of landmarks, centerpieces for your holiday table… if it can be made in plastic you can 3Doodle it! They even have wood grain filaments you can get!
Get the 3Doodler on Amazon

While the smART Sketcher Projector is designed for kids, it's a fantastic crafting gadget for grown-up crafters too! It fills in that gap between crafter and artist. Update: the New Smart Sketcher 2.0 is out now and it's even better! Get $5 off with code MOMSANDCRAFTERS.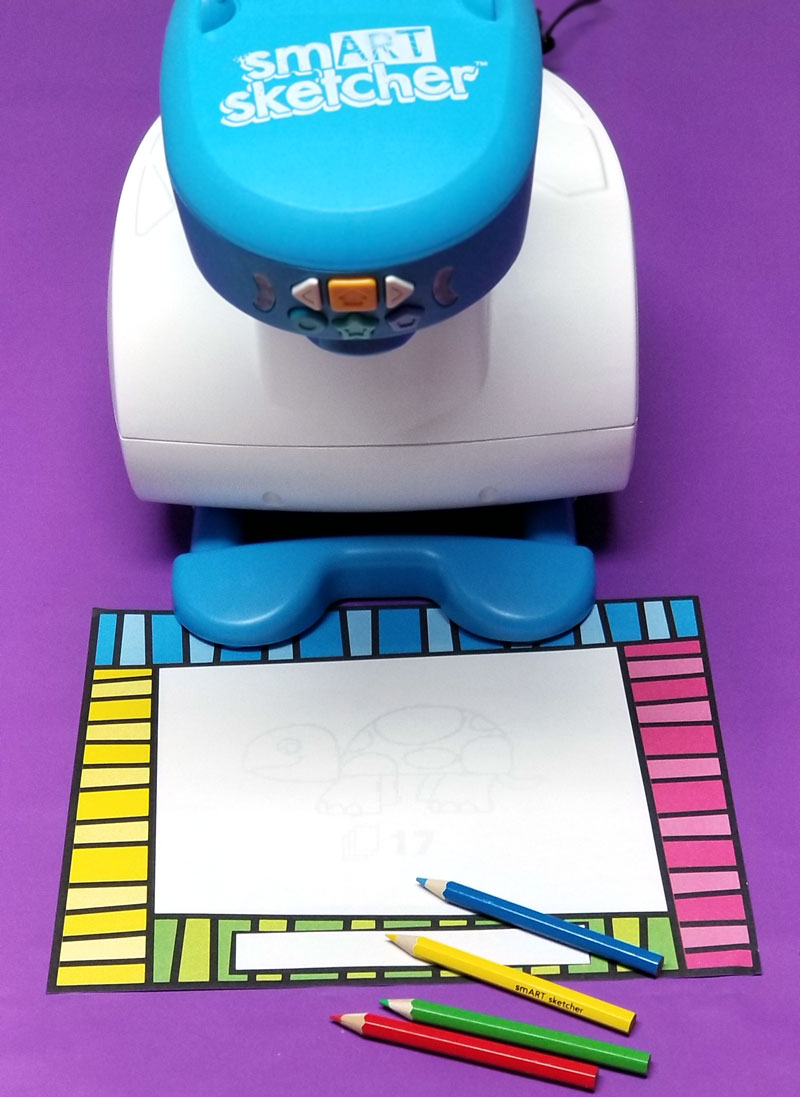 Not every crafter can draw, but often we want those hand-drawn elements in our creations. It's perfect for bullet journalists, planners, and scrapbookers.
Load the SD and project it on paper to create a drawing. It both teaches you how to draw simple doodles and it also allows you to trace them for your actual project. You can draw right on sticker paper to create your own embellishments!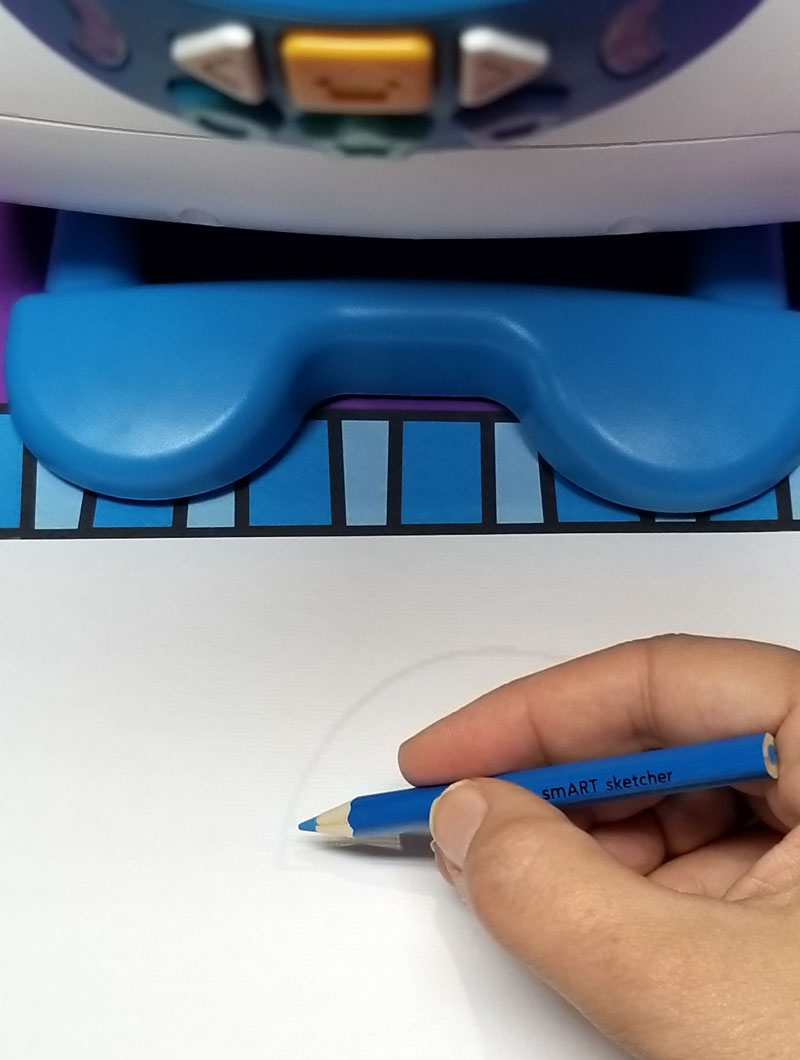 The smART Sketcher comes with one SD loaded with image tutorials and you can get additional SDs to use with your projector, or use the app. It stores very compact, making it a great gadget for small homes too.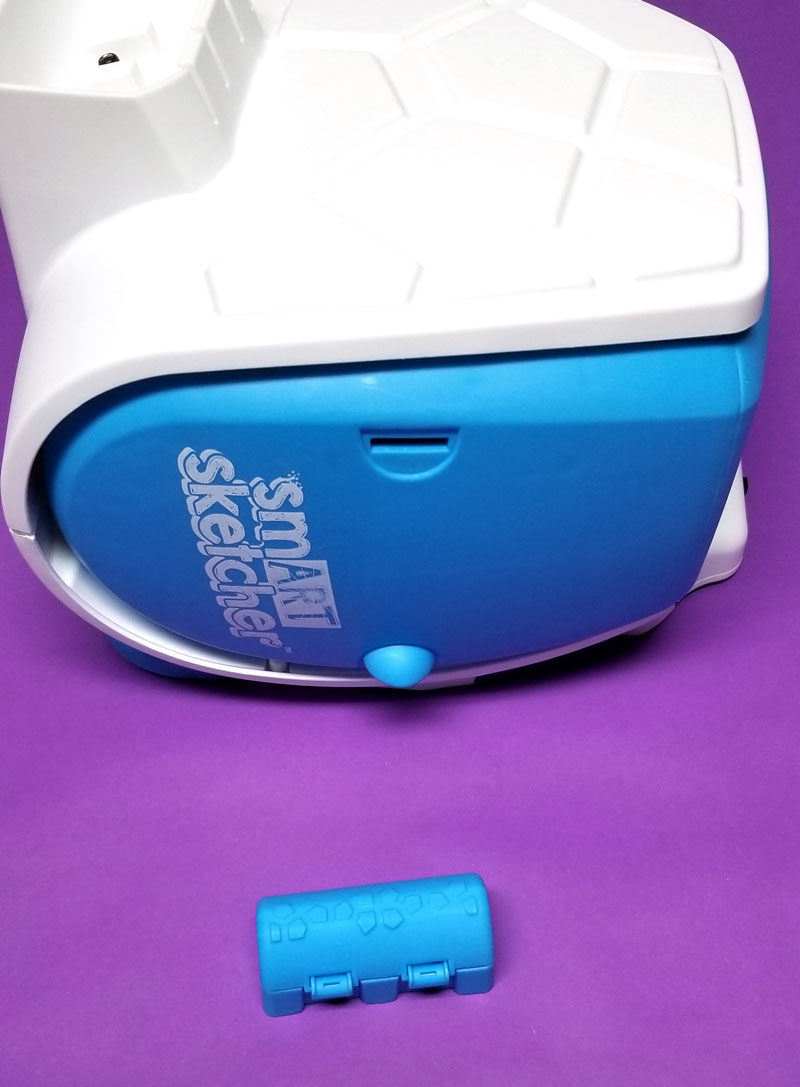 Get the smART Sketcher Projector at Flycatcher Toys – Get $5 off with code MOMSANDCRAFTERS.

4. Cool Camera or an upgraded lens:
Many crafters with well-stocked craft rooms sell their craft, blog about it, or share it in some way. What better way to upgrade their creative business than to give them the means to photograph it better?
For someone with some photography knowledge, I'd recommend a basic DSLR camera such as the Canon T-series (I have the T5.) For a beginner, go for a mirrorless camera. For a pro, leave the camera shopping alone and choose something else from the list.
And if this crafter already has a camera that they love, try for an upgraded lens. I recently added this versatile lens to my arsenal and I love it! Find out first which camera they have so you get the right one.
If your crafter is a professional sewer, upgrading their machine might break the bank. But if you have a casual crafter who might not yet have a sewing machine, or who might be able to use an upgrade, this is a fantastic way to make their day!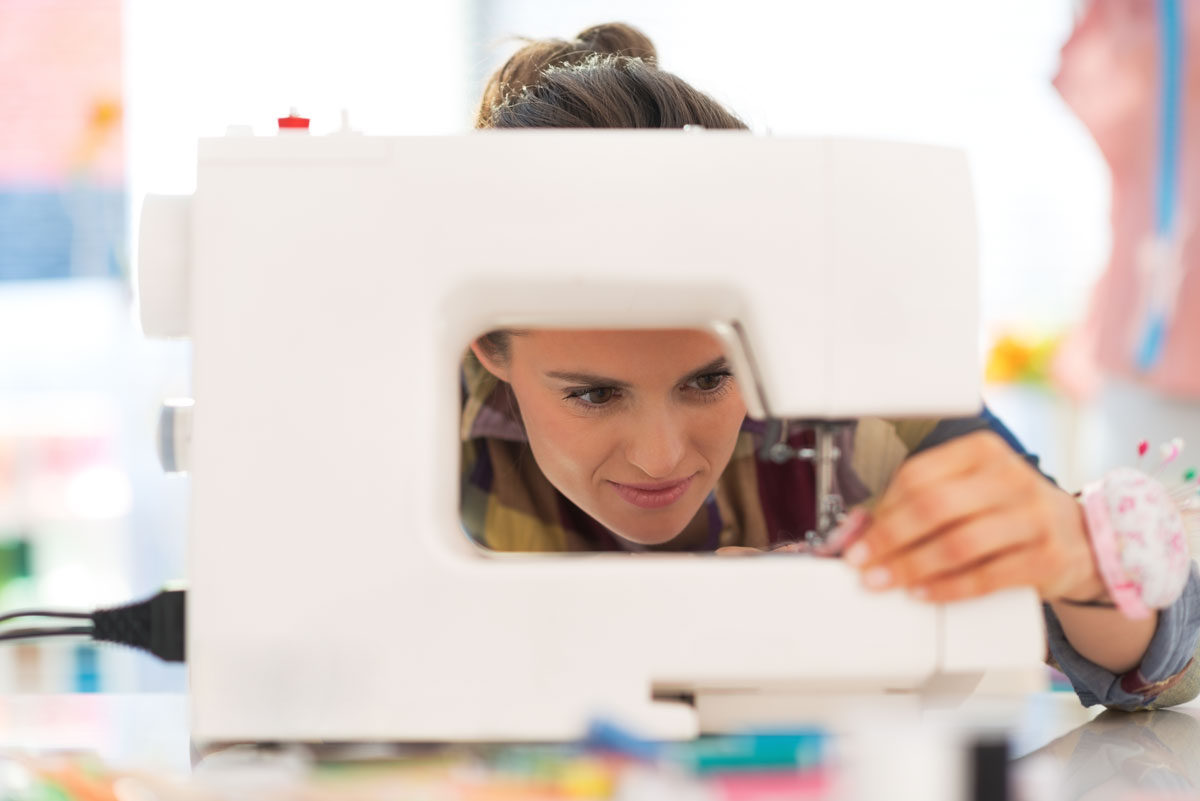 As for which sewing machine to get? It really depends on what they use it for. If you're considering buying a sewing machine for a crafter, I'd recommend first determining which category you're looking for. Then, look through my sewing machine reviews and find the one that best fits your budget.
I've put together separate guides with the best sewing machines for beginners, the best quilting machines, the best machines for sewing leather, and more.
Actual Craft Stuff for the crafter who has everything:
If you prefer to stick to crafting materials, here are some great gifts for the crafter who has everything!
Anne's Kit Clubs are an affordable crafting subscription that's perfect for gifting! Since it is project based, it doesn't clutter the craft room and it uses up. As a crafter who has everything, I love it because it hands me individual projects to work on and freshen things up beyond what I already have in the craft room.
I got to try Annie's Simply Beads Kit-of-the-Month club and I love the jewelry piece it came with! I'd have worn this to my own wedding, and it took things out of my typical jewelry making box.
The kit came with enough spare parts for me to accidentally drop a pearl or two and experiment. For example, instead of making the kit earrings, I decided to go with my go-to trapeze style. I had the supplies to experiment and play.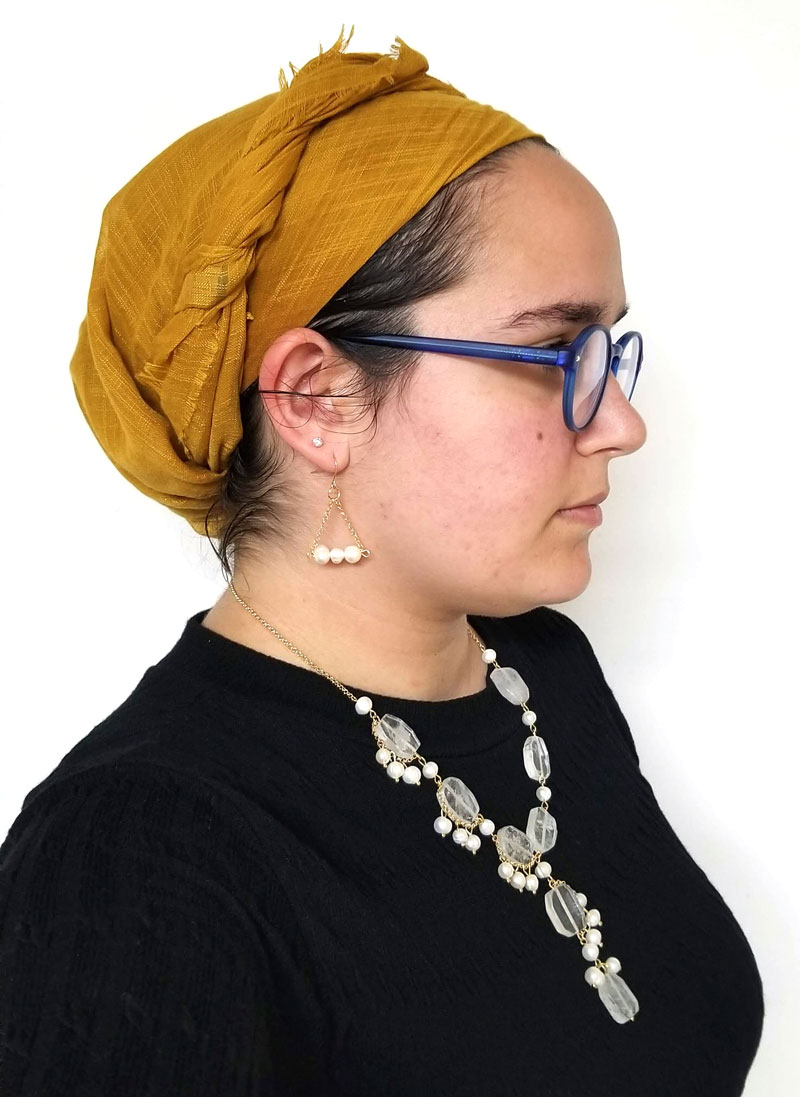 Annie's has clubs for other crafting interests as well – quilting, cardmaking, and more!
As a Moms & Crafters reader, you can get 50% off your first Simply Beads kit when you use code CRAFTER50 at checkout. This code never expires.
Sign up for Annie's Simply Beads Kit-of-the-Month Club here!
2. Consumables:
Some crafting supplies use up quicker than others and those make great gifts, especially if it's a little more on the unique end of things! The trick is to bundle a few – a full line, a supply with an accessory – and box it to make it more giftable.
For example, you can get a big stash of yarn, or some new, unique textures of yarn for your favorite knitter.
For a general crafter, some FolkArt Painted Finishes or Brushed Metal paints are my favorites.
3. A New Hobby:
The best way to gift a new hobby is either with a book (keep reading) or starter materials! Often, what stands in the way of a crafter and a new hobby is those beginning tools.
For someone who is a skilled crafter, you can get a more advanced hobby. Think jewelry stamping starter sets, screen printing sets (perfect for someone who already makes shirts with a Cricut), a wood burning starter set, or even a stained glass set!
For someone who is more into art, you can try a new art supply. Alcohol inks are popular now, alcohol markers are perfect for illustrators.
If there's one thing that everyone needs a new one of every year, it's a planner.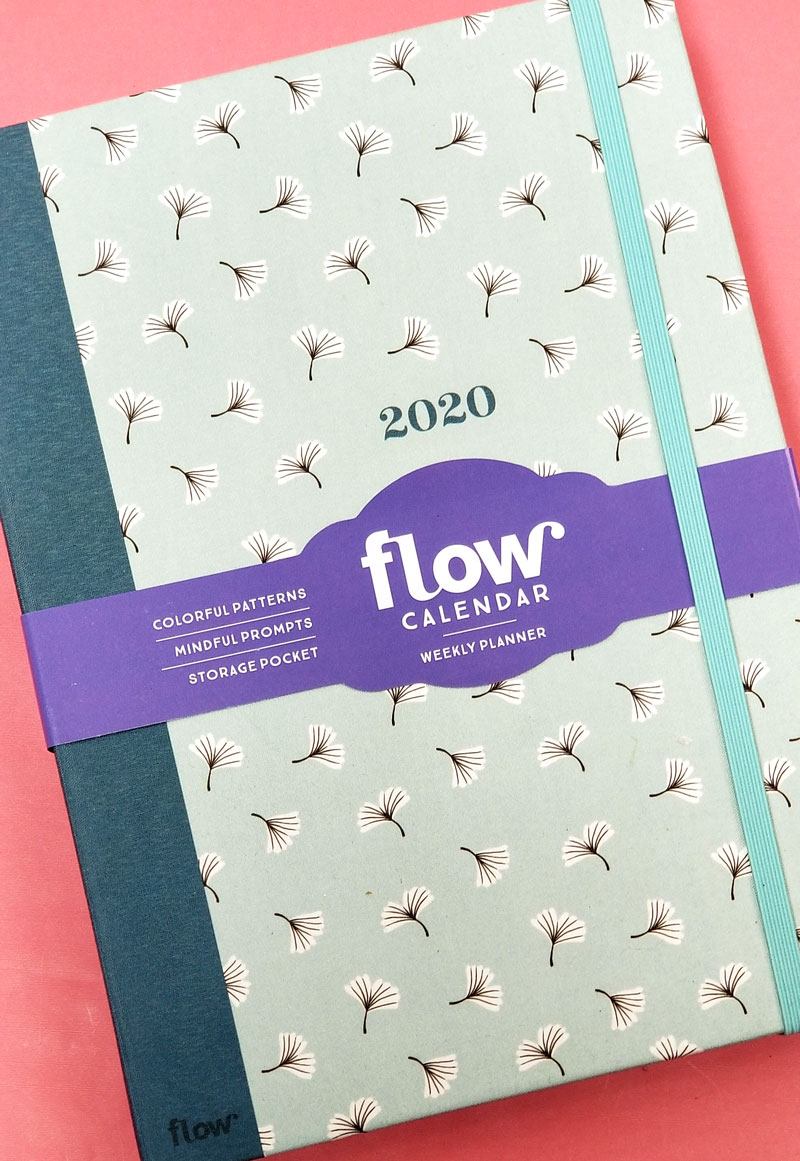 The Flow weekly planner includes creative prompts opposite every planning page, making it perfect for a crafter! It's a mashup between planner and journal that's unique. I love the at-a-glance week (it's a single page week rather than 2-page spread) but it still has space to add stickers and get creative.
The prompt is simple, and includes a graph background with a simple, decorative border. It can be filled in with pretty word art and is a great place to practice lettering. It can also be filled with doodles and thoughts, and whatever you want, really.
Get the 2020 Flow weekly planner on Amazon | Calendars.com
When all else fails, get a gift card. Here's how to decide which:
Stick to Amazon or Walmart because they have a good crafting selection and a great shipping policy. The risk: it might be used for groceries instead!
Go to the "store locator" on the most popular craft websites. Plug in your recipient's address. Choose the one that has a location closest to their destination and go with that. You're also giving them an experience, which is the best part!
Get something that's focused on their specialty.
6. An Adult Coloring Book:
The raging trend might be over, but coloring is still in! It's relaxing and can be a mindless activity. And it's a consumable – coloring books finish.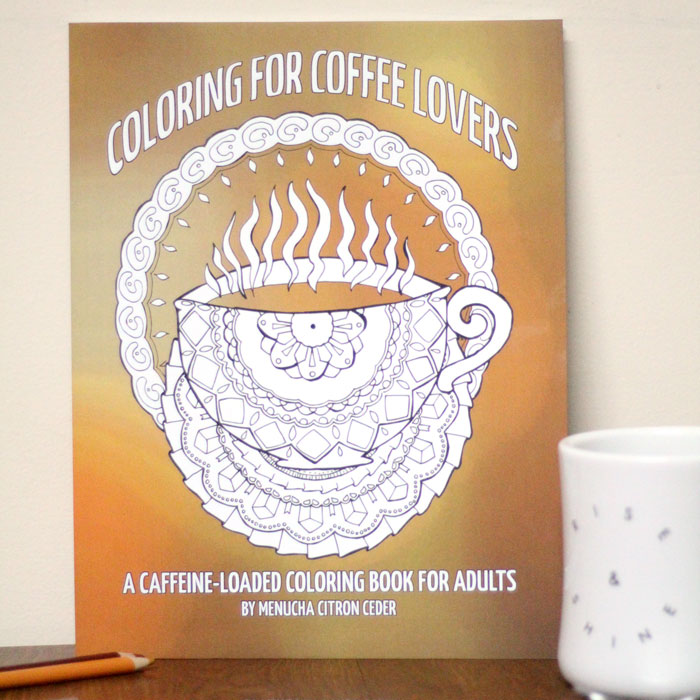 7. Online Craft Classes:
Getting a crafting class is a great way to add a new hobby to a crafter's repertoire. You can go with something as popular as paper flowers to something as obscure as felted holiday creations.
Or even better – get them a subscription with unlimited access to classes that they want!
8. Craft Supply Storage:
She might have a lot of crafty stuff, but does she have a good system for storing it all? Craft storage solutions make fantastic gifts for the crafter who has everything. Go as small as this sweet organizer or get some new craft room furnishings.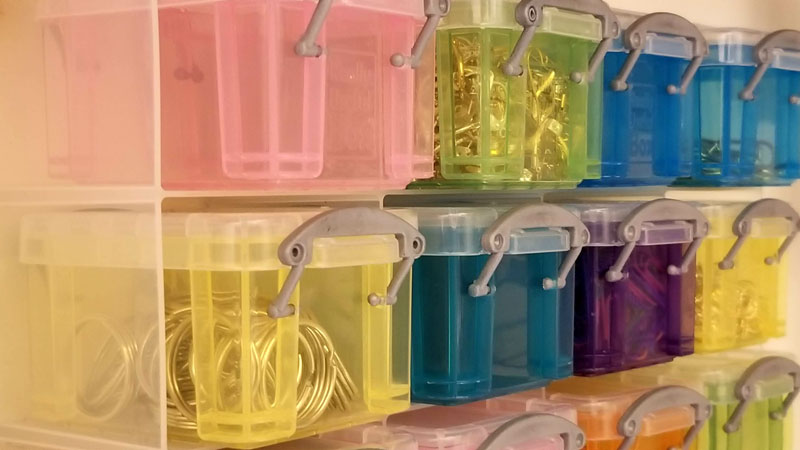 Cool Crafting Merch for the Crafter Who Has Everything:
There are so many cool merch-type gifts that are fantastic for avid crafters who are proud of their hobbies! This is a great option for when you are on a budget and you truly don't know what the crafter wants. They focus more on non-crafting use, but appeal to the crafter's pride:
1. Vintage Sewing Machine Sketch Shirts: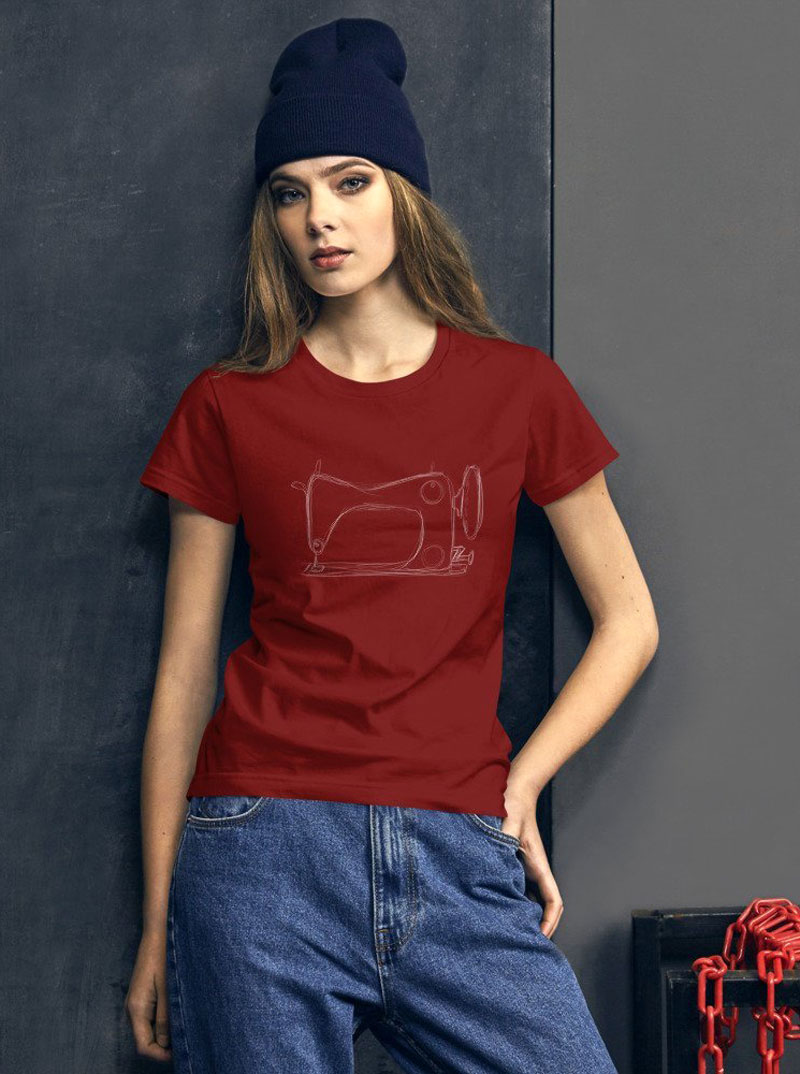 This sweet sketch comes on a short sleeved shirt in pretty much any color! It's a vintage sewing machine on a comfy shirt – perfect for craft fairs or for every day! You can also get it in aneutral gray repeating pattern v-neck.
2. A Pillow for the Craft Room:
If your crafter already has a fully stocked craft room, complete with a couch, this pillow is the perfect finishing touch! It's neutrally colored to match pretty much any space, and it comes in almost any size (14-40 inches) for almost any budget.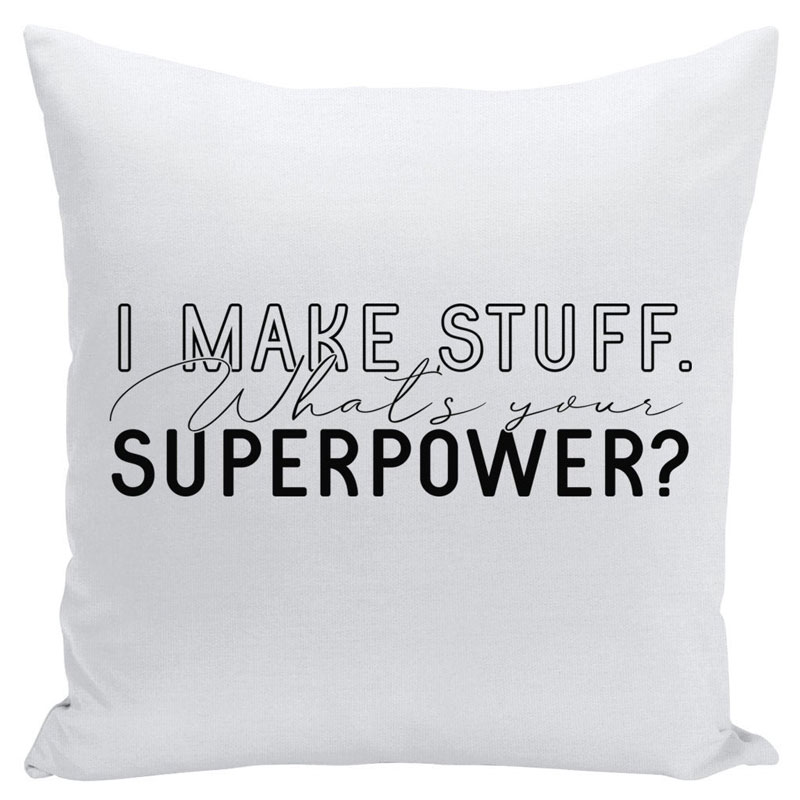 You'll find this quote – "I make stuff. What's your superpower?" on a few more cool gifts because it's perfect for crafters and will definitely make her smile. Want it on something else? Hit the "Custom Order" button and we'll chat.
3. A Crafty Poster: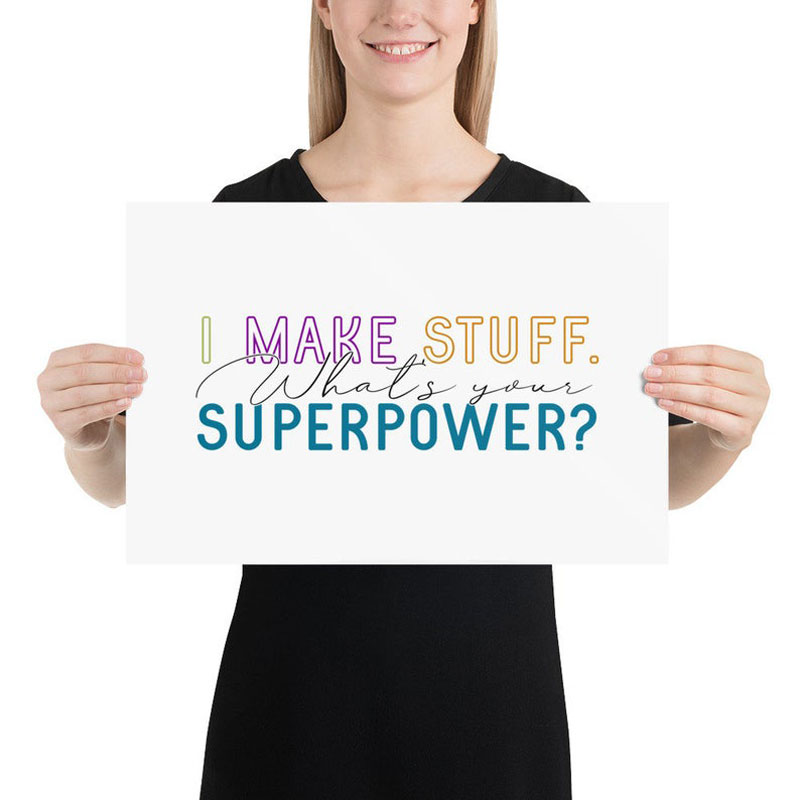 Mount this one in the craft room or over a work desk along with her own artwork. It's simple and a little bit sassy.
4. A Proud Crafter Bumper Sticker (or device decal):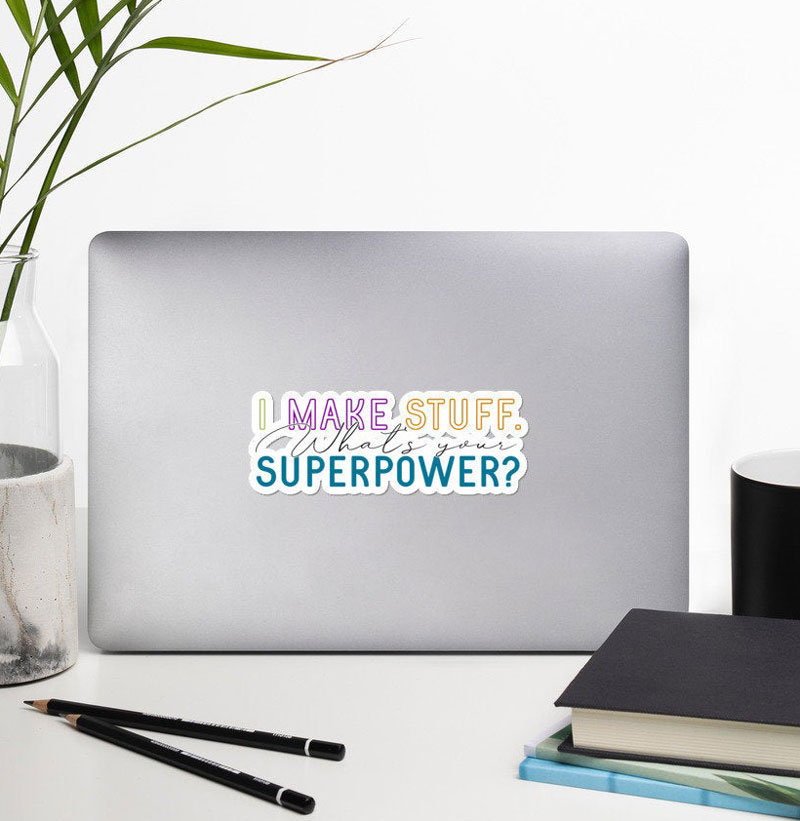 These stickers are great for cars – but also for sewing or cutting machines, laptops, and more! It's the perfect little embellishment and at the right price point. It's made of bubble free vinyl and is good for indoor or outdoor use.
Top Crafting Books for the crafter who has everything:
I'm a true believer that a person can never have too many books. And personally? I can never have too many craft books. Focus on a skill they want to learn, or get them something new, unique, and innovative.
1. The Kids' Book of Paper Love: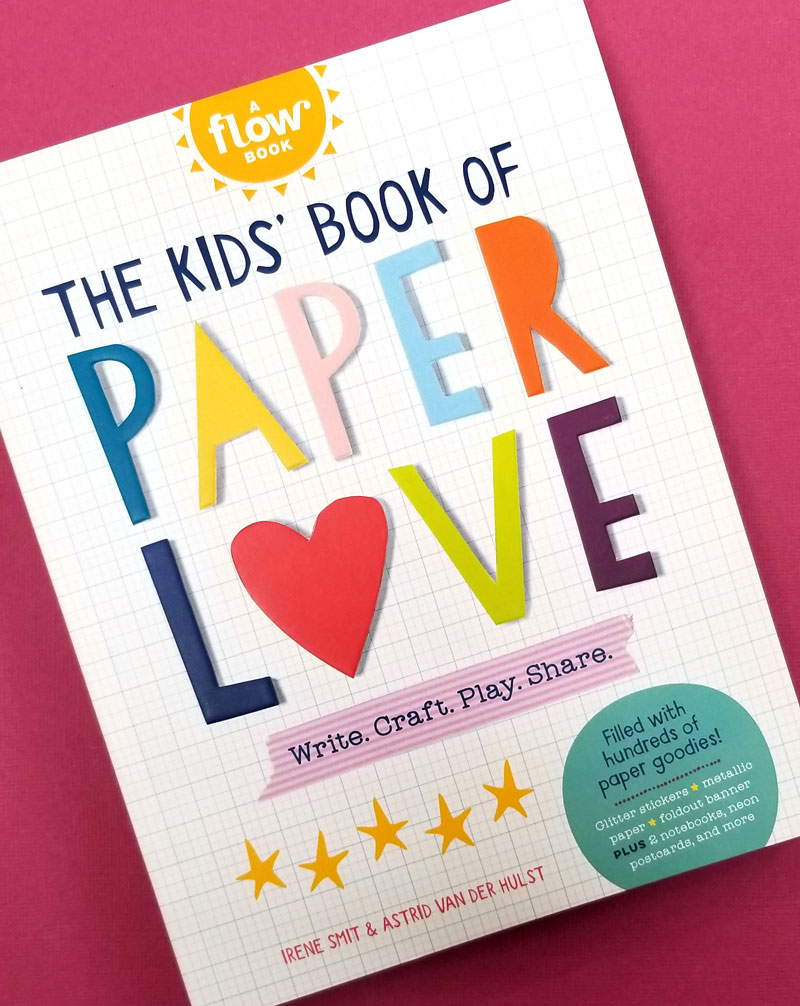 While geared towards kids, I personally have fun with the Kids' Book of Paper Love.
It's jam packed with papers, projects, cutouts, stickers and more!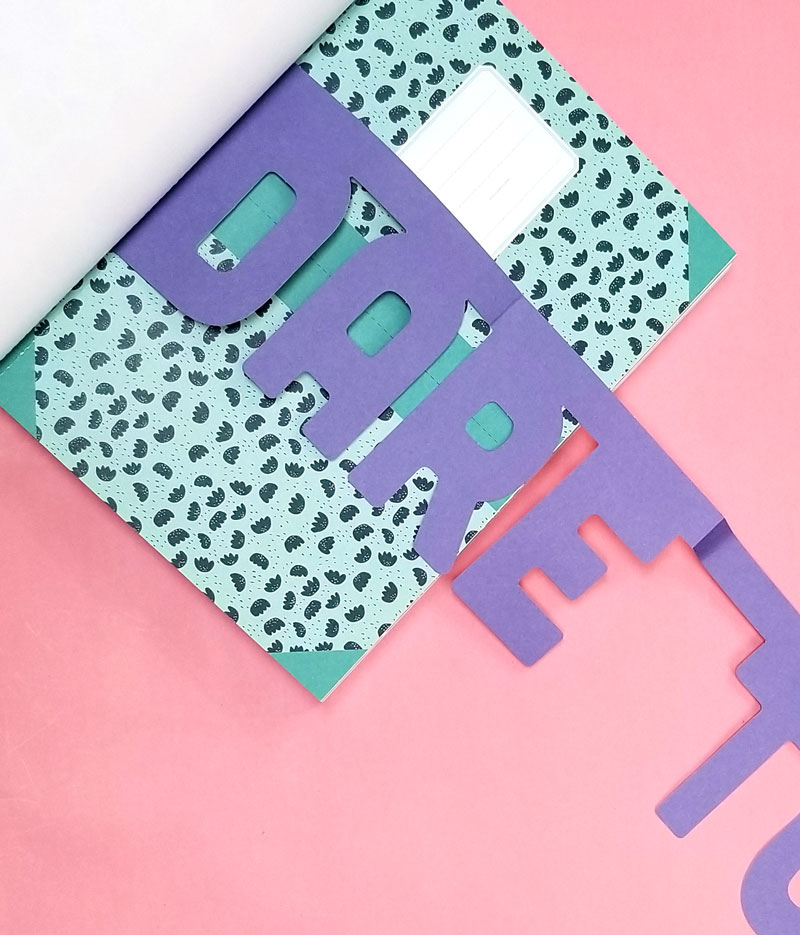 I'd say it's perfect for ages 8-108 and it's true. You have timeless projects like origami, paper dolls, mini journals, "happy mail" and more. It's less tutorials and more materials, but it's in a fun book format that comes side-by-side with the stuff you use.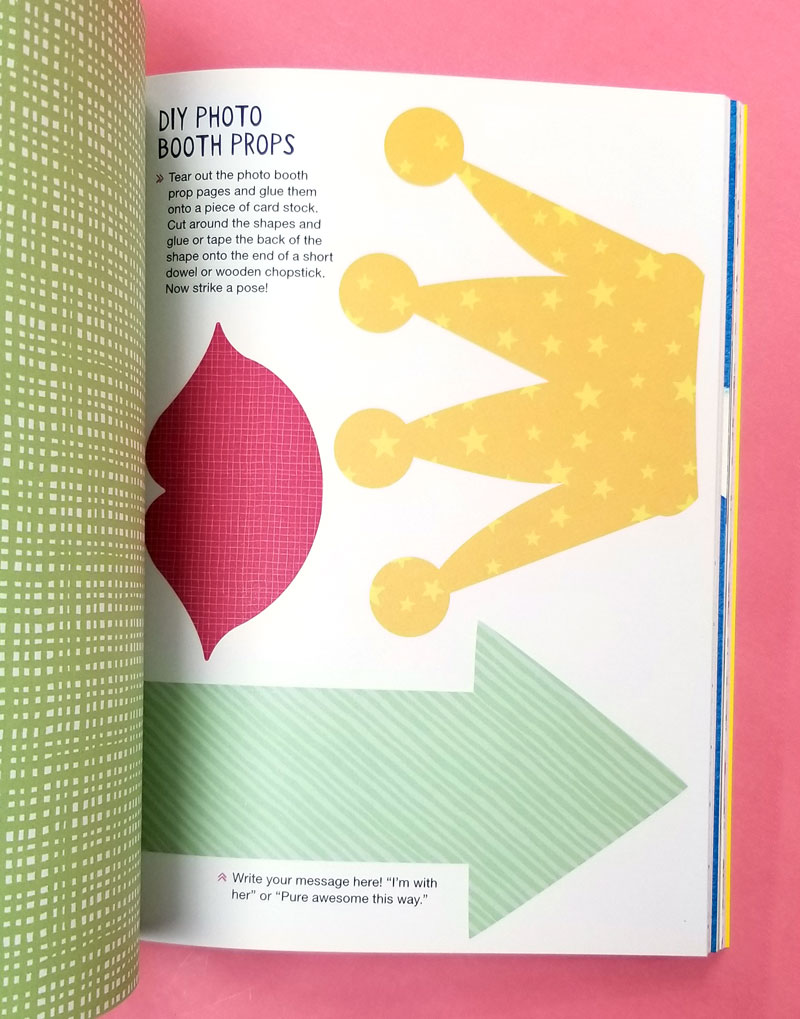 I love it because for me, it's full of pressure-free, mindful crafting!
Get the Kids' Book of Paper Love on Amazon | | Walmart
2. How to Make Jewelry Out of Anything:
Shameless plug here. How to make Jewelry Out of Anything is my passion project.
The perfect gift for crafty teens and tweens, and the perfect gag gift for an adult crafter who is proud to be a "teen at heart" this book takes unusual finds and turns them into jewelry. From recyclables to nature, from craft supplies you have for other purposes, to new uses for beads, this book is about thinking outside of the box.
It also teaches basic jewelry making skills so that no former jewelry making knowledge is required to get started.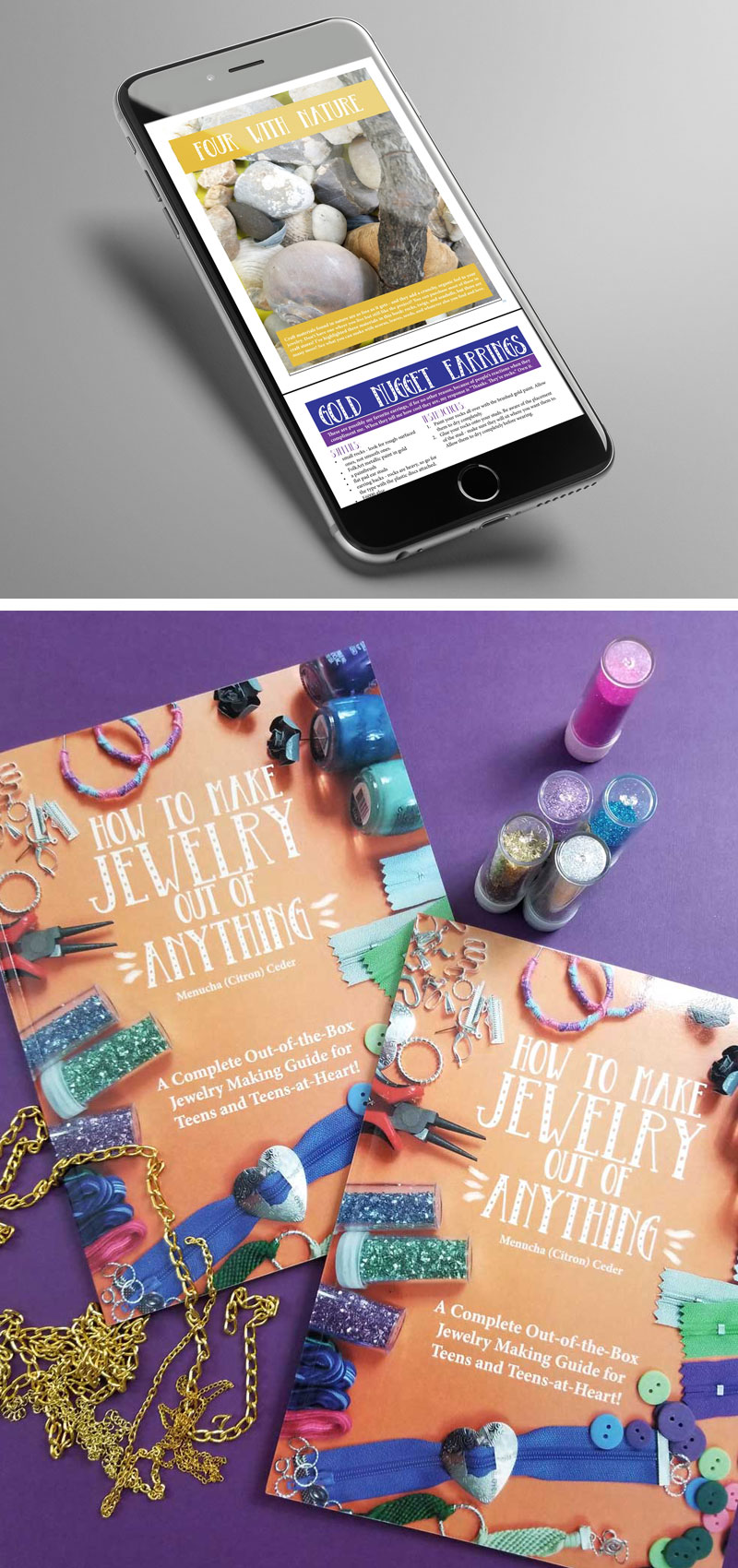 The main thing is, it teaches crafters how to think outside the box with unique tips for taking this further, and it is full of color and life!
Get the print book on Amazon | the eBook on Craft With Anything!
3. More skill-based books:
Any time I feature a new skill to learn on Moms & Crafters, I share a list of books as well. That's my personal favorite way to learn a new skill. You can check out some of these lists of books for beginners here, or check out some personal favorites – perfect for skilled crafters who want to learn a new craft as well!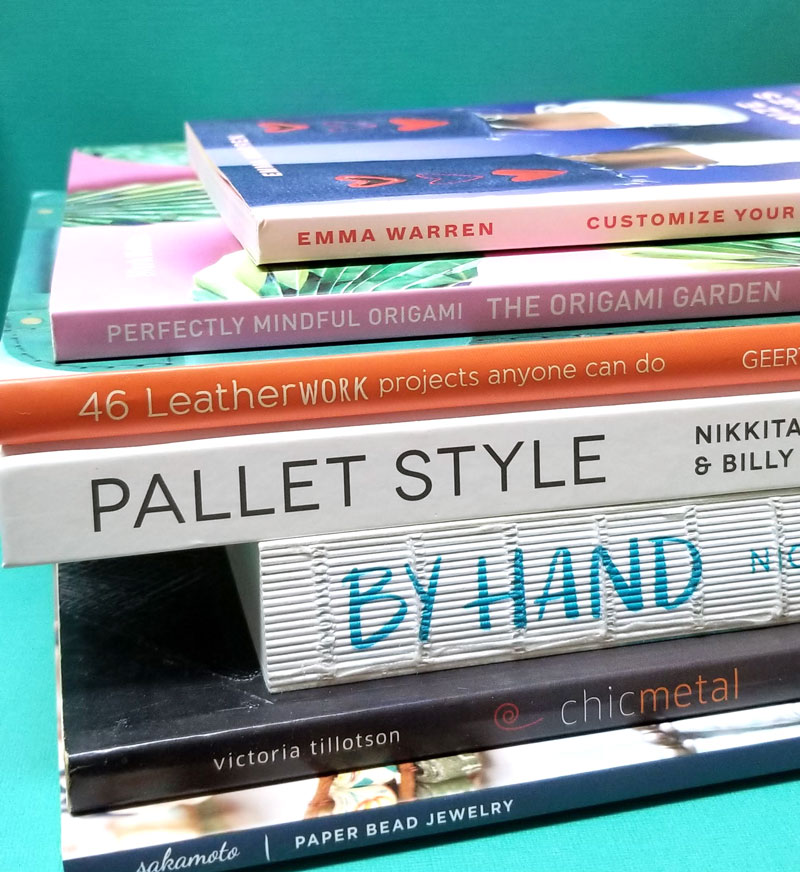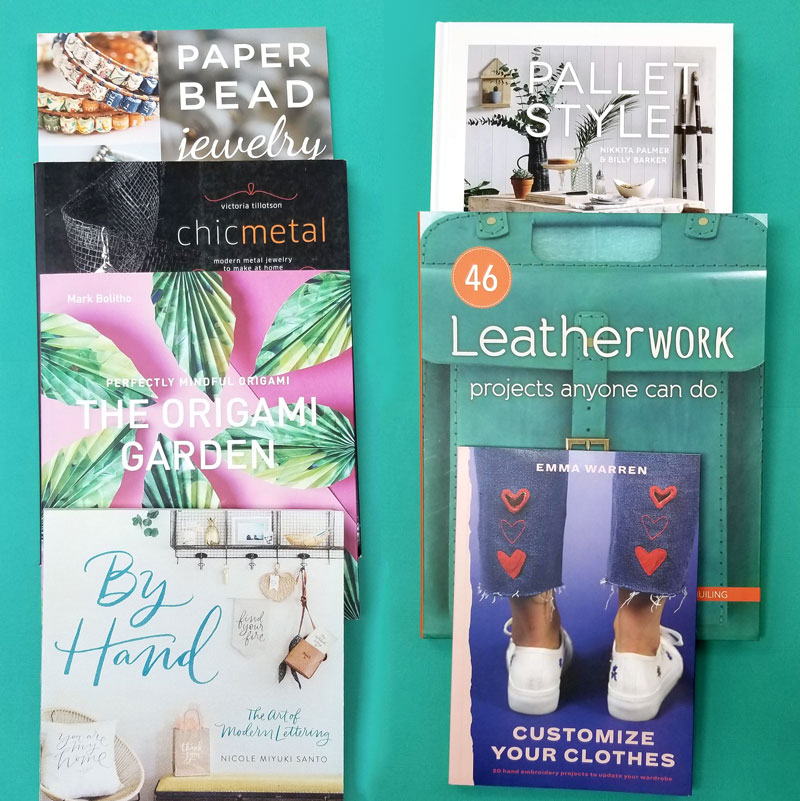 What are your favorite gifts for the crafter who has everything? Do you have any other ideas for this list, feedback, or questions? Comment below – I really read it and respond!!