So, you've already read how we planned and built a craft room in a closet, but can such a tiny craft area really be efficient? I decided to share with you my craft room organization strategy, along with some cool tips and hacks for making the most of your space (or lack thereof) while still maintaining full functionality! Disclosure: this post contains affiliate links.

Disclosure: Some of the organizational tools I used in this post were sent to me free of charge by Oriental Trading so that I can share all about them with you.
Craft room organization: the key to making the most of a tiny room:
Obviously, our main strategy was to use the vertical space to the max during our craft room organization efforts. This means that boxes that can stack were a MUST for the most part.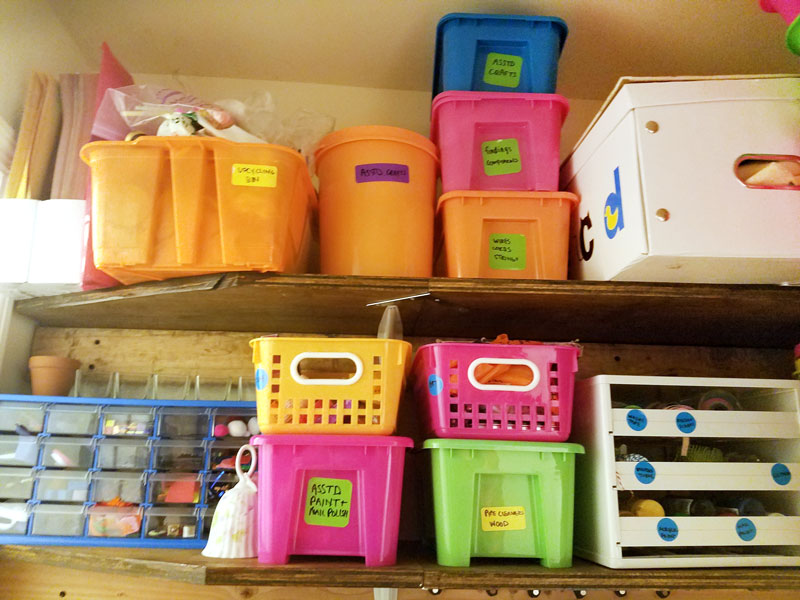 I also needed a way to keep things accessible, while maximizing the vertical space. Prioritizing what is kept where is the first step, and the next is to have a step stool handy. I hope to show you a really cool flea market sewing stool makeover in the final craft room reveal, so stay tuned!
Basic tools and supplies for organizing a small craft room:
I stocked up on these stackable containers from Oriental Trading. They are the perfect size for most materials. I rotated with open bins for things I tend to need more often and not just for specific products – for example, my camera and lenses, small crafts that I created… Neon labels and a permanent marker finish off my basic organizing stash.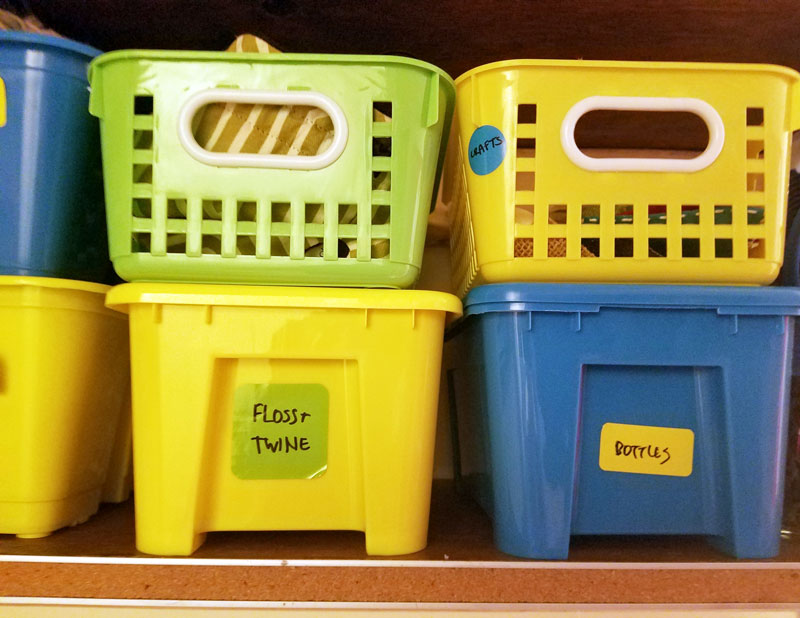 I find that a huge part of my craft room clutter happens with crafts that I created but don't have an immediate use for, so having something to toss them into is one of my main keys for successful craft room organization. This also gives me a place to put in-process crafts, or those that need to be better developed. The rule: when it's full, time to purge!
A jar that I decorated is perfect for keeping a few main tools handy. I really limited this, since there is no space for a pegboard, and things have the potential to get out of hand.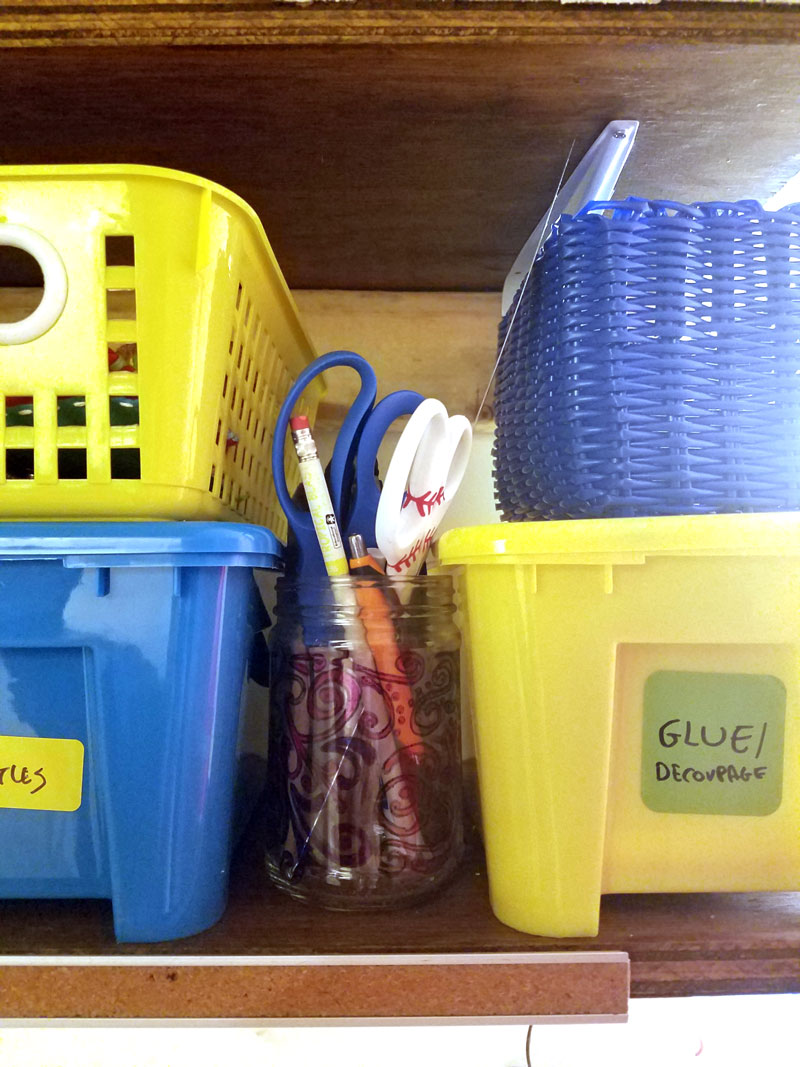 Having a variety of sized containers means that I can make the most of my craft room organization by not bloating the space with a too-small container. That means, things get a container the size that they need, no bigger, no smaller. A harmonious look was achieved by sticking to a color scheme.
The FedEx box is NOT there to stay – it's a gift I'm hiding from my husband in my girl cave… I DEFINITELY recommend having a spot available for temporary uses like that, and the nook under the ceiling was perfect for me.
I used these wicker baskets, some lidded containers, open plastic baskets, round (large) containers with lids for unusual shapes and longer items. I'm using one of these as a garbage bin as well. You MUST have a garbage bin in your craft room – an easy oversight!
I also have huge bins that handle a bit of overflow but don't have lids. They still stack OK and only take up as much space as the product inside. Because they don't have lids, they're best for larger items that can handle being "squished", such as felt, yarn, etc.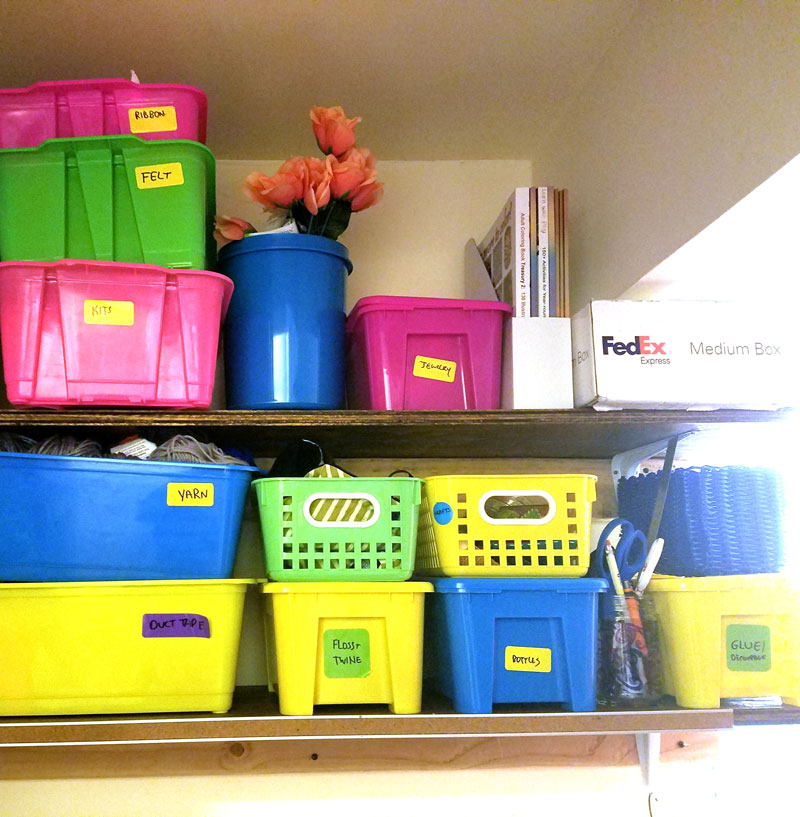 I have a washi tape organizer that is a lifesaver! I use it for my smaller tapes, twines, acrylic and glass paint, and other things that I use very regularly. The drawers tilt down so that I can easily see what's inside, and since they cover many crafty uses, I don't need to unload THAT many bins when I'm crafting.
These are labeled with the same neon labels – which feature enough sizes and shapes that I have something for everything…
To the right, you can see that I used discreet corners for stashing extra storage supplies (that I don't need very handy, but would like available).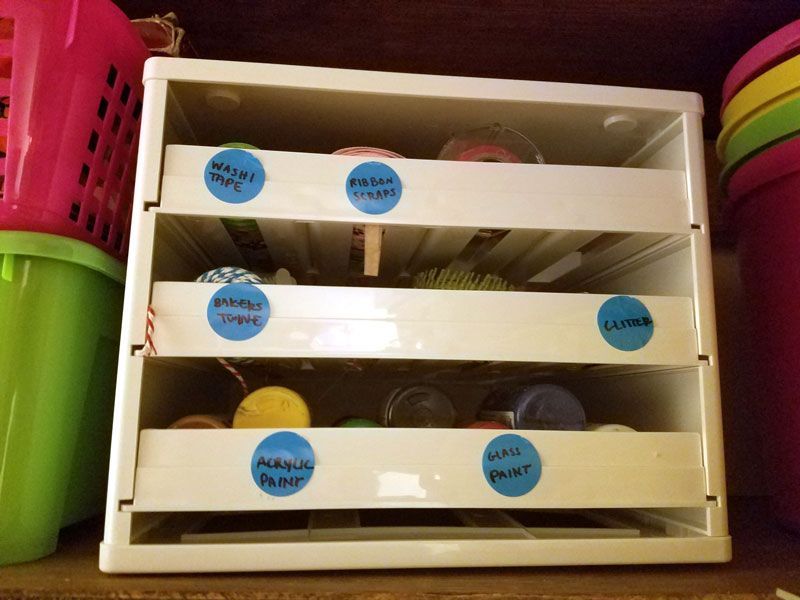 Naturally, I want to use ALL of my vertical space for craft room organization. So I added a set of plastic drawers, following with the theme of bright and white colors… I haven't worked out EXACTLY what goes in there so it's still label-free. To have your craft room organization last longer, it's great to leave flexibility that allows for new materials and change.
The top drawer for now holds sewing supplies, the middle is mostly empty, and the bottom is way overloaded with beads. There's enough space on top to put some of those pretty blue baskets with things you use most frequently. For me that's my coloring and art supplies – more on that later!
It's important not to put TOO much under your actual work space so that you can move around. This craft cart is another great pick for that area – it will be a splurge for me someday!
Most of my craft supplies are organized pretty logically. Wood crafts, yarns, ribbons, beads, wires, etc each have their own boxes. You need to get into your own future head during your craft room organization efforts, figure out where you'd look for things, and put them there.
Things that you use regularly go on a lower shelf. Things that you use less go higher (though make sure you have a step stool handy so that you can reach them!)
One huge thing for me is two different "assorted crafts" bins. Since these are supplies that I use but not regularly, it wouldn't make sense to have them handy in a shoe organizer (more on that later). So they are grouped into two boxes, with room to add more as needed.
You need something for the small stuff! This set of utility drawers actually came with craft supplies inside. I actually do need to organize this a bit better as I do have dedicated spaces for buttons, and craft sticks. But it is great for things that I have in small quantities that "finish off" many crafts – such as pom poms, feathers, foam bits 'n pieces, and more.
In the small space on top I placed some breakable craft components. These don't look cluttered when they're on display, and need a good spot. Find a solution for these types of things that is totally out of the way, as there are too many pieces to move, and they are too fragile to pack.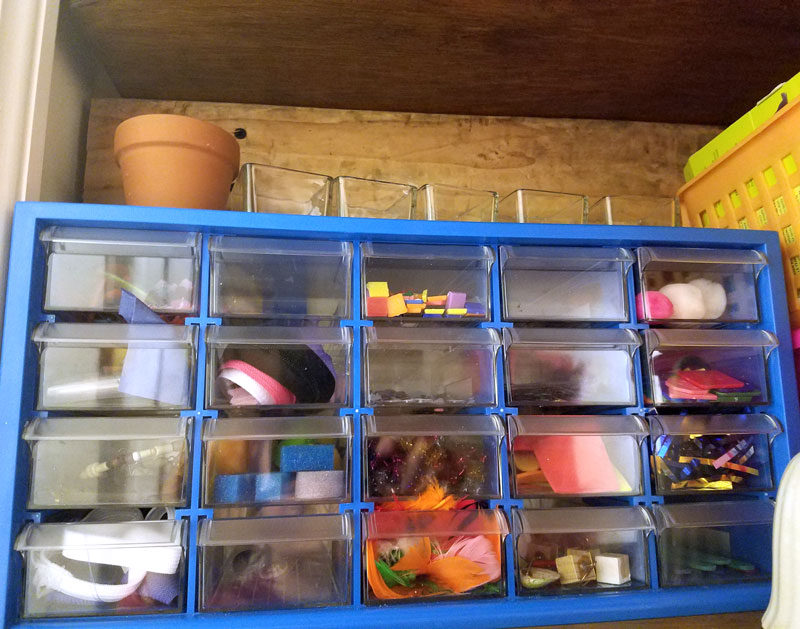 Some cool craft room organization hacks and tips:
Of course, with such a tiny space, I couldn't just get a few containers and fill 'em. I had to find a few fixes to keep things more organized and efficient.
Go bright – There's a reason I went all neon – and it's not because I'm a major fan of neon. I simply wanted to brighten the room as it's so small and dark. I was definitely successful with that, so it's a great craft room organization strategy. Using light and bright colors can keep things from closing in on you.
Tack things on the wall- if you have wall space that's not usable as shelf space, you can still make great use of it! Pocket organizers are flat enough, and add room for things you need handy. I used this file folder pocket chart from Oriental Trading for larger papers, duct tape sheets, and more, and a shoe organizer for random tools, crafts, supplies, and more that I like to have handy but don't want out.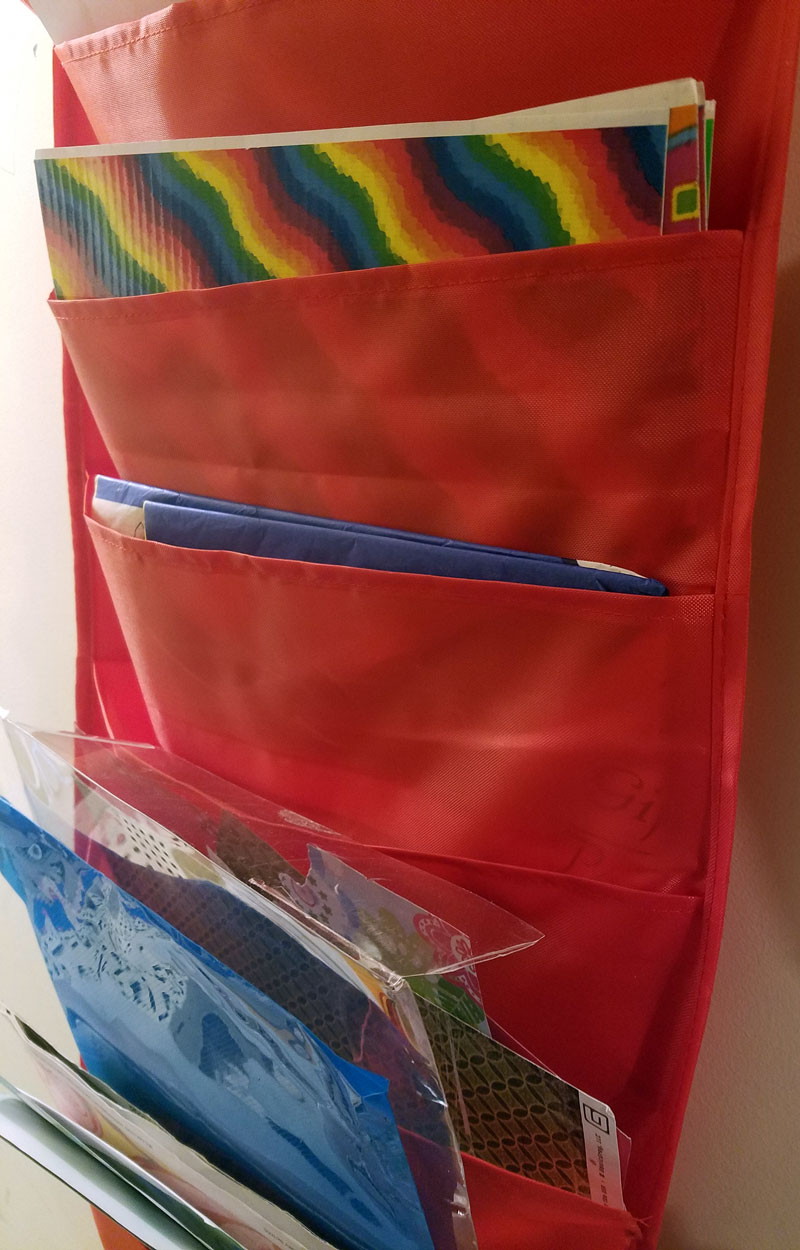 Both of these hang directly on the wall using screws. If you have an over-the-door shoe organizer, you can remove the hooks. The paper organizer just comes with the holes ready to use.
The shoe organizer is also perfect for storing spray paint.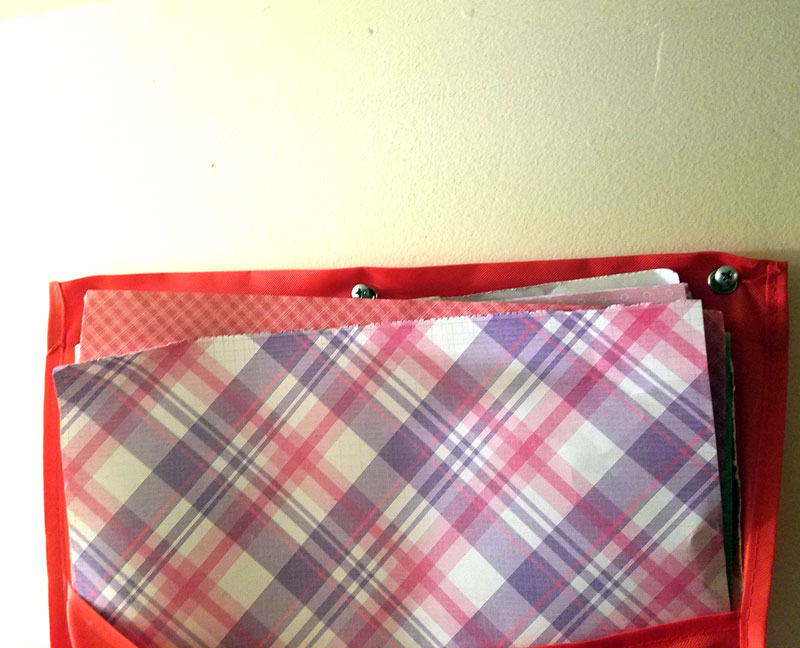 Magazine files are perfect for construction paper and other papers! I also have one for some spare shipping supplies, notebooks and inspiration journals – both of which are great things to have handy in a craft room.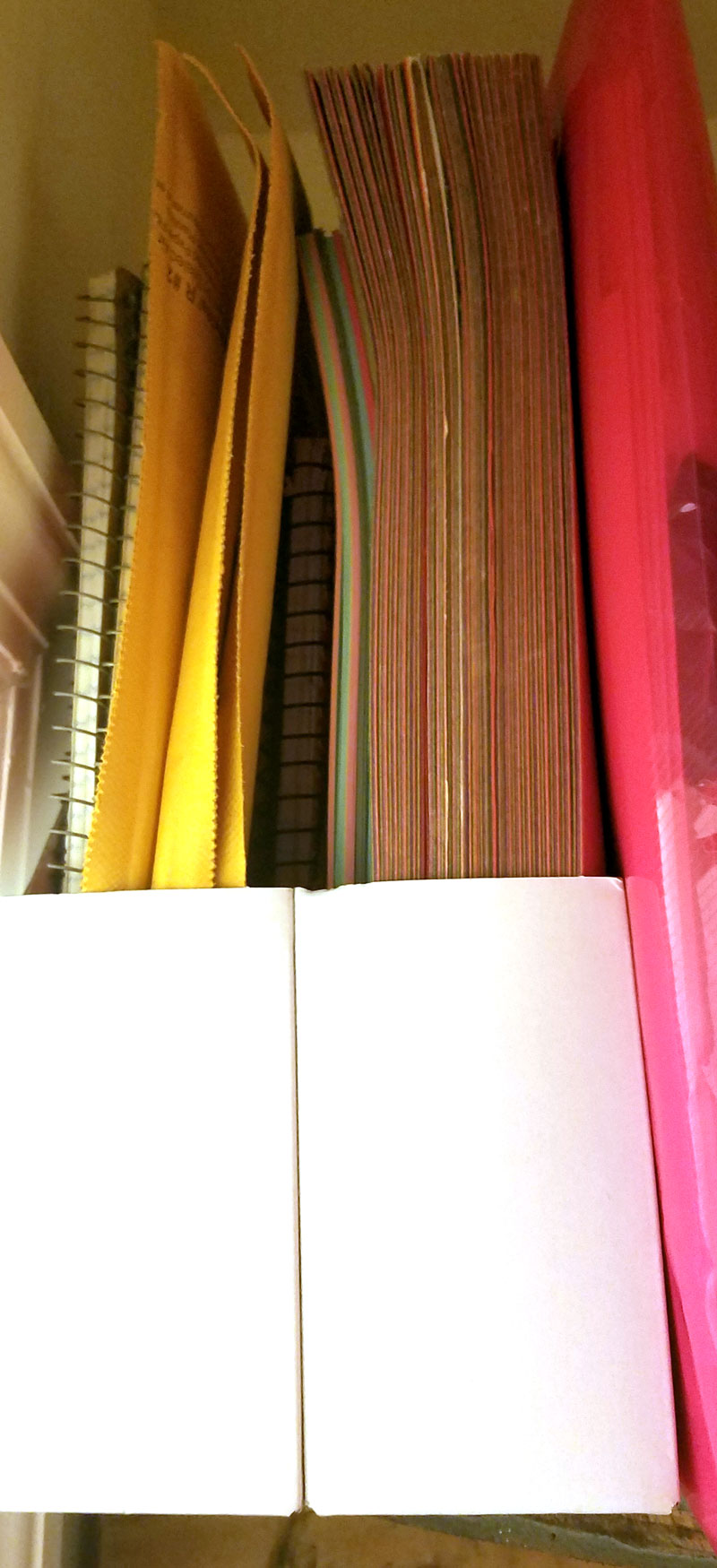 I also have a magazine file that holds some spare copies and proofs of the books that I published and collaborated on. Having those in sight is truly inspirational!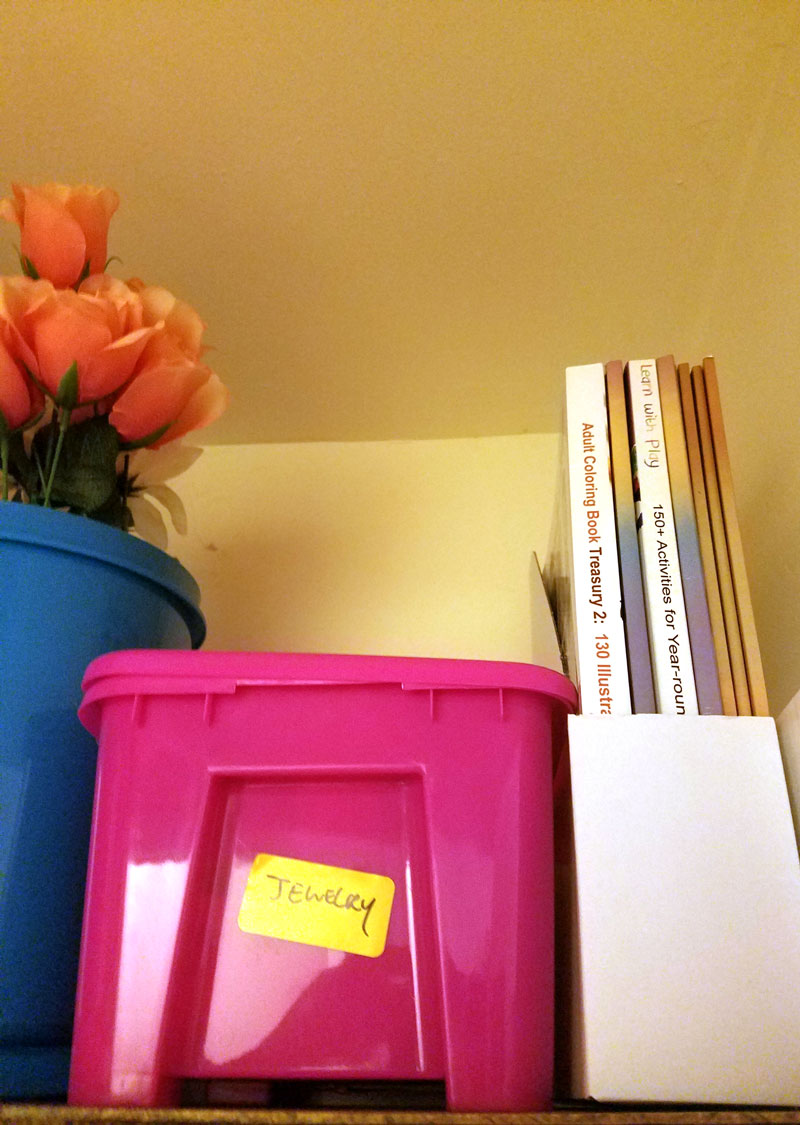 The purge rule: If a container gets too full, it's time to purge! I either need to challenge myself to craft with that material, or re-evaluate if I really need that much in that category. Usually, the answer is no.
Wall-mounted magnetic storage – I decided I want to have off-shelf storage for things I use ALL the time and want handy. I used Sugru (a moldable rubber glue) and magnets to create magnetic hook/mounts for these small metal tins. The clear lids show me what I have inside, although I couldn't resist using round labels.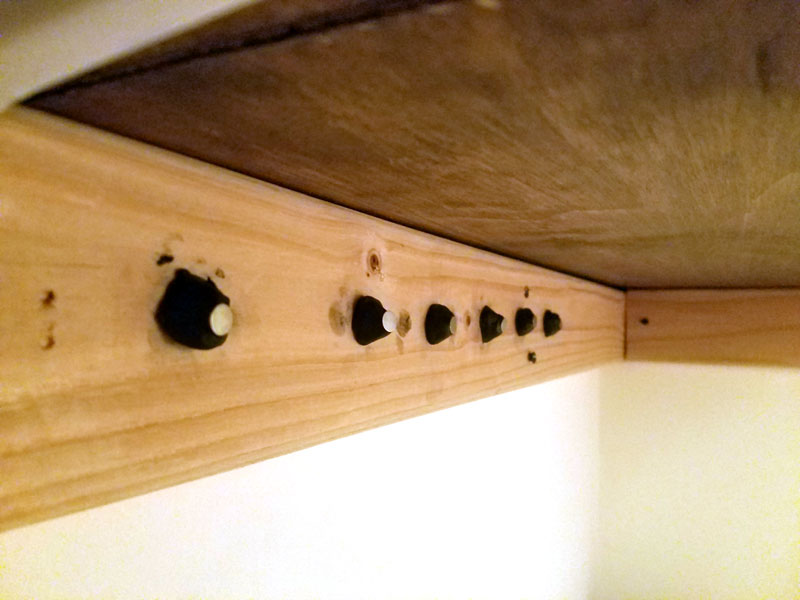 As you can see, they're not all in use yet. I'm going to fill them as I need them, so that I can see what REALLY needs to be at my fingertips. The hooks formed by the Sugru give some support while fixing the magnet in place. The magnets give additional support. If you want it to be strongly secured by the magnets, you need to use the much larger and very strong ones that come in the Sugru + Magnets kit
.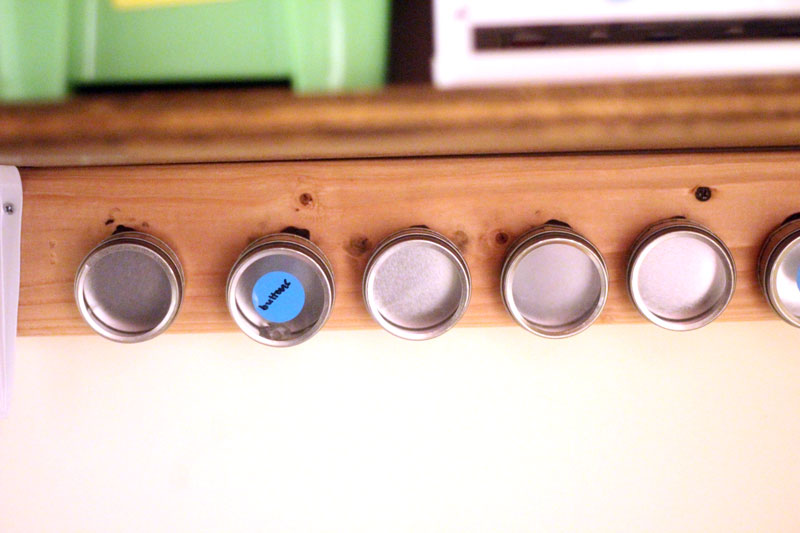 The "upcycling bin" is an important component of my craft room organization. I have so many "ambitions" when it comes to upcycling and tend to hoard things. You definitely need this if you're the type of person who stows a pretty jar or a stained tee for crafting use! The rule, once again: when it's full, time to purge/craft!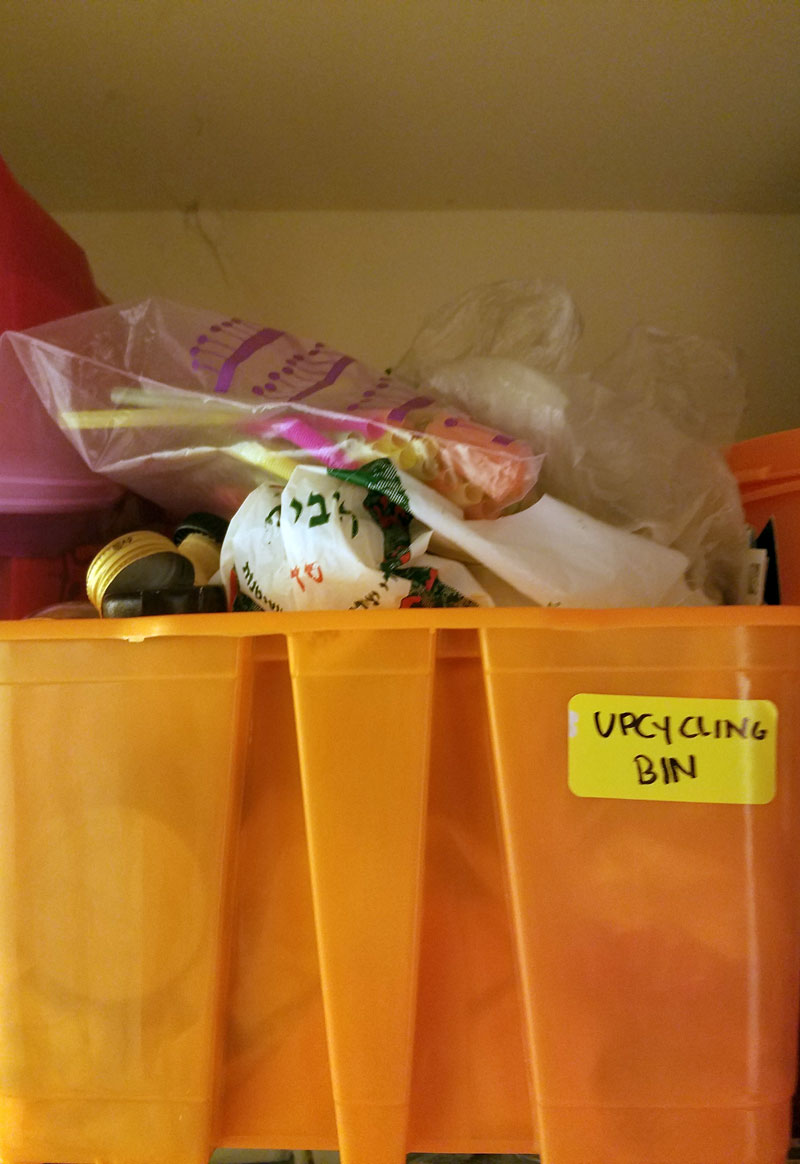 A typical round bin can somewhat contain tall things that were stashed into the corner. This can include gift wrap and cellophane, a travel/display easel that I sometimes use as an artist's easel, and my tripod. They need to be leaned on the wall as well, however this calms the visual clutter and keeps me from knocking them over.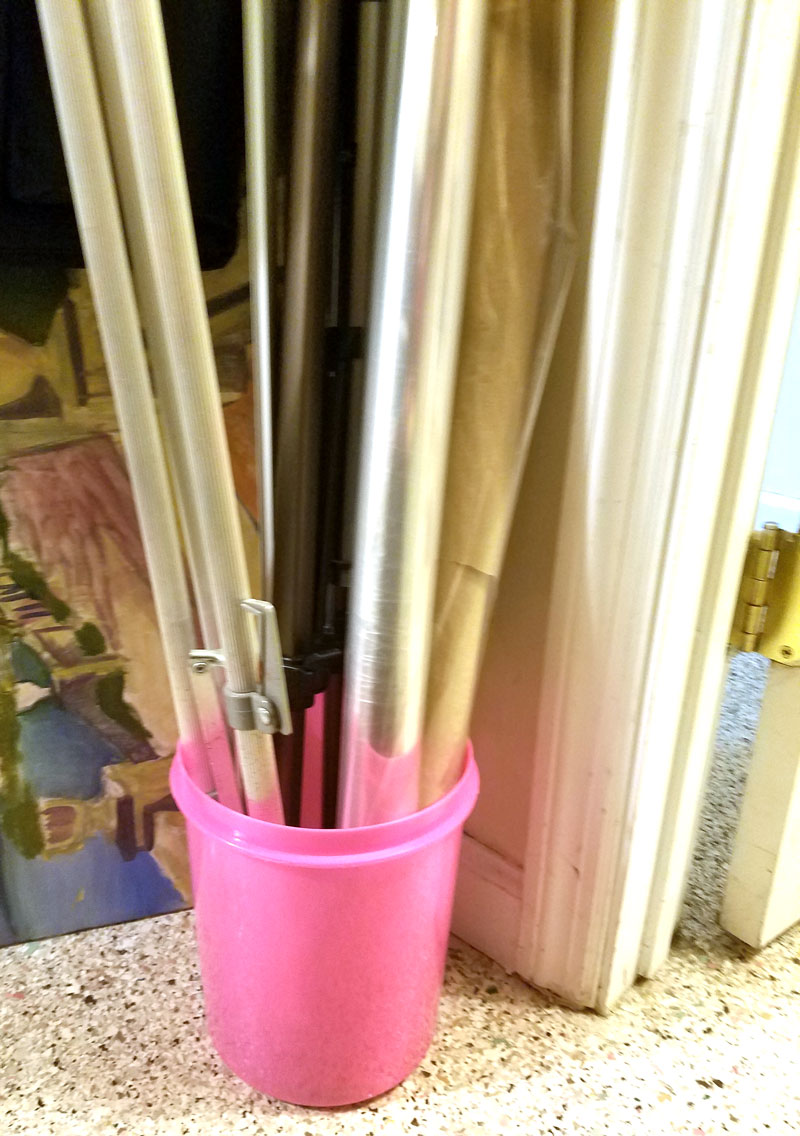 And finally, here's my coloring supplies hack! Since adult coloring pages are one of my regular topics here, I do lots of coloring and use these very regularly. I gave them prime real estate on top of my drawers.
Originally, I got some neon cups, hoping to use them as assorted catch-alls for pens, scissors, and other tools that I need handy. I ended up streamlining all that when I discovered that I can fit six cups (one of each color) PERFECTLY in the blue baskets I had. I split my supplies into markers and colored pencils/pens. I organized them, using the colored cups to categorize them.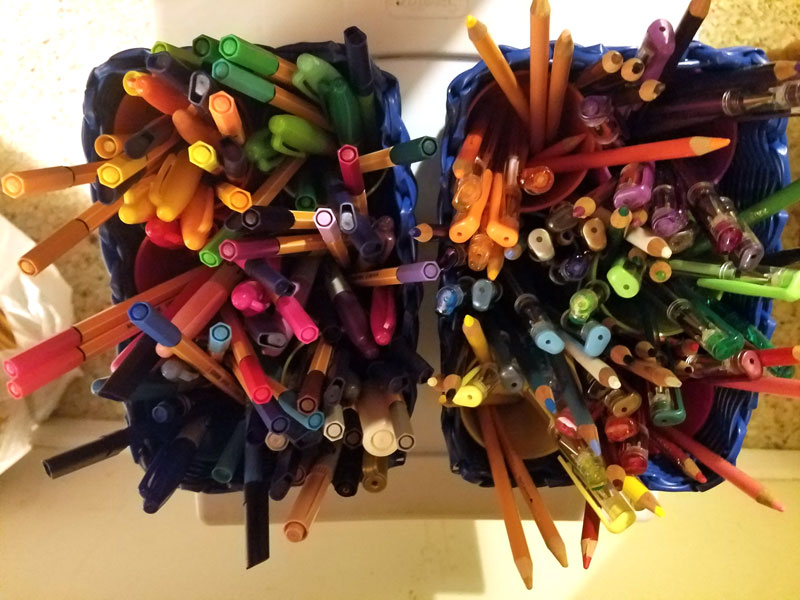 Neutral colors were placed in the spaces between the cups. I find it so efficient to color like this, as I can see my full stash in a specific color family at a glance.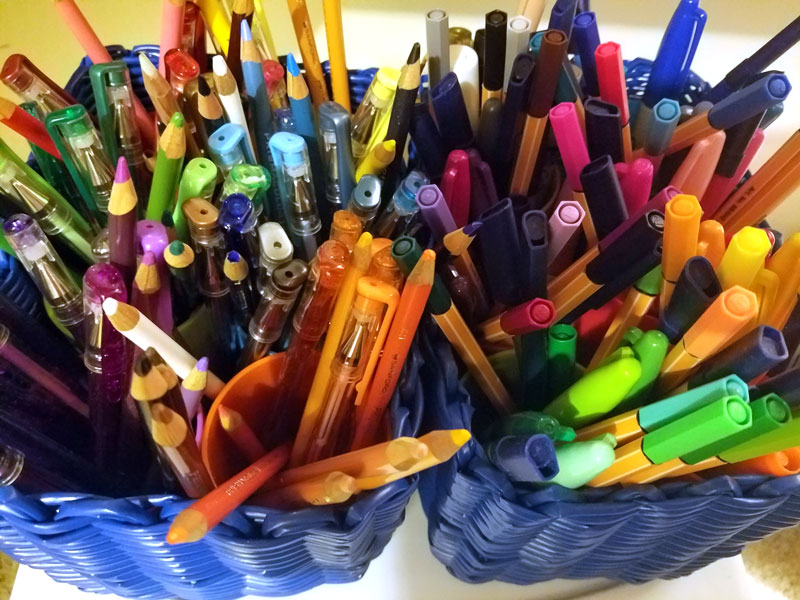 A summary of everything I used during my craft room organization:
Most of what I used was from what Oriental Trading sent me, some was things I already had or bought online. Call it a summary or my craft room organization, or a shopping list – but either way I've added my notes so that you can do it better than me!
Do you have any small craft room organization tips, hacks, or ideas to share? Comment below!