Enjoy this free set of ocean themed action cards for kids! Get kids active in the theme of their favorite sea creatures and then make sure you check out these ocean crafts for kids. This post contains affiliate links.
---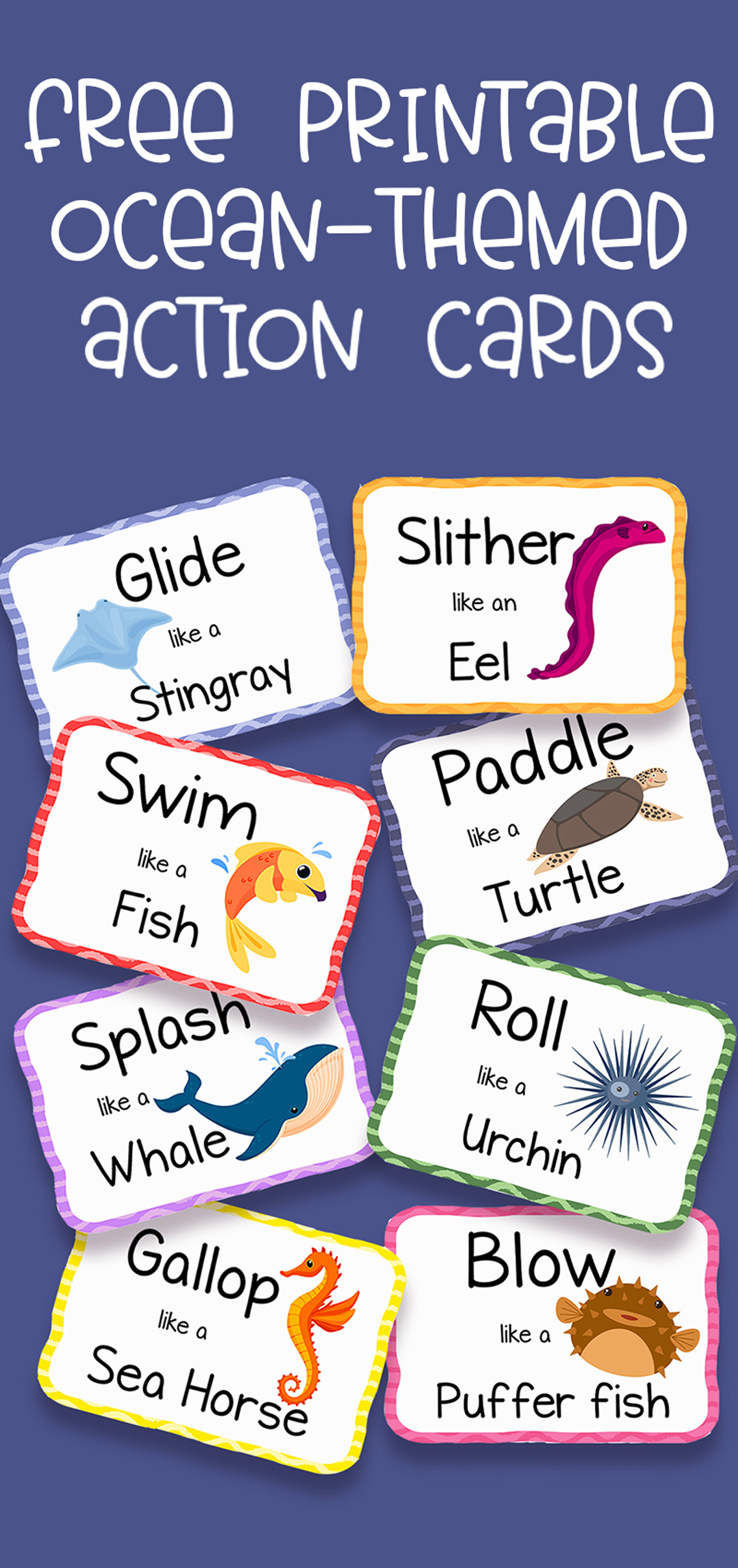 Getting kids to be active can be quite a challenge these days – even with warmer weather and more time spent outdoors! One of my kids' favorite ways to get active is with animal-themed action cards for kids.
This set in an ocean theme is perfect for the summer.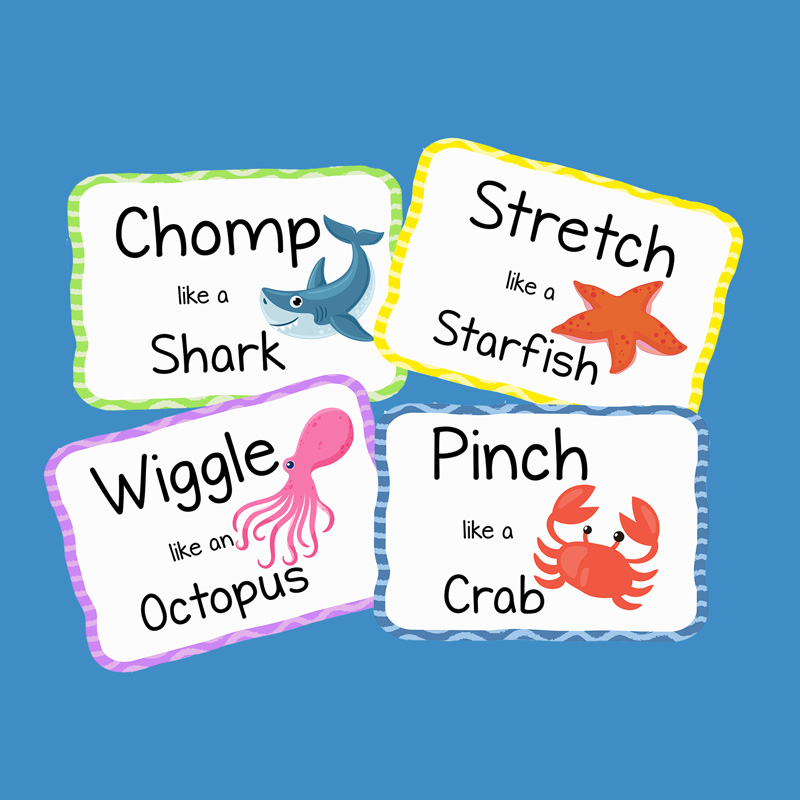 Sixteen different sea creatures will prompt you to do different actions! There are so many ways that you can play this game which I'll share below!
Having kids act out their favorite animals to get them to be more active is a strategy that works for a huge variety of age groups. A, age two, enjoys doing these types of activities with her physical therapist. Y, age seven, joins in.
Ocean Action Cards for Kids Activities
There are many different ways you can "interpret" the actions – they're not necessarily straightforward in how you have to play them. These are just a suggestion.
All of these suggestions are for land use – while these are fun to play in the pool as well, you likely will need less interpretation for that!
My best advice is to let the kids interpret it whenever they are willing to – but in case you need some help, here it is:
Float like a jellyfish – Encourage kids to make large moon-like steps as if they're floating.
Clap like a seal – Clap hands but spread them wide apart and then clap.
Leap like a dolphin – Leap – jumping for distance rather than height.
Jump like a shrimp – Now, jump for height.
Stretch like a starfish – This is more toned down. You can do different stretches – bending down without bending knees, leaning one foot forward while stepping back with the others, reaching hands to the sky…
Chomp like a shark – Again, you're clapping with hands spread apart, but this time you're spreading them up and down, not side by side.
Wiggle like an octopus – Wiggle, but do it with your whole body, wiggling your arms separately.
Pinch like a crab – Make sure to do this one only with kids who are old enough to listen to instructions and who won't get immature about it. I recommend just doing puppet-mouth like motions with the hands.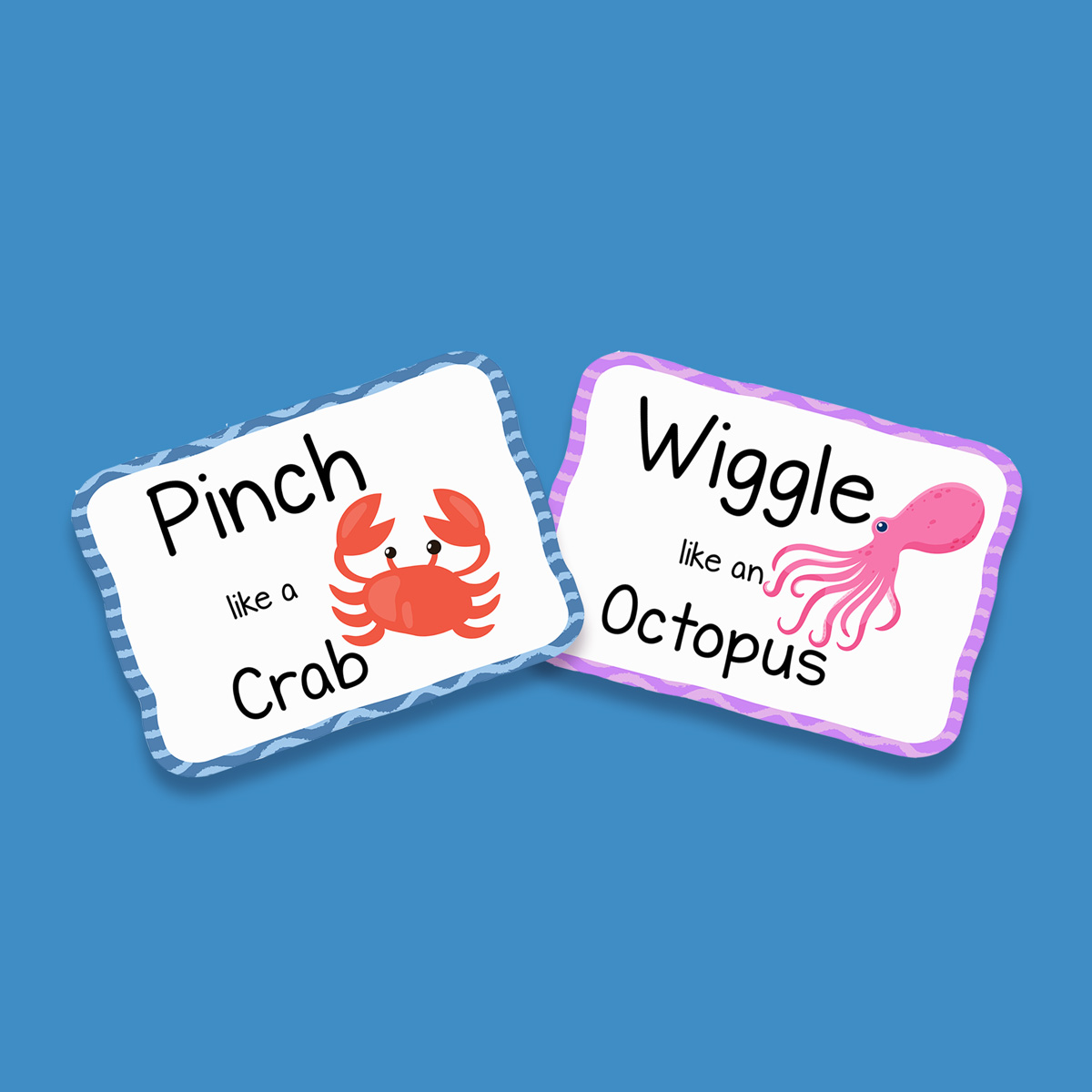 Roll like an urchin – Get down and roll around!
Blow like a puffer fish – Let them get their entire body involved in blowing out, puffing up their faces and letting loose.
Glide like a stingray – Place one foot in front of the other and move the back one forward, dragging it (best done in socks!)
Paddle like a turtle – Make rowing-type motions with both hands stretched all the way out to the sides.
Slither like an eel – Get down on the floor again! Now see if you can slither your body forward, keeping your arms down at your sides.
Swim like a fish – This one can be done standing or on the floor. Make swimming like motions with the hands.
Gallop like a seahorse – Gallop – literally!
Splash like a whale – If you're not in the water, slap your hands in the air as if you're hitting water surface.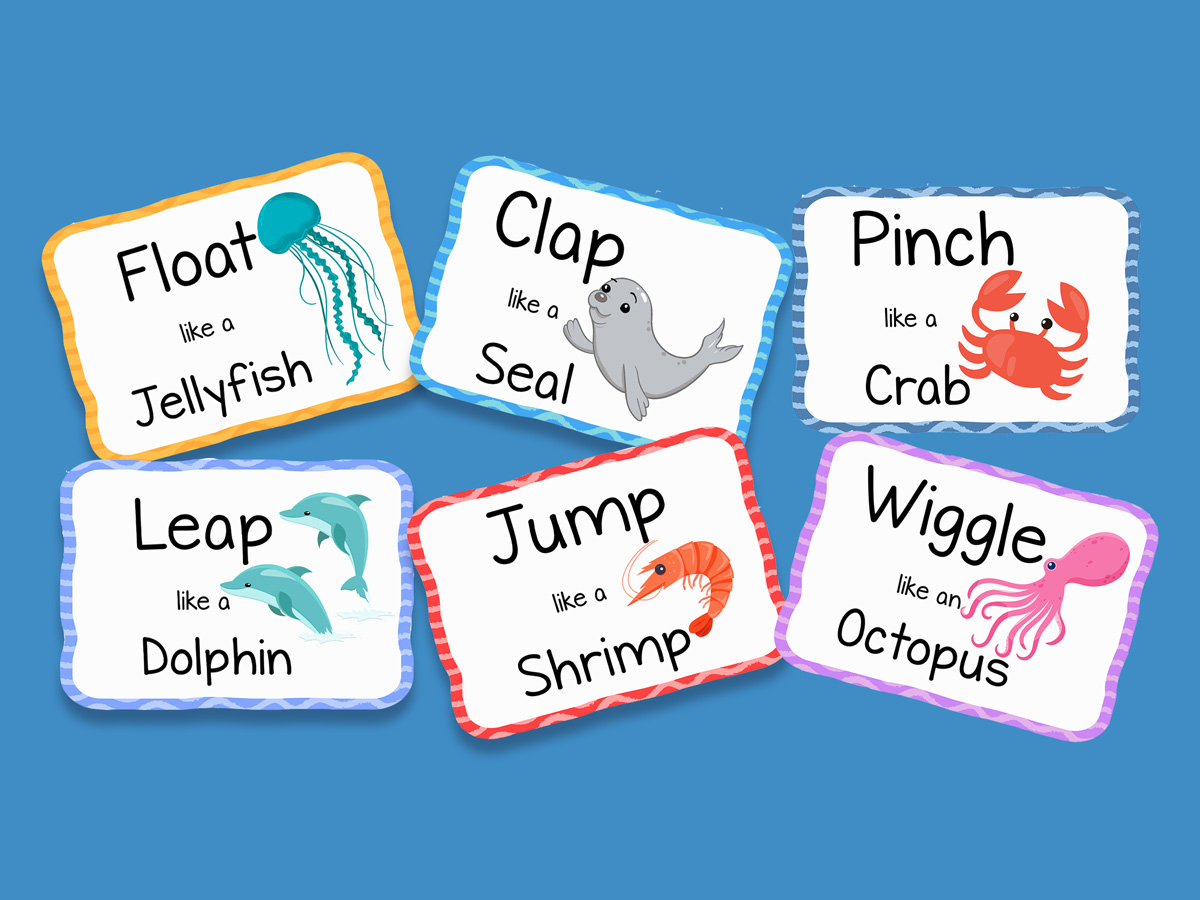 Ways to play with this
There are so many ways you can use these ocean action cards for kids!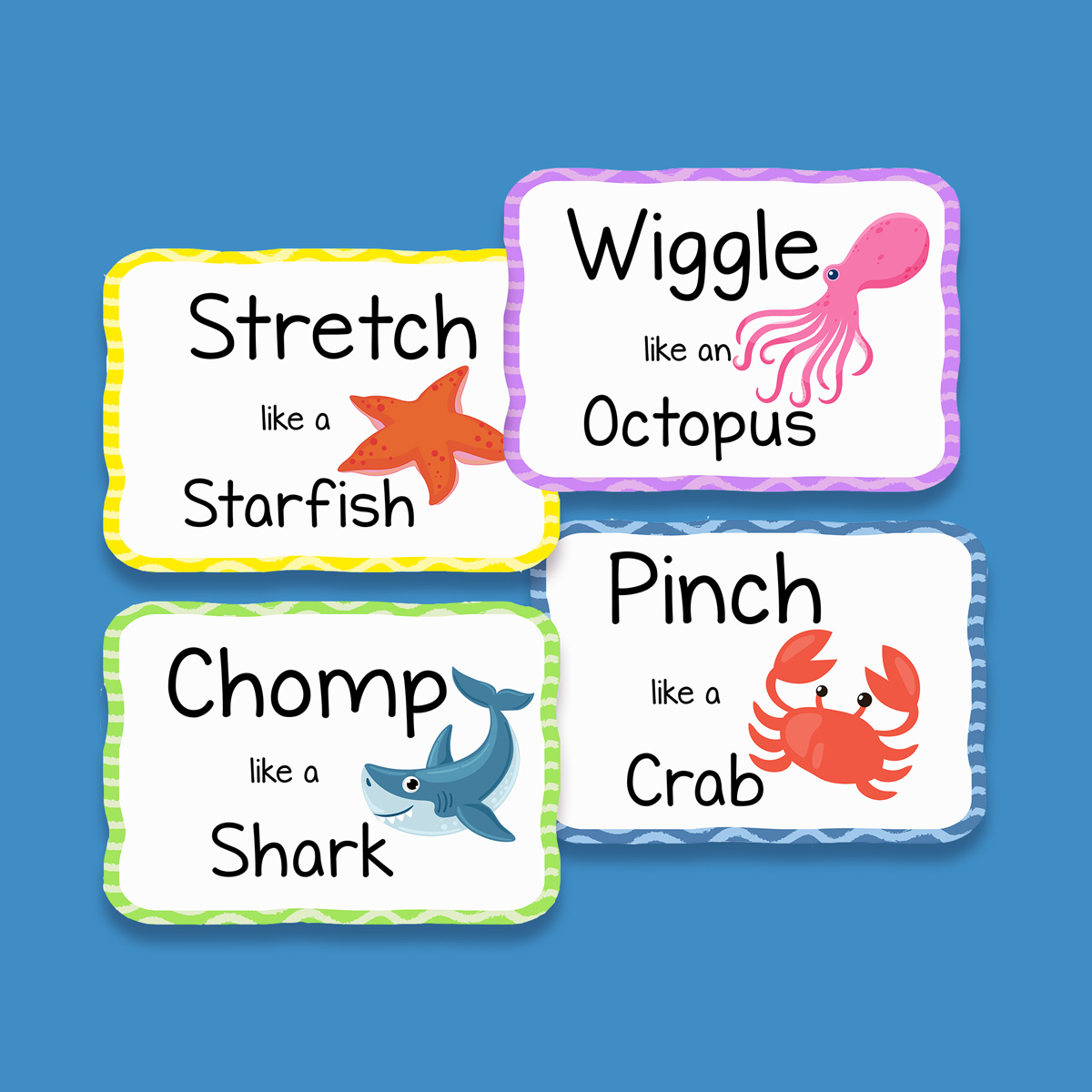 Laminate it – First of all, if you plan to use it more than once, I recommend printing it on cardstock, cutting it out, and hard laminating it! I have the Amazon Basics laminator – it's so affordable. I recommend using 5 mil laminating sheets for it.
My favorite is in the pool – whether it's a large inground pool, an above ground, or even a kiddie pool or splash pad.
What a fun, low=key water activity!
You can also tape these to different sides of jumbo foam dice, and spin them, seeing which card you land. Do that action.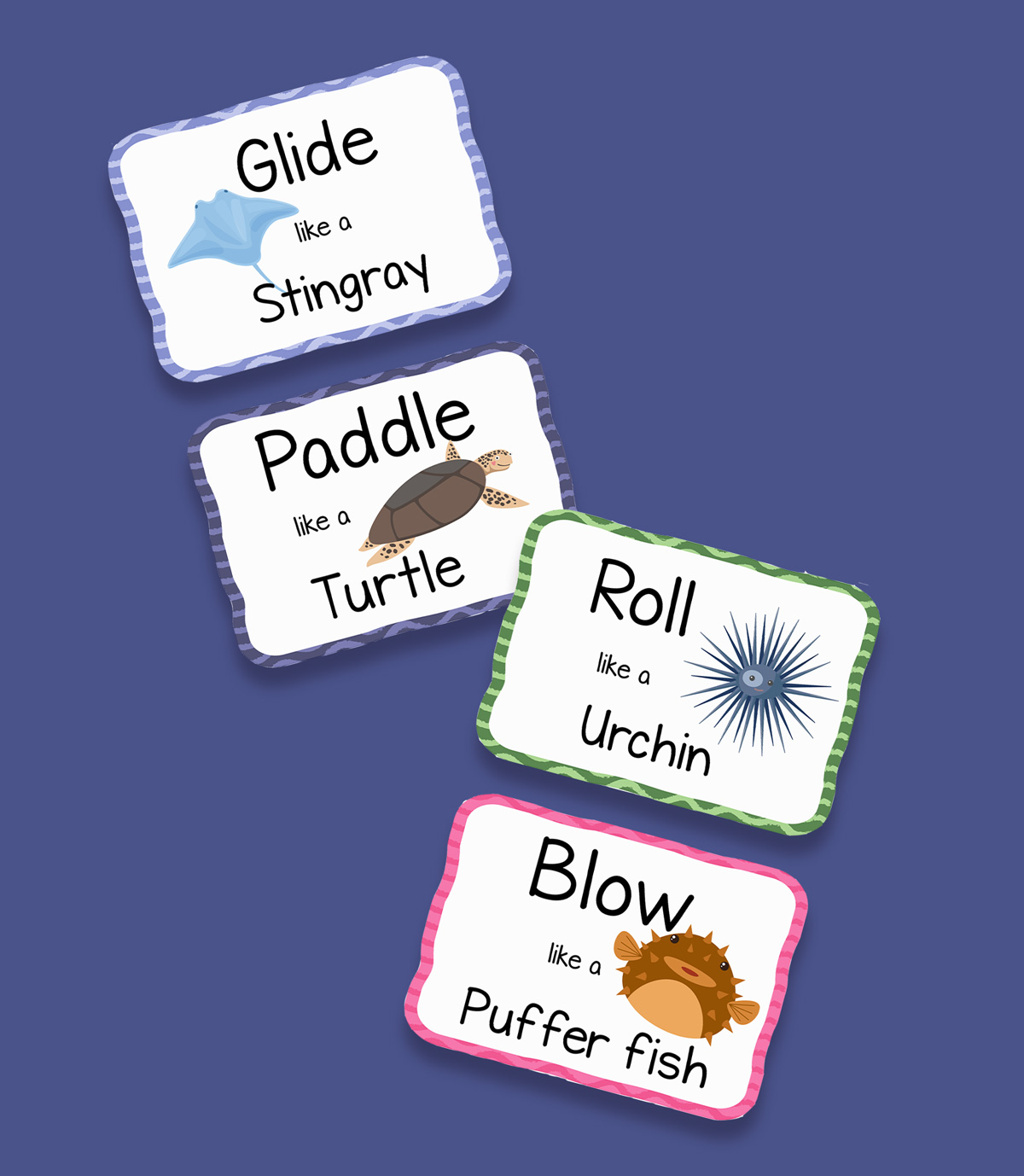 Use these action cards for kids as a prompt for a Simon Says game! No more creativity required on your part – and now you can play it in a theme!
Pull these out at an ocean themed birthday party as a fun, active activity! It can work as a themed activity for any ocean themed day or occasion.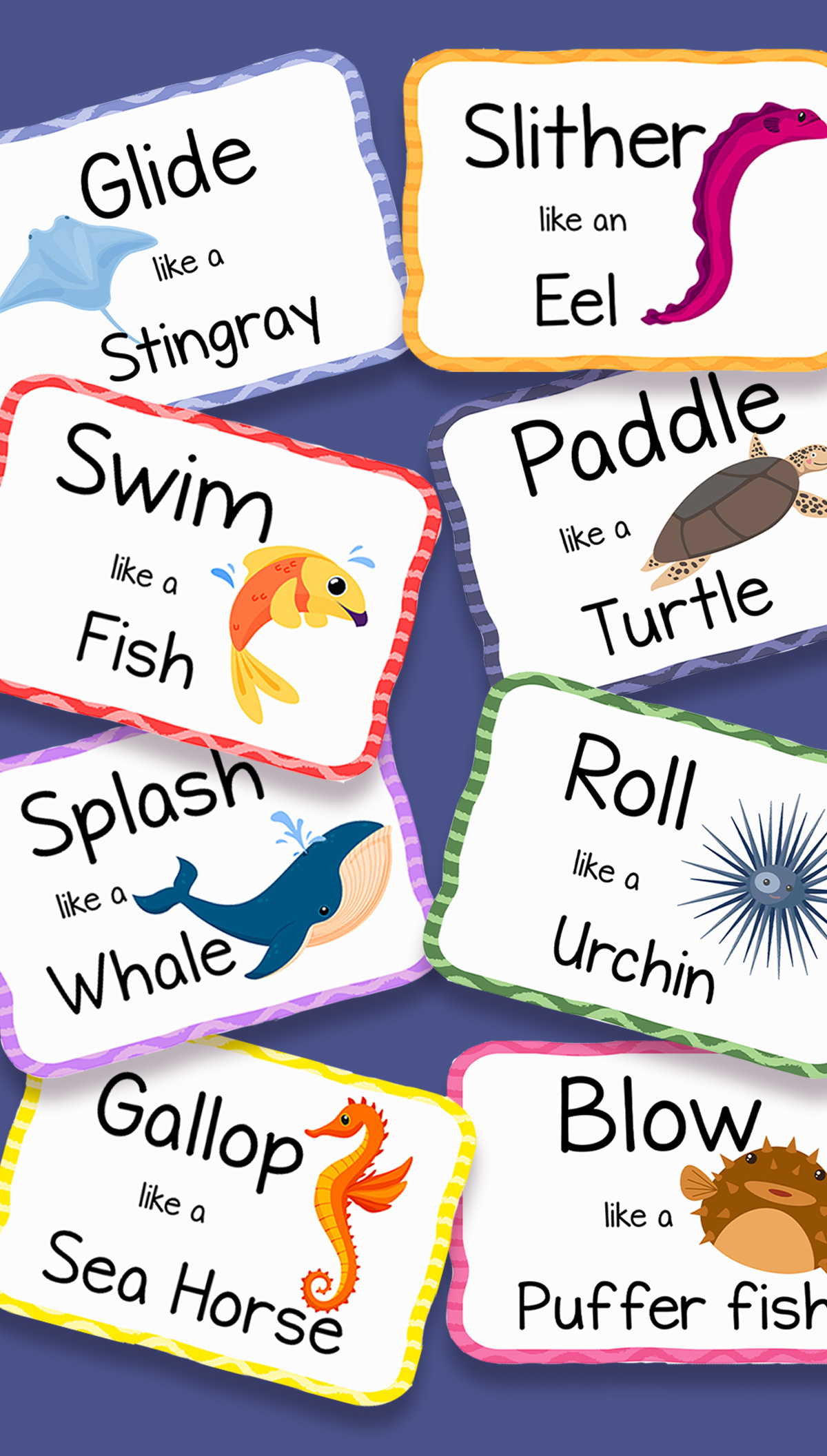 Download your free printable ocean action cards for kids
To download, fill out the form below. You'll be signed up for our free newsletter – unsubscribe at any time in the footer of the emails. I respect your privacy and the law and won't share your information with anyone.