Since I've spent too long on chats discussing my Pinterest strategy with various bloggers, I decided to discuss this in my latest post in my Beautiful Blog series.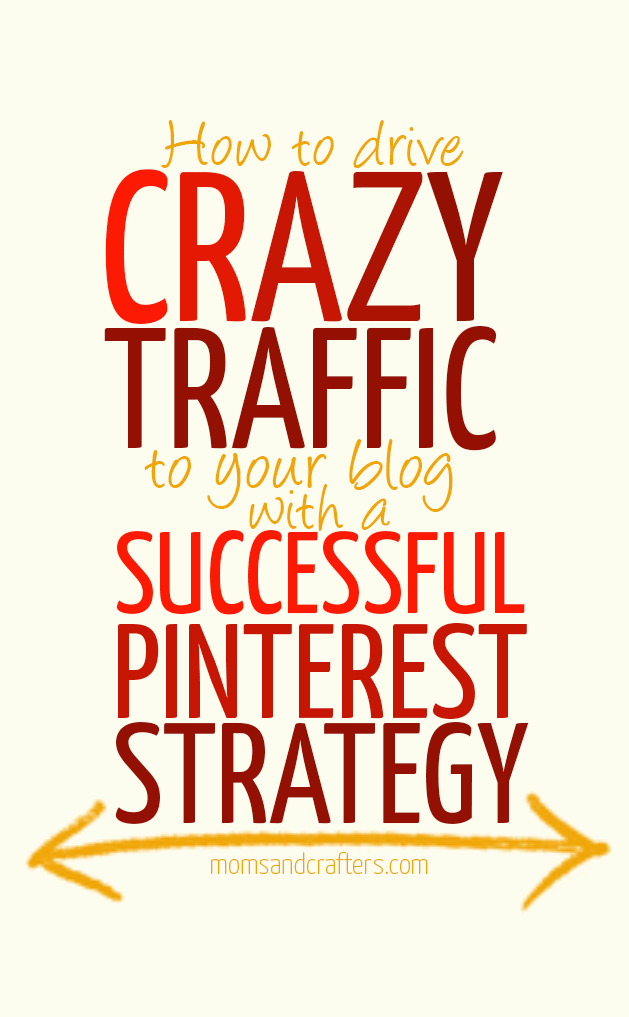 Disclaimer: Due to some backlash I feel the need to explain: I am not a pro blogger, an expert, or anything of the sort. I am writing this to share my personal experiences so that you can try it too. I have told so many of my blogger friends to try this, and those that have have seen their numbers going up. I have been at a slow and steady climb, with CONSISTENTLY high numbers and that is what makes me happy. Having consistent and reliable traffic (that doesn't rely on other larger bloggers sharing my content) is what makes me happy and secure in my blogging world.
I have shared my traffic stats openly so that you can see where I am, to be totally open and transparent, and not to pretend that I'm something that I'm not. If you are going to look at my numbers and decide that I have nothing to tell you, skip this. If you have greater traffic than me, but not from Pinterest, you may want to consider this good advice. If you're ahead of my game, feel free to contribute to the discussion so that we can all learn. Even it's Facebook or Twitter that you've mastered (you can see from my stats that I haven't).
And if all you're looking at is the final number, and not my growth rate (I had just 2000 followers a few months ago, and 10,000 pageviews) and my pageviews in relation to the age and size of my blog (I have about 150 posts and not all are relevant and updated), then you have unfortunately missed the point.
Okay, so Pinterest strategy isn't really about blog design… except that it is! The first step of your Pinterest strategy should be having great Pinterest graphics. I have two tutorials on that, plus some great photography and editing tips.
The next step is HOW you're pinning – and WHAT you're pinning.
Part 1. Is Pinterest strategy even a thing?
If you haven't specifically searched "Pinterest strategy", you may think it's ridiculous – and even an exaggeration. Really, does everything have to have a strategy, a tutorial, and a set of instructions?
Here's a little peek into my Google Analytics from this past month. It's a pretty average month for me – I've had better and worse.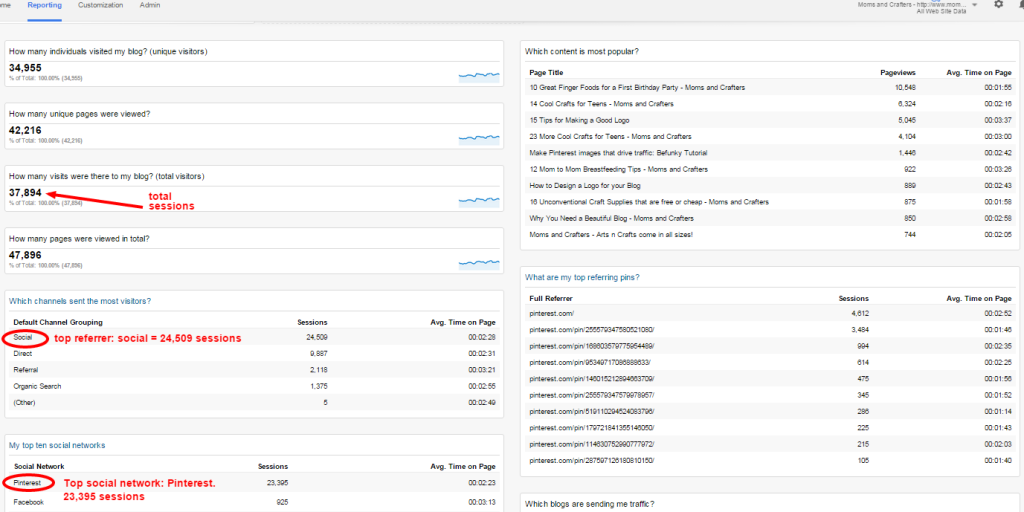 As you can see, about two-thirds of my traffic comes from Pinterest. Since this dashboard counts sessions from each source, and not actual pageviews, each visit from Pinterest leads to ever more pageviews than the sessions listed.
My traffic is still not huge. It's pretty small-medium if you'd say, however it's viable. It's what brings traffic, allowing readers to then click around, subscribe, and remain regular visitors. It is what brings traffic to sponsored posts, which then brings me more.
All this started when I started having a Pinterest strategy. So that would be my first piece of advice: HAVE A STRATEGY!
Part 2. Which types of posts succeed on Pinterest?
There is a bad name out there for Pinterest among the un-crafty, and men. Contrary to popular belief, the most popular posts on Pinterest are NOT undo-able DIY projects, 10-word-long recipes, and ridiculous beauty hacks.
Pinterest is a place where people who tend to be more visual (which is almost everyone these days) search and browse for things that interest them. That includes parenting articles, app roundups, product reviews, and anything helpful. Yes, helpful is a key word here. People on Pinterest are looking LESS for stories and MORE for solutions.
2 reasons DIY is not necessarily the traffic-driver on Pinterest:
People sometimes just stop at the visual inspiration. They can learn a lot by just looking at the photo. (Note: this is another reason there are so many "Pinterest Fails". People stop at the photos and don't click through for actual instructions.)
They often tell a story, rather than solve a problem.
Some Pinterest DIYs that DO solve problems include:
Roundup posts: since they are based on a particular theme (a particular "problem" – such as how to entertain teens, as opposed to a one time experience that entertained a teen).
Seasonal posts: Since that is a common "problem" at the time and people are seeking a solution.
Here is another screenshot, showing my top 10 performing posts on Pinterest (from the last quarter):

Not a single craft. While crafts and recipes DO receive Pinterest traffic, it's harder to earn, and not in the same bulk. They can get LOTS of repins, but fewer people click through.
My primary way of increasing Pinterest traffic to crafts is to include them in roundup posts.
So, my big tip here is to CREATE A BEAUTIFUL "PINNABLE IMAGE" FOR EVERY SINGLE TYPE OF POST. MAKE THE TITLE OFFER A SOLUTION TO THE READER.
Part 3. How does success on Pinterest work?
To develop a successful Pinterest strategy you need to know how Pinterest works. The key here is to give it time. Here is a screenshot from Google Analytics of the same stats as above, except with different dates. I chose the dates based on the publish date of my most popular post above: "10 Great Finger Foods for a First Birthday Party". It starts the day that was published and counts three months in.

That post didn't even make the top ten. One reason is that I did not yet have a strategy then. The main reason, though, is that it was a single pin that randomly "took off" months after it was pinned
That's not the only one it happened with. Every single one of my top pins in the first screenshot took off later on.
So Pinterest traffic happens in two stages:
The immediate traffic from pinning a post as it's pushed out to feeds
Momentum that both builds up with time, and seemingly random pins that "take off".
Those two are usually unrelated, with the first being easier to predict (according to what I mentioned above). The second usually includes those that did well immediately, however it's much more random.
The second is what "makes your blog". While I was away for two weeks, doing NOTHING for my blog, my traffic hardly went down. It dipped only by a few hundred a day that I was losing by not having immediate pin traffic. But I still had over a thousand daily visits from my "viral" pins.
You're aiming for both types of traffic:
The immediate traffic adds up and is essential to your blog. That depends mostly on the following you have, the size of your audience, as these pins show up as new pins in followers' streams. So you want to expand your audience. One way is to join group boards. This is a great way for a smaller blogger to get a huge audience quicker. The best way to expand an audience on Pinterest is to pin consistently, every day, high quality pins.
The viral pins are important as well, as they bring in more organic traffic, without requiring active work. While there are a few key elements here, it is mostly random, and sometimes even come from boards with few followers, as shown below.
To start with, make sure you have proper keywords, great images, and that you are pinning to appropriate boards. Make sure your boards have relevant titles and descriptions with matching keywords. This helps you rank in searches, and gives you a big boost. Try to get as many repins as possible to give pins that are already performing well a boost. Join pinning parties. Network with other bloggers. Get rich pins.
TRY TO GET AS MANY PINS ON YOUR POSTS AS POSSIBLE – the more you have, the more likely it is that one of those will take off.
Part 4. The bottom line: My Pinterest strategy
1. I pin all day, every day. Every time I see an interesting article that I like, I pin it.
2. I try to go on "pinning sprees" during key times. These are different for everyone. You can find it out by seeing at what time your traffic is highest. I usually do mid-afternoon and evening. During these sprees I pin OTHER PEOPLE'S CONTENT! This is what helps me build my audience. Which essentially leads to more traffic for me.
3. I pin only high quality pins whenever possible. I pin to relevant boards. I make sure all my pins lead to relevant links, and not to spam. The quickest way to do this is to pin rich pins only (the kind where you see a little preview, with the website's logo). If I really like something and it's not a rich pin, I'll just click on it to make sure it's not spam.
4. When a post first goes live, I pin it first to my blog board.
Follow Menucha @ Moms and Crafters's board Moms and Crafters: On the Blog on Pinterest.
5. I pin my own content daily. I do this by repinning one of my own pins from my blog board. I keep track of pins in a messy list, making sure to spread out the frequency of a single pin, and not to pin a single post to the same board for a while (to avoid spamming).
6. I only pin one of my own for every 5-10 I pin for others. This is very rough, and just a vague number to keep in mind.
I'll admit that occasionally I lapse for a day or two, but I do this most days of the week to keep up the momentum.
Pinterest can be a major traffic source for any type of blogger. There is lots more I have to share, but I'm not about to start a new series on this, as I do have to go back toward what my blog is really about (I have some great awesome, doable crafts just waiting to be posted…) If you have any questions, ask them below and I'll be happy to answer – usually within a day or two.