I've been sharing some cool ideas for a science birthday party on a budget, and now I'm excited to share with you some science party decor! This post contains affiliate links.
---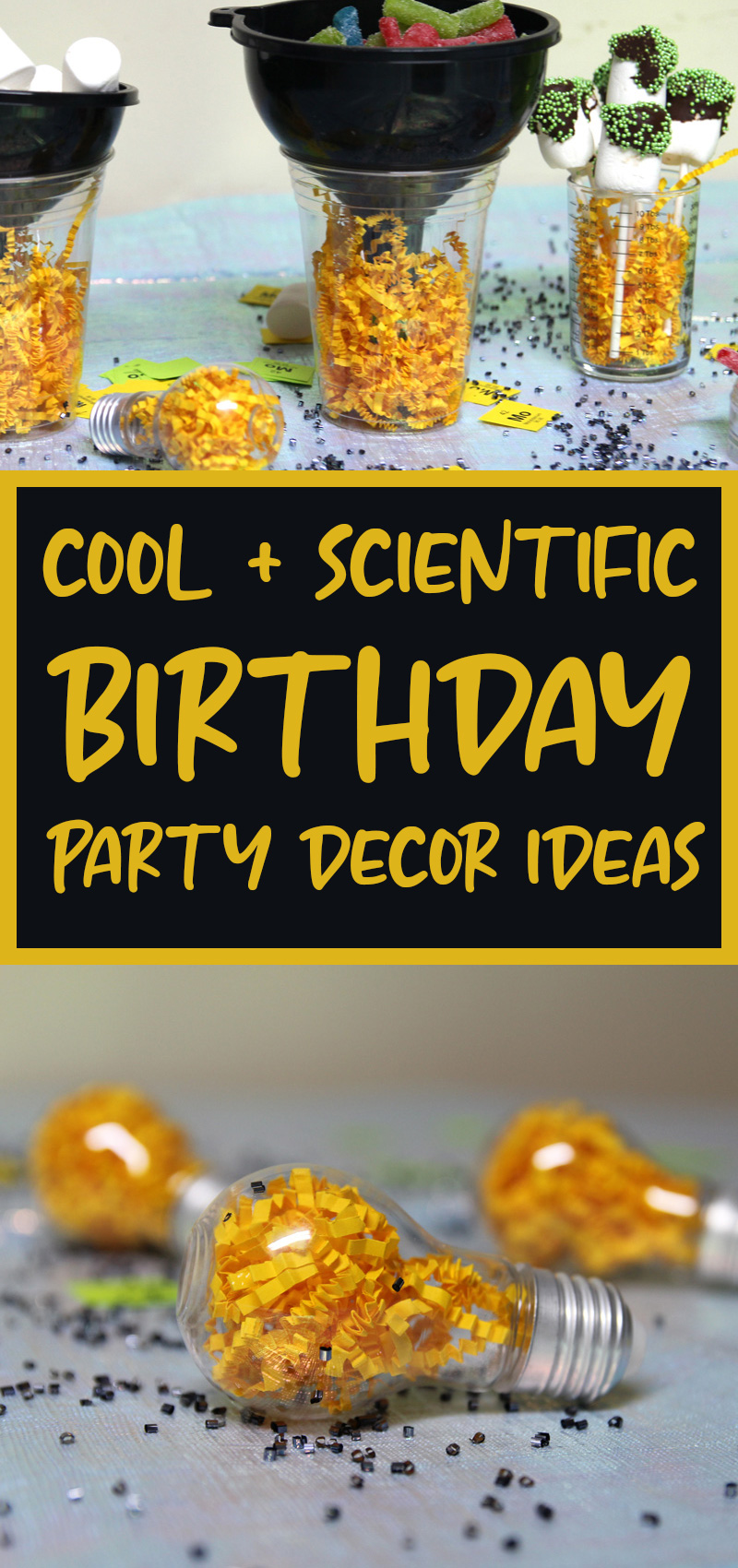 When it comes to making a fantastic birthday party, decor can sometimes seem like a huge budget blower. But I'm a fan of affordable parties and I at least try to keep my decor and paper goods very budget friendly.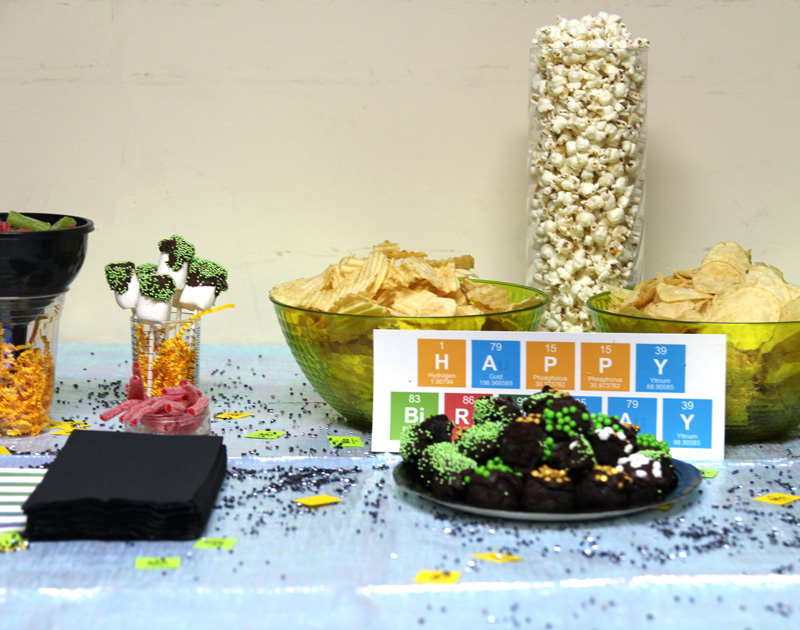 I always feel like it's better to spend on food (which gets eaten and actively enjoyed), favors (which kids play with after as long as I don't get cheap plastic throw-away toys), and activities.
However, with decor, I have a mental block. You just look at it. It's really for the adults.
I do think that there's a balance to be had. Kids love to see things that they're familiar with, their name, their favorite characters. Some decor can be repurposed. And when it looks good, everyone enjoys, right?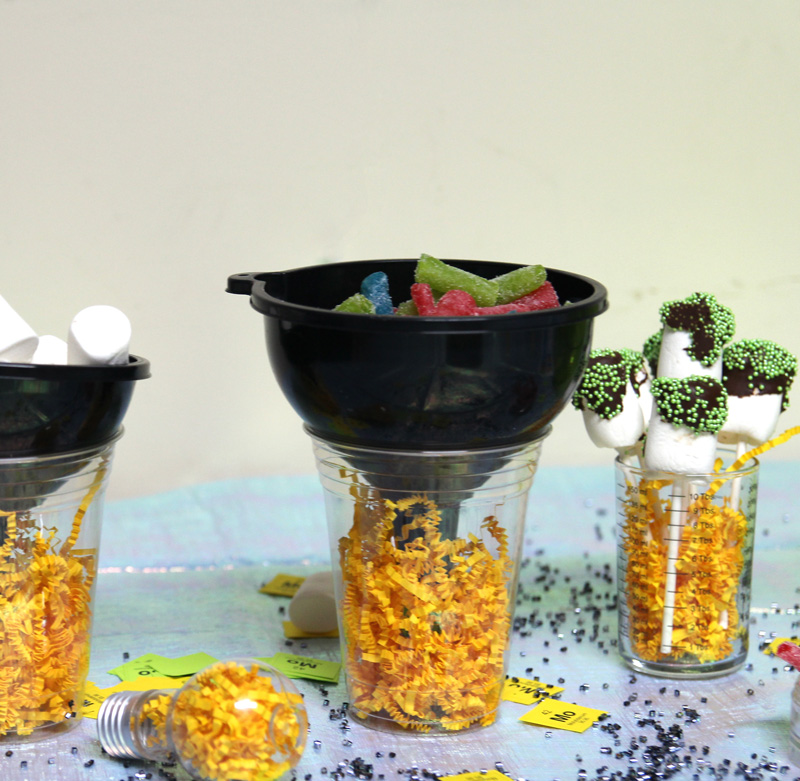 So without totally blowing the budget, I got some fun science party decor items for M's sixth birthday a few years ago. And I'm finally sharing it with you now that he's coming up on his ninth birthday… And science party decor was truly the one to go with repurposable as you'll see below!
This party, like so many of the others I've thrown, is not necessarily "insta perfect" but cool and themed for the kids. For me, that's the goal, so if that's what you're after, read on!!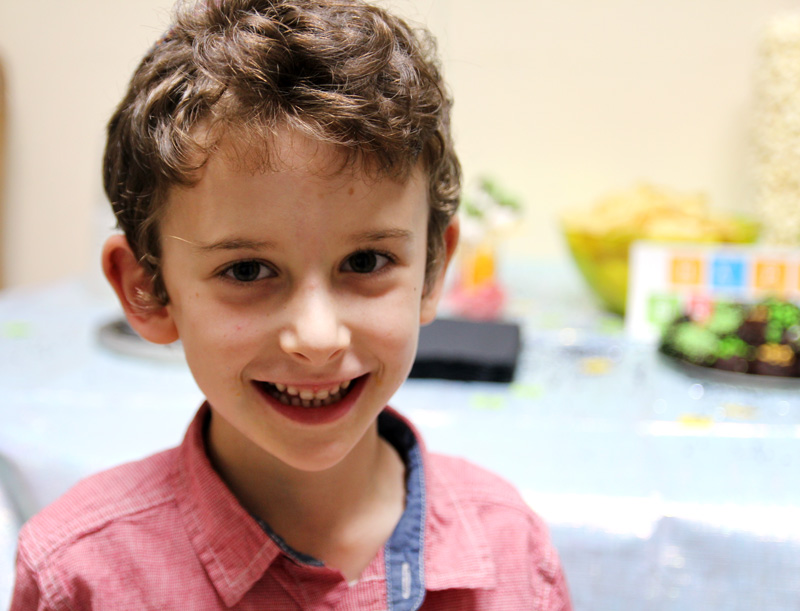 Running themes and color schemes:
Usually, when I come up with a party theme, I first hunt down napkins in that theme and build the party around it. This time, I didn't find anything science party decor specific. So I combined a few running schemes for the decor.
Stick with one or two or go with all of them like I did.
Here's what we had going on in all our science party decor:
Elements from the Periodic Table
Radioactive green
Lightbulb or hazard yellow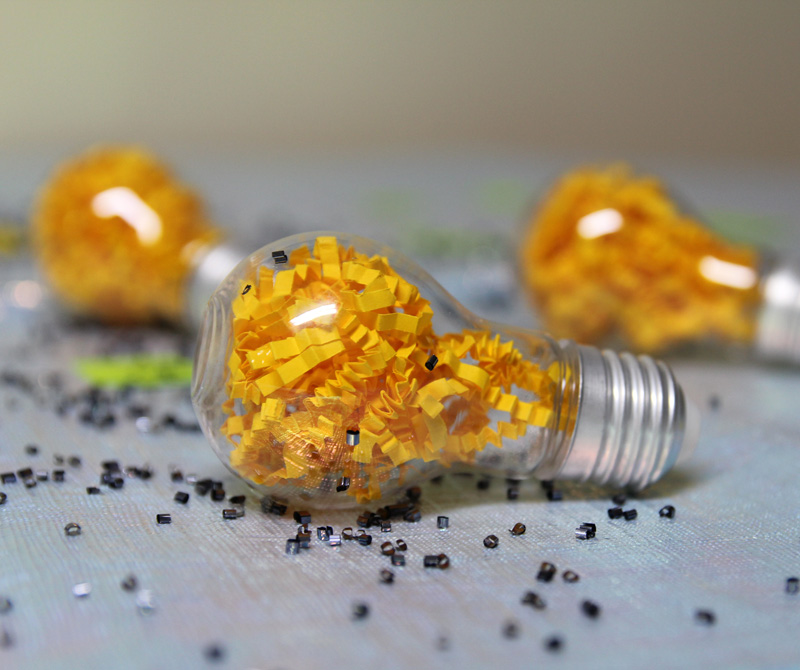 Iridescent- this just has a very new age look to it.
Black – this just seemed an appropriate grounding color and works with the hazard signs.
Science Party Table Decor
Most of the science party decor was focused on the main sweet table. I scouted the dollar store to find good ideas and focused on things that might be used in science experiments. I also used shredded paper throughout to turn things yellow.
I propped funnels in clear plastic cups and filled them with larger candies that didn't fit through the holes. The funnels can be reused later on in the kitchen, for science experiments, or for crafts.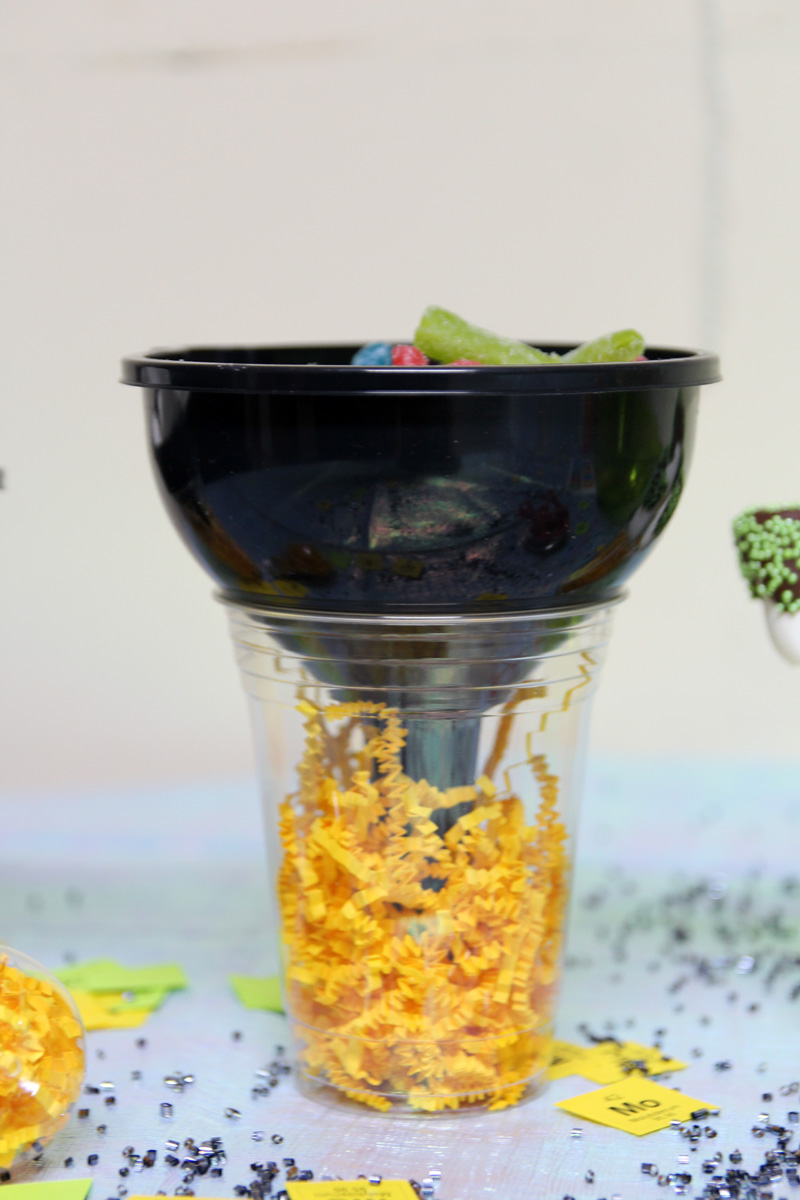 I found this website where you can make any text into element text that you can then print.. I made a happy birthday sign to prop on the table. I used this to make the Mo element (M's initial) to print in small and cut as confetti. I printed that one in black on colored paper. FYI, you CAN choose your color scheme and style with that tool!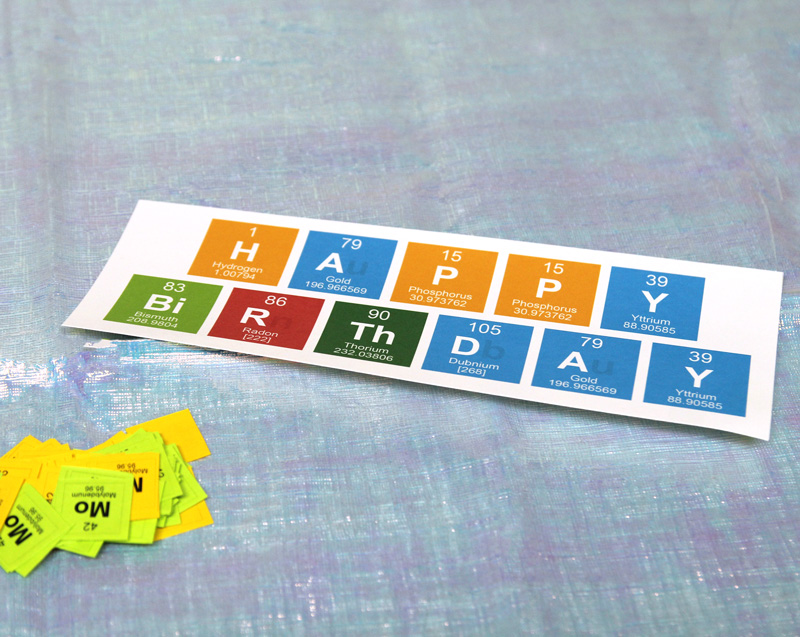 Clear light bulb containers are great for filling with treats, but I had a different science party favor in mind. I was also trying to keep costs down and we had a decent crowd at this party!
So I filled these light bulbs that I just had to use with shredded paper and used them as table decor. Light bulbs are a scientific discovery but also symbolize ideas, light bulb moments, and just work with the overall science theme.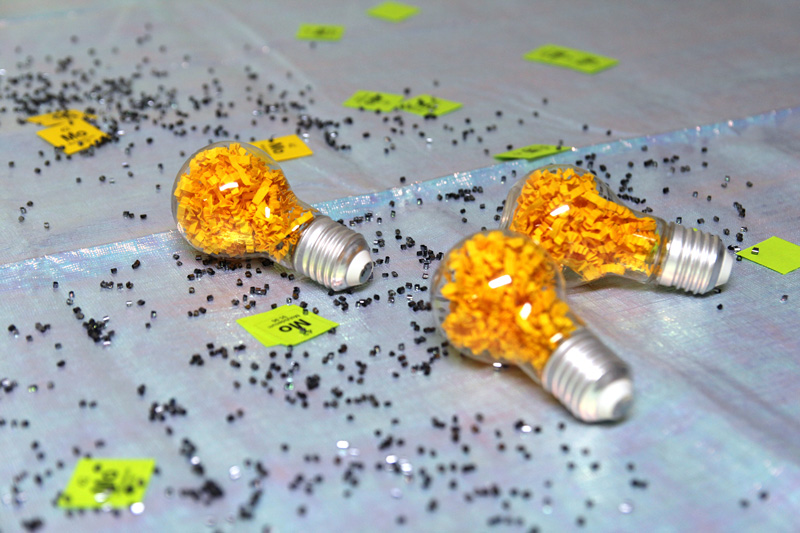 I do share more of our table decor with our science party food, since they go hand in hand, so check that out too!
Science Party Goods
As I mentioned, the only science party paper goods I found weren't quite the vibe I was after, so I winged it! I went all-in with the black and iridescent theme with: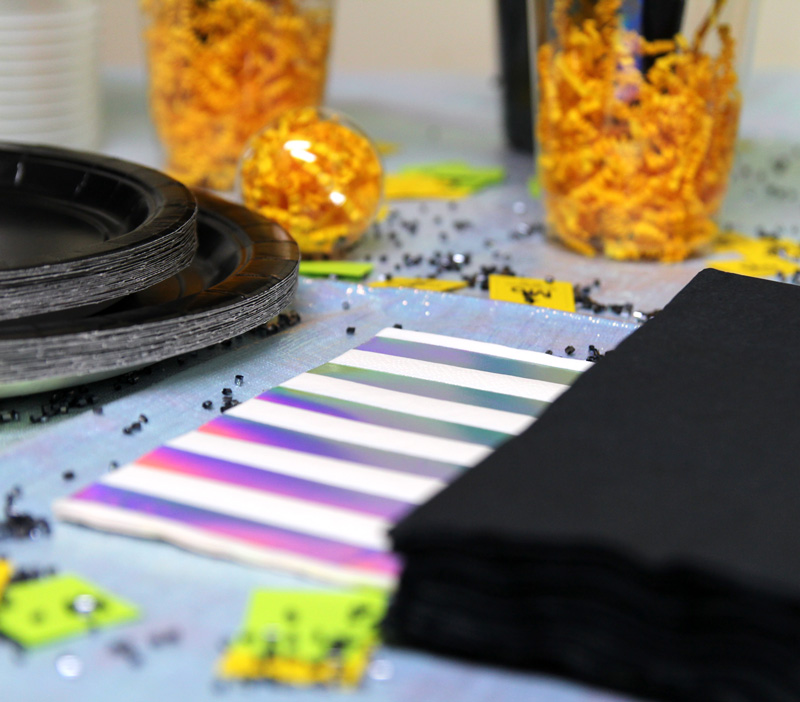 Decorations
I wish I knew where I found this "keep out" printable. Is it possible I designed it myself? Who knows?
But I'm sure you can easily replicate a sign like this – or get a real one.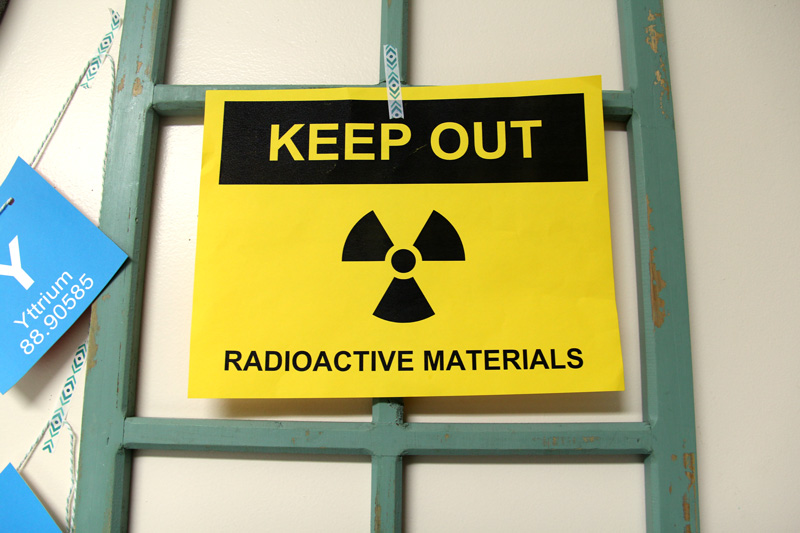 And finally, I made a Happy Birthday banner using that same free tool I mentioned above. I printed it on cardstock, cut it out, punched holes, and threaded through some twine. Voila!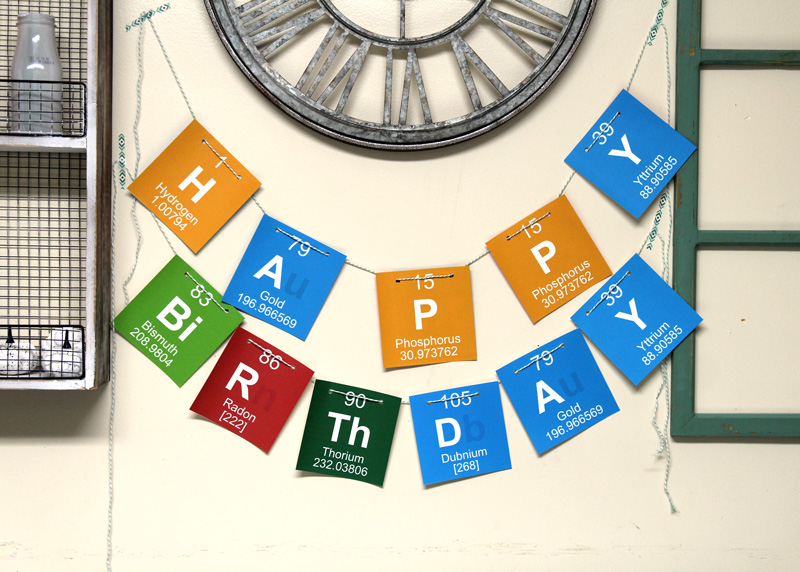 Got any science party decor ideas to add to the list? Comment below!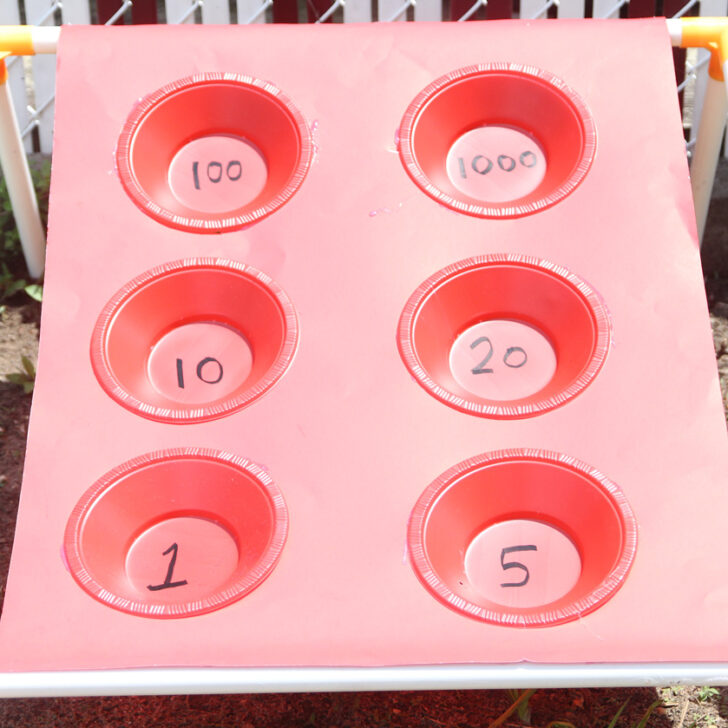 This LEGO party game is a cornhole inspired themed activity, perfect for your next party! Find more LEGO birthday party ideas and then check this …