I always wanted to figure out how to make a dreidel out of clay, and these vivid dreidels are definitely satisfying me. They are fun to play with on Hanukkah or any time of year. Find my full list of Hanukkah crafts for kids and adults here.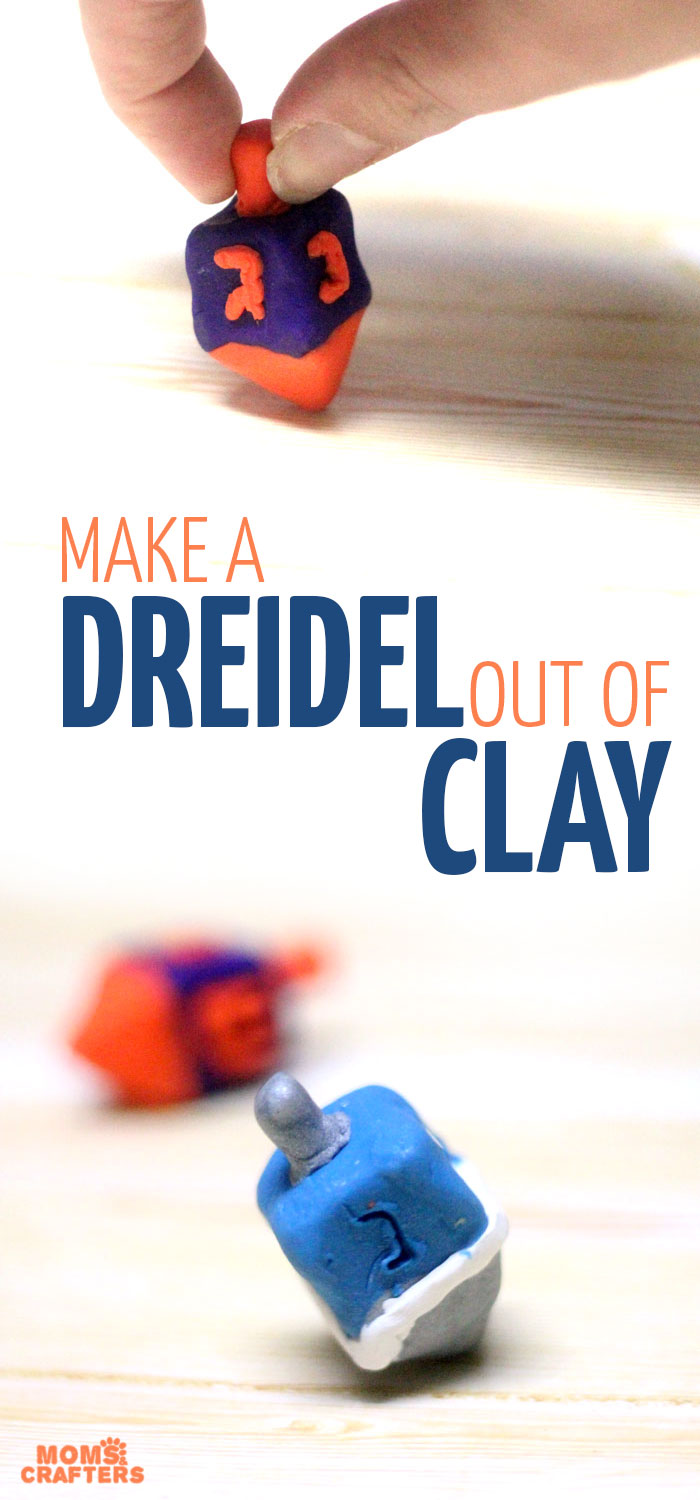 You can see the video tutorial below. Then scroll down for the story behind this DIY clay dreidel, including instructions for playing with it, supplies list, and the how-to for making it.
In preschool, possibly every Jewish child learns "the Dreidel song" – a classic Hanukkah nursery rhyme that goes "I have a little Dreidel, I made it out of clay, and when it's dry and ready, oh dreidel I shall play. Oh, dreidel, dreidel, dreidel, I made it out of clay. And when it's dry and ready, oh dreidel I shall play."
Disclosure: this post contains affiliate links.
Here's the song in case you're not familiar with it (or at least a spin on the song – no pun intended):
I wanted to revisit this song and actually make a dreidel out of clay. I figured it really shouldn't be too hard, using polymer clay in vivid colors.
The one big mistake I made was on the purple and orange dreidel. I did not realize that the point needs to be very centered or it won't spin nicely. So the blue and silver dreidel spins beautifully while the purple and orange one is a bit floppy.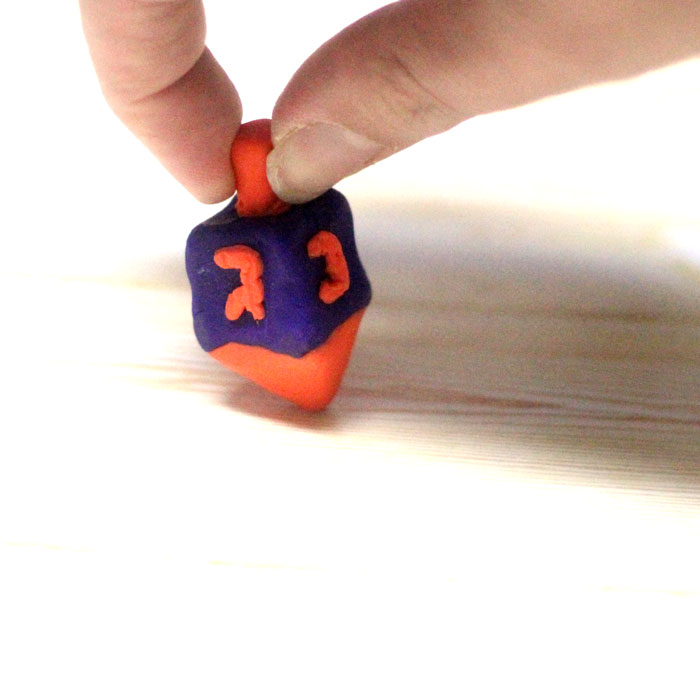 On the blue one, I took the easy way out and engraved the letters. On the purple one, I formed the letters from from clay. Another way to do it could be to draw it on with permanent marker or to paint it on once it's dry.
Polymer clay comes in many bright, vivid colors and is therefore perfect for a project like this. It's easy to make it look beautiful. These clay dreidels really do make perfect little Hanukkah gifts, a great Hanukkah party activity, or a DIY Chanukah party favor (if you have the patience to make that many).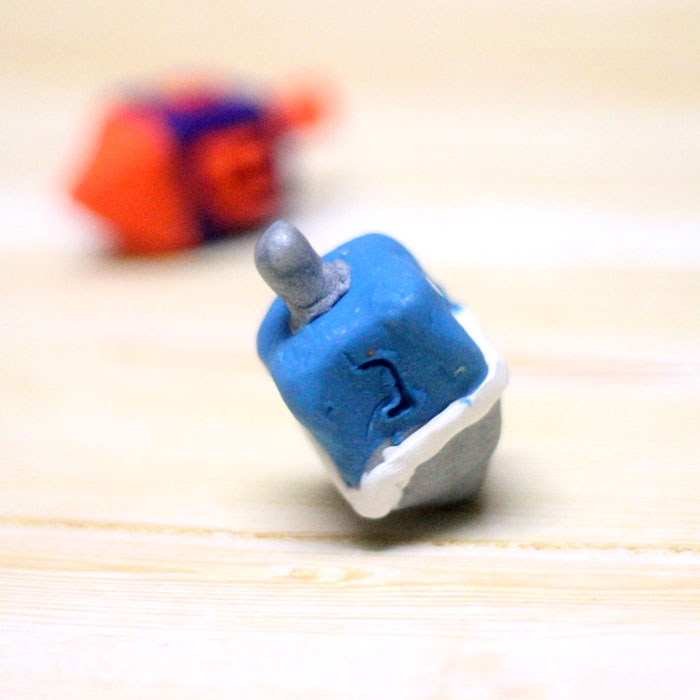 The letters on the dreidel are as follows: נ-ג-ה-ש , which stands for נס גדול היה שם , or "a great miracle happened there." During the time that the Hanukkah story took place, Torah study was forbidden. The Jews would study Torah in caves, with a lookout, and when the law enforcement came by, they'd quickly hide their studies and cover up with their tops that they were playing with.
Now, the dreidels used around Hanukkah time are symbolic of that struggle and the entire miracle of Hanukkah.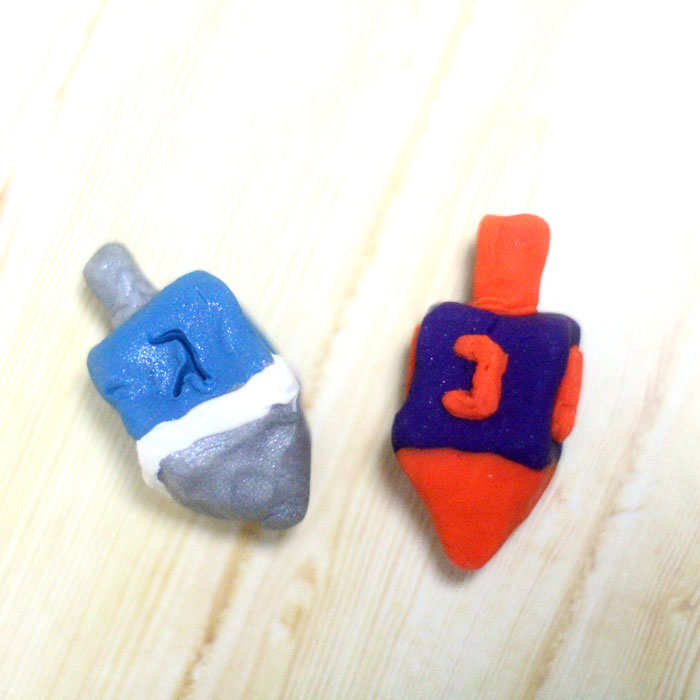 How to play with this clay dreidel:
The classic game is as follows:
Each person receives an equal pile of coins, and a "pot" is placed in the middle as well. (You can use M&M's, nuts, or anything physical to symbolize "points"). Going around the circle, each person gets a chance to spin the dreidel. They take action depending on the letter they spin.
נ

– (The letter Nun)- NOTHING. No action is taken.
ג – (The letter Gimmel)- GET. They take the entire pot! Everyone else needs to contribute two coins to restock the pot.

ה – (The letter Hey)- HALF. They take half the pot.

ש – (The letter Shin)- SHARE. They put two coins in the pot.

When you decide to finish the game, either everyone keeps what they have, or you can do a winner/runner-up/3rd place system.
Of course, there are all sorts of variations on the game – the main thing is to have fun!
What you need to make a dreidel out of clay:
Shaping tools – I used a plastic knife and a toothpick. Nothing fancy…
An oven-safe glass dish (and an oven)
Glaze if you want (I didn't use it)
You may want to have glue handy as well.
How to make a dreidel out of clay:
1. Cut off a piece of clay in your first color.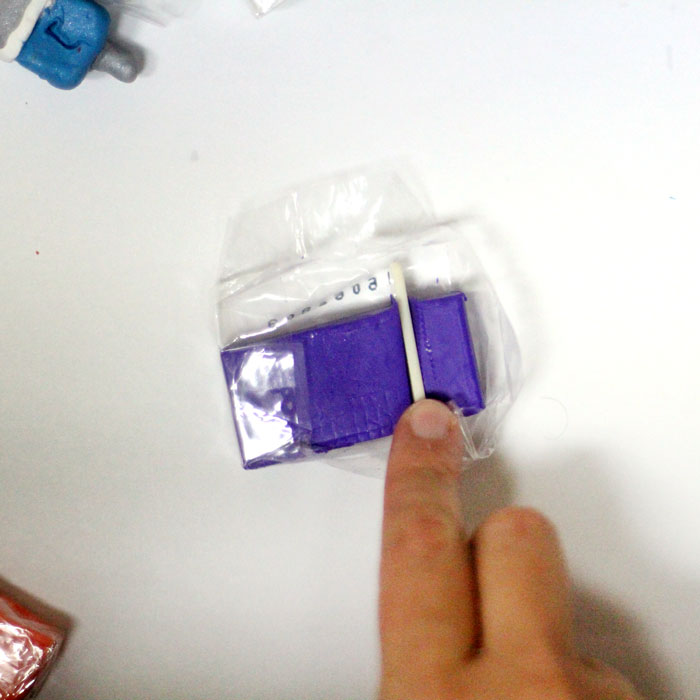 2. Shape it into a cube with your fingers. It should be about the size/shape of a die, if not a little bigger.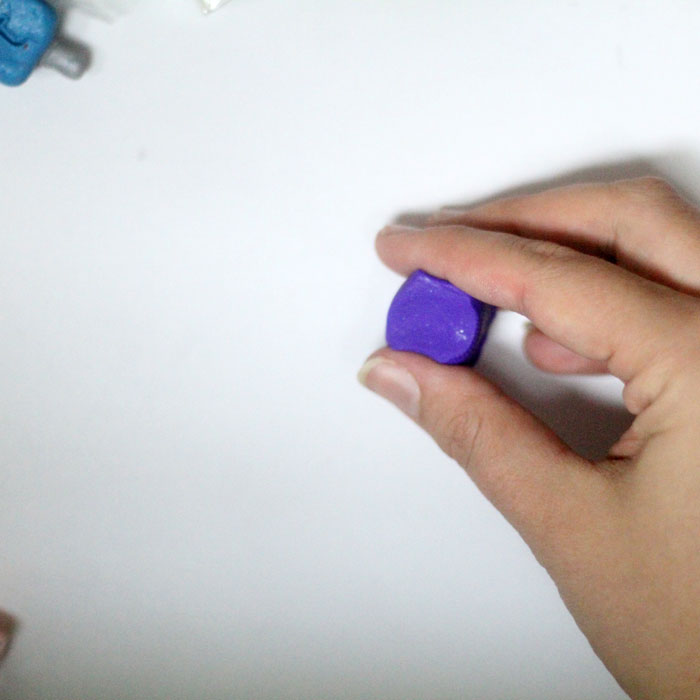 3. Form a ball with your second color about the size of a marble.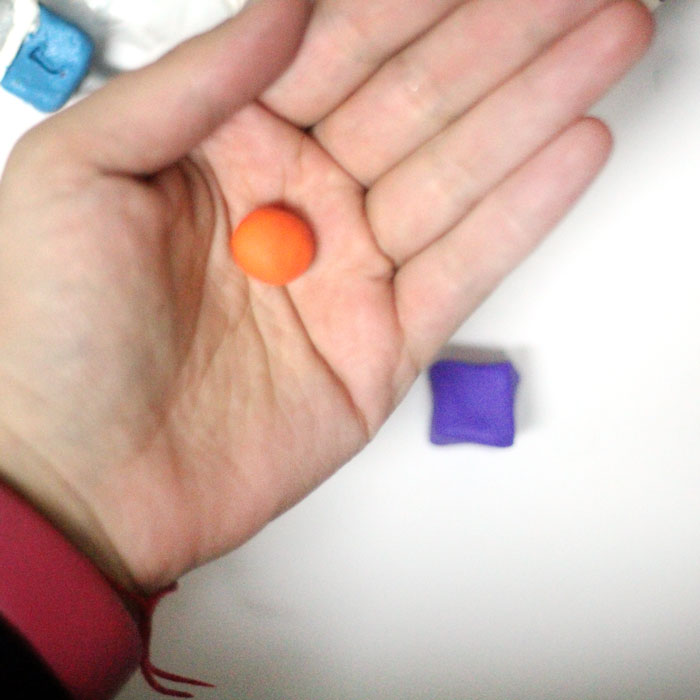 4. Form a point and then four sides leading up to the point and attach it to the cube.
5. Squish the edges of the cube and point together so that they are really attached. Refine the edge of your point, making sure that it's smack in the middle.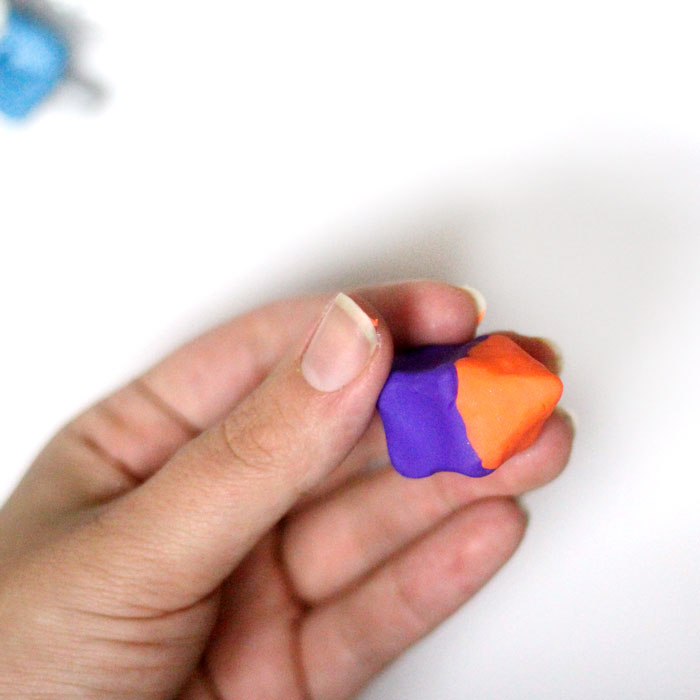 6. Create the handle of your dreidel. Make a small stick, flattening it on the bottom. It should be big enough to grasp with the fingers, but not too heavy.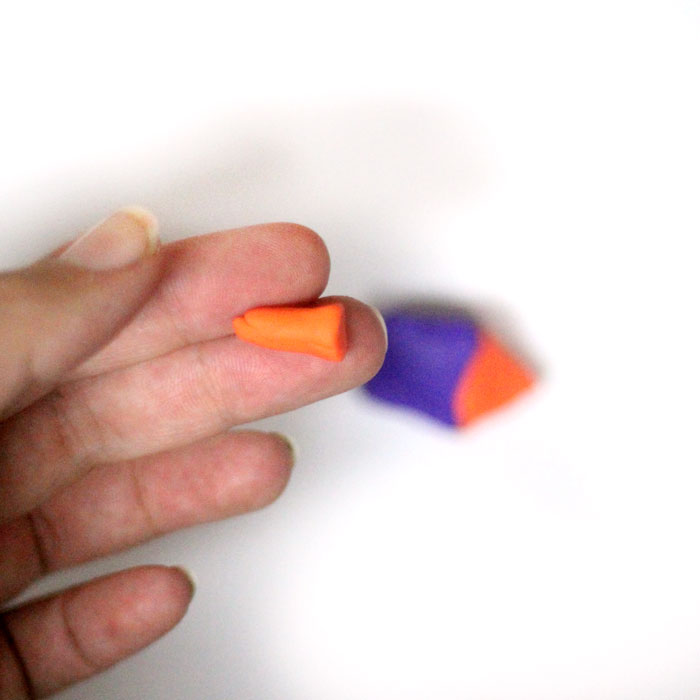 7. Attach it to the top of your cube and flatten the top. Attach it well so that it does not break off, using your toothpick to really poke the ends into the cube (and then smooth it out.) IF it does break off after it's dry, you can re-glue it using E6000. (If you want to avoid this, you can definitely create is separately and glue it after it's dry. My purple one did not break; my blue dreidel did.)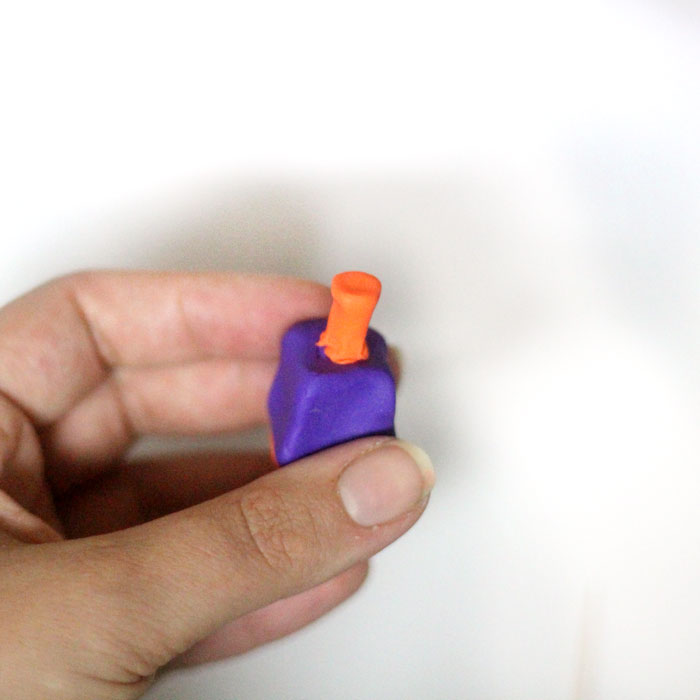 8. Now form your letters using little bits of contrasting clay. You can otherwise engrave them on the soft clay using a toothpick.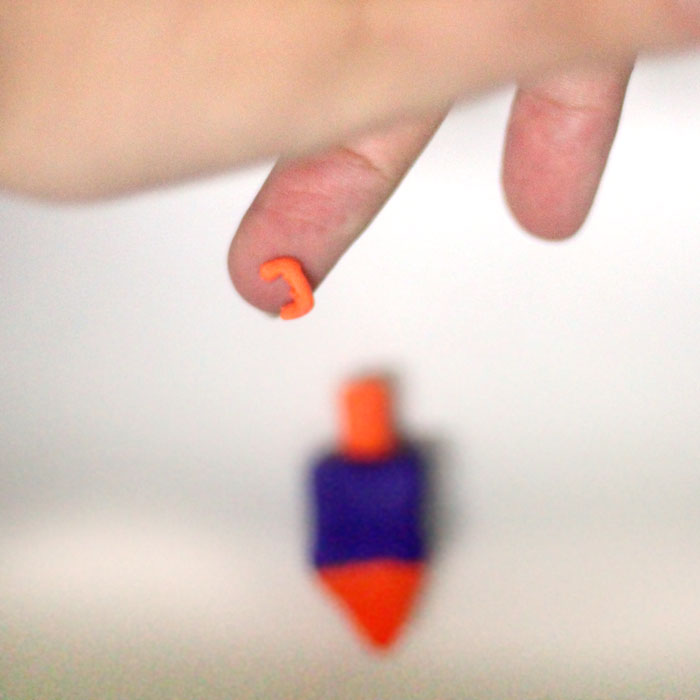 9. Attach them in order to the four sides of the dreidel. Keep in mind that Hebrew reads from right to left, so first put the נ then the ג on the side to the left of it, then the ה followed by the ש.
10. Place your dreidels on a glass oven-safe tray and bake according to package instructions.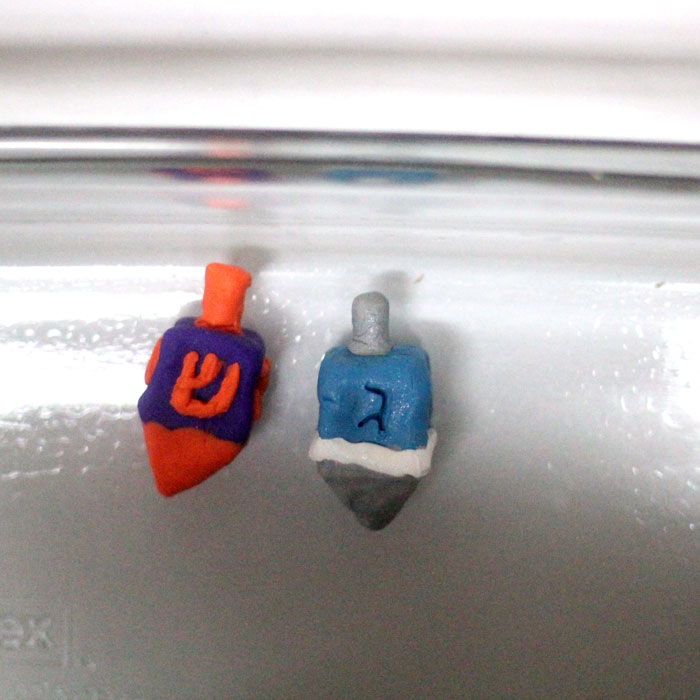 And when it's dry and ready, oh dreidel I shall play!
It's not that hard to make a dreidel out of clay, and a great way to revisit a childhood favorite! Happy Hanukkah and Chanukah Sameach!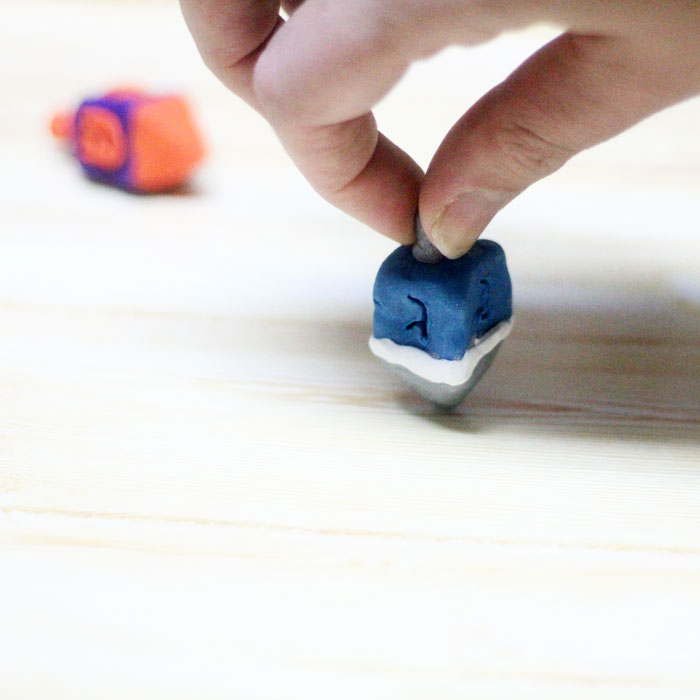 New! Get the Hanukkah coloring page packet! You can find it in my Etsy shop, or on Gumroad, or purchase it here: