With years of putting together and sharing Hanukkah crafts and printables, I figured it's time to gather them all in one place! My top Hanukkah post of all time is my dreidel napkin fold tutorial, so check that out first and then scroll through this list for more Hanukkah ideas! Disclosure: this post contains affiliate links.

While most of the world is busy swirling around with Christmas prep, my family is enthusiastically prepping for Hanukkah!
Over the years I've made fun Hanukkah crafts with and for my kids. We've made fun Hanukkah decorations, come up with cool ideas for all our Hanukkah parties, played around to find our favorite latke recipes… And now it's time to share them all in one place!
I've split the Hanukkah crafts and other ideas into different categories so that you can easily find what you're looking for.
Some of these Hanukkah ideas appear in more than one category, again, so that you can easily find what you want.
Hanukkah Crafts for Preschool:
Whether you're a preschool Morah (teacher), or you want something fun to keep your little ones busy at home, or to teach them about other cultures, these Hanukkah crafts for preschool are simple, educational, and entertaining.
1. Color and craft this super fun Hanukkah Puppets Printable Paper Craft – or grab the full color version and just cut and craft! I illustrated these Hanukkah puppets with my own kids in mind. You'll find fun story characters, along with the traditions in humourous, animated poses – a dancing dreidel, a hiding flask of oil…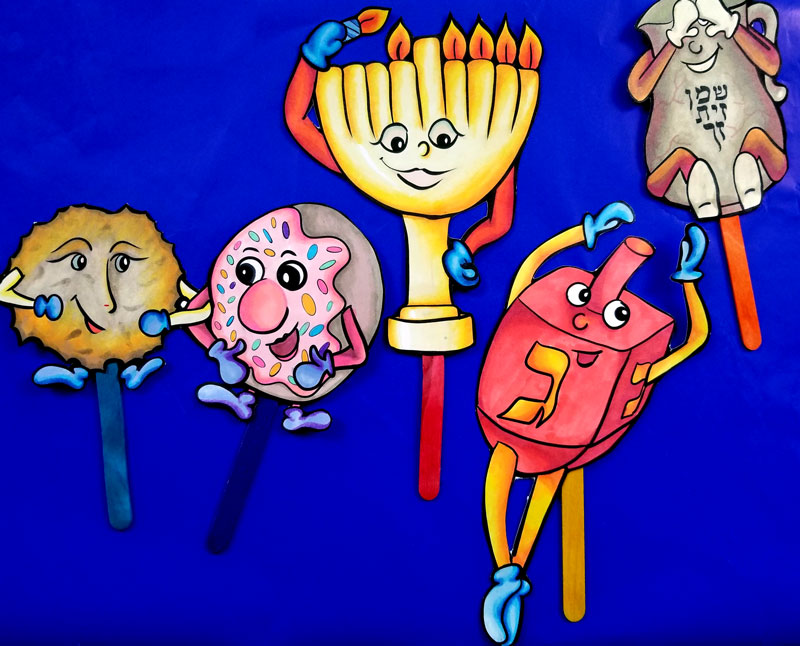 2. Want a fun Hanukkah keepsake gift? Craft this fun Hanukkah Craft for Kids: a finger print Menorah to hang in your home. It uses air dry clay, making it easier on you!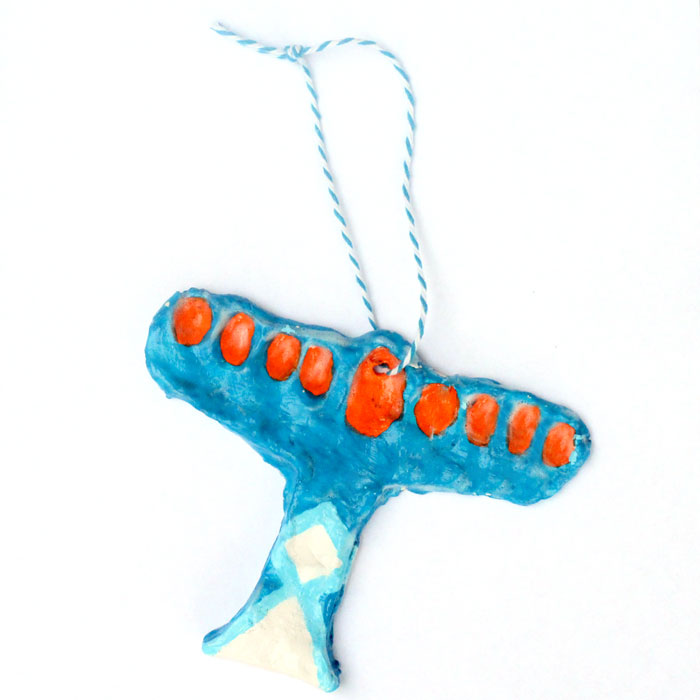 3. When my toddler wanted to "light the Menorah just like Daddy", I made him a toddler-friendly Hanukkah Menorah Craft for Kids that he can actually light. The flames may be fake, but the fine motor skills are real!
4. When my toddler became a preschooler and came home from school with a "real" menorah that he made, I decided it's time for some kid-friendly flameless candles that can fit a standard tin menorah. I made these Chanukah candles for kids using pipe cleaners – they were a huge hit!
Hanukkah Crafts for Kids:
While there's plenty of overlap, these Hanukkah crafts are also good for the older set!
1. Hey, even I had fun coloring my Hanukkah Puppets Printable Paper Craft! Print it on card stock to make a durable puppet, and older kids can repeat the Hanukkah story as they learned it.
2. Use very basic origami skills to make dreidels and stars of David, and then turn them into a Hanukkah Garland! We made this to decorate our home for one of our many Hanukkah parties.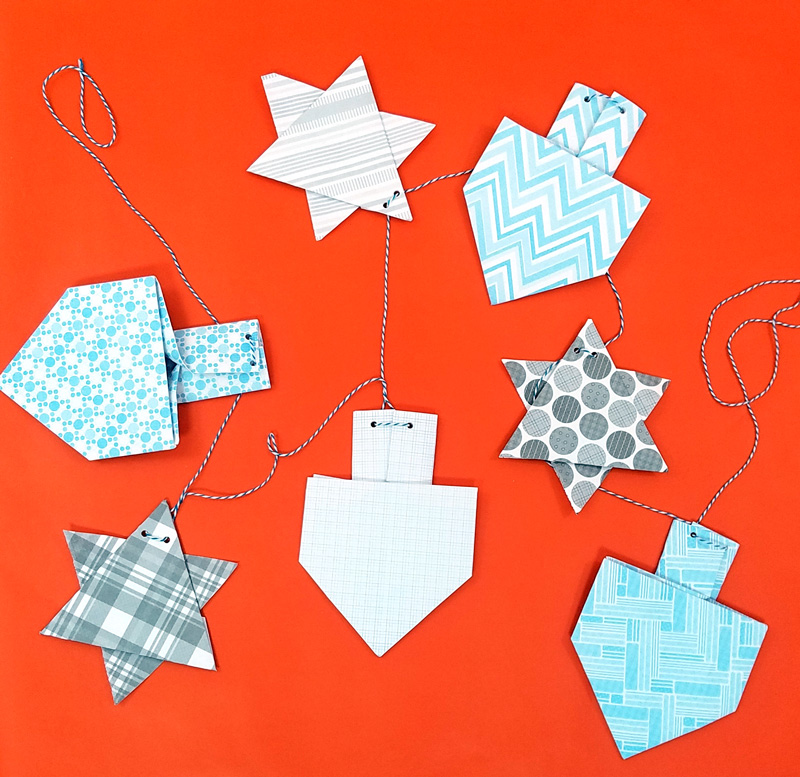 3. Another craft that preschoolers can make but older kids can make even better –the Finger Print Menorah Keepsake that me and M had so much fun with!
4. I knew that there were many brilliant Menorah ideas out there, so I also assembled a list of 11 DIY Menorahs for Hanukkah – including some ideas for kids and some ideas for grown-ups!
5. Another list featuring different ideas, these 23 Hanukkah Crafts and Activities for the whole family were collected when I was looking for ideas to try myself!
6. As the classic song goes "I have a little dreidel, I made it out of clay, and when it's dry and ready, oh, Dreidel I shall play". Probably every little child who learns about Hanukkah learns this song, so I decided to figure out myself how to make a dreidel out of clay! Younger kids might struggle to follow along, but older kids can definitely make their own clay dreidels! See the video tutorial below:
Hanukkah Crafts for Adults:
Hanukkah is one of the only Jewish holidays that doesn't have the adults hosting multiple large meals with lots of special foods and guests… so we have more time to craft! These ideas are also great for tweens and teens with adult-level crafting skills.
1. Turn these Hanukkah window clings into faux stained glass wall art by placing them on empty frames, or actually place them on a window (or mirror, like we did!) The kids love seeing the signs of Hanukkah in our home early, so I made these a few weeks before.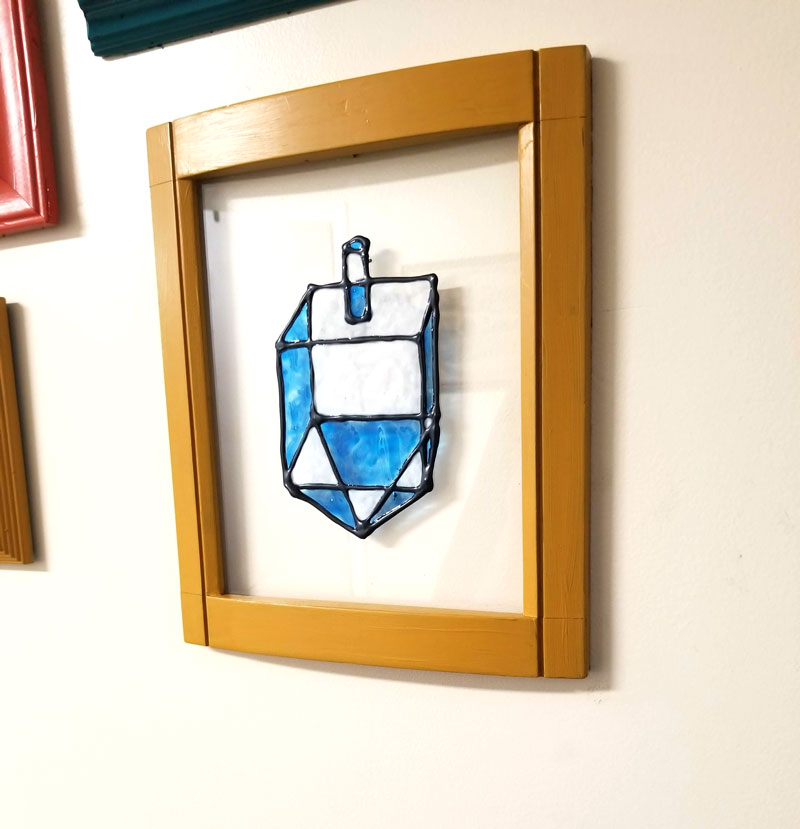 2. The origami Hanukkah GarlandI shared in the kids section above is fun for adults too!
3. The 11 DIY Menorahs for Hanukkah I shared before also include some grown-up ideas!
4. Got a nice-sized gift list? Check out these Hanukkah gift ideas to DIY or to buy – including some fun Hanukkah-themed ideas!
5. I had a huge heap of old baby food jars, and wanted a pretty true-to-Hanukkah centerpiece for our family party. So I turned them into a DIY Upcycled Chanukah Menorah that glows with water. It can't really be used as a Menorah to keep from year to year but it is a fun centerpiece because of the scale.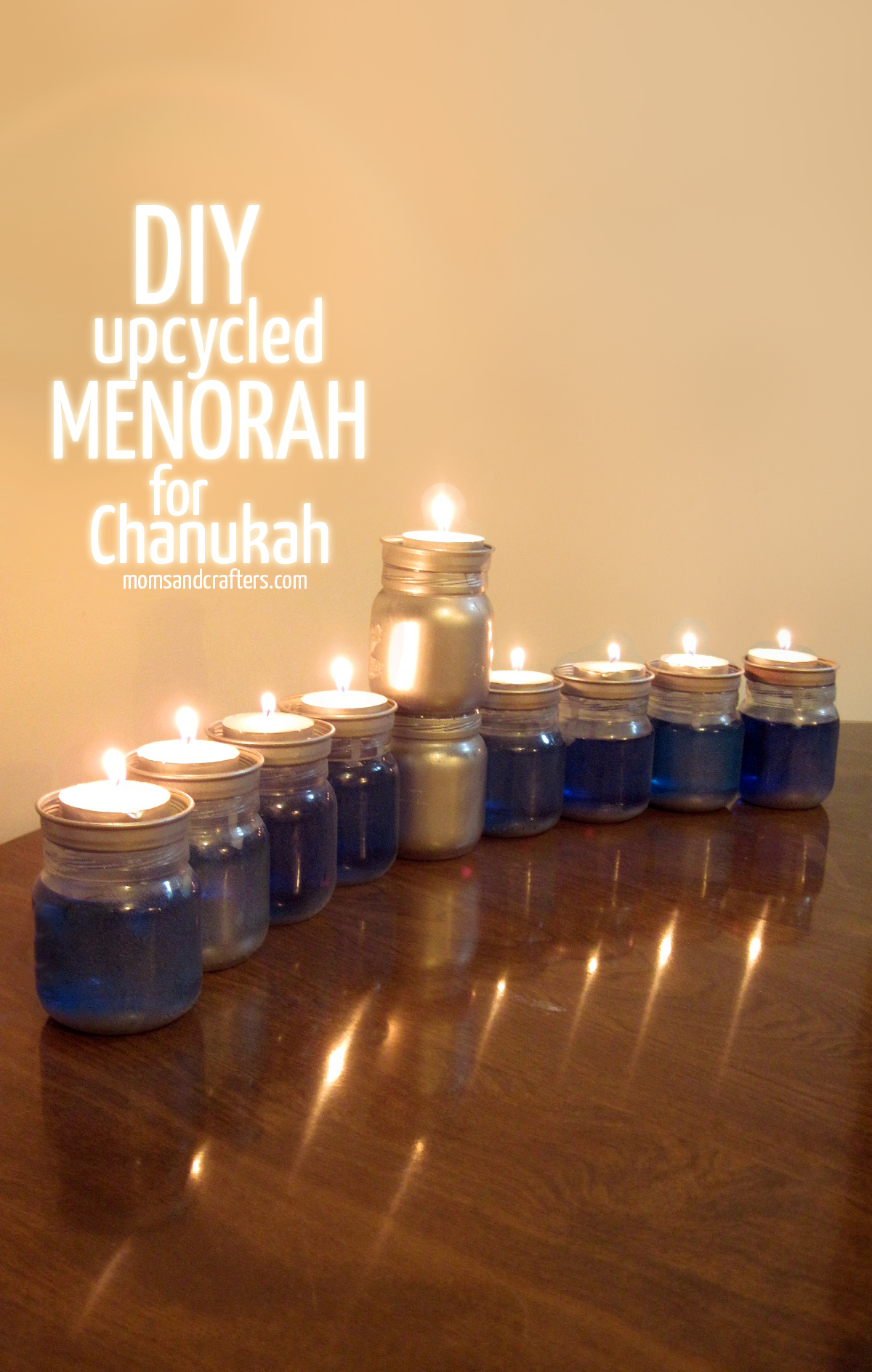 6. I used a "mature" polymer clay to make my clay dreidels, and it's a fun mom-made gift or party favor to try!
7. A more advanced DIY project, this DIY wood and copper Menorah was a joint project between me, my husband, his grandfather, and his brother. We sourced copper pipes from the plumbers in our family to make this sharp, industrial menorah!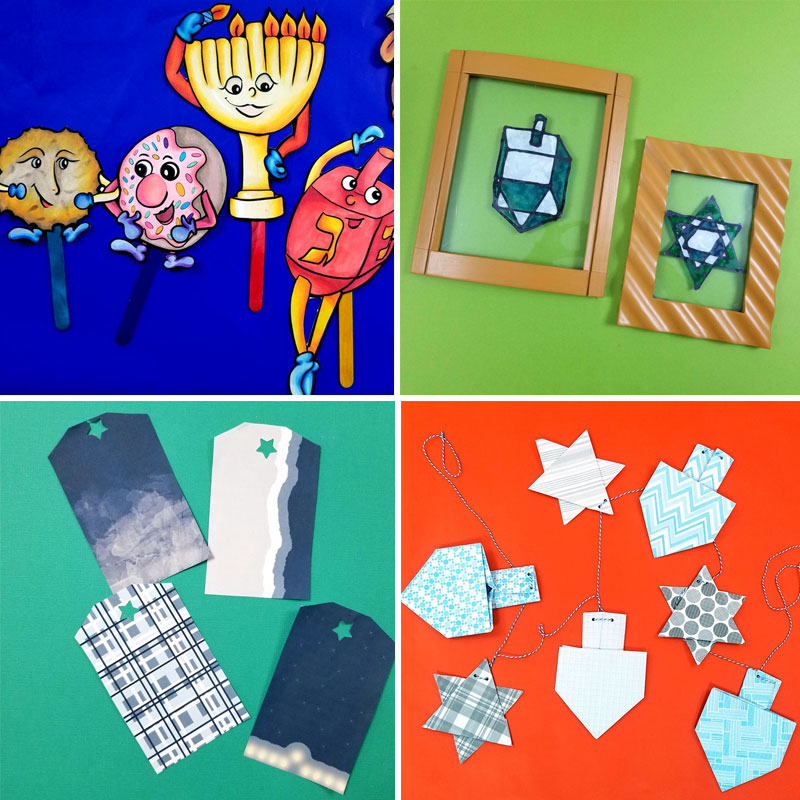 Hanukkah Coloring Pages Printable for Kids and Adults:
Hanukkah coloring pages are one of the easiest ways to teach kids and occupy them! Just print, hand 'em over with some crayons and watch them get busy! Personally, I've also loved using them for myself as a de-stresser. You'll find both adult and kids Hanukkah coloring pages below.
1. My Hanukkah Puppets are also a coloring page – how cool is that?!
2. Grab this free printable Hanukkah coloring page for adults, color it, and then hang it as Hanukkah decor! Or, you can put out a stack at your family event as entertainment.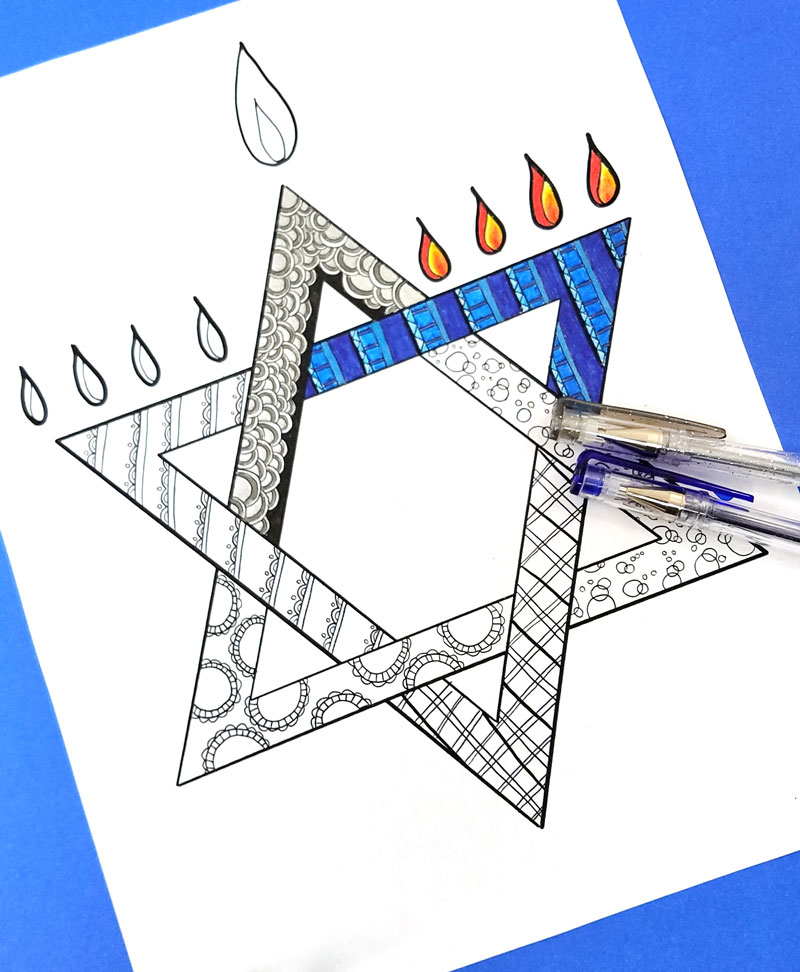 3. A unique recipe-coloring combo, this free printable Hanukkah coloring page for adults features my family's favorite latkes recipe. I bet it'll become your family's favorite too!
4. For those of us who really love to unwind with some Hanukkah coloring pages, I created a bundle of five Hanukkah coloring pages for adults. These are loaded with nostalgia – from intricate dreidels and menorahs, to menorah-lit row houses, it'll spark some Hanukkah memories.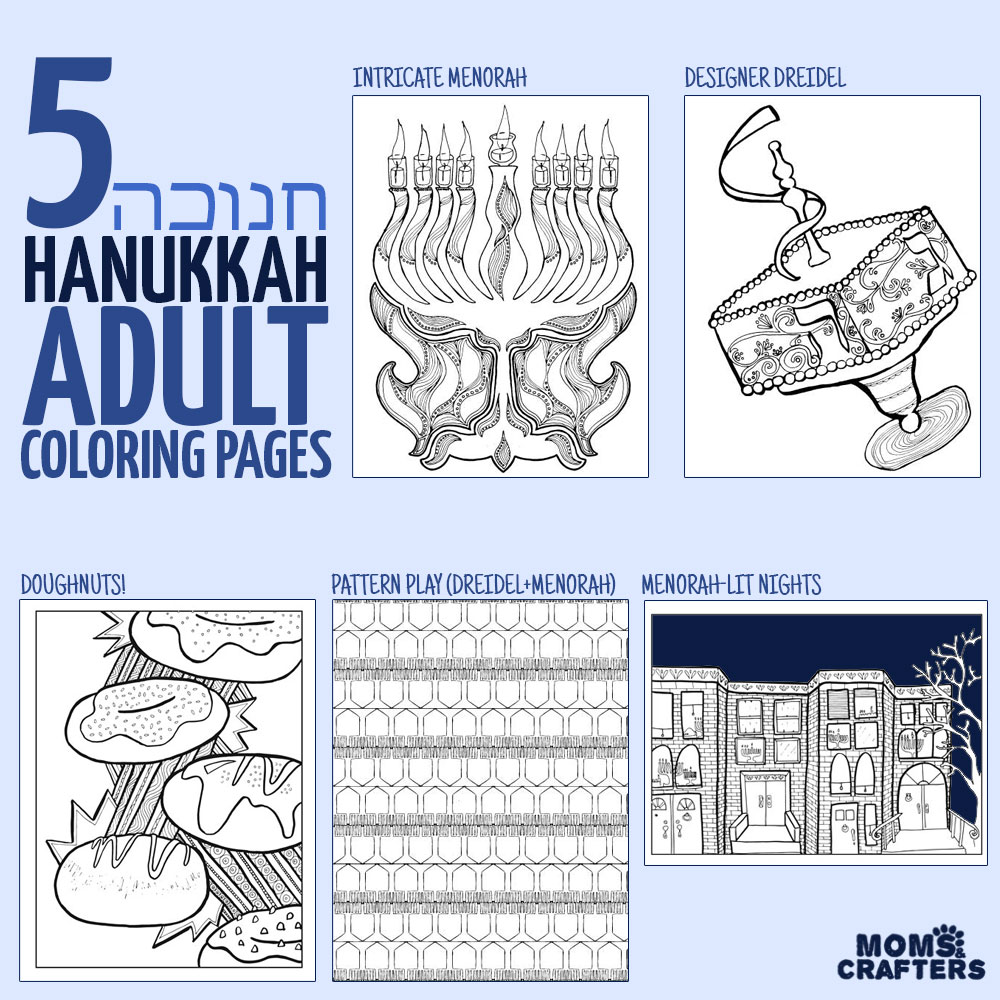 5. Years ago, when my friend was teaching in a Jewish school in Paris, she asked me to create somekids' coloring pages for Chanukah for her students. Now, with the blog in place, I decided to share them with the world.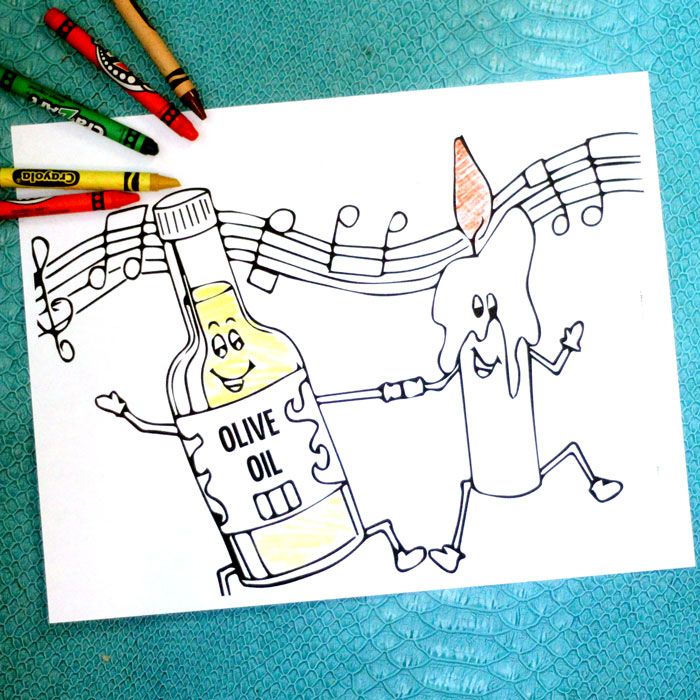 6. When I joined an adult coloring page illustration challenge, one of the themes was Christmas. I wanted to create something more practical for the season:color-in holiday cards. I decided to create both – a Christmas set as well as a set of Hanukkah color-in cards for my fellow maccabees.
Hanukkah Printables:
Want ready-to-go printables that are NOT color-ins? These Hanukkah printables will help streamline your holiday prep!
1. One of the first printables I made for the blog, these free printable holiday gift tags include designs for both Christmas and Hanukkah!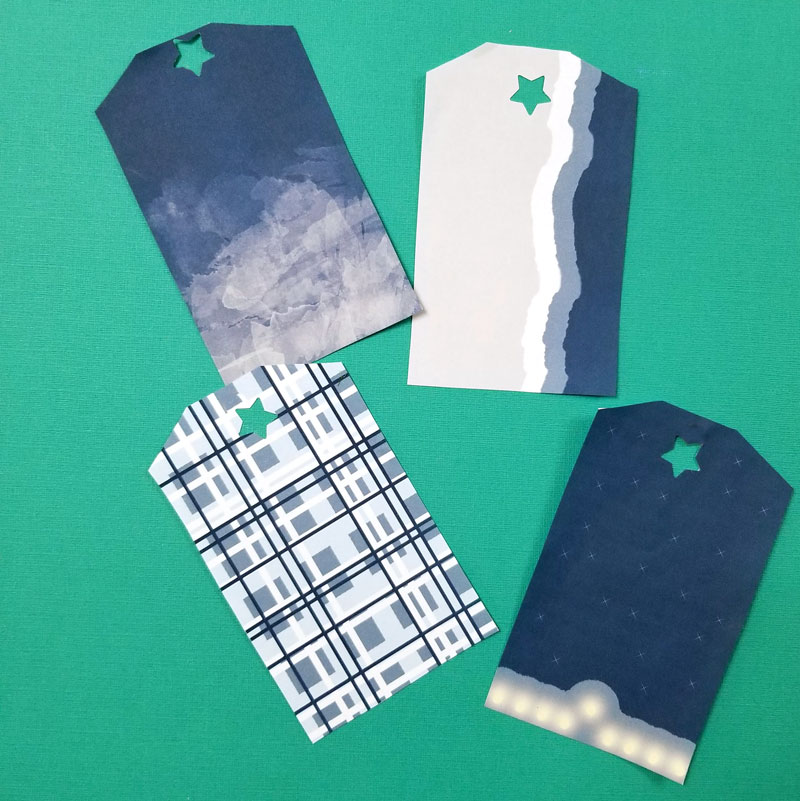 2. Need a quick solution to wrap a small gift? Grab this free printable holiday gift wrap – including Hanukkah designs!
3. Don't have time to color in your puppets? Print the full color Hanukkah puppetsand make a quick Hanukkah paper toy and teaching tool!
4. I designed these free printable Dreidel boxes to fill with chocolate coins ("gelt") for our family Chanukah party! They were really popular, and are an elegant, easy way to do Hanukkah party favors. Psst- Paskesz brand chocolate coins are Kosher and nut-free!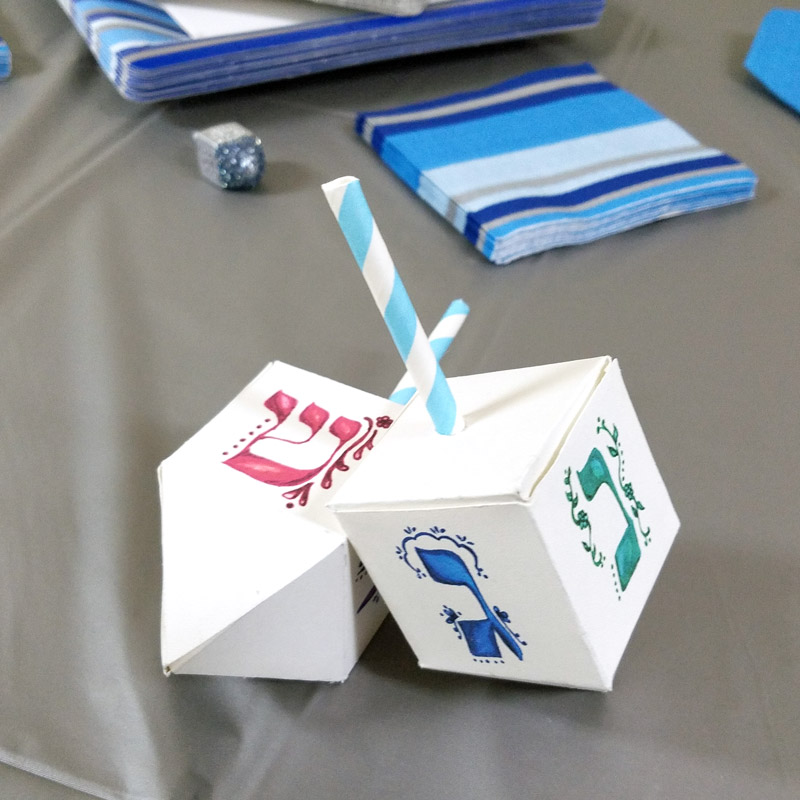 Hanukkah Decorations and Party Ideas:
As I mentioned above, we love bringing the Hanukkah spirit into our home with classy and fun Hanukkah decorations! We also throw a yearly Hanukkah party most years, so I've gathered some party ideas too. I combined these two since there's plenty of overlap.
1. Decorate your home in the spirit of Hanukkah with Hanukkah window clings! As I mentioned above, add them to simple frames with the paper backing removed (you may need to hot glue the glass in place) to turn them into faux stained glass artwork.
2. The origami Hanukkah garland that I shared above stays up in our home long after the party is finished!
3. A couple of years ago, I tried a Dreidel napkin fold for Hanukkah that went semi-viral on Facebook! It was such a huge hit, I did a post based on it. You can see the video below:
4. As I mentioned above, my DIY upcycled Chanukah Menorah makes an amazing Hanukkah party centerpiece!
5. A great idea for winter parties in general, I shared a soup bar party idea that is great for those who aren't doing a dairy Hanukkah party (or do a dairy version of the same.) What's better than warm soup during the winter? 3 different types of warm soup, with endless mix-ins!
6. On our joint blog, Beyond the Balagan, my friend Rochel shared a stunning, modern Chanukah tablescape that you may wish to replicate!
7. And, of course, don't forget the free printable Dreidel boxes that I shared above that not only make great party favors, they also look amazing as part of a Hanukkah table setting, or spread on a buffet-style or sweet table.
Hanukkah Recipes:
These family favorite hits may just become your family's favorites too!
1. A family favorite, and a definite necessary evil, these golden potato latkes are crispy and crunchy on the outside, and smooth, creamy, and tasty on the inside. They are mostly a traditional recipe with a slight twist that enhances the texture. Golden Potato Latkes Recipe for Hanukkah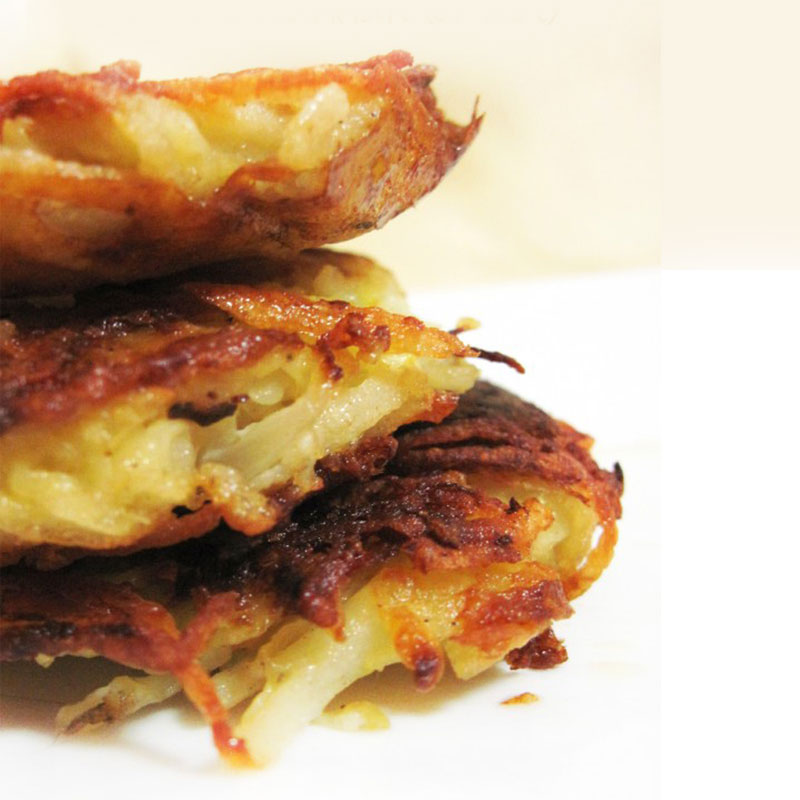 2. If you want a slightly more healthy latke recipe – or if you just want a change – try Spaghetti Squash Latkes for Hanukkah.
Hanukkah Gifts:
Let's not forget those gifts! I'll leave off the explanations on the gifts Just scroll through the titles for the ones that fit your needs best! My newest "crafty gifts" list, gifts for creative kids, should definitely be your first stop for kids of all ages!
What are your favorite Hanukkah crafts and recipes? Comment below!