Grab your pencils and pens, and all your coloring mojo and download this free printable macarons coloring page for grown-ups! If you love this, check out my Easter adult coloring pages too! This post contains affiliate links.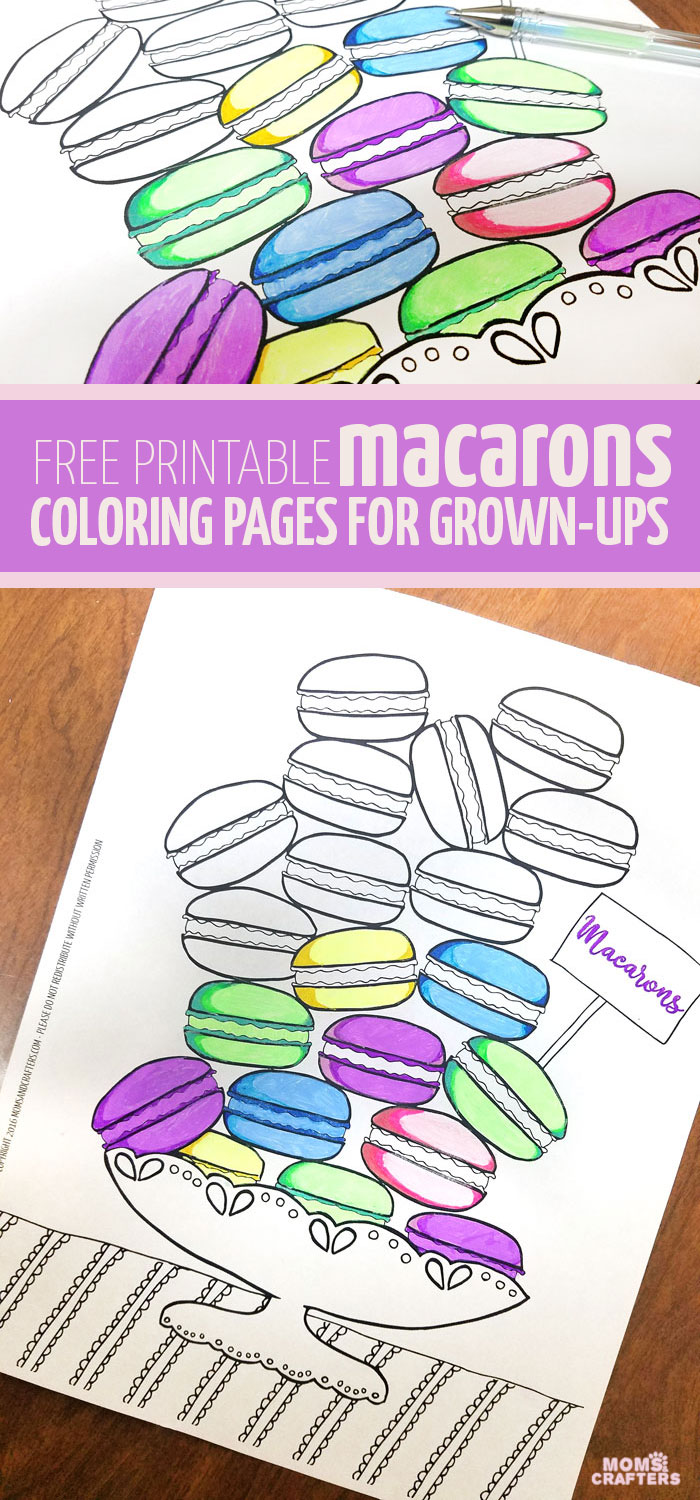 I joined up with some friends in a cookie-themed blog hop. Now, since I'm not THAT into baking cookies, but I am OBSESSED with creating coloring pages for adults, I decided to illustrate a macarons coloring page.
It's pastel heaven!
I love the aesthetic of macarons and thought that they'd be the perfect challenge to color. Since they're usually a single color to symbolize the flavor, with various shades, it's a great challenge. Of course, the focus is pastels, but if you look up images of macarons, you'll find that some have very vivid shades.
I colored this adult coloring page using gel pens.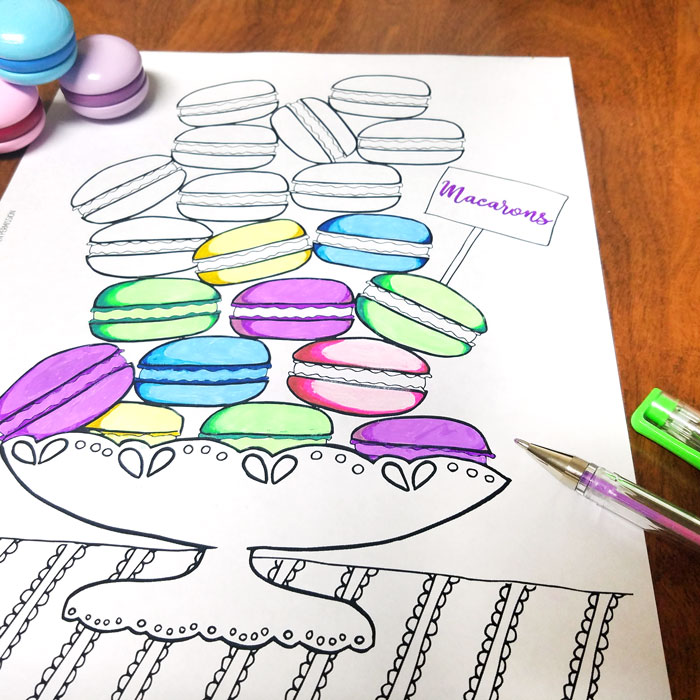 I got this pack of gel pens a while ago and haven't had a chance to give it a shot. I finally did and was so pleased with the quality and flow of it. It includes some milky ones which were perfect for this page.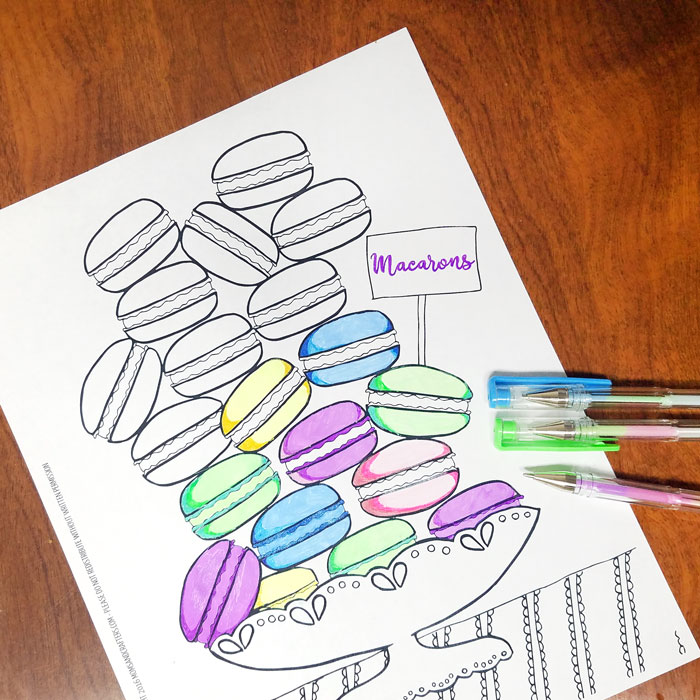 I did not have a pale enough pink, so I colored a light layer of pink colored pencil, and went heavy on the white to blend it on top. I think it flows right in – you wouldn't be able to tell! My Prismacolor Premier colored pencils have a soft enough core to allow for good, solid color, as I managed to get here.
Download your free macaron coloring page:
To download, fill out the form below. You'll be signed up for our free newsletter – unsubscribe at any time in the footer of the emails. I respect your privacy and the law and won't share your information with anyone.
A while ago, I asked a group of colorists what they want to see more of. A few people mentioned that they'd love pages that aren't full of tiny, hard to fill spots due to issues with dexterity, vision, and coordination.
I can really relate to this, so I figured I'd keep that in mind with future pages. There is really a lack of pages with more open spaces in mature themes, and this macarons coloring page is perfect for that.
The overall picture presents enough of a challenge for grown colorists – with shading and texture to be added – while it does have open spaces. It does have some smaller spaces, but those can be skipped over and left as a general texture, since there isn't that much of it.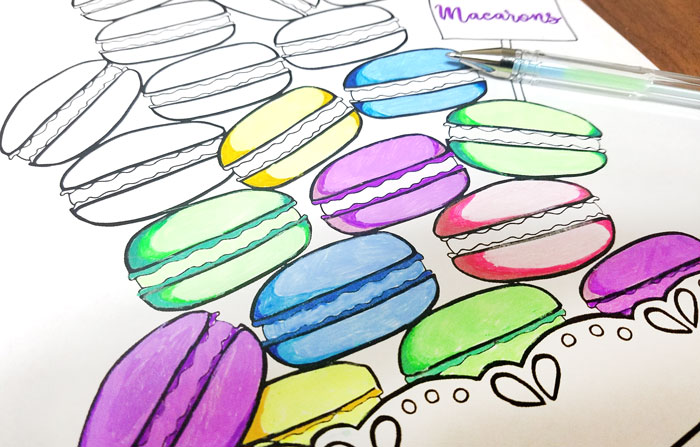 Feel free to check out my food focused coloring books for grown-ups – I hope you'll consider them! You can also get digital versions in my Etsy shop.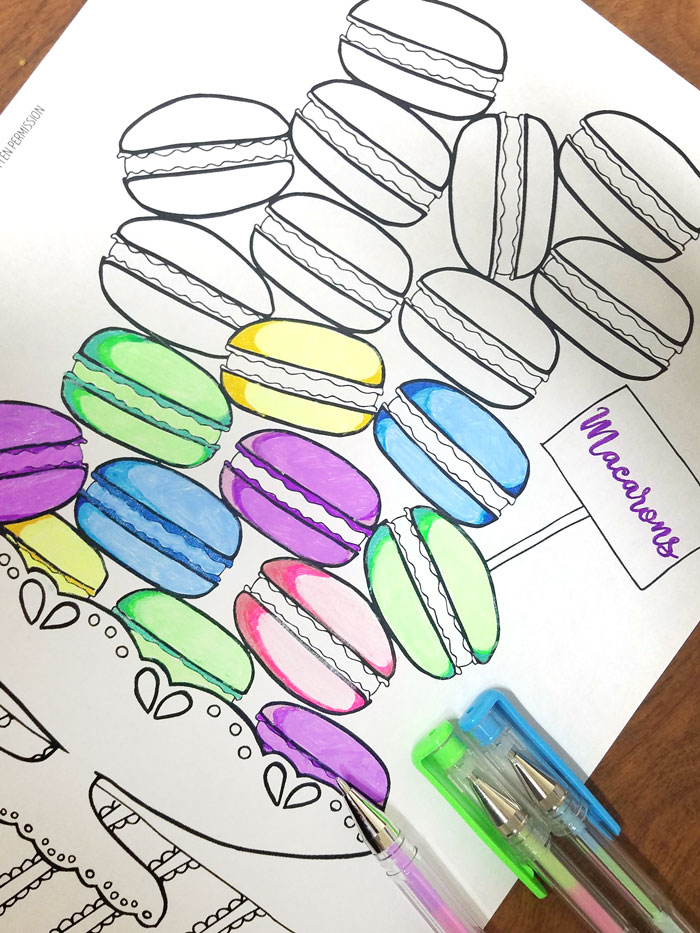 More cookie goodness from the Christmas Cookies blog hop:
Cocoa & Cookies DIY Gift with Free Printable Envelopes by Sunny Day Family

Macarons coloring page for adults by Moms & Crafters (you're here!)

Ornament Cookies by Craftulate

Cookies and Bookies by Growing Book by Book

Knitted Gingerbread Man Pattern by Knit's End

Eggnog Sugar Cookies with Bourbon Cream by Playground Parkbench

Poinsettia Spritz Cookies by Arts & Crackers
Stained Glass Window Cookies by Life is a Cabernet