Make this adorable huggy mother's day card craft for kids! Print the free printable PDF or SVG template for the card, and then follow the step-by-step directions. This post contains affiliate links.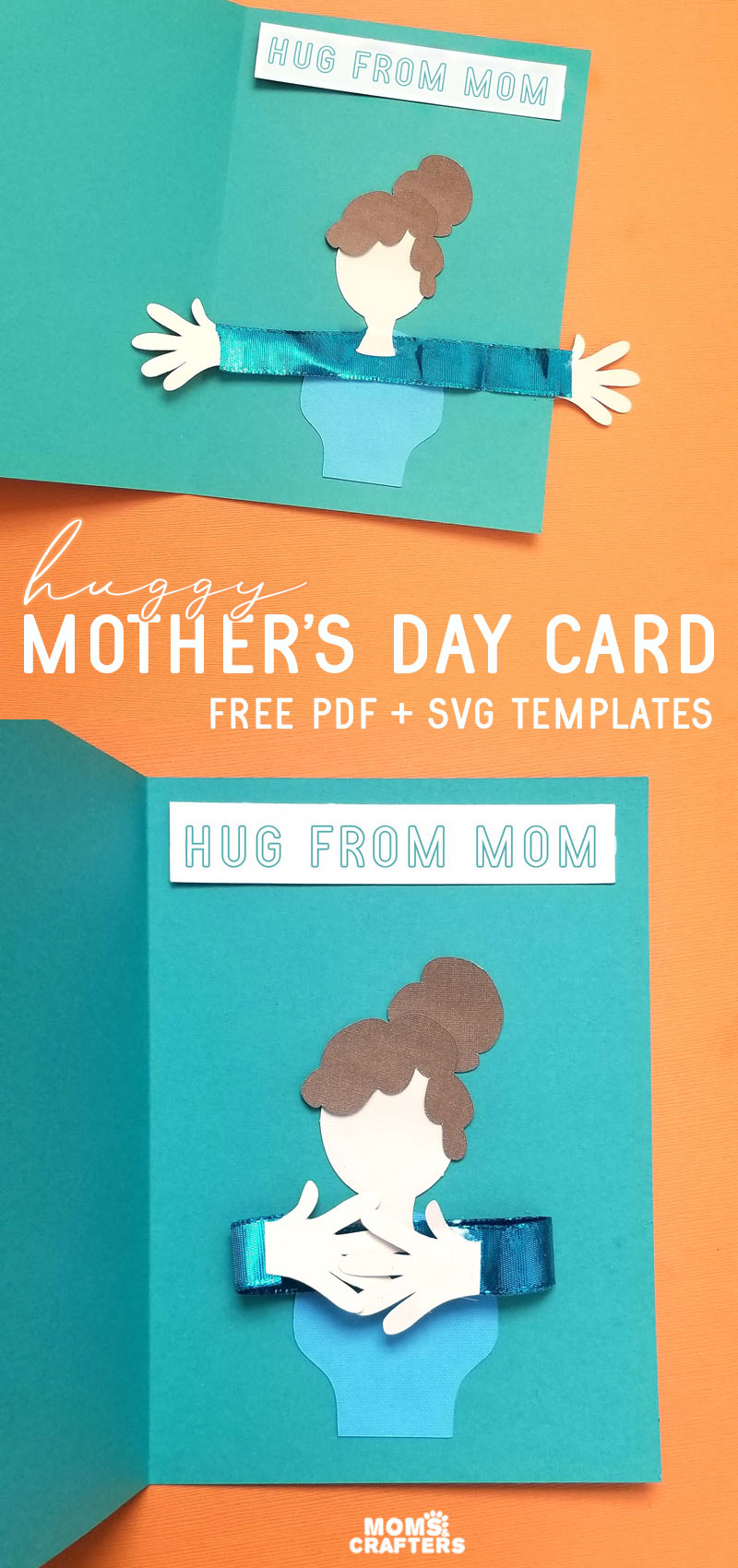 This Mother's Day, I decided to include something kids can make for moms too! It requires a little bit of Daddy/teacher supervision, but is totally kid-made.
I've designed it to help a little with writing skills with simple words. It is an adorable 3D card that shows mom how much her hugs mean to us. And which mom doesn't love a little kid hug? She will simply adore this card!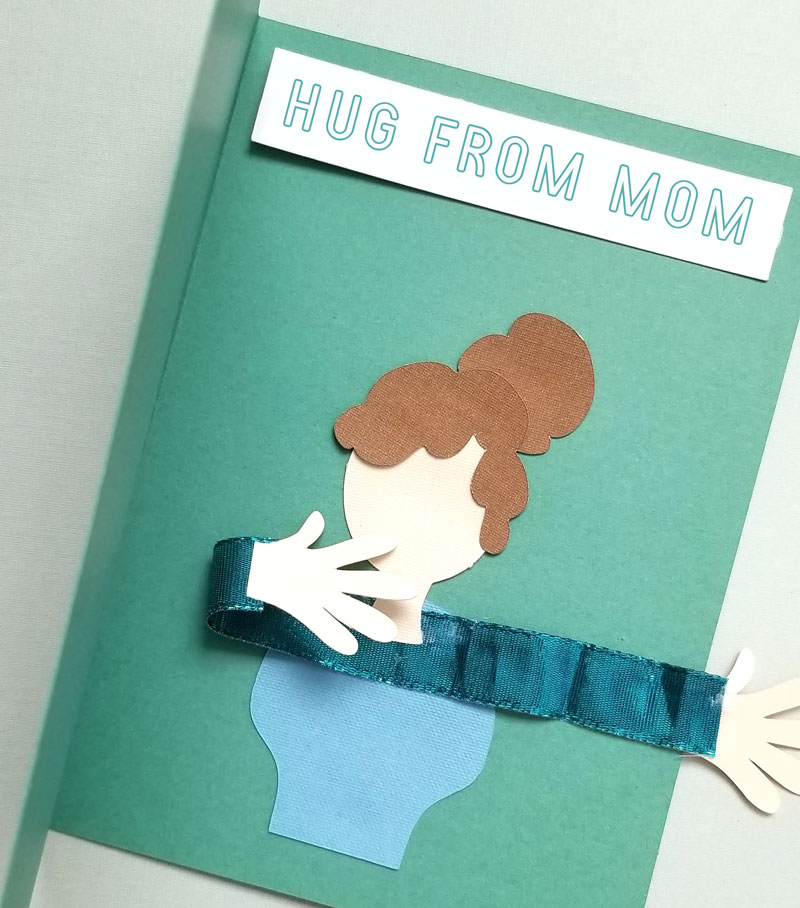 This post was originally published in April 2015 but I decided to redesign it with new templates, and an SVG file so that you can prep the template on your Cricut. Any current machine would work with this – the Joy, Explore Air 2, or Maker.
For the Joy, you'll want to use premade cards since you can't score. With the Explore Air 2, you can use the scoring stylus to score your card, and the rest of the assembly uses the fine point blade. The Maker scores best with the scoring wheel, which is what I used.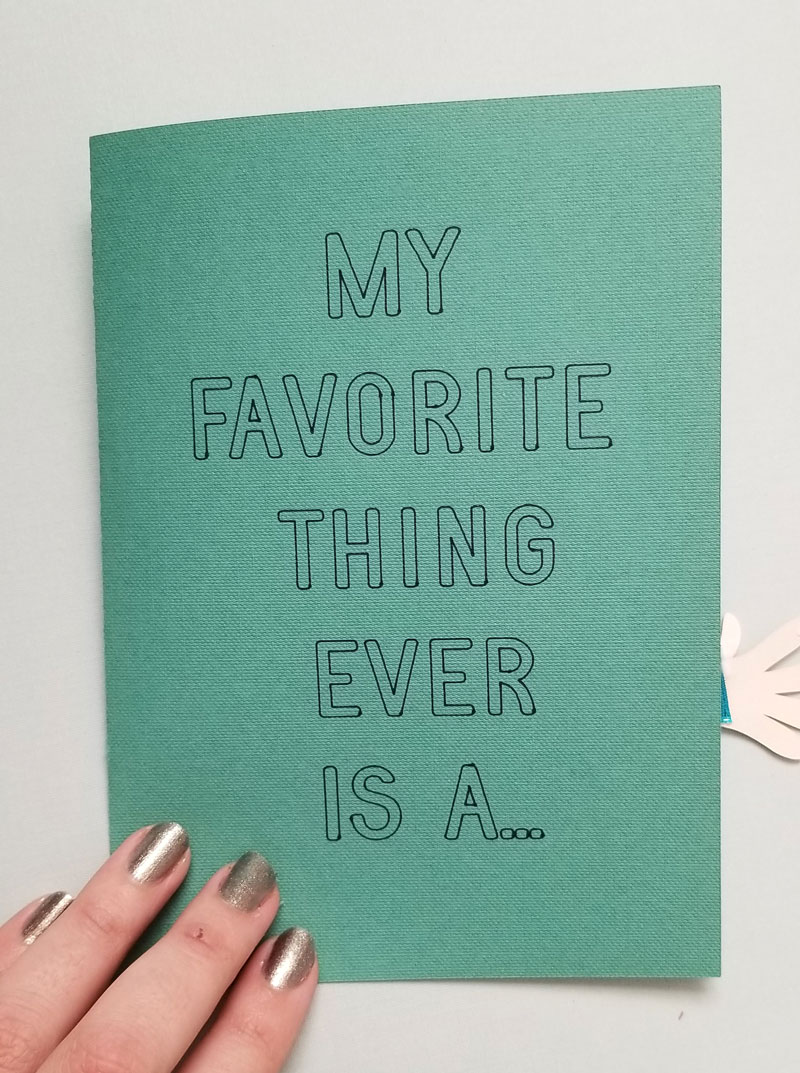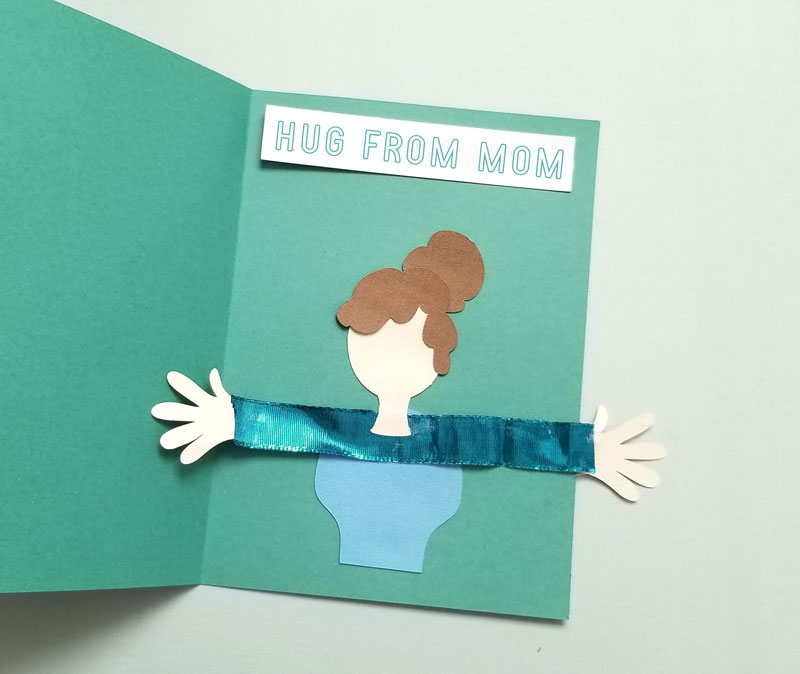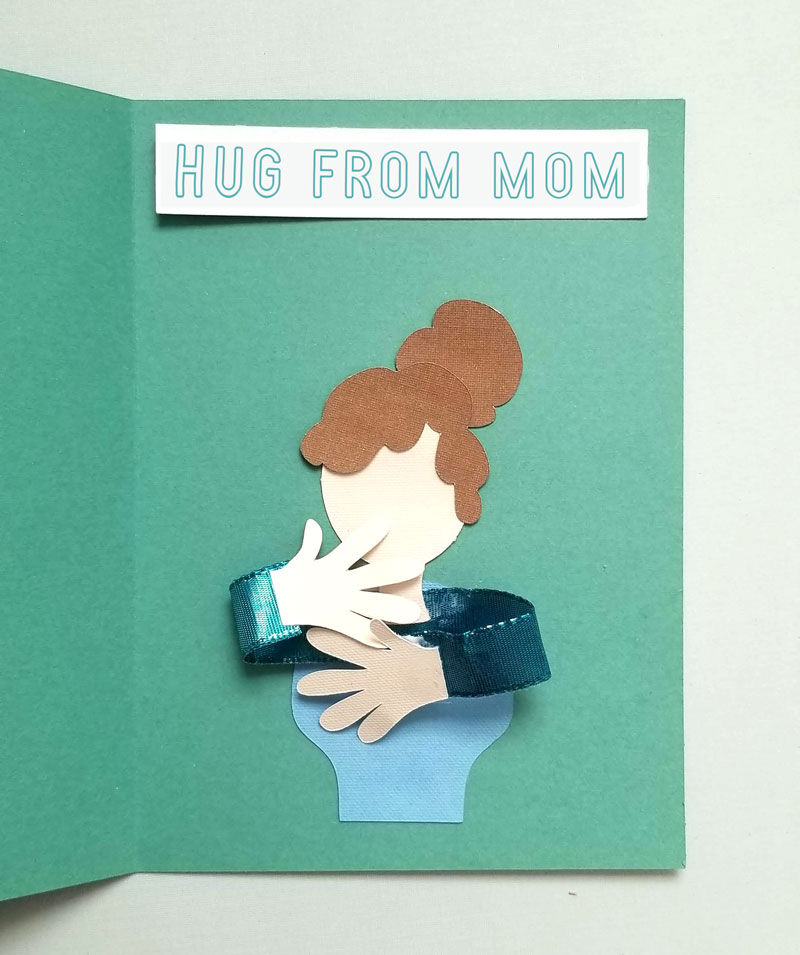 You can also make this mother's day card craft without a cutting machine, with the included PDF templates. One is a black and white outline to cut from colored card stock. The other is a full color one that you can print on white cardstock and cut out to use.
The full color template includes a few different hair and skin colors. All the templates include two different hair styles.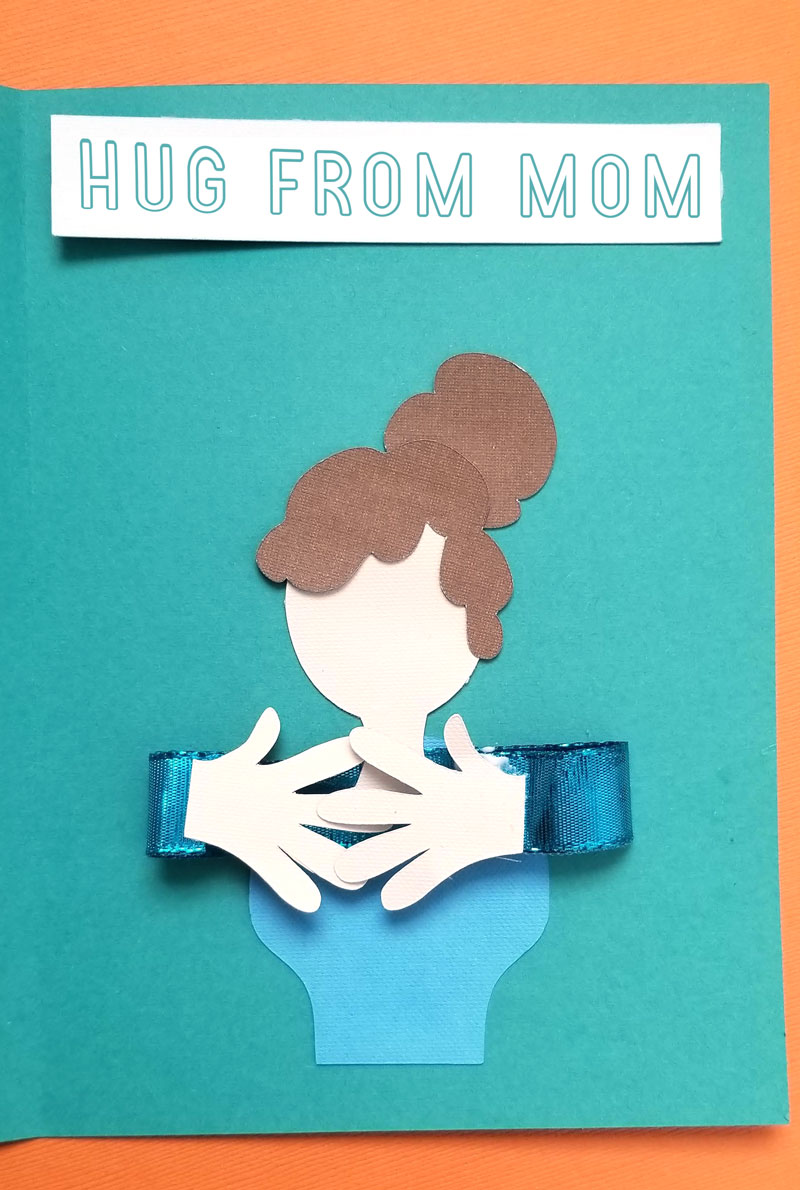 The wording on the inside is very simple. You can encourage kids to write the inside text "hug from mom".
Or pre-print/write on your cutting machine and allow kids to glue it down to the card along with the rest of the elements.
I chose to write it using fine point pens. I love the color selection in the Ultimate Fine Point Pen set!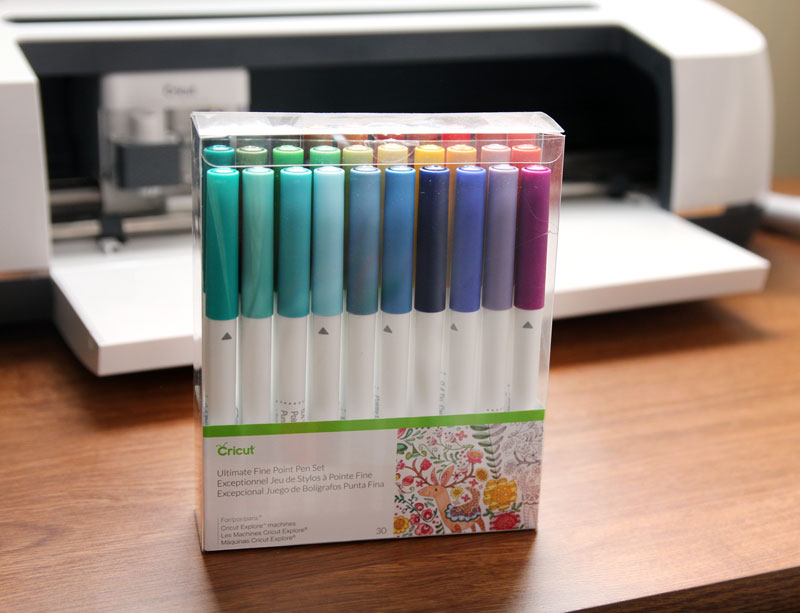 What you need for the Huggy Mother's Day Card:
Colored cardstock (or use the full color template)
A small strip of ribbon a few inches long, in the same color as the paper you'll use for the shirt
Scissors
The template – download it using the form below:
If you're making this with your Cricut you'll need:
These templates are for personal or classroom use. For any other needs, just reach out to me.
You can read my Cricut Explore Air 2 Review here – it includes instructions for getting started using your machine!
How to make this mother's day card craft:
If you prefer, you can watch the video tutorial:
If you're hand cutting, simply print and cut out your templates of choice. You can print the main card directly on colored card stock, print on white and color. Prepare the main card if you're not using a pre-made card. Skip past the Cricut instructions for assembly instructions.
Mother's day card – Cricut cutting instructions:
1. Create a new project, click "upload" and choose this file. Follow the prompts to add your SVG to your project, then "ungroup".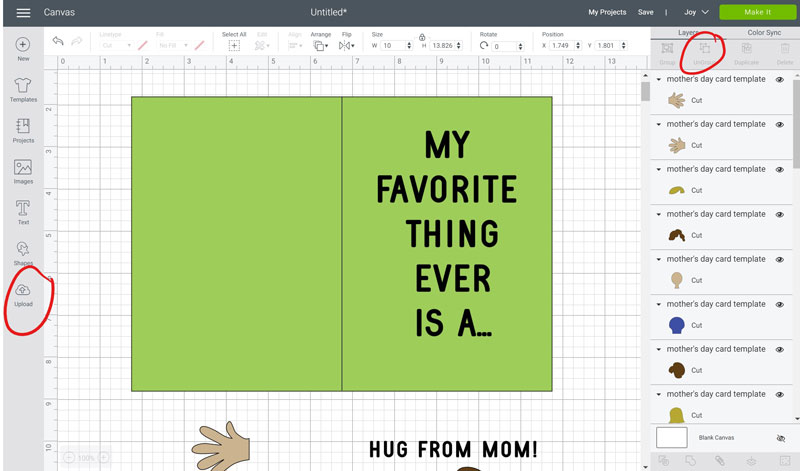 2. If you want to cut your letters, leave them as is. If you want to write it, choose the text and change the linetype to "draw".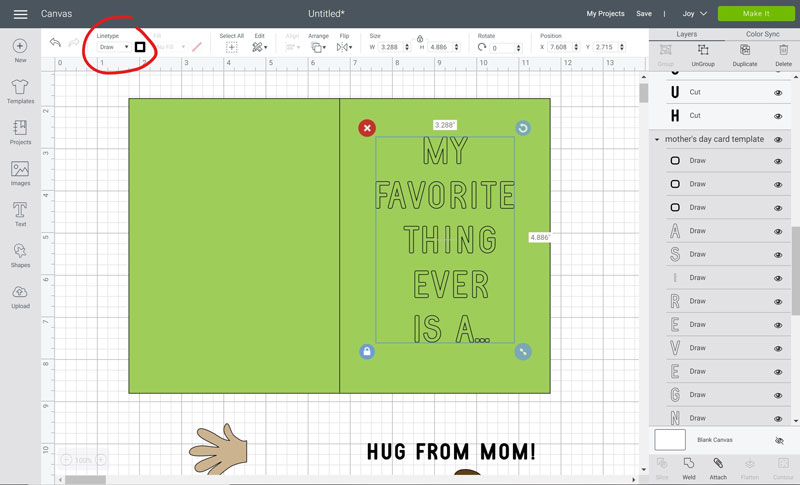 3. Choose the center vertical line on the main card and change the linetype to "score". If you don't have a scoring tool, delete the line.
4. If you want you can change your colors to the ones you plan to use (or similar) for planning purposes, and to avoid confusion. Make sure to "attach" your text and your score line to your card.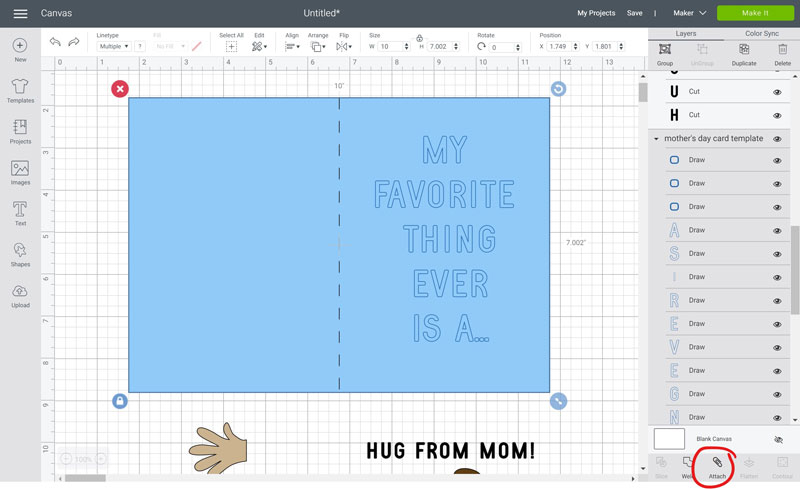 5. You can change the type of "hug from mom" too. I also added a background to it to make it a separate element (a simple rectangle from the "shapes" option). If you do this, make sure to attach the two.
Choose which hair style you want from the two included (hide or delete what you're not using), if you'd like you can change the skin and hair colors to something closer to what you plan to use.
When your project is set up how you'd like it, click "make it".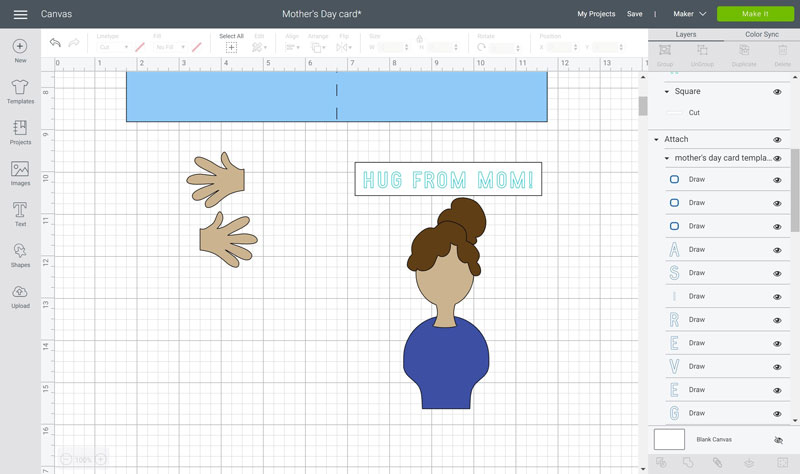 6. Follow the prompts to cut your materials. I love using Cricut's amazing cutting ruler and TruControl knife to trim my pieces down to size and avoid wasting materials. I recommend also having a good cutting mat such as Cricut's self-healing mat.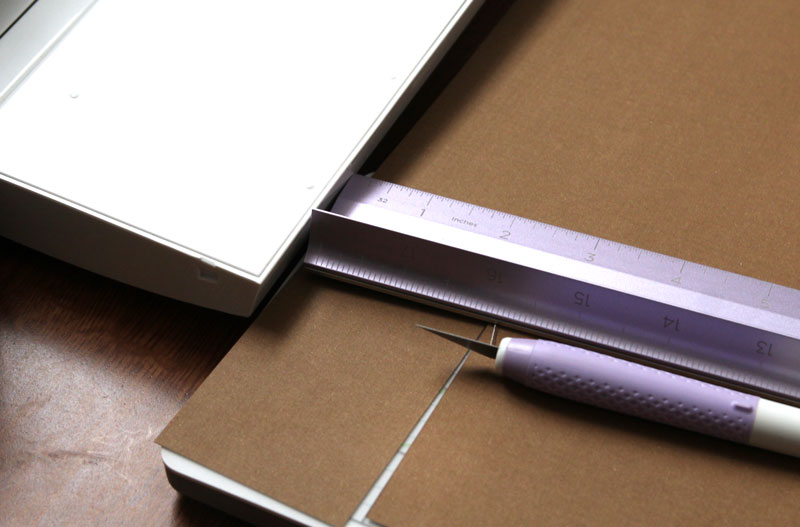 7. Make sure to adhere your paper well to your machine mat. I like to use the brayer – it goes so much easier than the scraper for thinner materials – but you can definitely use your scraper.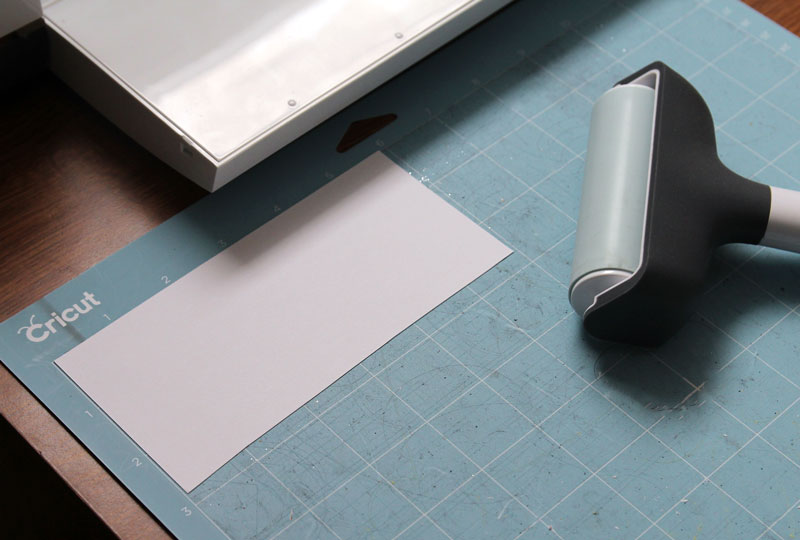 8. Your machine will write first and cut second!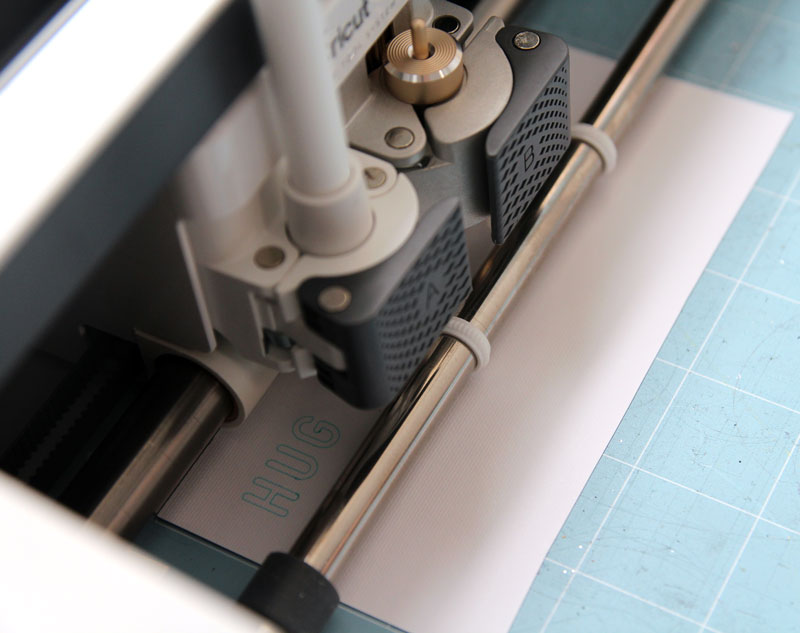 9. If you're scoring your main card, you'll need to switch tools in middle. The scoring wheel made a nice, crisp line to make folding the card easier.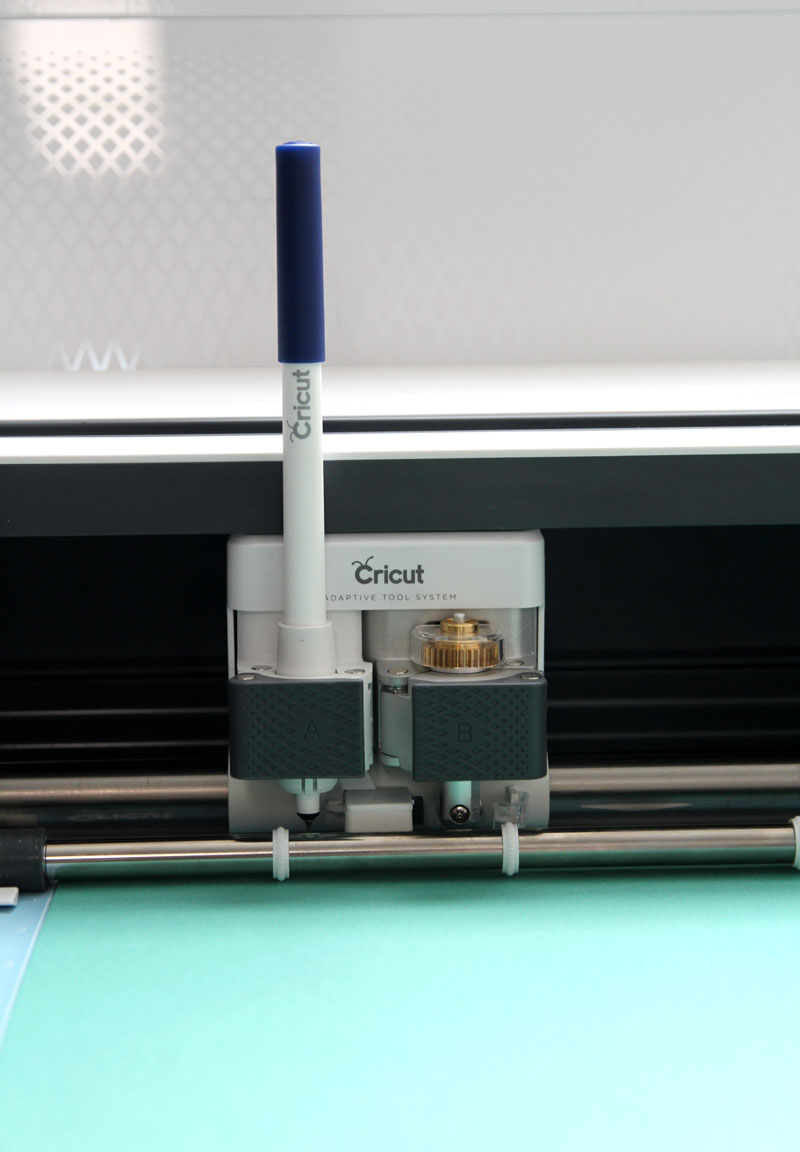 How to assemble the card:
Once you've cut all your parts, it's time to assemble them!
1. Fold your card in half and color/prepare the front.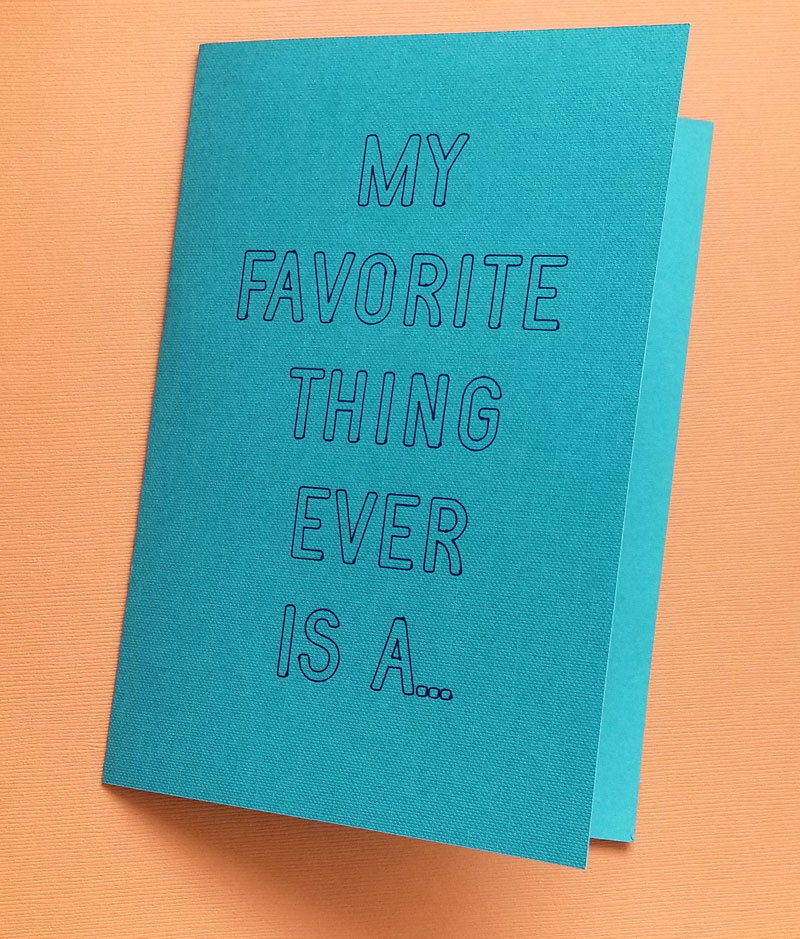 2. Cut out/prep the parts of your "mom". You only need one hair style/type.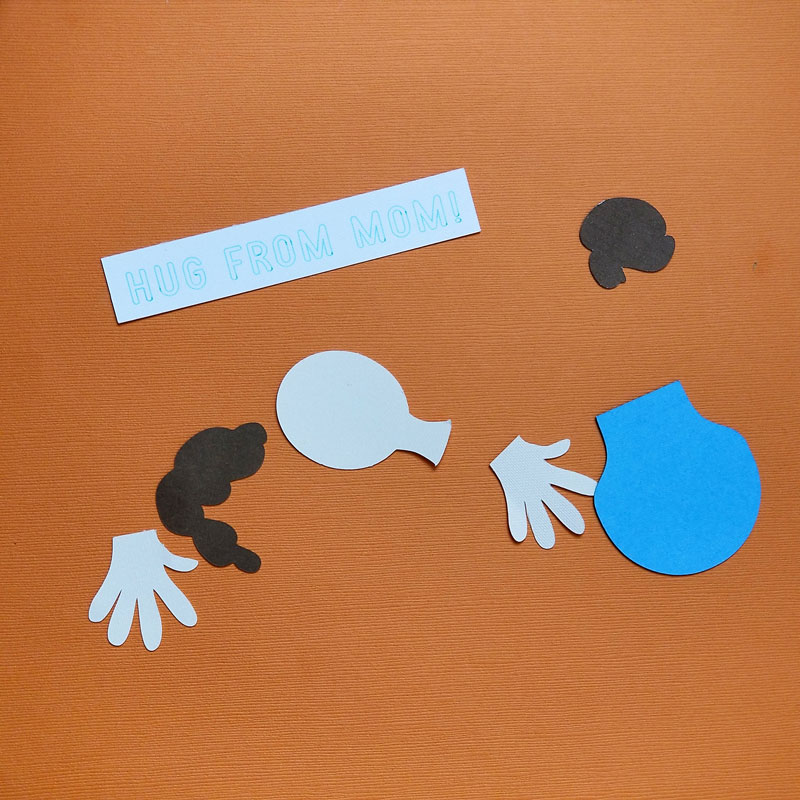 3. Add "hug from mom" to the inside top of your card, whether you wrote it with Cricut, had a child write it, or cut it from a printout. Add mom's torso to the bottom of the card.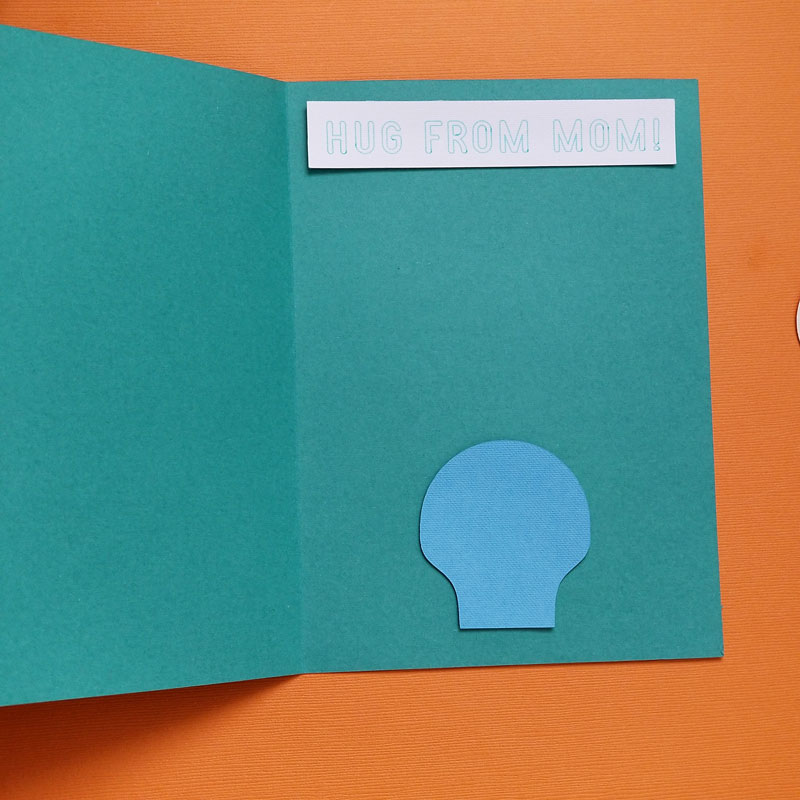 4. Continue assembling your mom, gluing parts in place. Glue mom's head, but not her neck.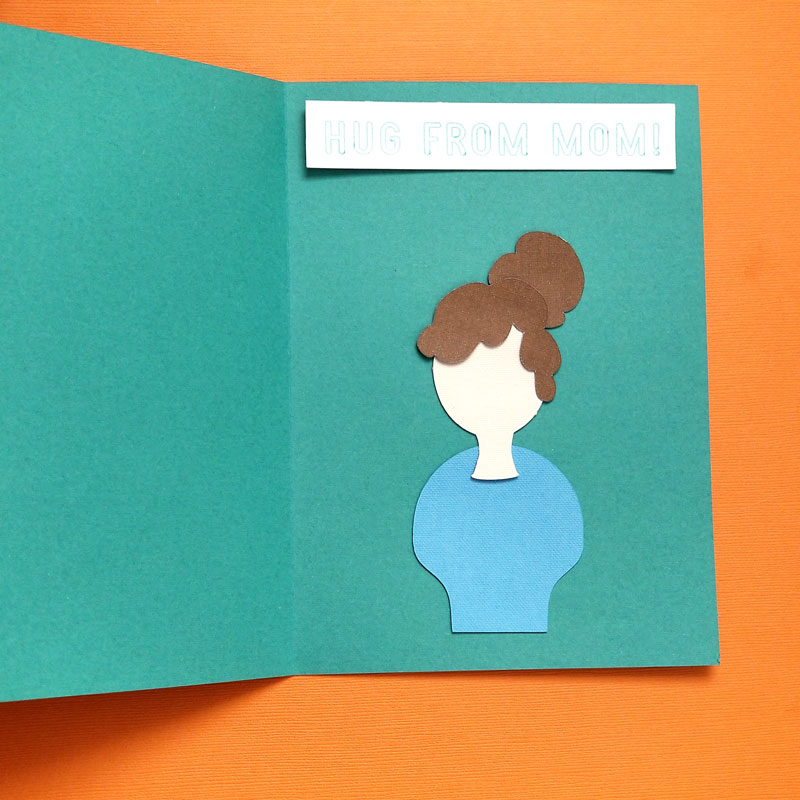 5. Cut a few inches of ribbon to coordinate with mom's shirt. I made mine a little wider than the folded card.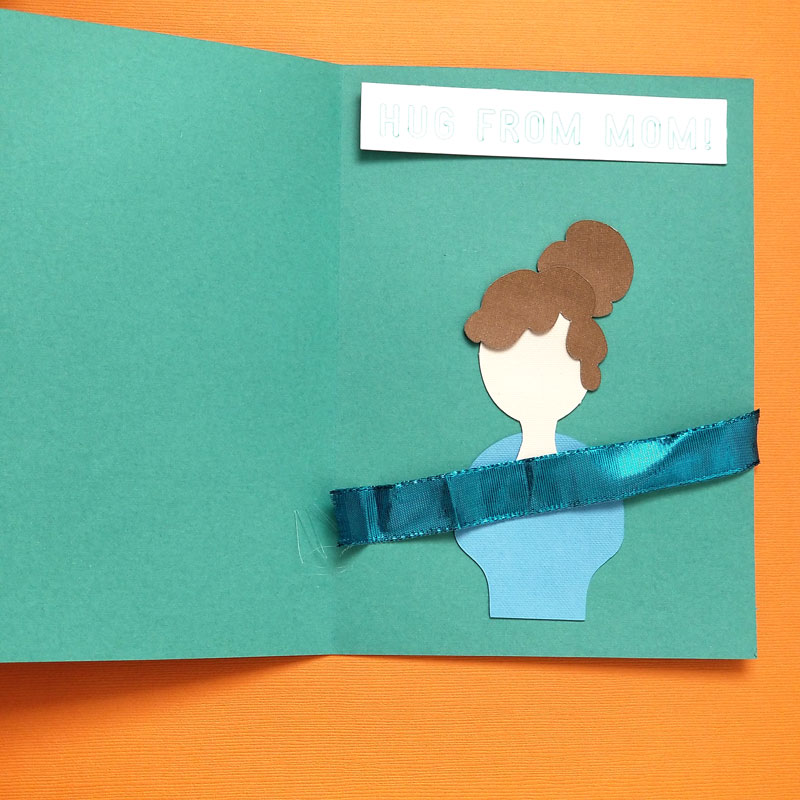 6. Glue one hand to each side of your ribbon.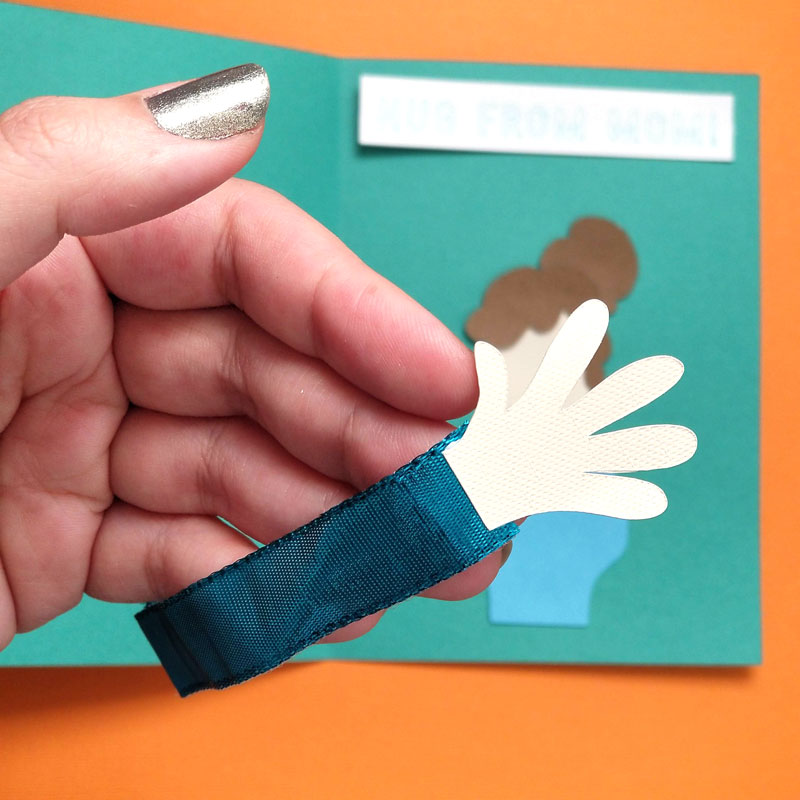 7. Glue the ribbon down, tucking it underneath the neck.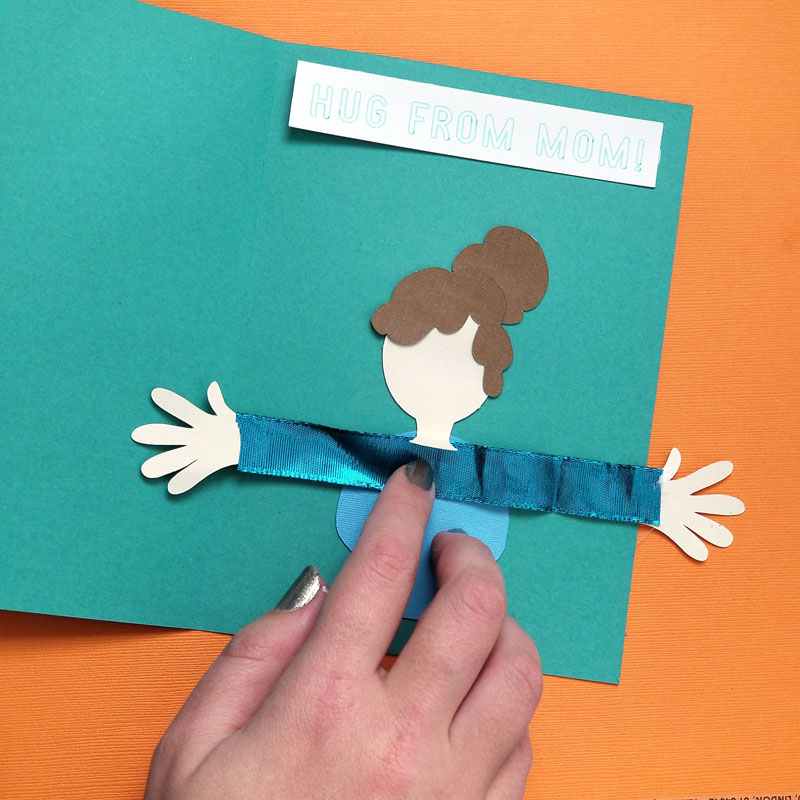 8. Glue your neck down and allow it to dry completely before using.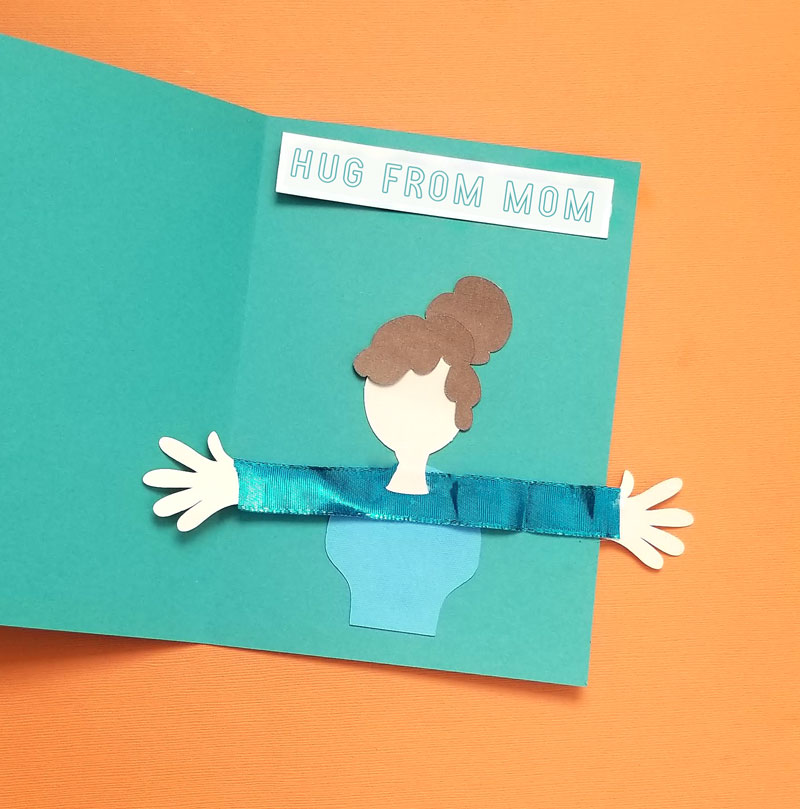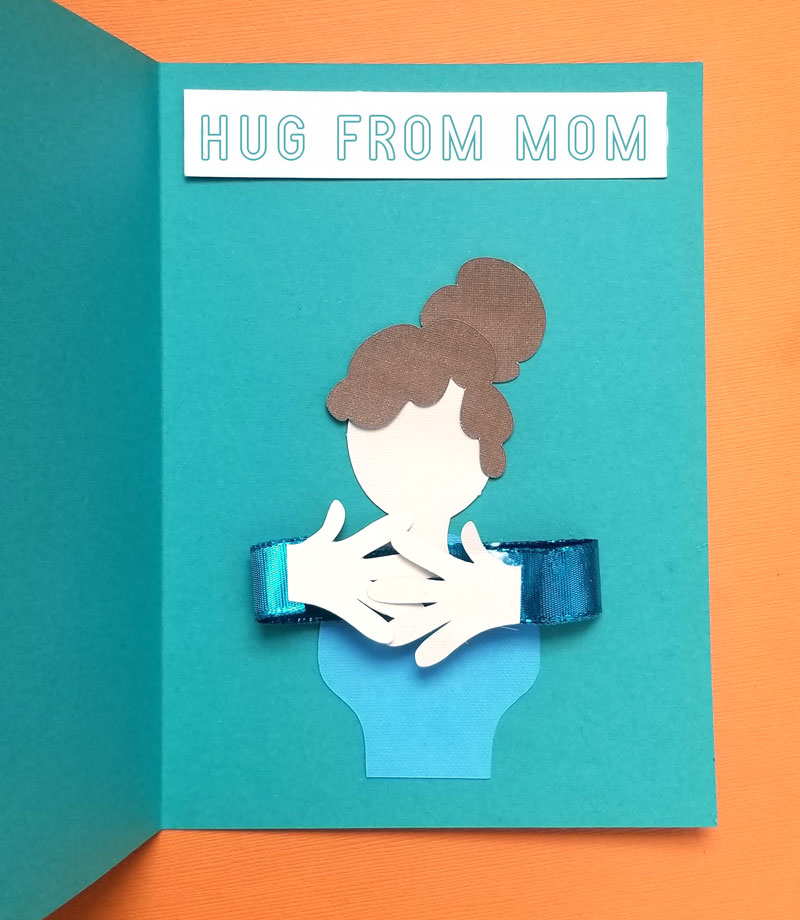 You mother's day card craft is complete! Place it in an envelope to gift.
Want a cool DIY gift to give along with it? Try these upcycled Frappuccino bottle crafts!