Get out the seashells and the beads and get crafting with these super cool summer crafts for tweens! I love sharing ideas for crafts for tweens, and these are perfect for summer camp or for at home – including lots of ideas with seashells! Disclosure: this post contains commissioned links.
Below, you'll find an amazing list full of all the ideas you need for summer crafts for tweens! It's subdivided into 3 categories:
Summer camp crafts for tweens – ideas that aren't necessarily summery but are perfect for crafting in a camp setting.
Seashell crafts – you'll find an entire list of seashell crafts here, but I put a few specifically on this list that are great summer crafts for tweens.
More summer crafts for tweens – these are just anything summery that's fun for tweens to create!
So what are you waiting for? Grab your glitter and get crafting!!
Copyright:
All of the images for these summer crafts for tweens were used with the permissions of the respective bloggers for the purpose of this post. Click on the title link or image for the full tutorial.

I have created a few collage images for your convenience for sharing these cool summer crafts for tweens. Please use one of the COLLAGE IMAGES in this post when sharing and not one of the individual photos below, out of respect for the creators' copyrights.
Summer Camp Crafts for Tweens
While these summer crafts for tweens might not be on summery themes, they are all perfect for crafting in camp!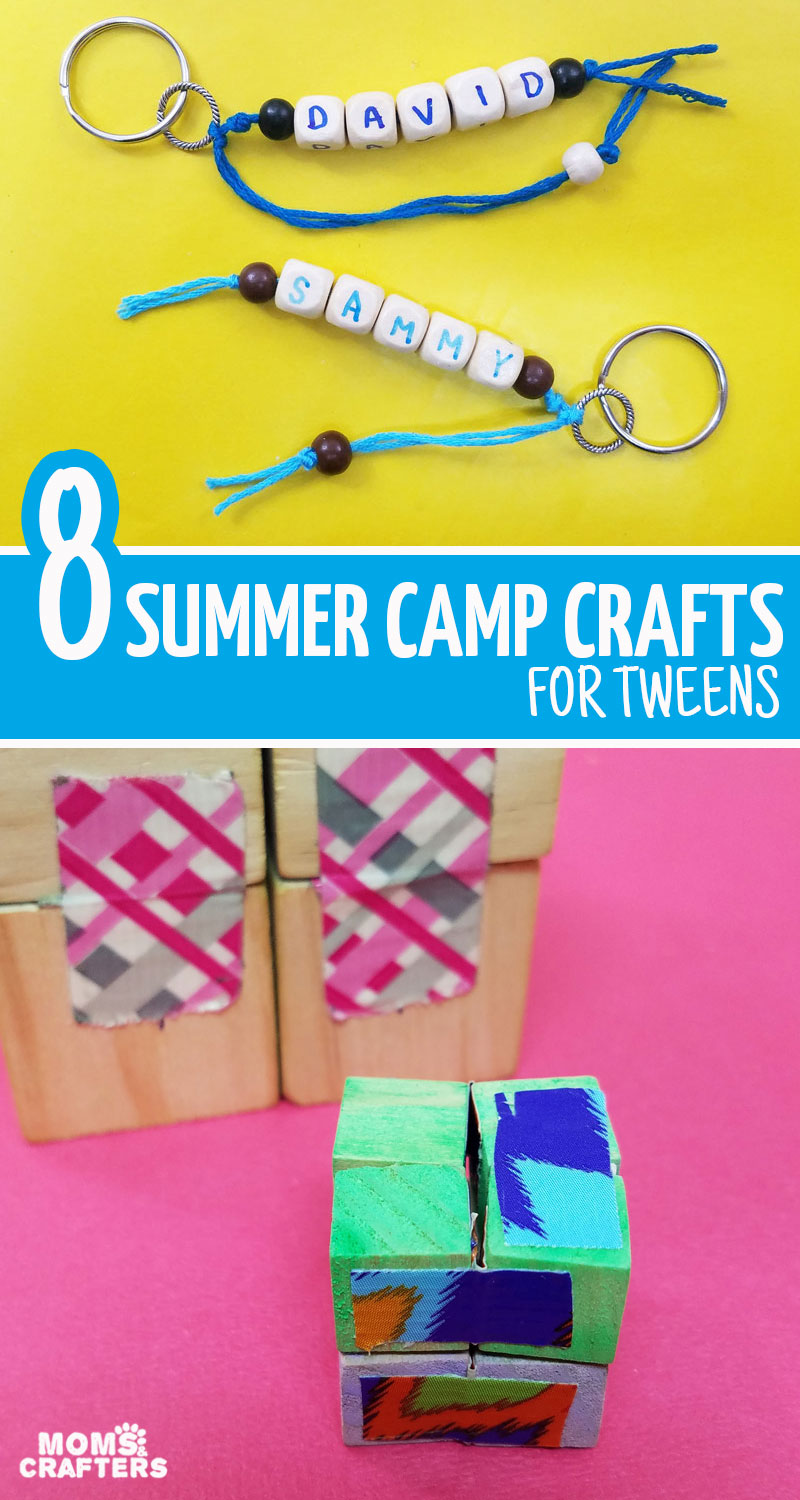 1. Heart Pillows by Moms & Crafters
With some fleece and poly-fill stuffing, these valentine pillows are a great way to make a no-sew project in a group setting. They're fun and enjoyable to make! Make them with only solid fleece instead of patterned if you want to save on costs.
2. Infinity Cube by Moms & Crafters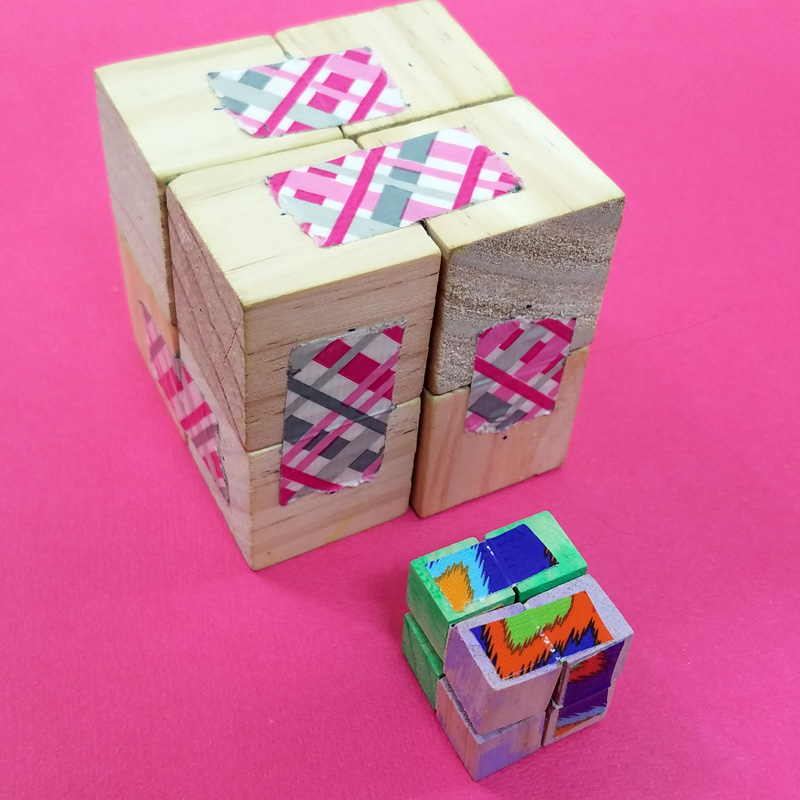 There are so many fidget toys on the market now- but why not make some yourself? This Infinity Cube is the perfect thing to make with a bunch of friends. Jazz up simple wooden cubes with some watercolor paints and thin duct tape. You can make them in different sizes too!
3. Wish Bracelets by Happy Hour Projects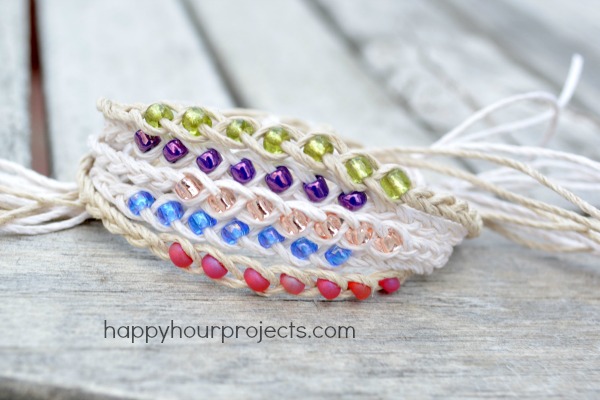 When I was a kid, we made friendship bracelets in camp. Now, all the rage are these beautiful wish bracelets- and they have a story behind them. According to Happy Hour Project, make a wish after tying it on your wrist, and when the bracelet is worn out and the beads fall out, the wish is released too. This is a great, fun craft to make with friends in camp!
4. Tetris Craft Magnets by Moms & Crafters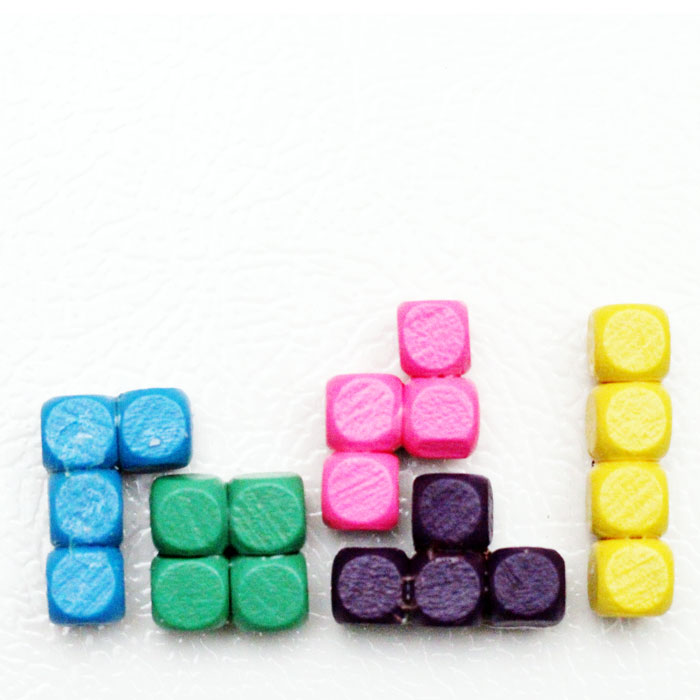 As many video games, computer games, Wii games and the like that are available today, Tetris is still a wonderful classic that will never go out of style. Show your love for this awesome game by making some colorful Tetris magnets! Some square wooden beads, wood glue, and magnets are all you need to make this camp craft a smashing success.
5. Hashtag Magnets by Moms & Crafters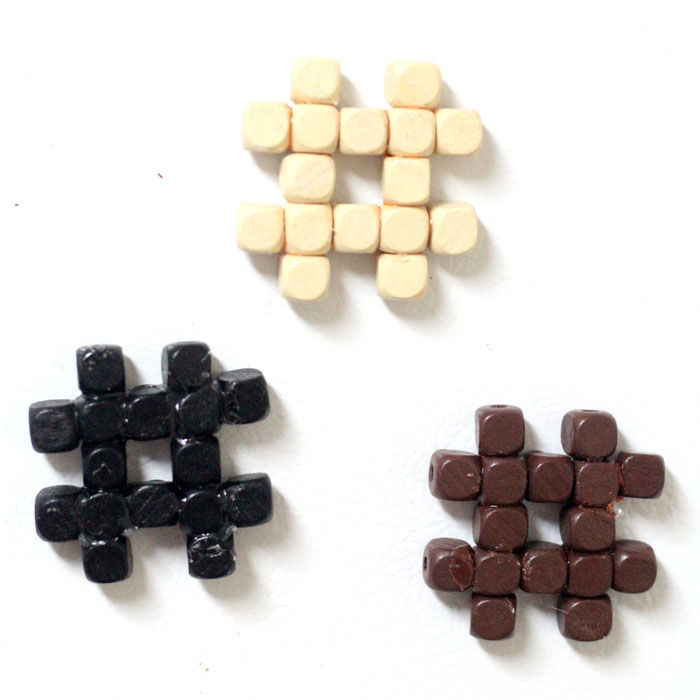 These magnets are just as cute (or cuter!) as the Tetris magnets that inspired them! You can go with a natural wooden look as pictured, or try colorful wooden beads for a fun, fresh look. Stick these hashtag magnets into your locker with some fun messages! Have fun with camp friends coming up with messages for each other to keep as a memory during the school year.
6. Washer Pendant Necklaces by Creations by Kara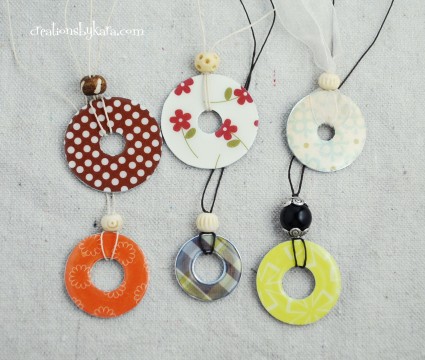 These adorable necklaces use simple materials with a beautiful end result. They're the perfect craft to make during the summer- wear them all season long. Because this craft uses scrapbook paper to get that vibrant color, the variations are limitless. Pick different patterns and colors to match your cute summer outfits, and enjoy getting all those compliments!
7. Name Keychains by Moms & Crafters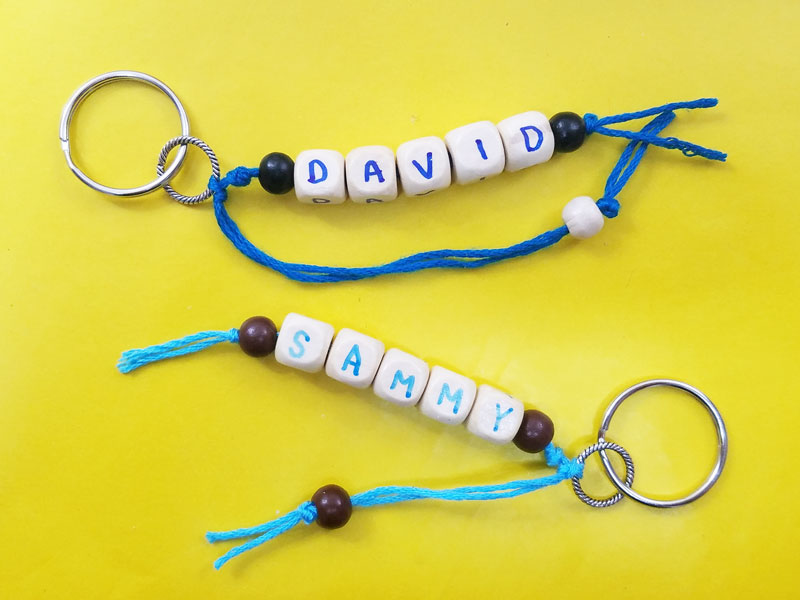 This easy, fun craft is great for all ages. It's just the type of thing I would have made in camp many years ago. Make them as pictured, with your name, or write out fun messages instead! You'll need some beads, embroidery floss, split rings, and a permanent marker to get started.
8. DIY Decopauge Summer Tote by Mod Podge Rocks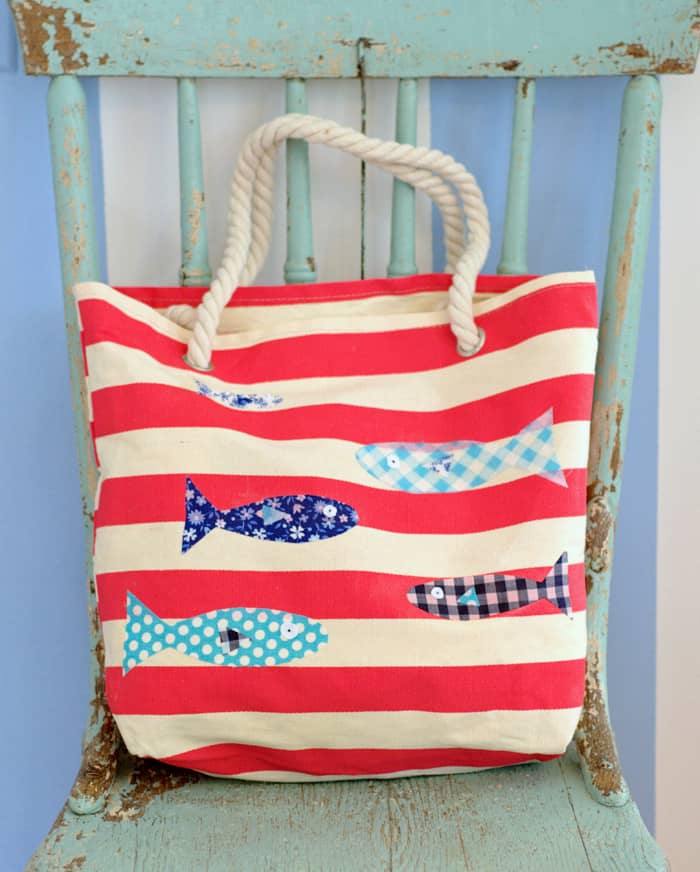 This awesome decopauged tote just screams summer! It's the perfect thing to take to the beach with all your swim stuff for the day. There is no sewing involved, and it's a quick craft to make. Get together with your friends and make these fun totes to use and enjoy all summer long!
Seashell Summer Crafts for Tweens:
Seashells can turn any craft summery and your crafting experience can be upgraded by first visiting the beach to collect some shells!
9. Souvenir Seashell Paperclips by The Thinking Closet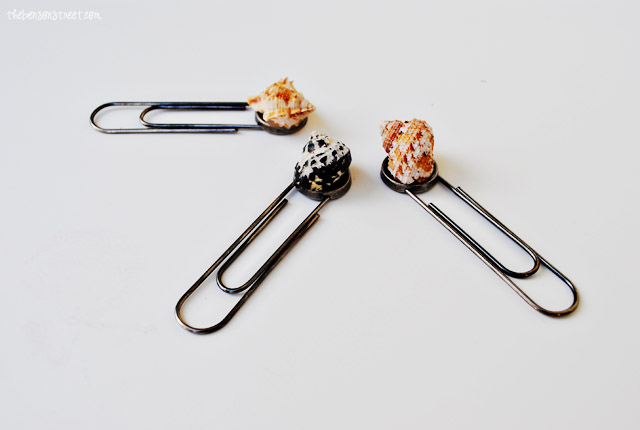 This is a super simple craft, and a great way to turn your collected seashells into a useful item for school or homework! A great way to bring a little bit of summer into the school year. You can even make a few as a gift for your mom or dad- use your favorite seashells as a way to pretty up a boring old paperclip.
10. Seashell Necklace by Moms & Crafters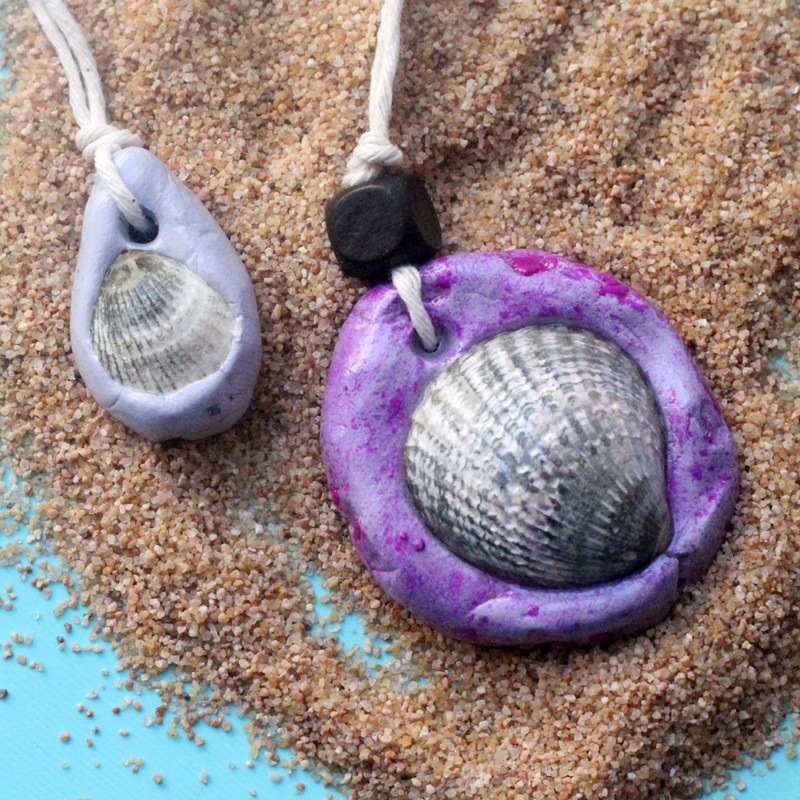 Summer days = beach days! Do you love collecting seashells by the beach? This summer craft is a beautiful way to display your favorite seashells. You'll need some air dry clay, some paint and of course, some small seashells. You can add different textures to the clay to take your seashell necklace to the next level; consider adding glass glitter or even chalk pastel shavings!
11. Glitter Seashell Picture Frame by One Little Project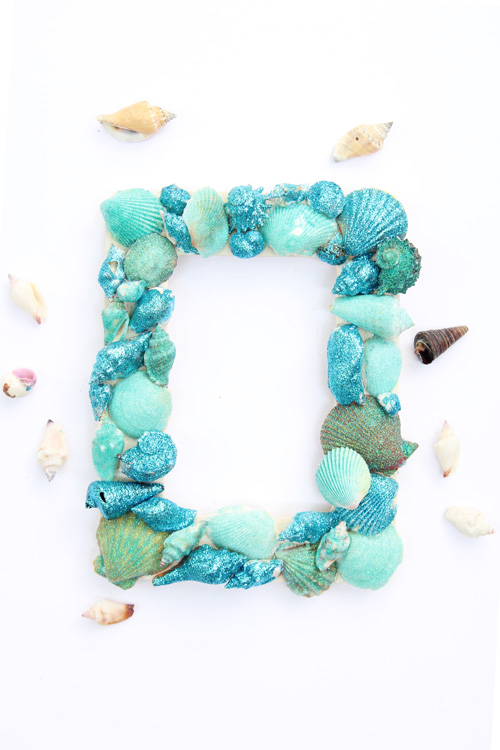 This beautiful seashell frame is an easy craft to make, and a great way to bring a bit of the sea into your house! This is especially perfect if you live far from the ocean and want a reminder of those sandy beaches. Because who doesn't love seashells and glitter? Keep it as a picture frame to put your fave picture into, or place a mirror into the frame to take this summer craft to the next level.
12. Painted Seashells by Moms & Crafters
This beautiful summer craft is a great way to use all those seashells you've collected from your trip to the beach. Paint a few of seashells, using sheer paint to let the seashell's natural beauty shine through. When you're done, you can create a shadow box to display.
13. Craft Stick Beach Plaque by Crafts by Amanda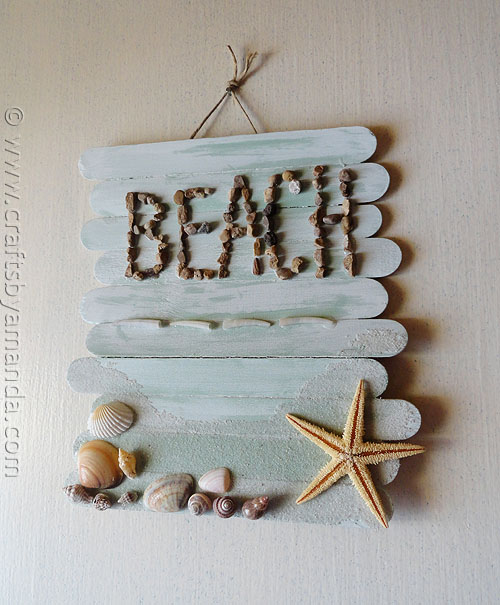 This craft is another great way to display all the seashells you've collected from the beach. Besides the seashells and beach treasures (don't forget some sand!), all you needs are some craft sticks and paint! This plaque is easy to craft, and totally open-ended to make it your own. It will look beautiful hanging in your bedroom, bathroom or clubhouse.
14. DIY Seashell Earrings by Moms & Crafters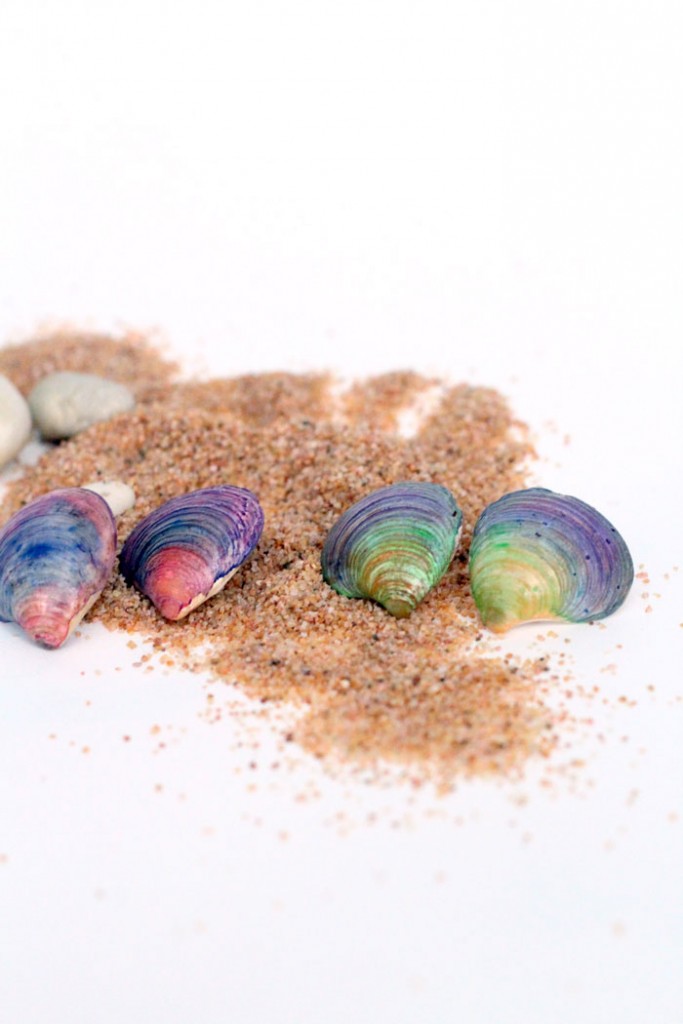 By now, I think you've seen my love for seashells and the ability to turn them into wearable jewelry. This is such a great craft for all ages. They give beautiful mermaid vibes, and are so easy to make. Use water-based paints, flat pad earring studs and tacky glue. If you want the paint to last longer, a clear top coat (like clear nail polish) is recommended, but optional.

More cool summer crafts for tweens:
Want some general summer crafts for tweens? These include summery fashion and summery themes – just for fun!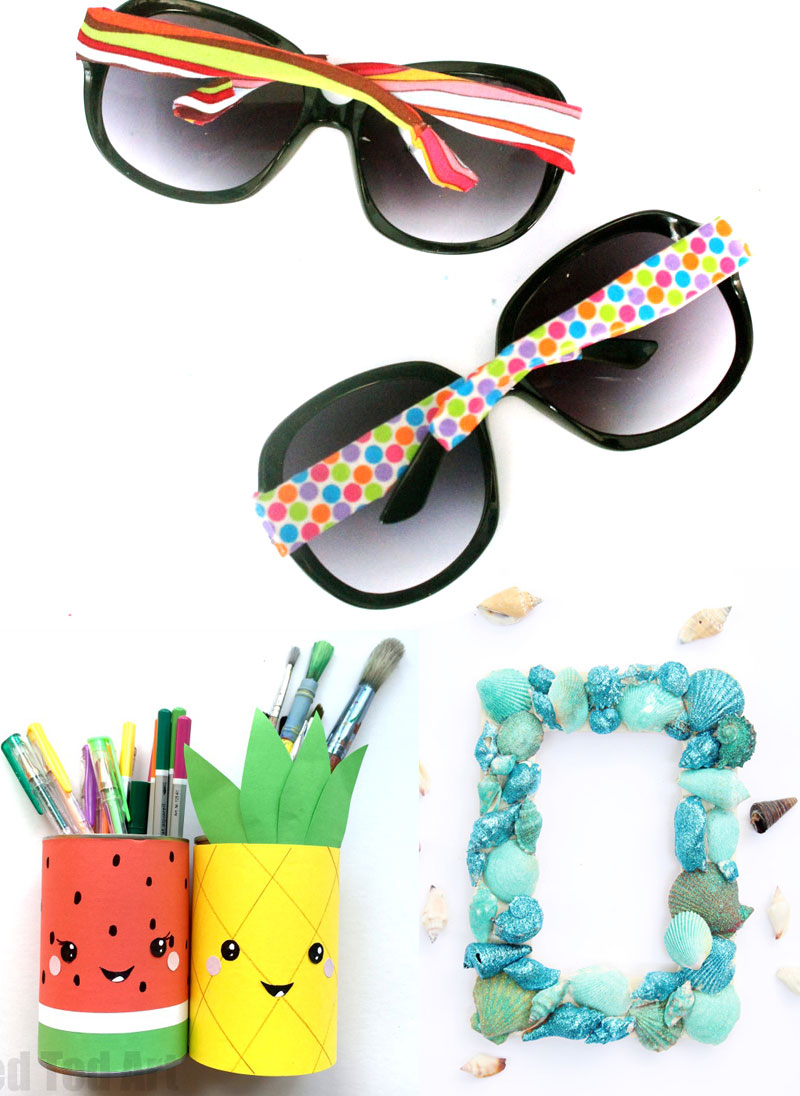 15. Monogram Tshirt by Moms & Crafters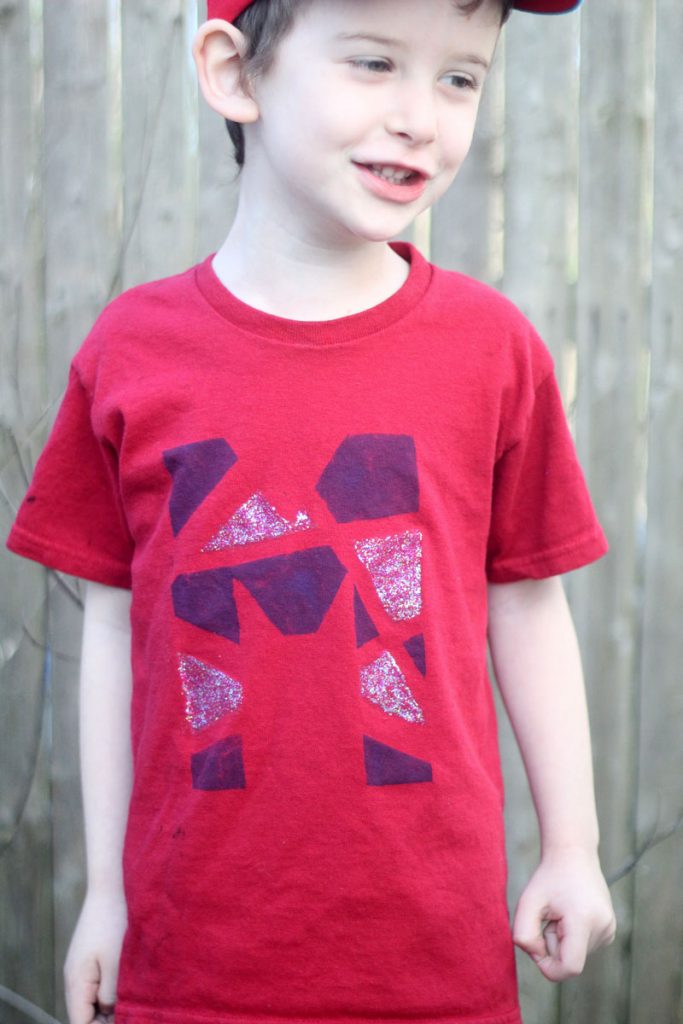 This cool DIY monogram tshirt is a great way to jazz up any plain old tshirt. It's a totally open ended craft that you can do so much with. All you need to get started, besides a tshirt, is some washi tape, a soft-bristled brush and fabric paint. Have fun thinking up awesome color combinations and ways to make it your own!
16. Summer Pencil Holders by Red Ted Art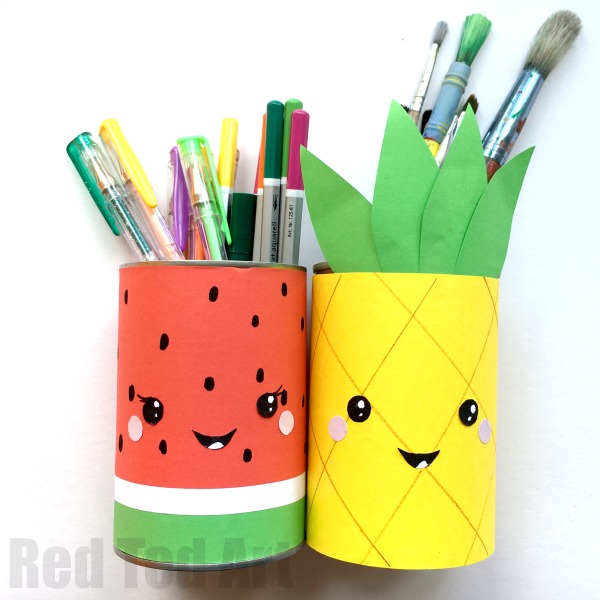 Awww, how cute are these summer pencil holders? Made to resemble classic summer fruits, they will remind you of hot summer days all year long. Store markers for coloring pages or pens and pencils for homework; either way, you'll get great use out of these cuties.
17. DIY Earrings with Watercolor earrings by Moms & Crafters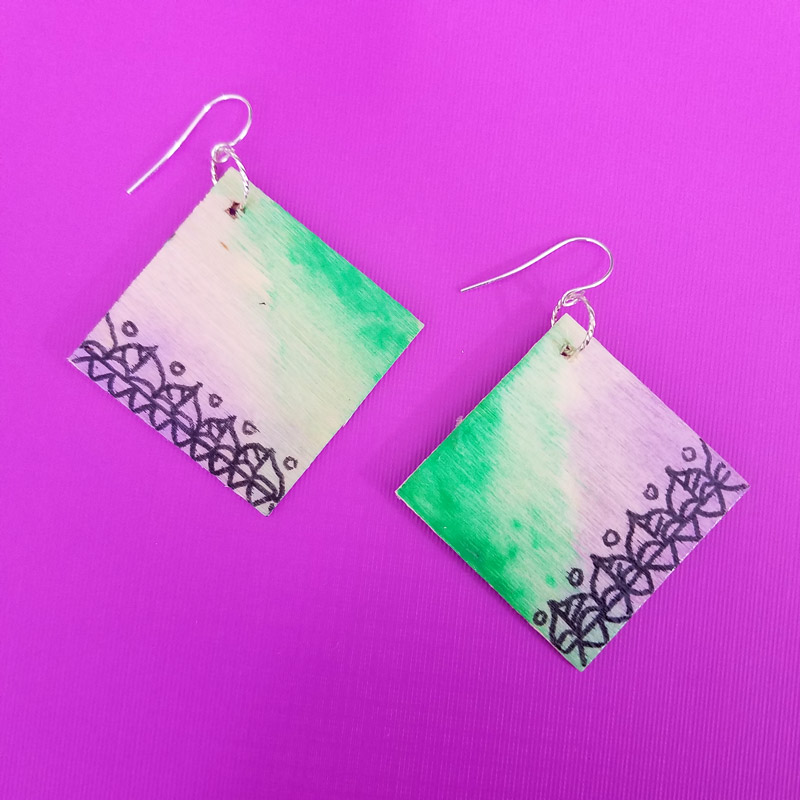 These wood painted earrings are really unique! Personalize yours while you doodle with watercolors, and use colors that will match your favorite summer outfit. You can use any color combination or pattern you like! Use wood shapes, soft gel watercolors, and mod podge to seal your handiwork.
18. Reading Glasses Bookmark by Moms & Crafters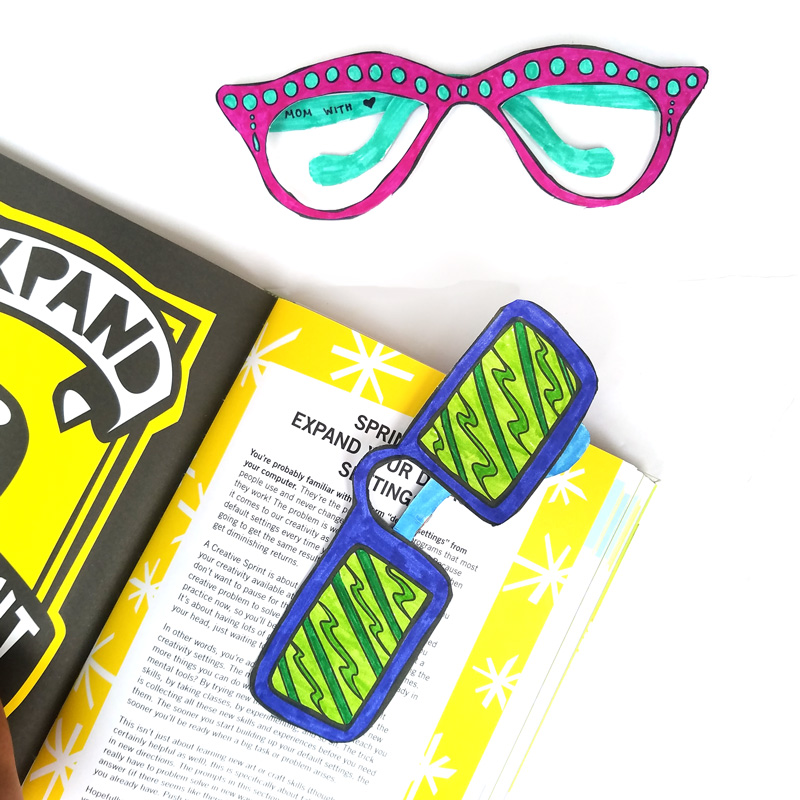 This craft is not only super fun to make, it's actually functional also. To make this craft a true summer craft, turn the reading glasses into snazzy sunglasses! It's easy and relaxing and you can color in a whole bunch of them for all your summer reading. Get the template here, then grab some markers and get busy!
19. DIY Tie Dye Headbands by DIY Candy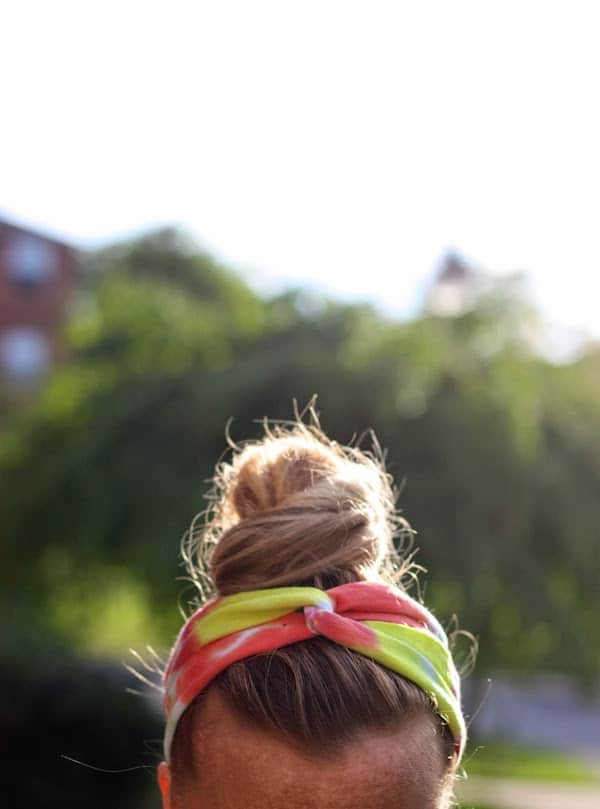 Do you love tie dye? This is the perfect craft for you! You can make these colorful tie dye headbands for a cool, updated look. (Just make sure to use gloves!) They can even be twisted into different knots and braided headbands. You may need an adult's assistance with a sewing machine for some of the looks.
20. Decorated Sunglasses by Moms & Crafters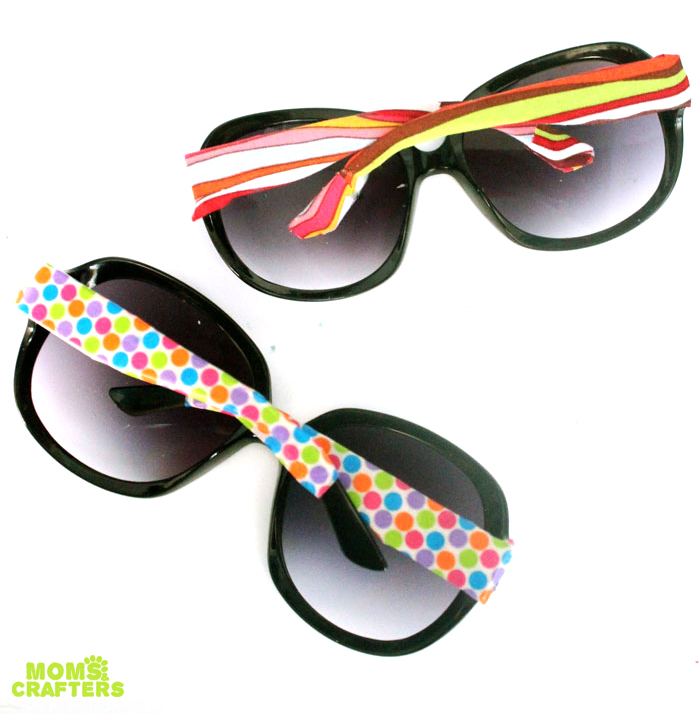 Take an old pair of sunglasses and turn them into a brand new pair! Personalize it with your special touch to make it unique to you. Washi tape comes in an enormous amounts of patterns and colors, you won't know which one to start with! If you want some texture on your glasses, use fabric tape for a totally cool look.
21. Painted Glasses from Coloring Pages by Moms & Crafters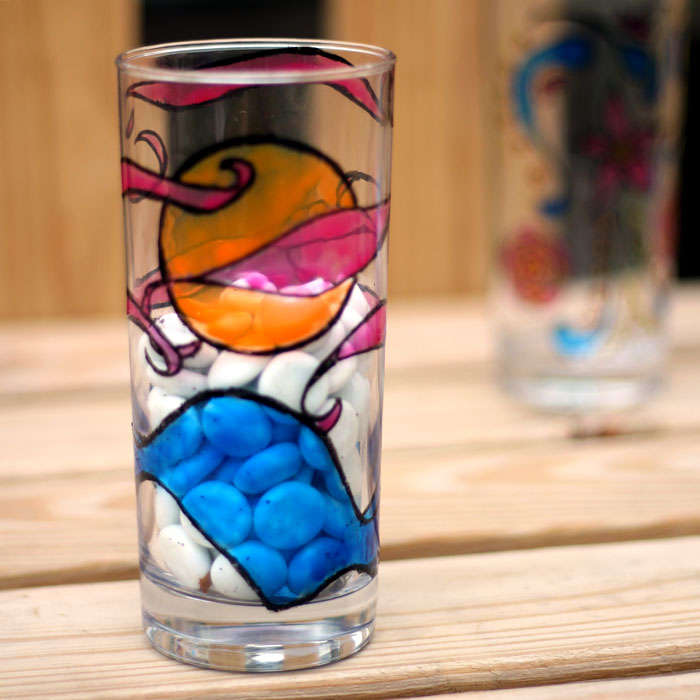 This cool summer craft is not limited to glasses; you can use this method on trinket bowls, or vases, or even dinnerware. The image above shows a sunset coloring page, perfect for summer, of course. You can free-form any design you'd like though- all you need are some glass paint markers, enamel paints, and paintbrushes.
What are your favorite summer crafts for tweens? Comment below!
Want more like this? Check out these summer crafts for teens to keep your older teen creative!