I'm a techie and a bit of a geek, and so, when it comes to traveling with my toddler, my smartphone comes into play in a big way. I use apps both organizing things, for planning, as a personal tour guide, and for entertaining my toddler.
Since I have an Android phone, that's what I'll be sharing. If you have an Apple device, simply do a quick search in the appstore for the app – it's likely to be available there too.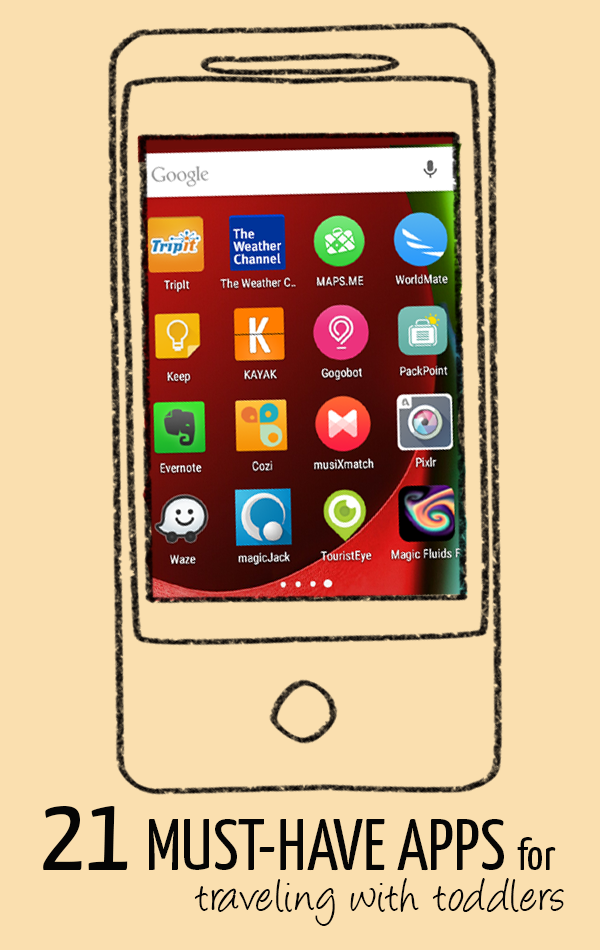 The Mega List of Must Have Travel Apps
5 Apps for organizing your travels:
TripIt – Pulls in your itinerary automatically from your Google account. You can access it offline, get directions, maps, and weather for your destination, sync trips to your calendars, share your trip plans, and more.
Google Keep – I use Google's native note taking app to make quick lists that are color coded. This includes individual packing lists, shopping lists, gifts to buy, to do, last minute to do, and more.
PackPoint – If you love working with lists, but don't know where to start with making them, this app is for you! Choose your destination, and it automatically loads the weather. Choose activities, who's coming, etc, and it makes a rough draft of a packing list for you to get you started. It includes an option for baby…
Evernote – I use Evernote for everything… including organizing travel plans. It is a combo cloud storage/notepad app, and I clip webpages such as luggage allowance and rules to have handy.
Cozi – Yet another list-making type app, but this one is unique in that it has families in mind. Make lists for various family members, share it with them, and enlist help for packing and planning! It also has joint shopping lists that sync (so if you split up, and your husband pics up that souvenir t-shirt you wanted, he can check it off and you know not to buy it…). Also includes a color coded family calendar for planning your schedule when you're away…
3 Apps for planning your travels:
Kayak – Kayak is an all-time favorite of mine for looking up and booking flights. You can also book hotels and car rentals. Other features include a flight tracker, trip agenda, price alters, airline information, airport information, inflight GPS tracking and more!
WorldMate – You've got more planning and booking (cars and hotels only) here, plus some extra features such as: weather forecasts, currency converter, travel notifications, price alerts, world clocks, and more.
The Weather Channel – While I normally use Google Now (Siri for iPhone) for weather, while traveling I install the Weather Channel's app. Some features that help plan travels better: the ability to set multiple locations, airport conditions and average delays, ski conditions, and boat and beach conditions.
5 Apps that will serve as your personal tour guide:
Maps.me – Download the maps you need (and only the ones you need) for offline use. It's a very simple, easy to use map with few features and basic functionality.
Google Maps – The walking navigation on Google Maps is a must-have while traveling! The only downside is, you must be connected to the internet…
Gogobot – Gogobot is a beautifully-designed app that shows you exactly where to go with recommendations from others in the area. It's perfect for those days that you say "what next?" and wonder if you should have just gone with a tour…
Waze – This is a must-have if you're renting a car! You'll have local maps ready and no need to worry about renting a GPS with local maps. It's a social GPS, so you'll get real time updates on traffic, cops, accidents, and more. Bonus tip: Get a car mount for your phone and you have full GPS functionality.
TouristEye – This an itinerary planning app that includes all there is to do in the area! It includes community features such as wishlists, plus offline functionality.
5 Apps to entertain:
This list includes app recommendations to entertain your toddler. There is a vast array of apps and games out there, and my goal is to find the ones that are most age-appropriate, and the least "mindless".
musiXmatch – Download some children's music and plug him in! This app is my favorite free music player for Android.
Magic Fluids – On the rare occasion that I allow M to play with my tablet, this is what he does. This app creates colored fluid and smoke shows when you "draw" on it. He LOVES watching it go and drawing with it.
AppLock – If you'll be allowing your child to use your device, you may want to lock some key apps. This app allows you to do that.
Toddler Coloring Book – As it sounds. It has some coloring sheets, some paints, and color away. There are many other drawing and coloring apps out there – be sure to have at least one!
Kids Animal Piano – A fun piano that also teaches animal sounds. Includes some songs as well. My toddler loves playing with this!
4 More Helpful Apps:
Pixlr – You'll likely take loads of awesome photos of your toddler on your trip. This is my all-time favorite photo editing app.
MagicJack – Traveling internationally? Make free calls over wifi (or the internet) to US and Canadian landlines and cell phones! The other person does need to have the app, however if you're already a Magic Jack customer, you can use it as you use your Magic Jack.
AppGarden – This is basically a collection of mini-apps and tools that you'll love to have with you! Some travel-friendly features include conversions (think metric-US), currency conversions, airport codes, days until (countdown, anyone?), and more.
Google Translate – No need to elaborate…
Bonus tip: Organize your Must Have Travel Apps
Keep the apps you need while traveling handy. Create a new home screen on your device, and add your travel apps to it. Organize it into folders, depending on when/where/how you use it. Leave the ones you need available right away (conversions, translate, etc) on your dock or out of a folder on your home screen.
What are your must have travel apps? Answer in the comments below!
Disclaimer: This post contains affiliate links.
Follow along with the rest of the traveling with toddlers series by clicking on the image below!