These new home owner gift ideas are perfect open-ended options for the new space! You can find more family gift ideas here. This post contains affiliate links and gifted products.
---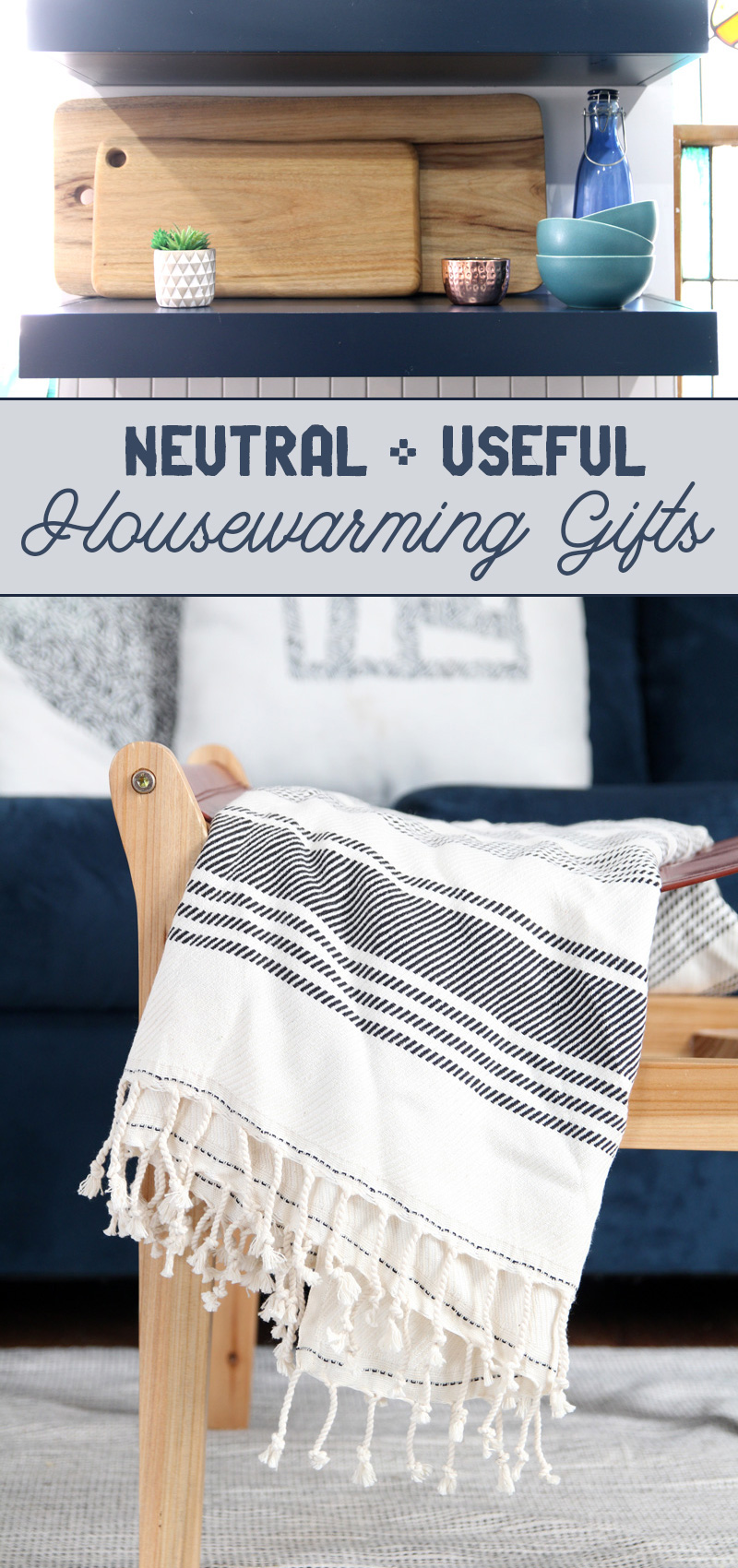 Being a new homeowner is an incredible experience. There is nothing quite like having your own space to live in and personalize. There's a pride that comes with it. It's a once-in-a-lifetime experience. Even if some people end up purchasing more than once and moving around, there's nothing quite like the first time!
If someone you know and love is a new homeowner, an appropriate housewarming gift is a fantastic way to celebrate with them. And even if it's their second or third time, or if it's a rental, all of these make for fantastic housewarming gifts for every budget!
First, a few tips for buying a New Homeowner Gift
Unless the person you are purchasing for is very close to you and you know their style, any decor you purchase should be very neutral.
When purchasing decor, be aware and forgiving of the fact that it may not be displayed prominently.
Try to know the general makeup of their home. Do they have space for certain extras? Do they have a guest room?
It also helps to know their style. Do they enjoy hosting get-togethers? Are they neurotic about cleanliness? Do they struggle to keep their lives organized?
Even if you don't know them well, these new homeowner gift ideas are all really practical, neutral, and versatile.
Keep in mind that buying a home is very expensive. It's often five figures more expensive than the new homeowner anticipated – between moving costs, closing costs, necessary home repairs to satisfy the bank and insurance companies, unaccounted for home renovations – it can seem endless.
So while the new home owner may be excited to break things in and start accessorizing, they are often very strapped for cash after buying. The right housewarming gifts can really help serve that purpose of starting to make that house a home, before they are financially able to do it themselves.
New Homeowner Gift Ideas for Hosting in the New Space
Does your new homeowner love hosting? Maybe they always lived in a smaller space where it was harder to host get-togethers? These are all along the lines of gathering together with family and friends. However, these are also cool kitchen and home items to have that double as decor too AND are practical. So if you're not sure, they're beautiful gifts regardless.
For the Party Thrower: Fab Slabs Antibacterial Cutting Boards
Fab Slabs makes beautiful natural antibacterial cutting boards from sustainable Camphor Laurel trees in Australia. They come in different shapes and sizes and are fantastic for making charcuterie boards and grazing platters, like we did at Princess A's first birthday party.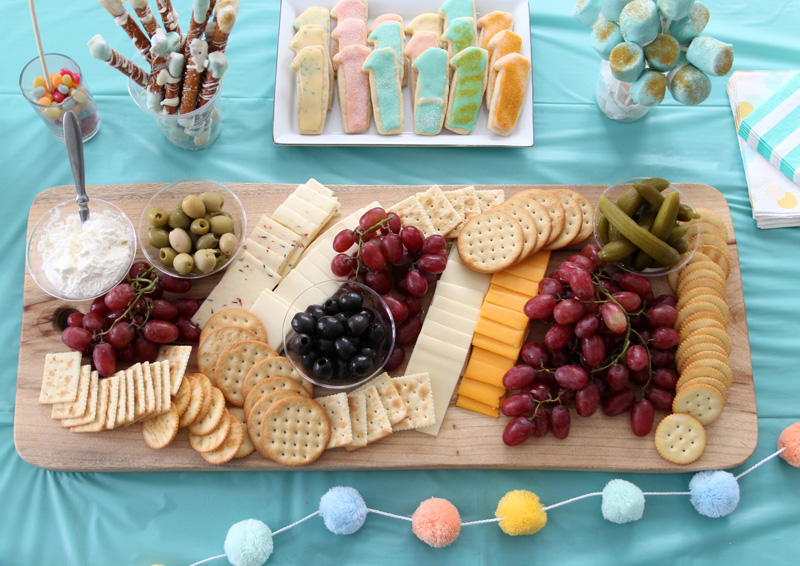 Camphor Laurel trees are permanently naturally antibacterial so they remain hygienic as you give them lots of love. And the beautiful wood also doubles as decor, especially in kitchens with open shelving!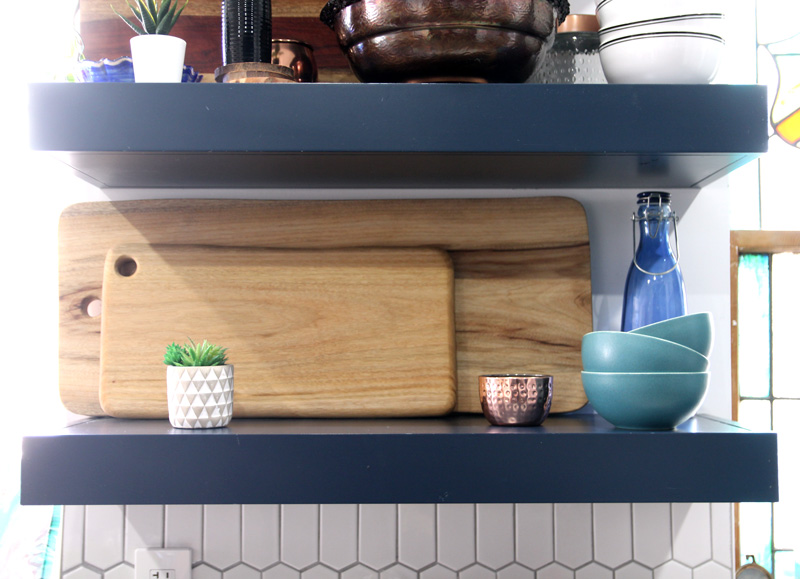 For the Coffee Snob: Gorgeous Chefwave Artisan Series French Press
True coffee snobs are very particular about how their Joe is brewed. Some prefer more grounds, some prefer less. There are different temperatures coffee can be brewed at. Traditional and single-serve coffee makers don't usually offer these options.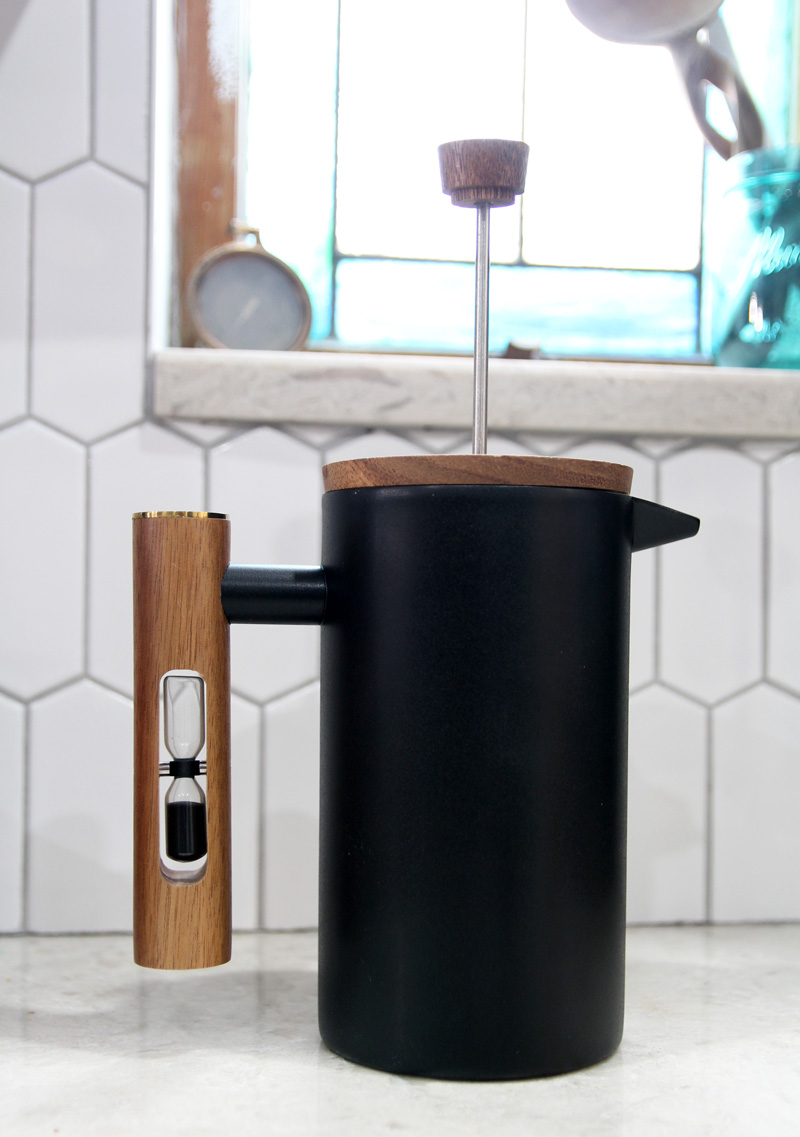 This French Press coffee maker from Chefwave's Artisan series is so beautiful, it'll be put on display instead of being put away! It also has all the qualities of a great French press. It's double insulated stainless steel to keep the coffee warm much more effectively than glass – which is why it's my French press of choice for family get-togethers. Make a batch and then guests can come and enjoy it as they feel the need.
It has a double screen filtration system so that fewer grounds get through. It's incredibly durable and the craftsmanship is beautiful. And the final perk? It's got a 3 minute hourglass built into the handle!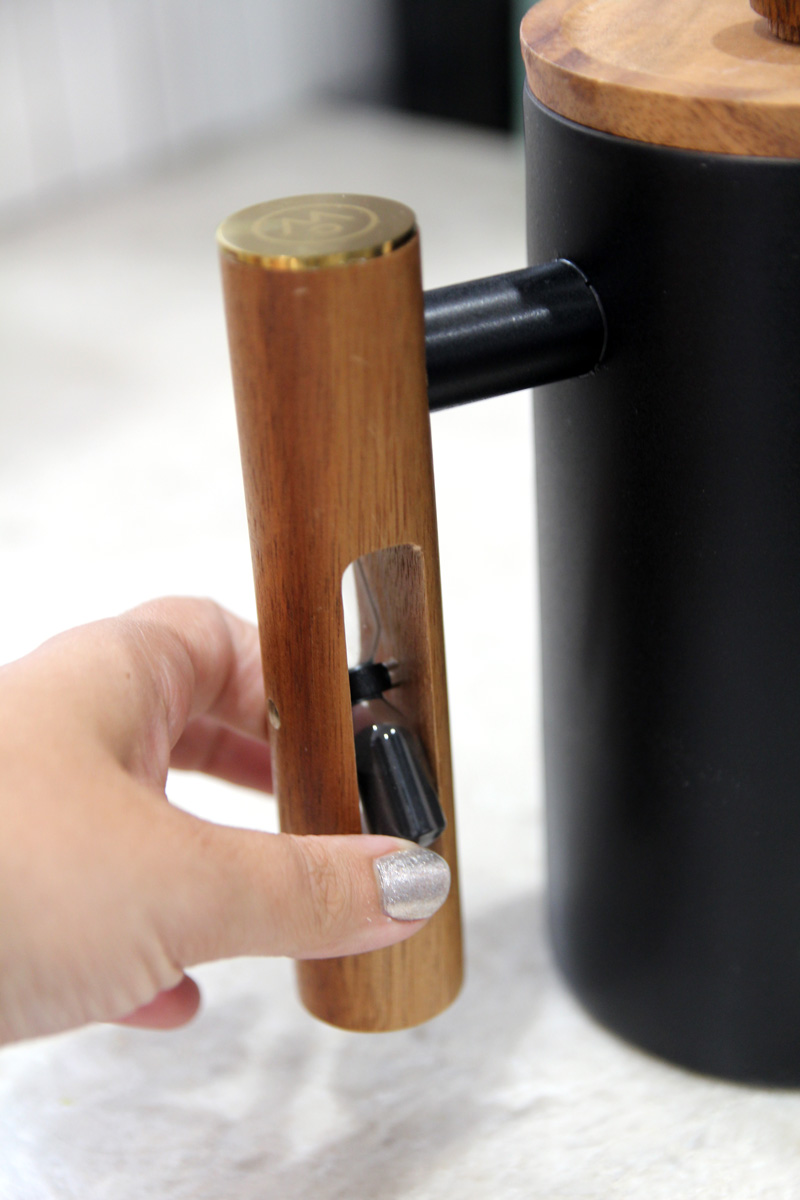 Use code MOMS20CRAFTS for 20% off
For the Modern Kitchen: Turkish Kitchen Towels from Olive & Linen
Towels can double as decor too, as these beautiful ones from Olive & Linen show! But they're not just pretty. They're really absorbent too, and they can match practically any kitchen!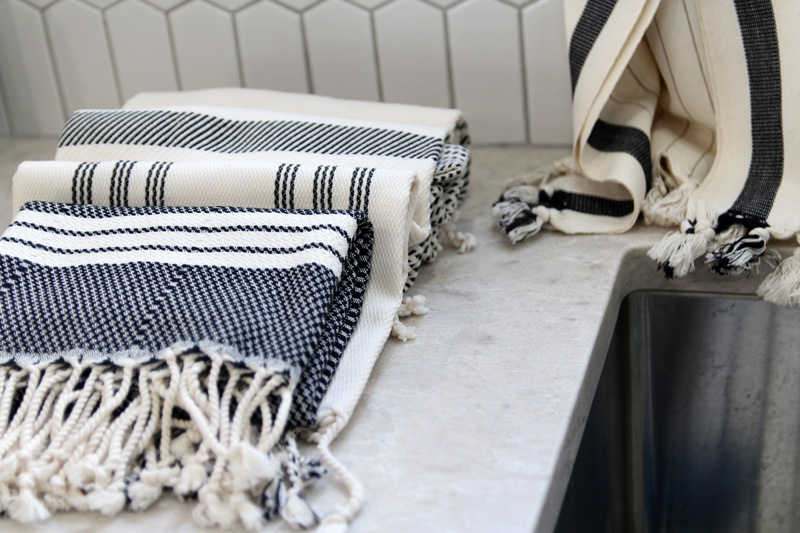 And since it's a very affordable item, you can gift a set as large as you'd like, to fit your budget! So gift two or ten – just bundle them nicely (or get a premade bundle).
For Overnight Hosts: Rae Dunn Foldable Towel Rack
Buying a new homeowner gift for someone who always wished they had a guest room… and now does? Yep, that was me too!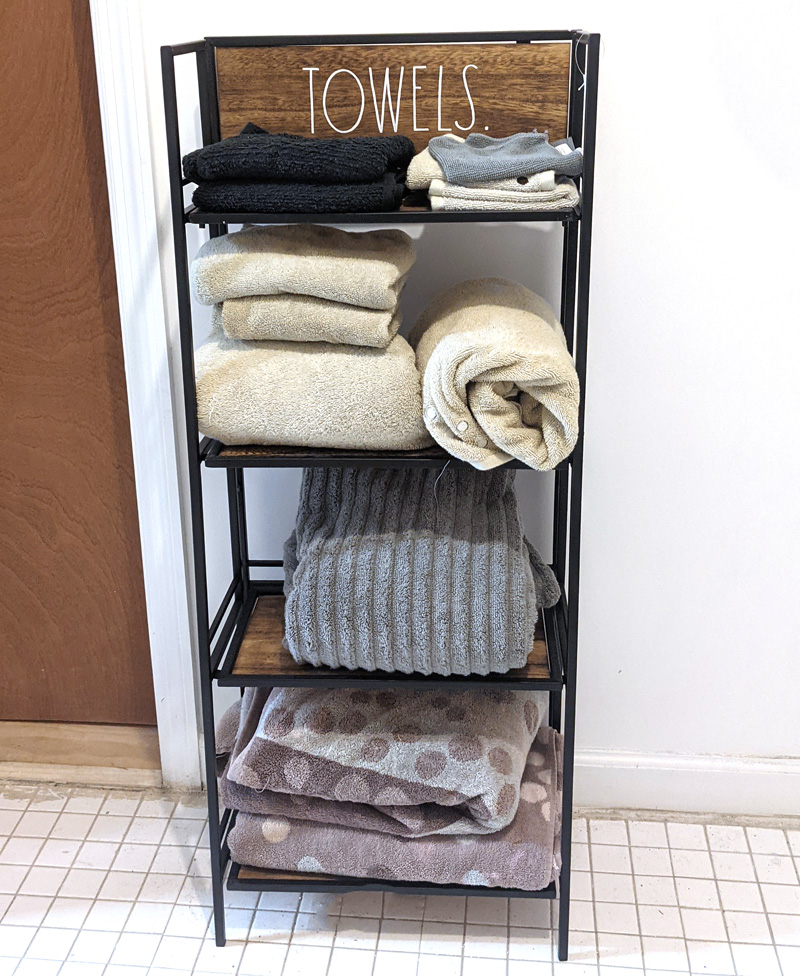 This foldable towel rack by Design Styles x Rae Dunn is a great way to offer an assortment of towels to overnight visitors while decorating that guest space! We have a huge guest bathroom with no linen storage, so this stands in our bathroom. It can also sit in the guest room, and you can add jars of cotton swabs, toiletry samples, or similar items to pretty up the top shelf.
And if you ever need more space in your guest room for a pullout cot or play yard, you can simply fold it up and store it flat.
Decor that's Neutral
When gifting decor that's purely decorative, you don't want to go too specific – unless you're REALLY close to the recipient. Go with subscriptions that offer variety, neutral and subtly trendy items, as well as unique pieces that aren't in your face.
For the Seasonal Decorator: Decocrated Subscription:
Got someone who pulls out the Christmas decor the second Thanksgiving dinner is done – or earlier? Decocrated offers quarterly decor boxes, full of unique home accents. The one that I got to try was a fall theme. Most of the box included items that can be displayed on open shelves or the mantel all year round, but there were a few functional items too!
My favorite is the teal pumpkin (which you should know, if displayed outdoors, indicates the presence of allergy-friendly or non-food treats). It also came with two beautiful woodsy pillar candle stands which are great for mini plants too. The moon mirror is a sweet little touch and the wooden bead garland adds movement to a stacked display shelf.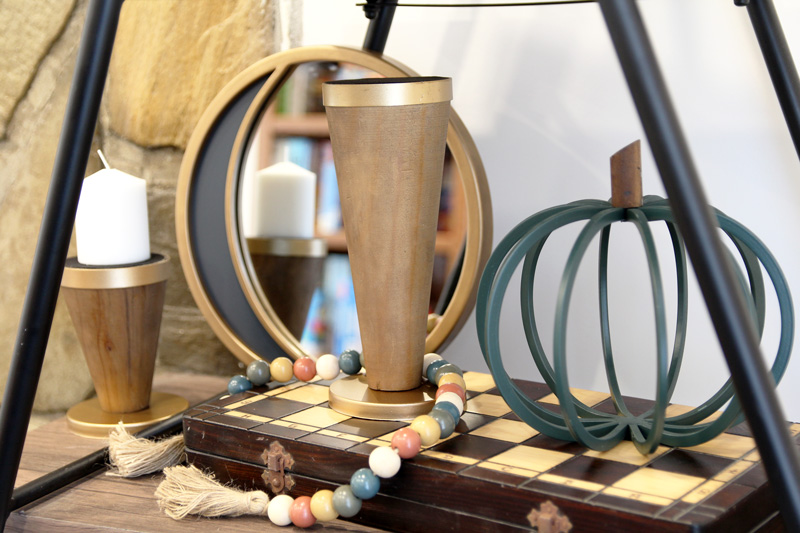 A mini ladder can hold the two very seasonal tea towels, which, along with the pumpkin, were the only items that are purely seasonal and get put away the rest of the year. It also comes with mini art to frame and display.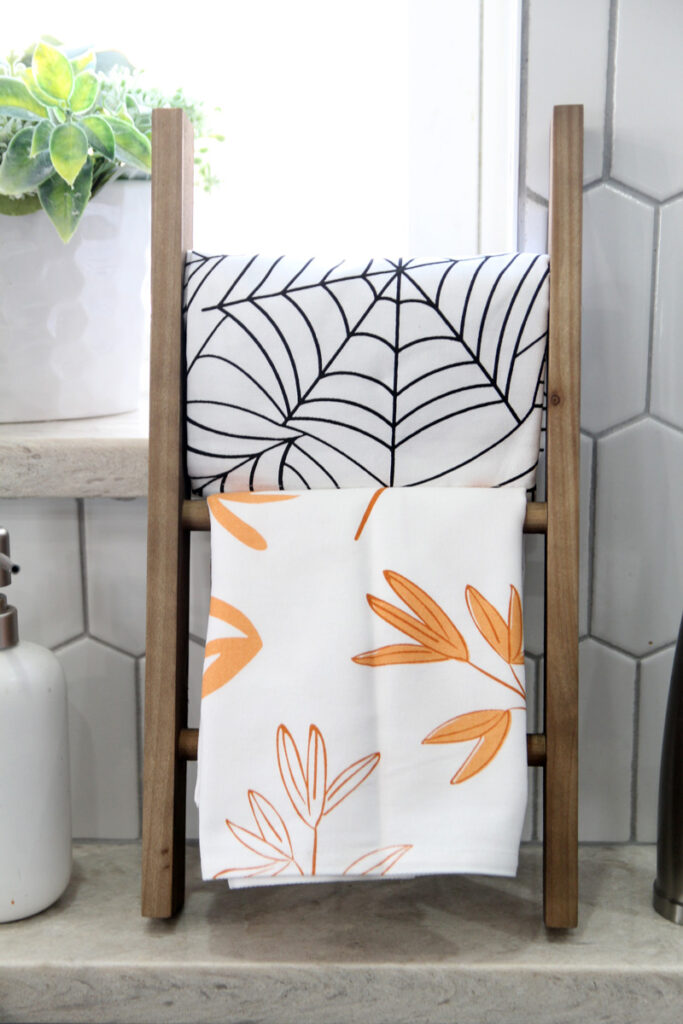 For a Little Hygge: Olive & Linen Handcrafted Throw Blankets
When expanding from a one-couch-apartment to a two-couch home, one of the first issues Y, my cozy little boy, encountered was the fact that we were short a throw blanket (I call it first world problems)!
Olive & Linen's Turkish throw blankets are so classy, I reserved it for the living room! And yes, it's soft and comfortable.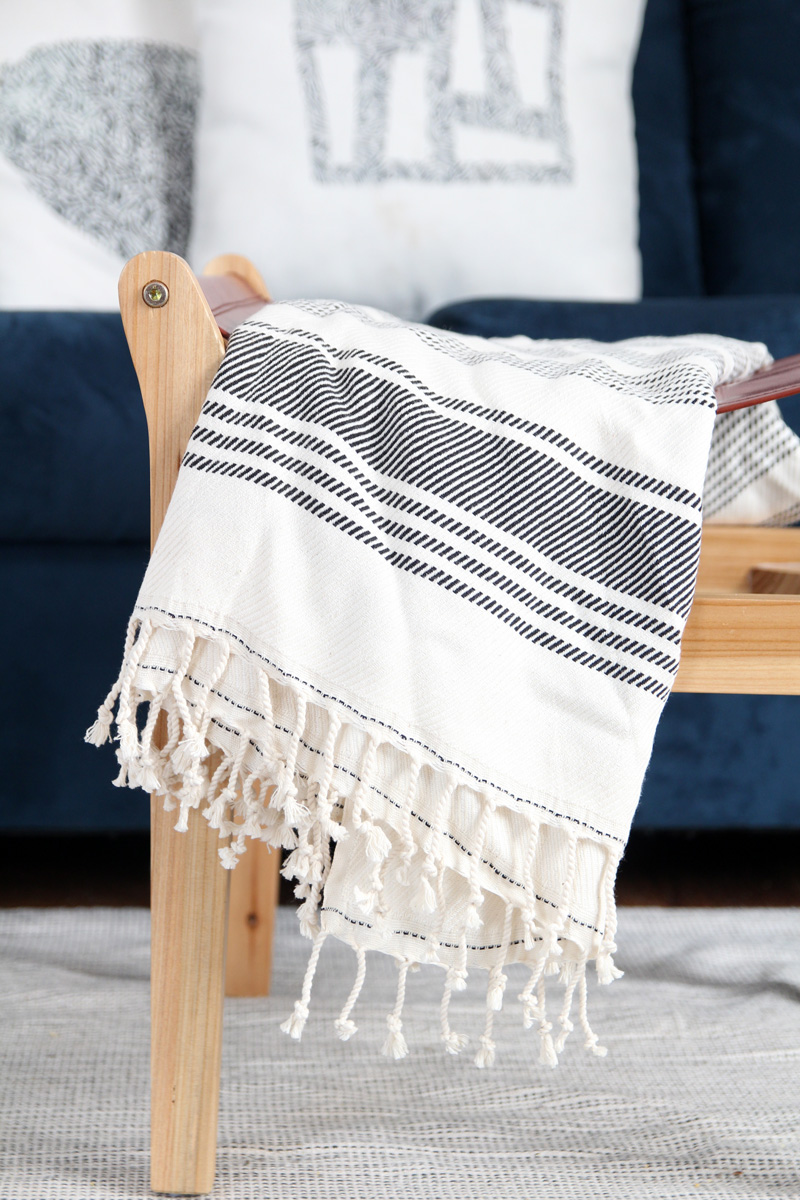 As a side note, I love it for nursing Princess A when others are around. It's large enough to really offer privacy and it's thin enough to throw over our heads completely while I set things up. It's made from fine Turkish cotton, so it's really soft and breathable.
Since it's really absorbent, it can be used as a towel too – a towel that totally envelops you. That makes it a very versatile and affordable new homeowner gift.
To easily convert a house into a home: Premium Quality Modern Art Deco Pillows
Nothing accessorizes a home quite like throw pillows – and makes it feel like a home. And once again, going from one couch to two plus accent chairs, we had more spaces for decorating!
I designed these art deco pillows to be neutral but with a touch of color! For the base, I chose a premium quality pillow so that you're really getting the best out there.

Since it's solid on the back, they can be mixed, matched, and combined to easily adjust the home's style.
For the Artist or Crafter: Built Quilt tea light holders
Built Quilt's quilt block inspired tea light holders are gorgeous graphic pieces to display. But they're still quite subtle, retaining that neutral feel in a unique decor item.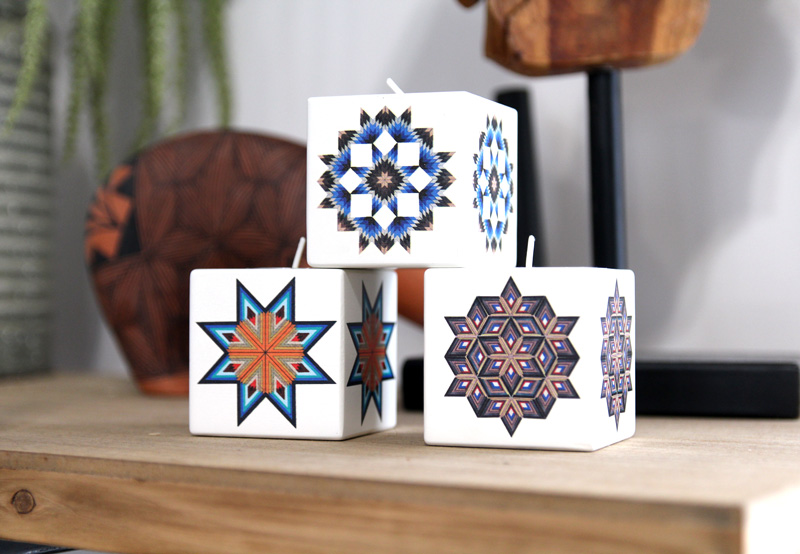 The designs are UV printed on birch wood blocks and come with tea lights. The Lone Star art are replicas of actual artwork by Troy Murrah.
Practically Speaking
There's often a fine line between super practical and giftable, and all of these try to broaden that line! Gifting items that will make life easier or mundane tasks more pleasurable is a great approach for those who avoid clutter and tchochkes.
For the Visual Type A: 1thrive Home Command Center (Pictured: the Susan)
This incredible command center can be customized and adapted to a family's needs – and looks fantastic! It offers creative opportunities for letting your life and then showcasing it. Keep everyone's schedules handy at a glance, store mail and keys, hang your handbag, track family to-do's – the options are endless.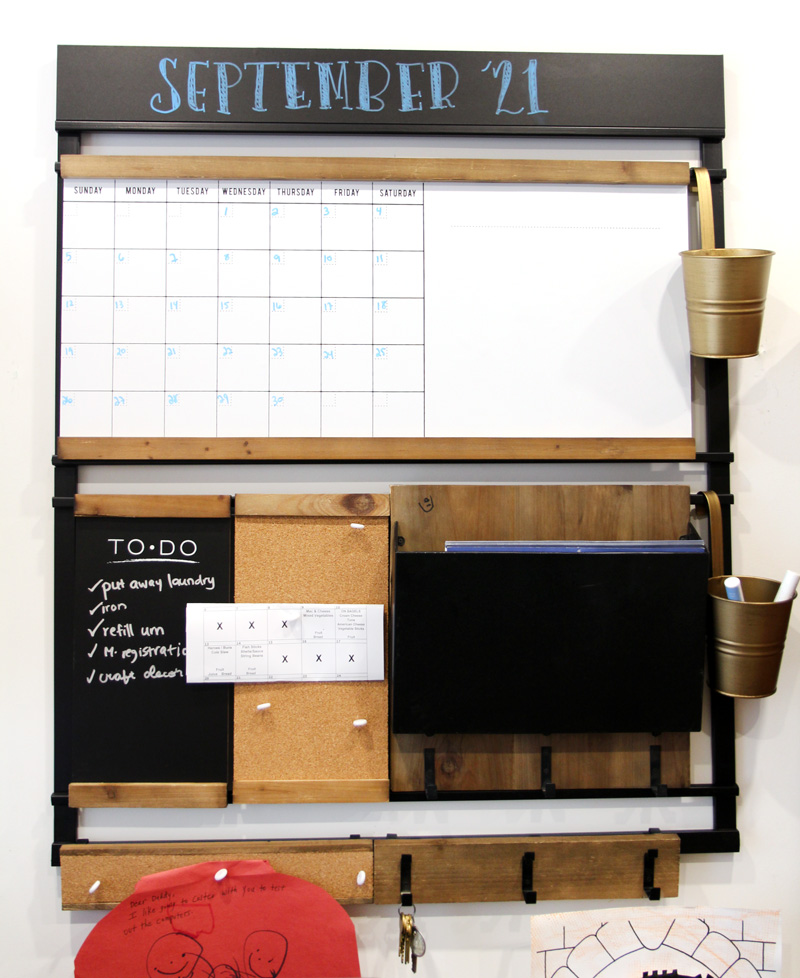 The white and dark surfaces use the same markers (you get two with your purchase and can add on more). Magnetic and cork surfaces allow you to display art, photos, and invites, keeping your fridge free of clutter.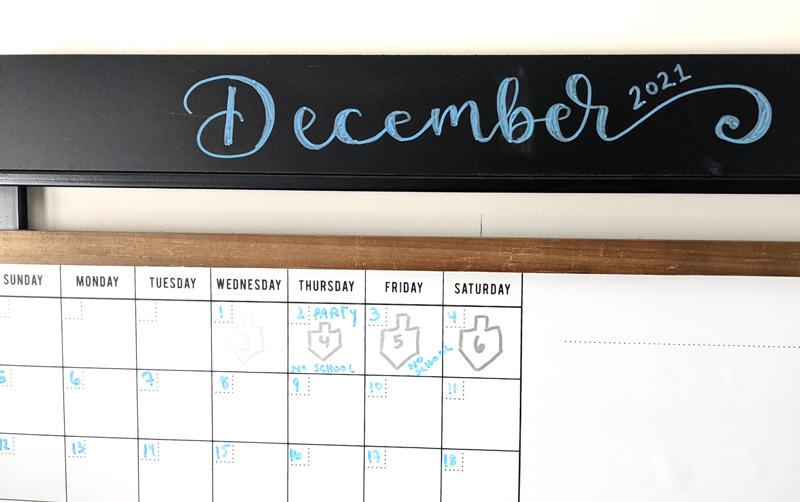 The command center is quite large and a statement in a family room, mud room, or home office. And it even comes with built in storage for accessories or whatever you need to dump somewhere….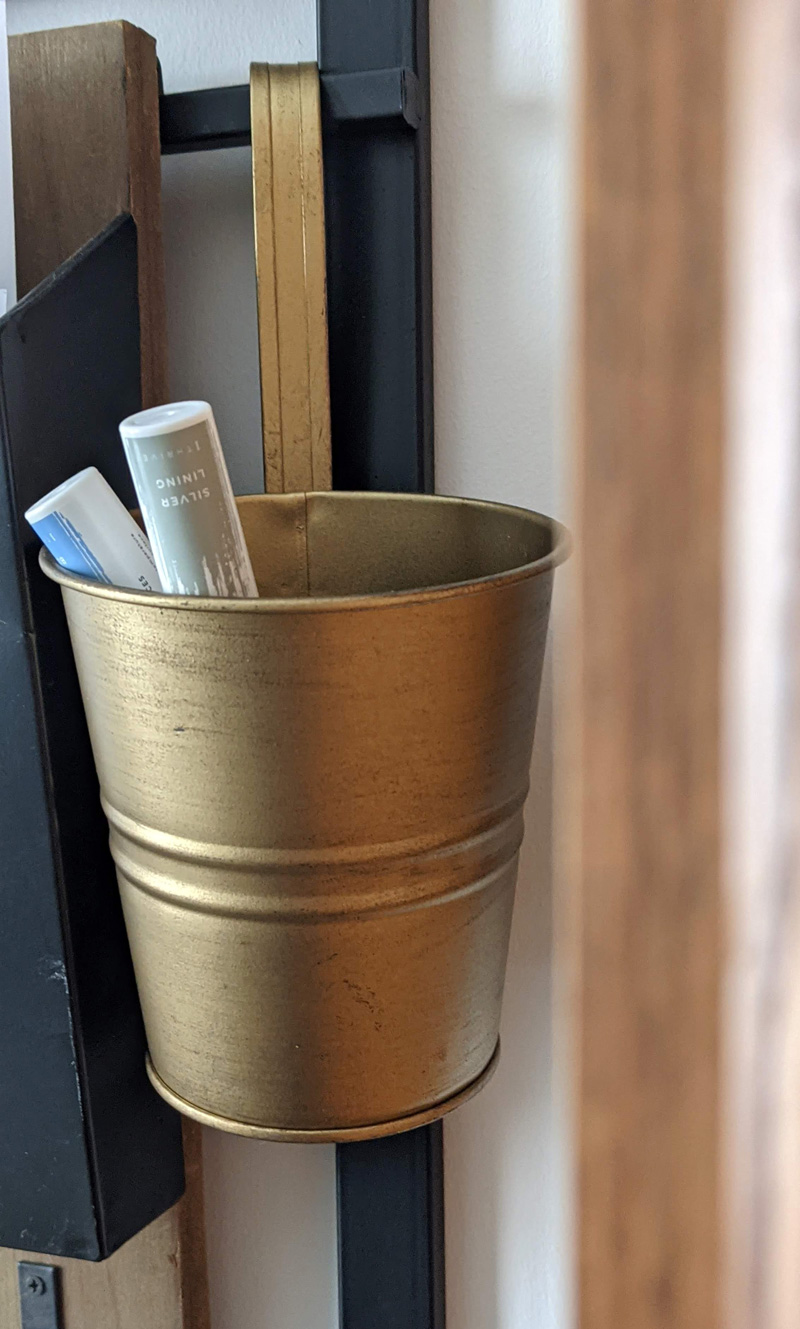 For a spa at home: Beautiful Bath Towels from Olive & Linen
One of the things we did before moving was create a master suite by splitting a huge bathroom into a tiny powder room and a small master bath. While it's quite small and gasp! has no tub (hey, I'm a shower person!) it does have spalike touches. We invested in our shower heads, in pebbled tile, and things like that to make it luxurious.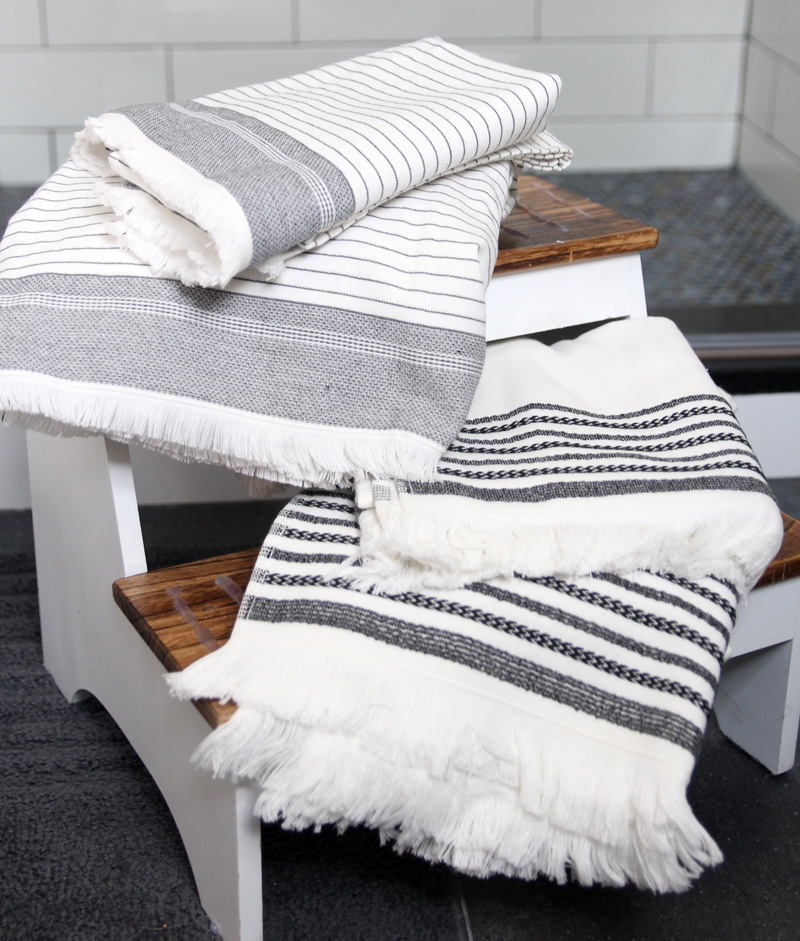 Of course, the right towels finish things off! Olive & Linen makes terry towels too! They are classy and sooo soft, completing the spa-like experience. And again, their neutral colors ensure that you don't need to study your recipient's bathroom before gifting it.
For Help Keeping House: Eufy Robovac
My husband actually got this for me for my birthday soon after we moved. It's the gift that keeps giving in the form of household help! Often, after moving to a much larger space, just cleaning more area can be exhausting while the body adjusts!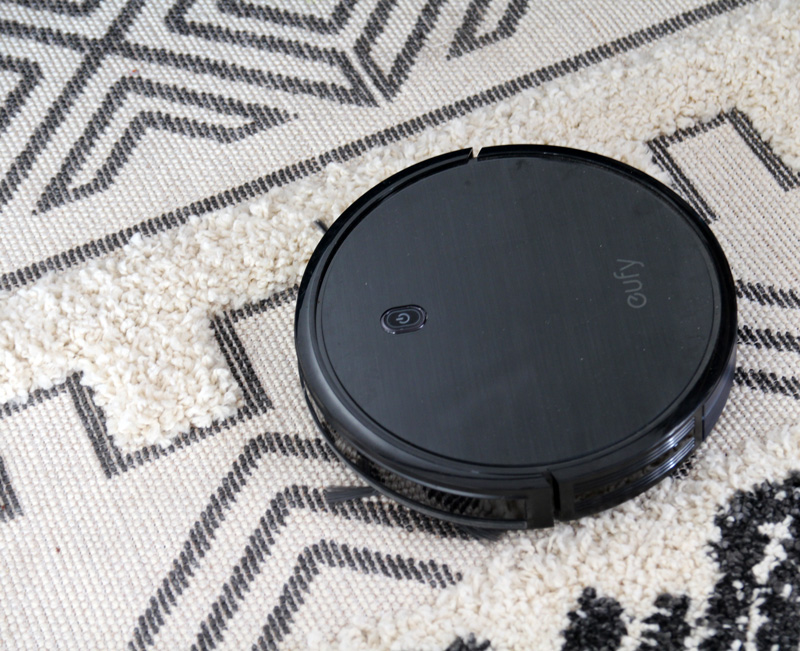 While I don't find that it takes the place of a good thorough sweep, it's great for daily touch-ups. And if you have wood floors, especially dark ones, everything shows. A run of Robovac makes it look like you just cleaned up.
For the High Tech Labeler: Cricut Joy
A new home often brings with it a new commitment to staying organized! I absolutely love the Cricut Joy for quick projects, including labeling.
Their Label Making Bundle includes the writable vinyl, a super cool organizing tool for non-crafters. It's really portable, making it the machine of choice for labeling and organizing projects – for everything from pantry to toys.
For an Organized Start: Pantry Organizer Set
It took me half a year to have a functional pantry. It's surprising how expensive pantry containers can be. Gifting a nice set of pantry organizers is a great way to help house become home much sooner.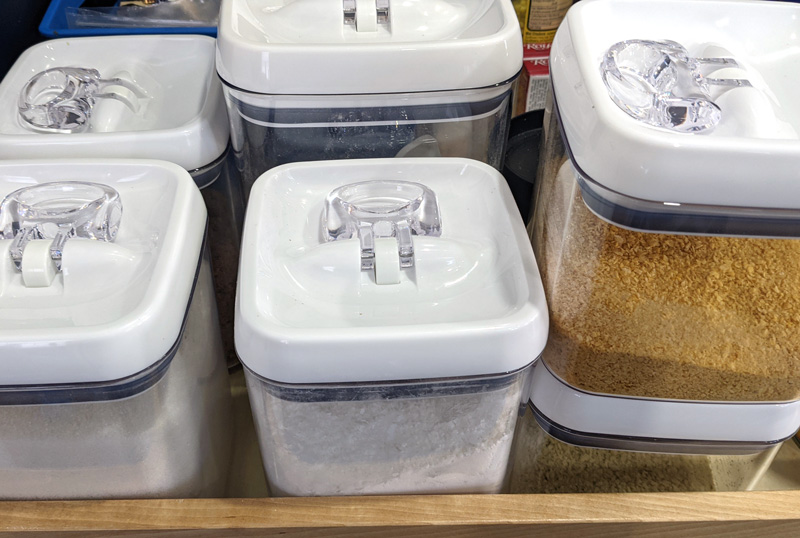 These from Better Homes & Gardens are on the more affordable end, stack nicely, look great, and are easy to use. They are airtight and the sizes are fantastic for decanting and organizing pantry items.
Got any new home owner gift ideas to add to the list? Comment below!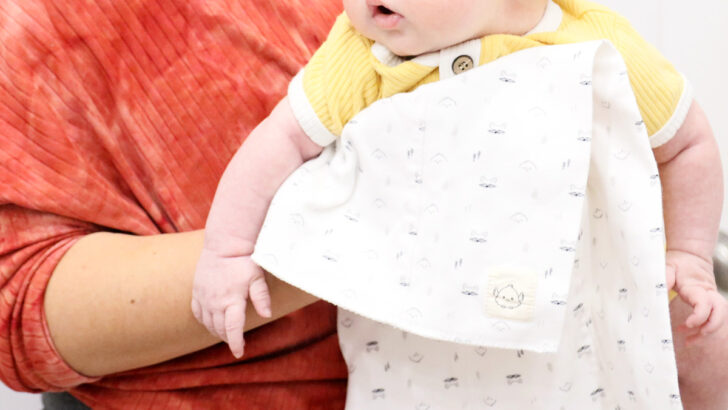 These baby sprinkle gift ideas are perfect for a second baby or beyond! When you're done, check out my favorite luxury baby gear and products …