Jasco sponsored this post, but the opinions are my own.
Creating an outdoor chandelier is easier than you think – if you use a hula hoop as your base! It takes more physical energy than skill or dexterity, so be prepared to relax afterward with a cup of coffee while eying your masterpiece.
Disclosure: Thank you Jasco for sponsoring this post.

There's nothing quite like sitting outdoors at night, enjoying time with a friend or spouse, and breathing the fresh night air.
Lighting up your outdoor space doesn't need to break the bank – and it doesn't have to look lame either!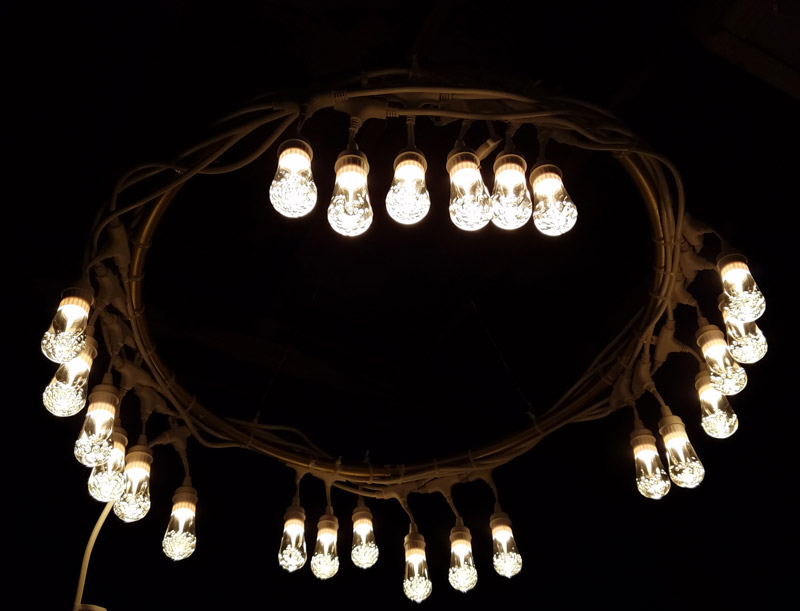 Jasco creates the most beautiful outdoor light fixtures that are wind, rain, and weather resistant, allowing you to truly enjoy your outdoor space. Their Enbrighten Vintage LED Cafe Lights feature Edison-style bulbs that don't break when dropped (I accidentally tested that feature hands-on). They have a beautiful old-time feel and catch the light beautifully, even by day.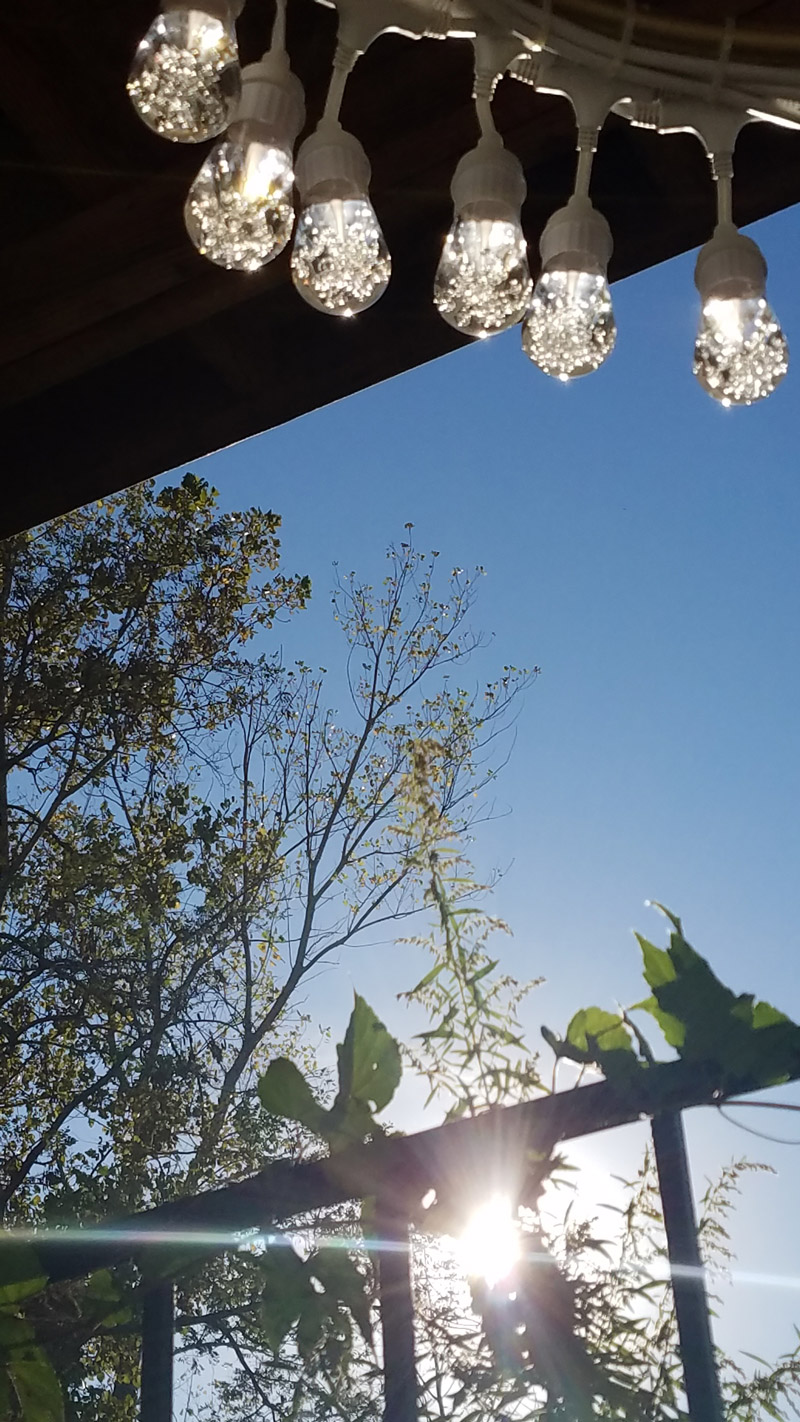 Since our outdoor space is limited, I wanted a way to up the wow factor of the area, while really lighting it up.
I decided to create an outdoor chandelier from a hula hoop.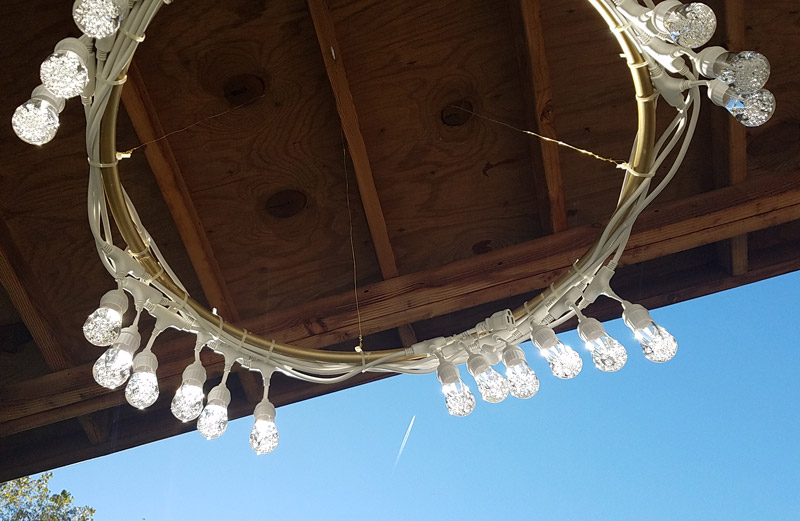 A hula hoop is perfect for this project – just make sure to get one of decent quality. It's a nice size to fill an outdoor space and it's already sized for you.
I couldn't get one on time to get you this project so I had my plumber make me one out of 3/4 PEX pipe with coupling and 2 crimp rings.
A 30inch hoop will give you what I got. You can go smaller – you just may need to tweak the tutorial a bit, since the lights are spaced two feet apart. You can also go bigger if you want as well.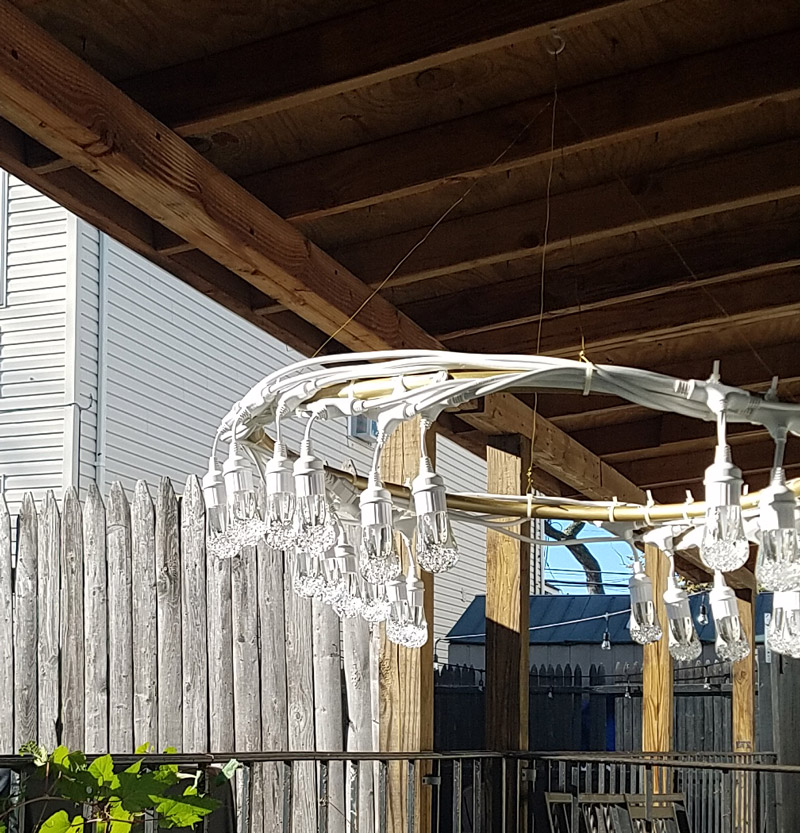 I spray painted my hoop to get the color I wanted (even though the stuff I used was white – it wasn't so fresh.) To have spray paint adhere better, you can sand your hoop to get a rough surface.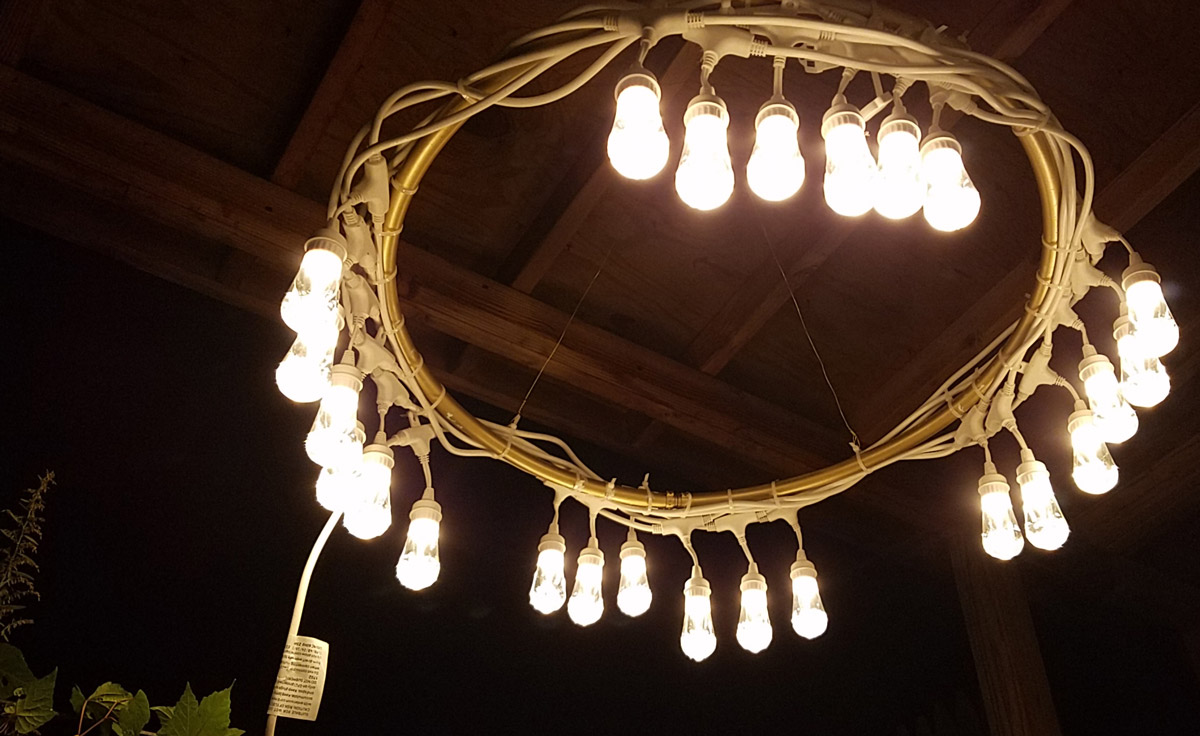 I love how my outdoor chandelier came out!
It still has that simplicity I wanted, with the clean shape and white cord, while adding a touch of vintage character with the Edison bulbs and soft amber light. It gives me the warmth and coziness of the night, while still being able to see my surroundings.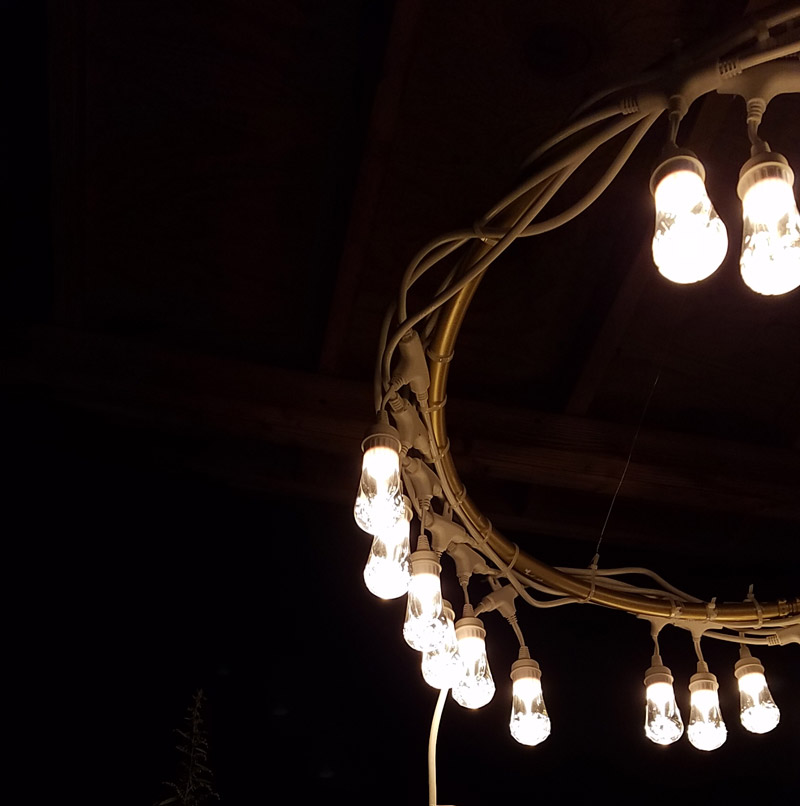 What you need to make an outdoor chandelier:
A 30 inch hula hoop
Matte gold spray paint
Jasco Enbrighten Cafe LED lights – Vintage Edition. I used the 48 foot version with the white cord (it has 24 lights.)
White zip ties – I used 28 total
Wire cutter
Wire – I used 20 guage, but you'd probably be best off with something thicker (lower number) but still flexible
A hook for mounting it
How to make a DIY Outdoor Chandelier:
1. Spray paint your hula hoop a matte gold. Allow it to dry completely.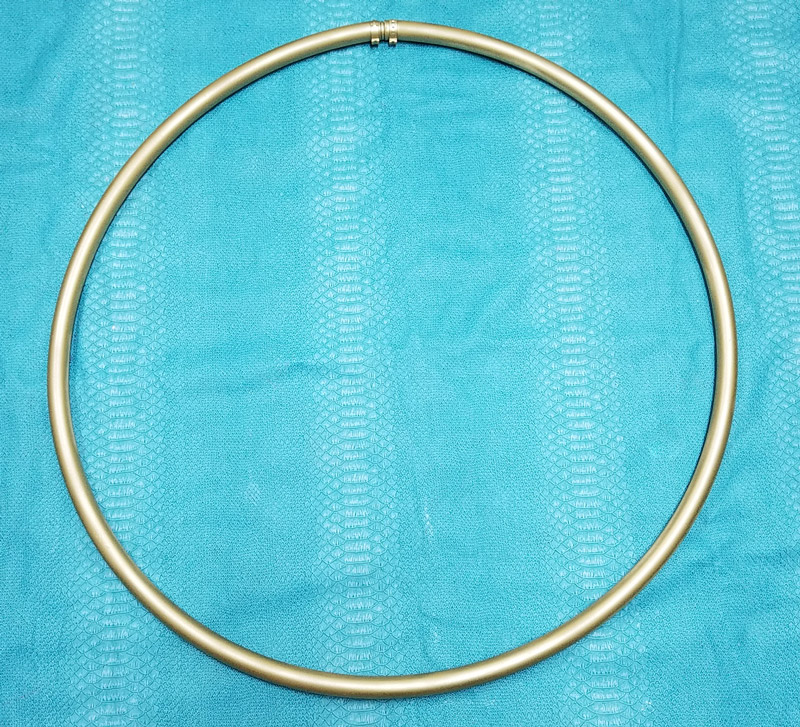 2. Starting from the end – the part that has the attachment to add another string of lights, not the plug side – place your lights next to the hula hoop. Use a zip tie to hold it in place – pull it tight. Trim.
3. Continue around the entire string of lights, securing each one in place with a hula hoop. Make sure it's exactly where you want it before attaching – if you try sliding it over, it will strip the paint. It doesn't REALLY matter – there is enough wire covering that, especially on the top, you won't notice the nicks.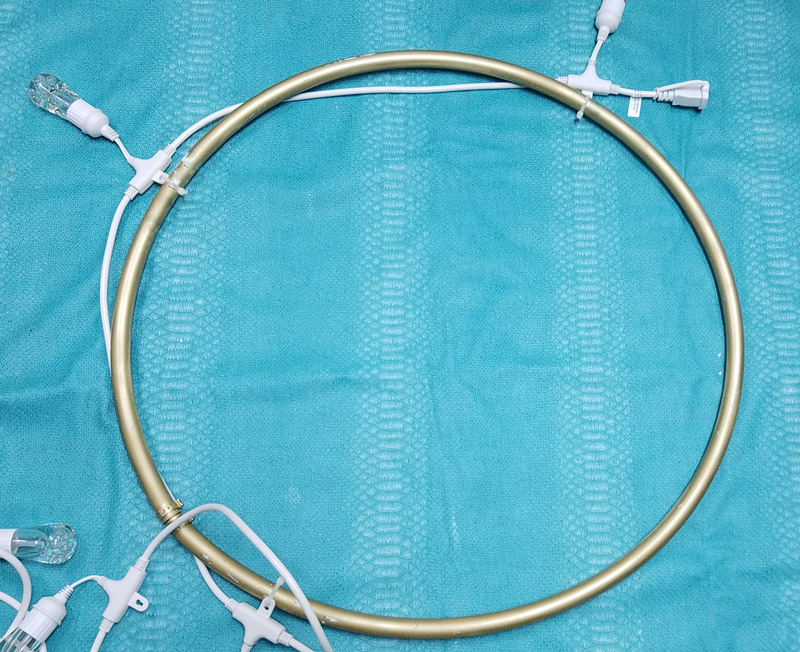 4. When you continue winding it around, use the zip ties to hold the previous wires in place too. Continue with your entire string of lights, letting the cord with the plug at the end hang loose.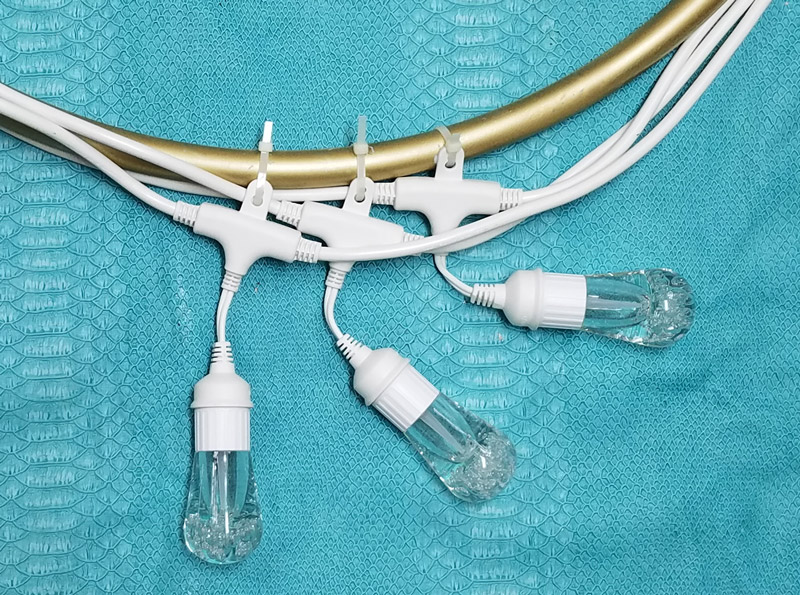 5. Use a zip tie to hold the wires in place in between your four bunches of lights.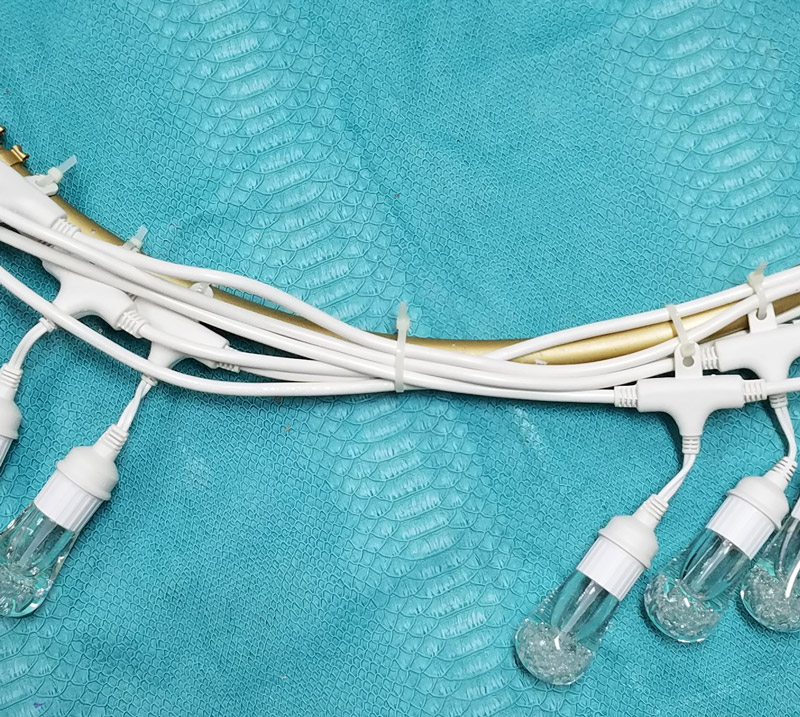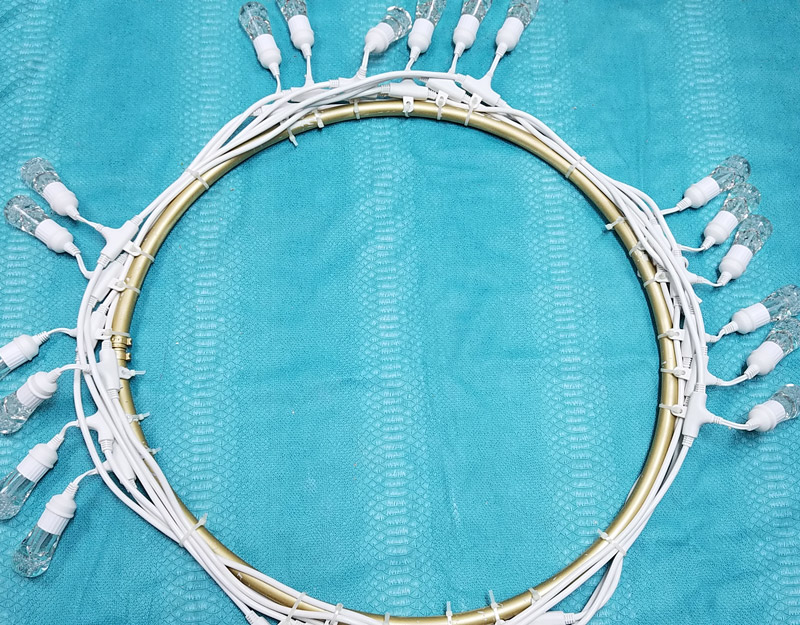 6. Wrap one end of your wire very securely around one of the four zip ties you added in step 5. Connect it to the zip tie opposite it, leaving enough slack to let your outdoor chandelier hang as much as you'd like it to. Keep in mind that you'll be twisting in a loop too.
Add another piece of wire as you did with this one connecting the other two zip-ties that were added in step 5, so that you have a + sign.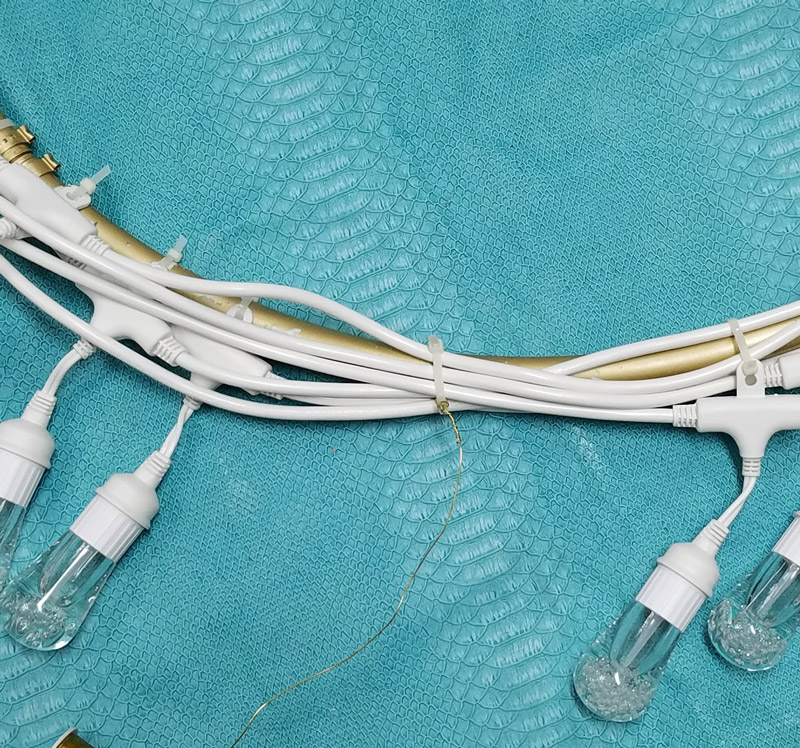 7. Take the two wires by the center and twist a loop into both of them. Make sure it's very secure.
8. Hang your outdoor chandelier from a hook on one of the beams of your pergola, canopy, or porch roof. Light up and enjoy!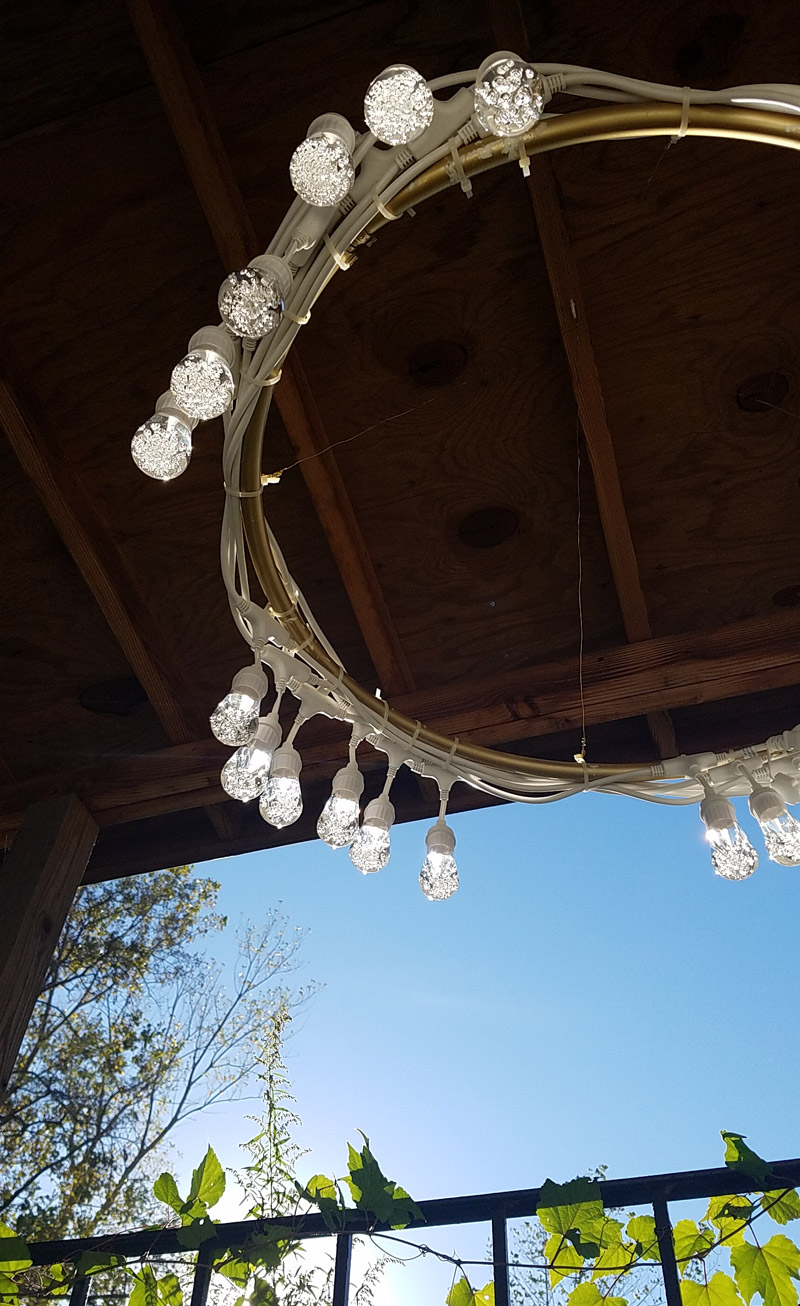 Where will you be hanging your outdoor chandelier? Learn more about Jasco Enbrighten lights here!