Are you looking for DIY dangle earrings that you or your teens can make? You can read my list of bead crafts first if you want, or scroll down for some cool DIY dangle earrings ideas! Disclosure: this post contains affiliate links.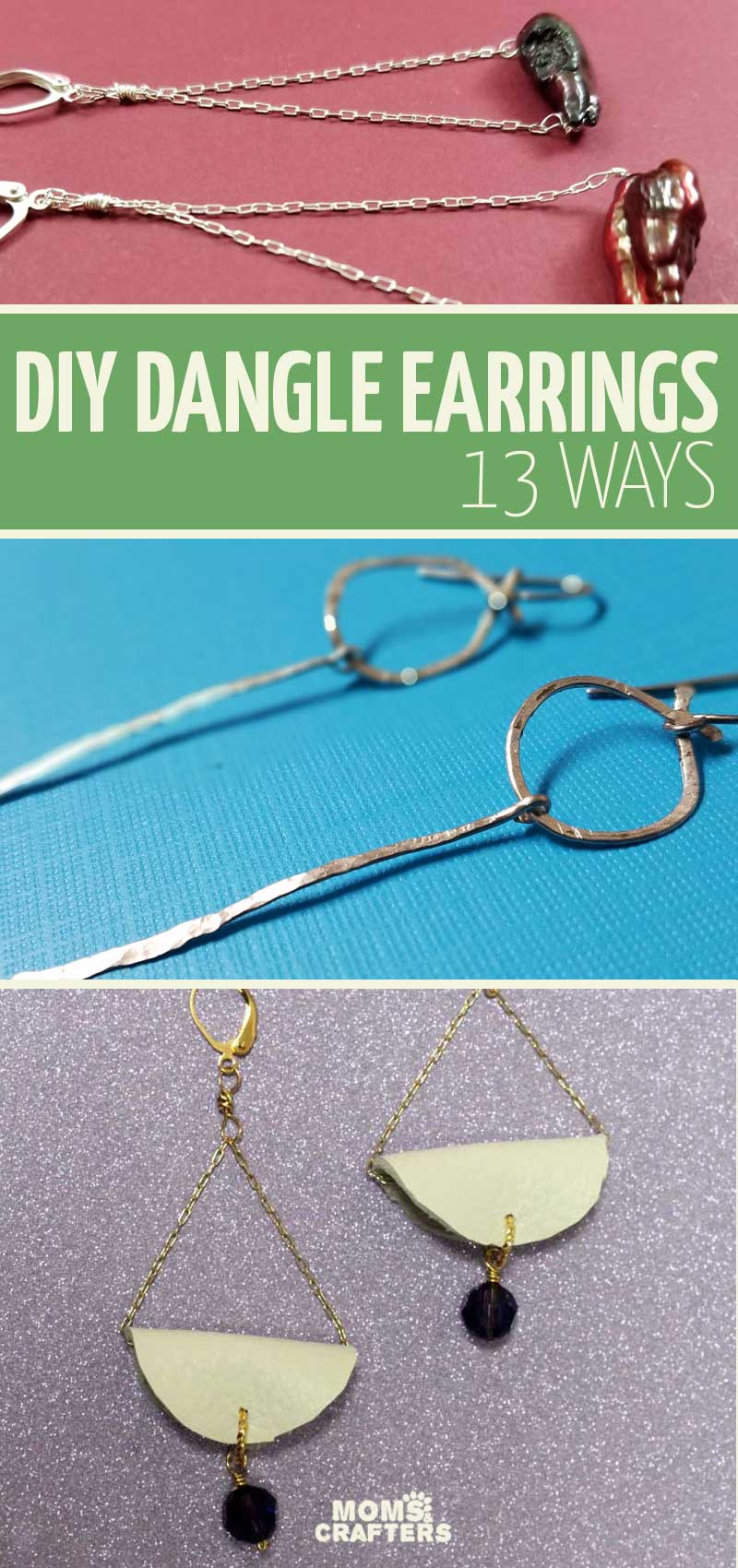 You don't have to pay top dollar to have a gorgeous pair of earrings that you'll want to wear again and again. These earrings are so easy to make, all you need to do is grab your supplies! These earrings make a great gift for birthdays, holidays, or even a gift to yourself!
Below, you'll find a great list full of DIY dangle earrings that anyone can make! It's subdivided into 3 categories based on style:
Wire
Statement
Traditional
What are you waiting for? Grab your supplies and make yourself a beautiful pair of DIY dangle earrings!
For almost all of these DIY dangle earrings, you'll need basic jewelry making knowledge. If you don't know how to make jewelry yet, I highly recommend my new book How to Make Jewelry Out of Anything – which includes a from-scratch guide to jewelry making for beginners
---
Want to learn how to make jewelry out of anything? Get the book!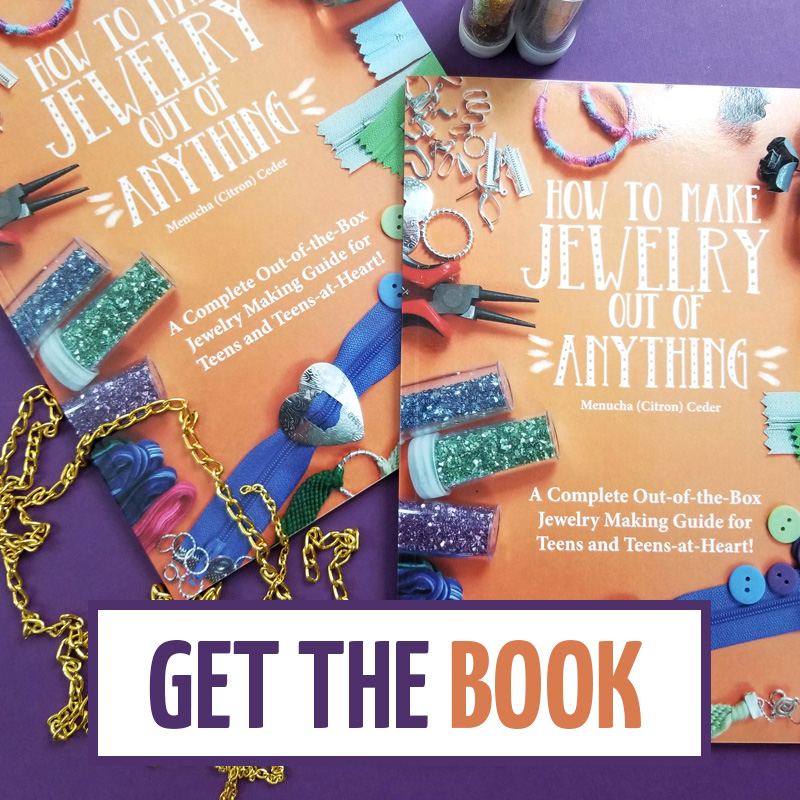 ---
If you're looking for a more "traditional" guide to making jewelry, check out this list of recommended jewelry making books for beginners, or try an online jewelry making class.
And if you want to know where to start with your supplies stash, I created a list of basic jewelry making supplies for beginners here, as well as a guide to beads for beginners.
---
DIY Dangle Earrings from Wire
Using metal wire as a predominant material, these DIY dangle earrings are perfect additions to your earring collection! Choose from natural materials such as copper wire or sterling silver for best results.
1. How to Make Wire Earrings from Scratch by Moms and Crafters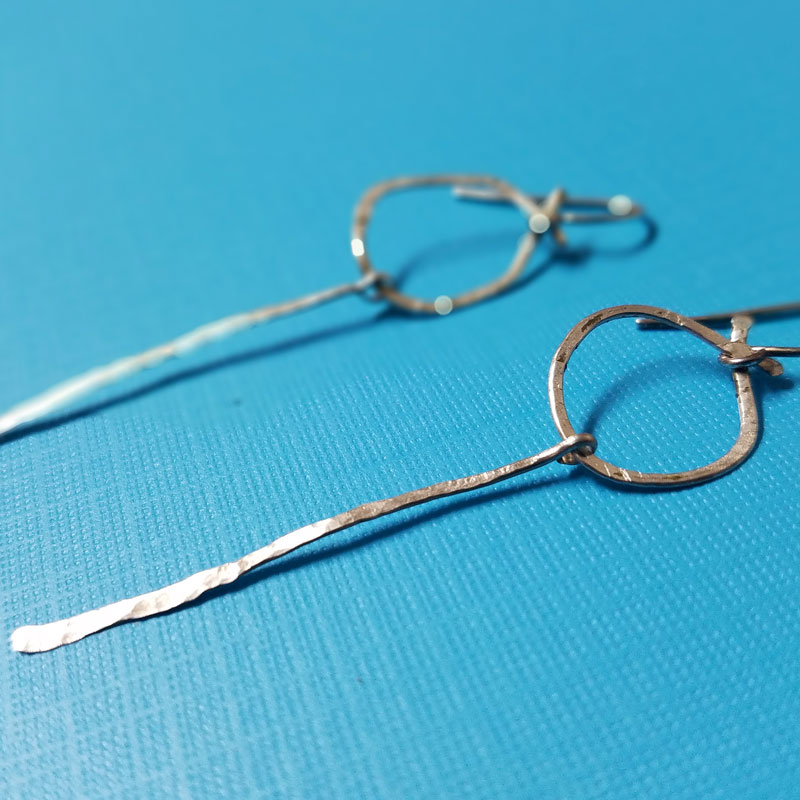 You don't have to be an expert at making jewelry to handle these wire earrings. This earring is great for beginners or those still getting the hang of making jewelry. No soldering required!
2. Colorful Boho Earrings with Tassels by Happy Mothering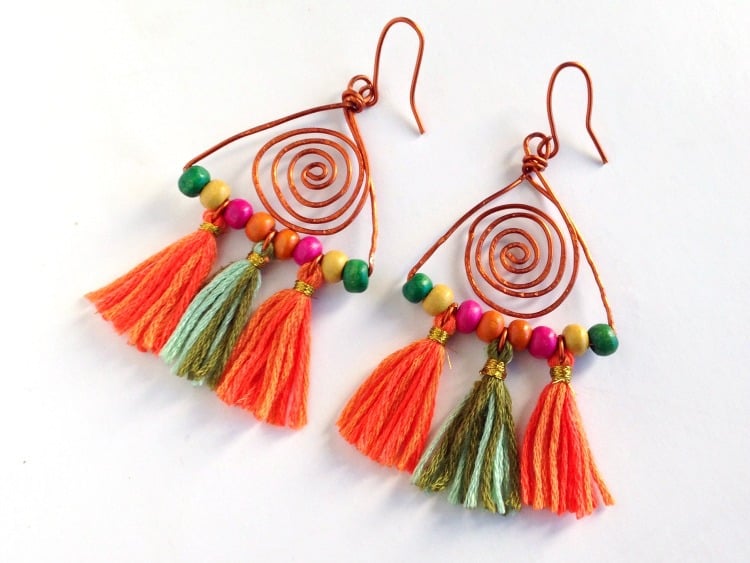 These unique earrings and fun and a little bit on the unique side. These boho chic earrings is the perfect project for those who are just getting started.
3. DIY Tassel Earrings by Moms and Crafters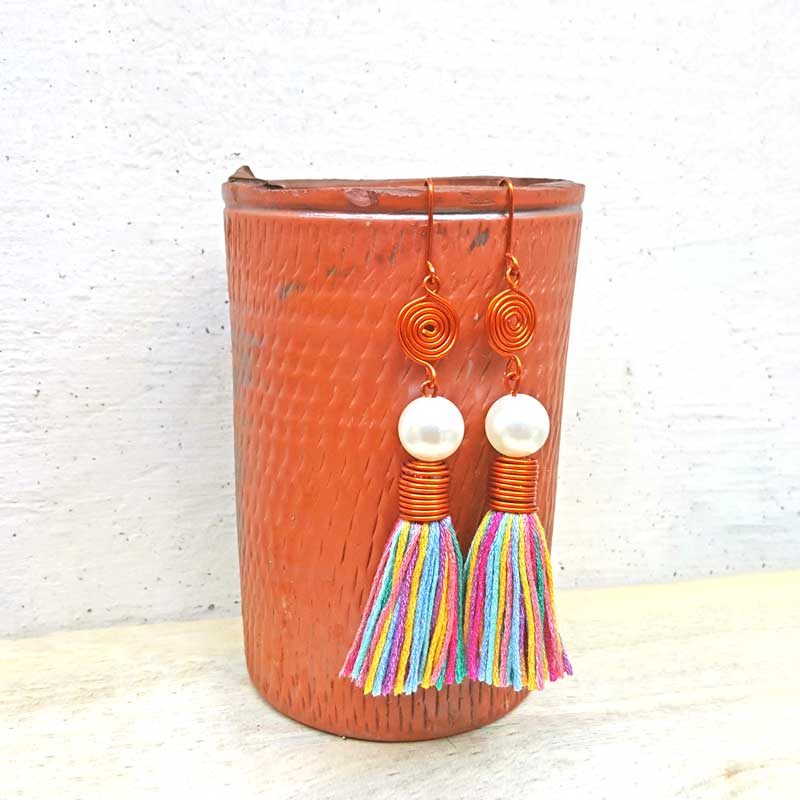 Boho earrings are so pretty, but these DIY colorful earrings can be made by you too! You don't need many supplies to create a chic and beautiful set of earrings. Start with embroidery floss, accent it with jumbo pearls and learn some new wire jewelry skills.
---
Statement DIY Dangle Earrings
These awesome DIY dangle earrings really stand out! Make a statement with these cute jewelry turned accessories.
4. Essential Oil Diffuser Earrings by Down Redbud Drive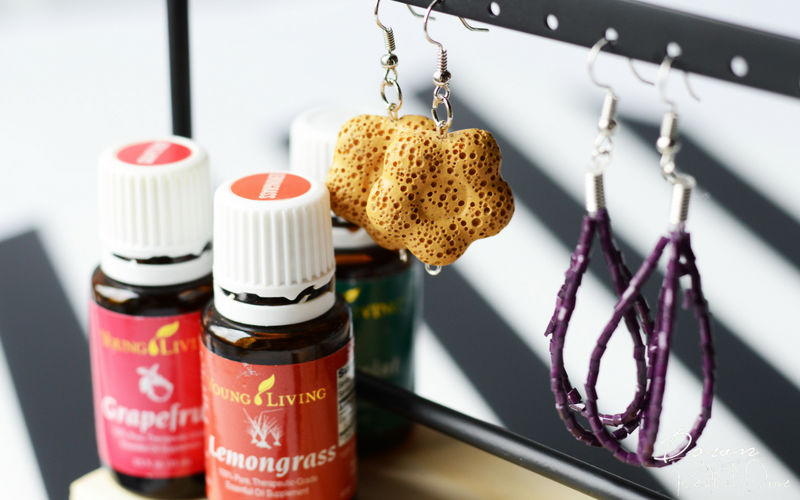 If you love essential oils, you are going to love these diffuser earrings! Using lava stone beads, you can put together these beautiful earrings and enjoy the benefits of essential oils whenever you wear them.
5. Folded Leather Dangles by Moms and Crafters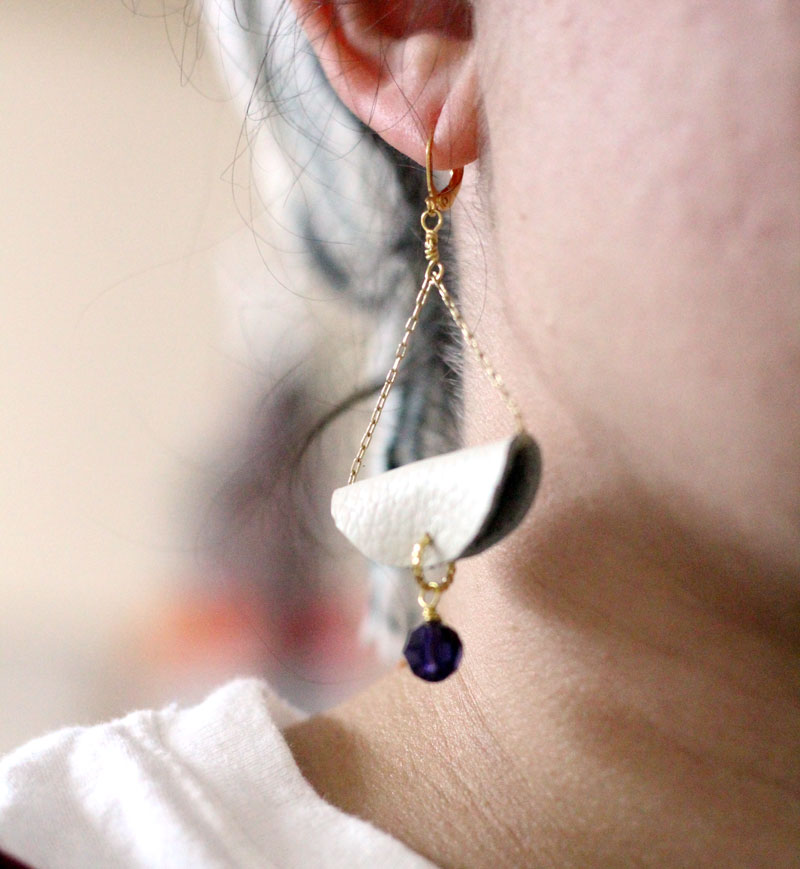 Using leather and a small bead, you can create a piece of jewelry that has a touch of character. All you need to know is how to make a twisted loop to make these gorgeous dangling earrings. My brother calls them my "taco earrings" and, well, tacos are awesome! Start with leather scraps and take it from there.
6. Embossed Metal DIY Earrings by DIY Candy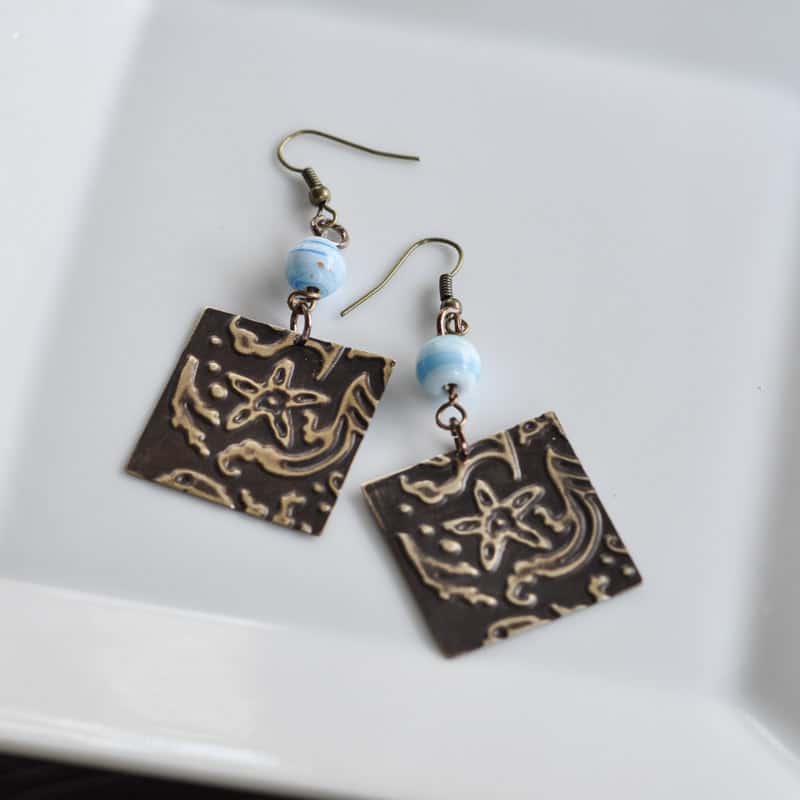 Embossing metal is really simple, and you can make beautiful projects with this method. These earrings are quick to make, and look like something out of a department store!
7. Feather Earrings DIY by Moms and Crafters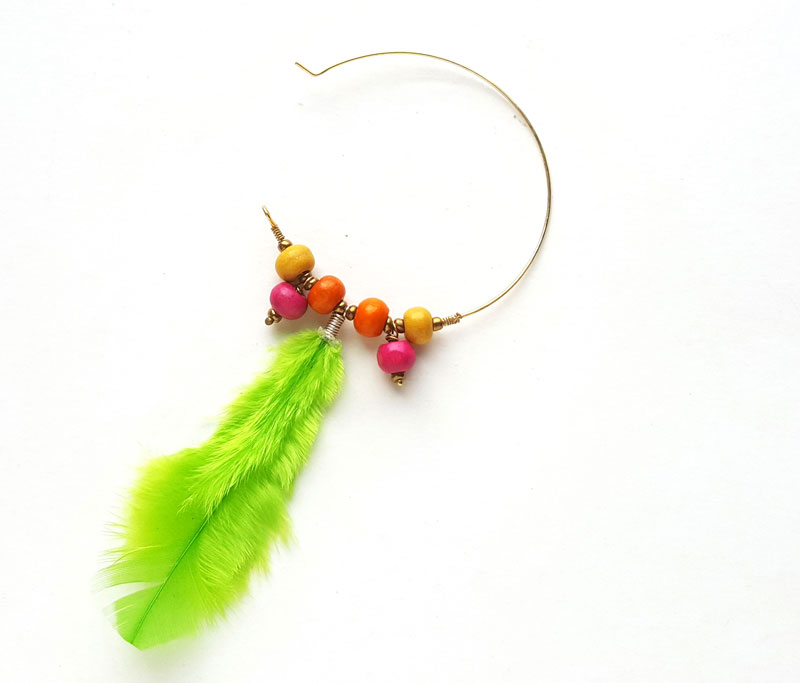 This feather earring DIY is both chic and bohemian! These simple feather earrings only require seven materials to make these beautiful DIY dangle earrings. You can easily customize this to your liking by using different feathers and beads for variation.
8. 3D Print Jewelry by Julie Measures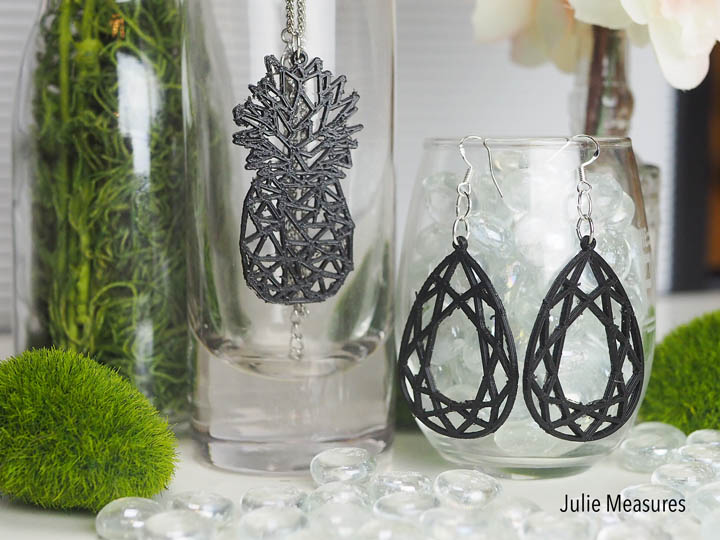 If you can't find the perfect shape or style jewelry you like, you can make your own with these 3D printed earrings! It only takes a few simple steps and you have amazing custom made jewelry. Because it's small scale, jewelry is the perfect way to get started with 3D printing at home.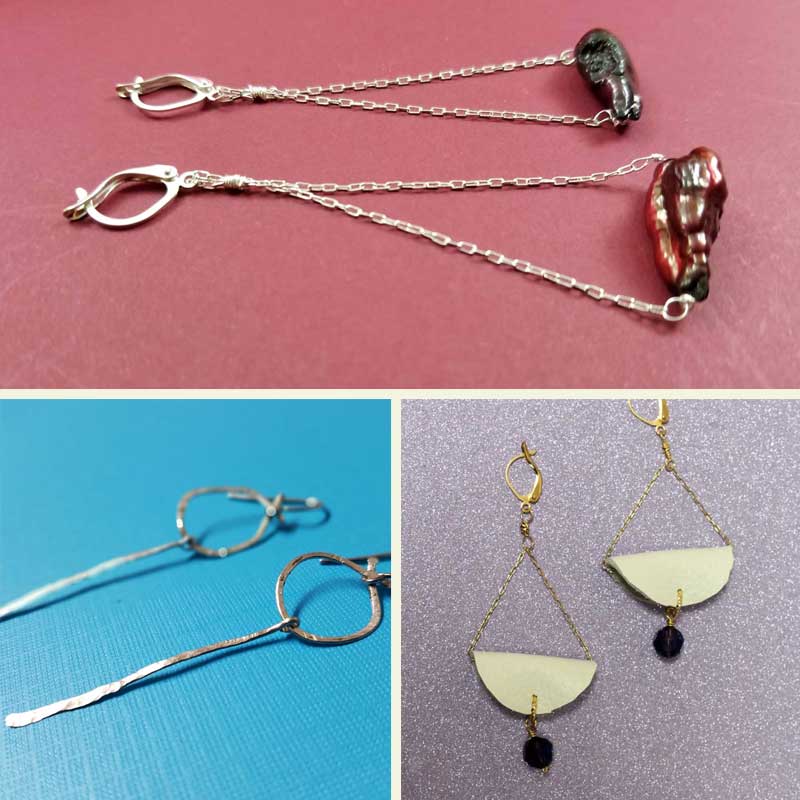 ---
Traditional DIY Dangle Earrings:
Sticking to traditional dangle earring styles, these classic DIY dangle earrings will fit with almost any outfit!
9. DIY Glitter Earrings by Artsy Fartsy Mama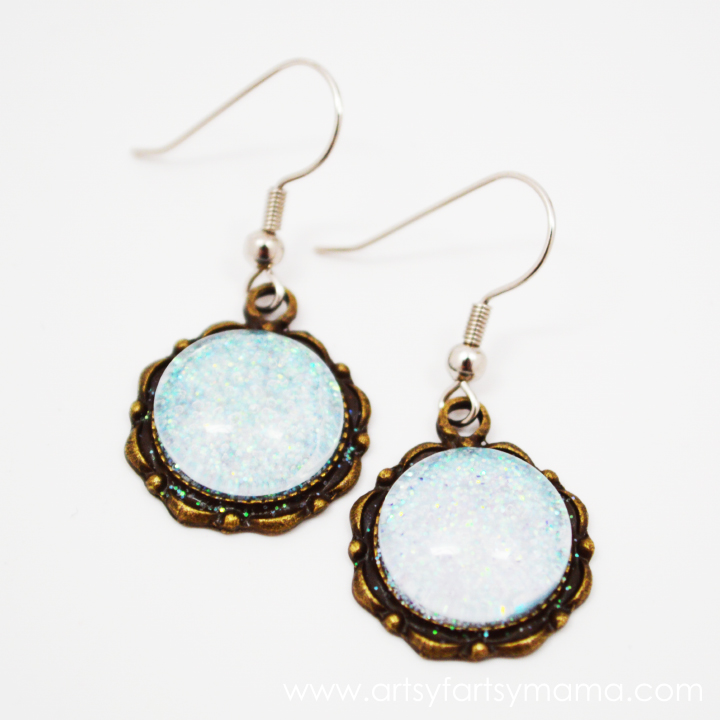 If you love glitter, you are going to love these adorable glitter earrings! They're so simple to make, and only take a few minutes to put together. Make a few dozen to hand out – they're that simple!
10. DIY Hot Glue Earrings by Mama Smiles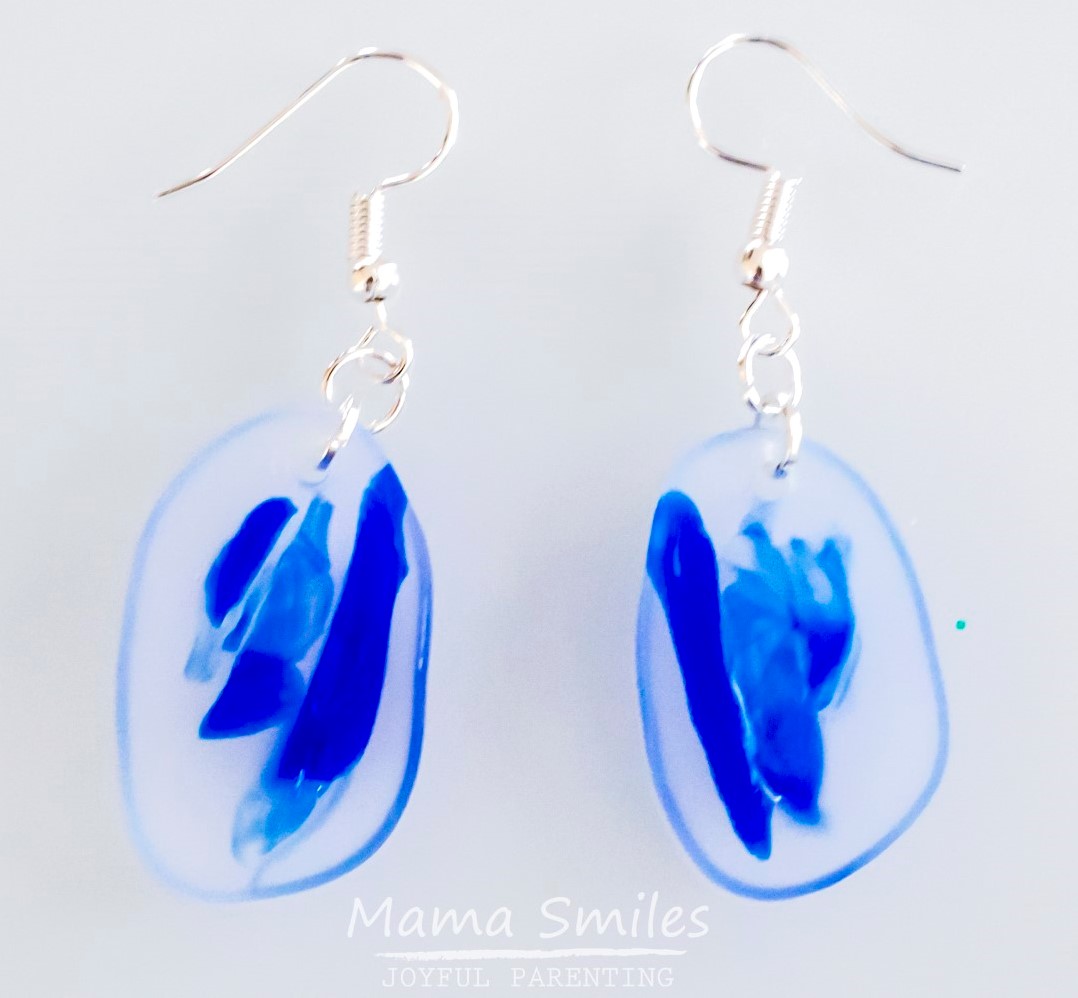 These earrings look so amazing, you won't even notice they're made out of glue! Using a few simple materials, you can make your own custom made earrings out of a little bit of hot glue.
11. DIY Geometric Earrings by Artsy Fartsy Mama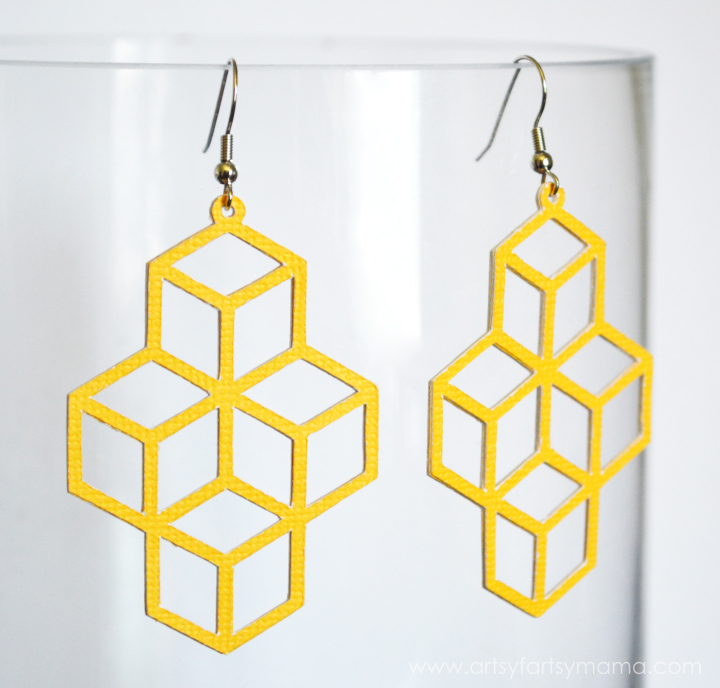 These geometric earrings are a classic statement piece but without the huge price tag! You can make these yourself for a fraction of the cost, and still have high end looking earrings.
12. DIY Copper & Gold Gem Drop Earrings by Mod Podge Rocks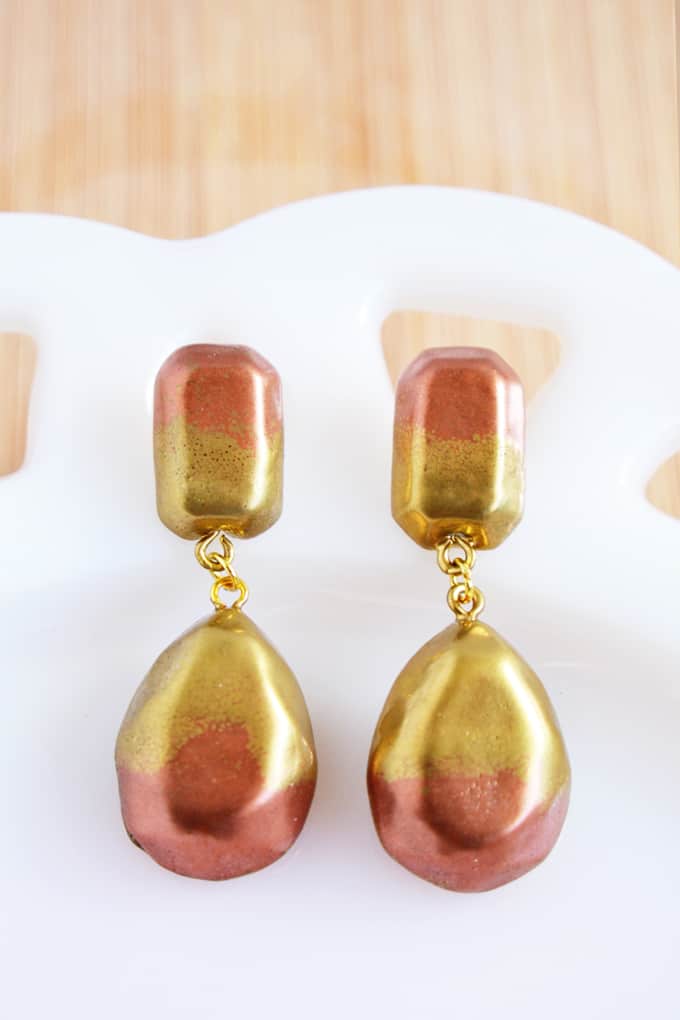 These simple gem drop earrings create a two-tone look using a mold and embossing tools. These earrings are easy to make, and you can customize it to have whatever colors you desire!
13. DIY Beaded Earrings by Moms & Crafters: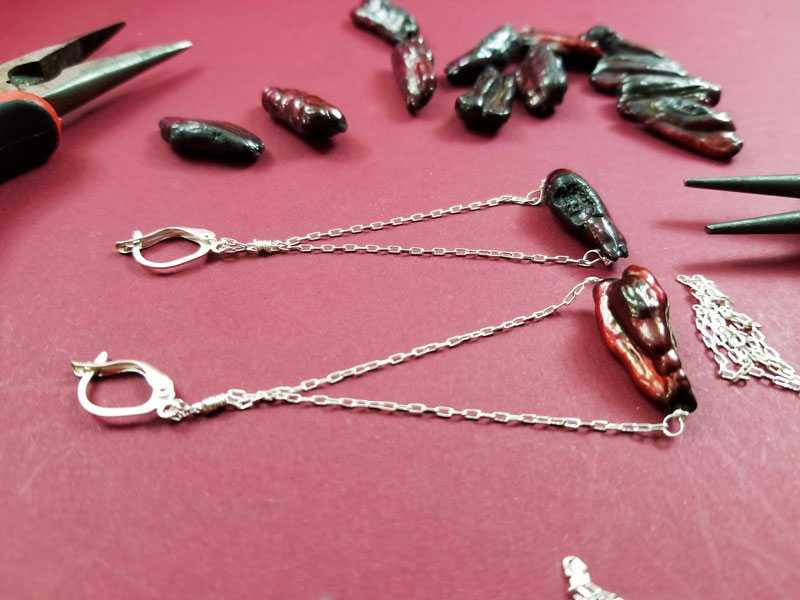 Designed to go with my necklace from my sister's wedding, these stunningly elegant trapeze-style earrings can be adapted to any color and bead type! A larger statement bead in the center, vs. a row of gemstone chips would give two totally different looks.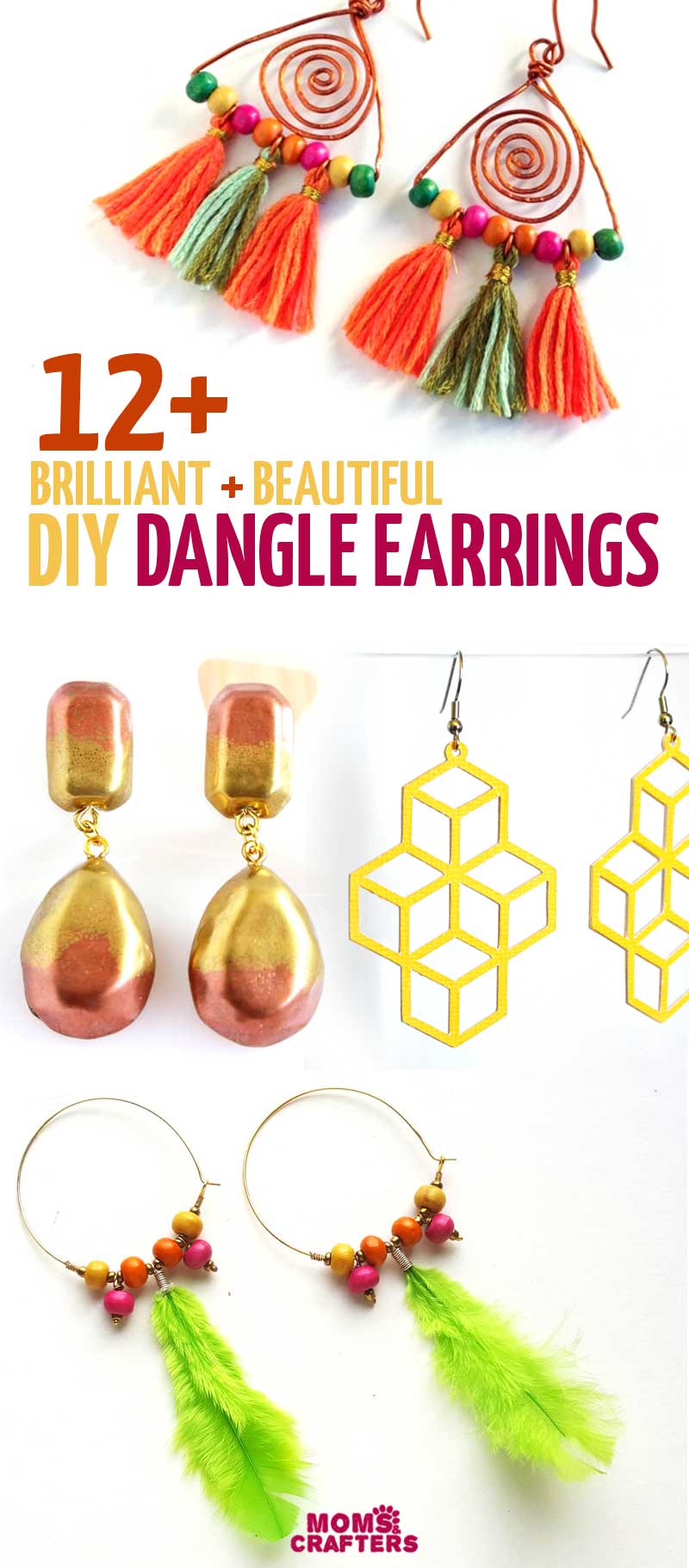 What are your favorite DIY Dangle Earrings? Do you love making your own jewelry? Comment below!