These Cricut storage ideas and hacks will help you get that craft room under control! Read my list of things to make with Cricut if you're looking for some creative inspiration. This post contains affiliate links.
---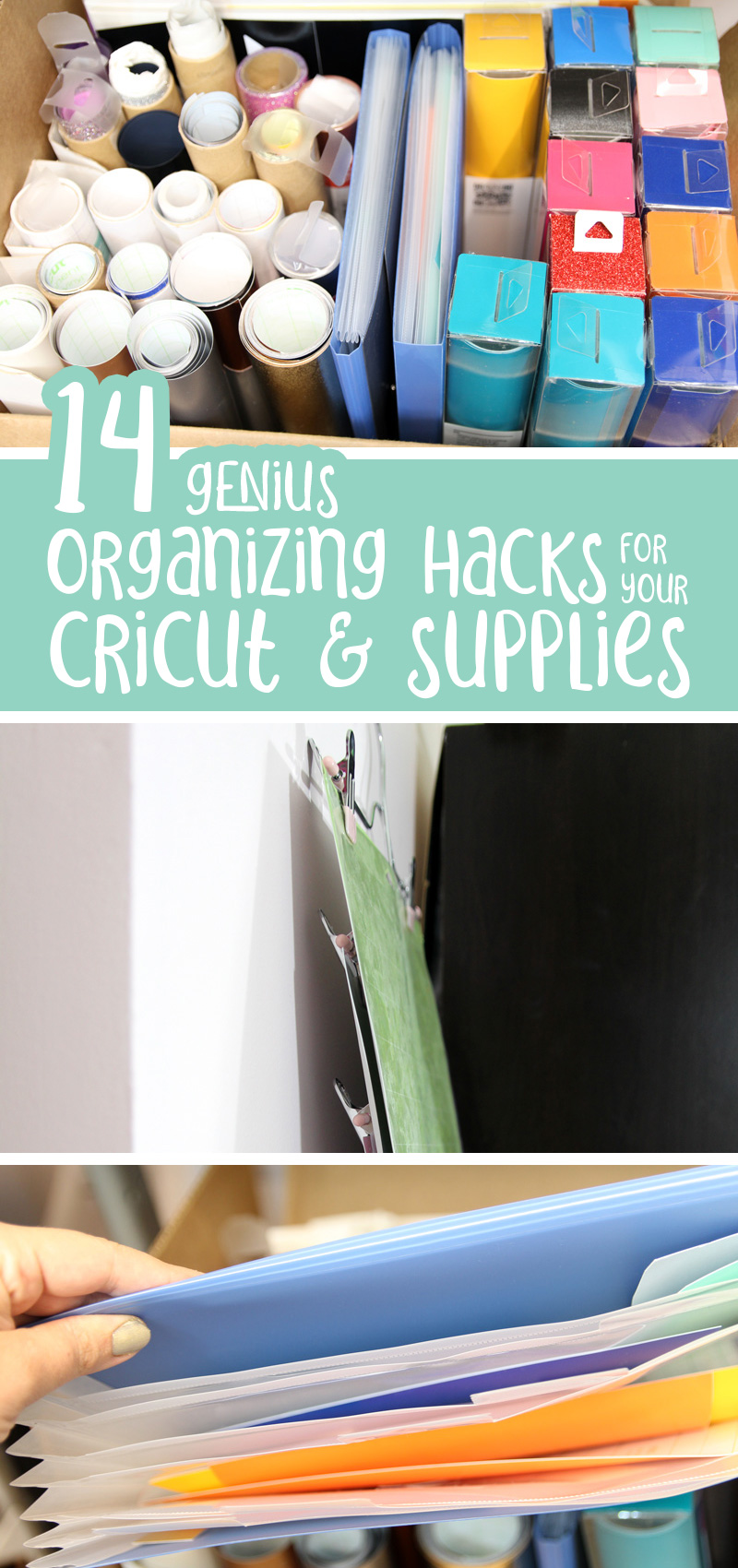 There's nothing like an efficiently organized craft room to get the creative juices flowing, and Cricut storage provides its own set of challenges.
Today, I'm going to share with you some of my favorite Cricut storage ideas and solutions that I've tried over the past couple of years. These include ideas for Cricut vinyl storage, as well as other materials, tools, blades, and other supplies. I also shared a couple of hacks for how to keep your mats handy, and general Cricut workstation ideas.
I truly hope this is helpful!
Cricut Vinyl and Material Storage Ideas
Cricut vinyl presents a unique storage challenge. The rolls seem to have a mind of their own and jump all over the place! But because they are rolled, they avoid creases, even in longer lengths. Here are some Cricut vinyl storage solutions that I've tried:
1. Store rolls and other materials upright in a cardboard box:
I currently have most of my materials, excluding a few bulk rolls, stored upright in a cardboard box. Eventually, I hope to remove the flaps and decorate the box, but for now it's a fantastic solution.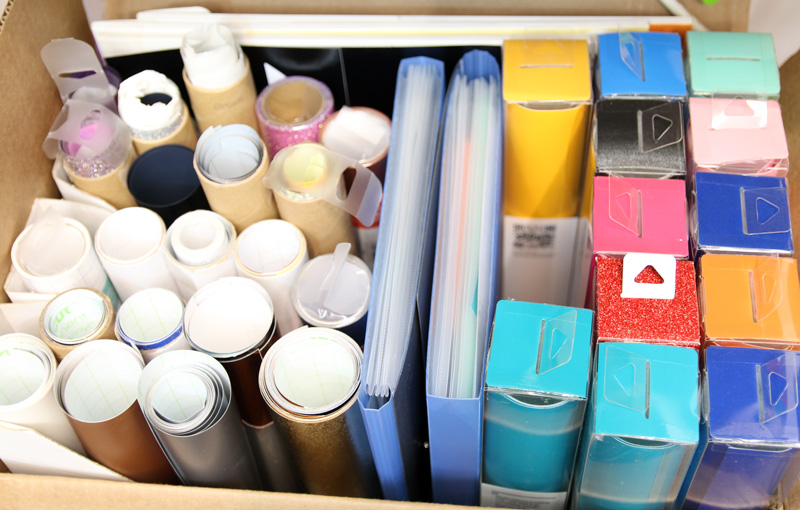 This solution is great for those of us who have a Cricut workstation based on a mobile cart, with extra shelving for storage.
Alternatively, you can simply use a storage container that's at least 13 inches deep and the right size for your work area.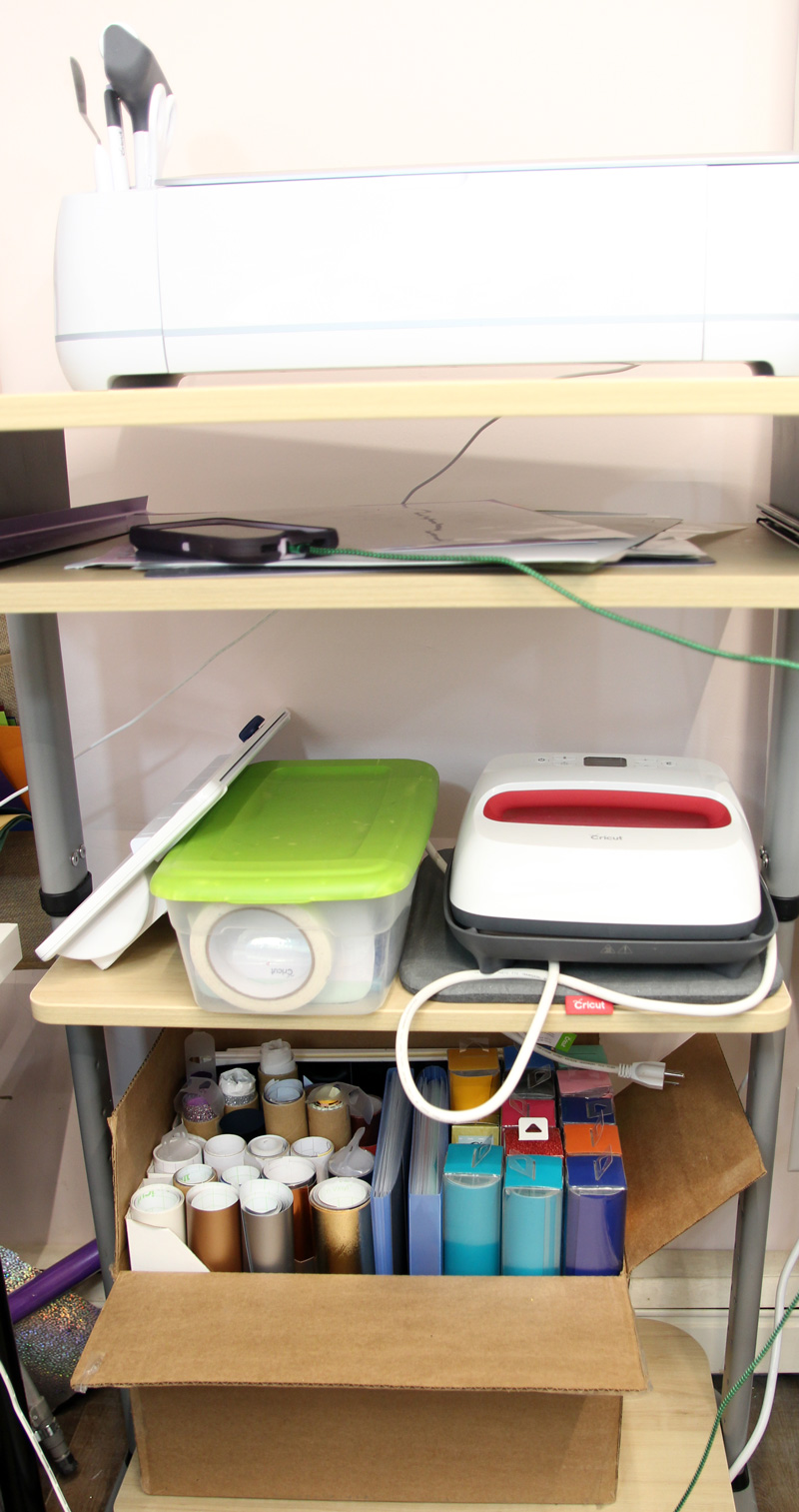 2. Use magazine files to corral like rolls
Even within the cardboard box, I have additional organization to keep things in place.
First, I like to use magazine files to keep certain rolls grouped together, and to help them stand upright. I even use this on open shelving sometimes to help corral items.
Smart Vinyl rolls that come in boxes don't need this.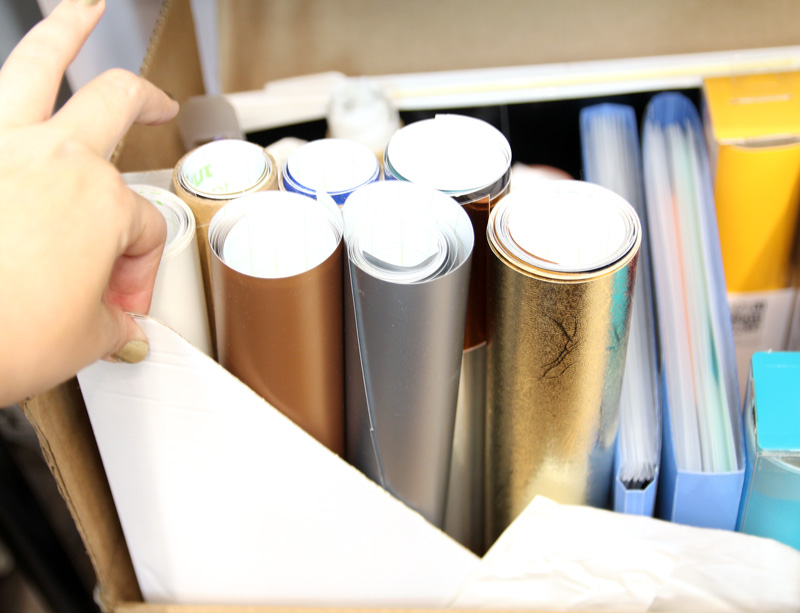 3. Store vinyl rolled in inner tube, label the outside
For vinyl that comes wrapped around cardboard tubes, you can roll it a bit tighter and store it inside the tube to keep it rolled. This is great for thinner vinyl types that don't hold closed in a roll.
You can also label the cardboard roll with scraps of the vinyl that's inside (but I don't think that trick will work for iron-on).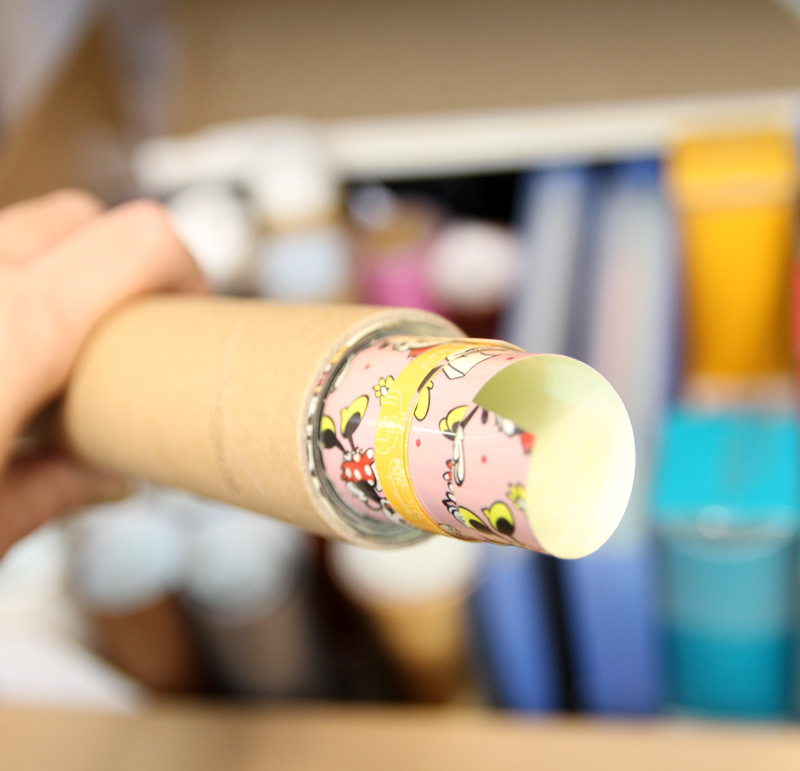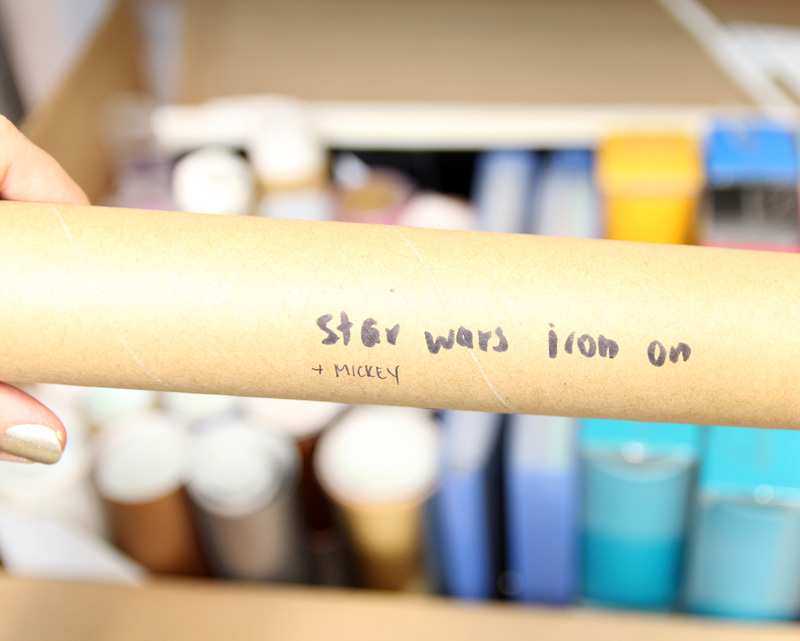 4. Organize scraps in file folders
Can't seem to find the correct scrap at the correct time? I used folio file organizers to sort them by color family. I haven't finished organizing this, but when I do, I plan to place a scrap of vinyl on the tab to showcase the color family. It's less important to have each shade featured and more important to give a general idea of what's inside.
Got too many? Use a 3 ring binder with sheet protectors or individual binder envelopes and colorful divider flags to organize your scraps.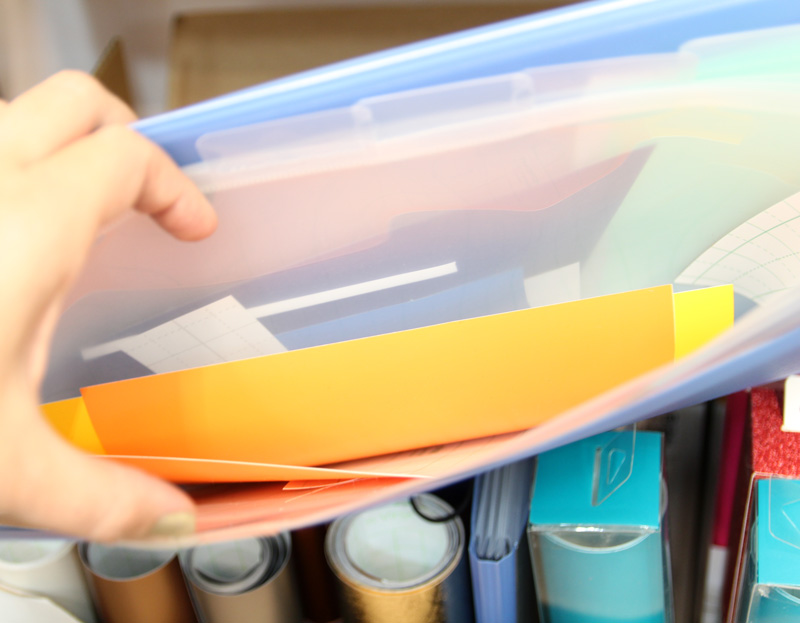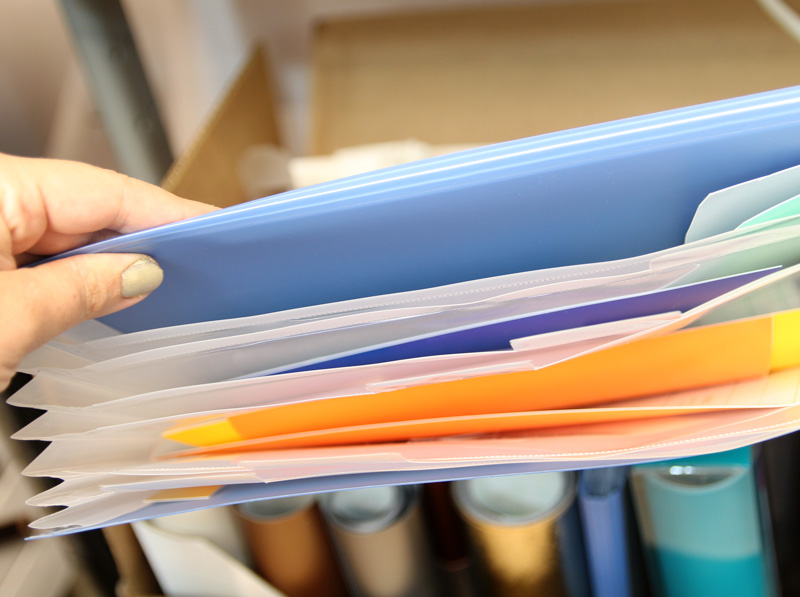 5. IKEA shopping bag organizer
This is a super popular Cricut storage solution that I've just implemented in my craft room! For those vinyl and iron-on rolls that you use the most and want to keep on hand, the Ikea Variera shopping bag holder has holes just the right size for vinyl rolls!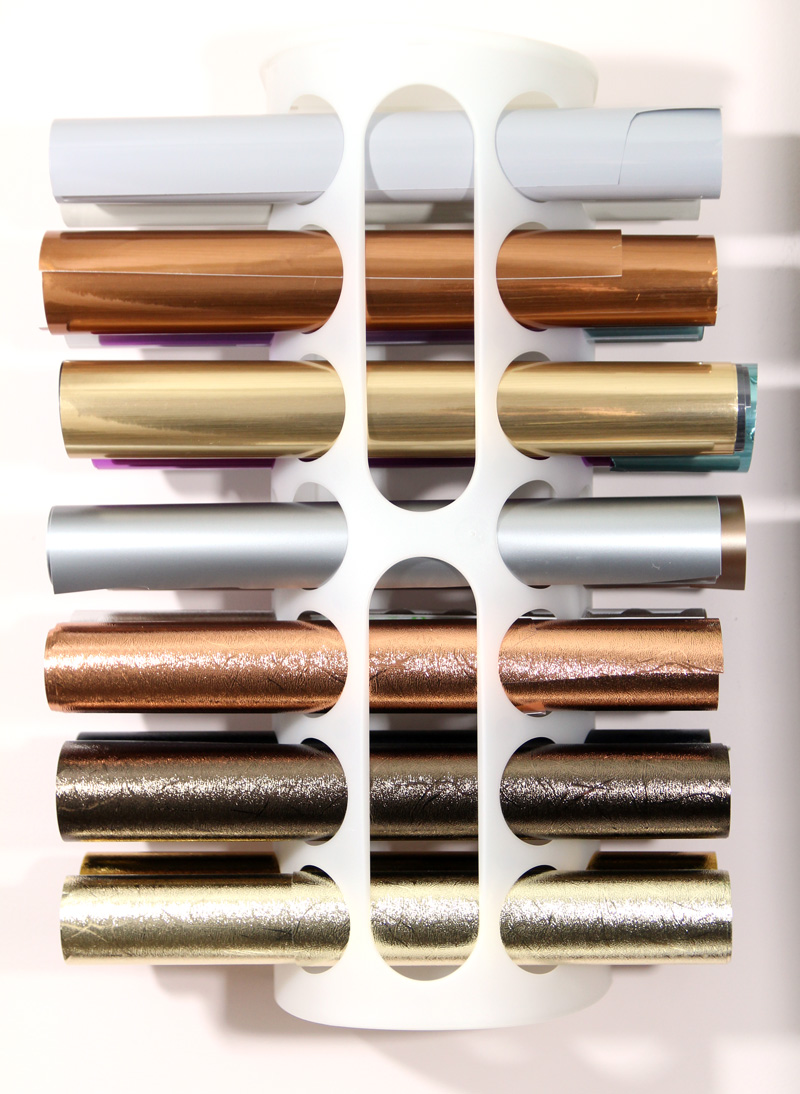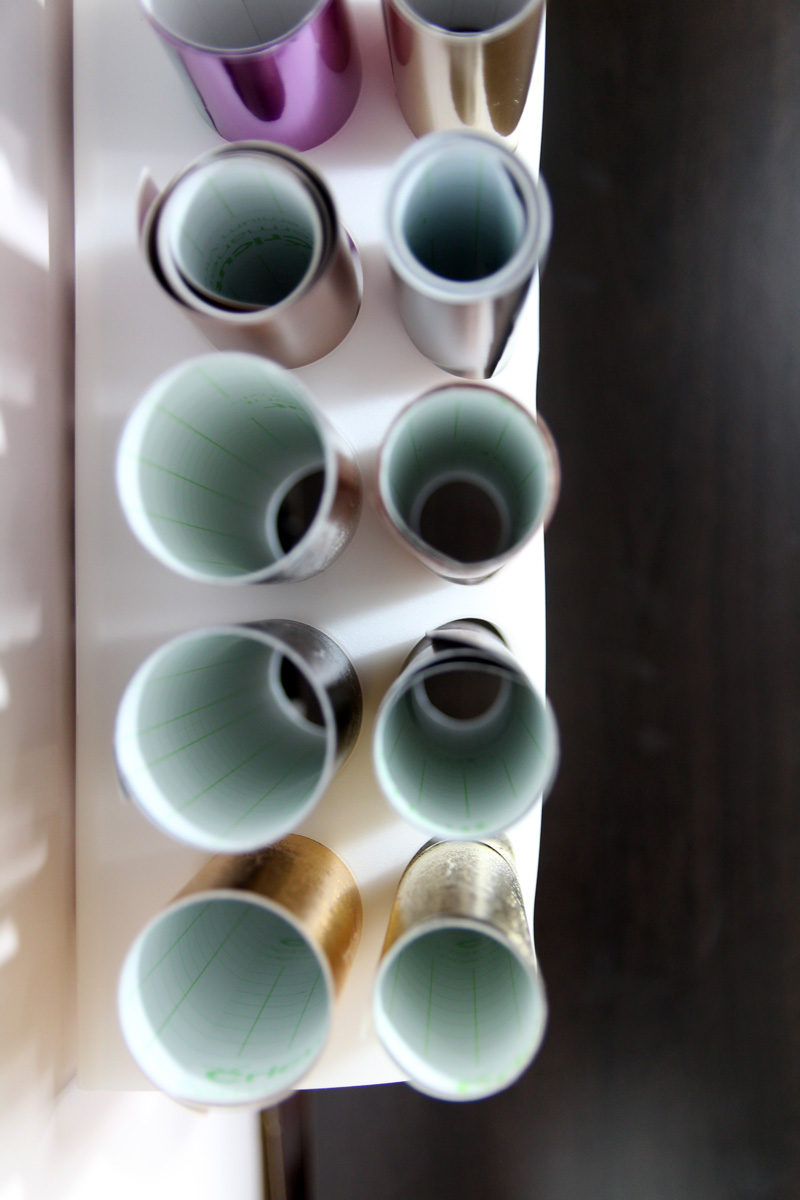 6. In scrapbook paper boxes
I'm a big fan of these scrapbook cases from Michaels and I use them for loads of my storage!
I store scrapbook paper that I use with my Cricut, as well as leather – both sheets and scraps! I also store my Infusible Ink materials in these.
Vinyl rolls fit nicely in this too, making it a great solution for organizing vinyl on book or wall shelves. You can also label them. One day, I'll get to it!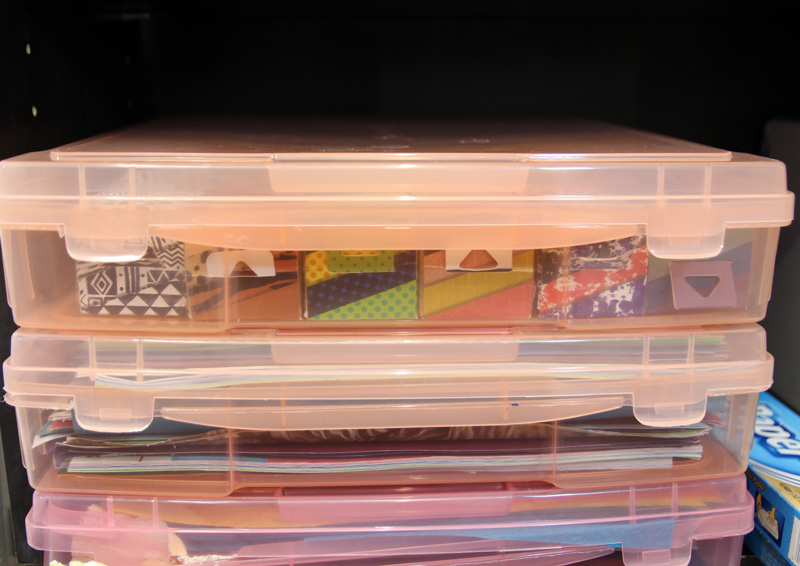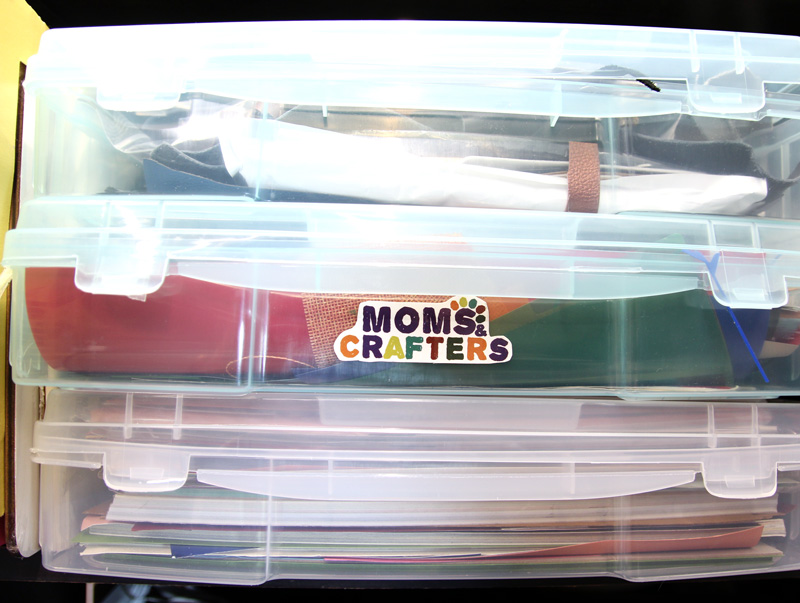 Cricut Tool, Blade, & Supply Organization
Tools need to be kept as handy as possible, so storing them well means having options that suit your workspace. I keep mine in the actual machine cup as much as possible, but here are a few additional solutions.
I haven't tried this but it looks great! It's designed for storing your blades, so it's very space-efficient, and it doesn't look too shabby either!
This is the perfect solution for those of us who tend to forget to remove the correct blade from the machine storage before starting a project.
2. Use a shoebox sized storage container for assorted materials and writing tools
I keep a storage container with all the odds and ends I use a lot. This includes pens, infusible ink markers, masking tape, rubbing alcohol, my XL scraper, and more.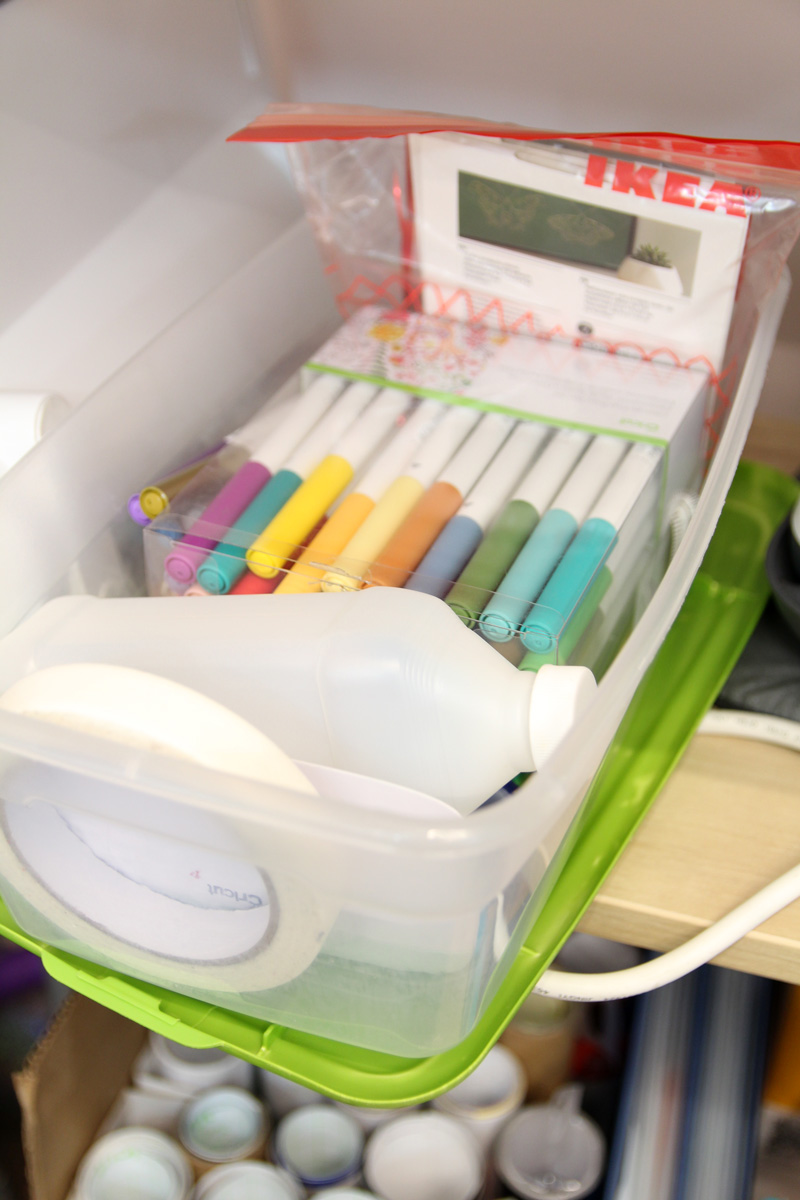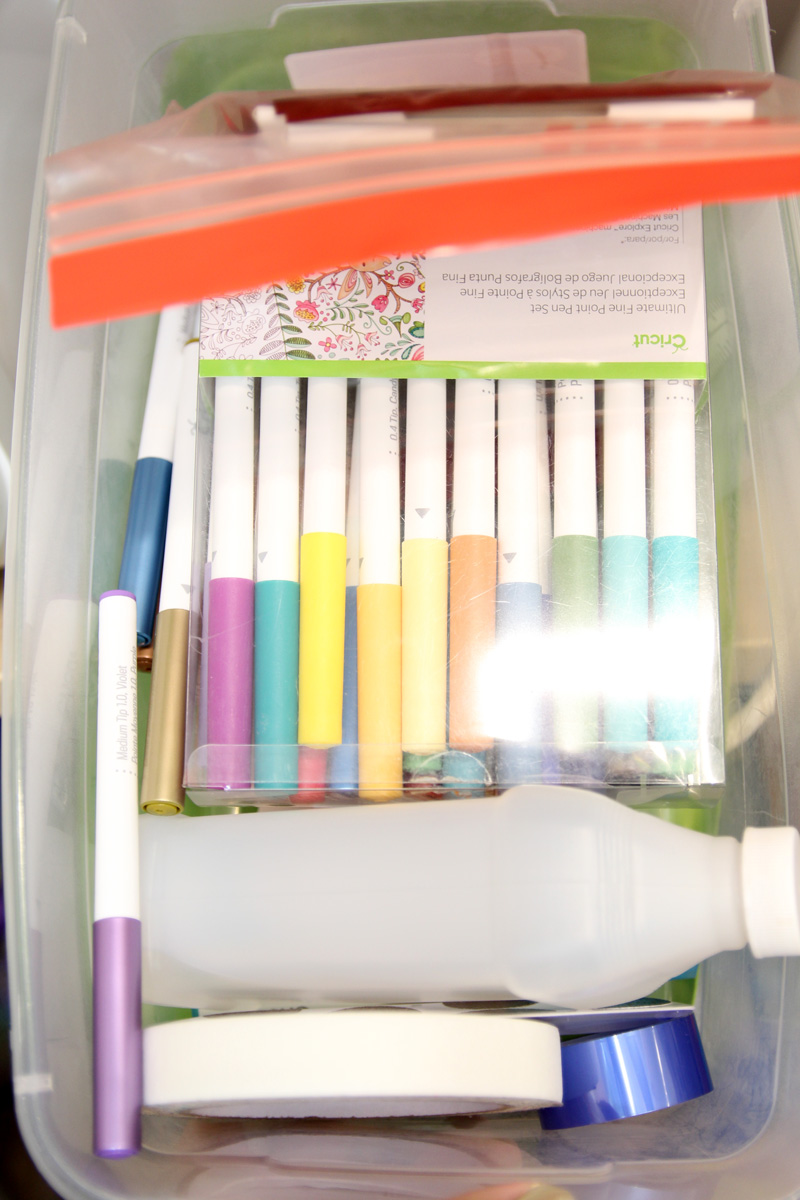 3. Craft Cart
A popular option that I don't personally use, a craft cart is a great mobile solution. You can pull it to your Cricut workstation to have things handy, without occupying the area when you're not creating on your Cricut.
4. Coffee can/mason jar
I keep additional tools in a mason jar and Cafe du Monde coffee can (I couldn't throw away a classic New Orleans souvenir, could I?!) Sometimes centuries old solutions are the best way to store our gadgets!
This is a great option for Cricut crafting tools and weeding tools that are often brought to a separate surface to work with. If you tend to weed at a separate desk, you can simply store these there. Your scraper and spatula, however, which are used for securing and removing materials on the mat, are more convenient near your machine.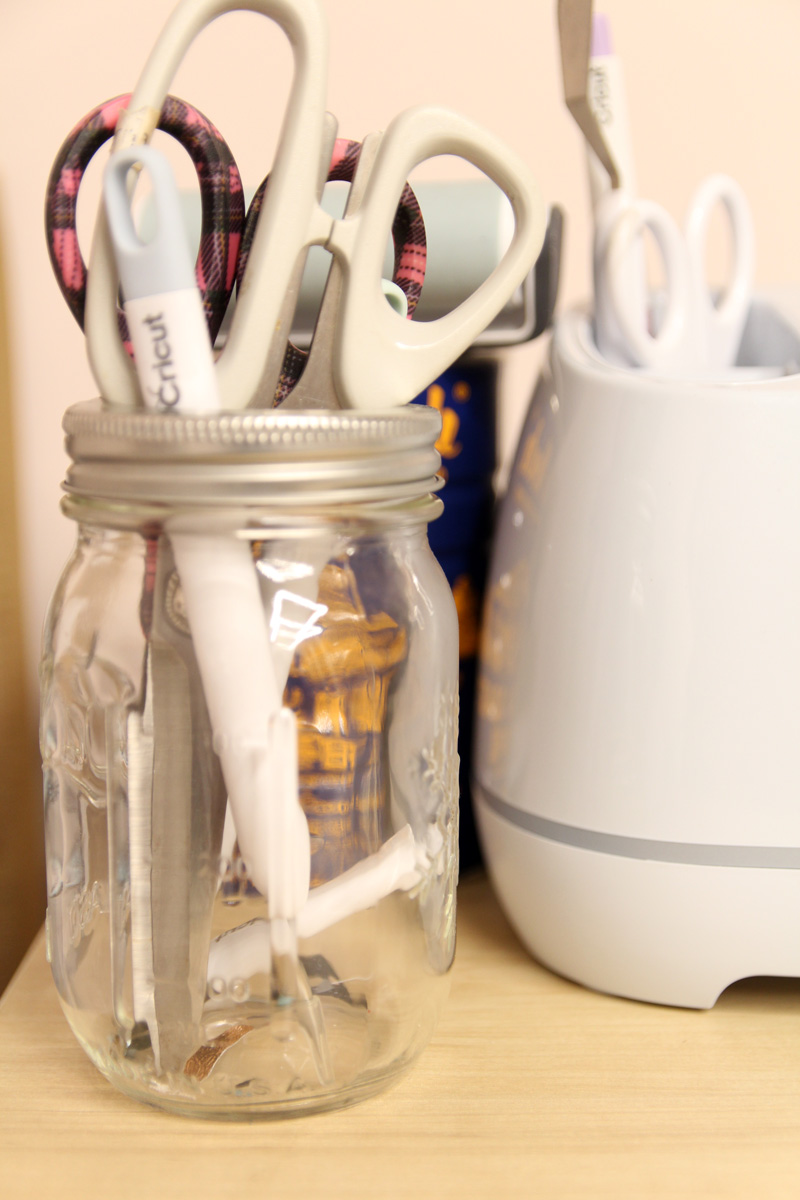 5. Insert for machine storage
This cool Design Space project hacks the inside of your machine to work better for your tools. They float around less and stay super organized. There's nothing like a Cricut project made for your Cricut, right?!
Cricut Mat Storage Hacks
Cricut mats need to be kept super handy, but have a mind of their own! They slip and slide… so how do you store them? Here are some super clever Cricut storage ideas for your mats.
The hang holes on the mats make them perfect for hanging on smaller sized Command hooks. The only drawback is: you need a good hanging surface for this. I have mine on the side of a bookcase that I store some of my Cricut supplies in.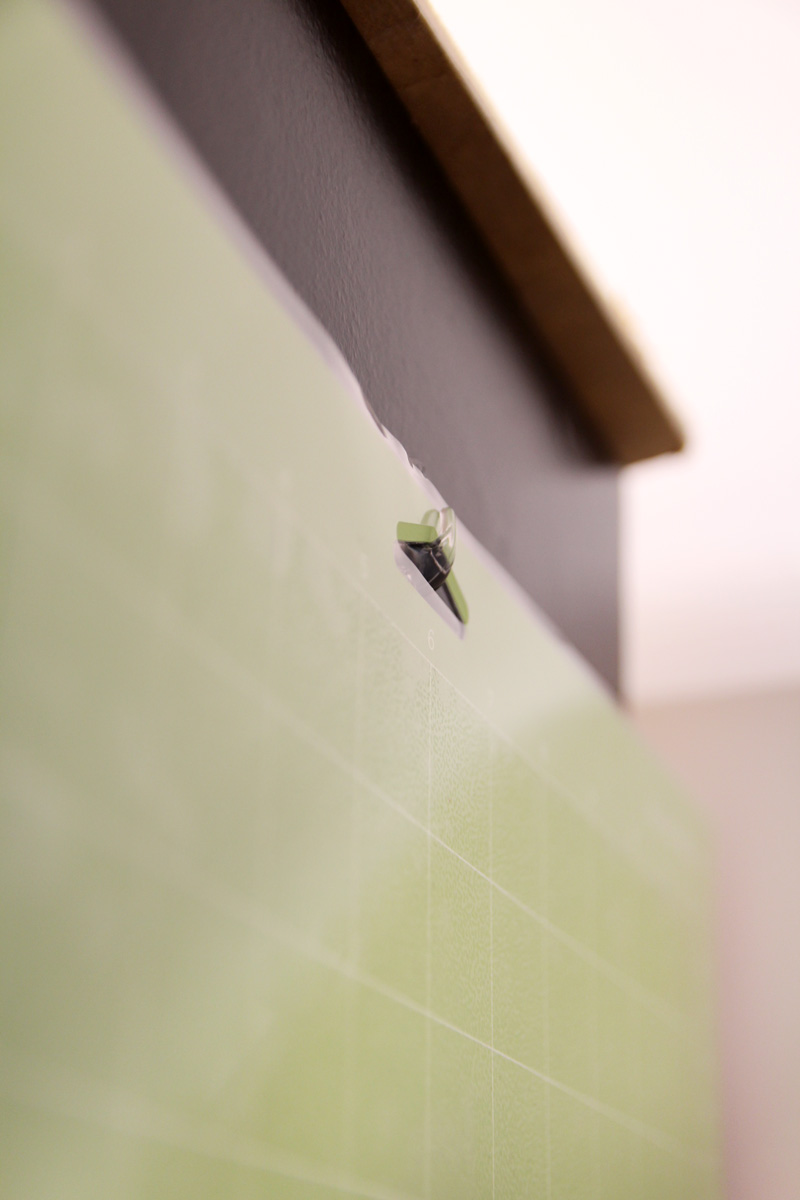 2. Multi level skirt hanger on hook
In my old place, I stored them on a skirt hanger hung from a wall hook. This allows you to use a sturdier hook as it doesn't need to fit the mat hole. However, there's a limit to how many you can store on one hanger. Too many gets overwhelming. It's great for when you only need to keep 1-2 of each type handy (max) and it's not ideal for 24 inch mats.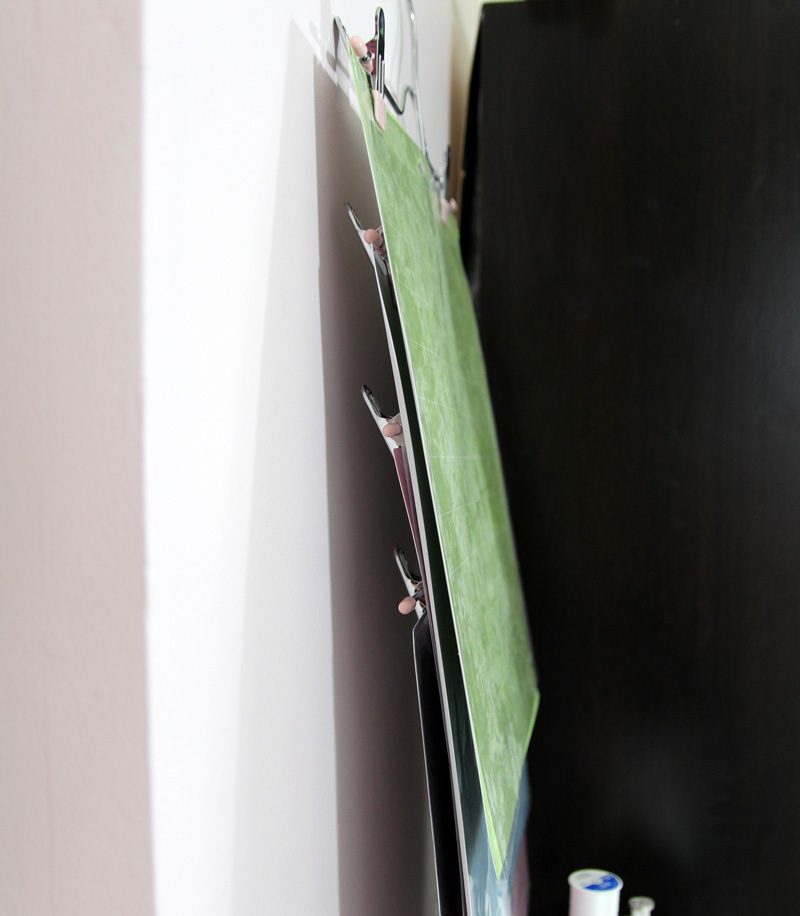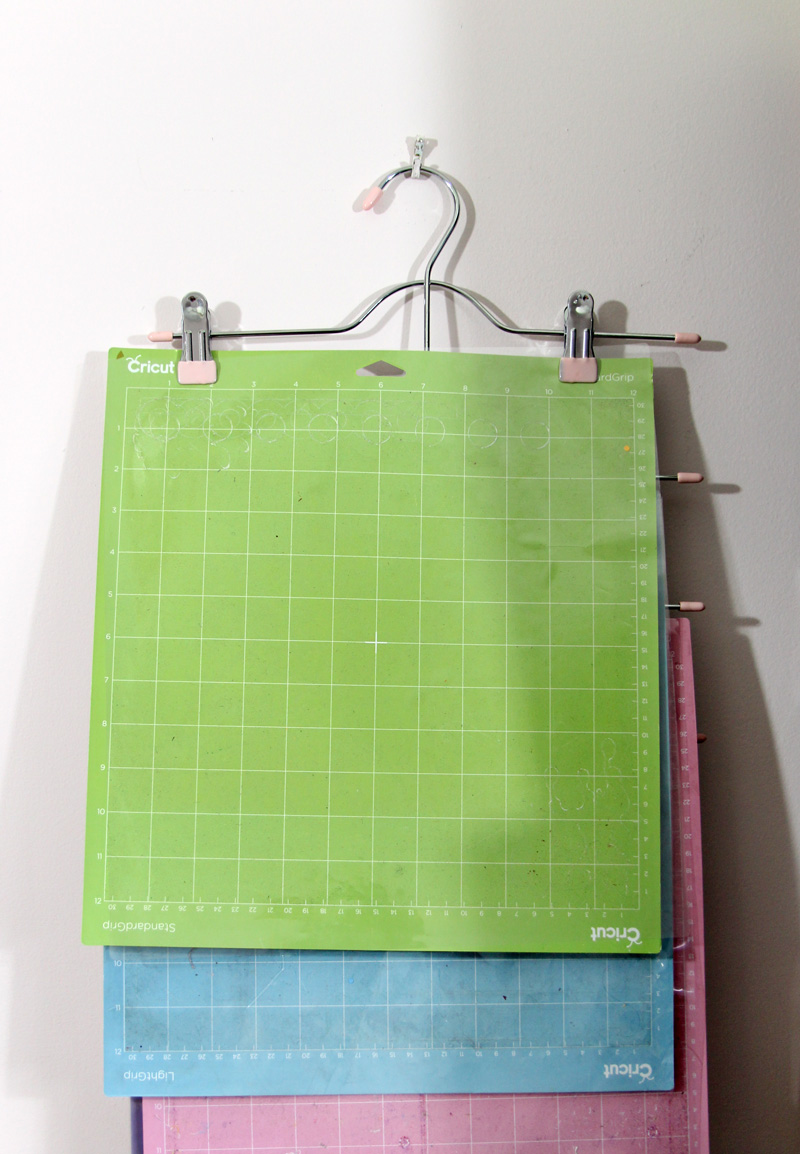 If you're storing your machine on any type of computer desk with a pull-out keyboard tray, that's the perfect place to park your mats! When you need it out of the way, close it. When you're crafting, you can use it as a surface for applying materials to your mat.
And even if your desk doesn't come with a built in keyboard tray, there are plenty of aftermarket options. Look for the deepest one that you can find that makes sense for your desk.
This is what I use for my mats now, and it's my favorite solution. I still keep my backup mats on Command hooks on the side of my bookcase, but this is my main mat storage right now.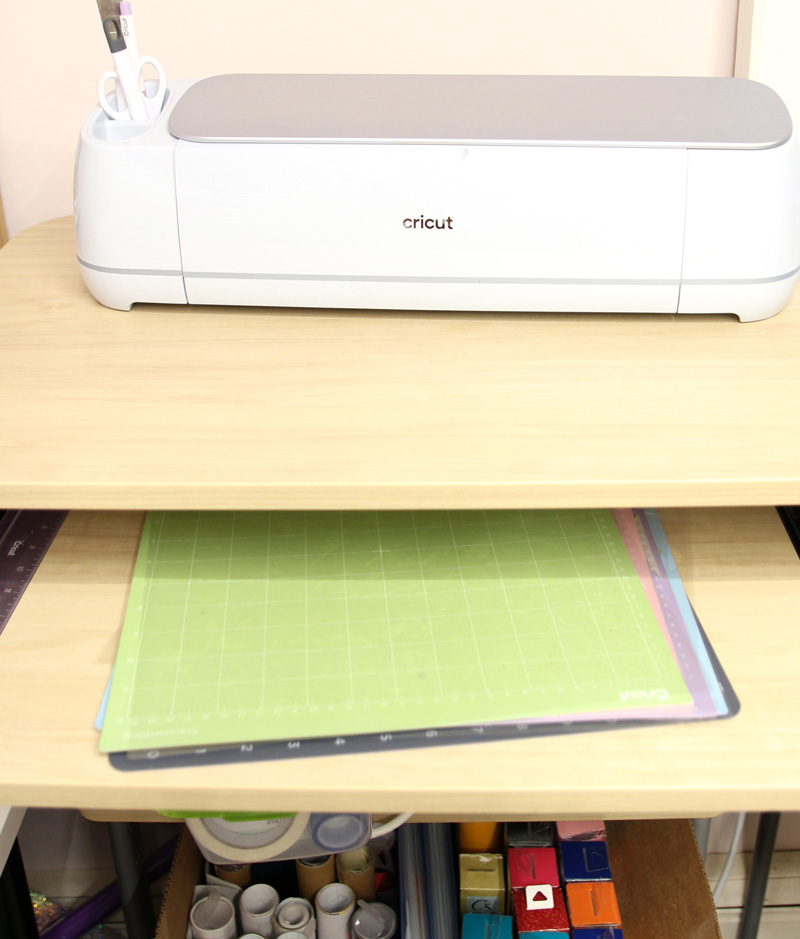 Got any more Cricut storage ideas to share? Comment below with your favorite solutions!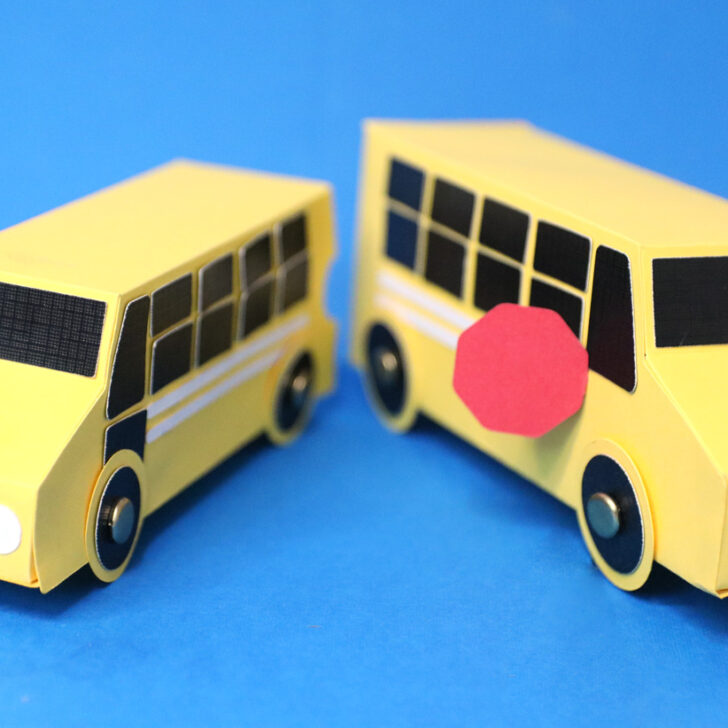 This beautiful school bus template comes in both SVG cut files and PDF printables to use as a gift box or paper toy! When you're …