Toy animals are not just a great toy, but they make for a really great craft material as well so I decided to share with you some things to make with toy animals. I've used plastic toy animals in a few of my own crafts such as this animal wall hanging, but it's always fun to see how other bloggers craft with them too. Disclosure: this post contains commissioned links and images.
[convertkit form=5128039]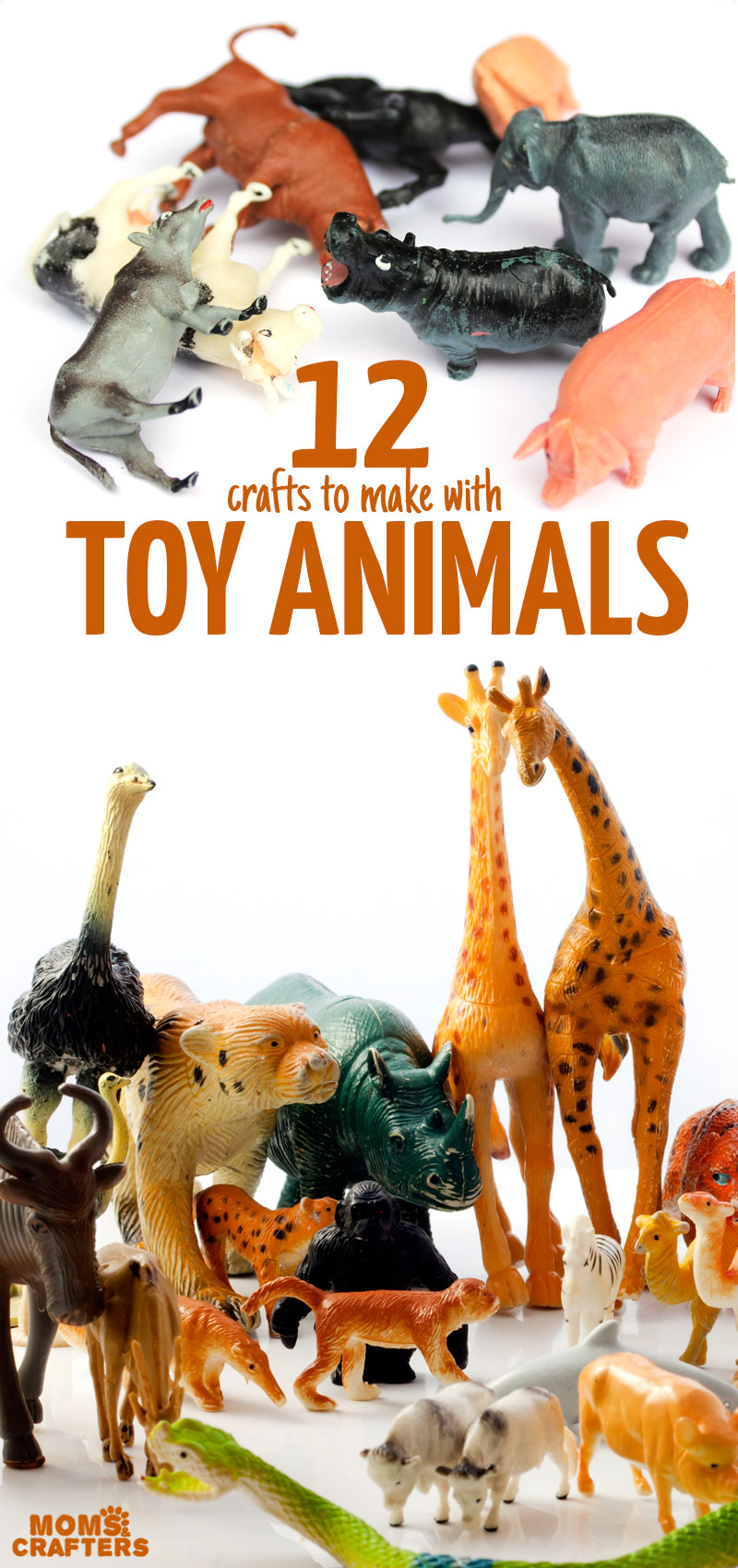 Whether you have a huge stash at home that you're looking to upcycle, you find some cool ones at the dollar store or flea market, or you invest in some nicer and more detailed ones, toy animals are a fun way to add a quirky dimension to any project for animal lovers!
Copyright:
All of the images for these fun crafts for things to make with toy animals were used with the permissions of the respective bloggers for the purpose of this post. Click on the title link or image for the full tutorial.
I have created a square and vertical image for your convenience for sharing these things to make with toy animals. Please use the first or last image in this post when sharing and not one of the individual photos below, out of respect for the creators' copyrights.
5 Animal decor ideas using toy animals:
1. Animal Wall Hanging by Moms & Crafters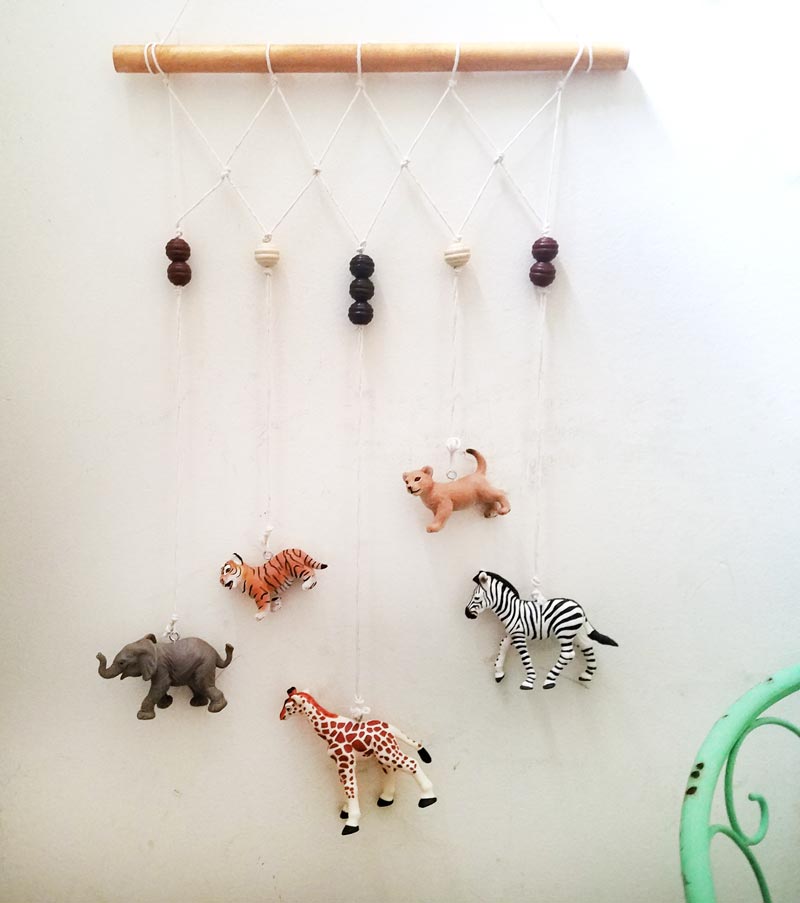 This is such a terrific craft to make with toy animals to spruce up a playroom or nursery. If you've got a safari theme going on, this artistic animal wall hanging is the perfect touch! This craft uses high-end, quality animals; the great part is, when your children grow out of it, it can be dismantled and the toy animals can either be played with or used for a different craft! Aside from the animals, you'll also need some plain cotton twine, a dowel, and screw eyes for this craft.
2. A to Z Bookends by In Our Pond
These adorable bookends are such a creative way to use toy animals when crafting. They're perfect for displaying children's books on a shelf in their room, and I love the added touch of the specific animals used for the letters "A" and "Z". This craft is super fun and easy to make, and you will love seeing it every time you walk past your bookcase.
3. Mini Plastic Animals DIY Canvas Art by Mod Podge Rocks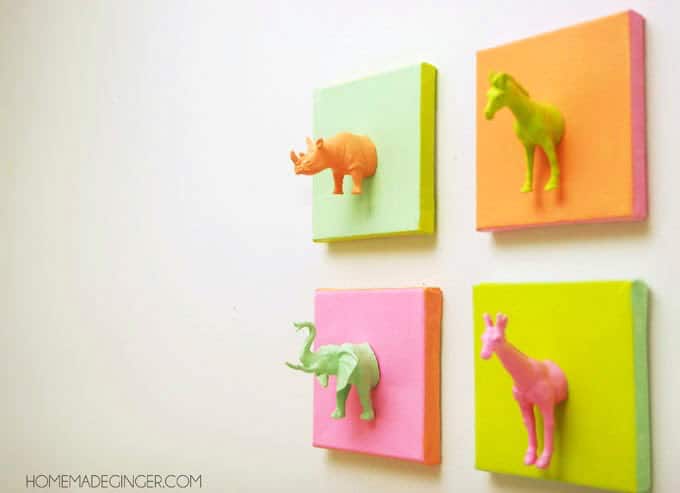 This artistic way to display gorgeously painted animals on canvas is such a cute addition to a nursery. Not just for your own- these animal canvas arts would also make a great baby shower gift! So simple to make, and they make such a "wow" statement. Make sure to customize them with paints that match your color scheme.
4. Cozy Hooks by Pysselbolaget
This craft requires some tools, but the results are so worth the effort! With some basic materials and spray paint, these adorable plastic animals are turned into an awesome, useful set of hooks. While they're not meant for hanging heavy items, like winter coats, they are perfect for jewelry, scarves or lightweight purses. (Please note- you may need to translate the web page to read more about this craft.)
5. DIY Plastic Animal Garland by A Bubbly Life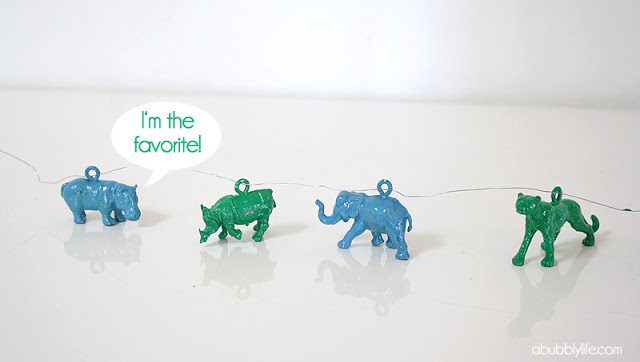 This garland made out of toy animals is such a cute addition to a nursery or playroom. It's easy to make and fun to display. It would also make great conversational decor for a baby shower- just pick your colors. Use any animals you like, and get crafting!
7 Smaller things to make with toy animals:
6. DIY Fall Globes by Moms & Crafters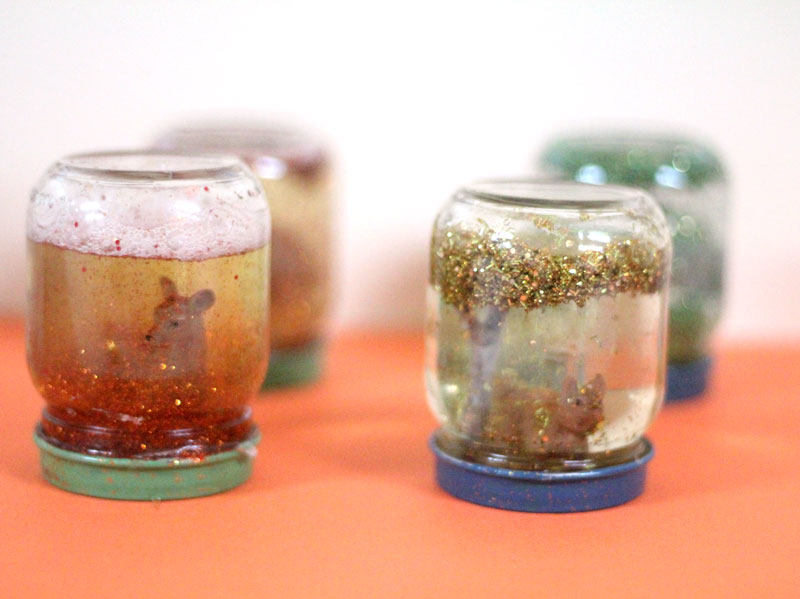 Snow globes are my all time favorite, so I took the general idea but upped the wow-factor by making these animal fall globes! You can use any jars available, but this is a great way to upcycle baby food jars. Use nail polish to paint the lids to match your woodland animals, and glitter glue with regular glitter to achieve the proper falling glitter look.
7. DIY Wild Animal Magnets by Lovely Indeed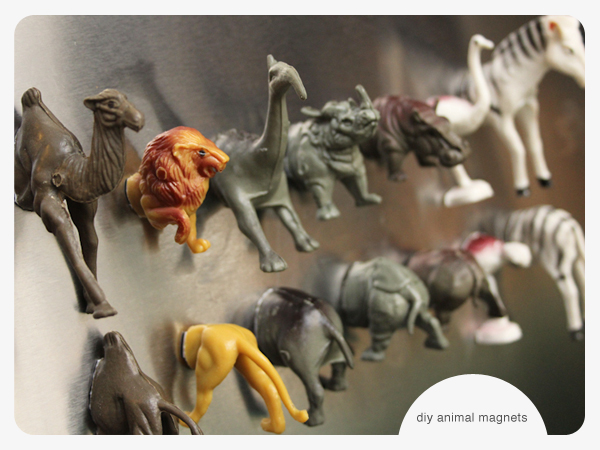 How cute are these DIY Wild Animal magnets? I love how both the front and backs of the animals are used! I am forever running out of magnets for my fridge, so crafting them from materials around my house instead of buying new ones seems like a win-win to me. If you figure out the correct polarity for the magnets to attach to all the fronts and all the backs, you can also play a fun game of mixing and matching the animals, making this craft one of the most versatile things to make with toy animals.
8. DIY Gold Patterned Beasts by heodeza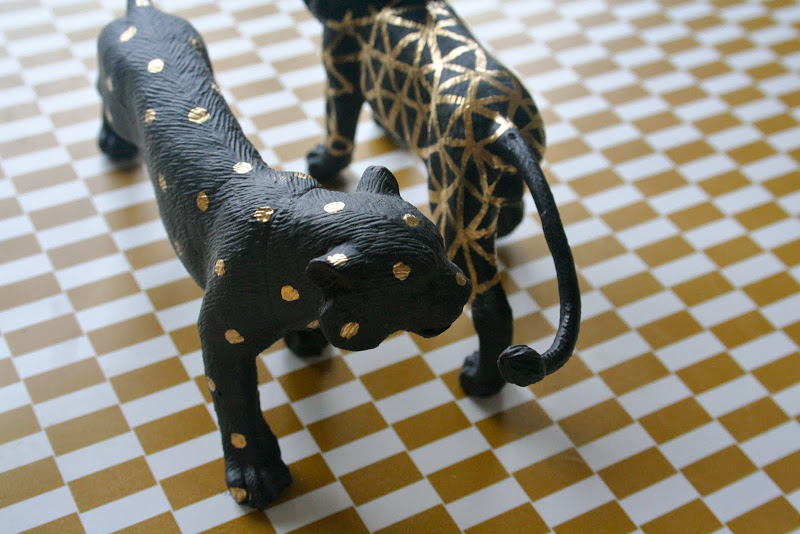 These gorgeously painted animals make for beautiful decor at a party or event, or your fireplace mantel! Gather a few together and mount them on a wooden block for a jaw-dropping centerpiece. I love the chicness of the black and gold colors, but you can use the same technique with other colors- though, metallics are definitely a win in my book.
9. Magnetic Necklace Holder by Little Gray Fox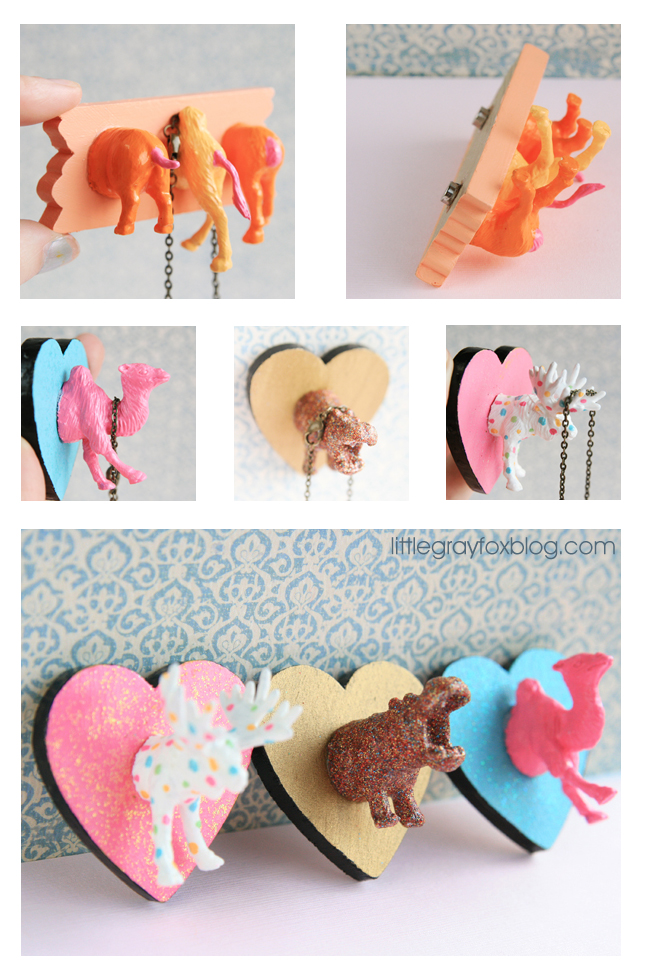 These magnetic necklace holders are so bright and colorful; you really need to make them pronto. They are every girl's dream- glitter and sparkles and more space to hang necklaces! They're individual, so you can hang them at different heights and in different places to decorate however you like best. They'll also make a great gift item for your BFF and are one of my favorite things to make with toy animals!
10. DIY Party Animal Magnets by Sugar and Cloth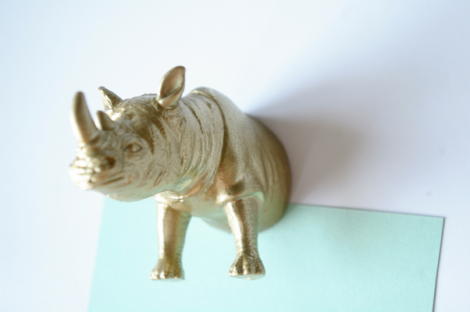 These animals-turned-magnets are so elegant, it's hard to believe they're a DIY craft. They are fairly easy to make, and you'll love displaying them on your fridge. You can use both front and back of the animals to make these magnets more, ahem, visually interesting, but using just the heads makes for a more 'mature' craft.
11. DIY Neon Animal Pushpins by A Bubbly Life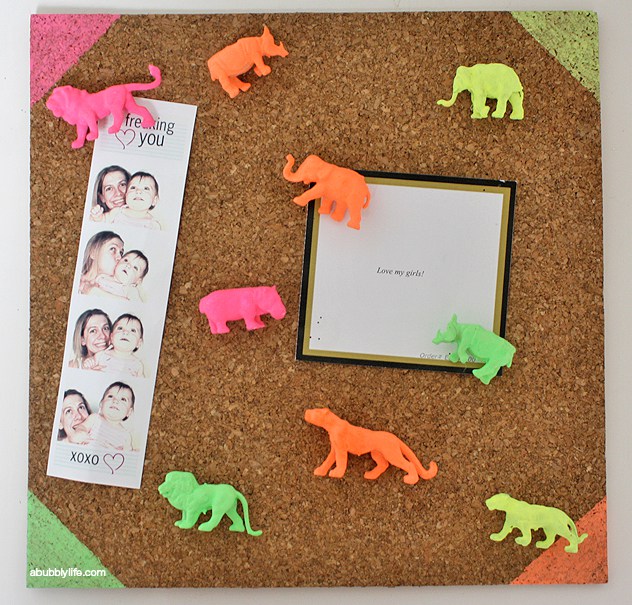 How fun are these brightly colored, all-around-fun animal pushpins? These neon animals are a super cute and colorful way to jazz up your cork board. I'm forever losing my pushpins (don't ask me how), so this craft seems like a good way to ensure I don't lose anymore: just follow the neon!
12. DIY Bunny Placecards by The Sweetest Occasion
I adore bunny rabbits, so turning some plastic bunnies into placecard holders for my next party totally speaks to me. This is a fairly easy, fun craft to make, and you can go with any color spray paint to match your party theme. If you want to get further use out of these cuties, you can use the same crafting method to turn them into sweet ornaments!
Got more ideas for cool things to make with plastic animals? Comment below!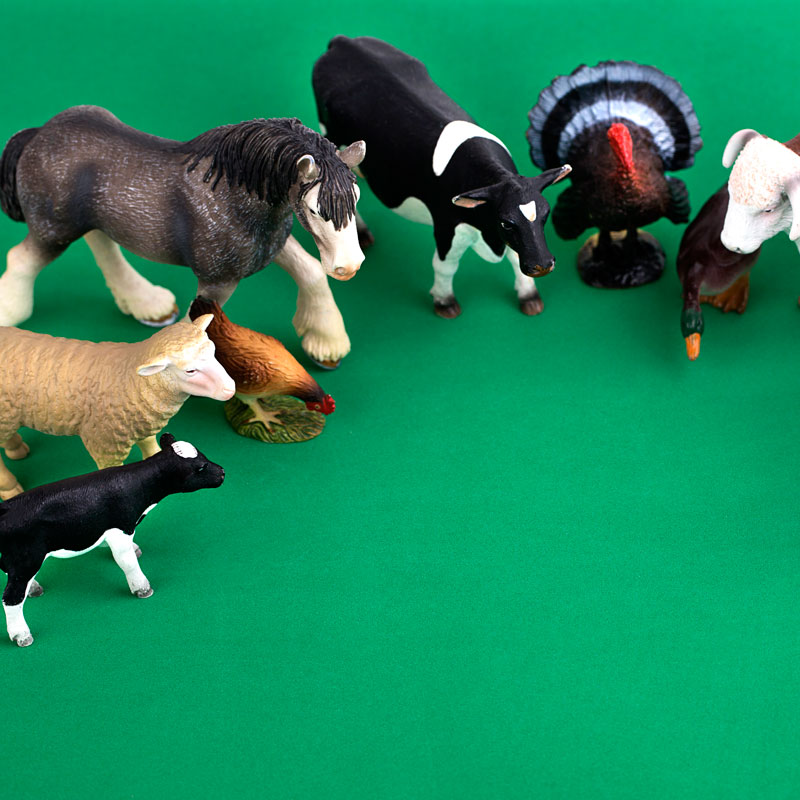 Loved these things to make with toy animals and want more like it? Check out the cool ideas below!