I hope you LOVE this winter snowflake coloring page for grown-ups, a fun and slightly different free printable coloring page! Check out the complete list of free printable winter coloring pages for adults and then stop back in for this one. Disclosure: this post contains affiliate links.
---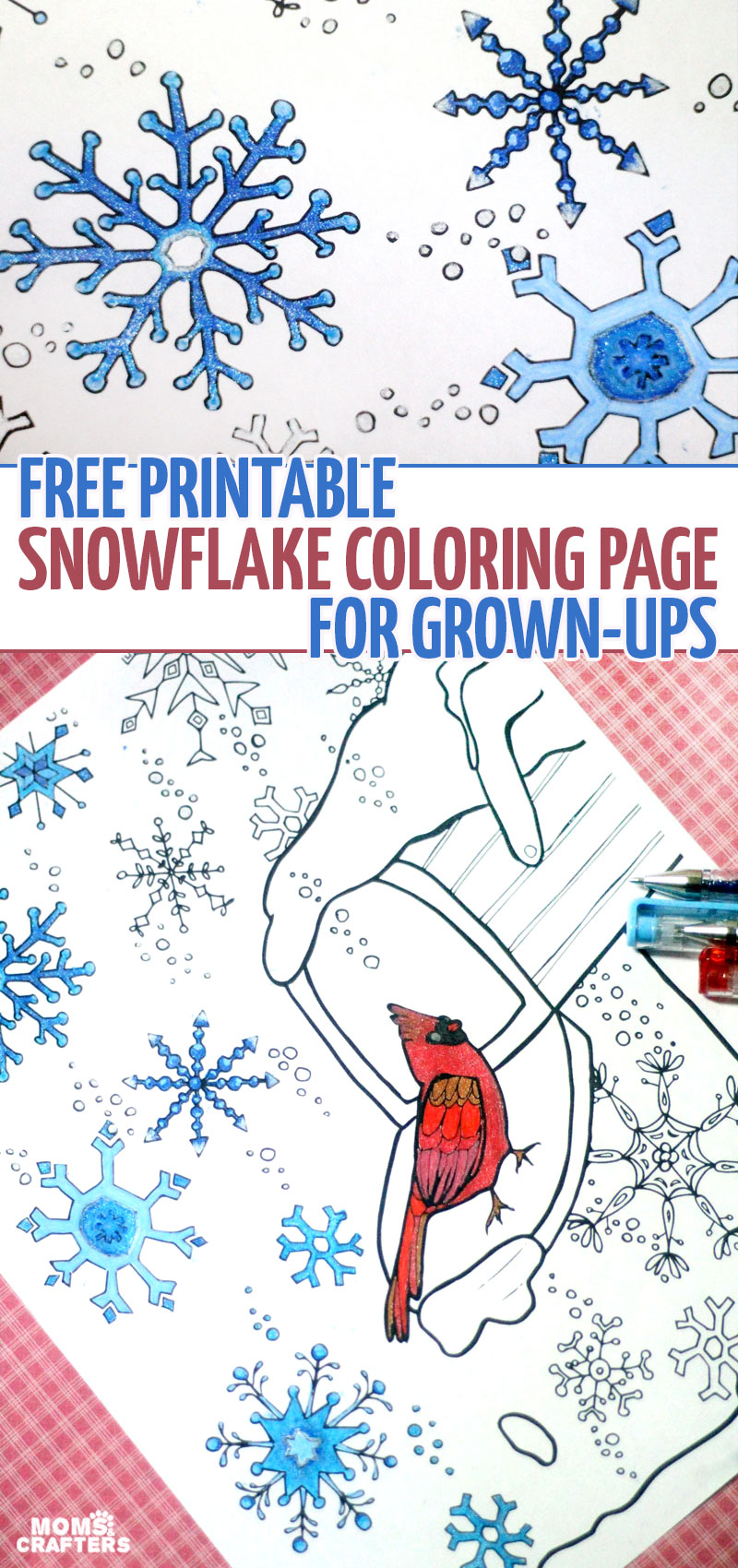 It all started with a mailbox. Then it snowed. The bird came and perched on top. I realized it needs to be a winter bird, so it turned into a cardinal. Finally, some pretty snowflakes appeared all over. And the coloring page was complete.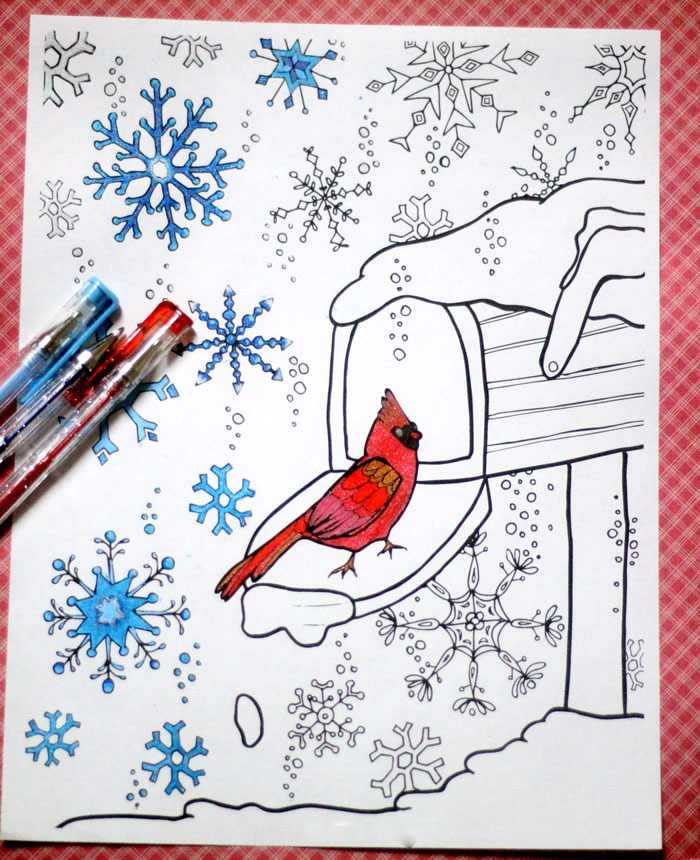 For this coloring page for grown-ups I pulled up my (ahem, ahem VERY GROWN UP) gel pens that I just fell in love with. I decided that snowflakes need sparkles, and gel pens are my favorite way to add sparkle…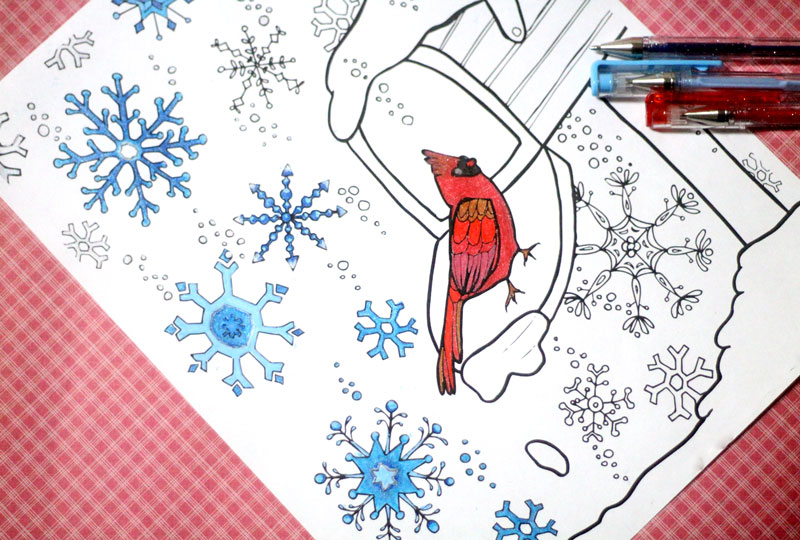 You can see the sparkle on the cardinal. It's like the snow is reflecting off of him (or her?)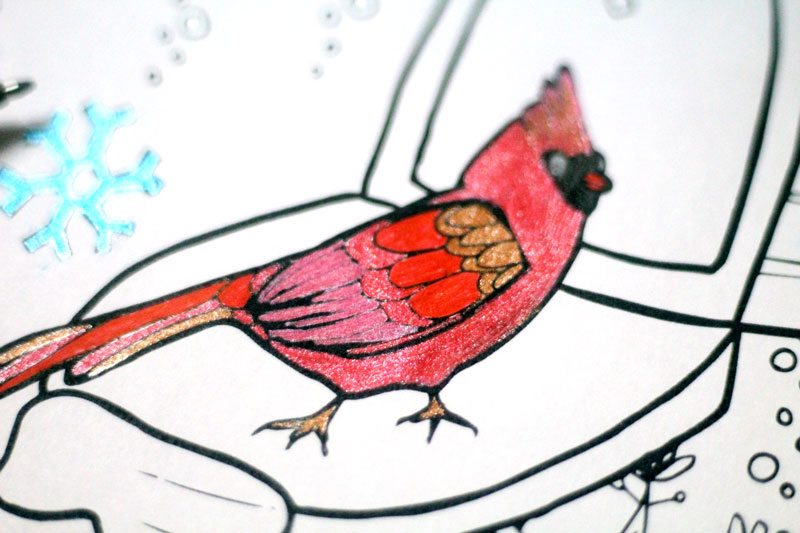 But my favorite part is the way the snowflakes sparkle. Only some of the gel pens I used were metallic/glittery, but even the ones whose only purpose was to add a little brightness and shading contributed to the vivid effect.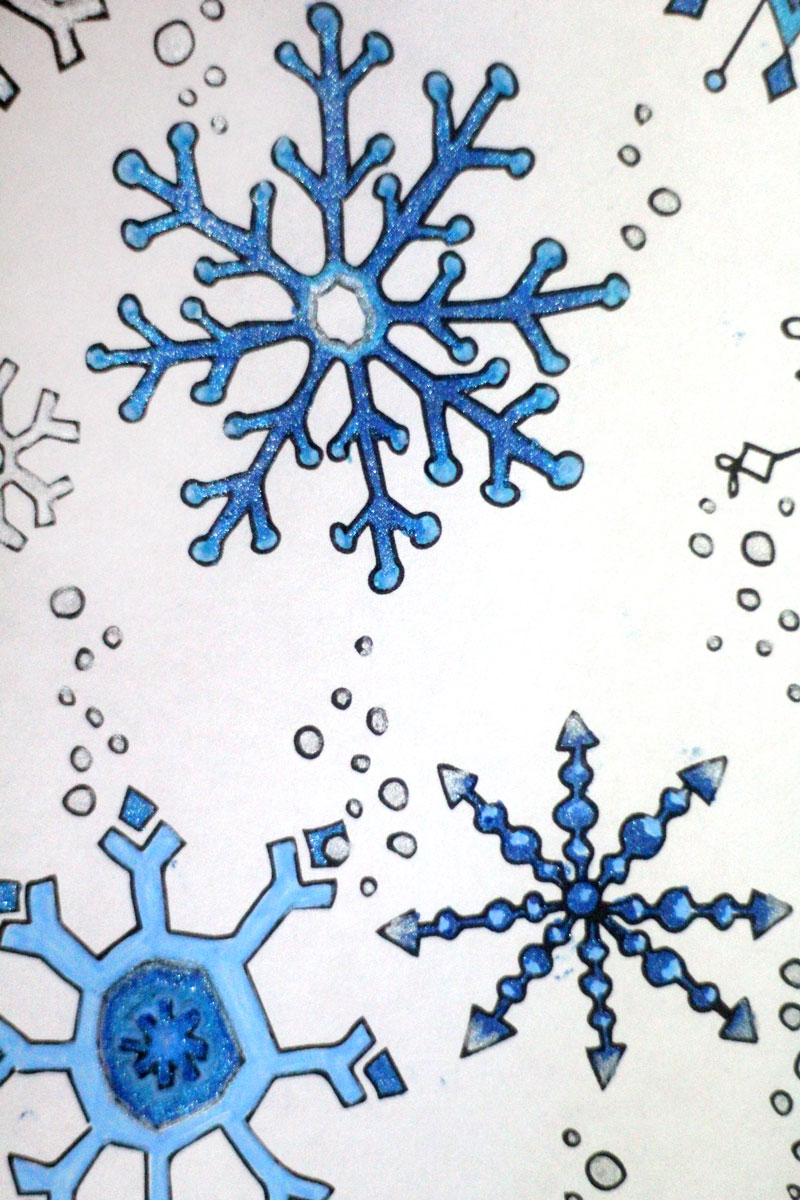 In general, I love how the colored snowflakes came out. Gel pens are surprisingly easy to shade with (although I think I might use colored pencils for the mailbox, as that's better for adding texture). They stay wet for a bit so you need to watch out for smudging, but that also allows you to layer/mix and to blend it a bit with your finger.
My oldest memories of snow seem to surround the mailbox. I really have no idea why, but I think that's what caused me to start off this winter coloring page for adults with a mailbox and to build around that.
I do like the mix of broader area that presents a blending challenge, and the finer detail of the snowflakes. For the snow, I'd recommend working with soft blues and building up shadow and highlight areas. You can do this with colored pencils , or try doing it with the light blue gel pen, building more of a sharp shadow area rather than blending.
I do plan to color the background black but I'm afraid that might ruin it, so I made sure to photograph it to share with you before I attempted that!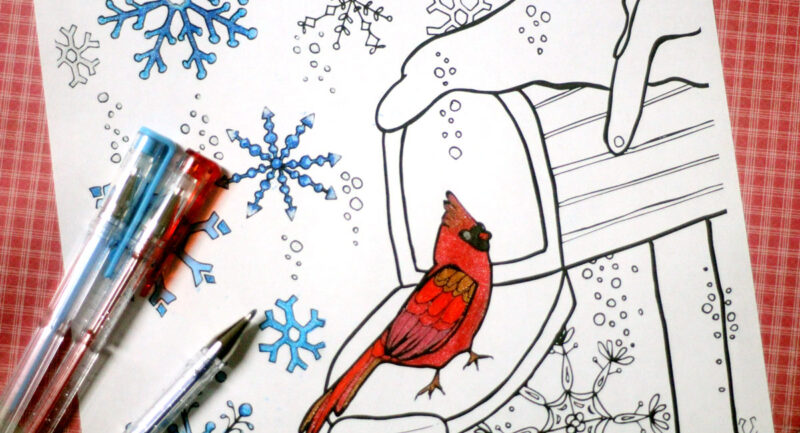 Download your free printable snowflake coloring page for adults below:
This page is simply waiting for you to add your color and personality to it! Feel free to email me your finished work at menucha@momsandcrafters.com – I always love to see it!
You'll be credited if I share.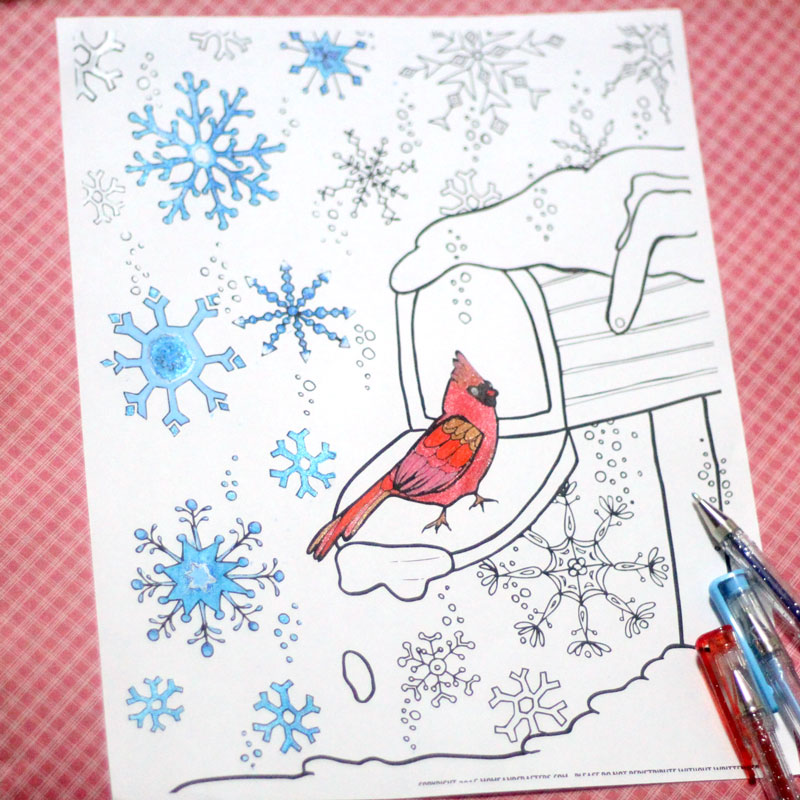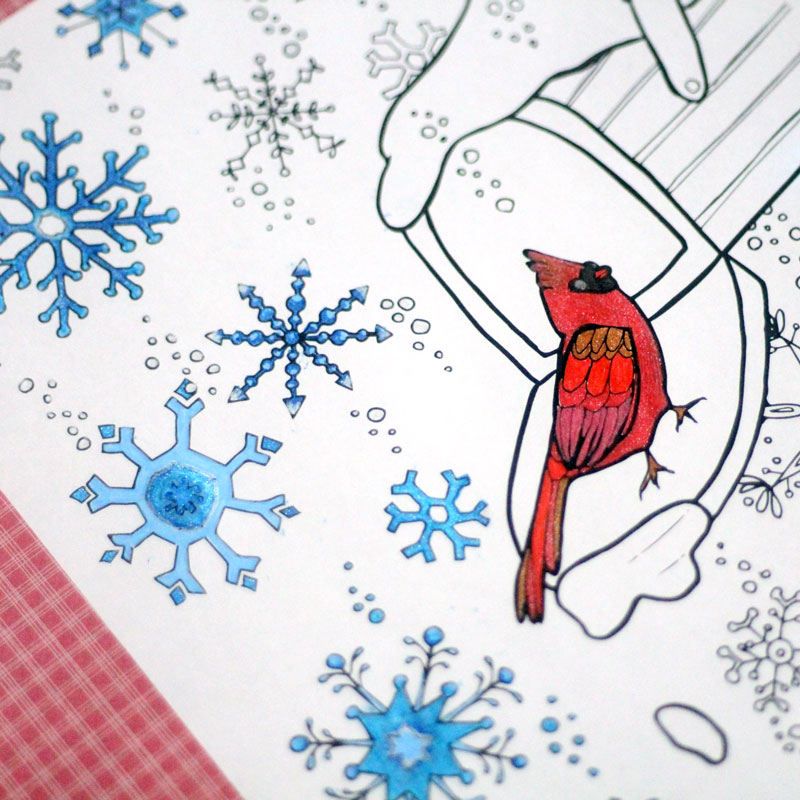 What is your favorite early memory of winter? Comment below!
Get the book! By purchasing Moms & Crafters publications, you are supporting my blog and enabling me to keep on providing you with free printables like this one. Coloring for Coffee Lovers is my most popular coloring book, but you can find all of my printed and digital coloring books here.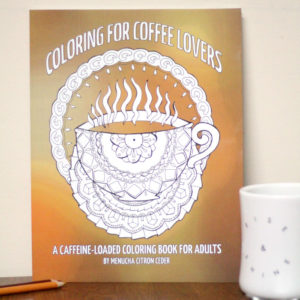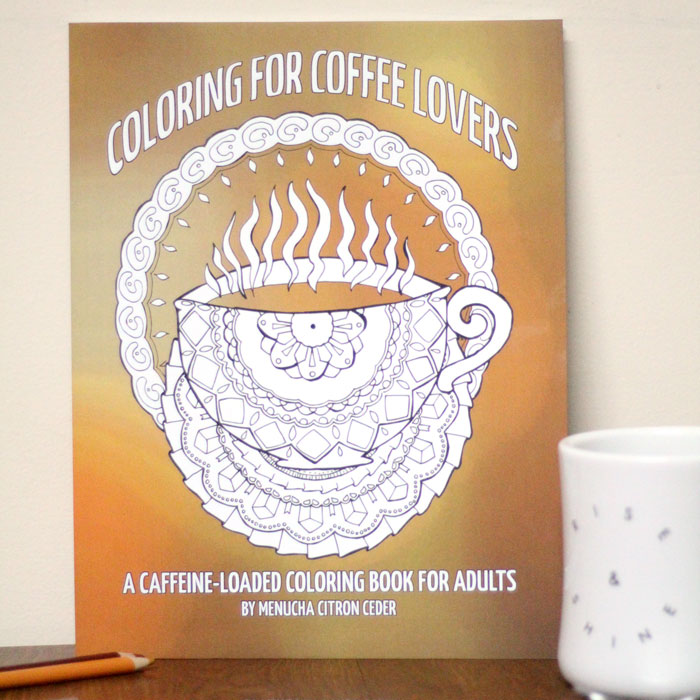 This free printable coloring page for adults was created as part of the Coloring Tribe's monthly free coloring page blog hop! Find the rest of the pages by visiting the blogs below: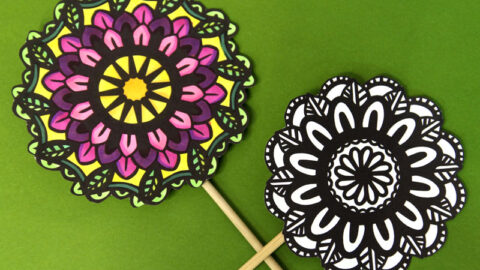 Craft beautiful flower mandalas that you can place in a vase and display! If you love these, you'll want to check out my paper flower …