These DIY Clay Candle Holders are a super-easy fail-proof craft – as long as you use the right clay! It was not easy to figure out, but now that I have, I can finally share.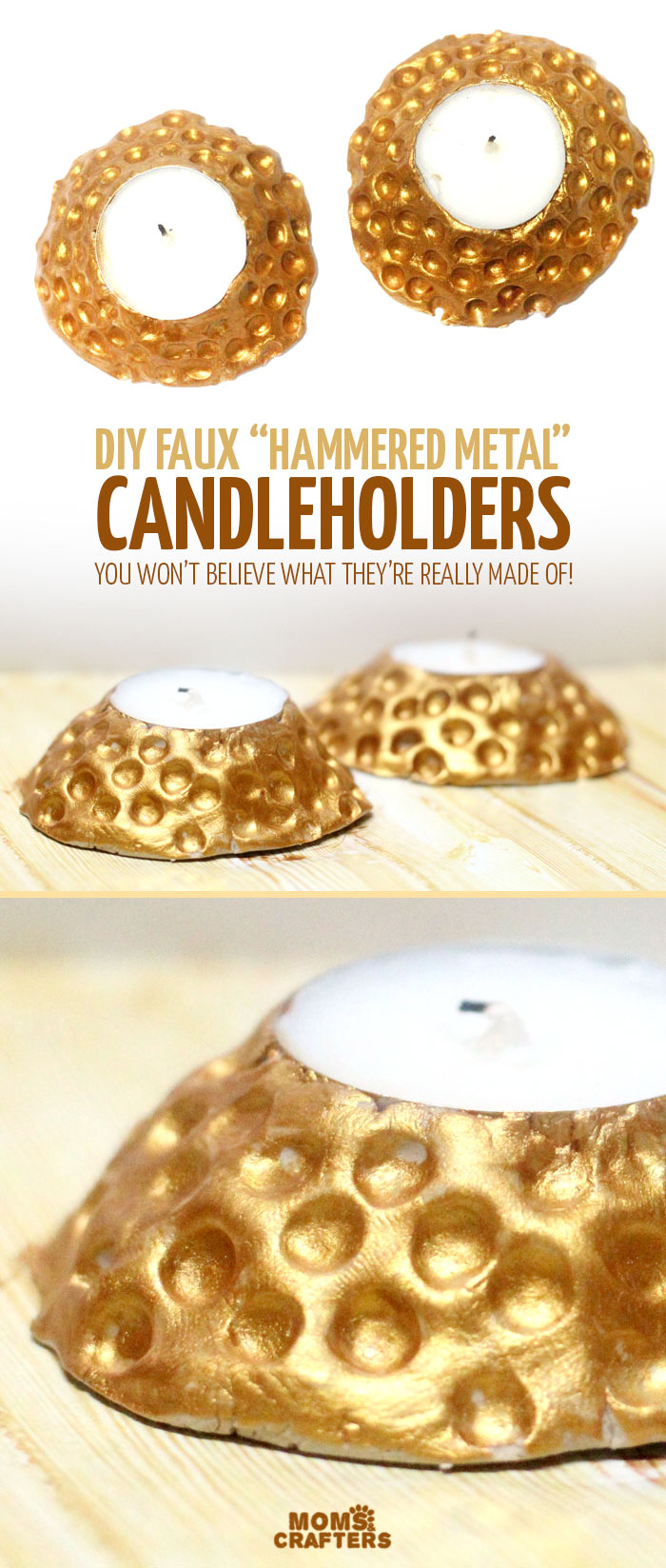 You can watch the video tutorial here and scroll down for more information on the correct clay to use, full supplies list, and step-by-step instructions:
Sometimes I have a vision in my head for a specific craft – and then it doesn't quite come out the way I like it.
Sometimes I have that same vision and it comes out better than I could have ever expected. This was the case with these DIY clay candle holders.
Disclosure: this post contains affiliate links.
I wanted to use clay, a little bit of texture, and metallic acrylic paint to create a hammered metal look. I am obsessed with hammered metal and thought this would be a cool way to replicate it without actually hammering any metal.
It all went beautifully, until I thought to make sure that the paint I used wasn't flammable.
I looked it up, and since it's water-based it should be fine.
Once I was at it, I decided that maybe I should look up the clay as well, though I didn't think much of it, since I couldn't imagine that clay would be flammable.
Well, on the brand's website, it said straight out "do not use this clay to make candle holders." Whoops!
So I'm kind of glad that I didn't light them before looking that up. But meanwhile the hunt for the perfect clay began. I needed two things:
Obviously, it needs to be able to handle the flame (even though the flame in these DIY clay candle holders should NOT really touch the actual candle holder, I can't trust y'all to be careful!!)
And it also has to have very little shrinkage, which is an issue with typical pottery clay.
I Googled away, and found many tutorials online for clay candle holders in all sorts of beautiful styles, but unfortunately, most of them used crafty types of clay that would catch fire (such as polymer clay, or Crayola Air dry.)
I finally found the perfect clay – minimal shrinkage, water based and after reaching out, the brand did confirm that it should be fine for making candle holders. So, yay!!
Anyway, I did need to chuck the original, but you won't work for nothing as you'll start with the correct clay straight-away. Either way, I do recommend that you make it so that the tip of the tea light metal does peek over the clay *just in case*.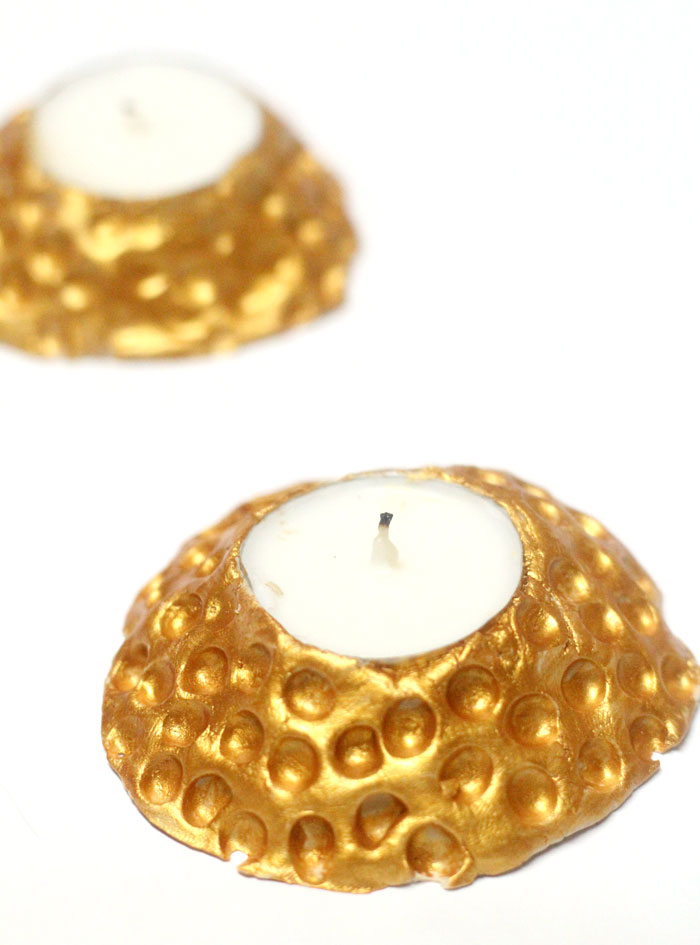 The way I made these clay candle holders was by wrapping the clay around the tea light. That does make the tea light hard to remove. The way to use and reuse it would be to let the candle burn out and leave the original tin in place as a base for your candle. Since the candle of a tea light removes easily from the tin, you can simply replace the melted down wick with a fresh candle – minus the tin.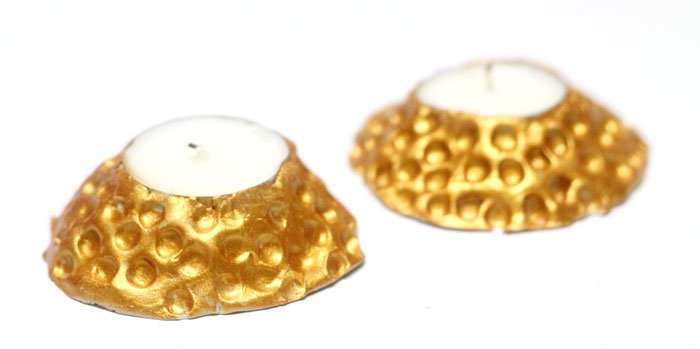 I also made it by pressing the center of the clay lump down to accommodate the tea light. It's easier that way, and I like to simplify my crafts as much as possible.
If you want to gift these, you can make them more polished by carving out a cleaner ditch in the wet clay using a craft knife.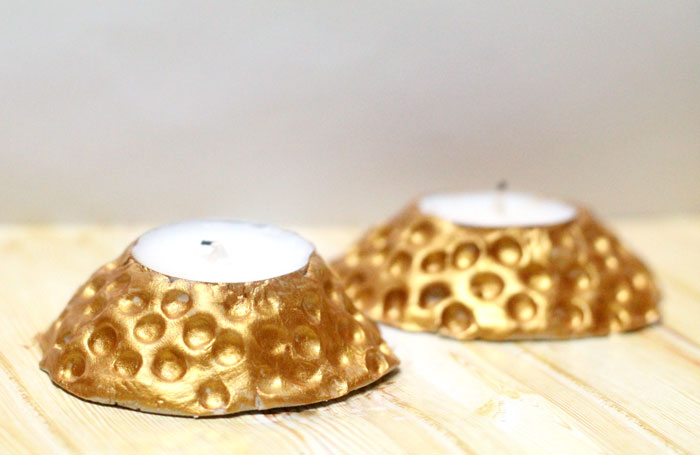 Either way, these DIY clay candle holders make for a ridiculously easy and impressive craft. You'll love making them; you'll love having them!!
What you need to make DIY clay candle holders that you can actually light!
Gold, silver, or copper metallic acrylic paint
A paint brush (a fan brush was fabulous for going around the top edge.)
A small rounded tip or something similar. I used the back of an old set of watercolor pencils that belonged to my grandmother. You can even use your little finger if you want (watch out for nail marks…)
How to make faux hammered metal DIY clay candle holders:
1. Form a ball of clay with your hands and flatten it down so that it forms a flat half-sphere.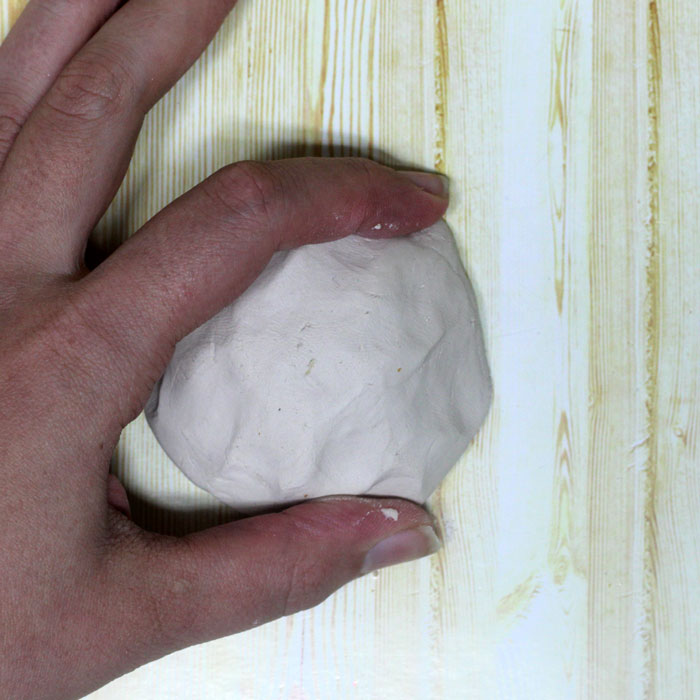 2. Place a tea light centered on top, and put a little pressure to create a mark.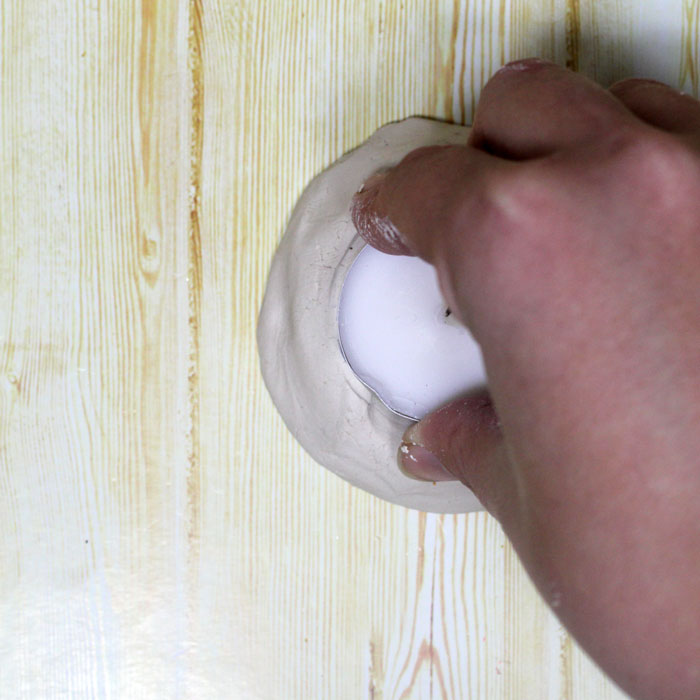 3. Remove the tea light, and use your fingers to press down the center and create a well for the light.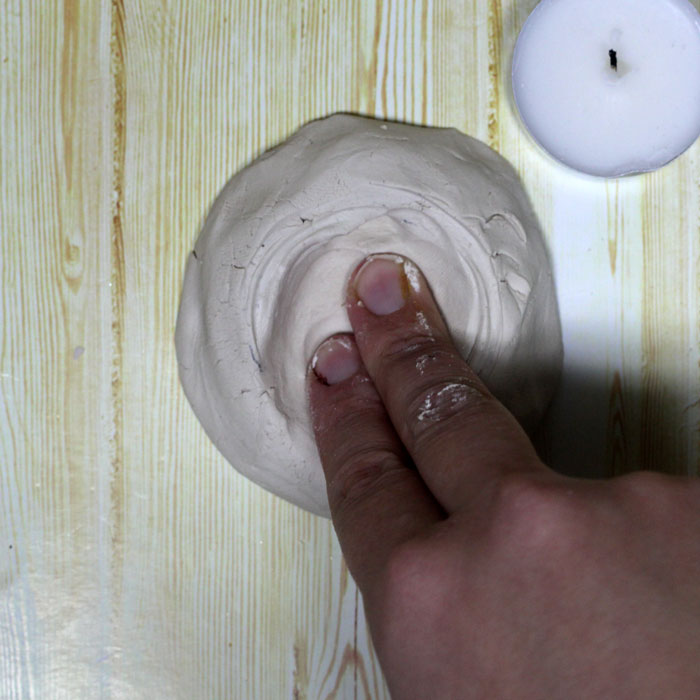 4. Replace the tea light inside that well, and built the clay back up around it, pressing on the sides. I recommend leaving the top few millimeters of the tea light tin above the edge of the clay.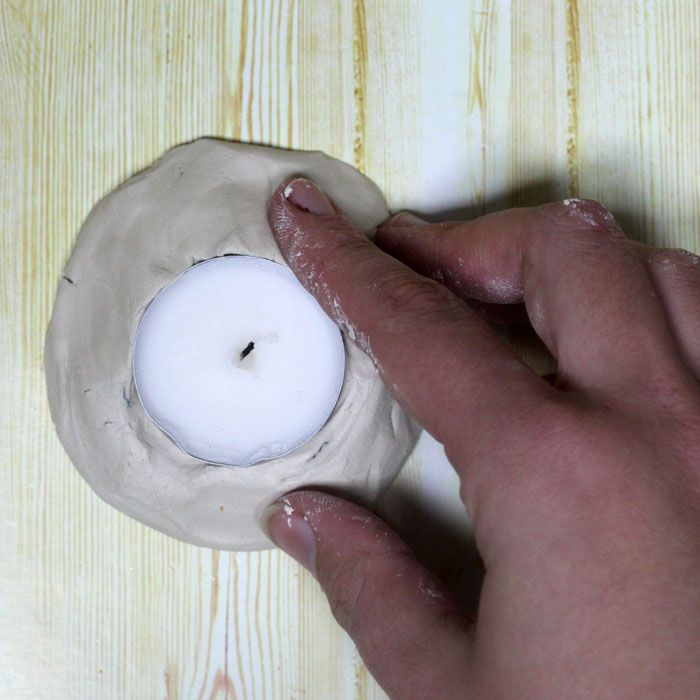 Do this with both your candles if you are making a pair.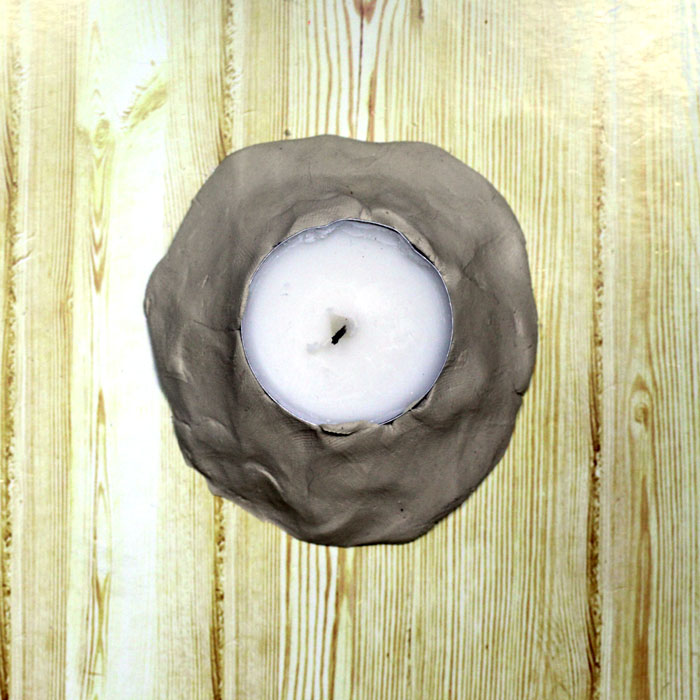 5. Using something with a small (about 8mm) rounded end, press small holes to create a texture in the clay.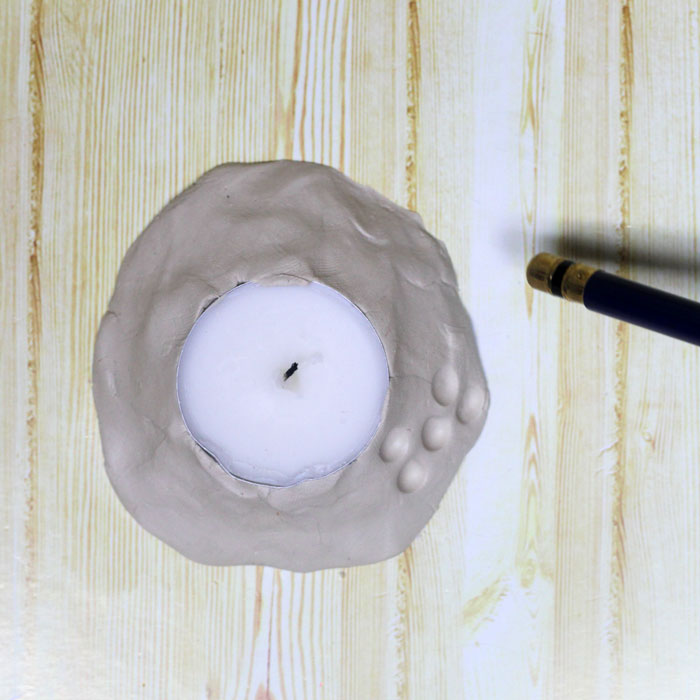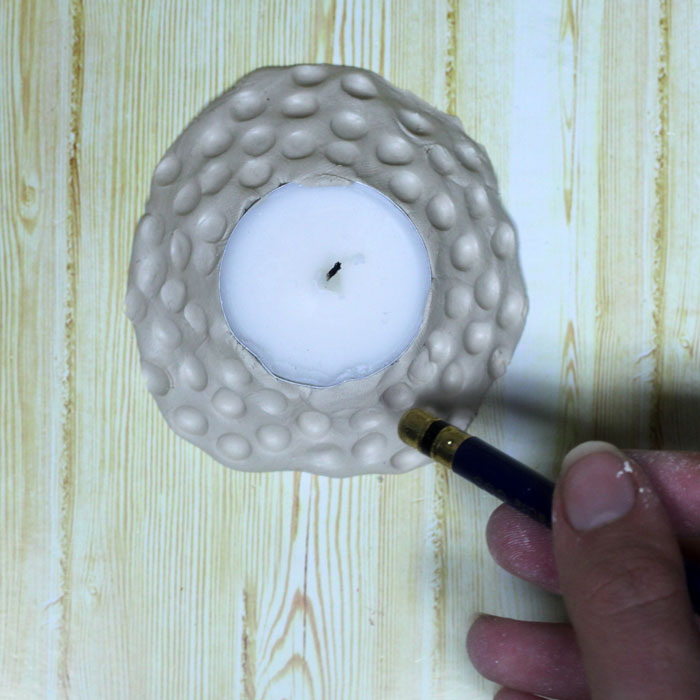 6. Let it dry completely according to package instructions.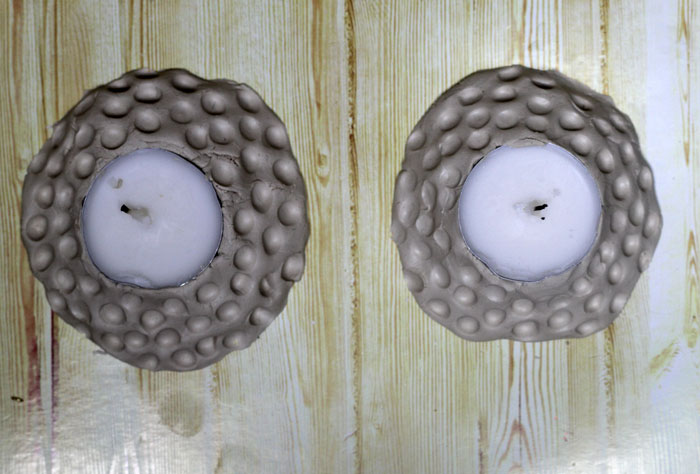 7. Now paint your clay candle holders! Start with the edge and then paint down.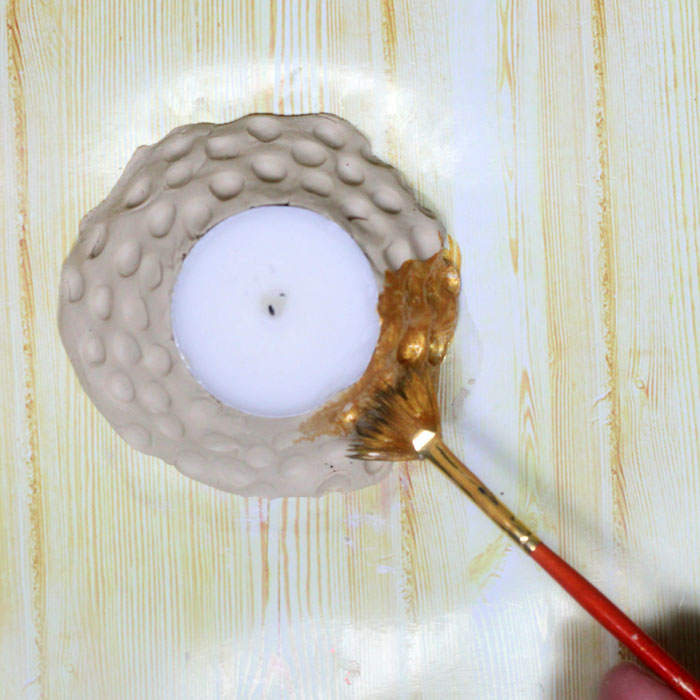 8. Paint a second layer if you need it. I actually liked the slightly imperfect look that one layer gave it – it makes it look more like metal.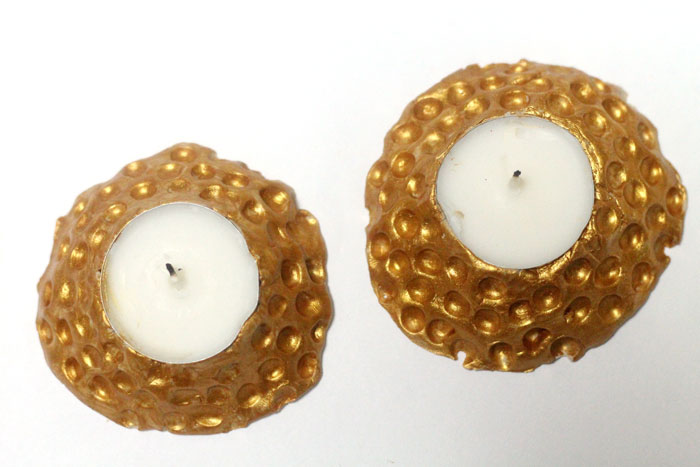 Enjoy your beautiful DIY clay candle holders with a faux hammered metal look!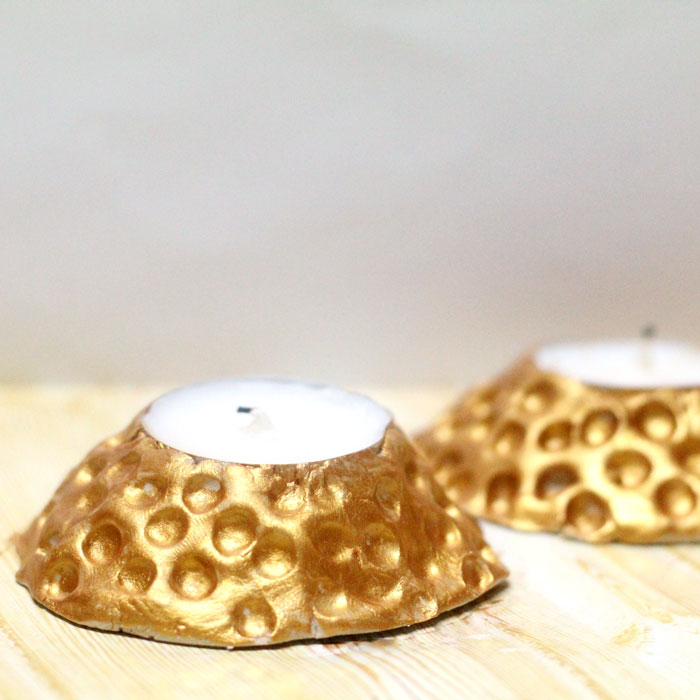 And once you're at it, spread the love by sharing this post, along with the image below!!