Looking for some pretty and fun sunflower crafts? These 20+ ideas are fun and doable – for every age group and skill level! This post contains affiliate links
---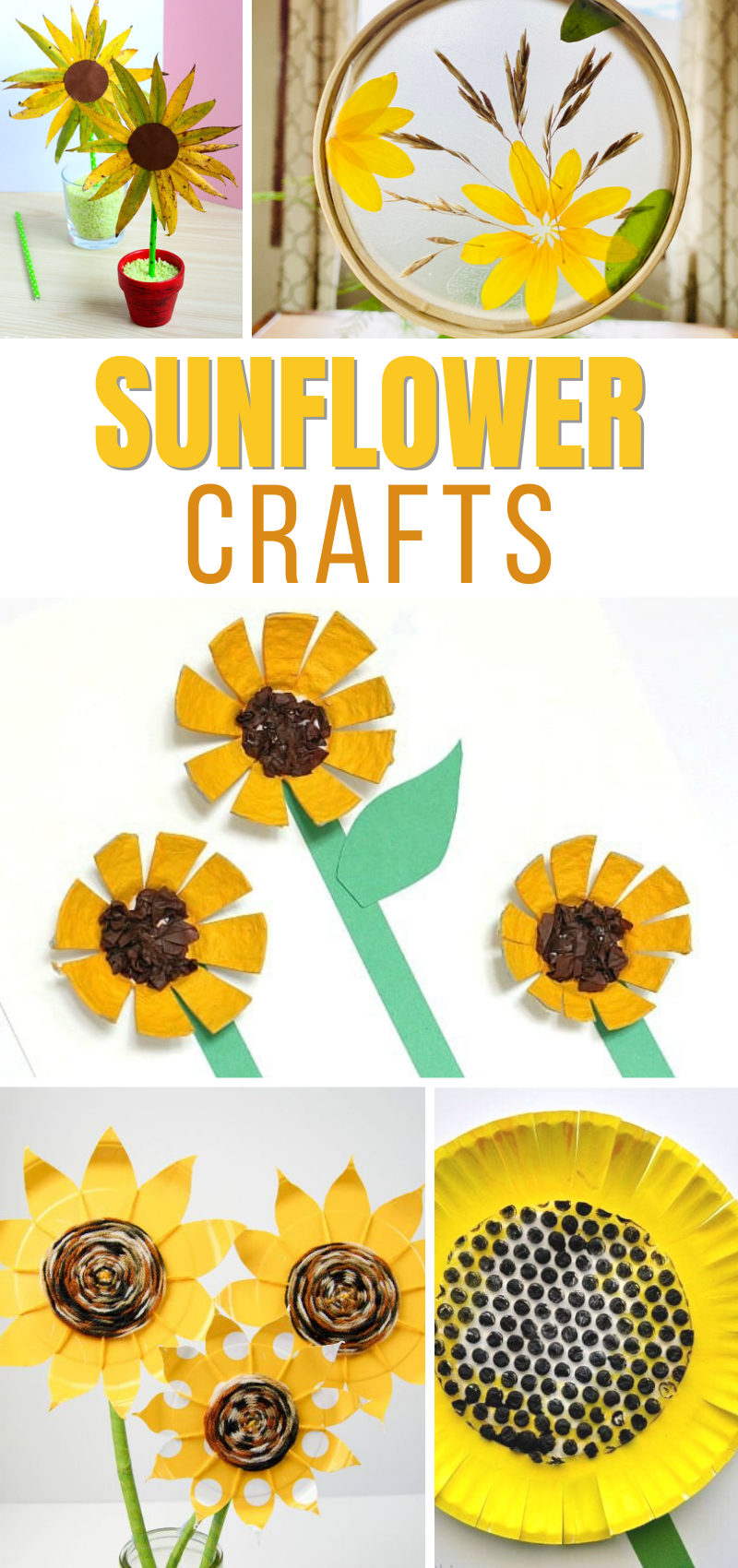 Flowers have been a popular art subject since ancient times, and for good reason – we all appreciate their beautiful colors and delicate shapes.
But even among all the natural beauty that all flowers have to offer, the sunflower especially stands out with its large size and striking colors. That's why it wasn't at all hard to find 21 different, dazzling sunflower art and craft projects to share with you!
Did you know that a sunflower grown outdoors will actually tilt its head toward the sun, turning throughout the day to follow the sun across the sky?
All plants grow toward sunlight but it's especially noticeable in a field of sunflowers. Your sunflower art indoors can keep reminding you to look toward the bright side of life and invite light and blessing into each day!
Whether you're looking for a way to keep your little ones busy or if you're the one who loves to craft, there are ideas for everyone here. From plain paper to clothespins and crochet, there are so many different ways to bring the joy of sunflowers into your life! Start anywhere and enjoy!
Paper Sunflower Crafts
We'll get into a variety of different materials soon, but first of all there is so much you can do using just (or mostly) paper! And it's not just for little kids – while we use plenty of it in preschool, it can also be used in complex ways such as origami and intricate cutting.
Paper projects are perfect for hanging on a wall, door, or bulletin board. You can also use them as a cover for a greeting card. Paper is one of the least expensive and most available art supplies, so you should be able to get started on most of these crafts pretty easily!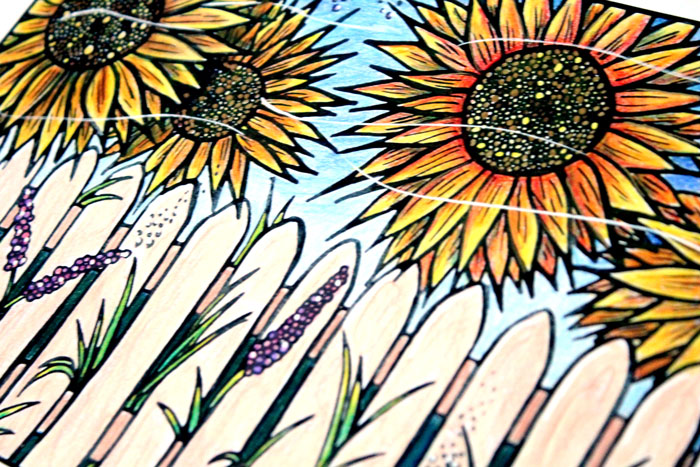 This hand-drawn sunflower coloring page is perfect for adults who want to relax and de-stress. The intricate design will provide hours of enjoyment. Use your favorite coloring supplies to bring this beautiful flower to life. Colored pencils, markers, and gel pens are all great options. So grab your supplies and get ready to relax and have some fun!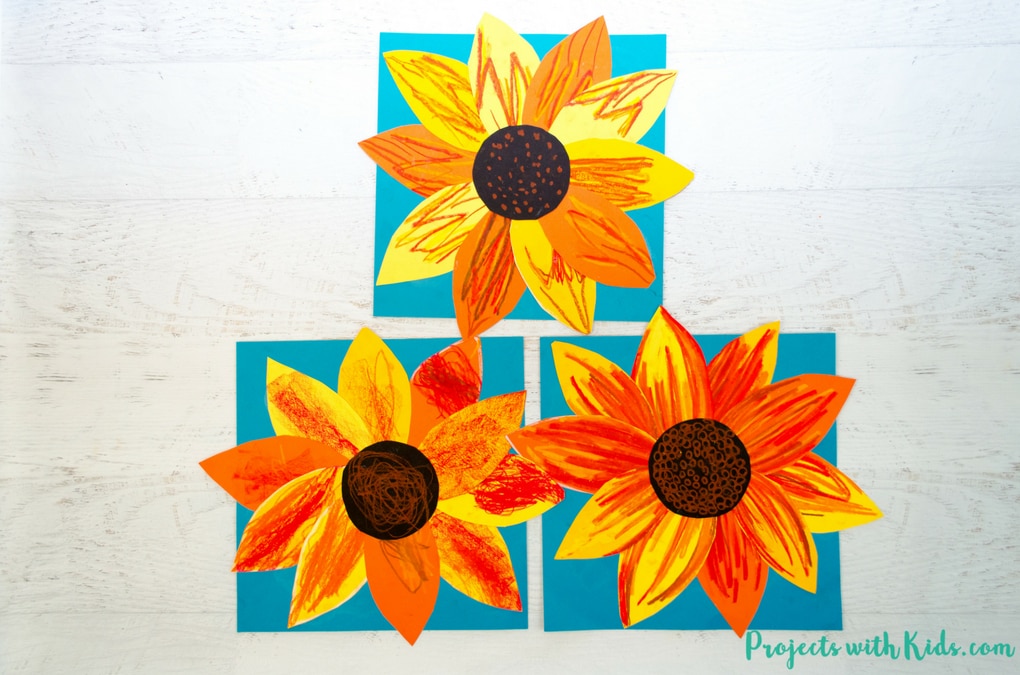 Whether you are trying out pastels for the first time or already in love, this tutorial and its printable template will help you create a sunflower masterpiece! It's easily adaptable for both younger and older artists, and the post shows you examples of both.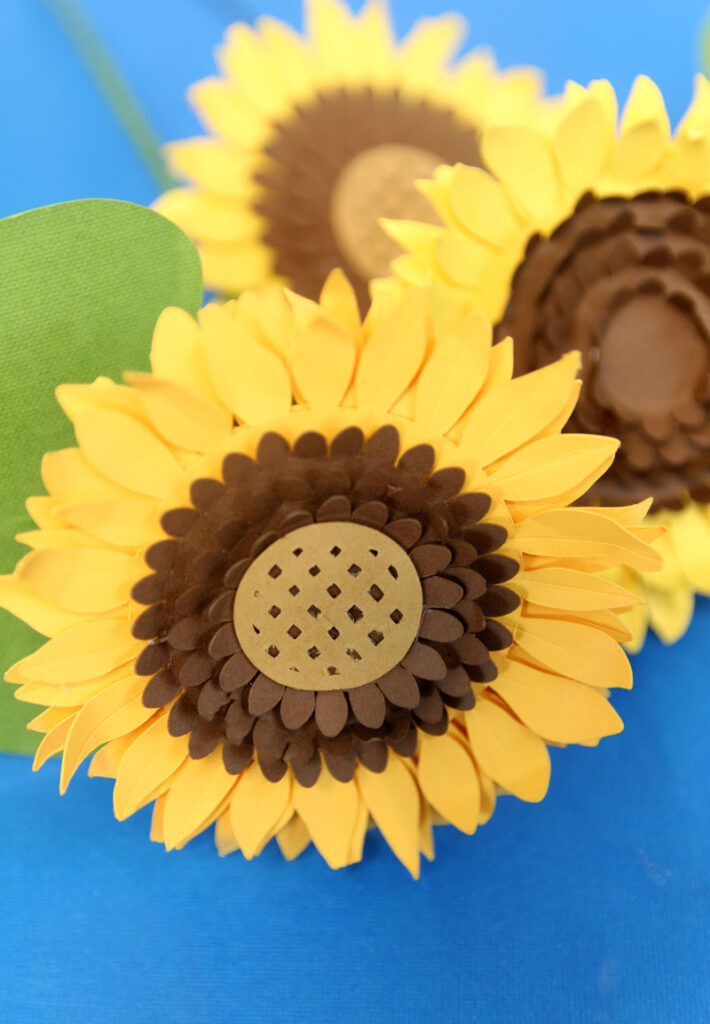 Although this flower is made entirely out of paper, that doesn't mean it's basic – this one is for the grownups! Use a Cricut machine OR a craft knife and scoring tool with a self-healing cutting mat to create an intricate flower that looks almost real. The detailed instructions ensure that you'll craft with confidence even if you've never done anything like this before.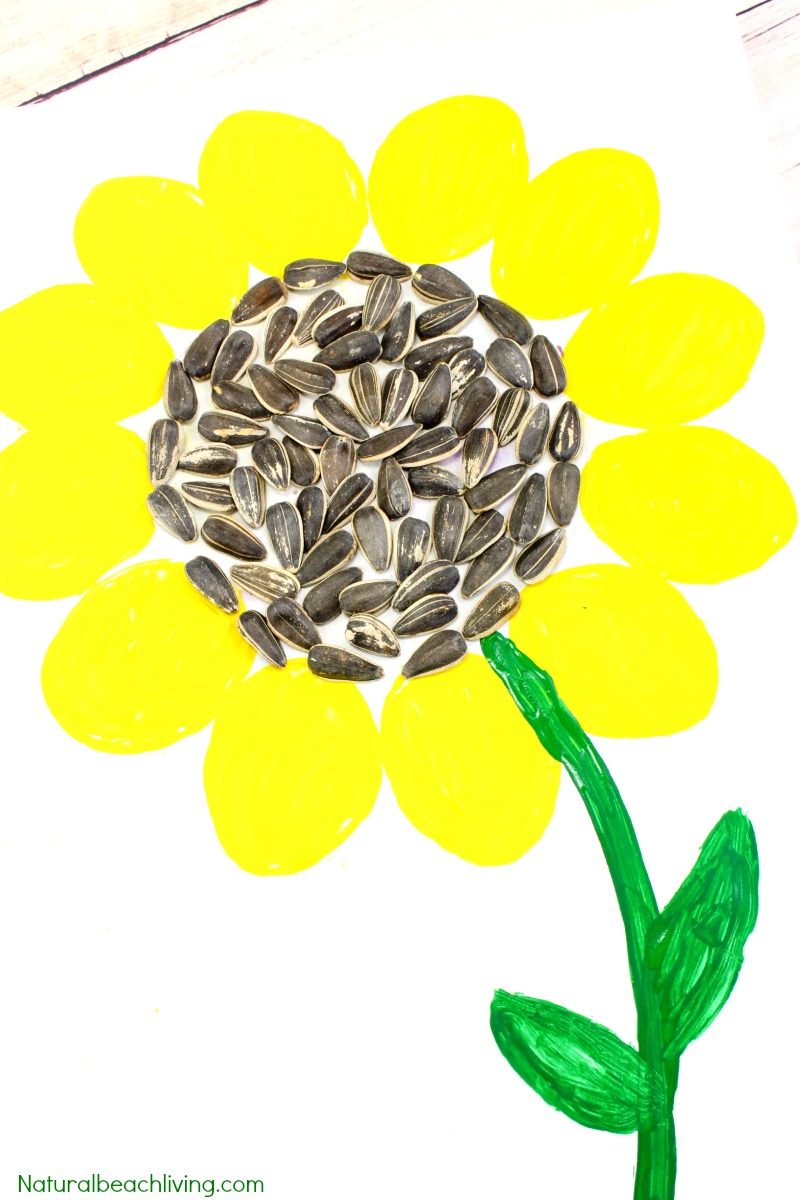 Here's a link to a fun and easy sunflower painting craft for kids. Real sunflower seeds add an extra dimension to the finished craft, as well as providing another activity for kids to engage in in addition to painting.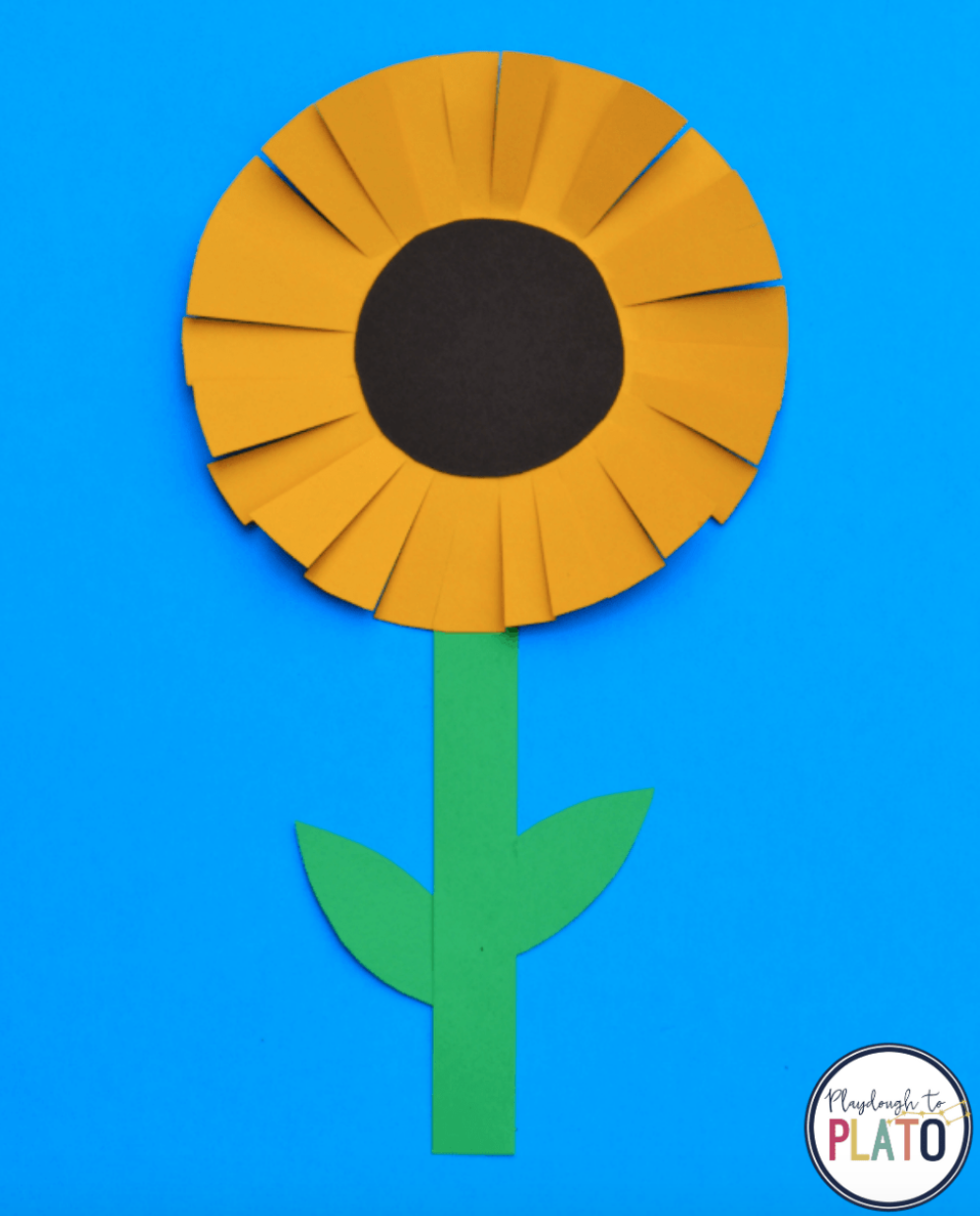 This all-paper cut-and-paste activity is excellent for young kids to practice their scissor skills, and an easy relaxing choice for those who have already mastered those skills. The simple shapes and contrasting colors create a beautifully bold effect with minimal time and effort.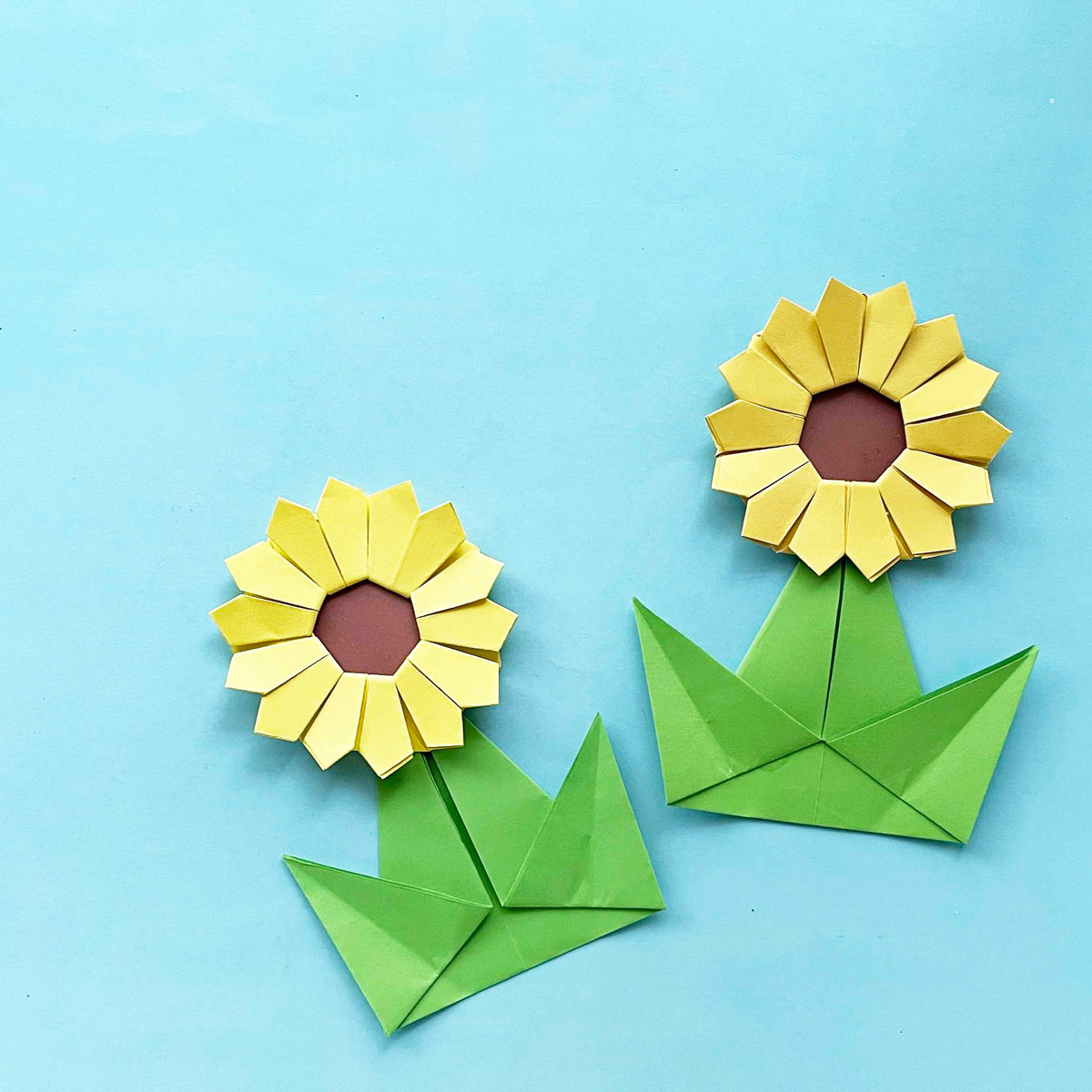 This folded-paper flower is sophisticated with many parts, but even beginners can learn how to make it with the clear step-by-step instructions. Use origami paper if you have, or grab some regular copy paper and get ready to impress!
Recycled and Upcycled Sunflower Crafts
In addition to paper, there are all kinds of materials you can find around your house and transform into artwork! I always feel a special thrill at the creativity of transforming things like paper plates and egg cartons into art.
Here are a bunch of sunflower-themed ideas to get you started, and you'll find that once you do it, you and your kids will continue to see the world in new ways, thinking up more opportunities to use objects you may have overlooked before.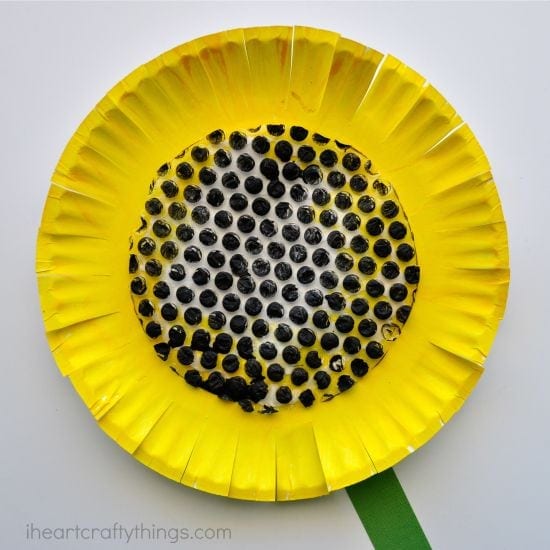 Got a package lately? Recycle the bubble wrap in this cute and easy project! (other suggestions are provided in case you don't have bubble wrap) This craft is great for preschoolers.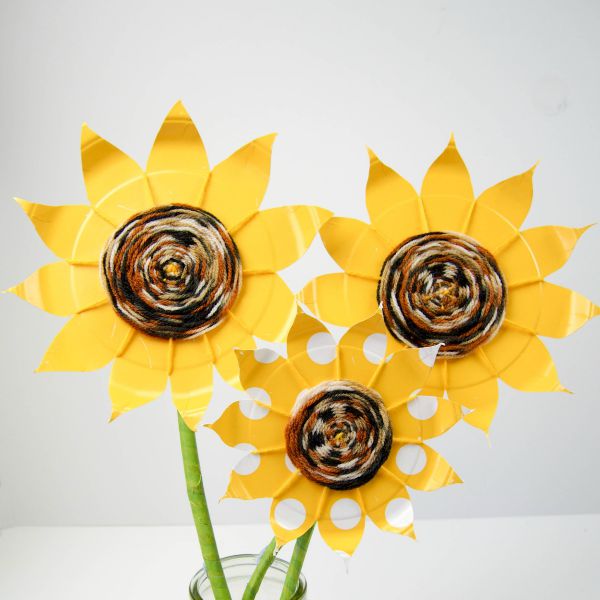 Learning how to weave with yarn is easy with this tutorial, and it gives these paper plate sunflowers a sophisticated texture and beautiful center. After weaving, you can follow the directions to create 3D stems or use the flowers as wall art.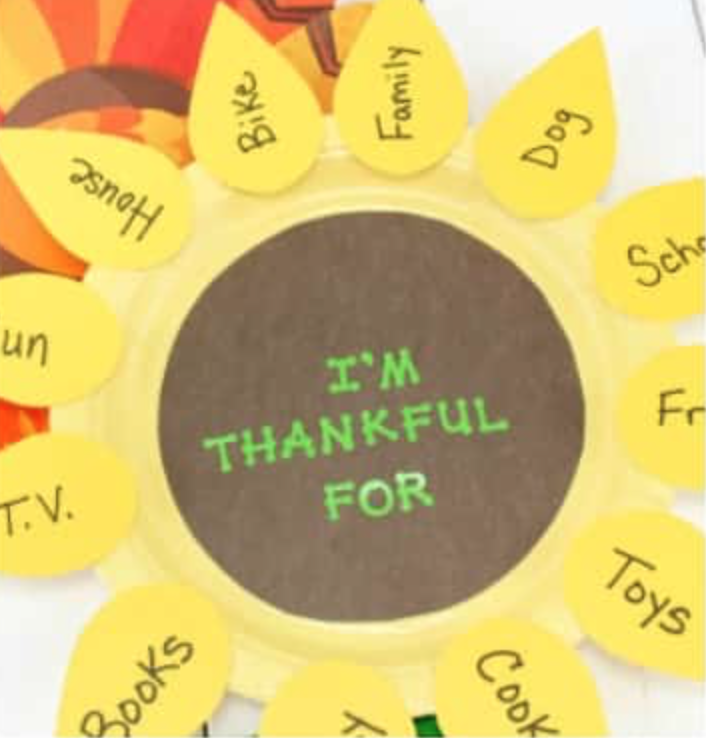 This craft idea comes with an extra layer of meaning, encouraging the artist to appreciate all they are thankful for and then display those ideas in the shape of a flower.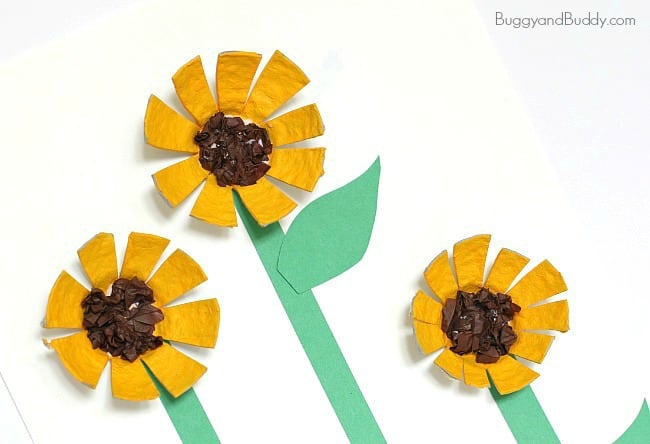 It's a shame how many egg cartons end up in the trash – here's a way to repurpose them to add extra dimension to an artwork! This project will have you cutting, painting, and gluing to get a full arts-and-crafts workout.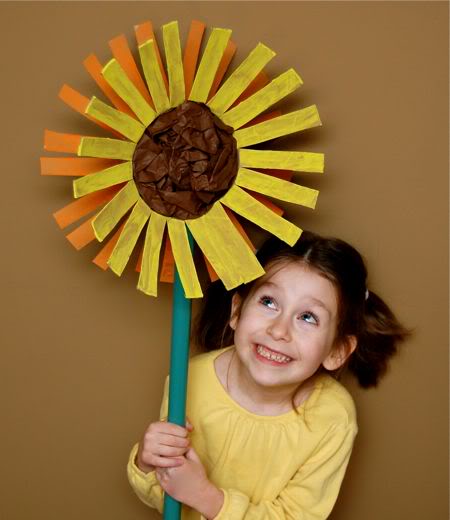 Paper-sized pictures of sunflowers are nice, but we know that in real life they can grow to be huge. This craft uses larger recyclables such as oatmeal canisters to celebrate the big, bright sunflower.
These sunflowers will really capture the sunshine in your home! The bright colors on translucent coffee filters create a truly stunning effect, which can be achieved even by the youngest crafters.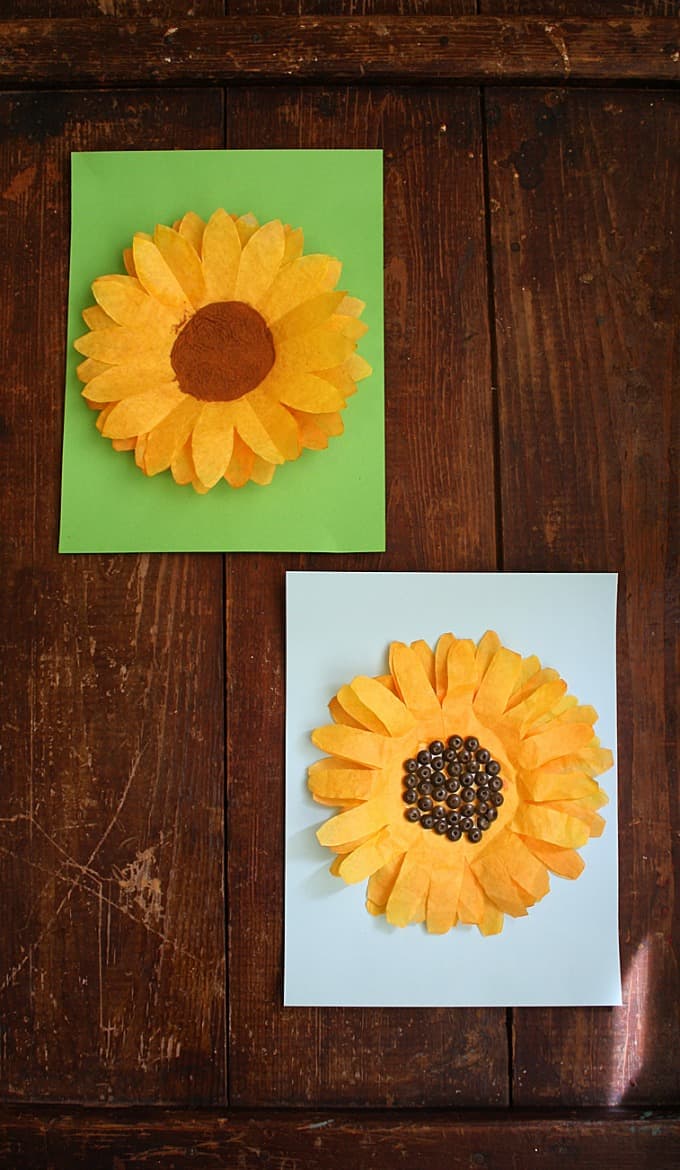 I know we just mentioned coffee filters already – but this craft uses them in a different way! It also involves cutting the petals, making it a better fit for more advanced kids. The instructions call for food coloring but you can also use liquid watercolor paints for a more washable version.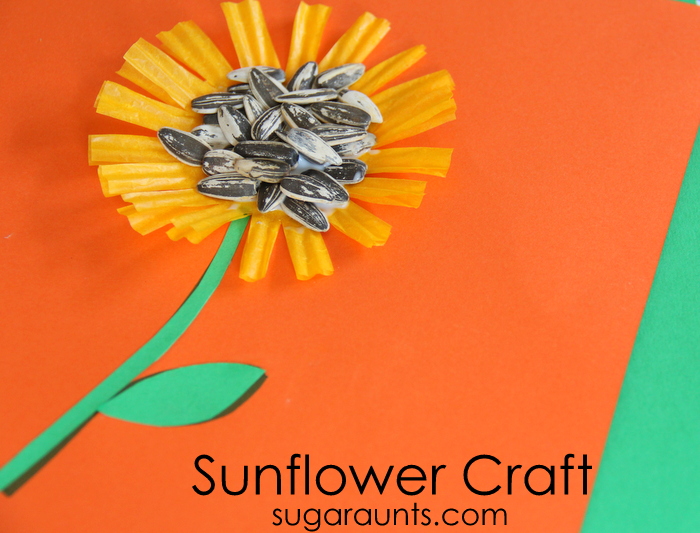 They're round, textured, and come in different colors – of course cupcake liners were meant to be made into flowers! This is a simple craft perfect for young kids to practice using scissors and glue and following directions.
Sunflower Crafts Using Other Materials
The paper crafts were fabulous but if you're looking for something different, we have that too! Broaden your skills by exploring a wide variety of crafting materials and techniques – from yarn crocheting to resin, you'll find all kinds of interesting things to work with in the selection below.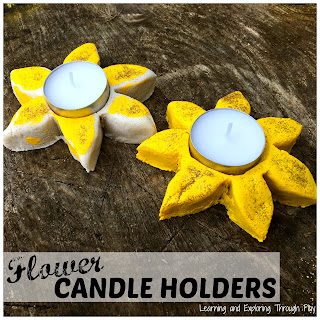 This tutorial teaches you both how to make your own clay dough as well as how to shape it into a beautiful and functional candle holder. The craft is suitable for all ages and uses materials you likely already have at home.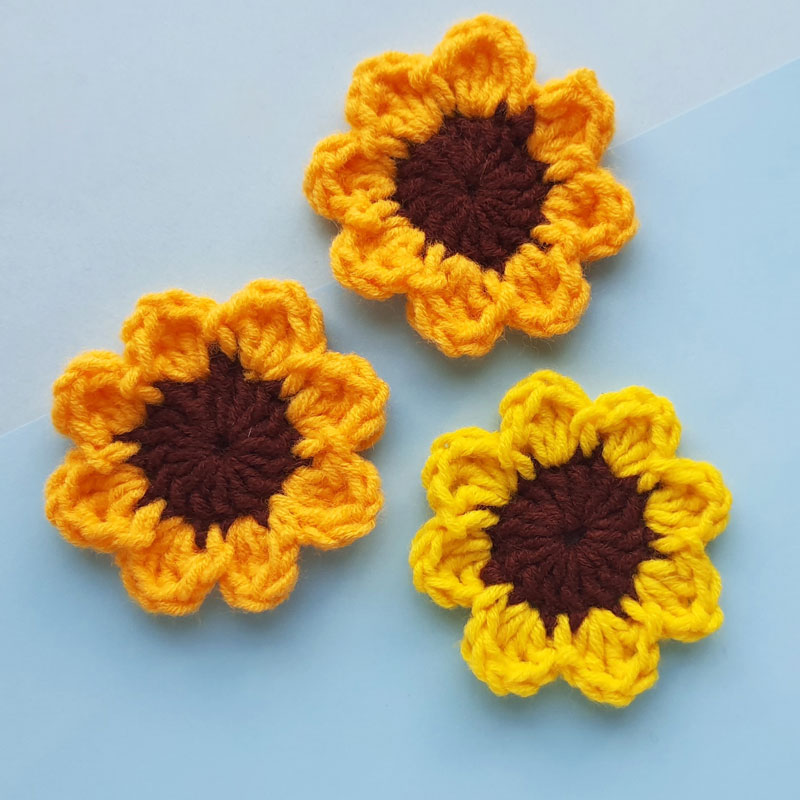 Using just a couple of colors of yarn, a crochet hook, and tapestry needle, this pattern is great for beginners who are new to crochet or for more experienced crafters ready to try something new. The small flowers can be used to enhance a larger project or to decorate clothing, accessories, or household objects.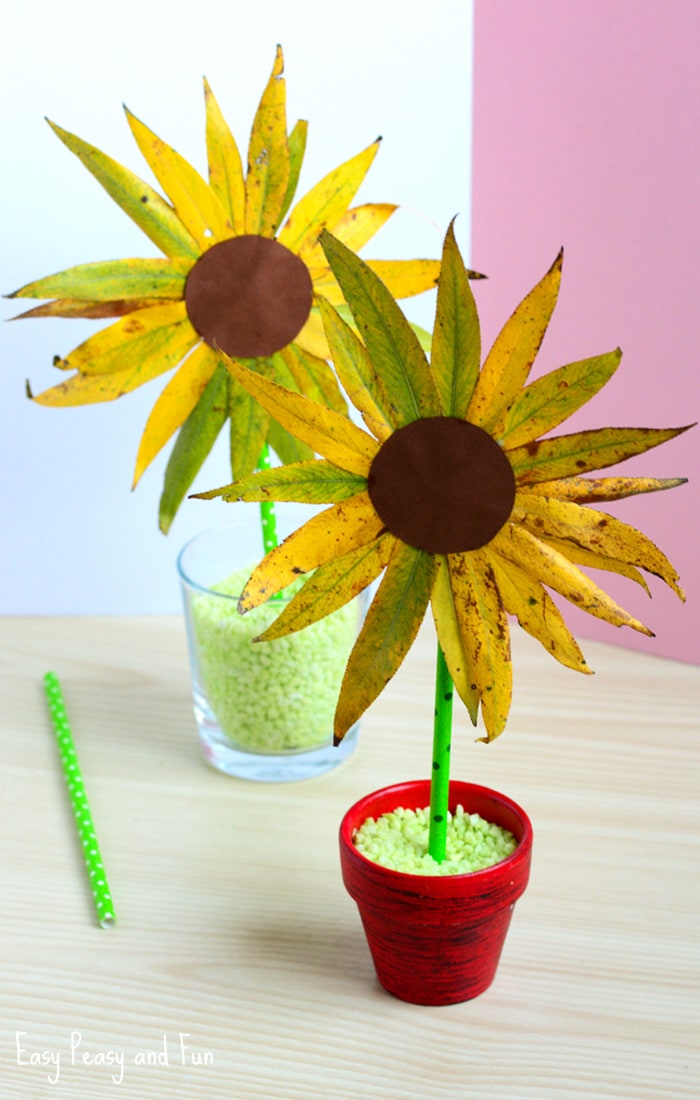 This is a great project for Fall when leaves are easy to find within reach. Instead of letting them get crushed underfoot, you can give them new life in this clever craft.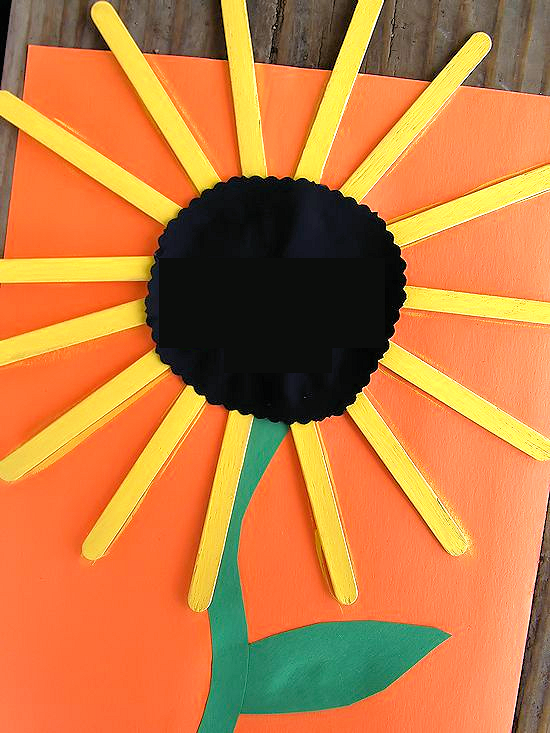 This is a super simple craft for kids, who will appreciate using wooden craft sticks in addition to the standard paper and paint elements. Wavy scissors and bright colors sweeten the deal to make this a real winner at preschool or at home!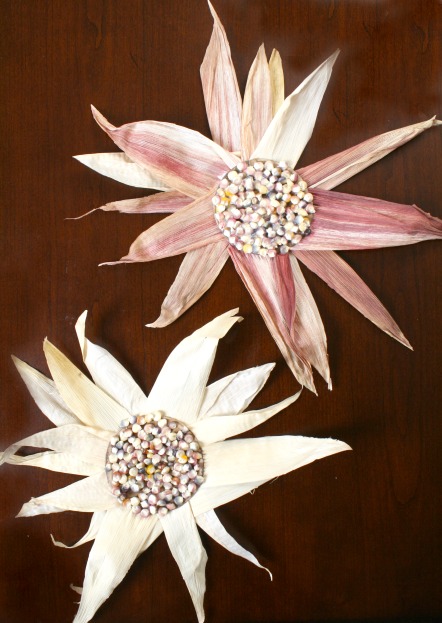 Enjoy using some extra-unique materials – actual indian corn kernels and husks give this craft a really authentic, naturally rustic look. It's a great multisensory way to get kids engaged with natural materials.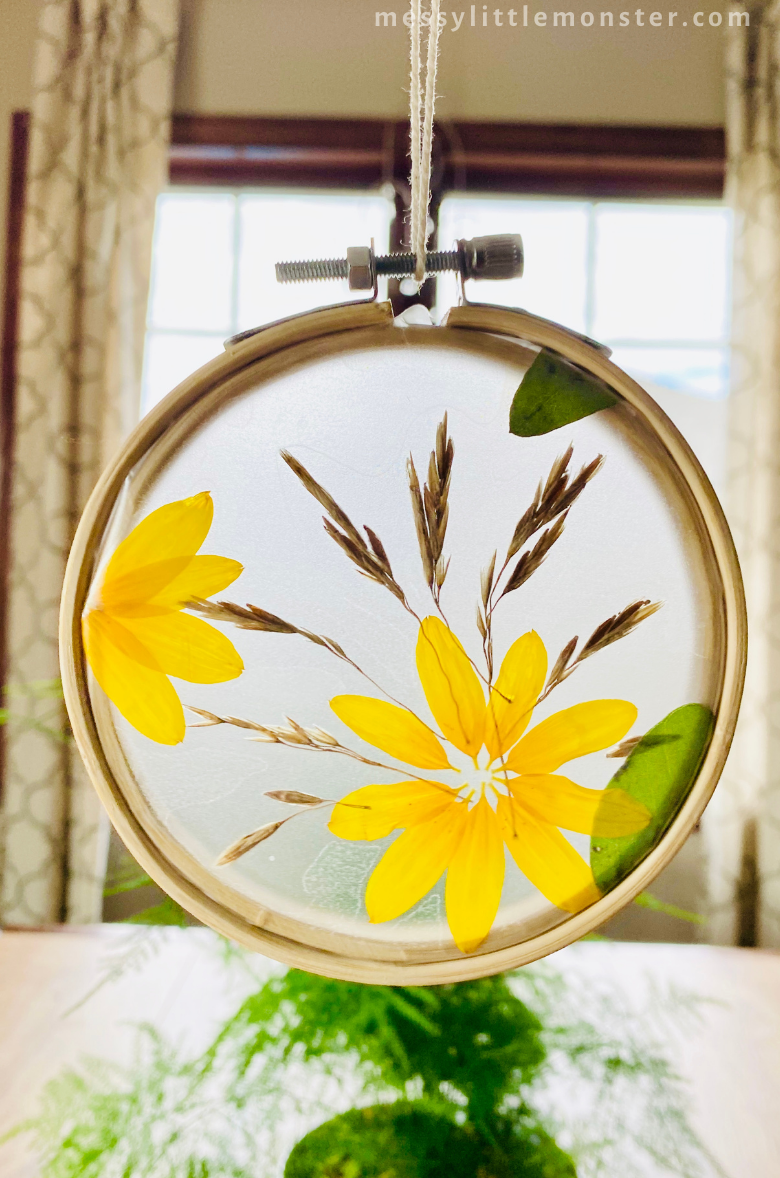 This beautiful, sophisticated craft is surprisingly simple to make using real elements from nature combined with just a few other items to hold them together. There's a lot of room for individuality in how you make yours, using the sample just for inspiration.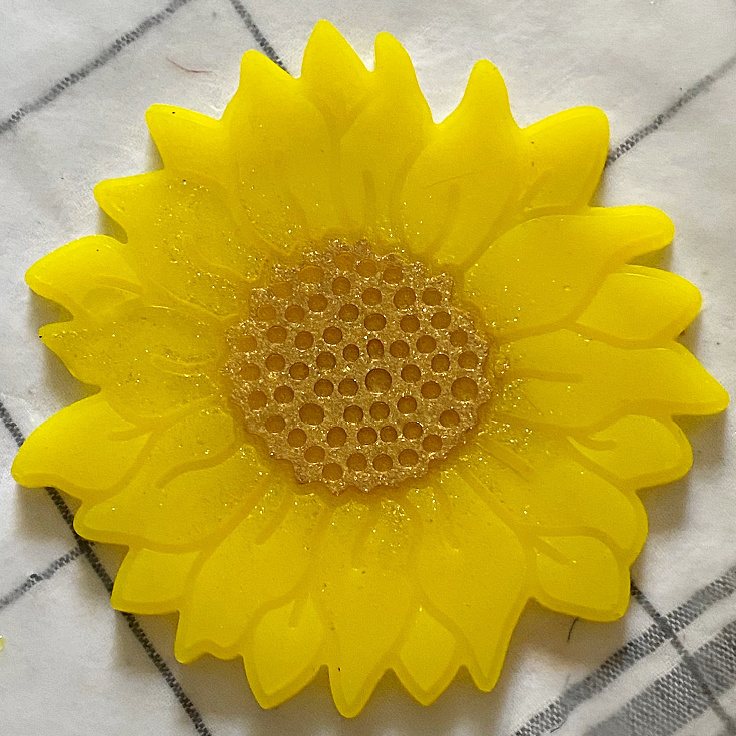 You'll need some specialty materials for this introduction to resin crafting, but it's worth it for the new skills you'll learn and the amazing results you'll create! This is a good choice for teens or adults because you'll need to follow directions carefully to achieve the right effect.
Got any favorite sunflower crafts to add? Comment below – and watch out for more coming to this space soon!