Yeah, I know, I'm a bit late for this… but I'm sure all your beach visits so far have been inspiring you! So here is a list of wonderful ocean crafts – all inspired by the vast, great sea and everything inside it. Disclosure: this post contains affiliate links.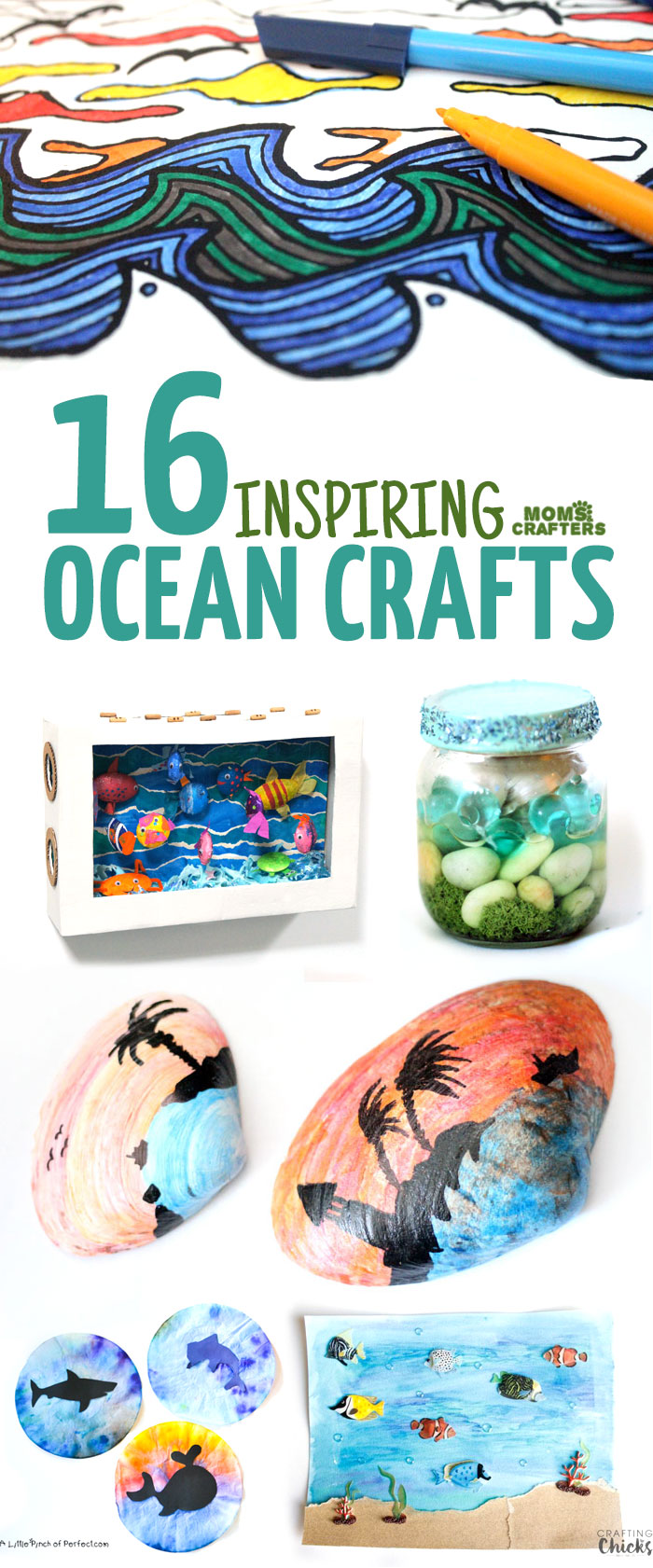 I'll confess – I don't quite make it to the beach often enough.
It's one of those things I lament about all the time.
I live a mere 20 minute walk away, though some not-too-friendly neighborhoods. It's all but a three minute walk. But I rarely make it, and so I like to bring some of it into my home during the summer.
These 16 Ocean Crafts are a great way to bring the spirit of summer in all year long!
I know that it can be hard to think beyond the seashell crafts when it comes to summer crafting, though there's nothing wrong with those! But I decided to take it a step further and include some fun ocean themed ideas.
These ocean crafts are all inspired by some aspect of the beach – the sand, the water, the smell… well, you can ALMOST smell it. For that you'll need to go a little further than these (spray them with fishy salt water? Just kidding.)
Anyway, I'd like to give you a little reminder before I start…
All of the images for the crafts below were used with the permissions of the respective bloggers for the purpose of this post. Click on the title link for the full tutorial.
I have created a square and vertical image for your convenience for sharing these DIY ocean crafts. Please use the first or last image in this post when sharing and not one of the individual photos below, out of respect for the creators' copyrights.
16 Ocean Crafts for Kids and Adults:
1. Do you love adult coloring pages? You'll find plenty on this list (and more linked within the posts themselves…) These Ocean Coloring Pages for Adults offer so much variety, but work great as a gallery wall together. They were colored using Prismacolor Premier pencils and some Crayola markers as well. Accents were added using a white chalk marker.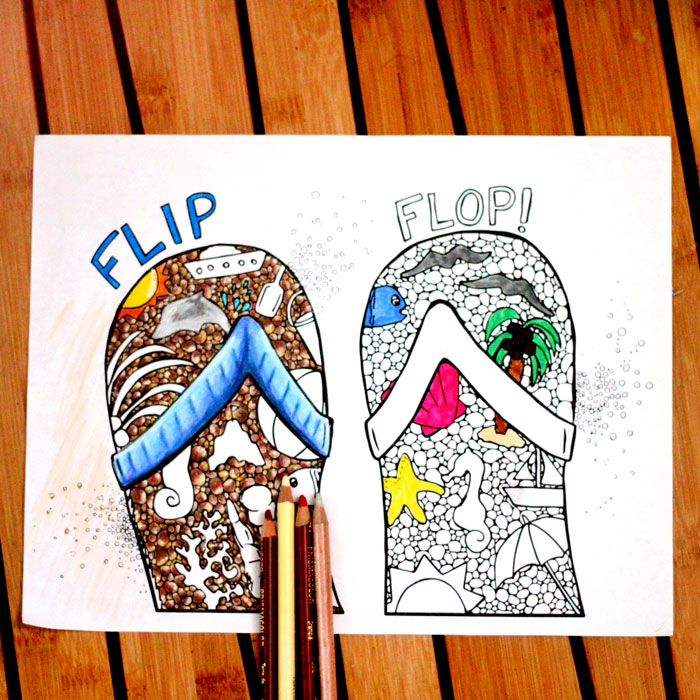 2. Make some charming Watercolor Ocean Art by The Idea Room to hang on your wall as well! I love the texture here!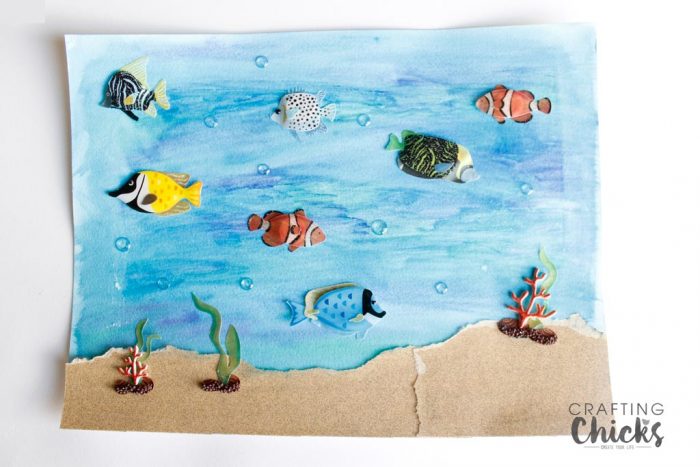 3. Get even more texture with these Textured Beach Glass Canisters by Crafts by Amanda. It's great for organizing your home in a visually pleasing way. You can hide all sorts if clutter in these.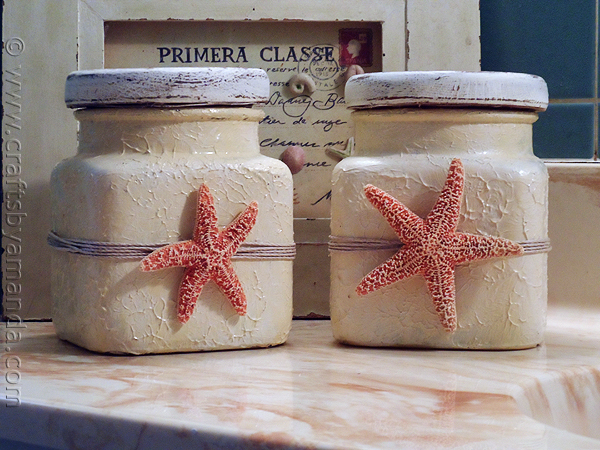 4. Grab this free Doodle Boat coloring page for adults (plus more at the end of the post). I love how this one is totally complex and fun for mom to color, but would fit so well in a kid's room once it's finished and framed. It was colored using Stabilo 88 markers in plenty of shades.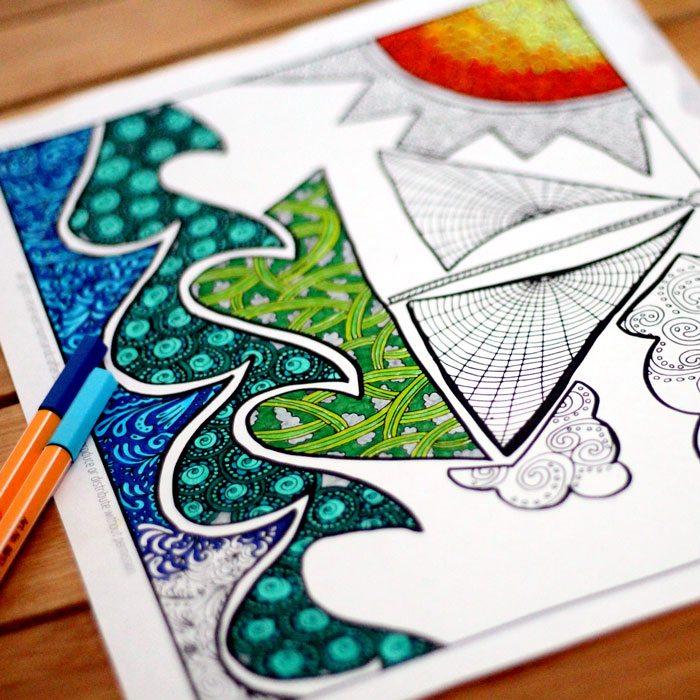 5. To go with your framed doodle boat art, make a DIY Cardboard Aquarium by Molly Moo Crafts that works perfectly in your kid's room.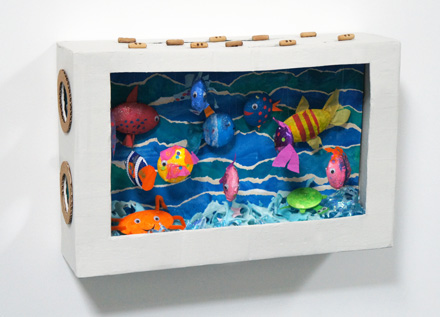 6. Have your child join in these ocean crafts with Coffee Filter Ocean Animals by A Little Pinch of Perfect. It's an inexpensive way to add to your summer bucket list.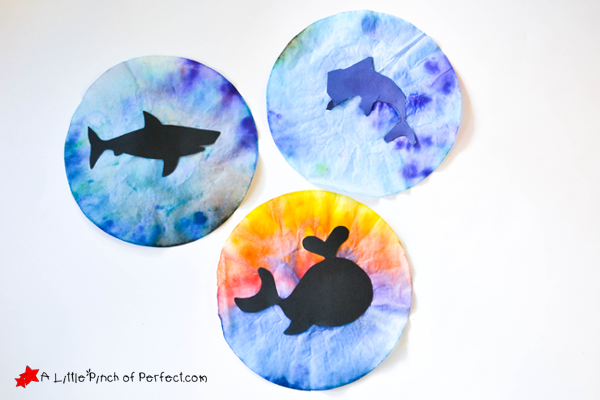 7. Make this clever Beach-in-a-jar keepsake craft using your favorite shell! Reindeer moss sets the stage, add some pebbles, and then some water beads in blue for an ocean finish. Top it off with a beautiful seashell. It's really easy – click the title above to see the clever trick how the lid was made!
8. Your child can practice painting, cutting, and gluing skills with this Dolphins in the Ocean Art by Craftulate.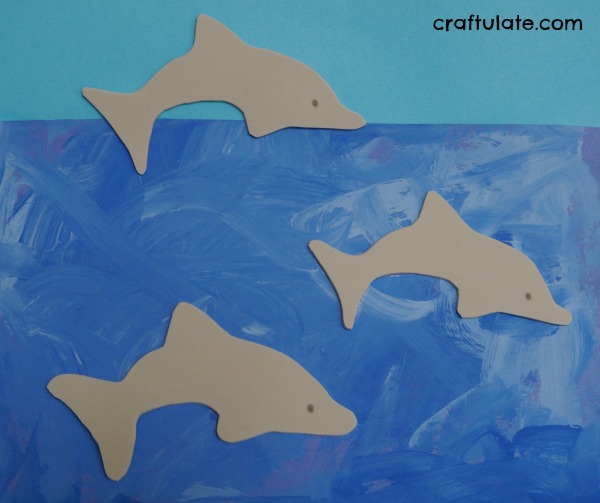 9. Here's another coloring page special for you – featuring a complex ocean scene! Click to download the Hidden Treasures Ocean Themed Coloring Pages by Arts & Crackers.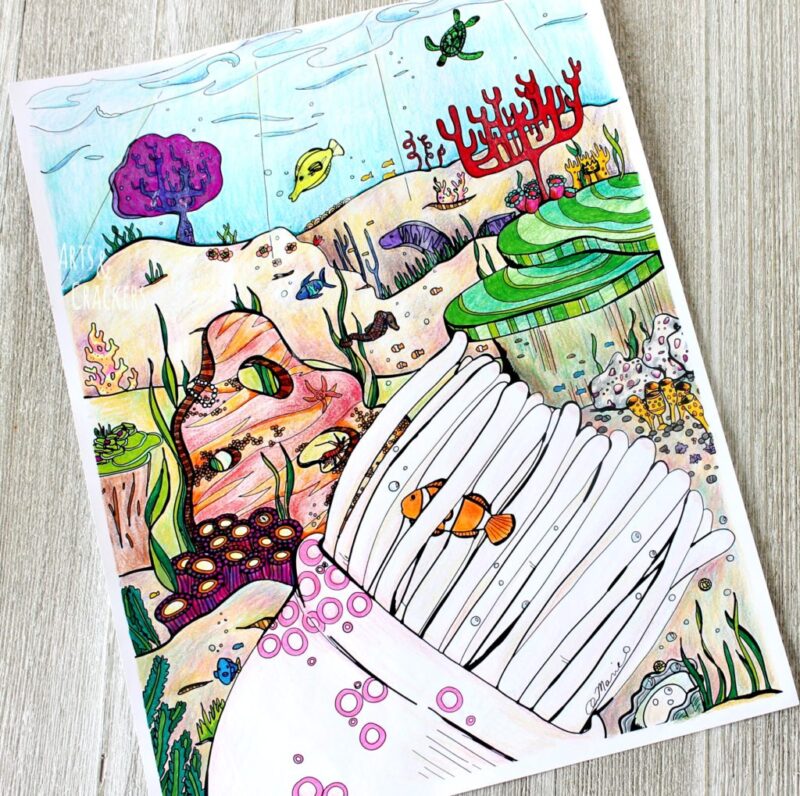 10. Make Painted seashells with ocean scenes using larger shells. The background is easy to paint on, and then detail is added using a good black permanent marker.
11. Here's another fun kids art project: make a Bottle Cap Ocean Scene by I heart Crafty Things. I've never quite thought of using bottle caps this way!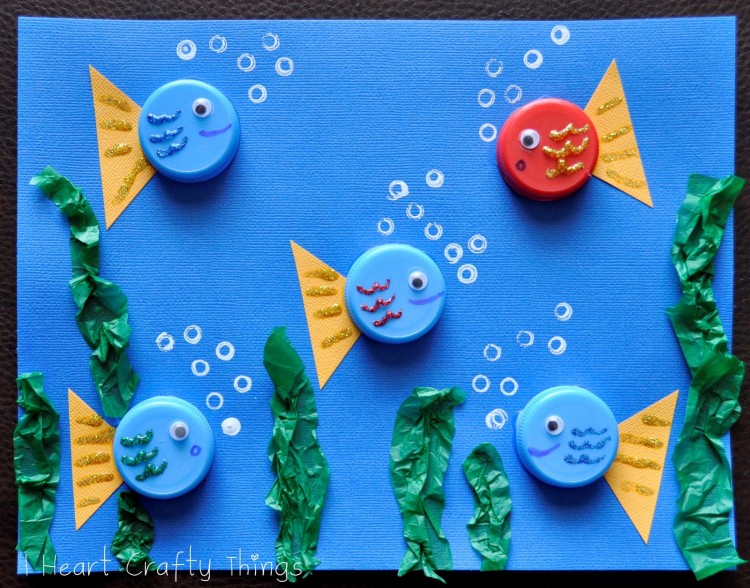 12. Adorn your party with this Under the Sea Backdrop – by Lia Griffith. It'll make for some fun photos and memories of the event!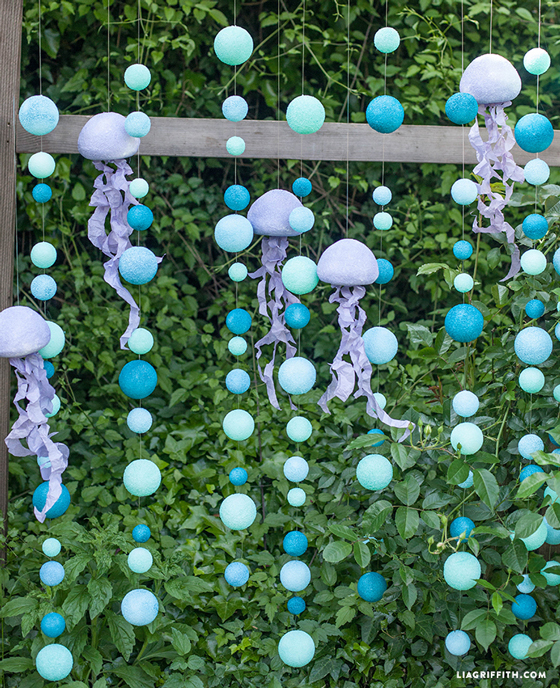 13. One of my first sets, these Sunsets 'n Scenes coloring pages for adults are really easy and fun to color. I did it using Staedtler Noris Club markers for rich, bold color.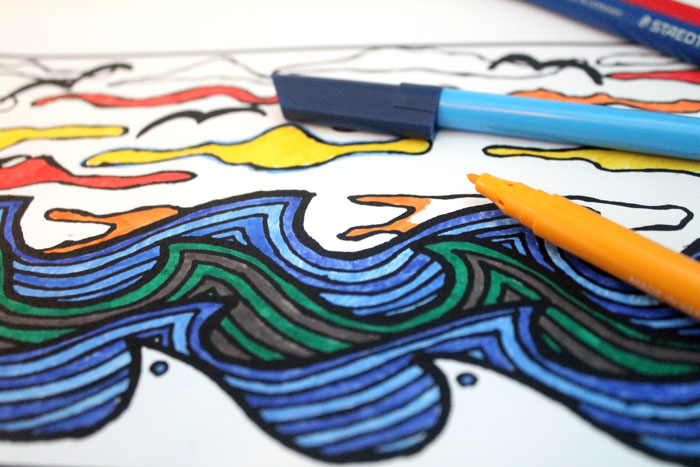 14. This is hysterical and adorable! Make Shark Attack Soap by Soap Queen as a gift for your shark fan – it's great to display in an ocean-themed guest bath too.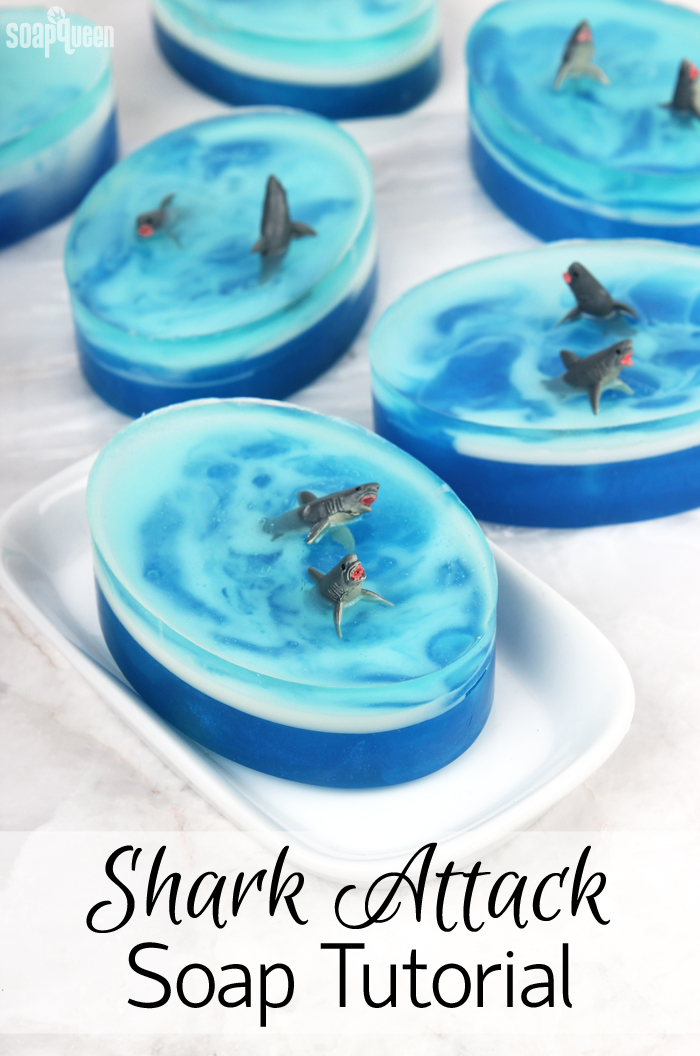 15. A Burlap Beach Wreath by Craftaholics Anonymous will add a bit of nautical charm to your home during the summer months. Or leave it up during the winter too to keep you going through the cold…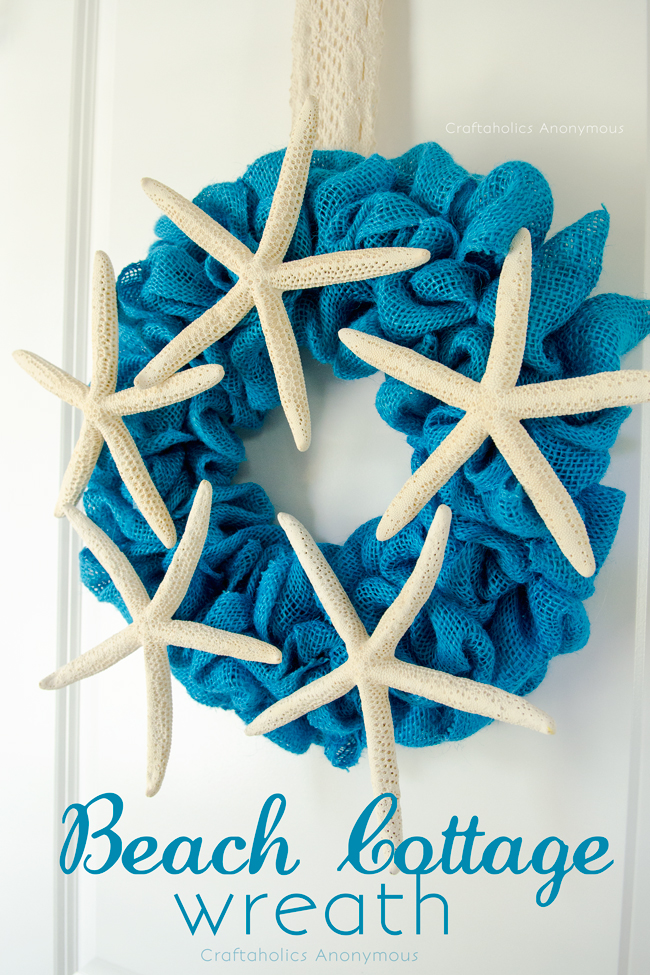 16. These Egg Carton Sea Creatures by Fantastic Fun and Learning will get your young one's imagination going. Invite your child to invent her own creatures too!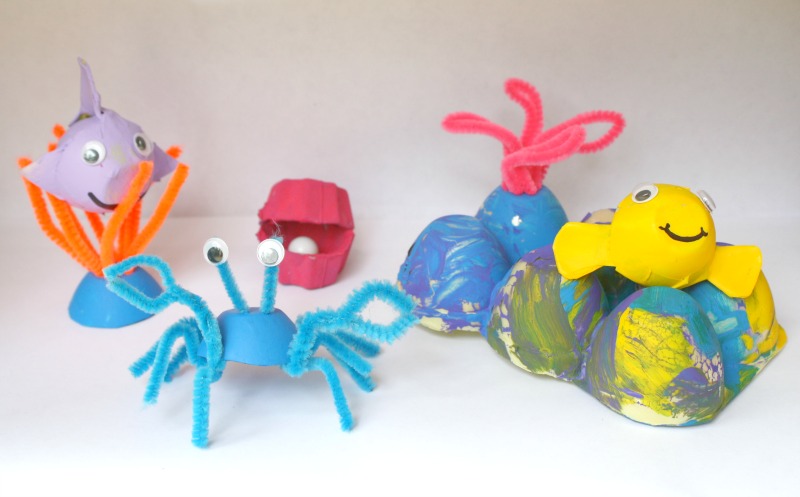 Want more?
Check out the full ocean coloring page packet for adults below!
Which ocean crafts do you like to make? Comment below!