M loves safari animals, so I thought it would be really cool to create an animal wall hanging for the boys' room. This post has been sponsored by Safari Ltd, makers of high quality, non-toxic, scientifically-accurate toy animals. The cool thing about it is that if I ever redesign and veer away from animals, I can actually dismantle the wall hanging and turn it back into toys for them!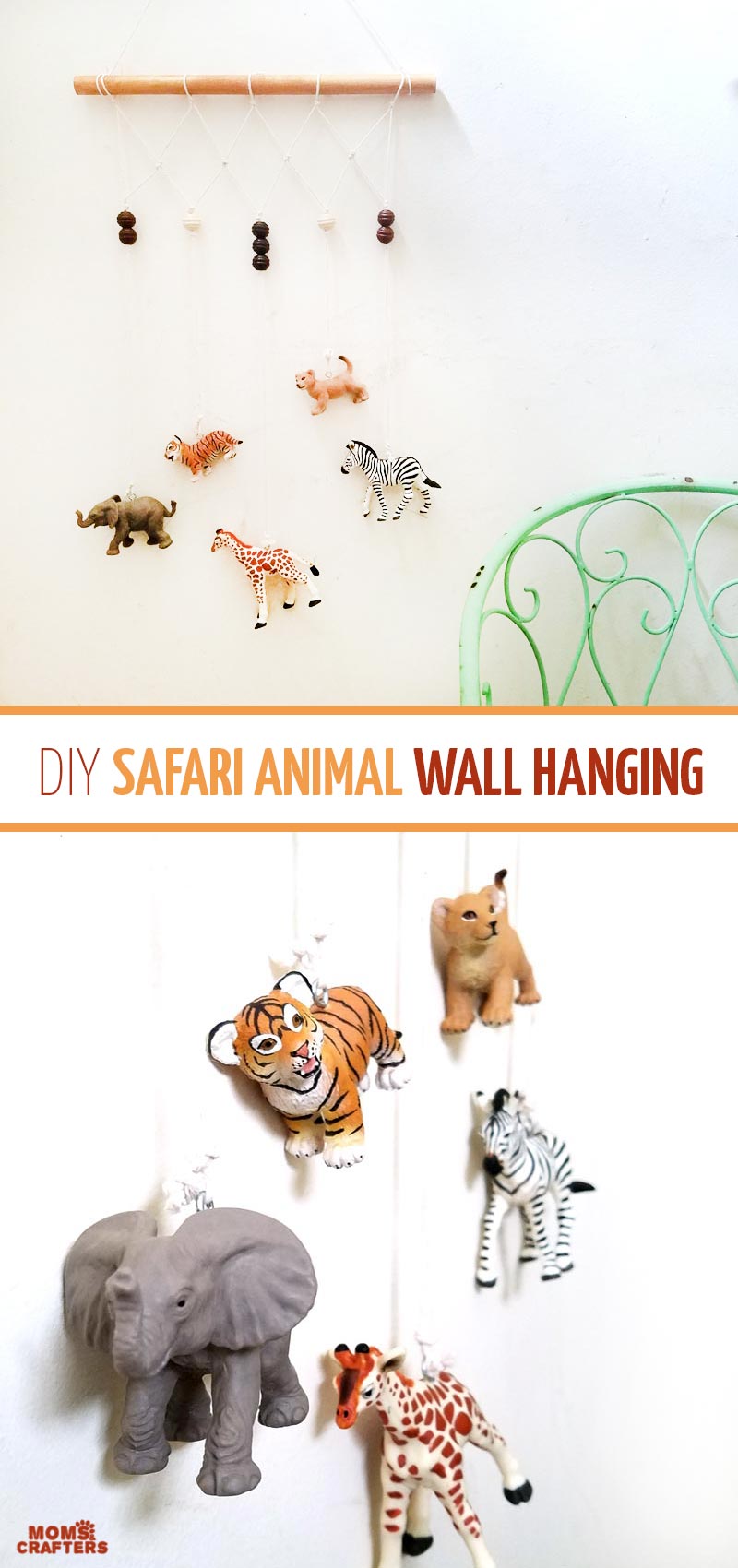 Ages ago, I got a pretty giraffe wall art for M's room (which he now shares with Baby Y). I hadn't done much to decorate since then, but I always knew I wanted a little wildlife. I also had a photo on canvas of M in a very ranger-type vest, so I thought an animal wall hanging would be perfect.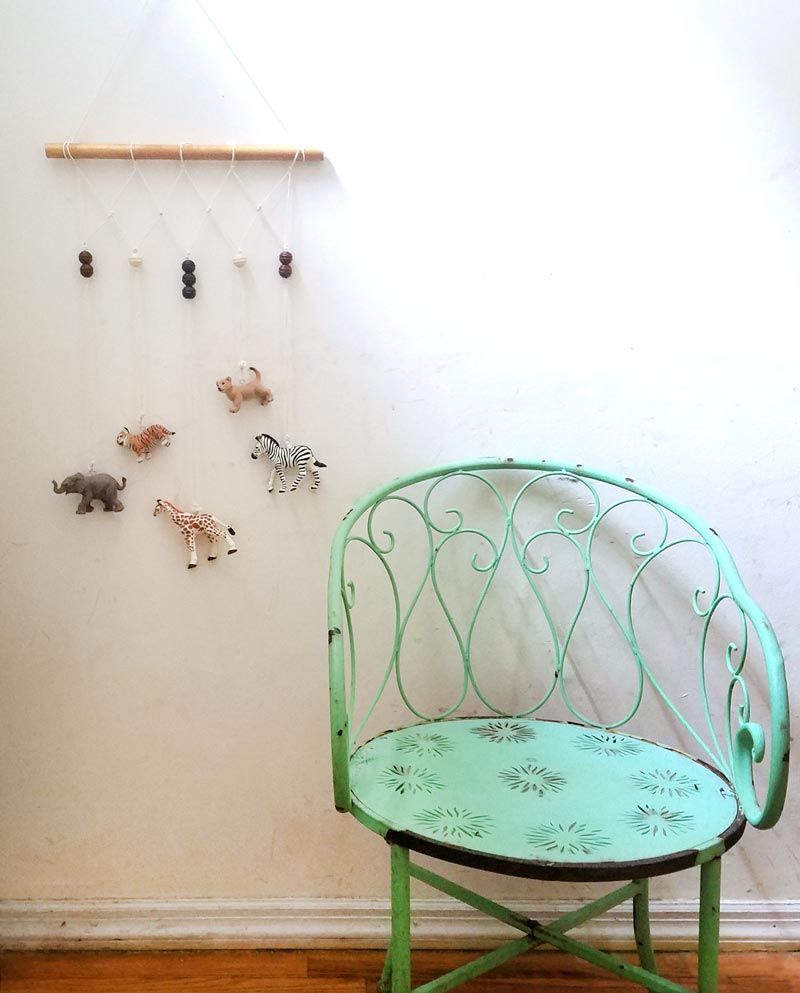 Of course, since the room is for my babies, I figured that it would be adorable to create my decor around baby animals, I chose a baby giraffe, elephant, and a zebra foal, along with lion and tiger cubs with their cutesy little faces. At the end of this post, you'll have a chance to win your own set of toy animals for this project!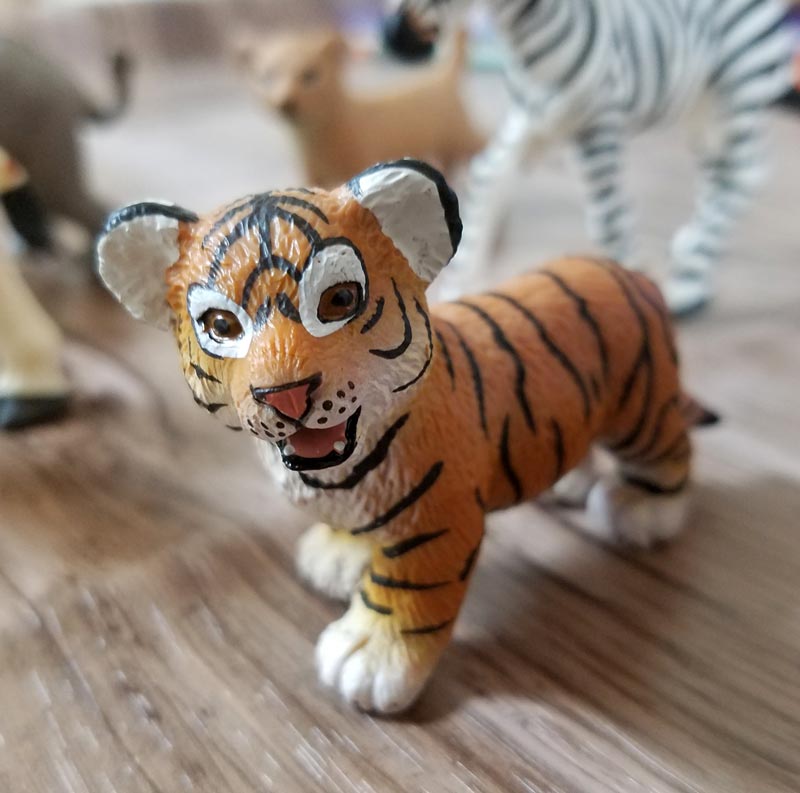 Safari Ltd creates high quality toys – and you can see it from the detail. Not only are they accurate, but they are simply beautiful. This creates a high-end look in the room – it looks like a piece of art hanging from the wall, not your kids' toys. But it still retains that playful look you want in the kids' room.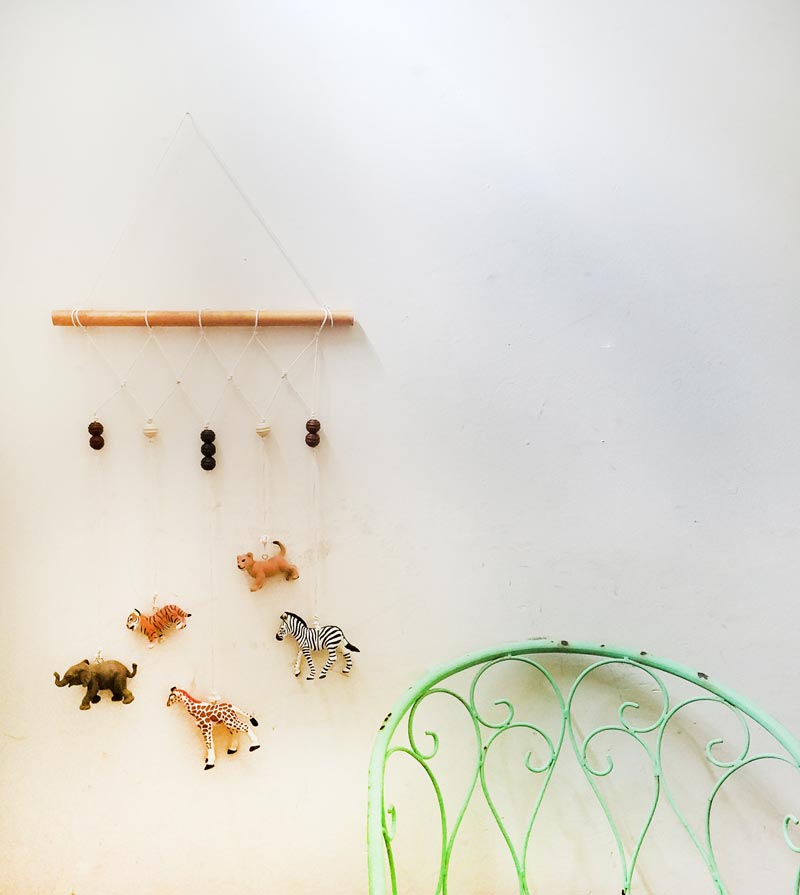 When you're ready to switch it out, you can unscrew the eye and use the animals for pretend or sensory play.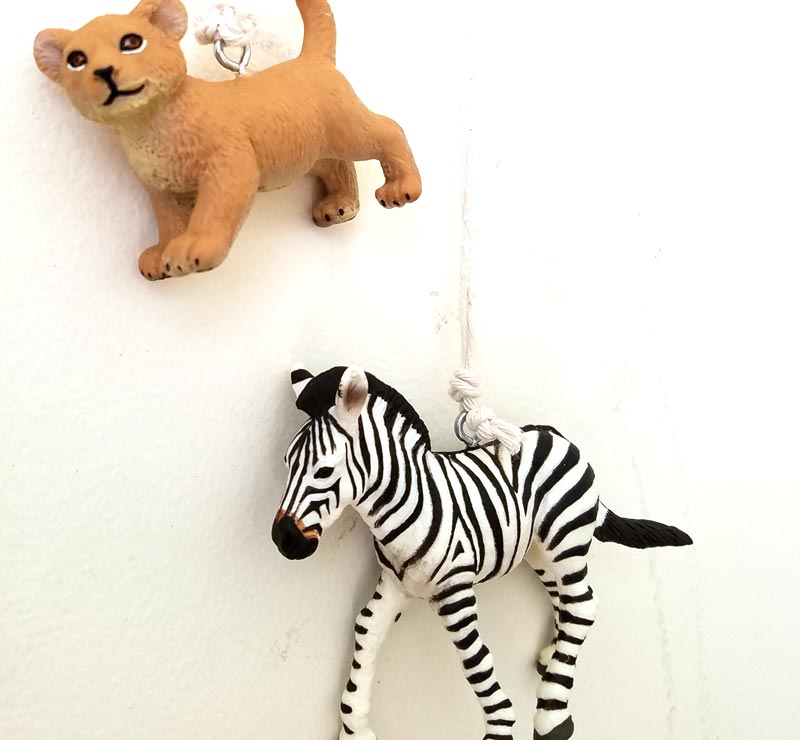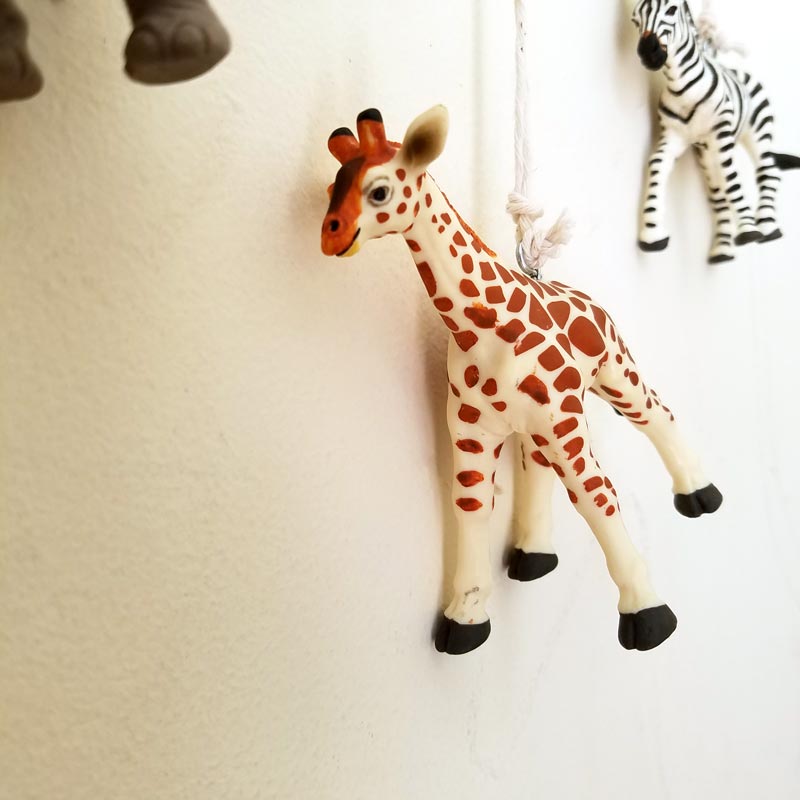 Safari Ltd. animals are sold in zoos, aquariums, and museums (as well as on their website) so that you can pick them up on your trip and turn souvenirs into a beautiful animal wall hanging. That way, when your child sees it hanging in his or her room, it's a reminder of some wonderful experiences!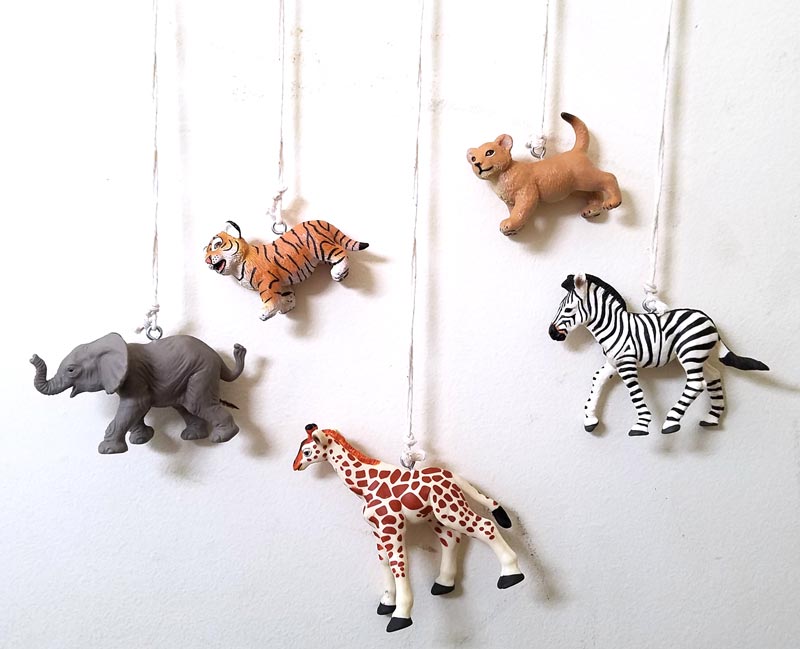 Safari Ltd encourages learning through play, making it a joyful experience. I personally love including educational elements in kids' room decor, so this animal wall hanging really suits that need!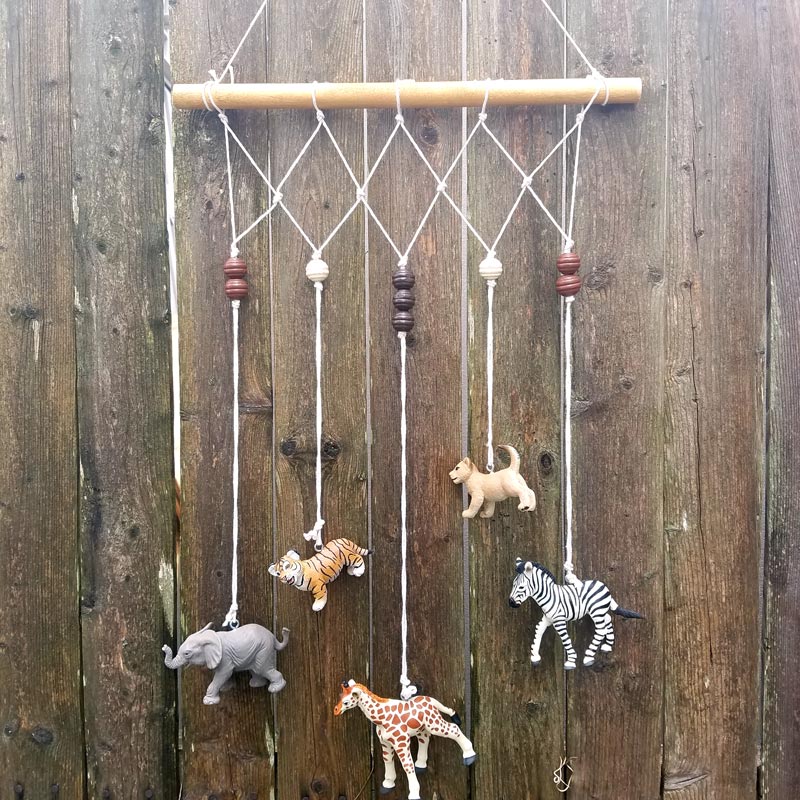 I had some fun with the knotting and beads at the top. It did take a few tries to get that right, since it's my first time doing that on a wall hanging. For the stick on top, you can use a branch like I did here, but I wanted to keep it simple to add more focus to the animals.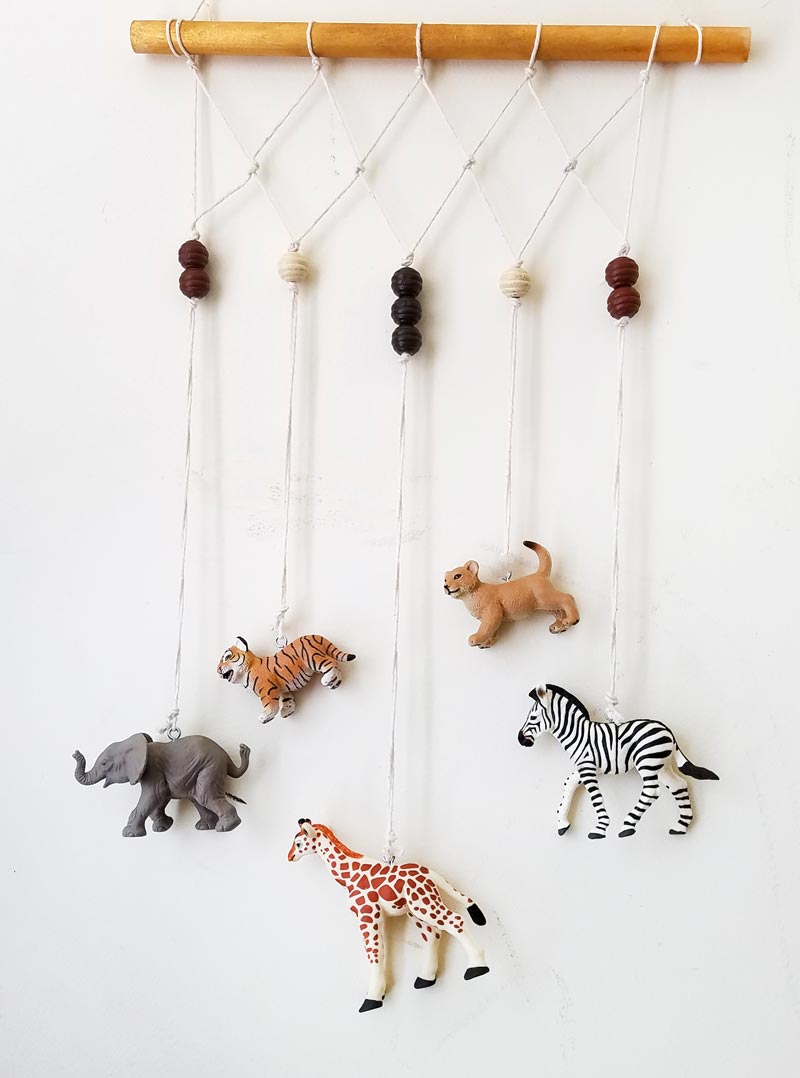 I had this dowel that I had painted gold for another project that didn't work out. You can do that, or just use a plain wood dowel – either one works. It depends on what you have handy, and which look you like better.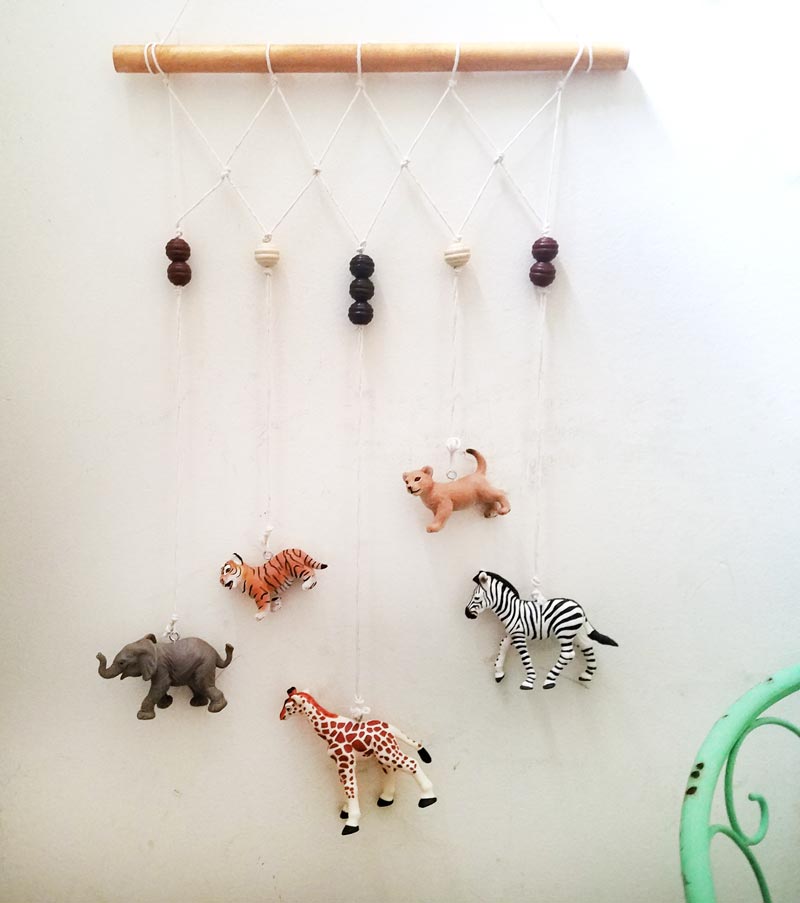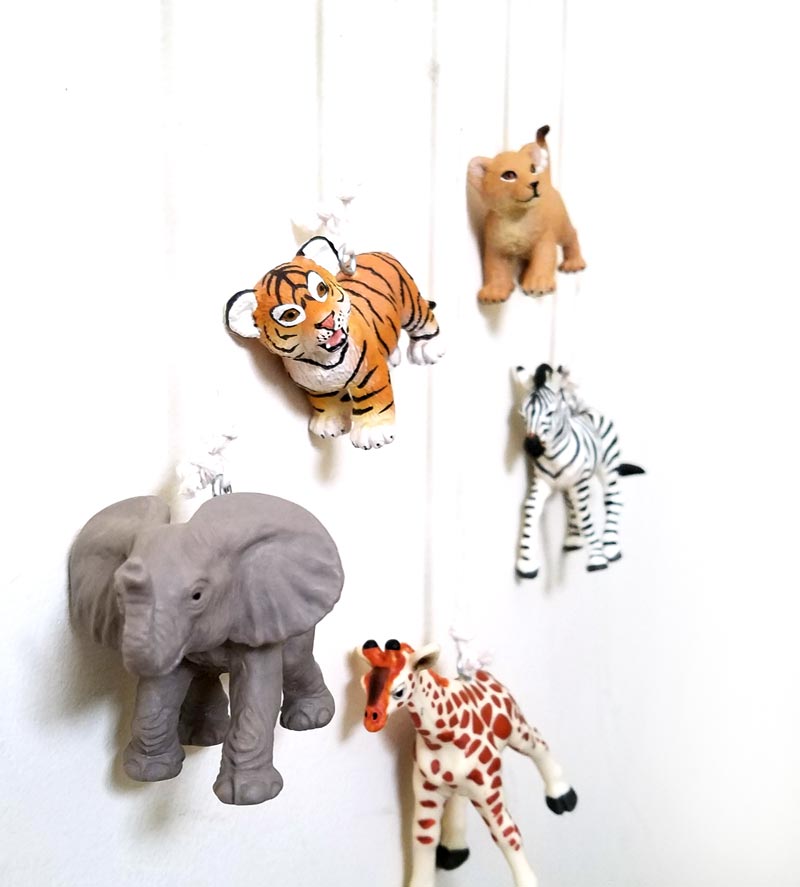 What you need to make an animal wall hanging:
Your animals! I chose a baby elephant, baby giraffe, zebra foal, tiger cub, and lion cub.
Plain cotton twine
Wooden beads
A dowel (mine was a 12 inch long, 1/4 inch circumference) painted with gold acrylic if you want
Screw eyes (found in any hardware store)
Scissors
How to make an adorable toy animal wall hanging for the kids' room:
Step 1: Plan it out! Make sure the placement of your animals will work with the size of your dowel.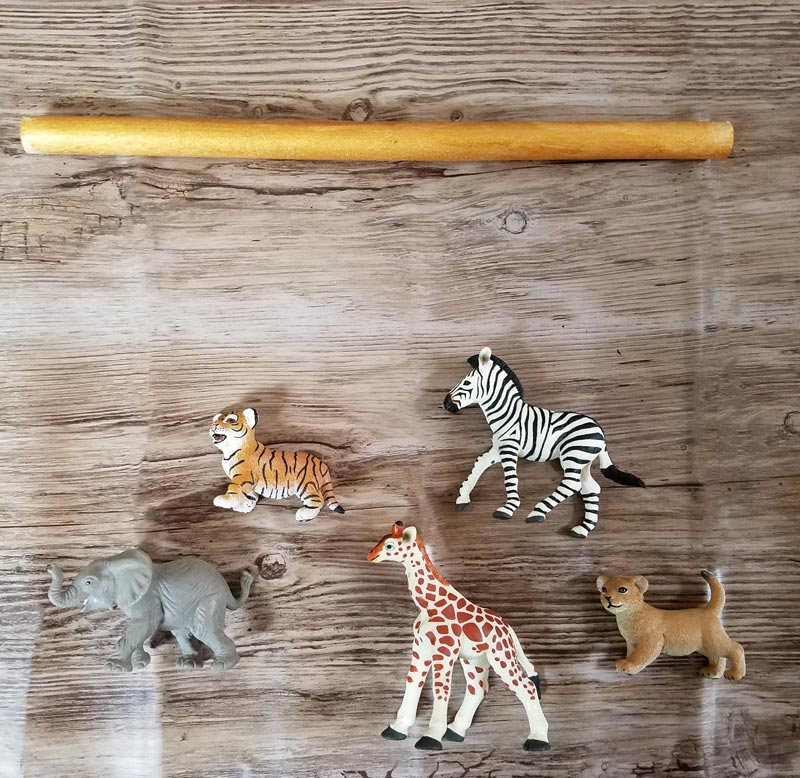 Step 2: Cut 10 pieces of twine (or two for each animal). I made mine 3 feet long just to be sure, and it was plenty.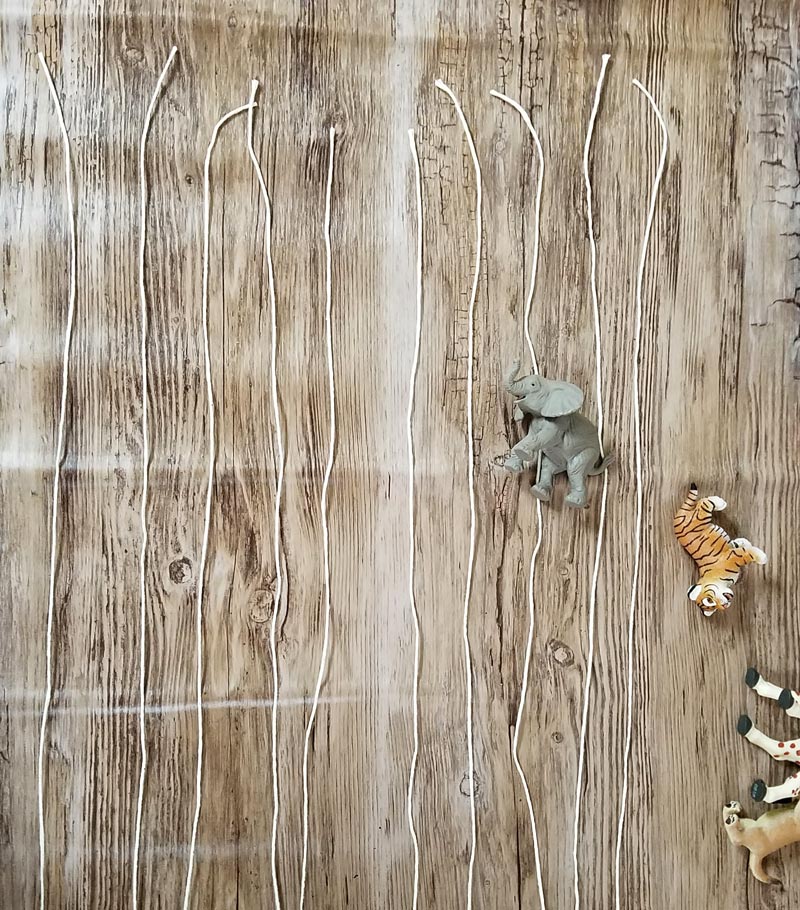 Step 3: Knot your twine into five pairs to equal the number of animals, roughly two inches from the top.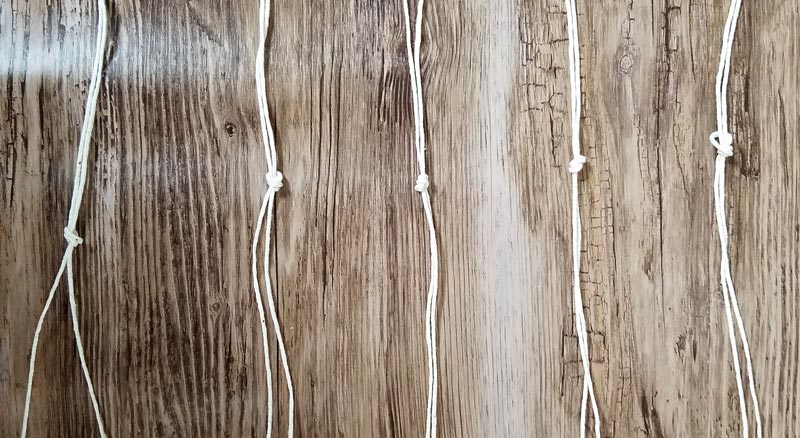 Step 4: Tie your strings equally spaced onto the dowel.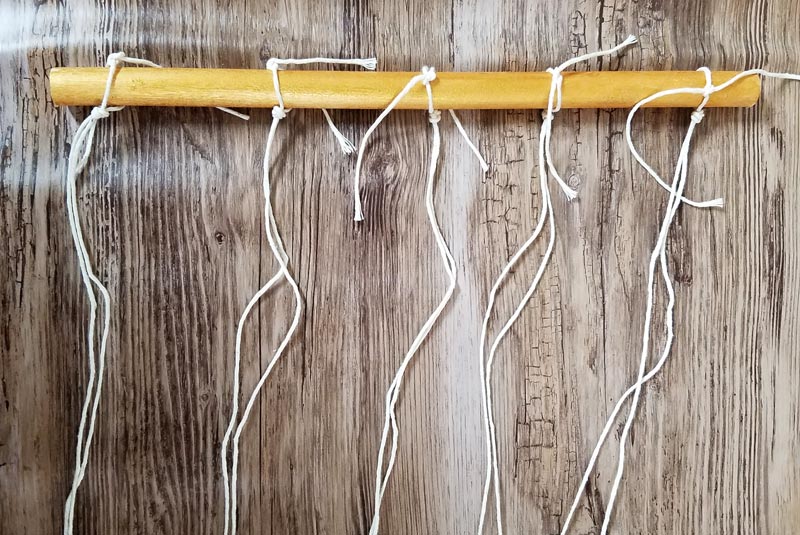 Step 5: Makes some diamonds! You're creating four knots in this round, leaving the end strings loose, and connecting the pairs. If you want to measure exactly, you can mark it with a pen. Just take the neighboring strings from two pairs and knot them together. Do this with all 4.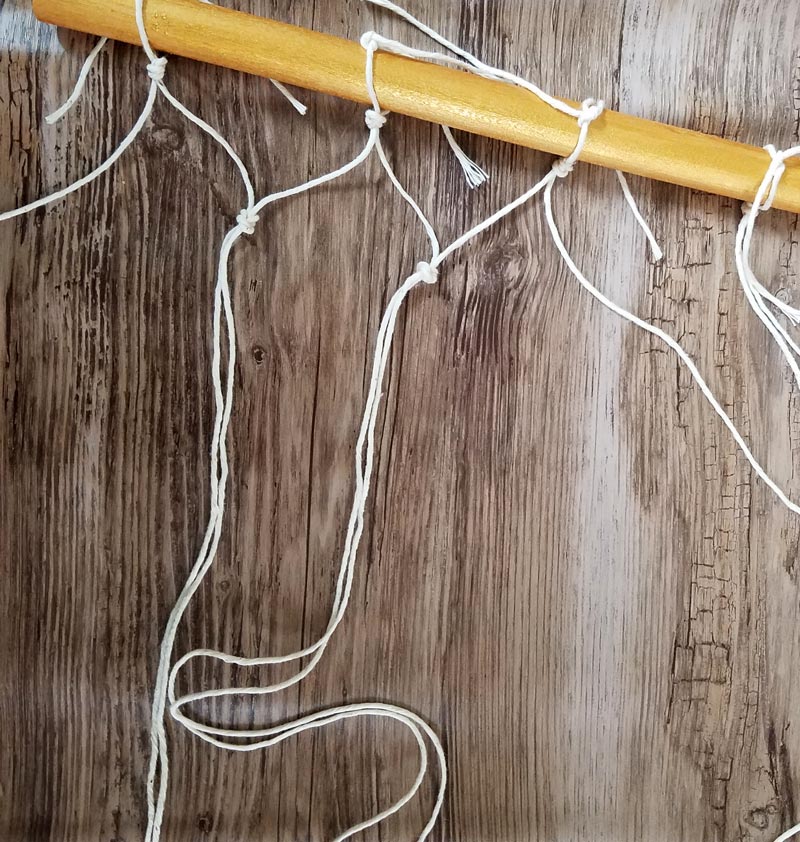 Step 6: Now you're going to reestablish your pairs of strings. Just knot the pair back together, including the end strings this time. You're making five pairs of knots now.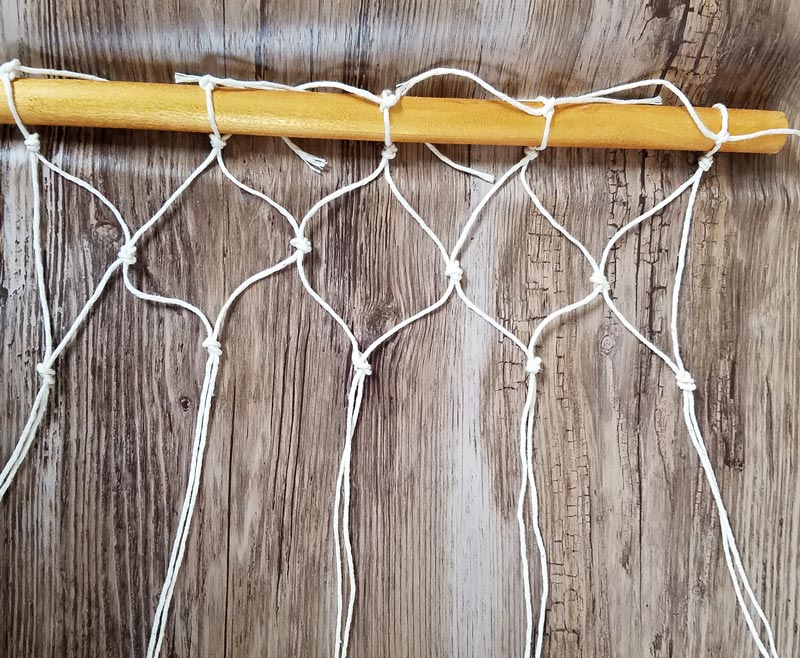 Step 7: Add some beads and knot into place! Something thin and long like a needle or headpin can help you get the twine through the bead holes.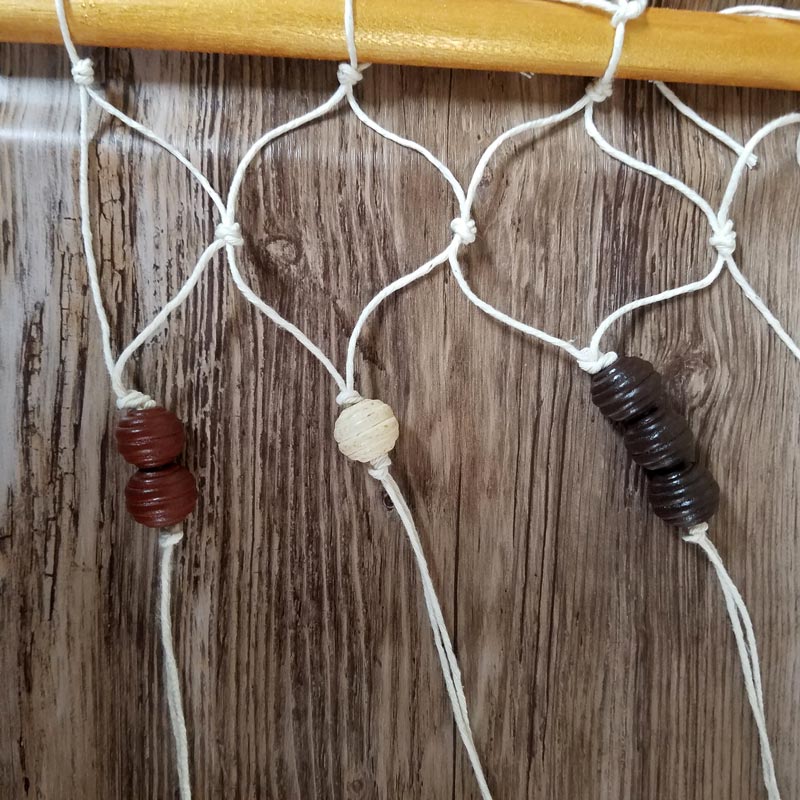 Step 8: Map out the rough placement of your animals again, and make a little mark where you'll need to add your eye screw. Note: To keep the lion and tiger cubs upright, you'll need to do it a bit closer to the head. I didn't and mine tilt forward a bit.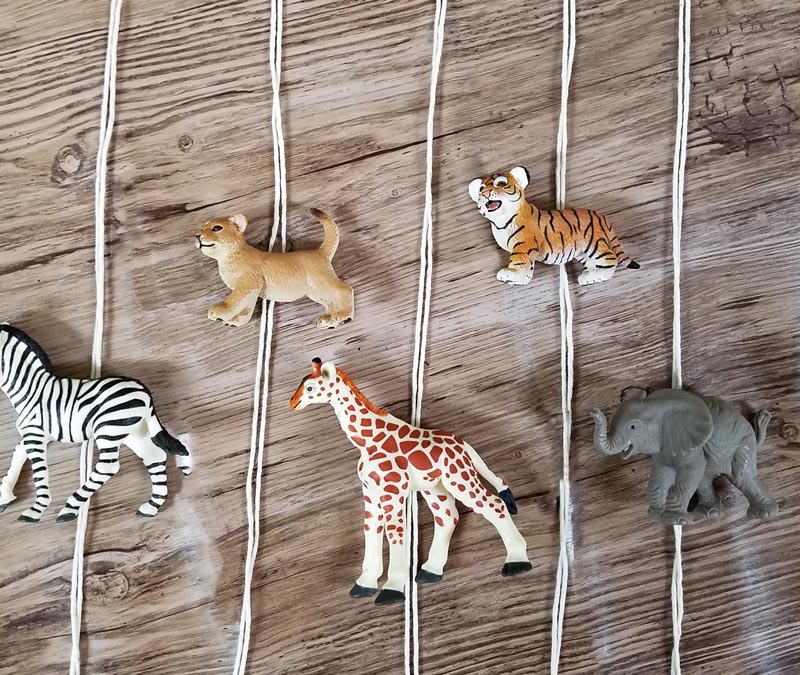 Step 9: Screw your eyes into the place you marked. Tip: start the hole so that it's easier to screw in using an awl – just make a tiny marking so that you can manually screw the eye in.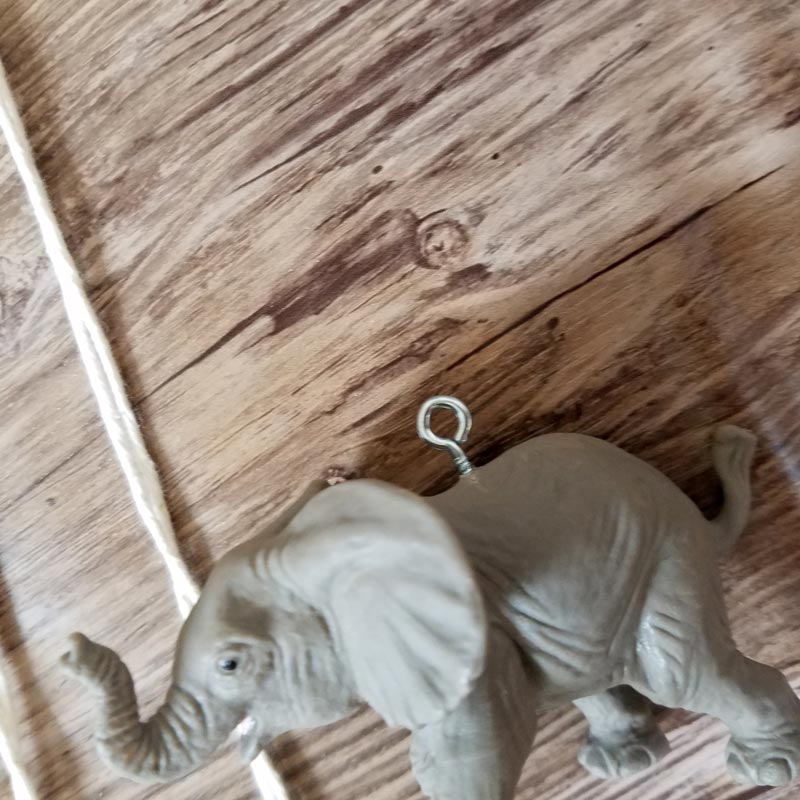 Step 10: Repeat with all your animals, work out your final placement, and mark the spot on your string.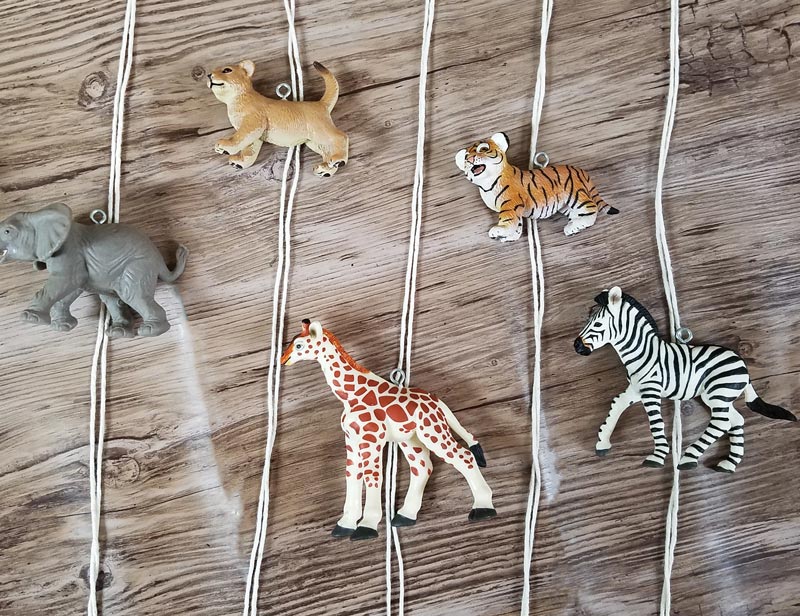 Step 11: Tie your animals onto the spots that you marked on the string. Make sure it's really tight (tip: wet the string and then pull the knot tight) and then trim it.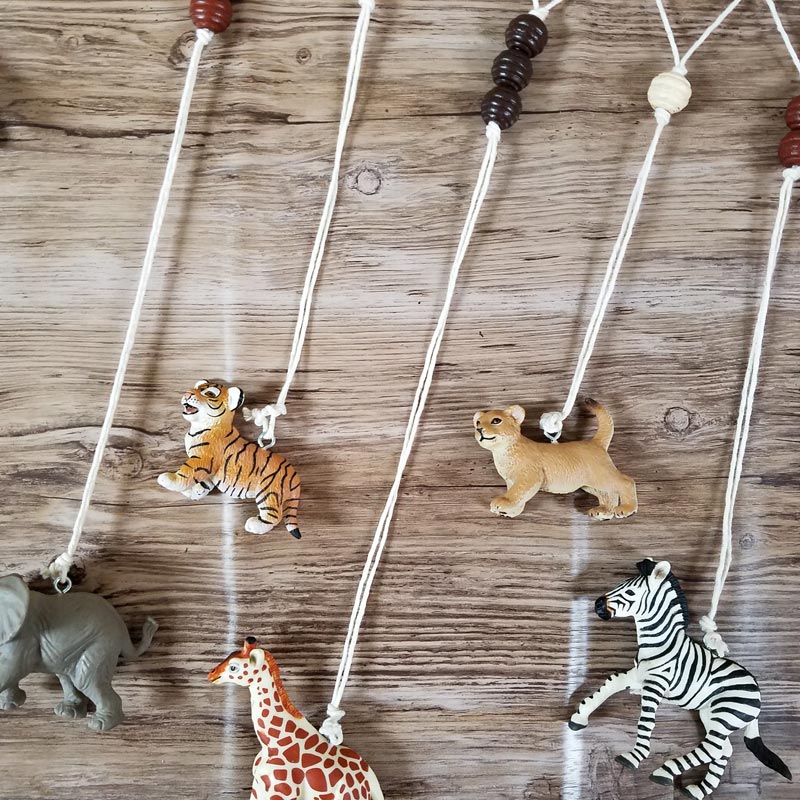 Step 12: Add a string to your dowel to serve as a hanger, tighten all your knots, and trim them to size.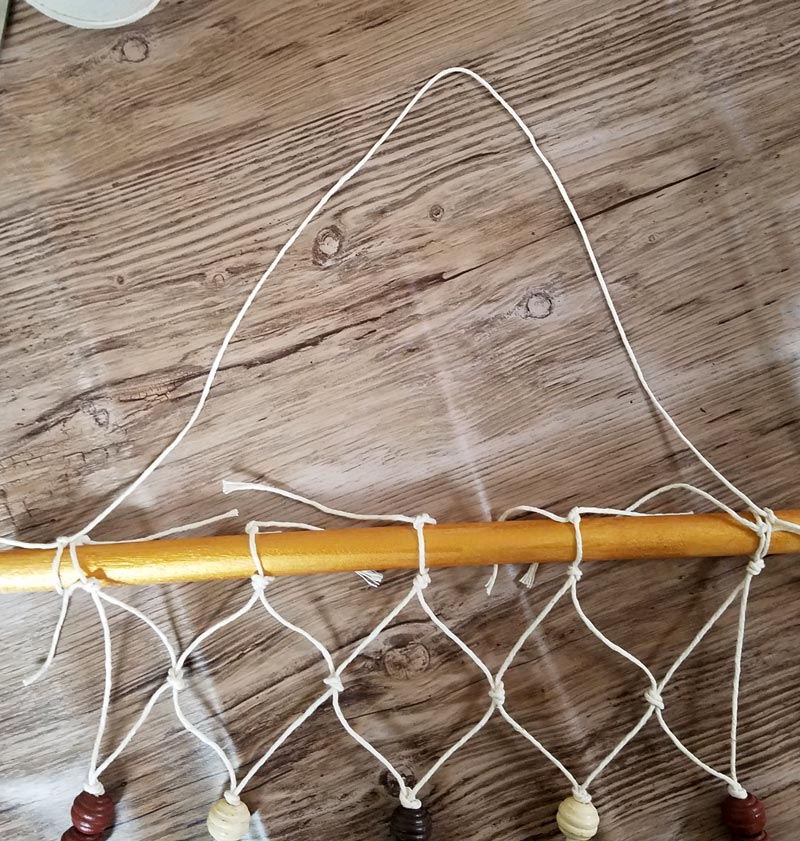 Hang your beautiful animal wall hanging and showcase it with pride!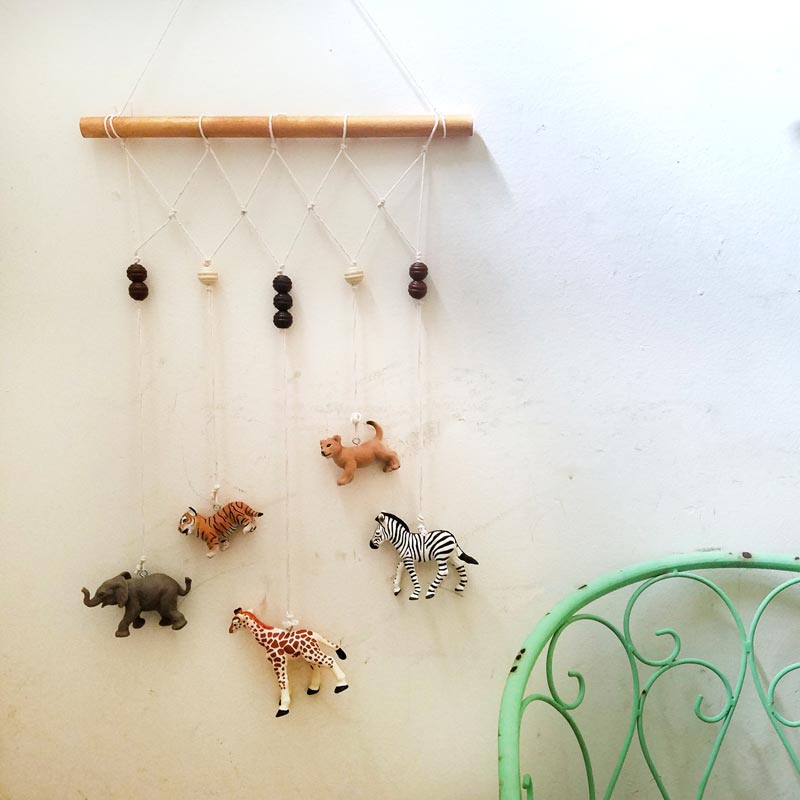 Where do you plan to hang your animal wall hanging? Which Safari Ltd. toy animals will you be using on them? Comment below!
Enter to win your own set of toy animals to make an animal wall hanging with! One winner will receive the five animals pictured below, sponsored by Safari Ltd.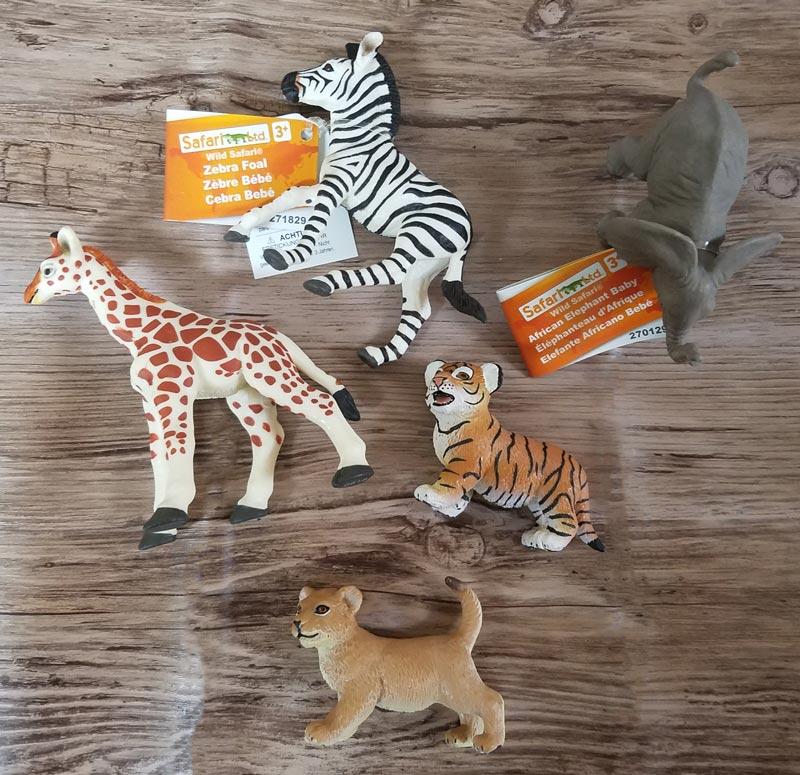 The fine print: Giveaway is open to residents of the continental US only, ages 18+. Sponsor is responsible for prize fulfillment. Giveaway begins on June 21, 2017 at 9:30 AM and ends July 20, 2017 at 11:59 PM. Winner will be notified via email and will have 48 hours to respond with their shipping address before a new winner is chosen.
Enter using the form below. Only one entry is mandatory, but the more you complete, the greater your chances!