Navigating the field of baby gear essentials you should register for can seem intimidating – but fear not! I have consolidated it here for you! If you've been following along with the baby registry gift guide, you have already seen my baby registry essentials. This list focuses on the bigger, important purchases while that one focuses on all the various miscellaneous products you'll need. Scroll on for more! And don't forget to see my side-by-side comparison to help you figure out the best video baby monitor to get!
You'll definitely want to register for most of the baby gear essentials on this list – but which ones exactly will depend on your lifestyle.
Disclosure: I did receive some samples from brands for coverage. Some of the products on this list include those samples which I have tested and enjoyed, and some are products I purchased and received as gifts, love, and chose to feature. In the interest of full transparency, I have marked items that I received from brands with an asterisk.
All of these products are "tried and true" in my experience. Nevertheless, I am not otherwise affiliated with these brands and cannot take responsibility for quality, fulfillment, or anything else that's in their hands.
This post contains affiliate links.
Some of these you can add right to your Amazon registry via the Amazon links included. You can also search for them in your local shop when you register, or buy directly for that baby shower you are attending.
Baby Gear Essentials: Which stroller should you get?
I think everyone knows they'll need that stroller. Which one you get should depend on your needs. Make a list of features: those you MUST have, those you would like to have, and those that would be nice but are totally extras.
Look for the stroller or two that covers as many of those as possible.
There are many different types of strollers. Here are just a few – and I've linked them to some of my favorites: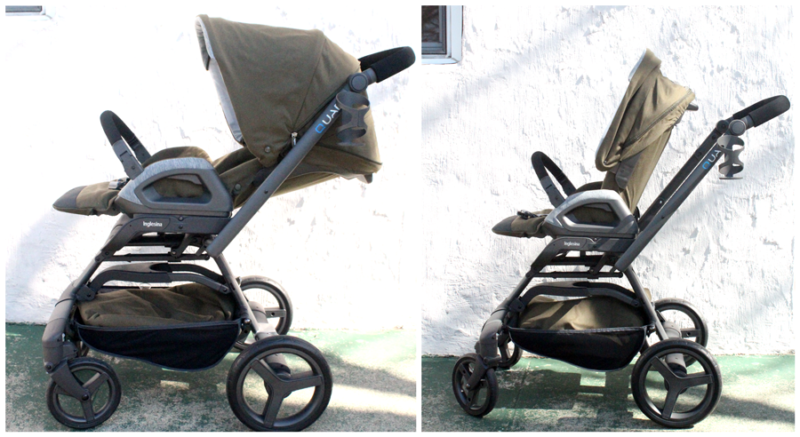 The Inglesina Quad* stroller has everything that you need as you general go-to stroller. Here are a few of my favorite features that make it great:
It has a sturdy streamlined frame, making it a beauty – and easy to clean!
The ride is super-smooth. It was a relief on the city streets after using my travel system.
The beautiful design includes the fabric. The pictured color (forest) is a deep neutral green, offset by a textured gray that softens the whole "canvas stroller" look, without taking away from the durability of the actual canvas.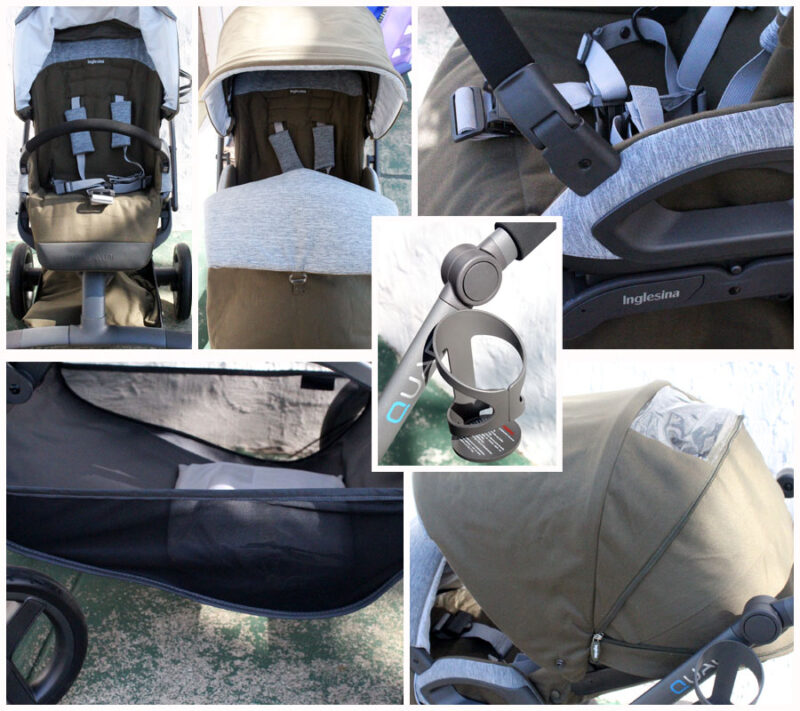 A generous basket underneath is just big enough for a few groceries and essentials.
Comes with a rain cover in a drawstring bag.
Includes a cupholder for mom.
Has a sturdy, extendable canopy with a peek-a-boo window.
A repositionable handlebar allows for a comforable height for everyone.
Includes a foot muff – perfect for infants!
Everything is very easy to adjust, and the break is an easy foot-operated one.
Incudes shoulder pads for baby.
Multiple accessories are available separately so that you can customize it to your needs. Some accessories include: a bassinet, a car seat adaptor, and a diaper bag (see below.)
Baby Gear Essentials – How to choose the right car seat:
Car seats come in a few varieties:
I highly recommend registering for a convertible car seat that will take you as far as you need. The only reason you'd need an infant seat over a convertible is if you want the portability or to use it as a travel system. Nevertheless, doctors do not recommend leaving baby in an infant car seat for too long, so it's not worth having as a place to put baby down indoors (suggestions for that will follow.)
As far as convertible car seats are concerned, read up on AAP recommendations for forward and rear-facing, and which type of seat is appropriate for each age. The AAP recommends rear-facing until at least age two, or for as long as you can. We have the Graco Milestone All-in-One and we just turned around my 2.5 year old. It's extremely easy to use, install, and adjust to safe measures. It will also adjust to a high-back booster when we're ready for that.
Baby Gear Essentials: Diaper Bag
With our Inglesina Quad stroller, we got a matching diaper bag*. It has all of my "mandatory features" in a diaper bag including:
A changing pad
Stroller clips
A padded crossbody strap
A roomy interior with subdivided pockets for organizing.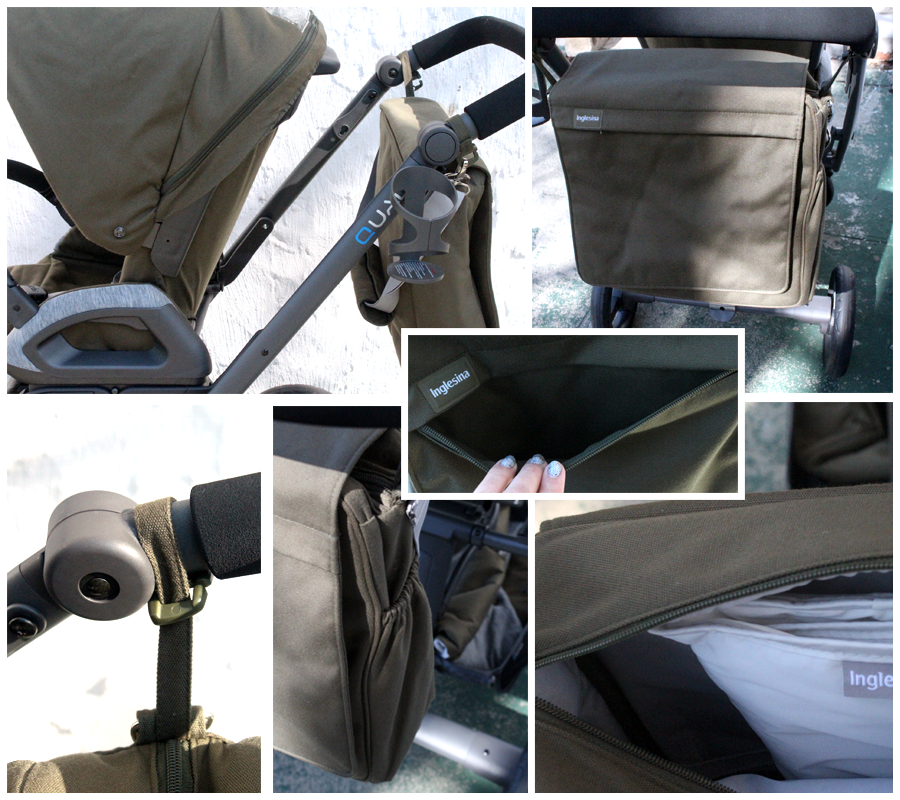 It also features lots of pockets, including two exterior side pockets, and one zipped front pocket. It has a flap that covers the top and is stylish for both mom and dad to carry around. Oh – and it looks great on the Quad stroller!
Once again, when choosing a diaper bag, make sure that it fits your "must-have" features, and then go with your secondary list of features…
Baby Gear Essentials: Should you get a baby carrier?
I will swear by my baby carriers, but I know that there are many out there who haven't touched it.
If you know you travel a lot by plane – or even by bus – definitely get one! If you know you'll love one, as I did, it can't hurt to register. If you're on the fence, you can wait until your baby is born and then try out a friend's. The only drawback: you might miss out on someone buying it for you from your registry!
There are a few types of carriers, with these being the main ones:
A soft baby carrier: I used this one mostly when traveling with my baby and it was a lifesaver! It's a great solution for when your child is slightly older, though most of them will work for infants too.
A back pack baby carrier: get this one if you're a hiker, or do similar family outings. Otherwise, you're better off with soft.
A wrap carrier: This was my favorite to use when my baby was an infant, and a perfect choice if you plant to do attachment parenting. I never quite mastered breastfeeding with it, but I know some moms who will swear by it. Some people manage to use it into toddlerhood, but we stopped at about four months. It's also a lifesaver for moms with colicky babies who need to be held a lot.
A sling carrier: A more budget-friendly option, this one is perfect for babywearing in slightly warmer weather (where a wrap can be too much)! Lots of attachment parenting moms will swear by these too. You can get a free one (you do need to pay shipping, but the bottom line is still super cheap) here if you use code ENBABY at checkout. Do this as many times as you want – just open a new browser window.
Baby Gear Essentials: Do I need a baby monitor?
Yes!
Okay, you don't need one, but I can not begin to describe the peace of mind I started having when I finally got one. You'll find it even more helpful approaching toddlerhood, when naps start getting wishy-washy and inconsistent. Just do it!
Here is a breakdown of different types – register for the one that your registry budget allows… (note: YES! I have tried out every single monitor listed below personally. Hard to believe, I know.)
A definite baby gear essential: Somewhere to put baby down as an infant!
With infant car seats not recommended anymore for longer term placement (keep 'em in the car!) you'll want to have somewhere to put baby down that is reliable enough that you can take care of yourself.
While these DO require supervision, you'll still have enough reliability to fold that load of laundry, while keeping an eye on baby.
Generally speaking, I'm talking about swings and bouncers. M was always a bouncer baby, as were my nieces. It has a huge advantage over a swing: it's propelled by baby's kicks. Both swings and bouncers have soothing properties that babies simply love.
The Ingenuity InReach Mobile Lounger and Bouncer* takes this to a new level – literally!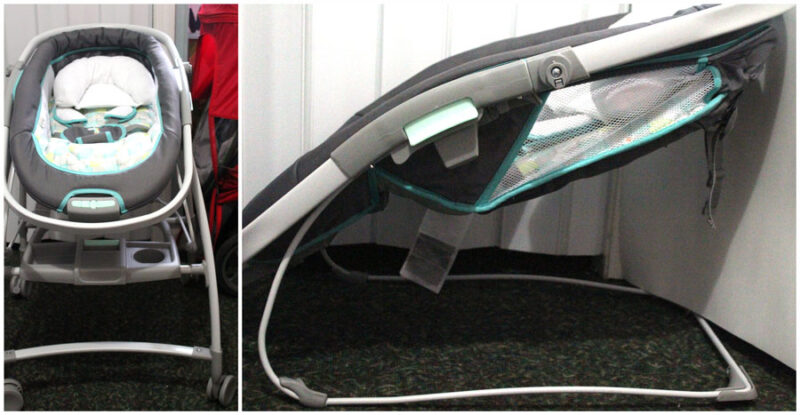 It includes a stand with locking wheels that allows it to be brought to mom's height. I think we're all tempted to put our babies' bouncers on a high surface or table, which is not considered safe. This is especially a factor postpartum when I personally couldn't move for weeks. The Ingenuity InReach Mobile Lounger and Bouncer serves as a lounger on a base that rolls easily from room to room, and an AMAZING bouncer (as in, fluidly-moving) without the base.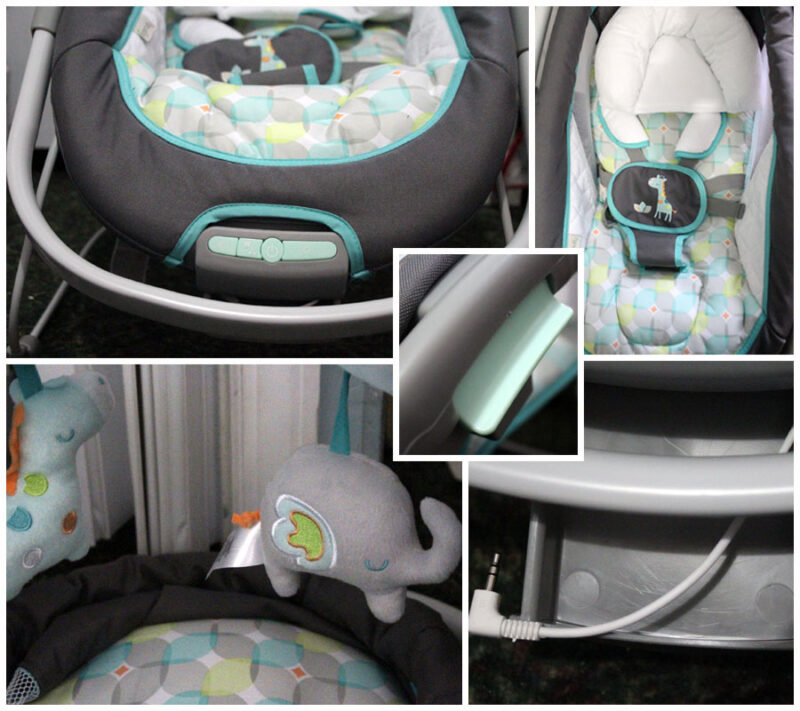 Some more fun (amazing) features include:
Vibrations and sound to soothe baby
The Quincy pattern: a modern, gender-neutral print
ConnectMe™ technology allows you to connect your own device to entertain baby. There is a pull-out drawer and standard 3.5mm headphone jack for this.
Toy bar/canopy with hanging toys for baby.
Simple to use and remove from the stand.
Comes with a plush headrest and shoulder pads for baby's comfort.
5 point harness.
Machine washable (a MUST with any baby gear!)
Somewhere to put baby down a little older:
When baby outgrows the bouncer, you'll still want a place to put him or her down safely so that you can get dinner on the table, open the oven door safely, or (dare I say it?!) go to the bathroom without your little one…
The Little Tikes Discover & Learn Activity Center* is super cool because it does include a removable train track that can be played with after baby outgrows the activity center.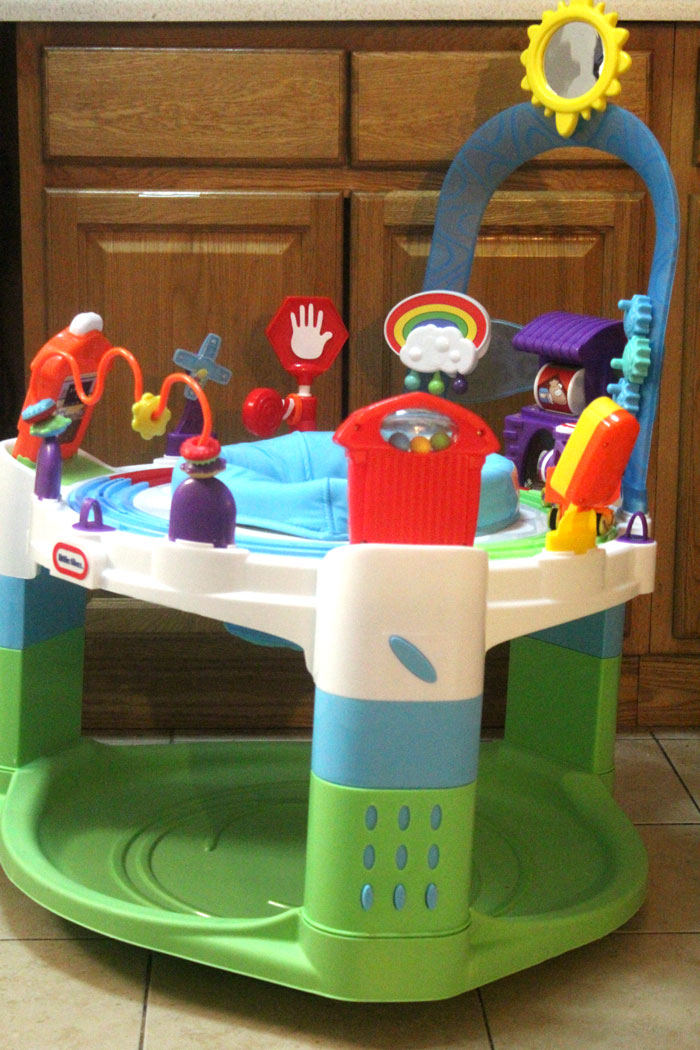 It's got a seemingly endless amount of things for baby to explore on the surface – and all of them things babies love! Things to slide, spin, twist, and of course a mirror! The electronic train chugs around, encouraging baby to spin and follow along. The activity center height is adjustable (a must for tall boys like M was…) And when baby outgrows it, simply remove the tracks and keep on chugging!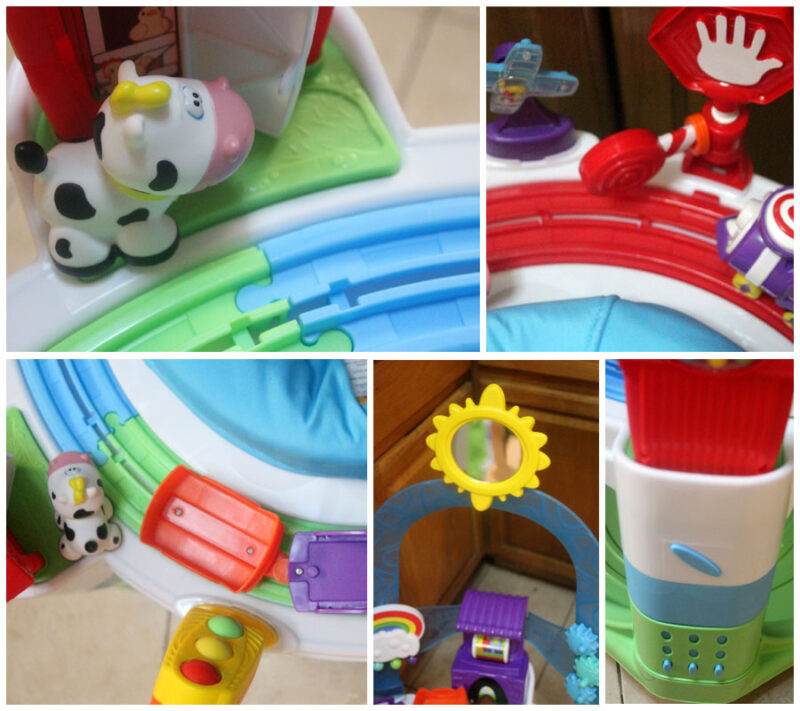 Baby Registry Essentials: The Crib
When registering for a crib, I do think it's worth going for one that will last. Many cribs will switch over to a toddler bed, and then headboards for a full-sized bed. Even if you plan to have multiple children you may want to do this, as things don't always go as planned….
Look for solid wood and a design that you love – but is easy to fit into any decor scheme. Keep in mind if it can be refinished or not if you do change the color scheme.
Some cribs come with a changing table attached – perfect for if you are short on space! It really does depend on your needs, of course. Just make sure you have options, and that it can be removed.
Baby Gear Essentials: Don't forget a good mattress!
Double check your crib – it probably does NOT come with a mattress. Look for one that's firm but breathable and good for your baby's sensitive skin. Keep in mind that even if you do get some or all of your baby gear essentials second hand, your mattress should be new (as well as your car seat)…
The Candide Baby Seasonal Bamboo Crib Mattress* is a comfortable and sensible choice for all year round.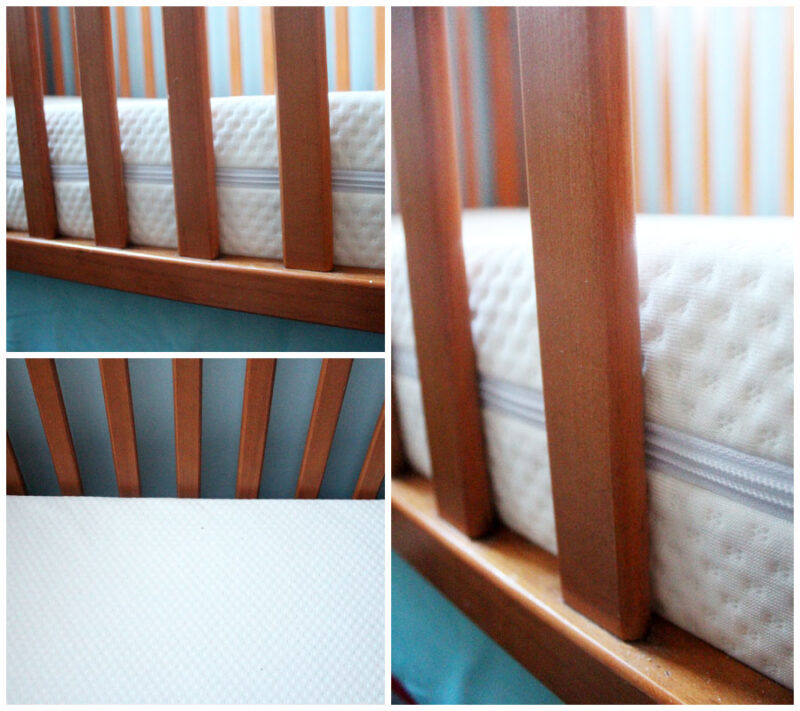 It features a soft, bamboo cover that keeps baby cozy, but can be removed and washed. The cover is breathable, cool, AND waterproof – making this a mattress that will really last.
The best part: It is double-sided, with one side featuring wadding for winter, and the other cool polycotton for summer. It's also perfect for sensitive skin with its anti-mite and anti-bacterial properties. Get it at Babies R Us.
You'll also need bedding for your crib, but avoid bumper sets, as they are considered a SIDS risk. A quilt is fun for draping over a chair or the crib rail when baby is NOT there. Really all you need is a few cute sheets.
Baby Gear Essentials: Changing table – yay or nay?
Many people will say that you do NOT need one. I didn't have one until M was about a year old. I did, however, have a changing pad that I kept near my bed (where we changed him), along with a diaper caddy type of thing. When I did get one, it was truly amazing to have – we enjoy it still today.
If you have the space and are setting up a full nursery, definitely get one.
If you're on the fence with this, I'd recommend getting a dresser and a separate changing table attachment and pad. That way, you have the versatility of a dresser, and you can always opt out of the top, without too big a loss.
Either way, if you're short on space, get a changing table with plenty of storage.
Baby Gear Essentials: Will you need (or want) a play yard?
A play yard is one of those things that we needed for the first few months, and then hardly touched it – but still couldn't live without!
We used it while my son was in our bedroom as an early crib. Most play yards will come with a bassinet, and some even have extra perks such as changing table tops and napping stations.
Now, we have one that we leave at my parents' house for visits and another that we keep at home for other visits. So, if you travel a lot to people who don't necessarily have cribs, you'll definitely want one. You also might want one in place of a cradle or bassinet for the early days. Some people do use it as a contained play area for crawlers, but I never used it that way.
We have a simple Baby Trend one and a Graco Jetsetter and are super pleased with both. Some "can't live without" features to look for is: a bassinet (the kind that clips over the whole play yard – not the napper) and the quality of the mattress. The Baby Trend is more budget-friendly and comes with a mobile and a diaper stacker. The Jetsetter has a vibrate feature, a smaller footprint, canopy, better mattress, and changing pad.
Baby Gear Essentials: Think ahead and register for a high chair!
When you register, you should do so for the first year! You'll be needing a high chair from around 4-6 months old. Here are some types to consider:
Space saving: – get one that sits on a chair, but has its own tray for starters. For the early days, it's nice to have one that even leans back!
Freestanding: A typical high chair is a perfect choice – just look for cleanability and size as key features!
Wooden/adjustable high chair: This is my favorite kind – the one that I personally have and use! It looks great in the dining area, and turns into a full-sized chair when you're done.
That's all! You can shop this post using the widget below for your convenience!

Which baby gear essentials do you recommend getting? Do you have any questions about specific products? Comment below!
Image sources: first and last image is an adapted version of this image.