These five year old boy birthday gift ideas are mom and kid-approved picks that are perfect as holiday gifts too! Find my gift ideas for six year old boys here. This post contains affiliate links. Some of the products featured were received free of charge for feature consideration.
---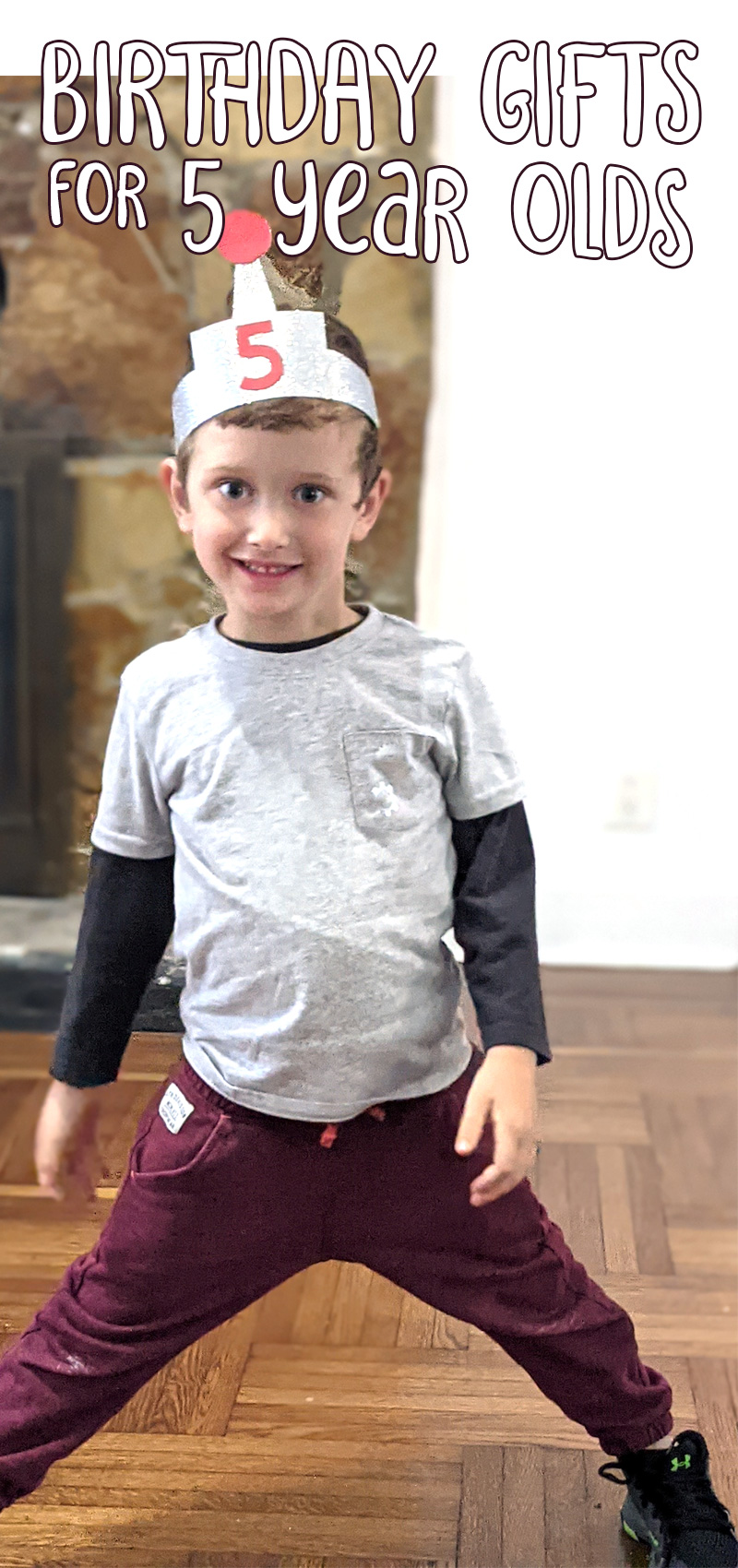 Five years old is such an incredible age. Kids are learning to read and write. Reading means that soon they'll be able to follow processes and instructions on their own. They are learning so much, and becoming kids – rather than toddlers and preschoolers.
While five year olds are still in preschool, keep in mind when gift giving that you want to go a bit beyond the preschool stage! Many toys are marked for ages 3-5, but they likely have plenty for that range at this stage. As they near closer to six, having the challenge of 5+ and 6+ toys will help them move beyond preschool play.
But of course, who wants the kids to grow up that quickly? Personally, I still encourage dramatic play and role play. It's a great way for kids to express emotion, socialize, and to gain new life skills.
As is typical of the gift guides I put together, this is geared toward boys – which only means that you have a boy sharing the toys he loves! Girls will love these toys too! I personally offer my kids play opportunities across the spectrum, and here I share the type of things my boys have gravitated towards at five to six years old.
Table of contents:
STEM Toys and Kits for Five Year Old Boys
Young kids are sponges, and this is the perfect age to start really encouraging scientific exploration, coding, and engineering skills! They can do so much more on their own, but for some kits they'll still need parental guidance. The cool thing is, they'll love and cherish that time spent together learning through play.
For the Aspiring Einstein: MEL Science Kids – STEM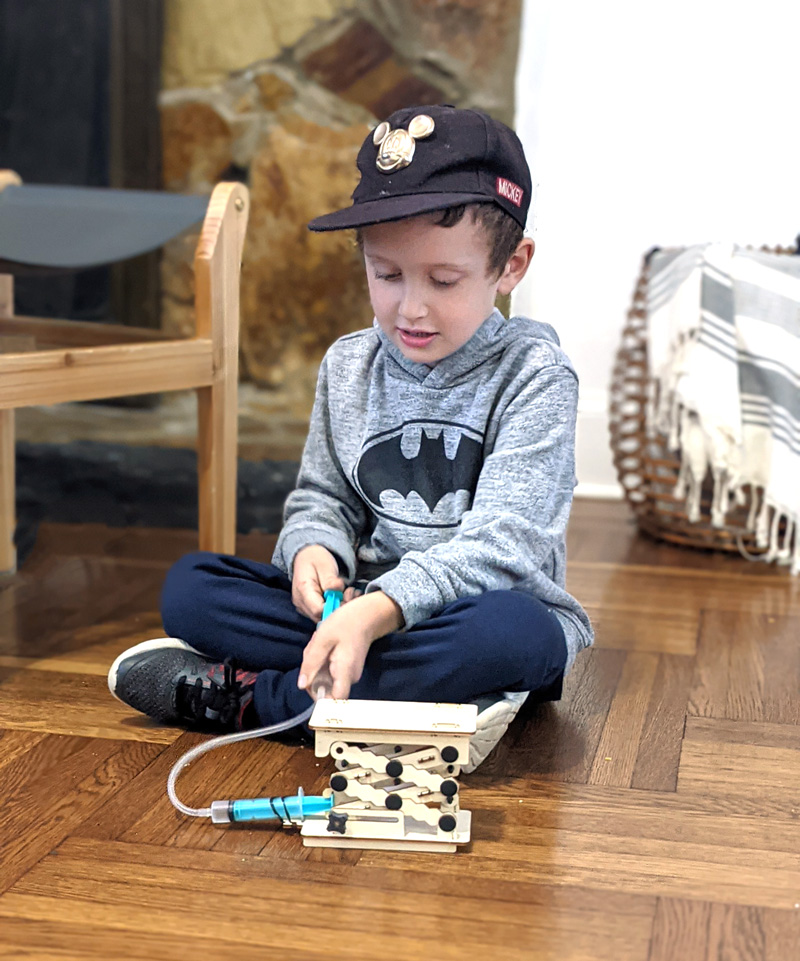 MEL doesn't play. Their subscription science kits are LEGIT and they have a STEM line for kids that's geared toward ages 5+. Y just loves it. The only thing cooler than having a cool gadget is having one that YOU made! And for creatives like him it's such a winner!
The Jungle Jack kit from the Mel Kids STEM line was definitely a challenge for him – but it wasn't above him! His big brother helped him read the instructions, and he assembled it. They made a mistake, checked their work, and fixed it. I think that having this challenge made it a real life experience with the scientific process. It also means that they had to learn and were stepping outside their comfort zone.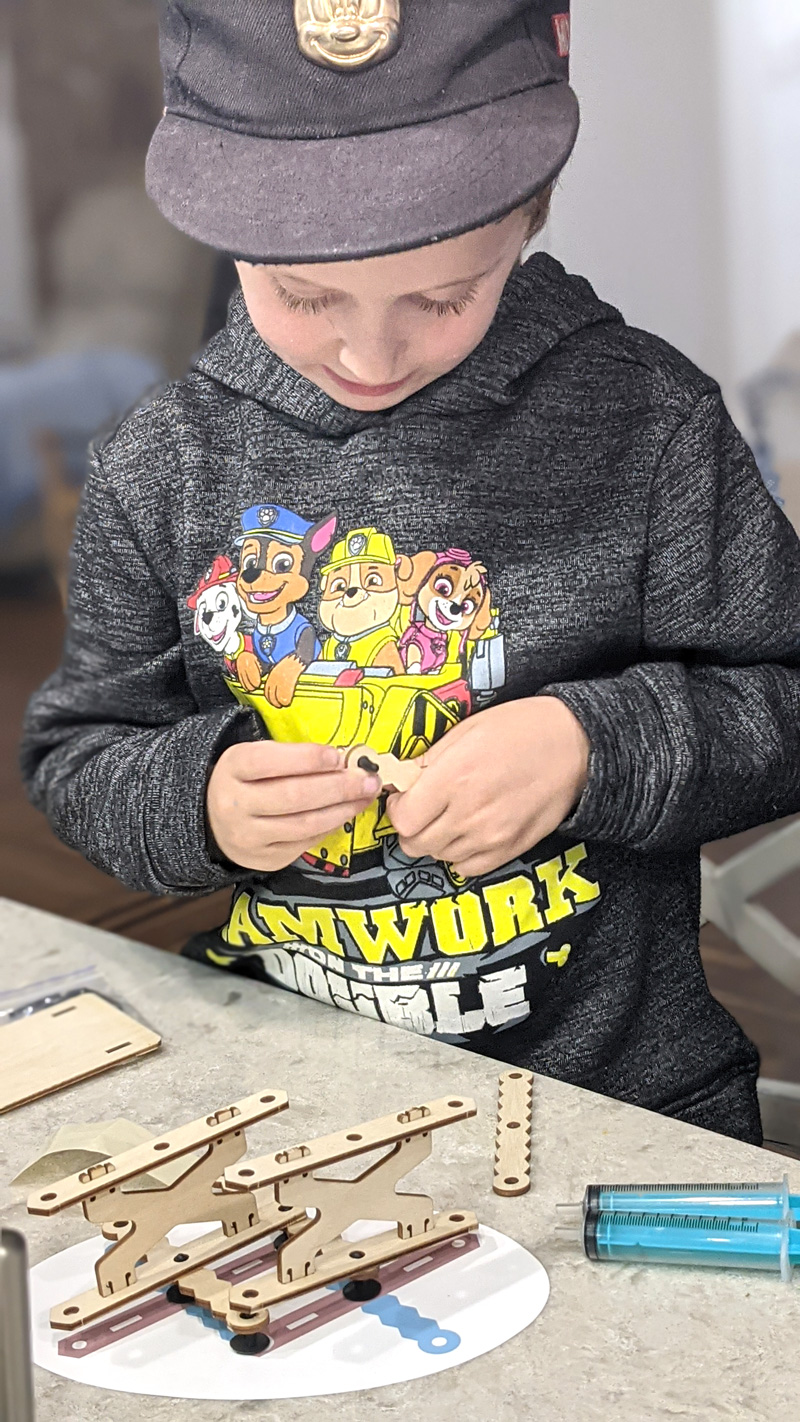 The parts of the Jungle Jack came neatly packaged, with a template for the kids to work with. It comes with a fun story for practical context. And now that he's done assembling it, he has a fun working toy that HE built!
The bonuses make it so worth it too: Their app adds more to the experience, allowing kids to really explore how their project works through augmented reality. You get access to lessons from the pros. It's a subscription that would take any homeschool to the next level and can turn any home into a school – without the kids realizing it!
For the Rock Collector: National Geographic Rock Bingo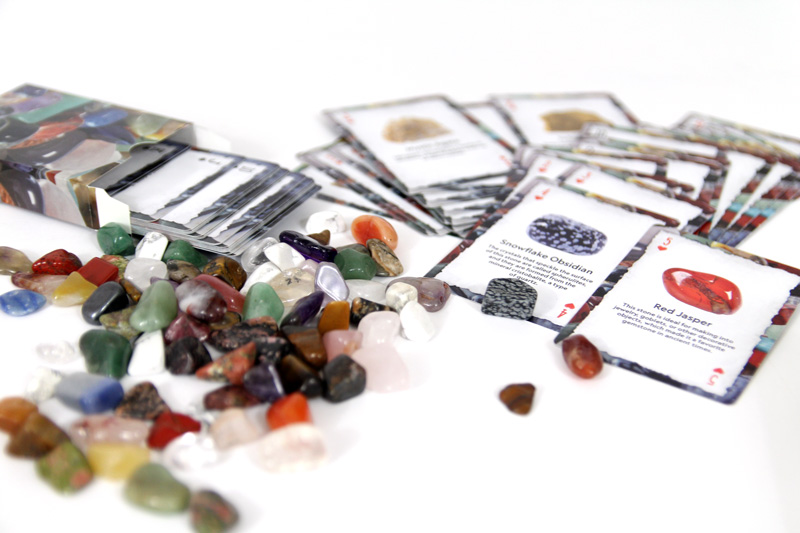 Got a kids who loves rocks? Get this classic game set… that comes with piles of gemstones!
Yes, you can take the rock adoration to a super cool level, turning it into a lesson. While your child will need to be able to read to make the most of this one, it's a win-win for pre-readers too, and a toy they can grow into.
While we tested the rock card set, I do recommend the Bingo set – it's more robust, and you have a fun and functional use for the rocks. Either way, Y was thrilled to see all the beautiful colors and the real gems… and of course, what they're called.
For the Future Vet: Inside Animals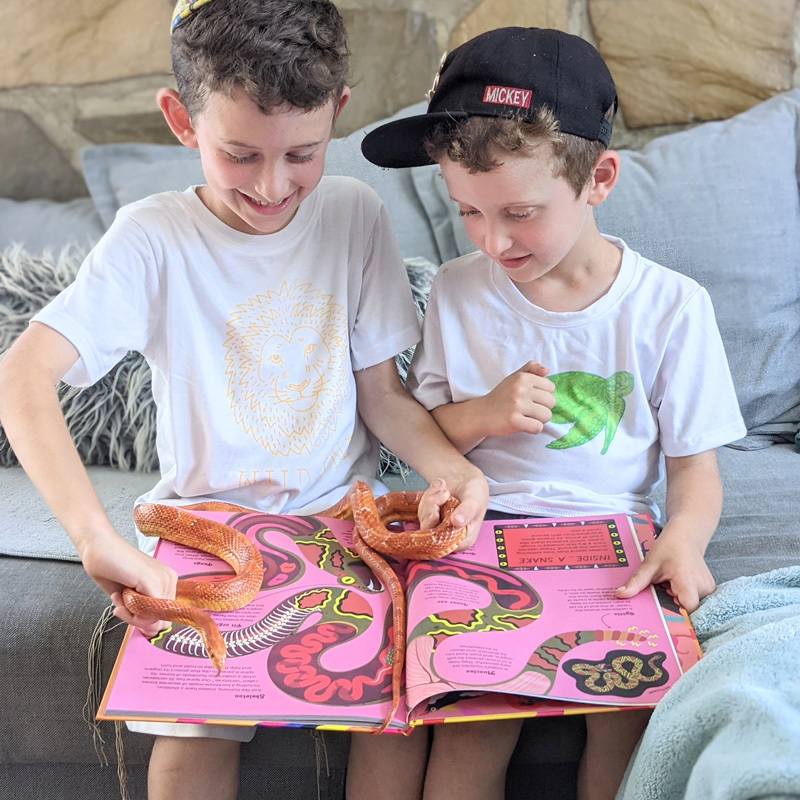 Ever have a book that the kids just can't get enough of?
Inside Animals features the insides of animals of course. But it does it with bright colors, and beautiful illustrations that kids can relate to. We've gotten so many books from Quarto's STEAM club picks, but this one remains one of our favorites. Y's favorite part was the snake, of course, and he made sure to show it to our corn snake, Sprinkles.
For the Screen-Obsessed: Coding Critters MagiCoders Blazer the Dragon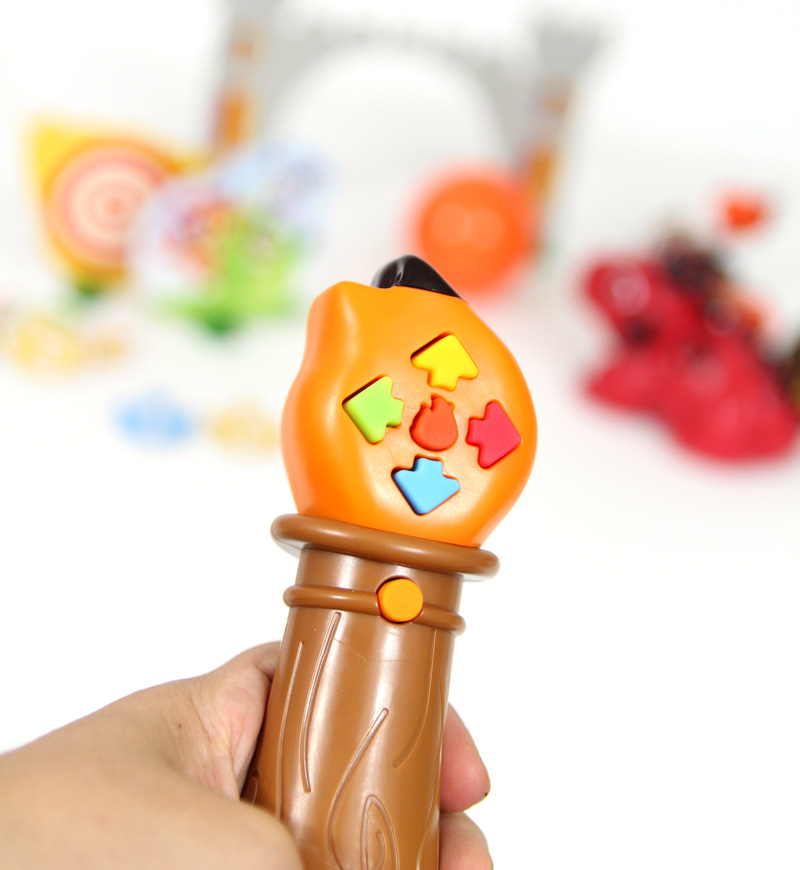 Repeat after me: SCREEN FREE CODING! YES! I'M SHOUTING!
I LOVE, LOVE, LOVE giving my kids those coding skills that can so easily be acquired through play, but they already have way too much screen time! Coding Critters MagiCoders uses a wand, a critter, and loads of fun accessories to get kids coding through play. It's great for pre-readers too, as the instructions use arrows.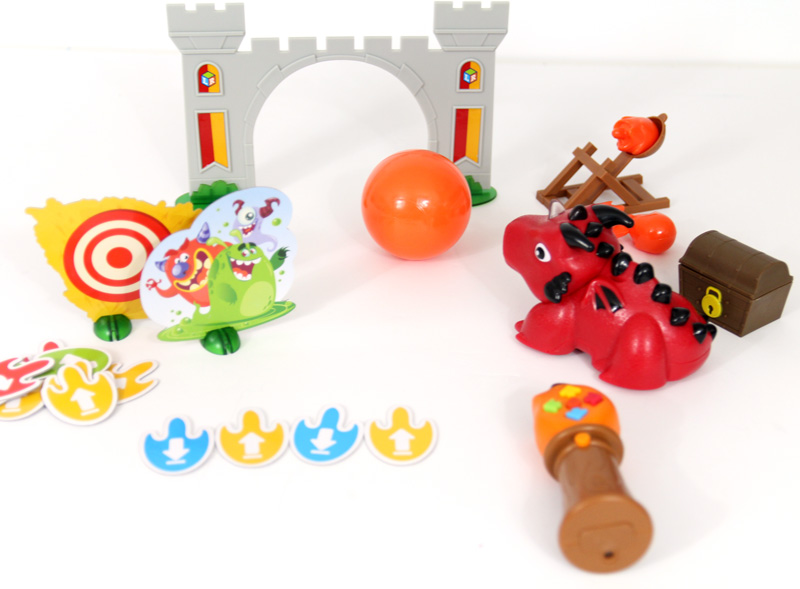 Y got a kick out of the different spells, teaching Blazer to dance, follow a ball, and more. It's so hard to get the kids to just. play. Coding Critters MagiCoders are the perfect mix of electronic, screen-free, and educational play that sucks Y in, but doesn't annoy me…
For the big builder: Clixo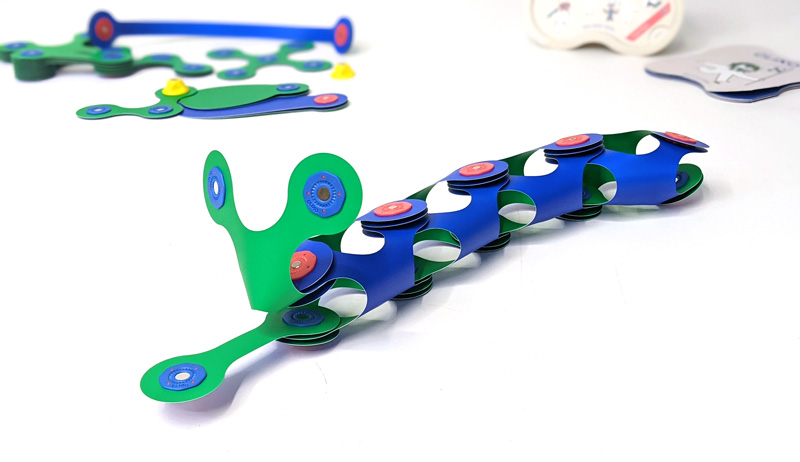 Clixo is an incredibly unique magnetic toy that's compact and super creative. It has flexible (but super strong) pieces so that your building can take on totally new forms! For example, the snake pictured above is made from two rows of four X shaped pieces. It's then curved into a surprisingly strong snake.
One super cool feature of Clixo is that the magnetic parts rotate. That makes it much easier for preschool-age builder. Y doesn't quite grasp the different polarities of a magnet and gets very frustrated playing with them. On Clixo, the polarities are different colors so he has an easier time understanding it.
And finally, because the kit is very compact, and the pieces hold very tight, it's incredible for on-the-go. We plan to turn this into a road-trip toy – but it's great for at home too!
Creativity encouraging Five Year Old Boy Birthday Gift Ideas
Y is his mama's boy, a creative through and through. That is why, as I work guides for his age range, I always have a few creative ideas. Unfortunately, as boys grow older, they sometimes lose that motivation to create art due to peer pressure and cultural influences. So many art-focused kits are geared towards girls. It's a crying shame. I plan to keep encouraging it, if nothing else, with raw art supplies!
There are also some amazing creative toys and building options for this age group.
For the junior Picasso: Little Partners Contempo Peekaboo Art Easel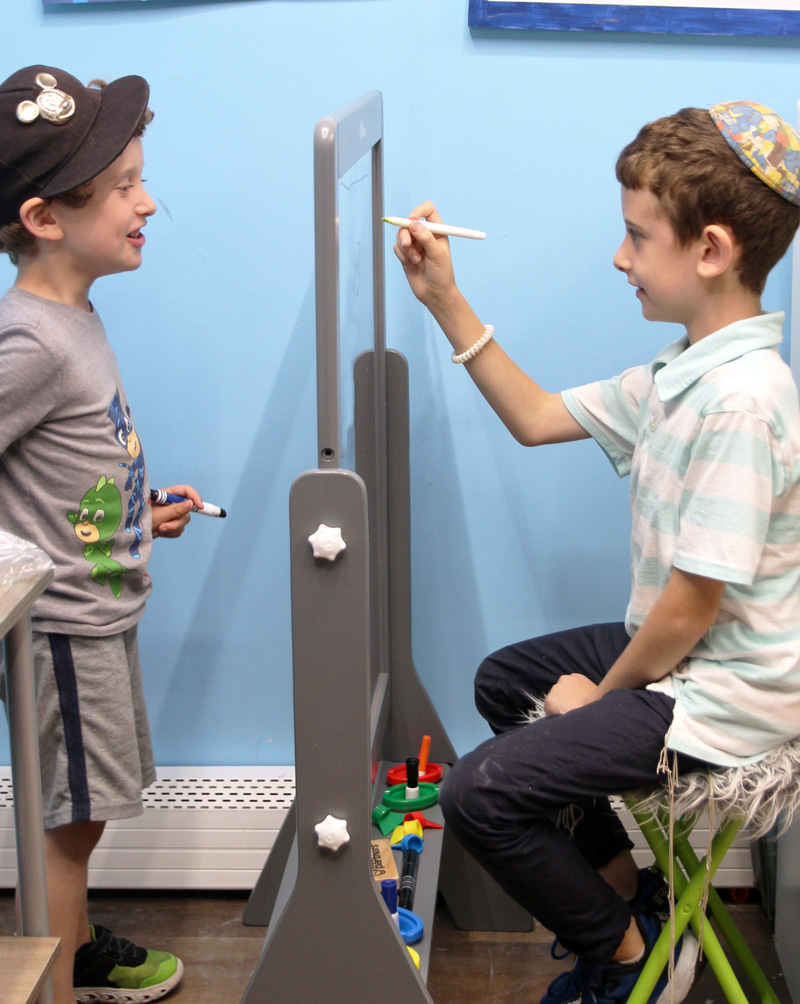 If your little artists way overwhelm you with piles of finished artwork, but "arting" is the best way to keep 'em happy… this wipe and repeat easel will be a staple in your playroom, and an epic five year old boy birthday gift! It's a fun sibling toy too. The see-through easel's two sided acrylic surface makes for unique collaborative art. Kids can trace artwork, or draw mustaches on mom's face…
Use it with washable paints, dry erase markers, window markers, and more. It comes with spill-proof paint cups, an eraser, and built-in storage, for a self-serve art station. It's a solid piece, meant to last and entertain or hours, as it already has!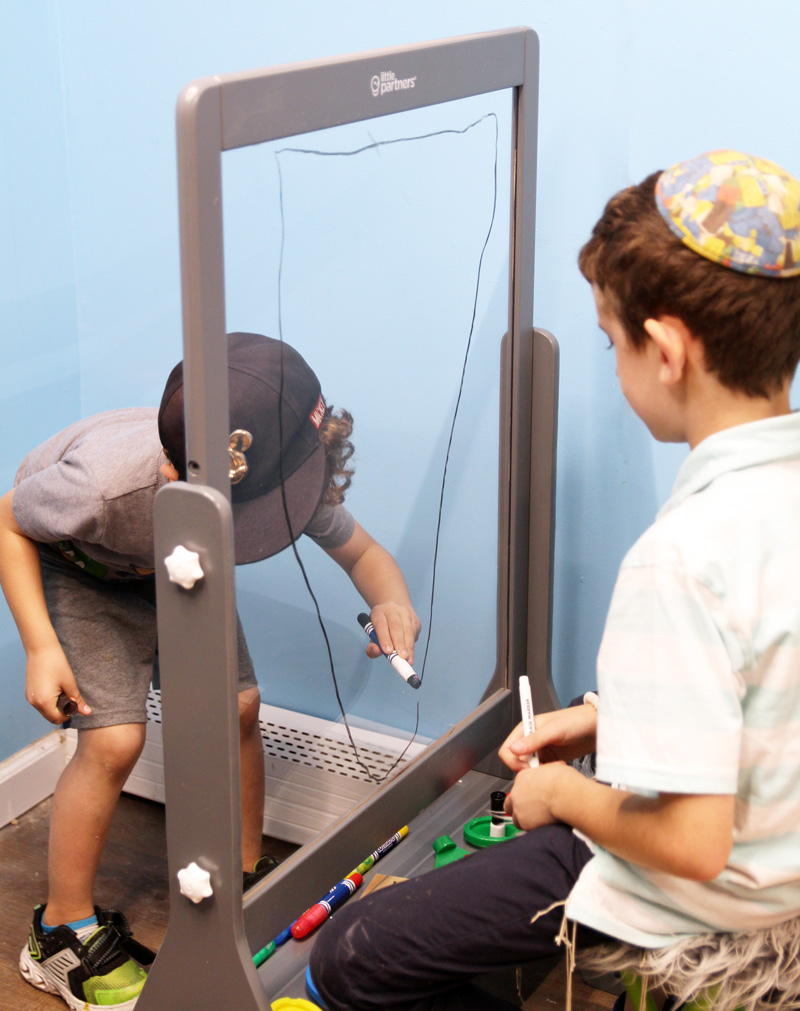 Plus, making art on an easel has all sorts of developmental benefits, including hand-eye coordination, gross motor (they move a lot while drawing on such an easel), and fine motor skills. All of these are important for the writing skills Y is currently building.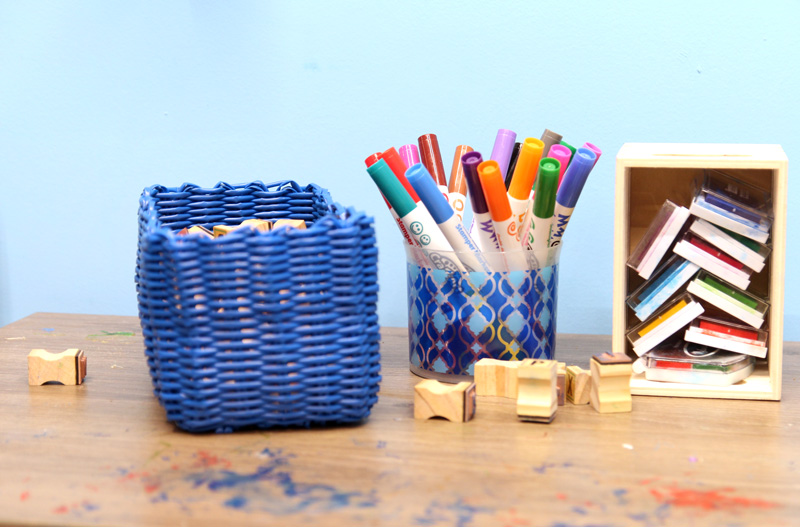 Perfect for both the beginner writing stage AND the beginner artist, alphabet stampers are a fantastic "raw art supply" for kids. You can start with this wooden set from Melissa & Doug that has been a hit with my kids for years, and bundle it with some stamp pads too if you'd like.
For a fine motor sensory experience: Kinetic Sand Sandisfactory Set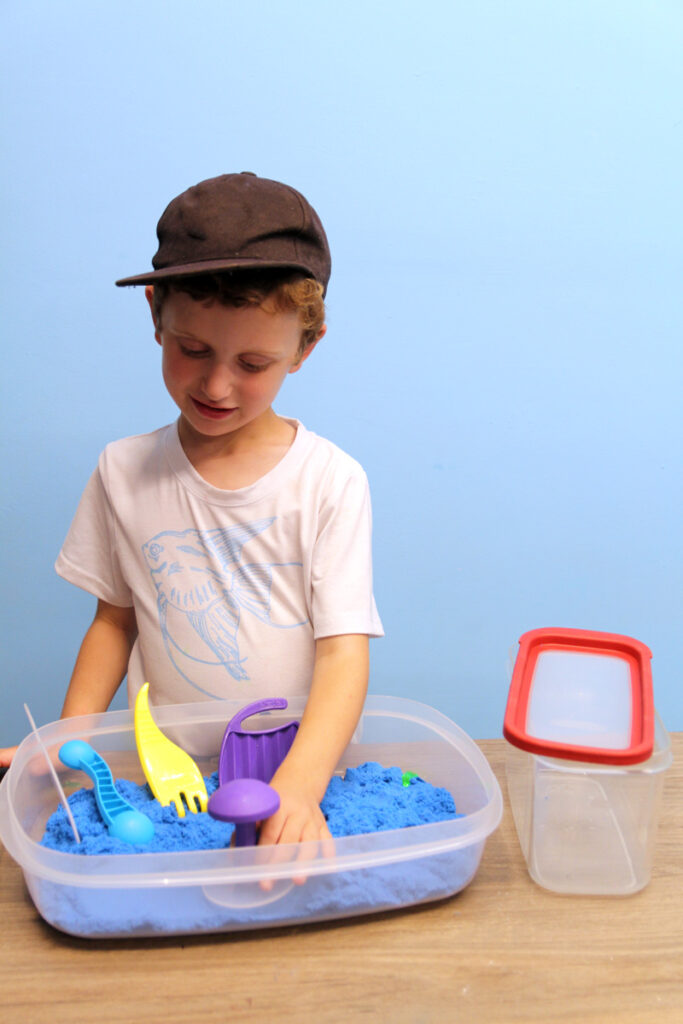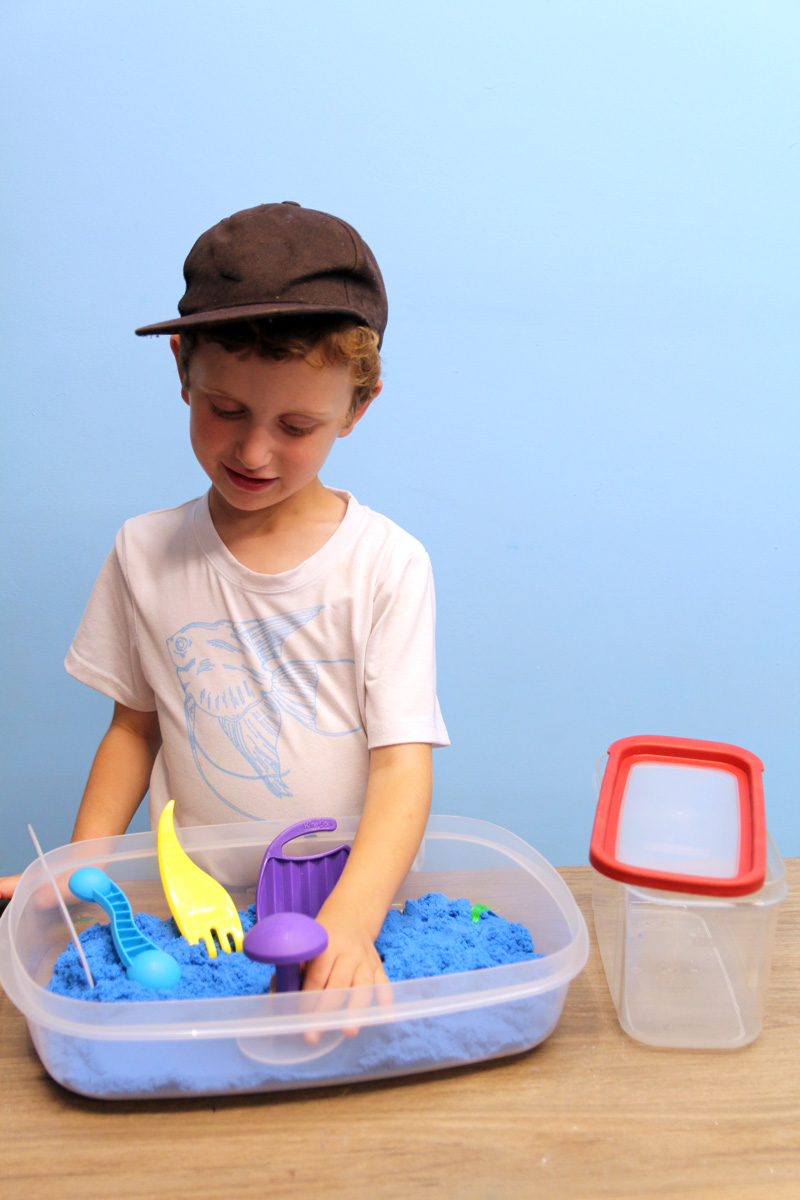 Who doesn't love the feeling of squishy, moldable Kinetic Sand? I love it myself – but so does Y! Gift the full experience with the Sandisfactory set. It's full of tools to mold, cut, flatten, and more.
You can also check out the grab-n-go sensory bin ideas we made with Kinetic Sand. Those make a fantastic DIY gift idea too!
Role Play & More Gifts for Five Year Olds
There are so many ways that five year olds play, and here are some of our favorite five year old boy birthday gift ideas that channel those energies in the right places!
For the Pup fan: PAW Patrol: The Movie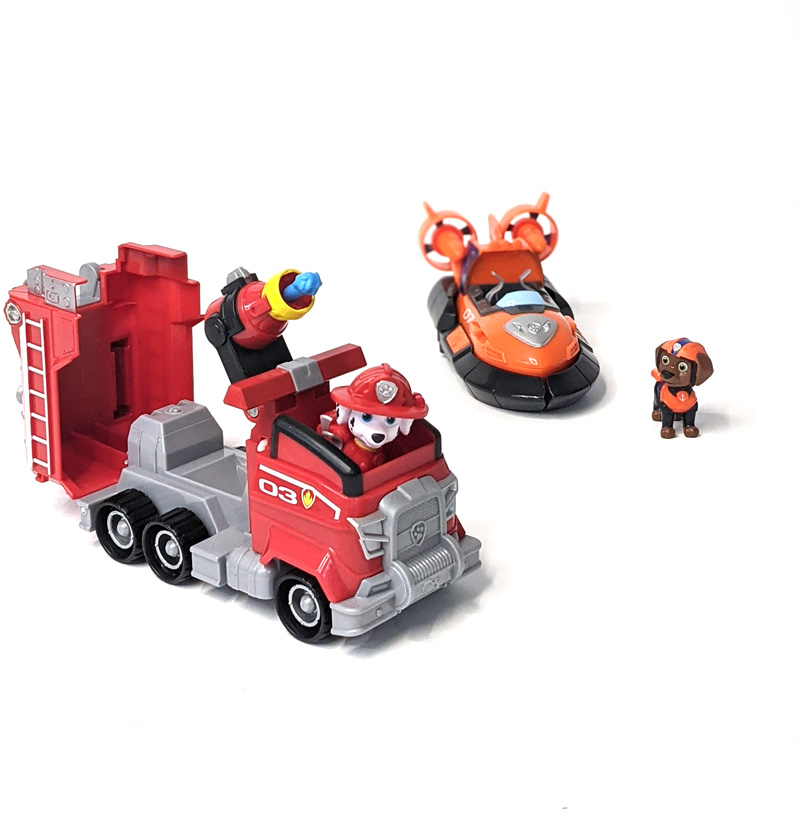 Preschoolers are still at that play acting stage, where they can bond with other children completely through a shared love of PAW Patrol. And with the movie now out, why not give them the tools to rescue Adventure City this time around? We loved watching the movie, and now the movie toys are a fresh way to bring new life into the kids' PAW Patrol role playing games – plus they're super cool!
The vehicles transform into incredible rescuers and the pup figures wear their movie gear. Zuma's hovercraft has a little lever on the back to launch it and turn it into a submarine so he can rescue that family from the water. And Marshall's truck is easy to activate too, and has a water cannon on it too!
For the toy vehicle obsessed: Driven by Battat Micro Scissor Lift Truck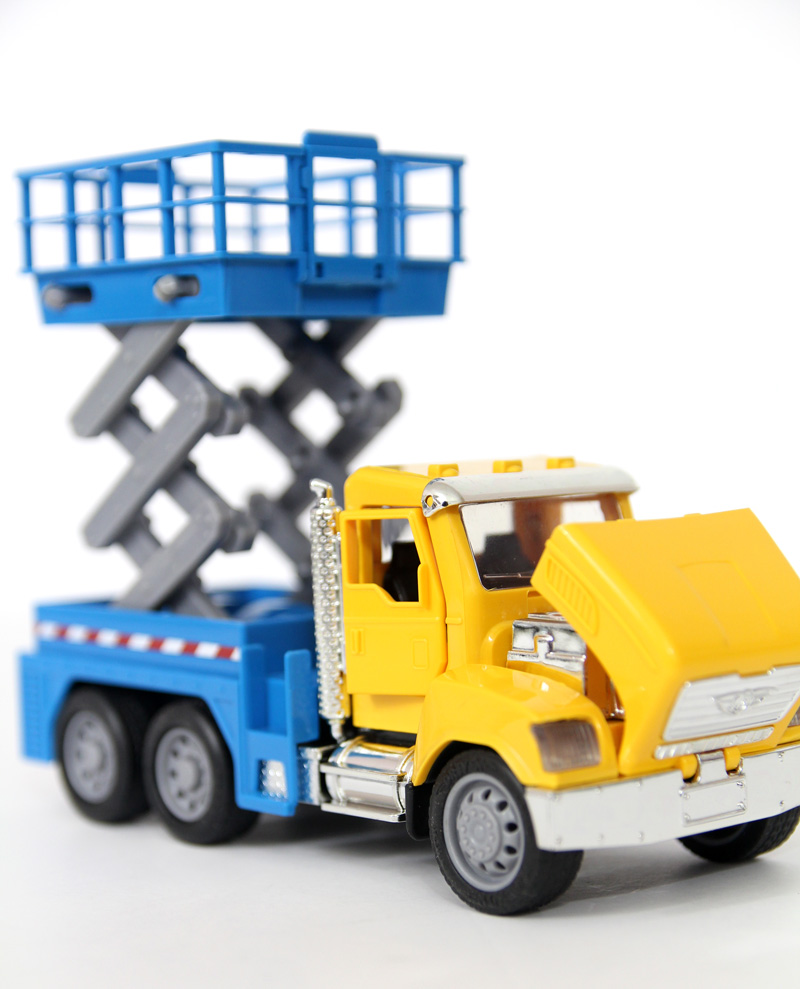 I love the details on Driven toy vehicles. This mini scissor lift truck has the perfect balance between "exciting toy" and "doesn't occupy the whole playroom". Crank up the back using a teeny tiny crank. Detail your truck by lifting the hood. Of course, the doors open and close and it lights up and makes noise. Y loves putting toy figures and bricks in the back! Mom win: getting him to clean up all the choking hazards by transporting it in the scissor lift so that his sister can actually play on the floor.
For the active dude: Scooter board:
There's nothing like encouraging a little core strengthening and active play. While we got this originally for M to help him with writing, Y loves it too. And since this is an age where writing issues might start emerging, a little core strengthening never hurt anyone!
Experience Five Year Old Boy Birthday Gift Ideas
While young kids definitely enjoy all the shiny, colorful toys you can give them, they're also old enough to start creating memorable experiences. Especially if your child will be receiving multiple toy gifts, and already has a lot, I highly recommend gifting an experience. I don't necessarily recommend it as a standalone gift for this age (or if you're not close to the child and able to take the reins on that trip). At this age, they might not quite value something that's not so tangible just yet.
But there's nothing like time spent together, and good memories, that last a lifetime. And choosing age-appropriate and exciting experiences can make all the difference. So if you can swing it, go for it!
For the one that likes to sit and watch: PAW Patrol: The Movie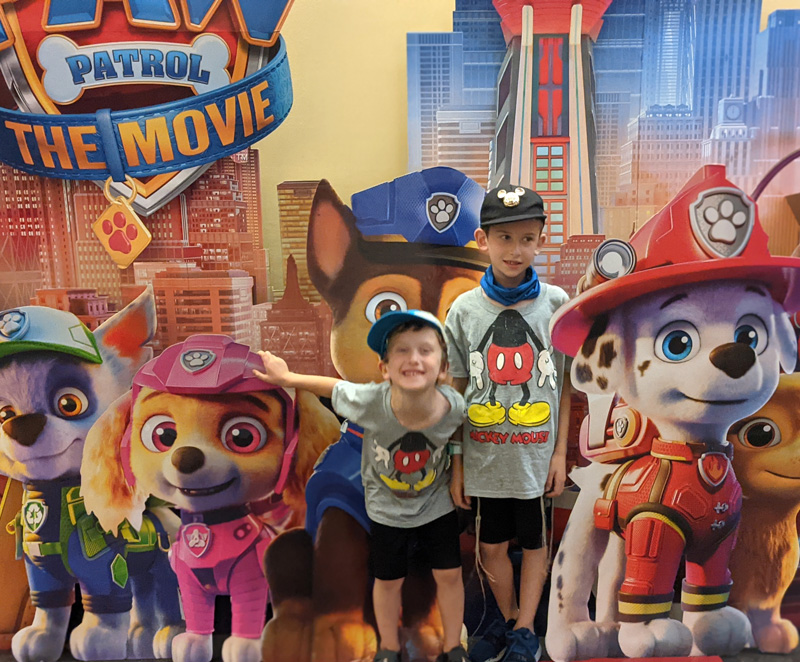 We surprised the kids and watched it in theater – and they loved it! It created lots of talking points: why was Chase sad and scared when he went to Adventure City? Do certain places remind you of certain things, make you feel certain ways? What do you do to get past the things that make you feel scared? Bonus points if you gift it with the toys listed above!
For the creature-obsessed: Aquarium or other local attactions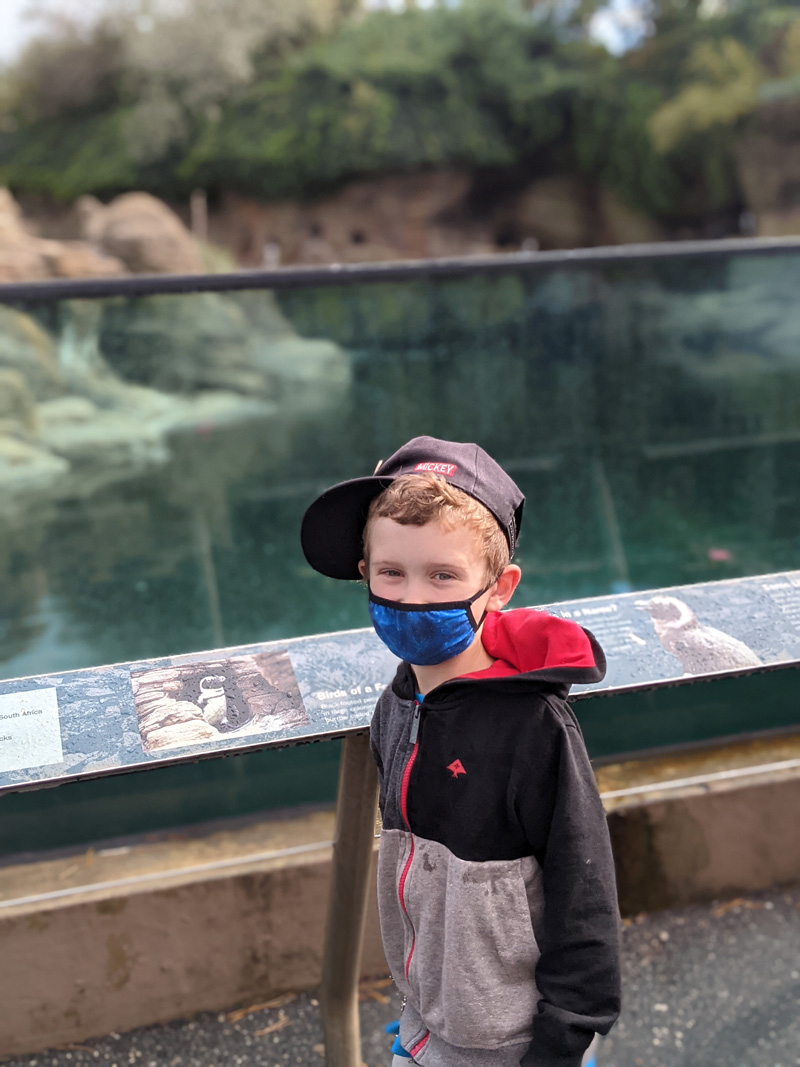 My in-laws stayed by us for a couple of weeks and took us all to the New York City aquarium on Coney Island. The kids had the time of their lives, to the degree that Y hasn't stopped asking to go again…
Definitely choose the things that appeal most to your kid's interests.
For lifelong memory-making: Legoland New York (or Florida, California)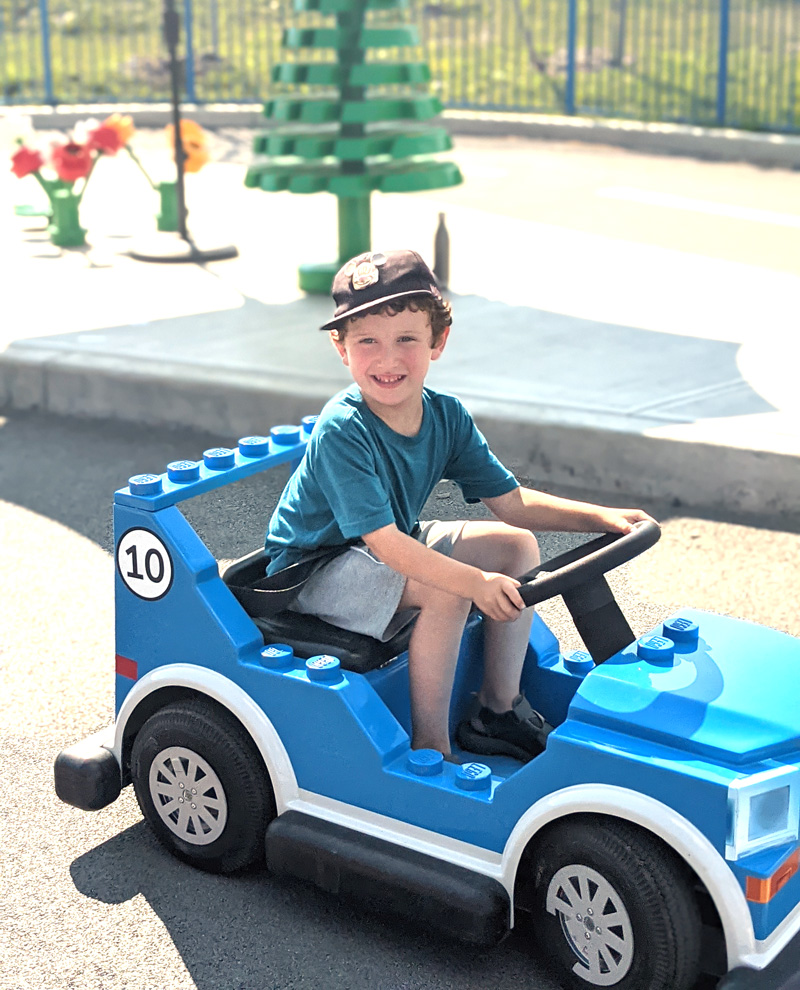 What an epic trip that was! We loved visiting Legoland at this age, because even Y could do pretty much everything if he had a grown-up on the ride with him. From Miniland – where you have incredible LEGO builds of all sorts of landmarks around the country, to Driving School – including a preschool version – which is like a kiddie go-cart course, the experience was epic. They went on roller coasters, saw a 4D movie, got a little wet, and even the play areas were insanely cool.
Got any five year old birthday gift or holiday gift ideas to add to this list? Comment below!
Gift ideas for more age groups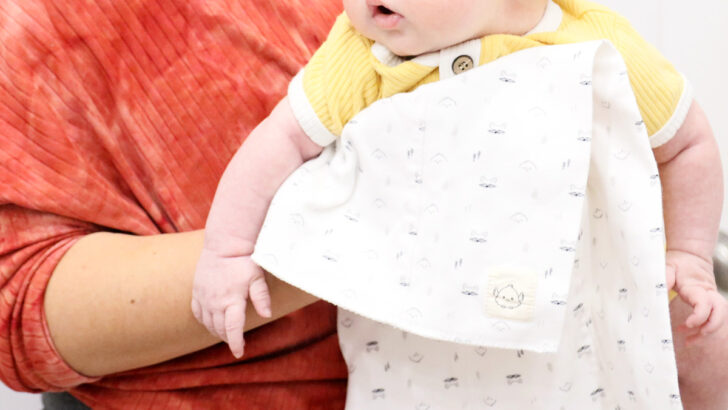 These baby sprinkle gift ideas are perfect for a second baby or beyond! When you're done, check out my favorite luxury baby gear and products …