With my baby registry gift guide underway, it's time to tackle those baby registry essentials that every mom needs! These essentials are perfect for including in your registry, or for buying for a baby shower that you attend.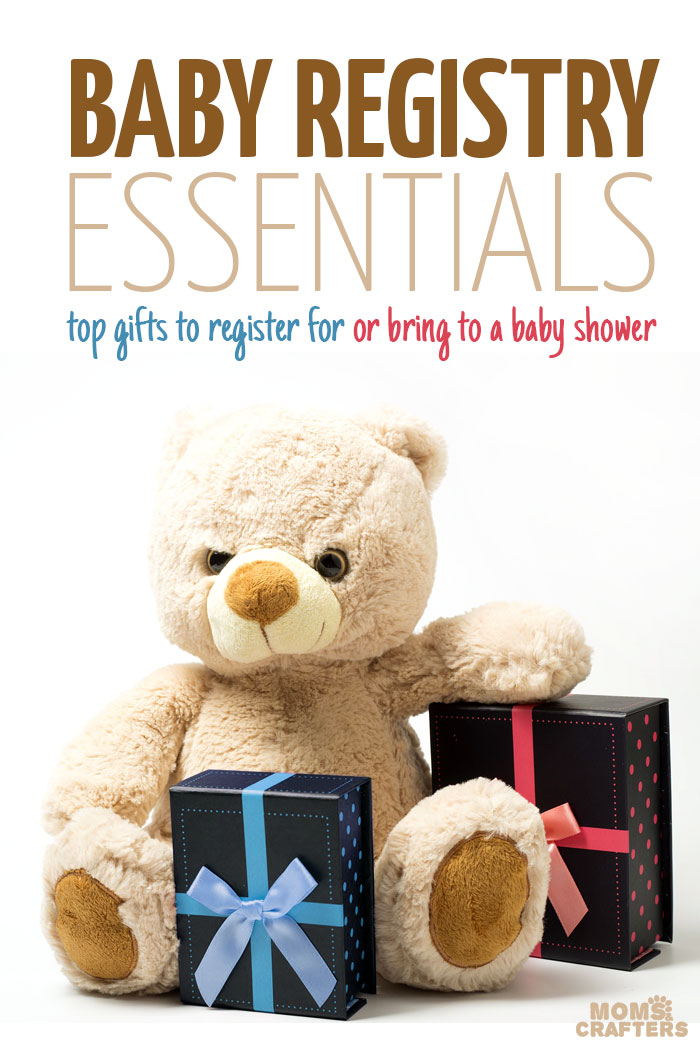 While people sometimes think of baby gift items as pretty, fluffy, and sparkly, the best baby gifts are the most useful.
This segment of my baby registry guide helps walk you through the day-to-day needs, including, as usual, some things that aren't necessary but ARE super-helpful.
Disclosure: I did receive some samples from brands for coverage. Some of the products on this list include those samples which I have tested and enjoyed, and some are products I purchased and received as gifts, love, and chose to feature. In the interest of full transparency, I have marked items that I received from brands with an asterisk.
All of these products are "tried and true" in my experience. Nevertheless, I am not otherwise affiliated with these brands and cannot take responsibility for quality, fulfillment, or anything else that's in their hands.
This post contains affiliate links.
Of course, this is not a complete list of everything you'll want to register for. I am covering this topic-by-topic so that I can provide you with better recommendations, and more in-depth explanations, rather than just a stale list. This guide specifically covers baby registry essentials – the smaller items that get used regularly. I will be covering baby gear, clothing, toys, and more separately. You can see my maternity and pregnancy must-haves here.
Some of these you can add right to your Amazon registry via the Amazon links included. You can also search for them in your local shop when you register, or buy directly for that baby shower you are attending.
What age range should your baby registry essentials cover?
Since this is my first guide that actually tackles babyhood, I thought I'd share my "big tip" for registering and buying for baby's. I highly recommend having the entire first year in mind, since the next gift-giving happens at the first birthday (you can see my top first birthday gift picks here.)
That means that if your child will be needing something from six months on, it pays to register for it. In the same way, not every baby gift that you gift has to be newborn-appropriate. For example, something that is used from 6-36 months can be a lot more helpful than something that is used only from 0-3.
Of course, every new mother wants a good mix of both.
Baby Registry Essentials for Sleep
A better-slept baby means a happier mom! Some of these baby registry essentials are great for baby to sleep with, others just fall into this category, even though you won't want your baby to sleep with them (read the details, please.)
Swaddling my baby was a lifesaver for me. Babies love to feel like they are still enclosed, as they were in the womb. Swaddling is a great calming technique, and a great alternative to blankets at night (see below), but it there can be a learning curve to get it done properly. The Ollie Swaddle gets the job done using easy hook-and-loop closures. You can leave it open on the bottom, or use an elastic band at the bottom to tuck in the feet.
I've found the Ollie Swaddle easier to use than others simply because it's more versatile. You can use it as a blanket that stays wrapped by simply closing it around the baby loosely. You can leave the hands out, leave the feet loose, or swaddle your baby completely. The Nature Collection includes four soft colors in a breathable fabric.
While your baby shouldn't sleep with one, it's great to have a soft, warm baby blanket for warmth while you're in charge. M's grew along with him, and eventually he started to sleep with it when it was safe. Today, he loves it, and it helps us when sleeping in strange places and when away from home. Look for a soft plush one, either 30×40 or 30×30.
Make sure to include snug fitting crib sheets in your baby registry! That is the only bedding you need, as bumpers are considered a SIDS risk.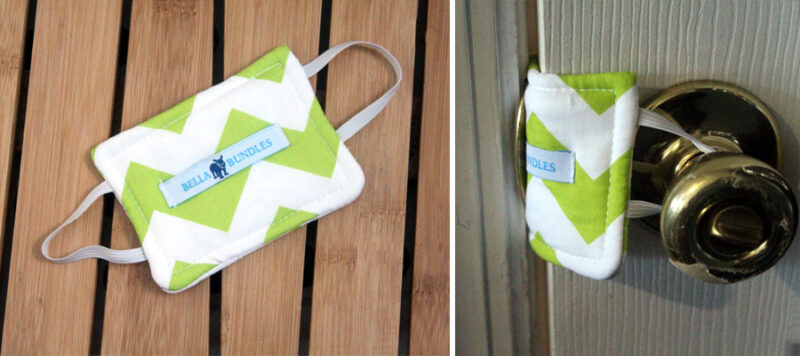 Until your baby learns to self-soothe, it can be tough getting her to sleep. Once you do, a closing door can ruin that hard work. Bella Bundles has put together this amazing device that muffles the sound of your door. The elastics keep it attached to both doorknobs, and the padded bit keeps your latch from clicking.
A sound machine can work wonders as well, creating white noise to help your baby sleep better. This is definitely not a MUST-have but it can really help make things easier. If you don't want to buy one, you can use an app (you'll just have to sacrifice your phone for the cause…)
These nightlights project stars on the ceiling for a calming effect. I'd hardly call it a necessity, but it's plenty of fun! My toddler still loves his.
You'll want at least one package of flannel receiving blankets. These multi-purpose, inexpensive cloths work as a floor mat, a blanket for holding and wrapping, a lightweight stroller blanket, and more.
Baby Registry Essentials for Feeding
Between four to six months old, your child's feeding needs will change as he or she starts eating solids. Keep this in mind when registering for your baby registry essentials.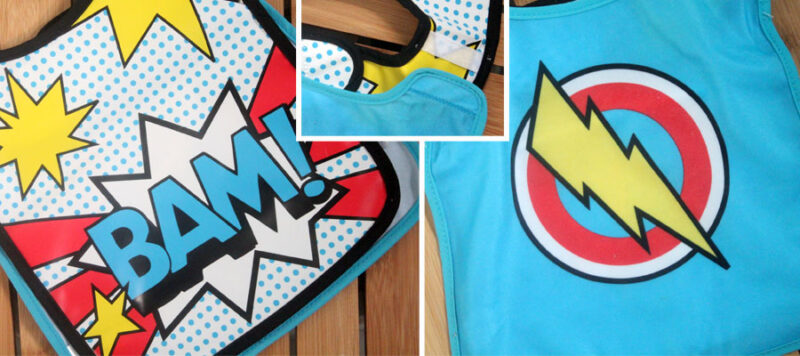 Wipeable bibs are perfect for when you start your baby on solids. Booginhead's new Super Power collection includes a cape that sticks on the back to really grow with your child. They have adorable styles available for both girls and boys.
Whether you have a super-spitter-upper, a drooler or just use a bottle occasionally, a bib can help keep that outfit cleaner for a little longer. We went through piles of them during teething season. I adore these bandana bibs – way to add a little style to that baby outfit!
Even if you're breastfeeding, you'll want to have bottles handy. We went through a few brands and these from Tommee Tippee were our absolute favorite. Other popular choices are Philips Avent and Lansinoh Momma. Look for brands that suit your needs – if you plan to breastfeed, choose one with a natural nipple, look for colic and gas-friendly bottles that block out air, and if you don't like to use plastic, grab a pack of glass bottles. There are also various starter kits available for whichever brand you choose.
As far as sizes are concerned: you might want to register for both smaller bottles and larger, along with faster flow nipples. Since my son didn't take well to bottles, we stopped using them completely at about the age he would have switched to large.
If you will be pumping, choose a few that match your breast pump for convenience, and pick up a pack or two of breastmilk storage bags (depending on how much pumping you plan to do.)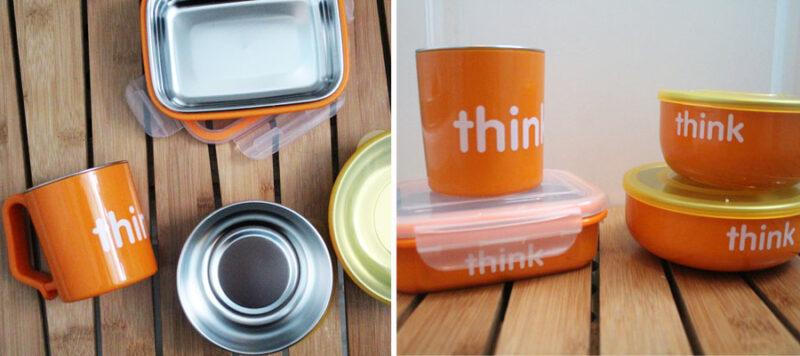 Before you know it your baby will get started on solids. The Thinkbaby Complete Feeding Set includes a Bento box, soup bowl, baby bowl, kids cup made from food grade stainless steel wrapped in polypropylene. The inside and outside separate for easy cleaning. The bowls and Bento box have lids for easy storage, and for sending easily to daycare or a babysitter. The cup clips easily onto a bag. This is perfect for moms who like to be more natural, or save money, by making their own baby foods. It's also something you'll want to register for or have if you'll be going back to work and will send your baby to daycare.
Soft-tipped baby spoons will be the way to go when your little one starts solids. Register for them now so you won't need to buy them later.
Boppy's innovative nursing pillow has been an essential for breastfeeding moms for years. I missed it sorely when I breastfed M, and only got one deep into his infant-hood. I struggled with pillows until I had one, especially since my traumatic childbirth experience left me unable to sit for a month. I've seen people "reuse" this as a positioner and tummy time pillow too.
You can get a free nursing pillow here – you'll just need to pay shipping (but the price will still be a lot lower.) Use the code ENBABY as many times as you want, you'll just need to do a new transaction in a new browser window.
A Medela nipple shield was handed to me in the hospital, and basically saved my breastfeeding experience (more about that here.) I tried a few brands afterward, but this one remained my favorite. It's worth having handy if you plan to breastfeed as they can help with latching problems, and much of the pain involved.
If you're breastfeeding, you'll be going through plenty of these! Go cheaper and greener by getting reusable ones (you can again get a free sample here – just pay shipping – by using the code ENBABY as many times as you want in new browser windows.)
The beginning of breastfeeding can present many transitions, including the hard change on your nipples. Soothe them using lanolin.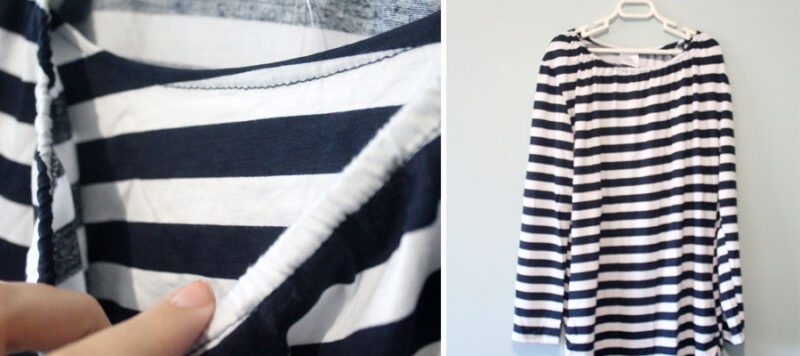 I can't begin to tell you just how big a difference having breastfeeding-friendly clothing can make. Udderly Hot Mama's nursing tops have recently been redesigned and are perfect for moms who want to be able breastfeed discreetly while at home or out-and-about. The inner flap is removable so you can add it to your regular wardrobe when you're done. This navy stripe top is my favorite – pair it with some jeans for a stylish casual fix! Check out the rest of their selection too.
Another essential for breastfeeding in public, a decent nursing cover can really help you on that journey. You can try a free one (just pay shipping) using the code ENBABY – use it as many times as you'd like in a new browser window.
You will probably want to try a few brands here – since every baby prefers something else. Having a baby that can self-soothe with a pacifier can be a sanity-saver, so it's worth a try. M would only take the Philips Avent Freeflow pacifier after trying a few brands (including Nuk and Playtex).
Baby Registry Essentials for Diapering:
On the list of baby registry essentials that can help save your the most later on is diapers. Diapering can be expensive so including them in your registry is a must.
Navigating the world of diapers and wipes is WAAY to complicated for this post so I do plan to do a separate post for this. You will want to register for a few boxes of diapers for sure. You can order free samples from brands such as Everyday Happy and The Honest Company so you can give them a try.
Register for a tube or tub to start – you never now which brand you'll fall in love with!
Whether you have a changing table or not, you'll definitely want a pad that you can either place on the table/dresser, or pull out for bed top changes.
Baby Registry Essentials for Bath, Health, and Baby Care:
Caring for your little one can seem intimidating, but it's not so! Here are some baby registry essentials, and some things that can be helpful to have.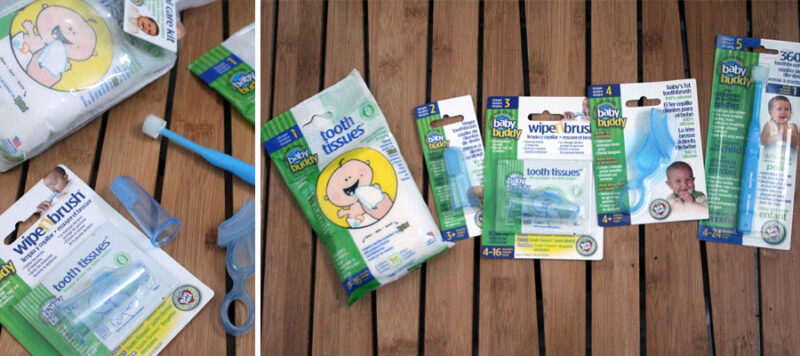 Your baby's gums and teeth need to be cared for from the start! I am a long-time fan of Baby Buddy, and their oral care program is the way to go with early oral hygiene! The kit includes tooth tissues, a finger brush, a wipe and brush system, baby's first toothbrush (M is obsessed with this!) and their 360 brush for when your child can brush independently.
A good start IS one of the best gifts you can give your baby!
You'll want some soft baby washcloths to rinse that delicate skin!
A hooded towel keeps that baby's head warm after the bath. A friend got a poncho-style one for M and he still uses it today as it makes a great robe alternative.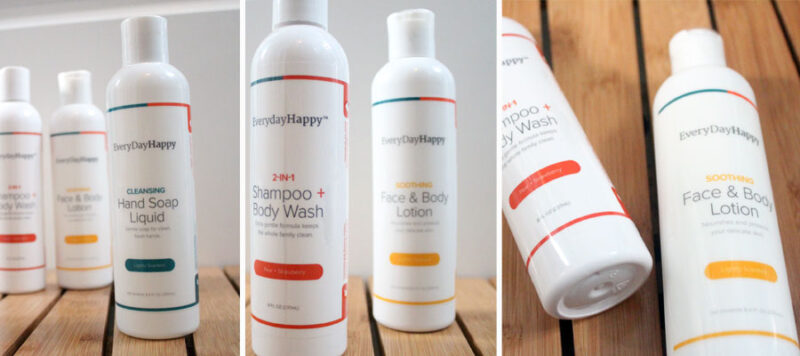 EverydayHappy creates natural products for the whole family. Their face and body lotion, 2-in-1 shampoo and body wash, and hand soap is a must-have for your little one. You'll want to be equipped for gentle bathing and a post-bath rubdown with lotion. Of course, having a good liquid hand soap is important with a new baby around. We went through so much of it when M was born, from all the guests who visited and wanted to hold him.
Okay, this is totally not necessary. But babies do love calming massages post-bath and having a good-smelling natural massage oil for that can be so helpful!
While you do NOT need a separate baby bath (and those can take up lots of valuable space), you should have some sort of support. New babies can feel very vulnerable in the bath, and their reflexes kick in making them feel like they are falling. When M got hysterical in the bath as an infant, a neighbor lent us a bath support to try. This completely solved the problem, so we went out and bought our own. It's definitely something worth having from the start.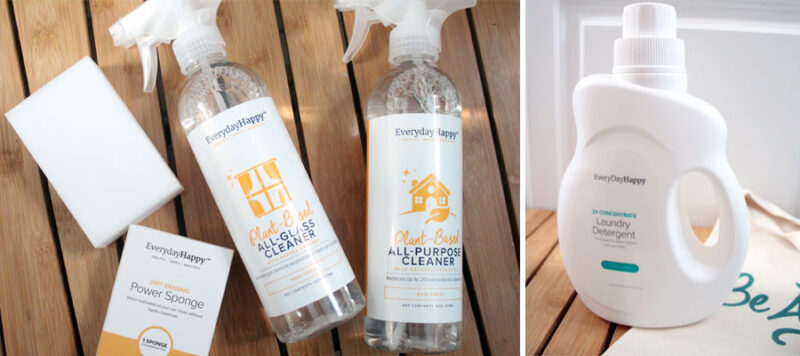 While your baby does NOT need a laundry detergent special for babies, she should have one that is sensitive on the skin – namely one that is dye and perfume free. I personally used the presence of a new treasure in the home to switch my cleaners as well to natural and healthier solutions.
EverydayHappy features a line of household cleaners – including a glass cleaner, an all-purpose cleaner, and a cleaning sponge. Their detergent is the perfect option for cleaning your little one's tiny outfits – as well as the rest of the family's. You can request a free trial at the link above.
There are many assorted baby care products that are truly essentials but come conveniently packaged in baby care kits. I lined to the one from Safety 1st simply because we love their nail clippers, but do look for one that has a few basics such as: nail clippers, a thermometer, a nasal aspirator, a brush and comb – and bonus points for a good case.
Baby Registry Essentials for On-the-go:
Traveling – even to the grocery store – with a baby can be tough, but the right equipment can help you on the way! These baby registry essentials are made to ease that journey.
PARA'KITO wristbands help protect your little one from mosquitos using essential oil pellets. I love how they grow with your child! Wrap one around the stroller or infant seat for your baby, and then put then on your child's wrist when she grows up. It's a great way to avoid using harsh chemicals, while making sure your baby is protected from those pesky mosquitos.
I have gotten so many comments when using this one – simply because it's so USABLE! You'll want to protect your child from the elements, especially if you travel by foot a lot, and this one is easy to use and does the job. Make sure to get the right kind for your stroller.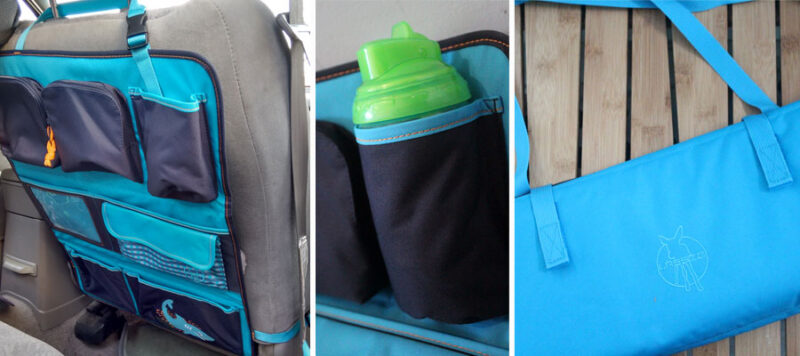 Eventually, you get tired of schlepping a diaper bag everywhere, and a back seat organizer is simply a lifesaver. I started stowing diapers and wipes in the car, along with all those small essentials I can't leave home without. The Lassig Backseat Car Organizer has multiple compartments for everything you need for the entire family. It also folds up conveniently for when you don't need it, is super easy to install, and comes in the cutest designs.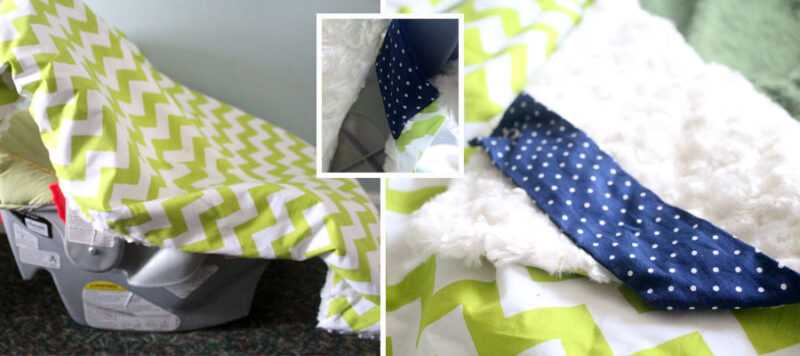 I remember struggling to keep that blanket on M's stroller when he was an infant. No more of that! With a little stroke of genius, Bella Bundles has turned their pretty-and-cozy blanket into a perfect solution for on-the-go. A snap-on strap in each corner allows you to secure it to an infant car seat or a stroller. You can connect two straps to use it as a nursing cover that keeps you and baby warm. Or, strap it onto your baby carrier – so that you can keep your baby warm outdoors and cool indoors without taking him out.
This all-in-one solution is simply a sanity saver.
I used to think that these adorable car signs were a fun way to show "baby-pride, " and possibly also to tell others to drive carefully. In reality, it also helps first responders know if there may have been a baby in the car (who may have been ejected) in the case of an accident.
I think that covers the basics for now, but feel free to comment below if you think I've left something out! Stay tuned for my diapering guide, gear list, baby play gift guide, baby clothing guide, and my big sibling gift idea list to follow.
Which baby registry essentials would you add to the list? Comment below!