Sometimes you just need a showstopper dessert recipe. The kind of recipe you bring out when the in-laws are in town, just to reassure your mother-in-law that "you've got this." This S'mores Macaron Recipe is just that kind of recipe.
I am thrilled to welcome Jennifer from Sugar Spice and Glitter as a contributor on this blog! You'll be seeing more delicious recipes from her – I hope you enjoy!

My name is Jennifer, I blog over at Sugar, Spice & Glitter and one thing that you need to know about me: I love developing fun dessert recipes. My 10-minute S'mores Cake is insanely popular so I thought, why not make another fun S'mores-inspired dessert for Moms & Crafters!
These S'mores Macarons are a decadent but light dessert, combining so many wonderful dessert qualities in each flavourful bite: you get the light airy crunch of the cookies, the sticky-sweet hybrid of a marshmallow-buttercream filling, and that melted chocolate with just a hint of graham cracker. These are most definitely the fanciest s'mores you have ever tasted!
Macarons are an intimidating dessert, but I'm here to reassure you that if you follow the recipe directions you will be amazed at how easy they are to make! But just in case you get distracted (toddlers, anyone?) I'm also going to share with you one of my favourite little tips for covering up any macaron-making blunders that might occur.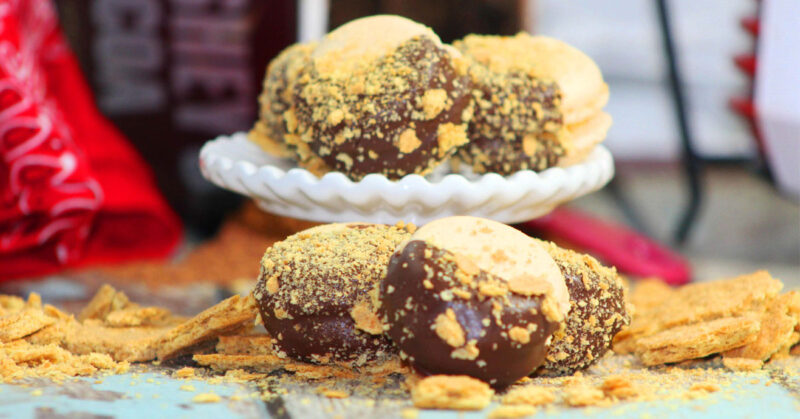 This S'mores Macaron Recipe uses vanilla meringue cookies, a fun marshmallow-buttercream for the filling, and then a cute chocolate dip with graham cracker crumbs for garnish.
The chocolate dip and graham cracker crumbs should be strategically placed to cover up any unpleasant blemishes or cracks in your meringue cookies. If you end up having any cookies that are just not salvageable, you can add them to an impromptu "Eton Mess" (berries, crumbled meringue cookies, and ice cream). In fact, culinary folklore has it that the Eton Mess came about when a chef at the posh Eton School in England botched a batch of meringue cookies and decided to add them to some sundaes for the boys!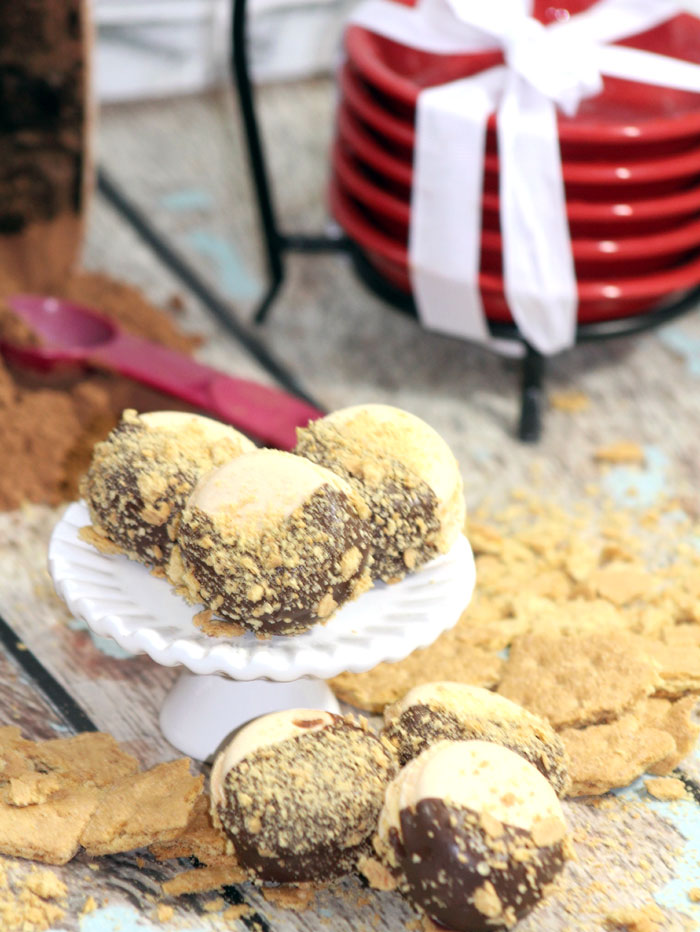 How To Make S'mores Macarons
Ingredients:
For the meringues:
2 cups powdered sugar
1 cups almond flour (almond meal)
1/4 teaspoons Sea Salt
3 large egg whites, room temperature
Pinch cream of tartar
3 Tablespoons granulated sugar
1 teaspoon vanilla extract
For the garnish:
1/2 package of graham cracker, crushed
Ghiraredelli Chocolate melting wafers (1/2 bag) melted
For the filling:
1/2 cup granulated sugar
2 large egg whites
1/2 cup unsalted butter, at room temperature, cut into 4 to 6 pieces
1/2 teaspoon marshmallow extract
Pinch of sea salt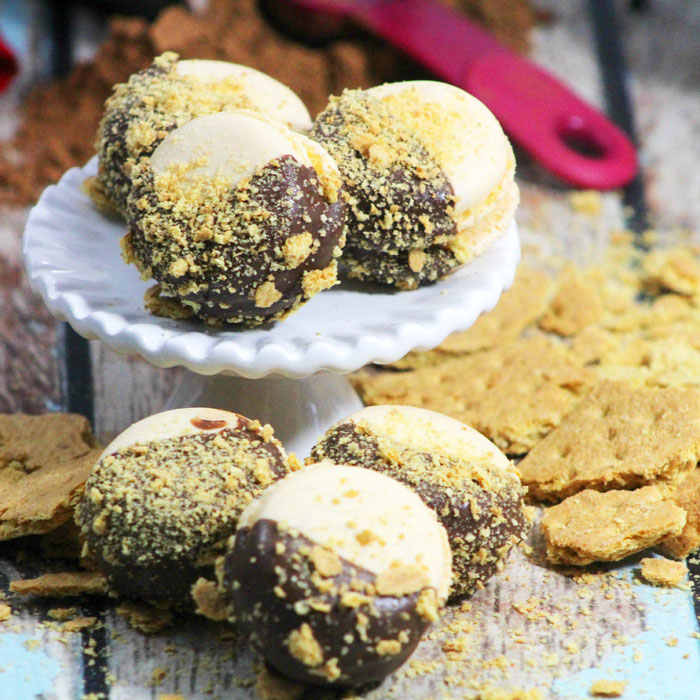 Directions:
For the cookies:
Preheat oven to 350°F and line 2 large baking sheets with parchment paper.
Put powdered sugar, almond flour, and salt in a food processor pulsing several times. Continue for about 30 seconds until the ingredients are fine and well combined.
Using a flour sifter, sift the above ingredients into a large bowl. Set aside.
Place the 3 egg whites in the clean bowl of a stand mixer fitted with a whisk attachment. Beat on medium speed until opaque and foamy, about 30 seconds. Now add a pinch of cream of tartar, increase the speed to medium high, continue to beat until the egg whites are white in color and hold the line of the whisk, about 1 minute.
Continue to beat, slowly adding the granulated sugar, and vanilla extract. The peaks of the egg-sugar mixture will become increasingly stiff & shiny. This should only take a minute of extra whipping time – do not over whip.
Transfer the meringue mixture to a large bowl.
Take a rubber spatula, and gently fold the 1/4 of the dry mixture into the meringue mixture, repeating until all of the dry ingredients are added. Do not overmix.
Spoon half of batter into pastry bag fitted with 1/2-inch plain round tip. Pipe batter onto each prepared sheet in 12 walnut-size mounds, spacing mounds apart because cookies will spread slightly.
Bake cookies for 14 minutes, rotating the sheet halfway through. The cookies should be firm to the touch when removed, but still glossy.
Transfer and cool on a flat work surface.
For the filling:
In the top half of a double boiler whisk sugar and egg white.
In the bottom half of the double boiler add 2 cups of water bringing it to a simmer using medium to high heat.
Place the top half of the double boiler over the bottom half, heating the mixture while whisking occasionally (about 4-6 minutes).
Remove the top half of the double boiler from the heat, scraping the ingredients into the bowl of a stand mixer with the whisk attachment secured.
Whip on medium-high speed until the egg mixture is light, white, and cool to touch (4-6 minutes).
Reduce speed to low while adding one cube of butter at a time.
Increase the mixer speed to medium, beating until the buttercream is smooth ( 4-5 minutes). Add salt and vanilla extract. Mix well..
Using a pastry bag with a #5 tip add some of the buttercream to the flat side of the macaron.
Add another macaron on to the top of the first macaron, flat sides facing flat sides, gently pressing the top macaron to fit in place evenly with the bottom one, like you're making a cookie sandwich.
To Garnish:
Allow macarons sit for 30 minutes while you are melting the chocolate wafers.
Have a bowl of crushed graham crackers on hand.
After the wafers have melted, dip 1/2 of the vanilla macaron into it. Allow a few seconds for any extra melted chocolate to drip back into the pot.
Place chocolate dipped macaron on a parchment lined cookie sheet.
Take a few crushed graham crackers and sprinkle on top of the melted chocolate while the chocolate is still warm.
Allow to cool before serving.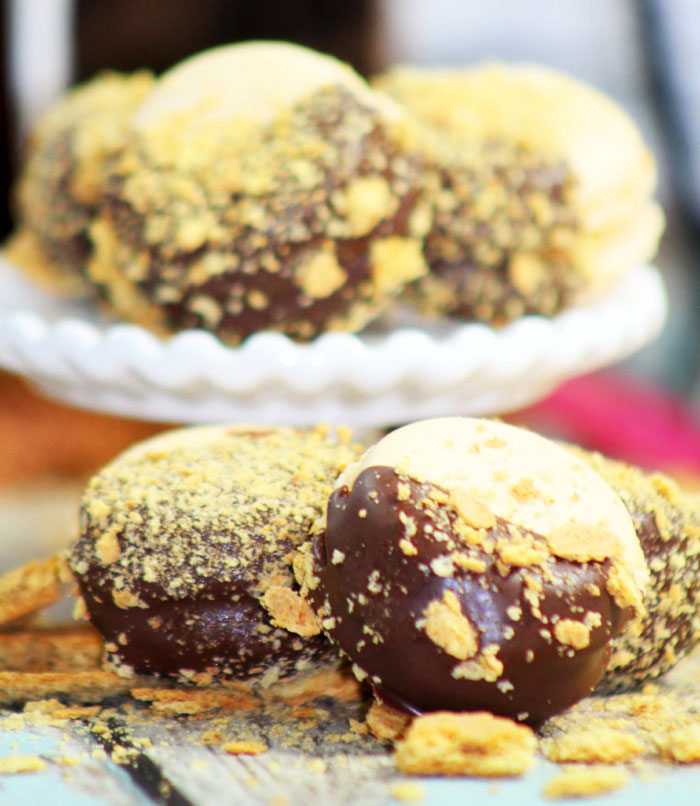 Have you ever tried to make macarons? Would you give this S'mores Macaron Recipe a try?
I've also included a free printable version of this S'mores Macaron Recipe:
[yumprint-recipe id='5′]